TCM talks with Burk Morgan, Director of Sales and Marketing for Adventurer Manufacturing, about their all-new 2011 Adventurer 980RDS.  Don't miss the Eagle Cap update!

In an ideal world, a new truck camper model would be the direct result of customer feedback and manufacturer experience.  It would be an evolution, built on countless previous evolutions, summed up in a collective industry and consumer wisdom that has progressed over the five plus decades of truck camper production.
New advances in material science, computer aided design, and manufacturing efficiency would provide constant inspiration and opportunities to keep the campers modern and fresh.  The occasional breakthrough, like slide-outs and light weight composites, would challenge the conventional wisdom and push the campers, manufacturers, and consumers forward.
Above all else, product quality, value, and customer service would be the fundamental priorities for the truck camper industry and their dealer networks.  In turn, the consumers would always safely match their trucks and campers, maintain their camper seals, and pursue their truck camping dreams happily ever after.
As a magazine, that's our vision and we talk about it, write about it, and promote it anywhere and everywhere we can.  After four plus years of working closely with industry and consumers, we can state with confidence that almost everyone is on the same page with this vision.  Is everything perfect?  Certainly not, but things are definitely moving in the right direction.
Which brings us to the new 2011 Adventurer 980RDS.  Adventurer's design team has carefully listened to customer feedback on the outgoing 93FDS model and made dozens of evolutionary improvements for the 980RDS.  As you're about to read, these changes should improve not only the quality of the camper, but also the consumer experience with it.  Better truck camping through design?  You bet.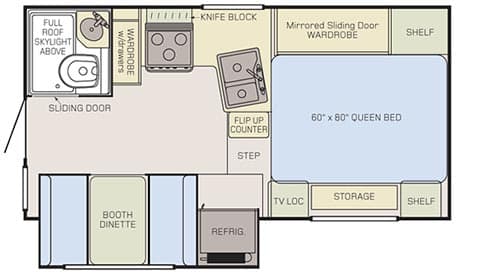 2011 Adventurer 980RDS Specifications:
The 2011 Adventurer 980RDS is a hard-side, wet bath, single-slide truck camper.  The interior floor length of the 2011 Adventurer 980RDS is 9'8" and the interior height is 77.5".  Adventurer is reporting the dry weight of the camper at 3,258 pounds with standard features.  The tanks in the 2011 Adventurer 980RDS are 44 gallons fresh, 31 gallons gray, and 31 gallons black.  The camper accommodates two batteries and two twenty-pound propane tanks.  The MSRP for the 2011 Adventurer 980RDS is $25,550.
TCM: What model does the 980RDS (rear dinette slide) replace?
Burk: The 980RDS replaces the 93FDS.  The primary issue with the 93FDS was that it did not allow for a generator with long box trucks.  For the 980RDS, we stretched the floor to 9'8" to allow for a generator.  Overall, the 980RDS floor plan is similar to the 93FDS, but it's a very different camper.
TCM: What else has changed from the 93FDS to the 980RDS?

Burk: The 980RDS has more interior and exterior storage.  We flip-flopped the location of the cabover wardrobe from the passenger side to the driver's side to give the camper a much more open feel.  The wardrobe move also makes it easier to enter the cabover.
The optional flat screen television now retracts into a flush mounted area when traveling.  The slide-out room actually flushes flat to the interior wall and doesn't create a small step in front of the dinette that would normally protrude into the walk space of the camper.  With this change, it's also an easier entry into the dinette.  We made that happen by changing the way we were constructing the floor.
TCM: Are there any other changes to how you're building the camper?
Burk: Throughout the entire 2011 Adventurer line-up, we have begun to use composite construction materials that replace conventional wood and luan panelling.  We started using these new materials in 2009 for our 80GS and 80SK models.  The composites have helped us to drop weight from our units.  Our 2011 campers are actually lighter than our 2010 campers.
We are still laminating our walls, ceilings, and floors with our Tru-Composite Construction technique.  This construction method is backed by our three year structural warranty.  What's changed is that we have removed the wood substrates and now use composites that are lighter, stronger, and more resistant to water damage.
TCM: Tell us about the design and development of the 980RDS.
Dave Frampton: For production efficiency and quality control, many of the size parameters are standardized throughout the Adventurer camper line.  These standards include our fiberglass front nose cap, the camper width, the size of the basement, and the interior height.  While these standards limit some of our flexibility as designers, they are very beneficial on the production line.
Other than that, the design and development of the 980RDS was pretty straight forward.  We actually did not build a prototype and went straight from computer model to production.  That's rare for this industry.
TCM: It certainly is.  How did that work out?
Dave: It went seamless.  It's more beneficial to build prototypes when you're developing a new line.  When you have an existing line, you shouldn't have to build prototypes if you've done your engineering right.
The 980RDS is a nice camper.  It has a lot of storage that the 93FDS didn't have and a lot of counter space.  We think it will be a strong selling camper for us.
TCM: Is the 980RDS an aluminum or wood framed camper?
Burk: It's tubular aluminum frame with wood core in certain areas for additional strength.  There is also strip steel laminated into the structure for additional attachment points.
TCM: Tell us about the Service Center on the 980RDS.

Burk: When you look at most truck campers, you have multiple doors on the exterior.  More holes on the exterior means less structural integrity and more seals to maintain.
In our Service Center, there is a permanently attached power cord that retracts and extends from its own storage compartment, an outside shower, black water tank flush, city water connection, fresh tank fill, and small multiple utility ports all in one location. The Service Center is on the driver's side in an area that is easy to get to.
We even created a sealed opening in the bottom of the service center where you can pull the fresh water hose, power cord, and park cable connection line through so it's actually coming out of the bottom of the wing of the camper extending out over the top of the truck bed rail.  It's very convenient and eliminates cords, hoses, etc. from protruding away from the camper sidewall, which creates a clean exterior look and is better insulated.
TCM: Is that something that you brought over from your years of building high-end Class A motorhomes with Western RV?
Burk: Yes.  We used to have a similar style of service center on our Alpine Coach and Alpenlite fifth wheels.
TCM: What is the reported dry weight for the 980RDS?

Burk: 3,258 pounds dry without options.
TCM: Was that weight a target that you hit, or does the camper weigh what it weighs?

Burk: We targeted to hit in the low 3,000 pound range.  We knew that from past experience building floor plans in this size category.  We thought it would be about 3,300 pounds.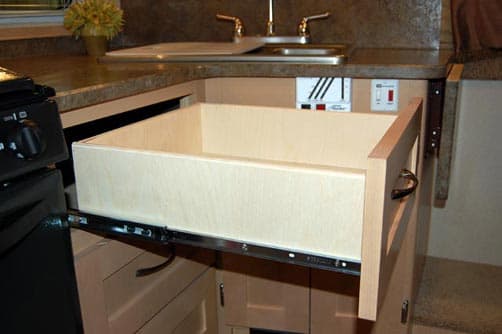 TCM: The floorplan for the 980RDS is very similar to other campers in the marketplace.  What sets the 980RDS apart?
Burk: It is a very popular floor plan in our industry.  What our 980RDS offers is lower weight, more standard features, a lower price, and some unique features such as the new Service Center.  We also have lots of storage on the exterior, a fiberglass front cap, and solar reflective thermal pane windows.
Above Right: Also added for 2011 in all Adventurer campers; the gas prop door holder
On the interior, we have solid maple cabinet doors and drawer fronts.  There is no particle board or OSB (orientated strand board) in the camper.  The drawers have full extension ball bearing roller guides.  The wet bath has a full fiberglass shower stall and full skylight roof.  The 980RDS slide-out is very deep and will accommodate four full-size adults.  It features a Dream Dinette table suspended off the sidewall that eliminates a traditional table post and gives you much more legroom.
TCM: Is the 980RDS and its new features a sign of what's to come from Adventurer?
Burk: The 980RDS is a partial redesign focused on added storage and convenience of use.  Some things from the 980RDS will be incorporated into future campers.
We won't add things that don't have value.  If a feature or product makes a camper easier to use, adds more storage, and/or keeps the cost down without sacrificing quality we'll add it.

TCM: Will there be more new camper announcements from Adventurer in 2011?
Burk: The 86FB.  It's a non-slide 8' 6" camper.  We're getting photography together for Truck Camper Magazine. Some units have been shipped and are available at dealerships now.
TCM: What is the MSRP for the 980RDS?
Burk: $25,550 with standard options and no freight.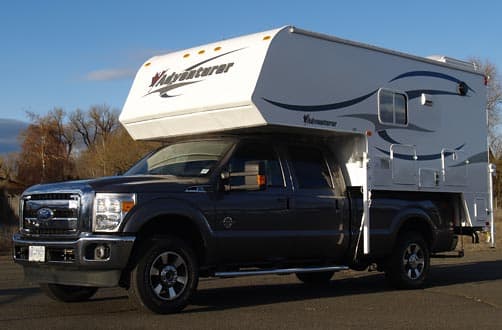 TCM: Is the 980RDS at Adventurer dealers now?
Burk: Yes.  The 980RDS will also be at most of the RV shows our dealers are attending this season.
TCM: How are things going at Adventurer?  Are you hiring?
Burk: Yes, we are hiring.  We're super busy with the Eagle Cap line.
TCM: Is the Eagle Cap production line coming together?
Burk: We're still in the process of putting together the production line on the east side of our building.  It's a dedicated Eagle Cap line.
TCM: When do you expect to begin Eagle Cap production?
Burk: We will begin production in mid to late February depending on when we get the necessary vendor parts.  We anticipate campers coming off the line in mid to late March.
TCM: Are you still thinking that these Eagle Cap campers will be like the ones that came off the line in LaGrande, Oregon?
Burk: Yes.  These campers will have the same look, feel, and features that Eagle Cap Campers customers want.  We're very excited!  We can build Eagle Cap campers with the same level of quality or better than the old facility.  We will make improvements in manufacturing efficiency, just as we have with the Adventurer line.

TCM: Thanks Burk.  Let us know when those first Eagle Cap campers roll off the line.

Burk: You'll be the first to know.
For more information, visit their website at adventurercampers.com.