Total Composites offers 100-percent composite hard-side truck campers including slide-ins and flatbeds. Shipped in kits, assembled by builder/partners, and custom finished to your specifications, Total Composites is a potential game changer.
Total Composite's approach to truck camper manufacturing is unlike anything we've seen before. For starters, their composite materials are sourced in Europe, manufactured in Asia, and shipped as ready-to-assemble flatpack kits to North America.
This international approach allows Total Composites a level of polyurethane panel and fiberglass extrusion quality, and overall cost efficiency, that would otherwise be impossible.
Total Composite's approach to truck camper manufacturing and distribution is also unlike anything we've seen before. The ready-to-assemble flatpack kits are directly shipped to a network of independent partners/builders across North America to be assembled and sold to the public.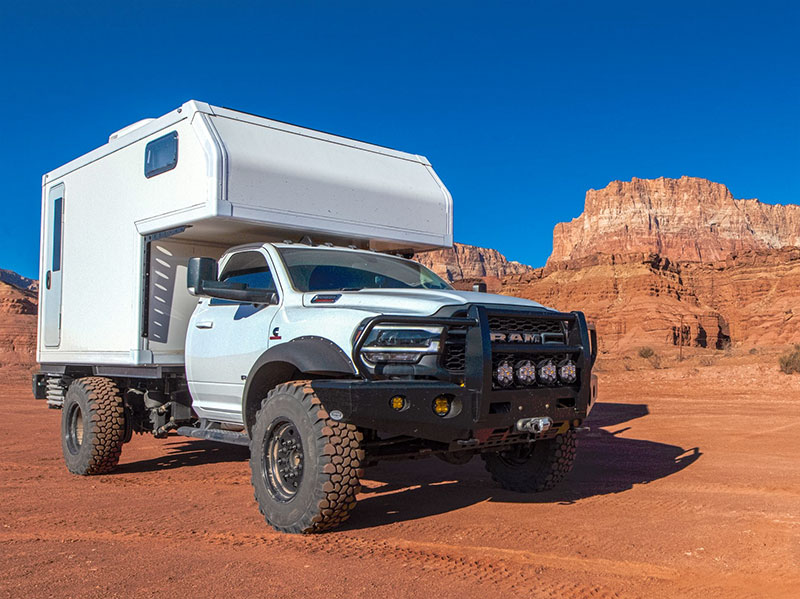 These independent partners/builders sell both the Total Composite camper shells for customers to upfit themselves, and custom-upfitted composite campers that range from basic to state-of-the-art.
All of the above challenges the traditional definition of a truck camper manufacturer, upends the direct versus dealer business model, and defies nearly every other accepted industry norm.
The potentially disruptive nature of Total Composite doesn't end there. From our conversations with the company, not only are they seeking additional builders/partners across North America, but even existing truck camper manufacturers could purchase Total Composite kits, upfit the resulting units, and rebrand them as their own models.
According to the company, they have more than enough production capacity to support that kind of growth. This points to the possibility of many more Total Composite sourced truck camper makes and models in the future.
To fully understand the Total Composite concept and product line, you need to absorb the remarkable entrepreneurial story of Total Composites Founder, CEO, and world traveler, Andreas Schwall.
To request more information about Total Composite Campers, click here.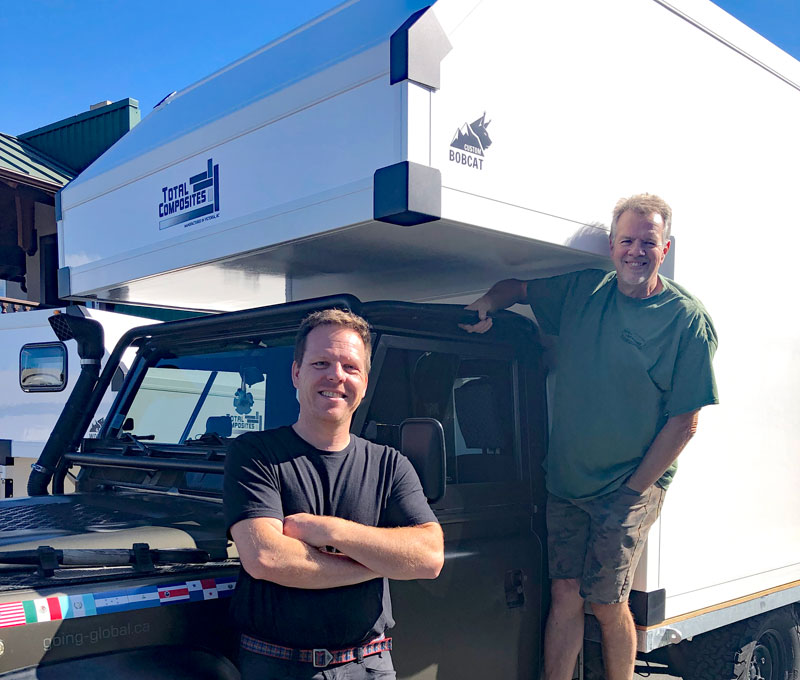 Above: Andreas Schwall, Owner and Founder of Total Composites, (left) and a Total Composites customer (right)
Talk to us about your professional background. What led you to found Total Composites?
I have always been infected with the travel bug. Growing up in Germany, it was easy to travel to Africa and Europe. I went for month-long motorcycling trips across the Sahara five or six times. During those trips, I would come across expedition trucks. I was fascinated by them. How would it be to have my own shower and cook inside? That thought never left me.
I went to trade school to become a furniture maker. At some point during that career, there was a shop opening at Unicat in Germany. Unicat is the grandmother of expedition truck inventions in Europe. It was a tremendous opportunity to work in their shop for several years. I learned from the best; what's important and what's not. There are fundamentals that I learned at Unicat that are still important today.

Above: Total Composites truck campers by builder/partner Overland Adventure Truck (OAT)
When I moved to Canada, I continued dreaming about having my own expedition vehicle. I compared North American RVs to what I'd learned at Unicat. I couldn't spend money on something that wouldn't perform the way I wanted it to. The RV products had dated interiors and lacked quality. Ultimately, I decided to build my own.
That led to a family connection in China with access to fiberglass panels, the design and development of my first personal fiberglass panel kit, and an overland truck. That product and experience ultimately led to the founding of Total Composites.
We always like to see industry leaders owning and using truck campers. Are you a truck camper owner and user?
Yes, of course. My friends say that I have a camper problem. I have several of my own campers. We own and regularly use our Total Composite Wolverine flatbed truck camper. We use the Wolverine to ski the hills on Vancouver Island. We also have a Ford transit cab and chassis with a Total Composite expedition truck body. That build has thicker walls and is outfitted for longer trips.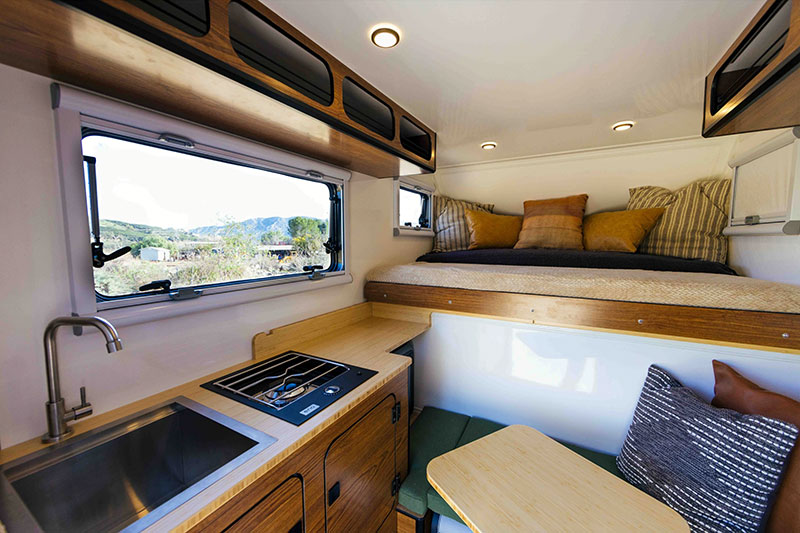 Above: A Total Composites interior by Bear Adventure Vehicles
We go camping and we want the ability to stay at a Walmart or a beautiful lake with no hookups. None of my campers need hookups. We know how important it is to have a camper that runs as efficiently as possible and uses the least amount of fuel during summer or winter temperatures. When your pillow touches the sidewalls in a Total Composite camper, it's not soaked by window condensation or pop-up tent fabric.
A Total Composite camper doesn't transfer heat or cold from the outside. When we go out camping to the ski hills in Vancouver Island, we don't have to reconfigure the water tank, grey tank, or compositing toilet. Nothing can freeze. There is no winterizing and no condensation on the walls. That's why we do what we do.
"A Total Composite camper doesn't transfer heat or cold from the outside."
Total Composites does not sell campers direct, but rather sells composite shells to what you term, builder/partners. Your builder/partners sell Total Composite campers as basic shells, or as upfitted campers with a wide range of interior and exterior options. Is that correct?
Yes. What we do is unique. Like our campers, we do things differently and keep our products and process as user-friendly as possible. It's important to understand the story behind our business model and why it's the best for what we do.
In 2017, we started selling composite panel flat pack kits for expedition trucks. They were put in a shipping container and shipped to the end user in North America and all over the world. Our customers received the kits and assembled the campers themselves. No one did that at the time and the kits were very successful.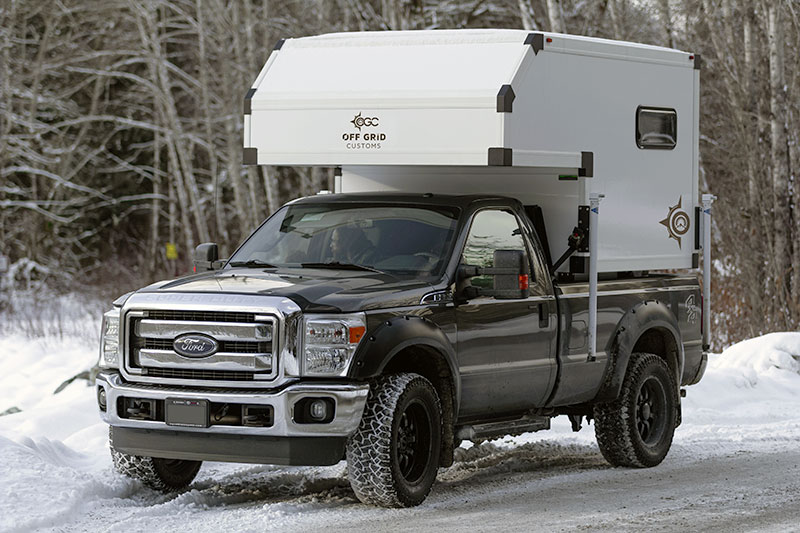 Above: Total Composites truck camper by Off Grid Customs
In 2021, we started designing and producing flatbed and slide-in truck campers. At first, we were selling direct and building the camper shells at our Victoria, British Columbia headquarters. People drove from as far as Florida, Texas, and New York to pick up their campers. They told us our campers were better than what they found in the marketplace and were willing to travel for it.
Victoria is a wonderful place to visit, but it's an expensive place to live. It was difficult to find the right people to grow the business, and we couldn't pay them enough to live here. With that understanding, we asked ourselves, "How do we bring our campers to market?" That's when I looked for builder/partners.
In legal terms, our builder/partners are our dealers, but we consider them part of the Total Composite family. We have regular phone conversations with our builder/partners, provide them with technical advice, and help them at trade shows. They allow us to offer Total Composite campers throughout North America so people don't have to travel across the continent to pick up their campers.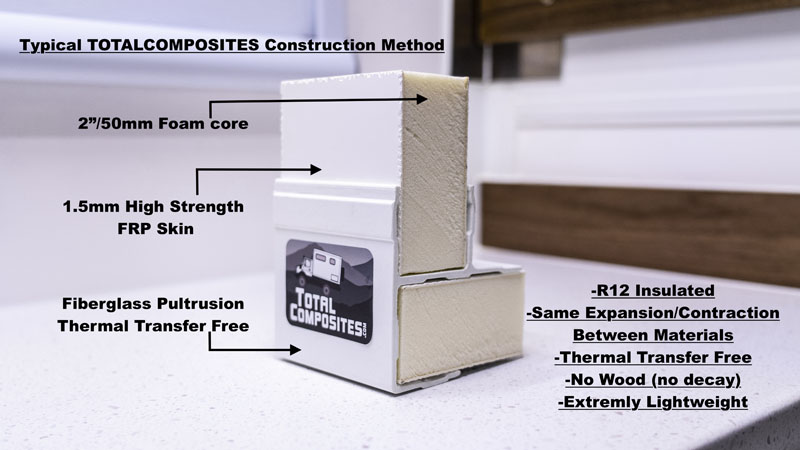 It's a fascinating marketplace approach that we'll get deeper into. Tell us more about your composite materials and why you use them.
We vacuum press our composite panels on 40-foot long by 9-foot wide glass top vacuum tables in our factory. It takes a huge amount of real estate to make our product and to make it profitable. I can't go further into the vacuum press process because of proprietary secrets.
We use fiberglass tubes for internal structure. Fiberglass tubes expand and contract the same way our panels do. Fiberglass tubes also don't compromise thermal efficiency the way aluminum does.
Above: A Total Composite kit being assembled
We do not have wood or aluminum studs or structure inside our walls that would compromise thermal efficiency and stress our panel structure. If you have aluminum in the wall, you get condensation or cold bridging where the stud is located. Our fiberglass tubes are non-conductive and avoid this issue.
We also took it a step further and we designed our own fiberglass corner pultrusions to tie the panels and camper structure together. The fiberglass corner pultrusions expand and contract with the panels and don't transfer heat or cold. This also means no stress cracking due to expansion and contraction. There is no condensation in the corners of our campers.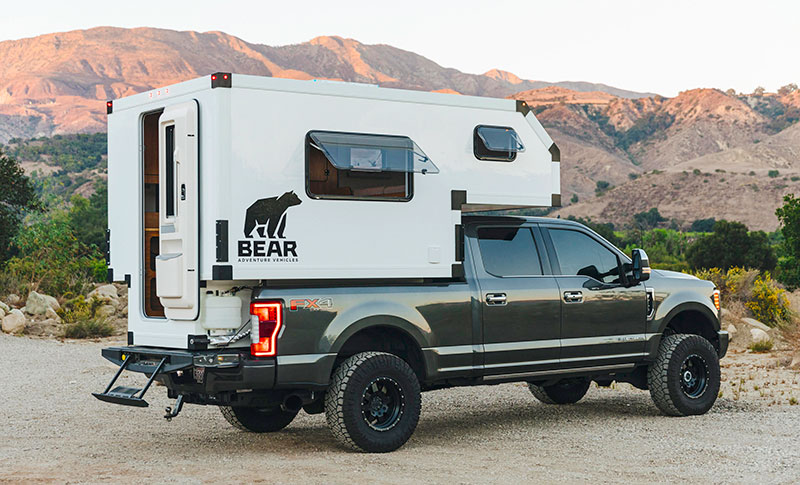 Above: Total Composites truck camper by Bear Adventure Vehicles
Where are your composite materials sourced from?
Our composite panels are made in China from fiberglass skin, foam core, and adhesives. Our raw material suppliers are in Germany and are well-known in the European composite industry. Those materials are then shipped to China to be manufactured into panels using German knowledge and quality.
Our German suppliers all know each other and talk regularly. If one of them makes a change to their material, the others can adapt their products to maintain quality. That's really important. We're not going to Alibaba and buying fiberglass panels from a random supplier.
Between Total Composite expedition vehicles and truck campers, we have about 500 units in North America. From those 500 sold units, we haven't had any structural failures or delaminations.
For the record, a Total Composite camper body is 100-percent composite panels and fiberglass extrusions.
That's correct. The camper body is composite panels and fiberglass extrusions. We do use high-quality marine-grade plywood in our floors for structural strength so that you can use the camper when it's off the truck.
We had a competitor that tried to copy us using aluminum. The aluminum acted like a cold bridge resulting in condensation inside. Metal is conductive and creates a thermal transfer between heat and cold. We use fiberglass because it's non-conductive, or not conductive enough to notice in real-world conditions. The fiberglass extrusions make our campers unique.
We do use powder-coated stainless steel for our corner covers. The corner covers stiffen the 90-degree and 45-degree joints, and are part of our signature Total Composite look.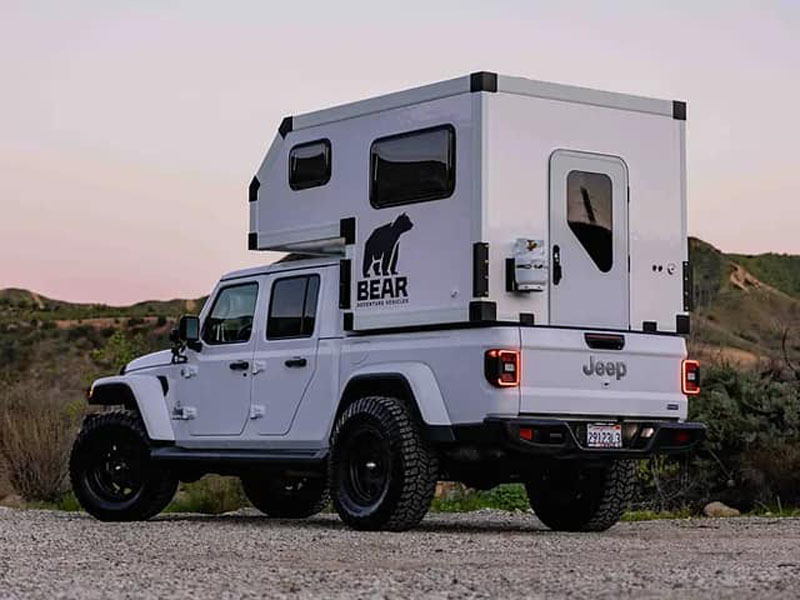 Above: The black powder-coated stainless steel corner covers
Why not use aluminum for the corner covers?
We worked with a supplier in North America to create aluminum corner covers, but the cost was prohibitive. We couldn't justify it.
There is a weight penalty to using stainless steel, but the strength, quality, and cost are huge advantages. And we're using powder-coated stainless steel, so they're not going to rust.
Why choose a polyurethane foam core panel versus a honeycomb panel?
That's a really important detail. Over the past five years, a lot of companies started using a honeycomb core with fiberglass on either side. The resulting panel is incredibly strong, but there's virtually no insulation in a honeycomb panel.
Our solid polyurethane panels provide exceptional insulation. When you're camping in the heat of summer or the cold of winter, you will definitely feel a difference. Honeycomb panels are also about a third heavier than foam core panels. That's also very important.
The other manufacturers could argue that honeycomb is stronger and more impact-resistant. That is all true. However, our foam core is specially designed for truck bodies and has a strength and fire rating you won't find in the foam insulation at Home Depot. That's why we work with German suppliers. Our panels offer the right combination of weight, insulation, and durability.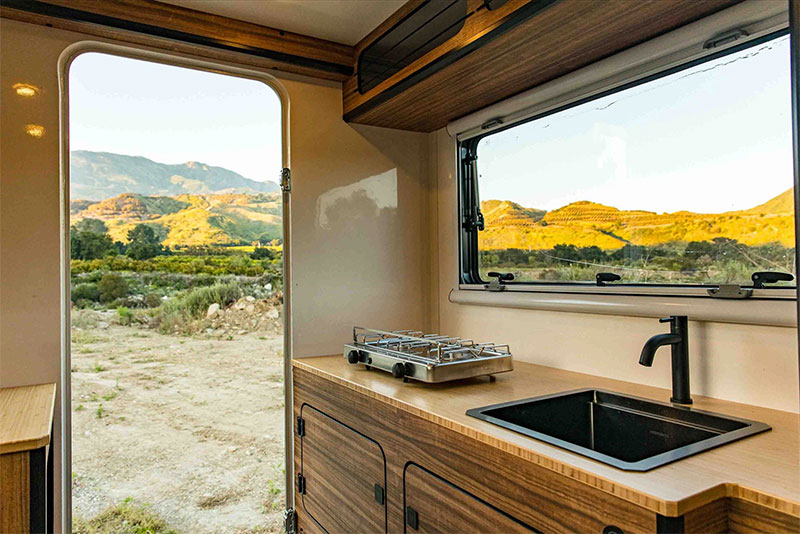 Above: Total Composites Bear Adventure Vehicles interior build
Can you repair a Total Composites panel that gets damaged?
Over the years, I can't tell you how many trees and branches I've hit with our foam core panels, not to mention our customers. Our panels are easy to fix. I tell customers to first duct tape the hole to prevent water, dust, and grime from entering the unit. Then go to an automotive store and use a polyester resin filler to repair the hole. If a customer isn't comfortable with that process or would prefer a professional complete it, our builder/partners can assist them.
With a composite panel camper, the damage will be non-structural compared to a traditional aluminum or wood frame unit. The force of the impact will not be transferred to the whole camper. With our campers, 99-percent is localized with puncture holes or fiberglass fractures.
How do you address attaching interior components including cabinets to a composite wall?
People typically assume you screw cabinets into studs or the wall surface. In our campers, it's different. We don't have an internal structure in the wall to screw heavy loads.
We use an amazing German polyurethane adhesive to attach our cabinets in place. We use the same adhesive to assemble our camper bodies and other interior customizations. It's weatherproof, stays flexible, and has an insanely strong tensile strength. It's also non-toxic, food safe, and has no outgassing.
Does that mean your exterior side and roof seals don't need to be maintained?
That's correct. You will never have to reseal our roofs or side seals. That's why we use the polyurethane adhesive.
We sell polyurethane adhesive retail on our online store. It's not unique to us. In Europe, it's standard. We regularly import it in one to two big pallets. It's what we use. It's not rocket science. And it's much easier than the adhesives and sealants used in North America. It's not sticky and not impossible to work with. If you get it on your hands, it washes off with soap and water.
That's mind-blowing. Are your camper jacks also attached with polyurethane adhesive?
No. The adhesive is not that strong. For high-stress areas like the camper jack mounts and tie-down points, the inside panels have a system of 1/4-inch flat steel. The system is strategically designed to prevent thermal transfer. All of the camper jacks are solidly mounted with Grade 8 or higher bolts.
What windows are you using and how are they installed on a Total Composite camper body?
We use Tern Overland windows and doors. They make an amazing product. The doors and the storage hatches are glued in with our adhesive.
The windows are clamped into place with a rubber seal. That means, if you ever have to replace one, it's less than 15 minutes to pop it out and in and you're done.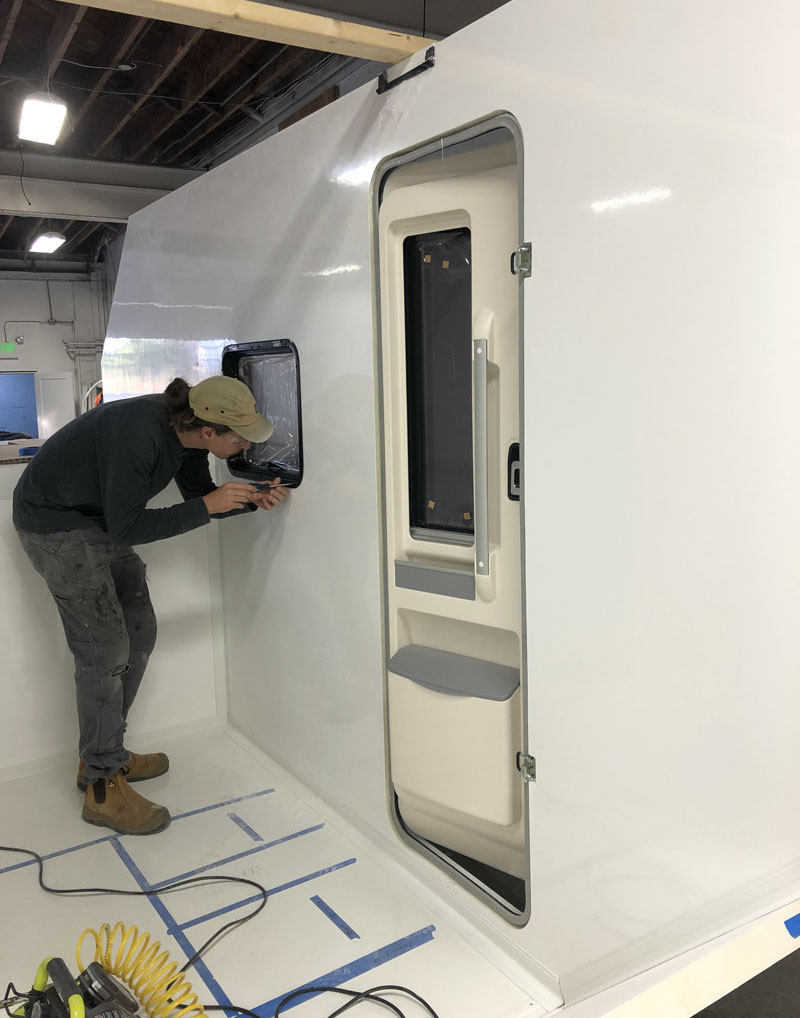 Above: Installing a window in a Total Composites flatbed camper
With our composite walls, the end user decides where the windows go. There are no limitations to where you can put the windows or how many you can have.
Are Total Composite camper bodies assembled on a production line, or are they custom-built to order?
We have eight different sizes of truck camper bodies, all made on an assembly line. All our builder/partners need to do is submit a purchase order. For example, they'll order 'five of those, and two of those'. We put their order in a shipping container, and send the campers directly to their facility. Everything is shipped as a flat-packed kit. A container load has 16 to 18 camper kits. That includes all of the panels cut to size and ready to assemble.
Then, our builder/partners assemble the campers, upfit them as their customers want, and deliver them to their customers.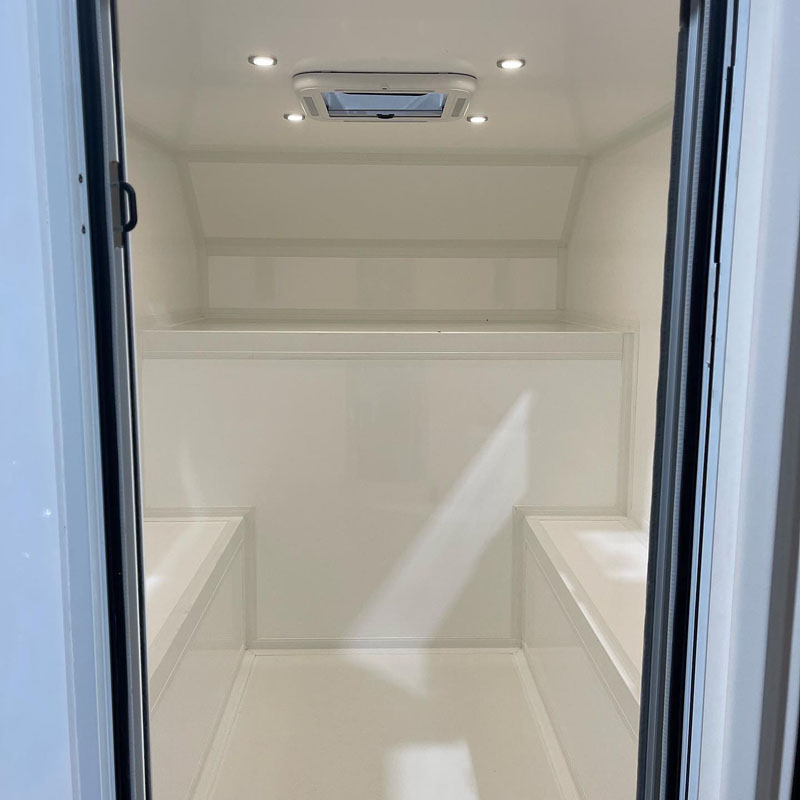 Above: An interior shell ready to be built out
How do you handle shipping and importing with your customers?
The composite kits are directly imported to the builder/partners. Our builder/partners receive the kits and put together the Total Composite shells.
The process is essentially like any other manufacturing in North America. Companies purchase raw materials from around the globe, the campers are assembled in North America, and the warranty comes from our builder/partners. Like the other manufacturers, the campers are made in North America.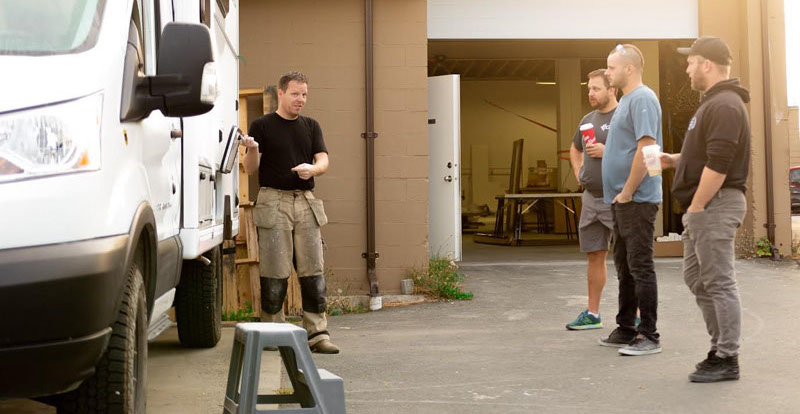 Above: Andreas (left) during a Total Composites builder/partner training session
How do you handle quality control when you're based in Victoria, British Columbia, your composite materials are made in Germany, and the completed panels and camper kits are shipped directly from China to your builder/partners?
That's a really important question. We have a program in place. Most of our builders come from the van upfitting or custom home industries. We are really careful in selecting partners. After careful evaluation, our builder/partners go through extensive training here in Victoria. We have one next week with two new builders.
During the training, they learn about our materials and how to work with the adhesives. We also talk about how they can run their business and make the most out of Total Composites. During their training in Victoria, we do a final evaluation. That's when we sign the contract and agreements. If it's not a good fit, we don't pursue the partnership. They are ultimately responsible for the quality control of the products they deliver to their customers and provide the warranty.
Does the end customer get a warranty from Total Composites and the builder/partner?
We provide the warranty on the physical materials. So far we've had no warranty issues with the 500 delivered campers in the field.
The builder/partners provide the warranty on the final assembly. That stated, we are always here for our end users. Quite often, customers call us and ask about putting a vent here or a hatch there. We advise them and then refer them to our builder/partners for additional information.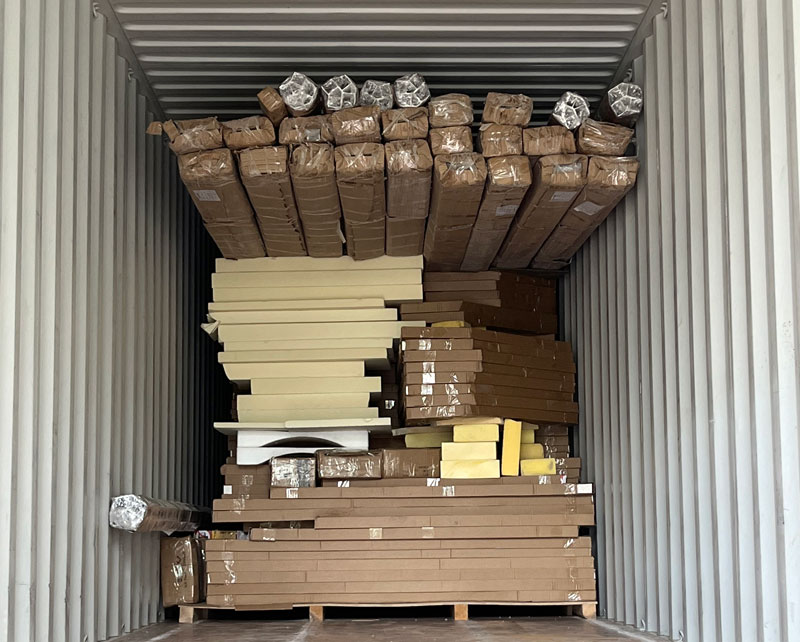 Above: Total Composite kits arriving ready for assembly
There will be readers in the United States and Canada who would prefer that your panels were made in North America. How do you answer that?
Every truck camper made in the United States and Canada has components made in China. Dometic refrigerators, air conditioners, cooktops, and other components are made in China or other countries around the globe. Most of the windows, water heaters, solar components, and roof vents and fans are also made in China.
Even the phones we are talking on and the computers we are using were made in China. It's nearly impossible to manufacture an RV or a camper without Chinese-manufactured components.
Unlike many RV manufacturers, we are upfront about having our composite panel materials sourced in Germany and made in China. And we control that process with German knowledge and engineering during every step. We're not buying our panels from Alibaba or AliExpress. Our panels are the highest quality German materials and engineering can provide. Once the panels are shipped in, our campers are assembled and made in North America by our builder/partners in the United States and Canada.
Have you been to China to visit the factory?
Before Covid, I would go a couple times a year. Now that it's opening up, I will resume that pattern. I am going this fall and I'm bringing a bunch of our builder/partners.
Our goal is to be 100-percent transparent about our company and product. If our builder/partners want to see the factory, they can visit, tour the facility and meet the team. We can't provide public tours due to the proprietary process, but we want to be as open as possible.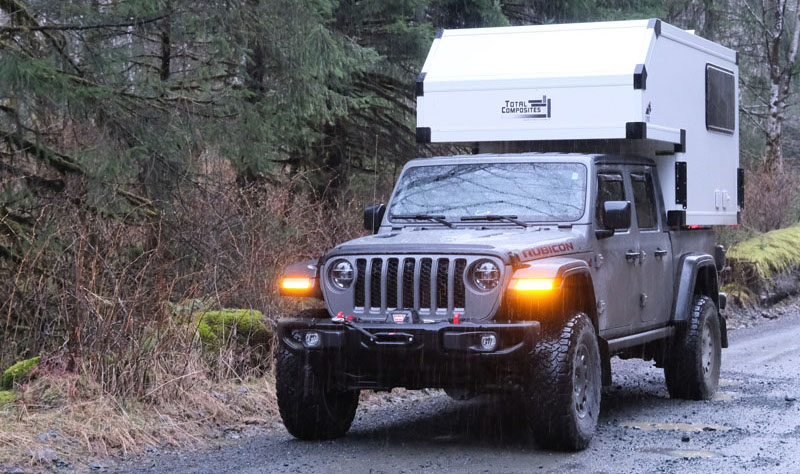 Above: The Total Composites Lynx model on a Jeep Gladiator
You offer four truck camper shell models; the Lynx slide-in, Wolf slide-in, Bobcat flatbed, and Wolverine flatbed. The Lynx is designed to fit the Toyota Tacoma and Jeep Gladiator. Will it also work with other mid-size trucks?
Yes. We have customers that have our Lynx model on Chevy Colorados and Ford Rangers. The Lynx fits best on the Jeep Gladiator and Toyota Tacoma. For other trucks, you need to take measurements or build a platform to get over the cabs.
The Gladiator and Tacoma are smaller, more narrow, and more shallow than the Colorado and Ranger. We sized the Lynx accordingly and hit a weight target that allows the unit to be payload-compatible. The smaller size also helps ensure that people don't build it out too much and overload their trucks.
Are the other three models for full-size pickups?
Absolutely. The Wolf, Bobcat, and Wolverine fit the full-size half-ton, three-quarter ton, and one-ton trucks.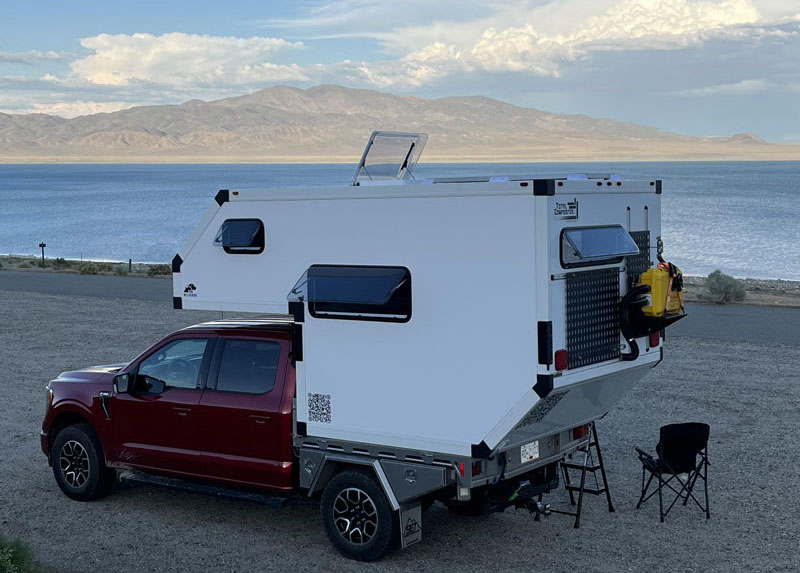 Above: The Total Composite Wolverine flatbed model
What distinguishes these models?
The Lynx comes in 5-foot and 7-foot versions. The Wolf series includes our 6.5-foot short bed and 8-foot long bed slide-in models. The Bobcat series includes our 6.5-foot short bed flatbed and 8-foot long bed flatbed models. The Wolverine series is the same as our Bobcat flatbed with a departure angle on the back.
The full dimensions for all of our campers are listed on our website, expeditionupfitter.com. Based on measurements, it's up to the end user to make a decision as to which model is right for their truck.
The flatbed models offer a lot more floor space. It's amazing when you see the difference.
What comes standard with the Total Composite basic shell?
Every Total Composite camper comes standard with camper jacks, tie-down points, and a door. You have to have a door otherwise you can't get into the unit.
Ninety-percent of people who buy our campers go with a full custom interior from a builder/partner. Only a small percentage buy just the shell.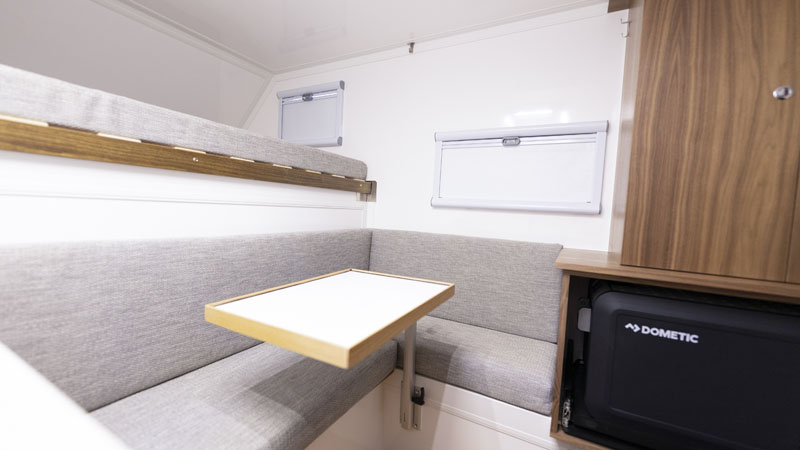 Above: An example Total Composite interior
What camper jacks are you using for Total Composites truck campers?
I'm not happy with the current quality available from North American camper jack companies. We went down that path and had rust issues almost immediately.
We are now sourcing our camper jacks from China. They're powder-coated stainless steel, higher quality, and don't rust. They are manual jacks that use a drill to get them up and down. You can service them the same as any jack manufacturer.
Other manufacturers sell the exact same camper jacks. They are made in China, but they put their own brand and stickers on them. So far no one has had issues with the jacks.
What do the base Lynx slide-in, Wolf slide-in, Bobcat flatbed, and Wolverine flatbed weigh?
The base dry weight of the Lynx 5-foot model is 540 pounds, and the 7-foot Lynx model is 606 pounds. The base dry weight of the Wolf 6.5-foot slide-in is 795 pounds, and the 8-foot Wolf slide-in model is 895 pounds.
The base dry weight of the Bobcat 6.5-foot flatbed model is 903 pounds, and the Bobcat 8-foot flatbed model is 990 pounds. The base dry weight of the Wolverine 6.5-foot flatbed with a departure angle is 970 pounds, and the Wolverine 8-foot version is 1,058 pounds.
Those are not theoretical numbers. We put our models on a scale. Our principles are quality, honesty, and making the best thing possible.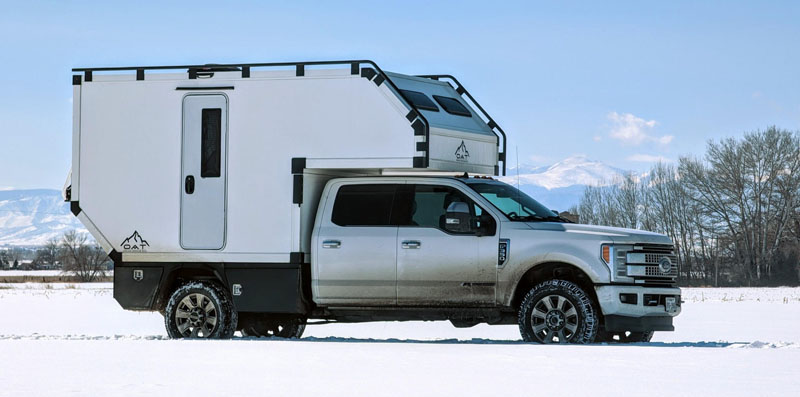 The Wolverine, our biggest 8-foot flatbed model, is 1,058 pounds. My 6.5 foot flatbed Wolverine that I'm in right now has lithium, solar, and is built out. It's 1,300 pounds. That is a realistic weight for our flatbeds. If you don't get crazy with stuff, the slide-ins can be under 1,200 pounds.
What do the four Total Composite truck camper models cost?
Depending on the model, the cost for a base shell is $16,000 to $20,000 USD. If you fully outfit it yourself with cabinets, a Dometic refrigerator, lithium batteries, and solar, it might cost an additional $5,000. So for between $21,000 and $25,000, you can have a finished camper that's exactly what you want with your own sweat and labor. We won't force you to buy a microwave or an AGM battery when that's not what you want.
The typical built-out camper from our builder/partners starts around $50,000 and goes up to about $100,000. It comes down to what the customer wants. The sky is the limit. As of now, all of our builders work with customers to come up with a true custom interior. In the near term, they will be announcing standard interiors that they can pre-manufacture.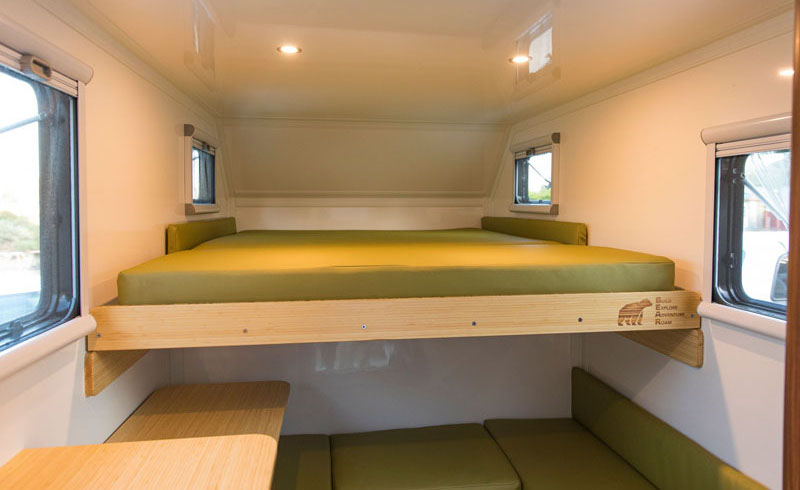 Are all of the cabovers East-West?
Yes. The Lynx has an optional bed extension to fit a queen-size bed. The larger Wolf can fit an almost queen-size bed because it's deeper than the Lynx, but not deep enough for a true queen without an extension. The flatbeds can have a 60 by 80-inch East-West bed because more weight is in the rear.
During prototyping, we learned that building lightweight with composites has a disadvantage. With a North-South cabover, when the camper is off the truck, and people go in the cabover, sometimes there's not enough weight in the rear of the unit to prevent tipping. The center of gravity is too far forward. For this reason, we only build East-West cabovers.
What entry-step system do you recommend?
It's up to the builder and end user. Our Ford F-150 came with entry steps in the tailgate, which worked out well. On the flatbed, you can have scissor steps on the outside and they also work well. I have used regular stairs that you can clip on, or you could have three-step stools. Every rig is different, and we don't want to dictate to our customers what they should do.
Are Total Composite campers designed to be primarily modular with every component able to fit through the door or can they feature permanently built-in features?
Total Composites are mostly built-out with permanently built-in components, but it comes down to what the end user wants. One of our first customers only wanted a window and Rubbermaid bins and went to Alaska. All he wanted was to be warm and not get eaten by bears.
There are five builder/partners showcased on your website. Do these builder/partners have a territory, or do they offer different build-out designs and services?
That's a really good question. We started by giving our partners territories. Later we got into conflicts as customers chose builders from different areas. In real life, we can't dictate who and where an end user buys from. It's up to the consumer to make an informed decision on who they want for their build-out. That can come down to the interior offered by one company, and/or the people they want to work with.
"The possibilities of what our builder/partners offer are almost endless."
The possibilities of what our builder/partners offer are almost endless. That's the beauty of what I envisioned for our builder/partner network. Total Composite shells are not limited to campers or recreational vehicles. One builder/partner might want to build mobile workspaces for utility companies. There's so much opportunity.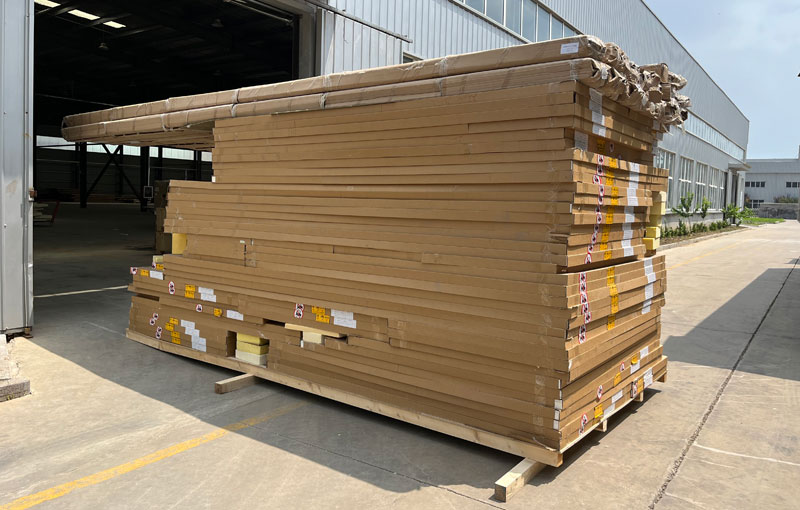 Above: Total Composites camper kits
Tell us about the process of working with a builder/partner. How does that work?
It usually begins when potential customers reach out to us. We refer them to a partner who is most suitable for what they want. The builder/partner works with them to design a build and gives them a price and timeline. That way the customer has the right expectations. After agreeing to the design and proposal, the customer pays a deposit and picks their camper up a few months later.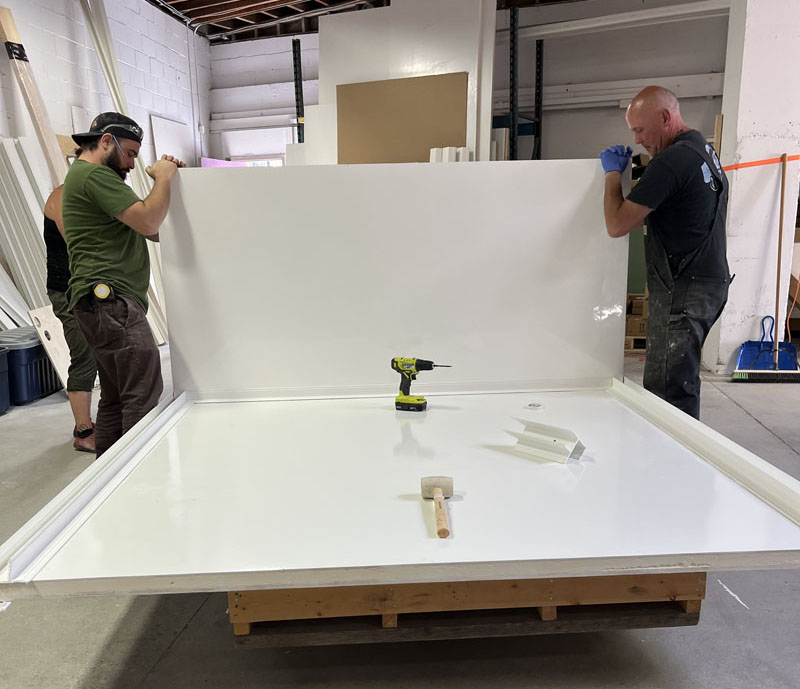 Above and below: A Total Composites builder/partner assembles a camper
How many Total Composite truck campers have been completed and sold by your builder/partner network?
In North America, I think there are about 300 Total Composite truck campers on the road. We will have another 200 hit the road this year. In total, with our big expedition trucks, we have about 500 units on the road.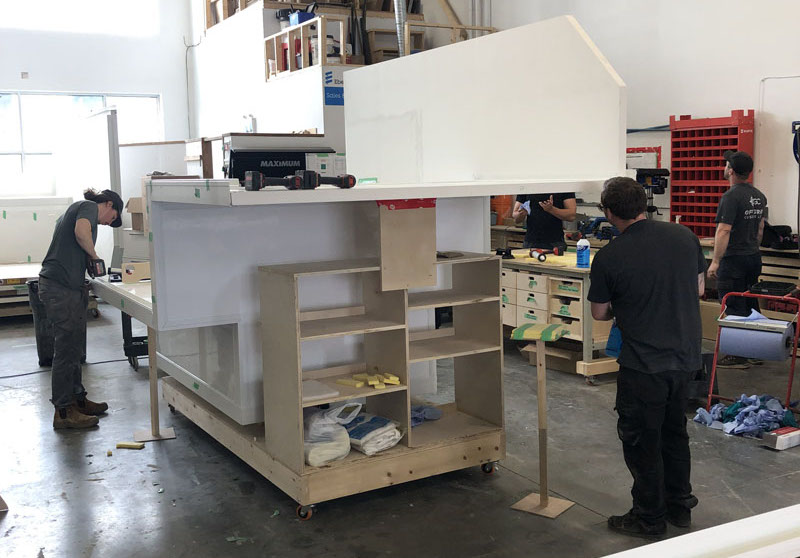 Are you still looking for builder/partners?
We are definitely looking for new builder/partners, especially on the East Coast. It's an underserved market and we need people to build campers there.
We look for an established company with a basic knowledge of marketing and dealing with customers. It should be a company familiar with the truck camper or van life market. They should know about 12-volt systems, water systems, and diesel heaters. That's the recipe for success.
New builder/partners purchase campers during their training sessions. Then they take the camper back with them to showcase at their location. From there they take pre-orders and within a couple of weeks, they have their first container load sold. They process and assemble those campers, and then make their next order. It's not uncommon in the first year for them to come back and order three to four times. Our builder/partner program has been very successful.
Do you have the production capacity to support more builder/partners?
Yes. Our production facility can make 4,000 production units per year. It's a big factory. They don't just produce for Total Composites. They work with commercial companies in Australia as well. That factory is humming.
Could an established truck camper manufacturer order Total Composite bodies to upfit and sell direct or through their dealer network?
Absolutely. In terms of growth and manufacturing or selling capabilities, there's no limit. They can even rebrand our campers. They just need to follow our product recognition guidelines. It needs to look and perform like Total Composites. If Winnebago wants to buy our campers and brand it as Winnebago, they can do that.
We currently supply Advanced RV with our products. They are arguably the highest quality van upfitters in North America. They use our boxes for cab and chassis conversions. We also work with AEONrv out of Reno. They have a Ford Transit van with our box in the back. They are high volume and it's amazing what they are doing. AEONrv is in direct competition with the Winnebago Ekko.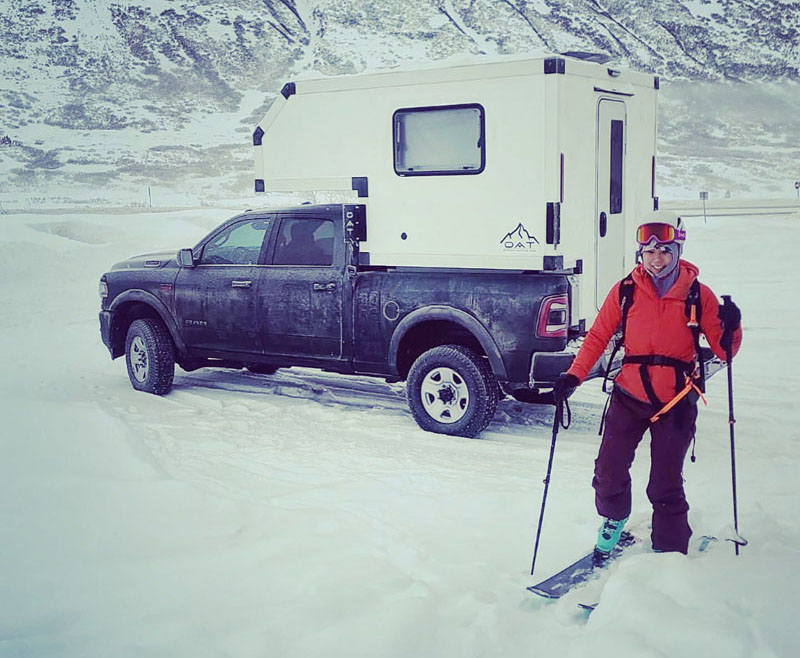 Above: A camper assembled by Total Composites builder/partner Overland Adventure Truck (OAT)
Where can someone see a Total Composites truck camper?
We invite people to contact us and visit us here in Victoria to look at our campers and/or visit our builder/partner locations. Also, our builder/partners showcase at some of the Overland Expos.
Do you see expanding to offer slide-outs in your truck camper builds?
No. In Germany, I helped build expedition trucks with slide-outs that were reliable, dustproof, and true to our four-season principle. From that experience, slide-outs are hard to do right and they add a lot of weight and expense. Including a slide-out in a camper the size we are offering doesn't make sense.
How about floor plans longer than 8-feet?
We don't have any plans to go longer. If we went longer, we would have to start advising on subframes. The longer your camper, the more flex you need to compensate for. We have capped our floor lengths at the 8-foot mark because that's where we feel comfortable. We don't want anything to fail.
What's your vision for Total Composites five years from now?
Our vision is to have Total Composites grow into a household name in the camper industry. We want to make sure people in the market for a truck camper know about Total Composites and know the quality difference we offer.
We also want the regular RV industry to get the hint and change the way they do things. The RV industry in North America is so stuck in old ways. The only innovation they have is a new set of graphics. It drives me mad as a builder and as a business owner. How could this be? It's mind-blowing. We want to help the RV industry to get better and serve the customers better. Consumers are ready for a change.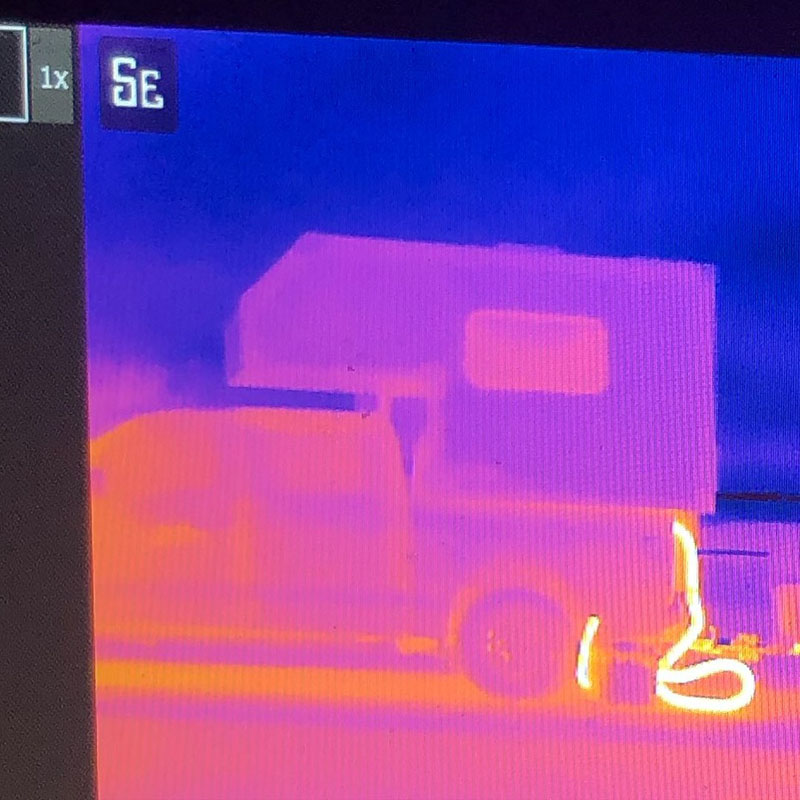 Above: Thermal testing on Total Composite Campers
Is there anything about Total Composites – the company, products, or builder/partners – that you would like to add?
There's a lot of marketing hype from companies that claim to have true four season campers. I always laugh because it's not true.
We not only perform thermal audits, but we also teamed up with a company from Iceland called Arctic Trucks to take our campers to the North and South Poles. They tested our products and materials in extreme off-road conditions and temperature changes including -38 degrees Fahrenheit.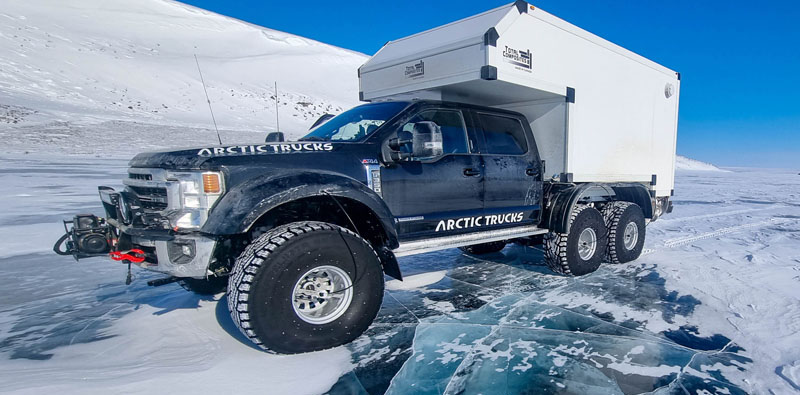 Above: Arctic Trucks has taken Total Composites campers to the North and South Poles
When they returned, they were over the moon with the performance of our camper. They couldn't believe it. The weak point was ice formation around the door, which was unavoidable. They had two diesel heaters for redundancy and never needed the second heater. There was a huge temperature difference from the inside to the outside, and they had virtually no condensation.
I also want your readers to know that we really test and use our campers. We don't make up marketing hype. We are as honest as it gets and are here for our customers. We are really grateful and humbled by anyone who buys a Total Composite camper.
"I want your readers to know that we really test and use our campers."
The last thing I want is for customers to call me if they have problems. There is nothing worse than knowing someone who saved money for many years and is losing their dream because of a camper problem. We do not want them to be out in Baja calling us because a window fell out or water is coming in. I would feel so bad about it. I know firsthand how much effort and money it takes to build something like this. It is a lifestyle decision and we do not want to let anyone down.
For more information on the Total Composite truck camper line, visit their website at totalcomposites.com. Click here to request more information about Total Composites campers.