Out of Golden, Colorado comes a bold vision for a vacuum-infused fiberglass truck camper manufactured with state-of-the-art equipment and materials by an energetic company ready to take on the world. And if that doesn't get you, meet Megatron.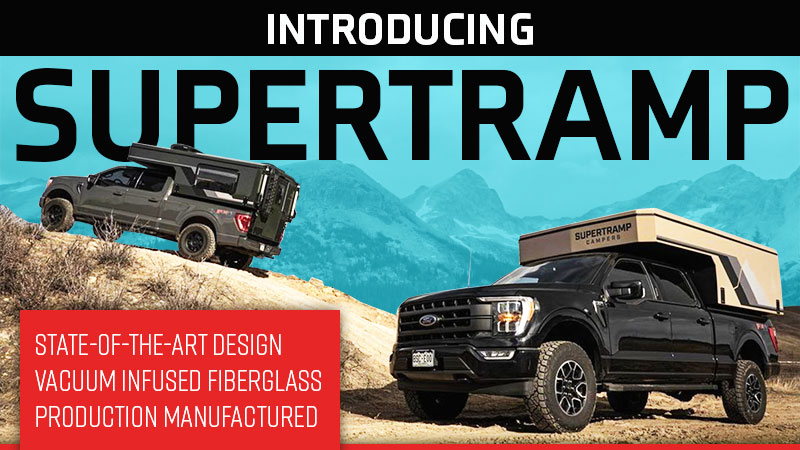 Supertramp Campers is the direct result of a relentless multi-year effort by company founders, Keith and Kelsey Panich. In 2017, the couple set out on a personal quest to create an affordable and durable off-road camper for themselves. That effort became an entrepreneurial mission full of hard-earned lessons and critical pivot points conquered with old school grit and determination. No part of Supertramp – the company or the camper – was handed to these two.
Along the way, Keith and Kelsey refused to compromise their vision. If they couldn't find the ultimate solution to a design element, material, or manufacturing process, they created it. This meant reinventing the accepted ways campers have been developed for decades. It also required taking risks with equipment acquisitions, leased space, personnel hires, and capital requirements. Nothing was going to stop them from achieving their goal.
If the story ended there, we would have a production camper company unlike any other in the marketplace; but the Panich's weren't finished. Where the overland camper market typically focuses on custom builds, Supertramp takes a very different approach. In their charge to perfect the pop-up camper, Keith and Kelsey discovered the features and components that represented the best value-to-performance ratio and made them mandatory.
You read that right. Supertramp has honed a formula for what they believe is the best possible pop-up truck camper available today, and that's what they offer.
And if none of that fuels your spirit, Supertramp has Megatron. Megatron isn't a demountable truck camper, but boy is it a warning shot straight across the bow of every high-end hard side truck camper on the planet today. Supertramp is just getting started.
To learn more about their company and their vacuum-infused fiberglass pop-up truck campers, we talked to Kelsey Panich, Chief Operations Officer of Supertramp Campers.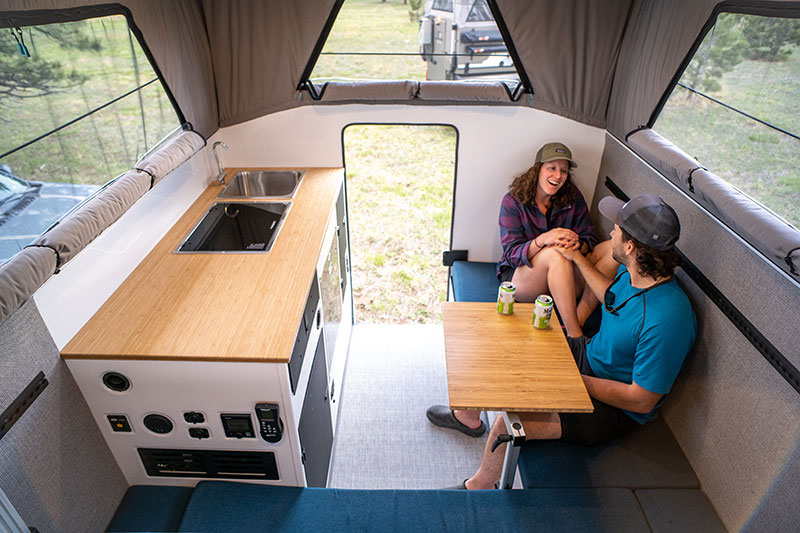 Above: Kelsey And Keith Panich, Founders of Supertramp Campers
What's the story behind how you founded Supertramp?
From the beginning, Keith and I were passionate mountain bikers and skiers. We live in Colorado and were regularly getting out with our Ford F-150 to camp. We eventually became frustrated with the process of getting off work at 5:00pm, packing up the truck, unpacking the truck, setting up camp, and then trying to relax. That's when we started looking at truck campers.
We looked at new campers on the market and decided they were outside of our financial reach. We looked at the used market and we were blown away that campers were seemingly all built and designed the same way. There were really no huge innovations in the truck camper world. We saw this as an opportunity to build our own. Keith designed and built his first unit out of sheet metal skin and aluminum tubes with pink insulation panels.
With that first prototype, we learned a lot about condensation and materials. We also learned that building the most cost-effective camper wasn't for us. A lot of the products we were using didn't offer the necessary efficacy. For our second prototype, we looked at different levels of materials, components, and appliances. That's when we started learning about composite panels and decided to build a fully composite camper.
That process took about two years. Keith and I went all over the country looking for a company to build a shell for us. Unfortunately, these companies wanted to compromise on the products used for the laminate schedule (the materials, layers, and orientation of layers used to create a composite part) and camper shape.
From there we took about two more years to learn composites and laminate schedules and worked closely with vendors on that effort. That resulted in our third prototype; a three-quarter hard side composite camper. The camper had a lot of complexity and, when we released it, we didn't get the market feedback we were anticipating.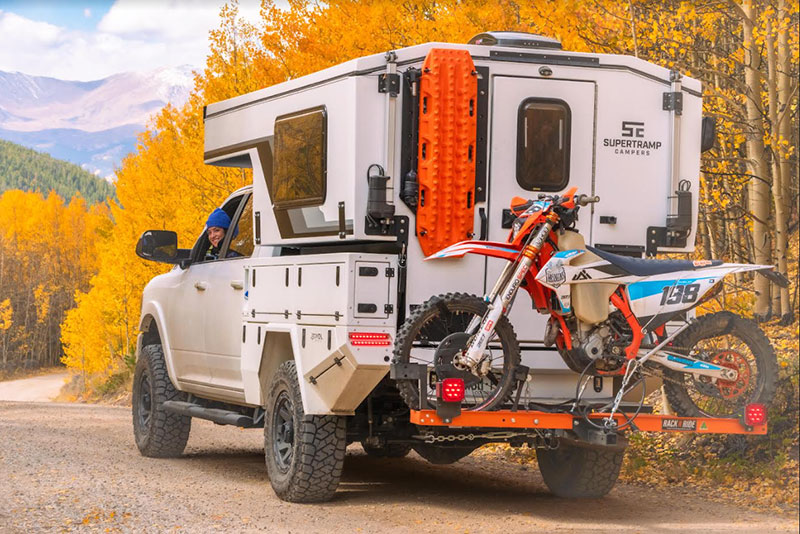 Above: A Supertramp Flagship LT and Bowen Customs bed
In August of 2021, we went to a full soft-sided pop-up that was very well received by the public. Finally, we knew that we had landed on the right thing. By this point we had adjusted the interior layout multiple times, went through four different iterations of interior appliances, and tested everything.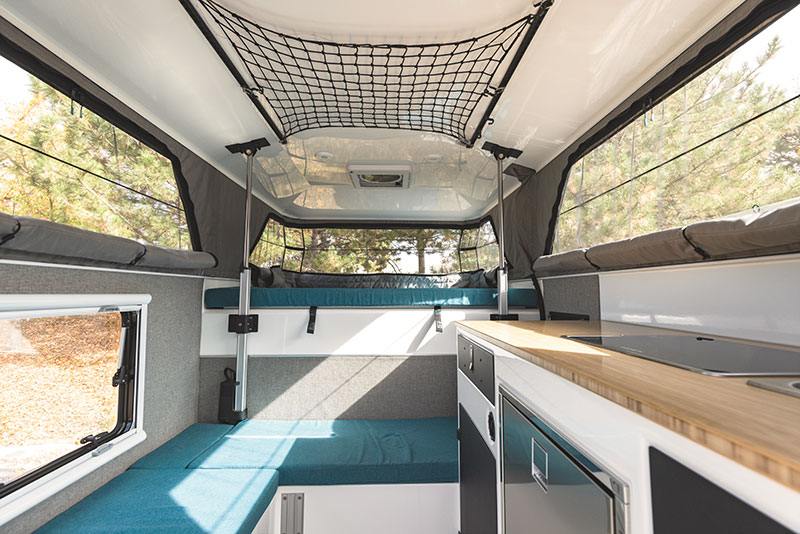 Above: Click here for more information about the Supertramp Flagship LT
We had the right recommendations for customers on the electrical system, battery power solution, and appliances throughout. That camper is the Supertramp Flagship LT, and we're getting to ship our 69th unit.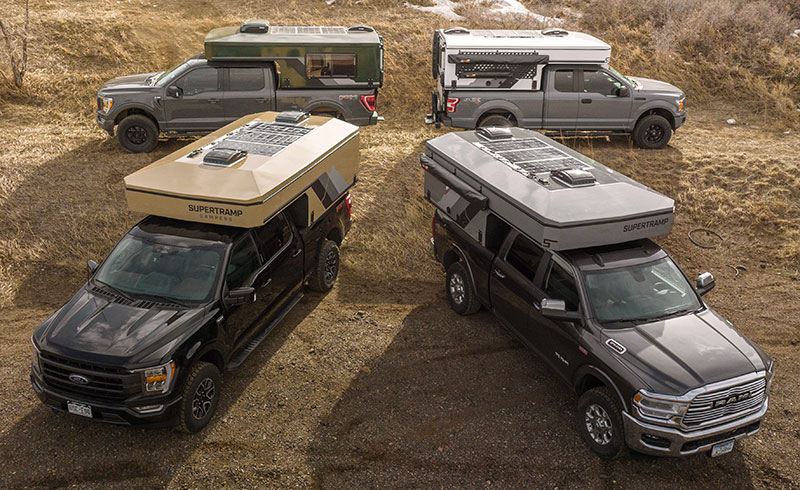 That's incredible. What are your professional backgrounds?
Keith Panich is our primary Founder and Engineer. His background is in manufacturing and engineering. Prior to founding Supertramp, Keith worked at three different sheet metal machining and fabrication companies learning everything he could about building, machining, and making parts. He also took advantage of every opportunity to learn CAD, welding, fixtures, and quoting. He was interested in the whole business and how it runs.
My background is in sales. I was fortunate to work for a family-owned company here in Colorado called Source Office and Technology. The owner was personally interested in my success at the company. If you put in the effort and the work level, they invest back into you. I still work with that owner as a mentor today. He meets with Keith and me on a quarterly basis to talk about how we're running our business, how we're growing, and our vision. My workplace was such a counterbalance to Keith's. We took the best things from both of our backgrounds and decided what we wanted to implement at Supertramp.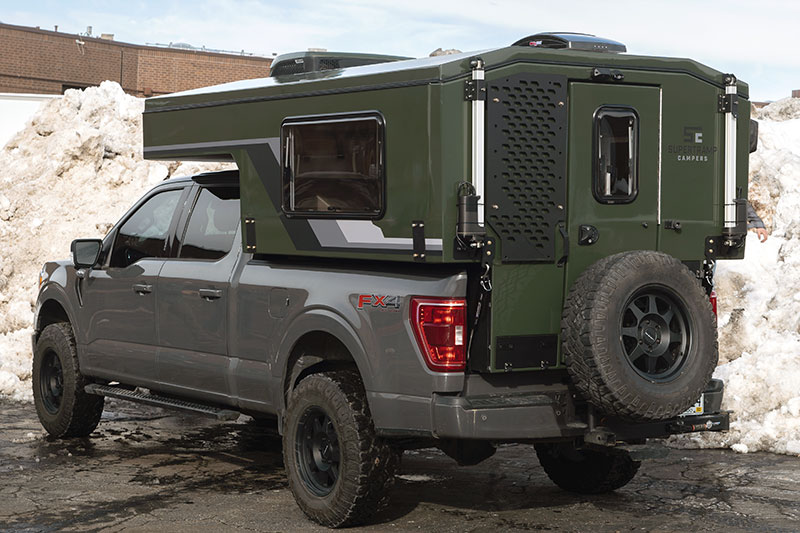 What's the story behind the name Supertramp?
The name comes from Alexander Supertramp. Alexander Supertramp left a normal life (where you go to college and get a job) to live a nomadic existence in nature. He met an unfortunate and early demise, but the impact that he had on the people that he met during his adventure was pretty profound. His life was the subject of a 1996 book titled Into the Wild and a 2007 movie of the same name.
Alexander Supertramp had a high impact on people. We wanted to embrace that. Supertramp is not a traditional camper name. Our name is different and unique. When we put the name on our prototypes and drove into little mountain towns, we would see people mouthing it. It was catchy. And of course, the band is lots of fun as well.
You're bloody well right. Supertramp's website describes the company as, "…a wonderful place to work with a great team." Then it lists employee benefits including two weeks paid time off, unlimited overtime, flexible work schedules, bring your (well-behaved) dog to work, snacks, energy drinks, and a "badass" coffee machine. What's the story behind your approach to team building at Supertramp?
We have found that hiring for character over skillset is going to have a better outcome 99-percent of the time. We have found a lot of the trade and skills that we require can be trained. If someone has an open mind and a good heart, we can train them.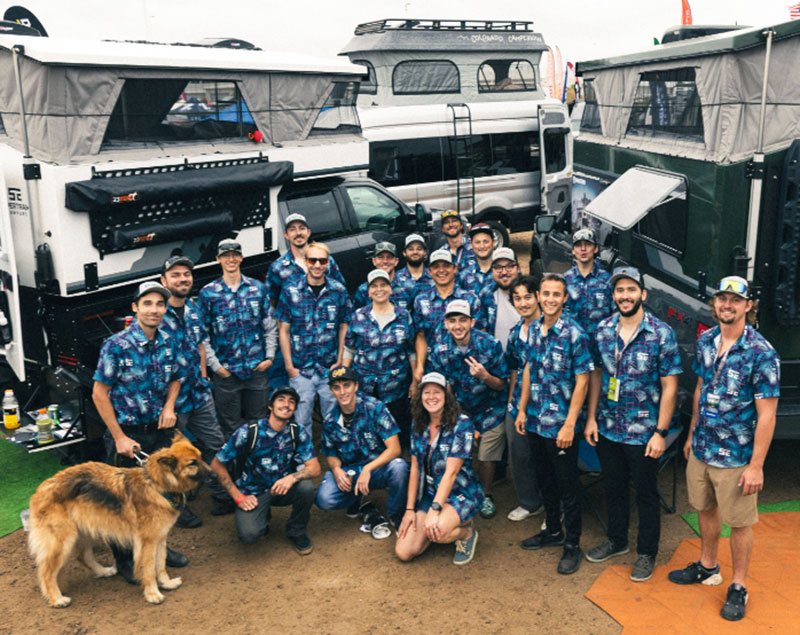 We spend more time with the people we work with than our loved ones. We want to surround ourselves with people who are energetic, positive, and driven. We want people who want to make this a career, not just a job. There is an opportunity while we are growing this company to craft your career. By finding people who want this opportunity, we are making it the best place to work. We also rigorously interview.
In his previous work, Keith saw how toxic manufacturing companies can be. When manufacturing mistakes are made, it can lead to finger-pointing and blame. We don't want that type of culture here. When something goes wrong in manufacturing at Supertramp, we take ownership first. Either we didn't have the right training in place or the right procedures set up. By making it our fault first, it allows our team to step up. In manufacturing, that's what you want. You want people to step up, not be uncomfortable, and admit if there were any mistakes, challenges, or issues.
"We want to have innovative processes and push the boundaries of what's possible. We also want to make the highest quality solution at the lightest weight."
Supertramp won a $250,000 grant from the state of Colorado for, 'using innovative and advanced manufacturing techniques, materials, and machinery.' Tell us about this award and how you won it.
Winning the grant goes back to how we approach manufacturing campers. One of the first big things we saw in the camper industry was that manufacturers were using the same processes. We want to have innovative processes and push the boundaries of what's possible. We also want to make the highest quality solution at the lightest weight.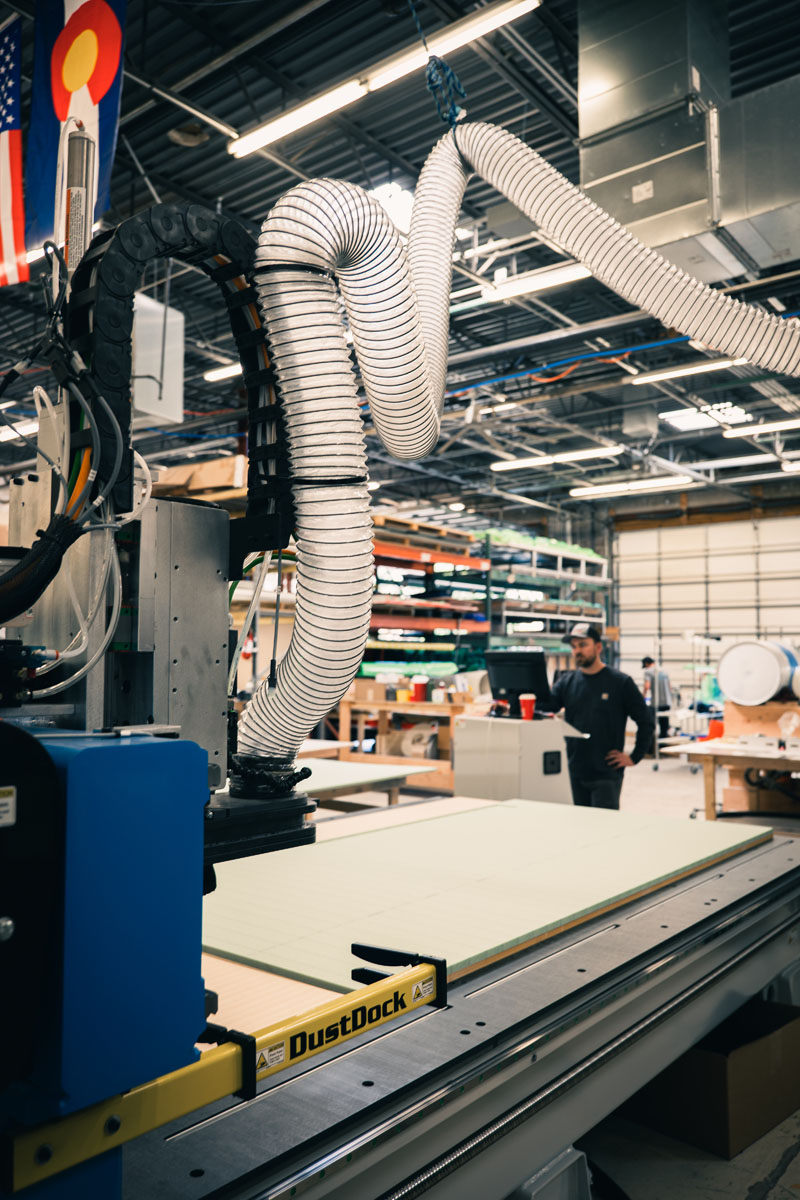 Above: A CNC machine at Supertramp Campers
With composites, the typical process would be a wet layup. In a wet layup, you layer in a piece of fiberglass, you wet it out with resin, and then you put in your next piece of laminate, and then the next. It's a labor-intensive manual process that's not consistently repeatable. There's also a high exposure for your employees.
The first thing we wanted to do differently was a process called vacuum infusion. Typically it's reserved for the wind industry, aerospace, and defense. The vacuum infusion process is challenging and technical. It's equal chemistry and art, but the perks of it are that it's easily repeatable once you have the right process in place, and results in a high-quality, lightweight part. It also limits exposure for your employees.
Another standard in the industry is using composite panels and adhering them together with a frame. We feel that our product is stronger as one monocoque shell. It's all one-piece that gives strength from that property.
By setting all of that up instead of a traditional camper manufacturing process, we had the opportunity to apply for the Advanced Industries Grant offered by the Office of Economic Development of Colorado.
We applied for the grant to design silicone mats that we would use as reusable vacuum infusion bags. Reusable bags can save 50 percent of our process time, 10 percent on our build and materials, and eliminate waste. We also proposed our company vision for becoming a large-scale automated composite manufacturer. Reusable bags are the first step of that automation. The bigger picture is that we will have some level of automation building our third line of campers.
We worked closely with SBA advisors here in Colorado and were awarded a grant for the manufacturing sector.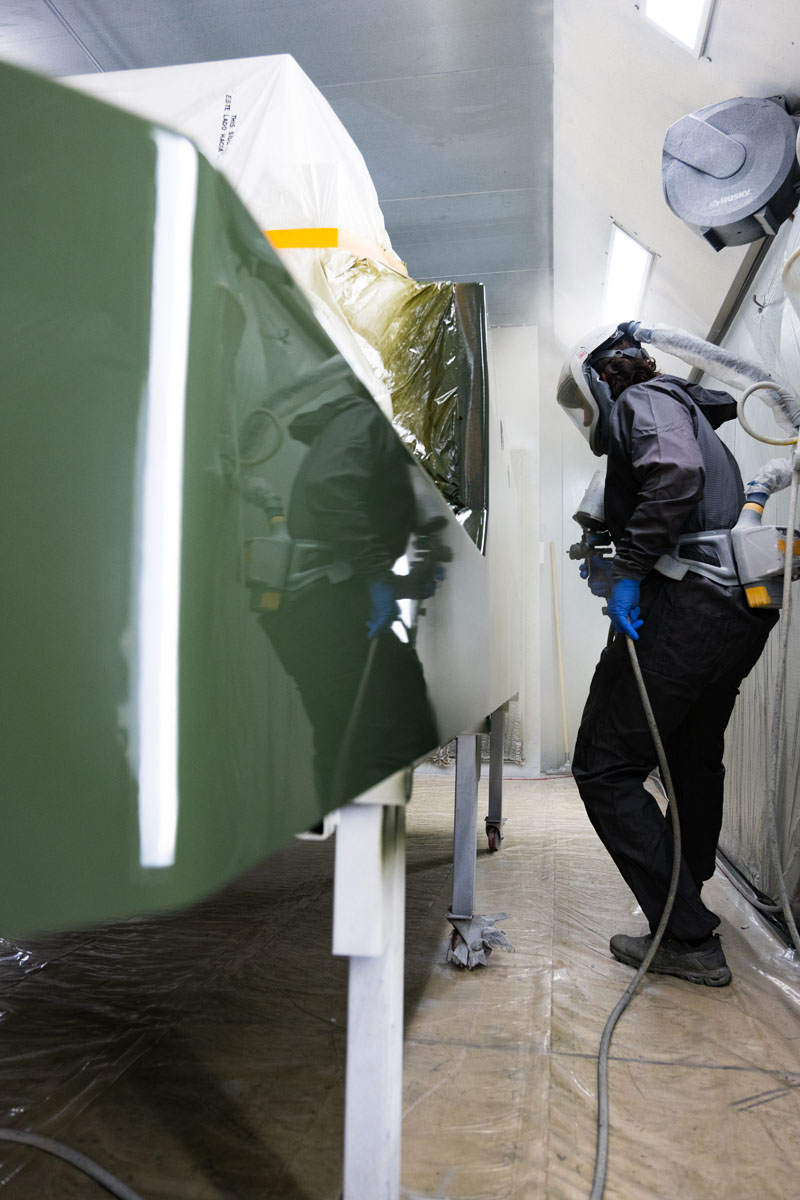 What did you use the grant money for?
We acquired additional equipment and personnel and implemented our reusable bag. The bag has been prototyped and is now in testing for longevity before we implement it on multiple different parts. We want to make sure we are getting the perfect vacuum, infusion, and chemistry with the silicone mat.
The first piece of equipment we purchased with the grant was a vacuum resin mixing machine. It eliminates exposure to our team. Previously they would have to hand mix the resin and catalyst together and then infuse it into the part. This machine mixes the resin and the catalyst and eliminates exposure to our team members. It also takes out the human potential for error of not having something repeatable in the exact same way.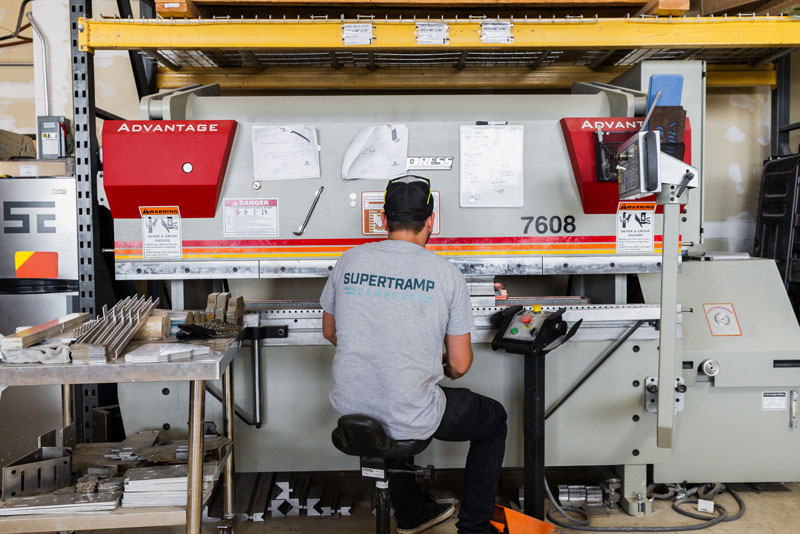 Above: The press brake at Supertramp Campers
We also used the grant to purchase a new CNC machine, a water jet, and a press brake. For us, vertical integration is important. We are building composite campers, but there are still a large number of metal components, PET foam, UHMW, and bamboo that have to be processed.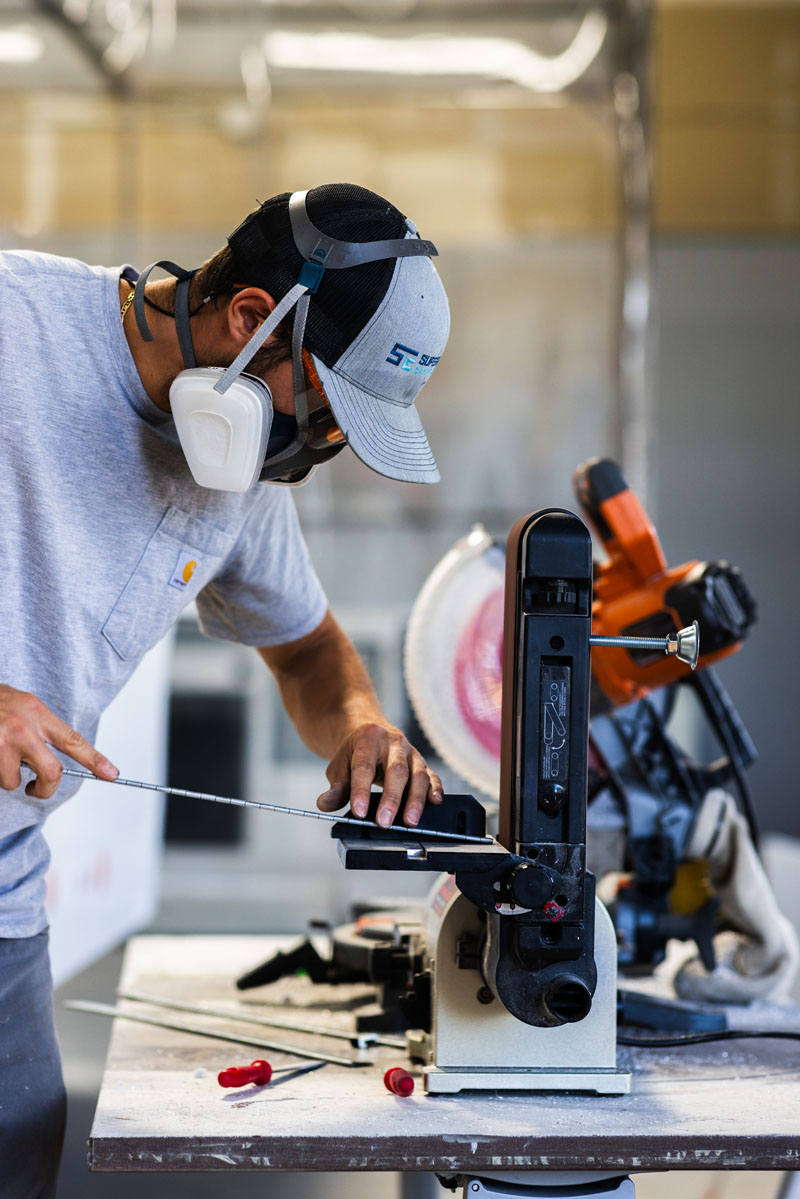 Processing those materials in-house allows us to change things easily. If we get feedback from the field and want to implement a change, we can. If we want to bring a new product to market, we have all the equipment in-house to do it.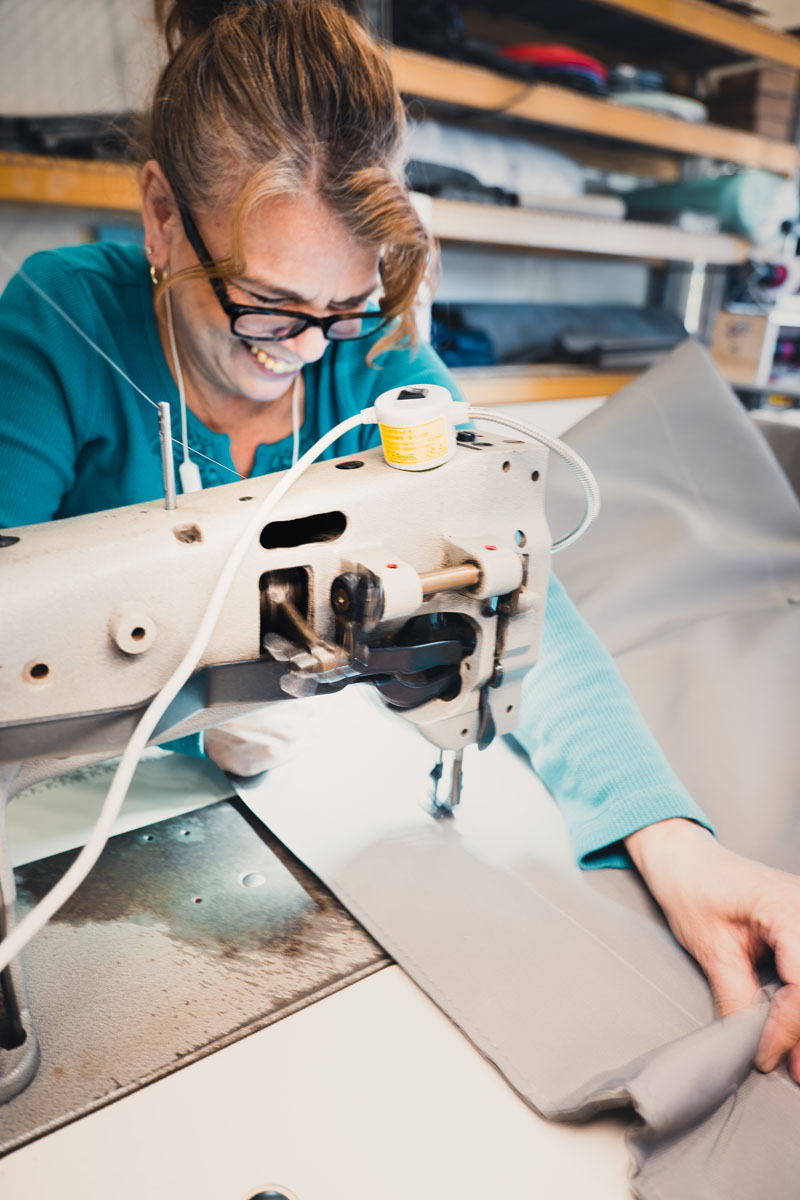 We also purchased two more industrial sewing machines increasing our sewing capacity and brought on personnel associated with that equipment.
Supertramp is a direct manufacturer. Why did you choose to sell direct?
We are centrally located in Denver, Colorado. There's no better place to start your first truck camping adventure. We also believe that sharing our product and knowledge directly with the consumer helps differentiate us from other manufacturers. This also allows us to use the highest-grade materials and not have a middleman to take away from that. Being direct allows us to develop and grow. If we hit boundaries with this approach, we may change.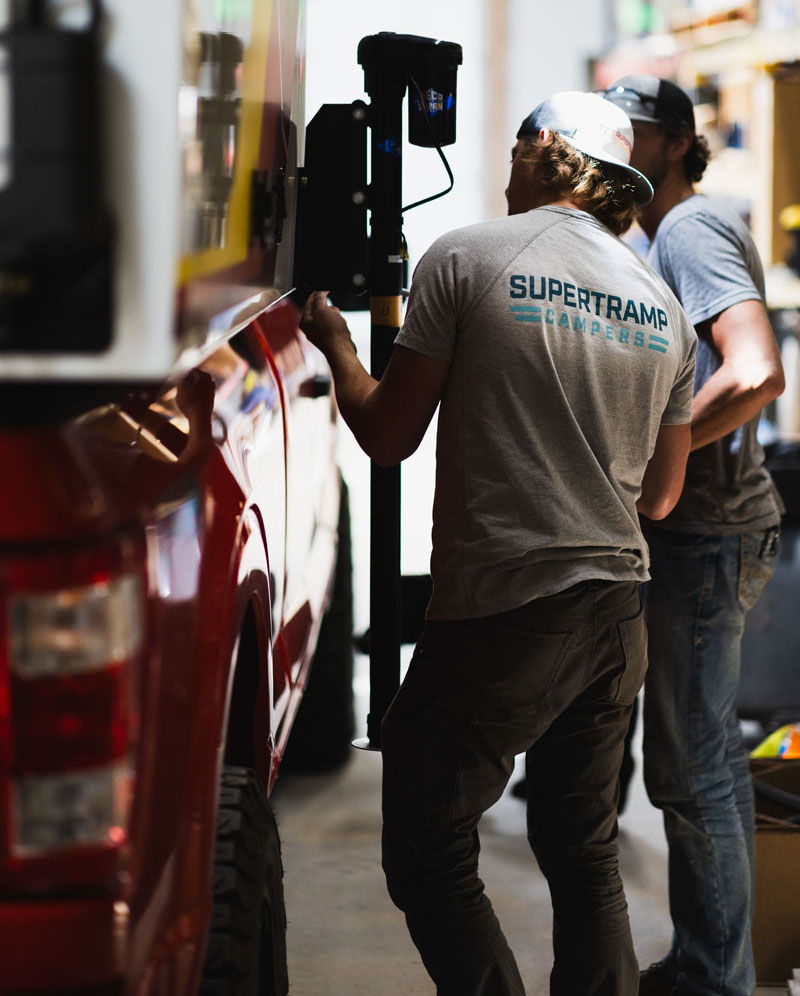 Is Supertramp a custom or production manufacturer?
We are a production-based company. We have about twelve options and upgrades that you can select for our campers. Those upgrades are more or less additions. The skeleton, base, and systems are all done the same way every single time with minor changes for the Truma Combi Plus, the Dometic RTX2000 air conditioner, or additional battery power.
Custom is too challenging to scale. There are a few companies that have done custom well, but even those companies start with ten layouts as proof of concept. It's really hard to make something profitable the first time you make it. You are learning a lot and you don't have volume. We want to grow into a large company that employs a lot of passionate people and provides our community with great careers. Production is what we're focused on.
"We feel composites are the best way to build and design campers and we will offer more demountable truck camper solutions as we continue to grow."
Right now you offer one truck camper model – the Supertramp Flagship LT. Will you be offering more demountable truck camper models in the future?
Yes. We feel composites are the best way to build and design campers and we will offer more demountable truck camper solutions as we continue to grow. But that's all I'm going to say about that for now.
We do have another product in development right now called the Megatron. It's a fixed (non-demountable) camper on a Ford F-550. Megatron is an all-in-one product at a much higher price range. We took a Megatron shell to SEMA and the full Megatron will be on the road next year. Our peak skill level will be shown through that rig.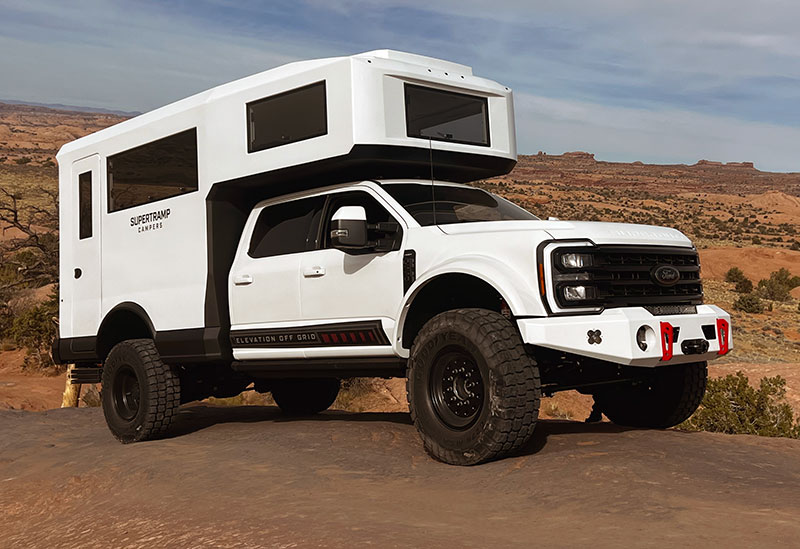 Above: The Supertramp Megatron on route to SEMA 2023
Our readers will see the Megatron and wish it was demountable. Is that a possibility in the future?
There is the possibility in the future for a demountable hard side camper. It will be closer to the Flagship LT in price.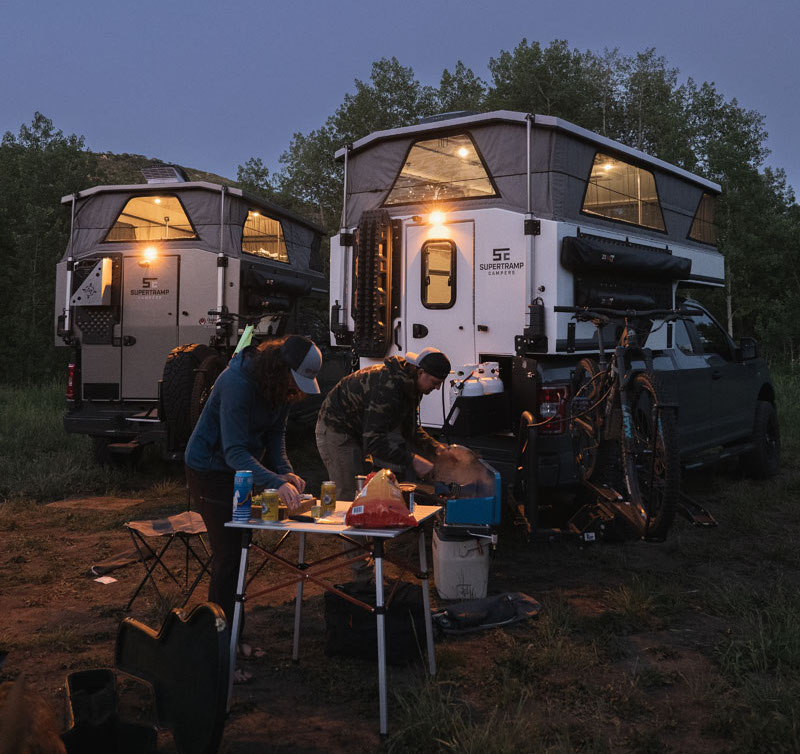 Is there anything else about Supertramp that you want our readers to know?
We are a passionate group of individuals who love being outdoors pushing what's possible. 99% of what we design and engineer, we manufacture in-house. After extensive research and development, we believe that vacuum infusion using full-composite materials is the best way to build campers. We stand by our customers and will continue developing our team, manufacturing processes, and procedures.
"We stand by our customers and will continue developing our team, manufacturing processes, and procedures."
We mindfully pick appliances. We'd rather have one positive transaction with a customer than a long-term relationship on the service end. We're putting in the best appliances and features to eliminate that. We also have quick guide videos to educate our customers on how to use their camper and the appliances. We want to educate our customers.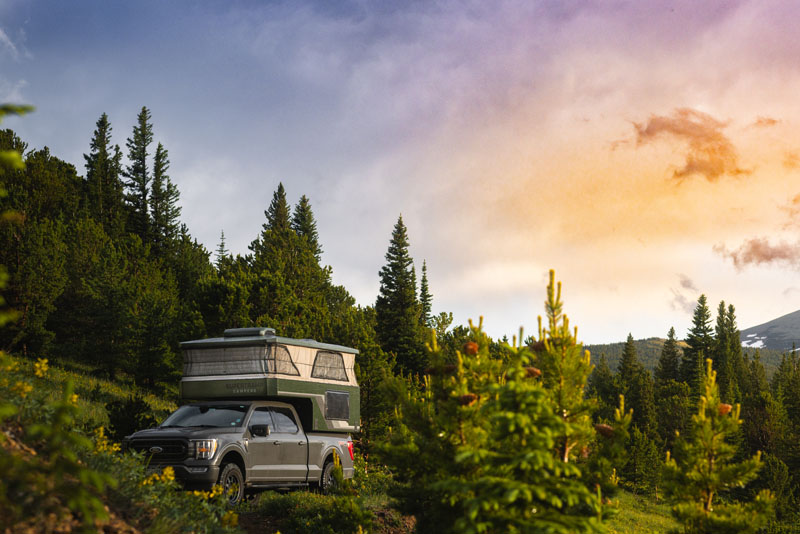 What's your five year vision for Supertramp?
We are continuing to invest in composite technology and our capacity to build in-house. As much as we are a camper company, we are a manufacturing company. We will continue to grow in scale as a manufacturing company that produces campers. We are a privately held company and plan to stay that way.
We think our impact as a company will be amplified as we continue to grow in scale. We want to do it mindfully focusing on what's best for our customers and employees. We offer well-paying jobs to our employees and have good relationships with customers who love their campers and can hand them off to their kids one day.
For more information on Supertramp Campers, visit their website at SupertrampCampers.com. Click here for a Supertramp Camper brochure.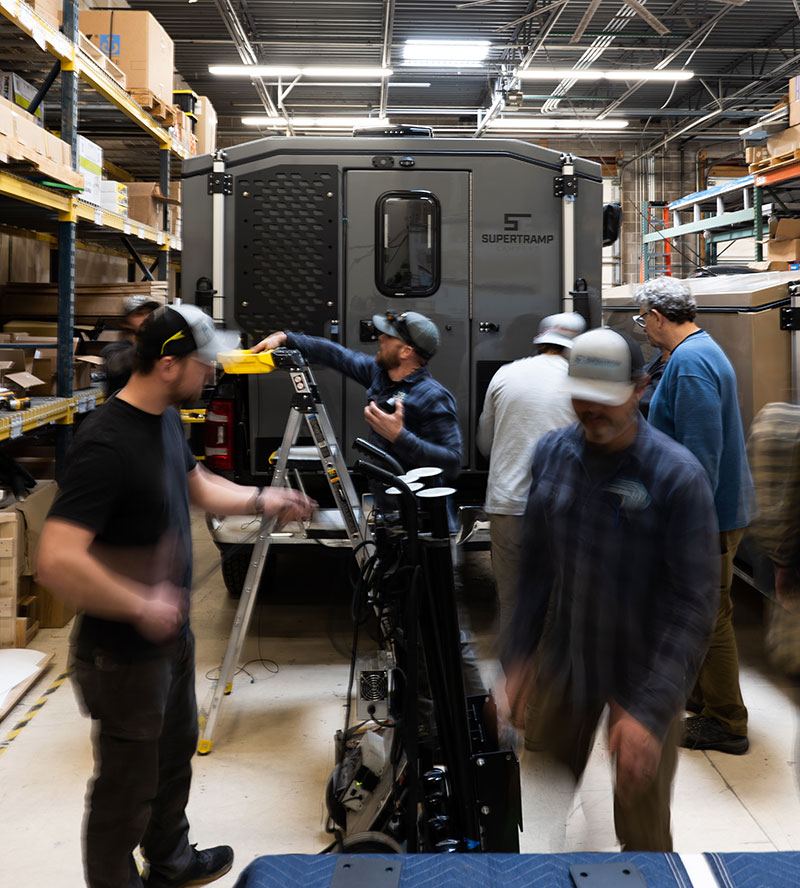 Above: The Supertramp team during a customer load out
Next week: We will feature a deep dive into the 2024 Supertramp Flagship LT; design, specifications, capacities, and lots of photography. Stay tuned!