In November of 2016, we moved into our current facility, a 22,000 square foot building.  When we moved here, we were looking for a building big enough for both our tiny house and truck camper lines.  As of right now, we are back ordered with eight tiny homes.  Things have really taken off.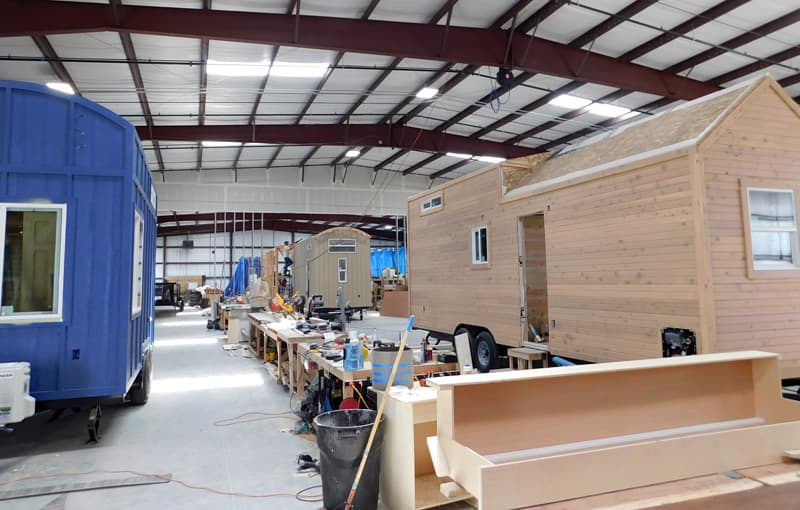 Above: Tiny houses on the Tiny Idahomes production lines
TCM: That's an incredible start-up story.  What do you think sets Tiny Idahomes apart from other tiny house builders?
Jesse: From the beginning, I set out to get our tiny homes certified by the RVIA (Recreational Vehicle Industry Association).  No tiny house manufacturer was certified at the time.  When I contacted the RVIA, they were not interested.
That's when I joined forces with another tiny home manufacturer, Tumbleweed Tiny House Company in Colorado Springs.  Together we petitioned the RVIA and proved that our tiny homes are recreational vehicles.
The negotiations with the RVIA took nine months, but they eventually let us become members.  Tiny Idahomes and Tumbleweed Tiny Homes were the first two companies to build RVIA certified tiny houses.  To this day, all of our tiny houses and truck campers are RVIA certified.
TCM: Why do you believe the RVIA certification was important?
Jesse: RVIA certification is the highest level of certification available to the tiny home and recreational vehicle industries.  I wanted tiny houses to be recognized as RVs and built to RVIA standards and safety codes.
The RVIA certification is further reassurance that a tiny home is built well and safe.  Safety codes are important to me.  That's why we are the only tiny house manufacturer who builds our own NATM (National Association Trailer Manufacturers) certified trailers.
I want to be a leader in the tiny home industry.  In that leadership, I want to help set the rules so other manufacturers have to stand up to our safety and quality standards.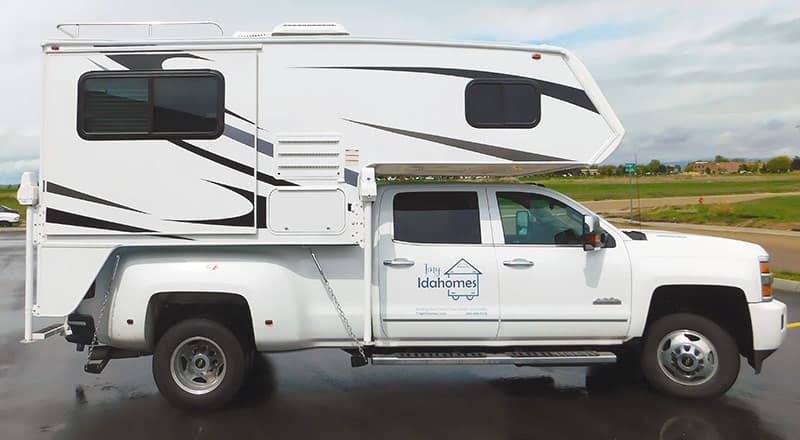 Above: Rugged Mountain Polar 860 camper
TCM: With Tiny Idahomes doing well, why did you decide to get into the truck camper marketplace with Rugged Mountain RV?
Jesse: Prior to starting Tiny Idahomes, I had a Northland truck camper.  Northland had been around for decades and built a very high-quality truck camper.
Tiny Idahomes just happens to be down the street from the original Northland facility.  I had heard rumors about Northland's owner wanting to sell out and retire.  Then an RV dealership out of Seattle bought the company.  After the acquisition, management decided to stop building Northland truck campers and switch to travel trailers.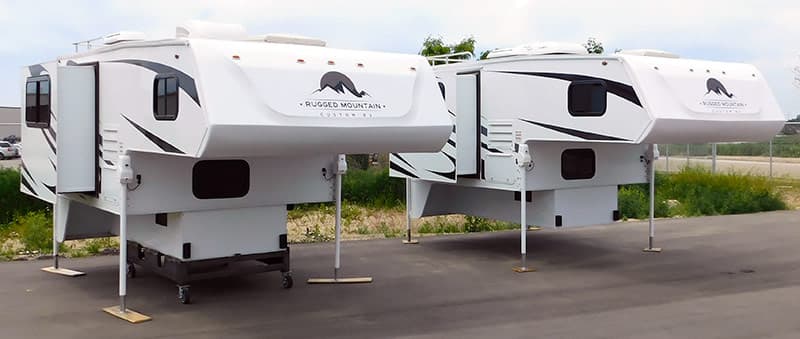 When you take a crew that's been building truck campers for years and tell them to build a different product, you're going to have problems.  The new direction instantly slowed production and the newly acquired company started to fail.  That's when Pacific Coachworks in California bought the business.  Pacific Coachworks only builds travel trailers, so they also abandoned the Northland truck camper line.
Soon after, we hired the core production team from the original Northland factory including the foreman with 36 years experience.  When I asked the team if they would like to build truck campers again, they were very excited.