From Redmond, Oregon comes Cube Series, a revolutionary hard side pop-up truck camper for mid-size and full-size trucks. With a vacuum-bonded fiberglass structure, aluminum cabinetry, and a state-of-the-art basement, Cube Series challenges the concept of what a pop-up truck camper can be.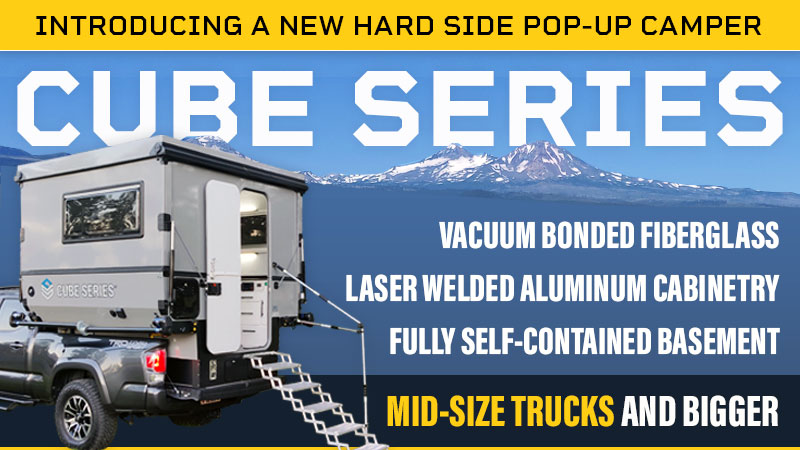 Everything about Cube Series defies expectations. The resin-infused molded fiberglass tub, roof, and side walls challenge the strength-to-weight ratio and finished quality of any motorhome, towable, or camper on the market today. The aluminum basement features a density of cutting-edge technology rarely seen in the most advanced RVs. And the manufacturing techniques and equipment at Cube Series leave most manufacturers – regardless of industry or product category – in the dust.
None of the above was apparent when we first made contact with Cube Series truck campers at Princess Craft RV this past May. The camper design was unique and impressive, but the majority of what makes this product stand out was literally infused into the molded fiberglass structure and beneath our feet. We also didn't yet appreciate the full magnitude of the Cube Series concept itself. Square that away for a moment.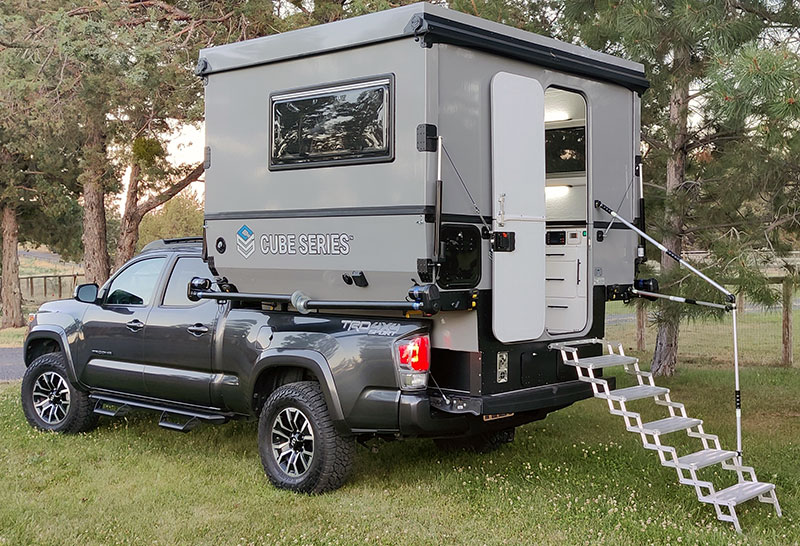 Above: A Cube Series in camping mode on a Toyota Tacoma mid-size truck
In July, we had the opportunity to visit the Cube Series factory, meet the leadership and production team and go deep with the company and product. The big take away is this; everything about the Cube Series design and build is the direct result of a focused vision to produce the highest quality, lightest weight, and most capable hard side pop-up truck camper possible for mid-size trucks. In fact, every aspect of the Cube Series design and build is the direct result of this objective.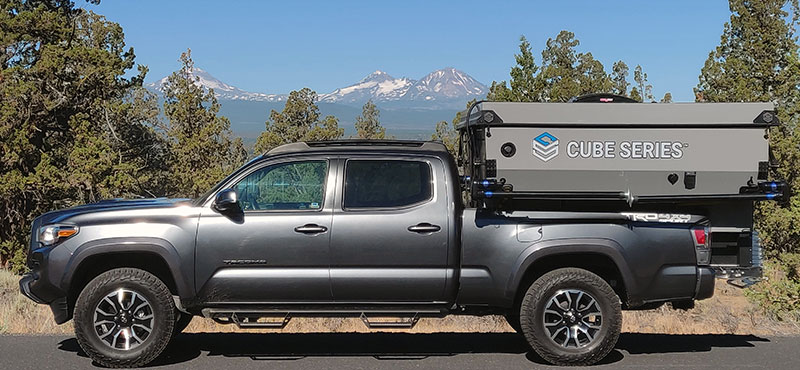 Above: In travel mode, the Cube Series can often fit in a standard garage
Why are the Cube Series tub, roof, and side walls resin-infused fiberglass? Why is the Cube Series an 88-inch caboverless cube? Why does the Cube Series feature a technology-packed aluminum basement? It's all about that mission. Everything else they attempted was a compromise. The Cube Series had to be exactly the product that it is to (a) work within the size and payload limitations of mid-size trucks, and (b) answer the product vision of the Cube Series team. Form followed function.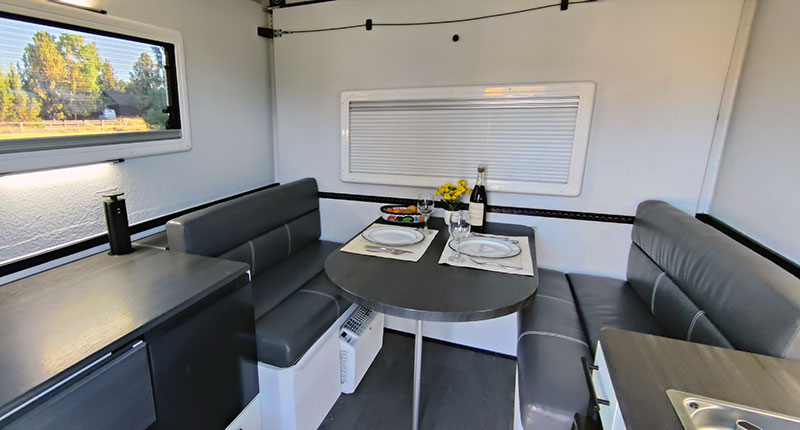 Above: The Cube Series features a face-to-face dinette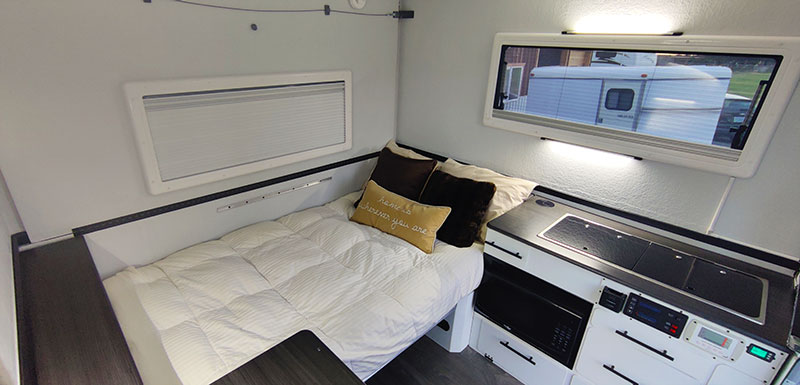 Above: The Cube Series dinette makes into a bed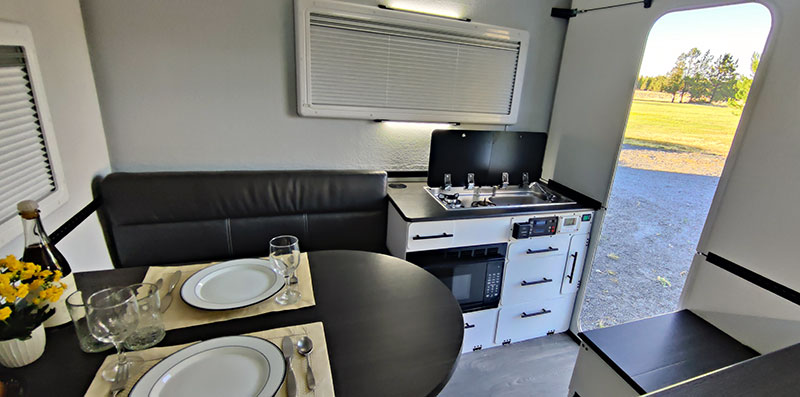 Above: The rear half showcases the fully-featured kitchen and a hidden cassette toilet
To learn about the backstory of Cube Series and get further into the details surrounding its innovative new camper, we talked to Rick Wise, President, and Randall Pozzi, General Manager of Cube Series. Have a seat. Like the product itself, this interview defies expectations.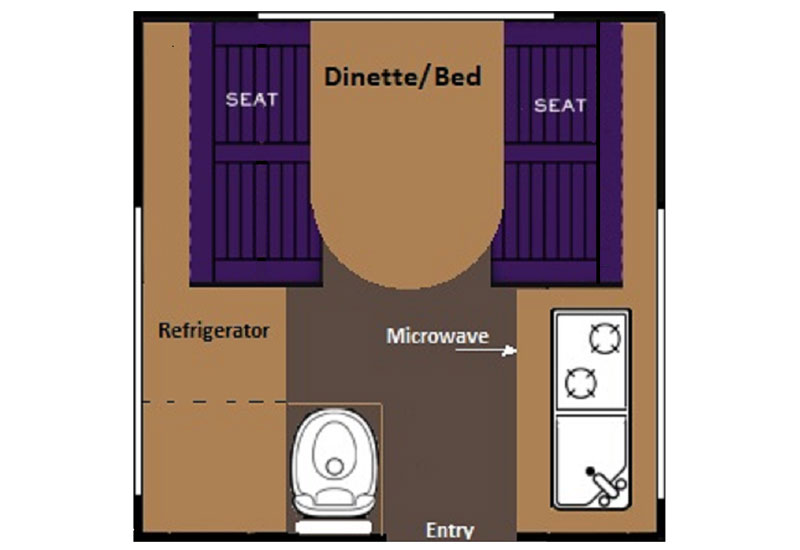 Above: The 2024 Cube Series floor plan
2024 Cube Series Specifications
The 2024 Cube Series camper is a pop-up hard-side, non-slide truck camper made for mid-size and bigger trucks. The interior floor length of the 2024 Cube Series camper is 88 inches and the exterior width is 88 inches. The interior popped-up height is 78 inches and the collapsed height is 52 inches.
It has a 21 gallon fresh tank, a 10 gallon grey tank, a 2.5 gallon black tank, and a 1.7 gallon water heater. The Cube Series camper has a 20 pound propane tank and the capacity for four batteries.
Cubes Series is reporting the base weight to be 1,206 pounds. The base MSRP is $43,509 USD. Click here to request more information about the Cube Series.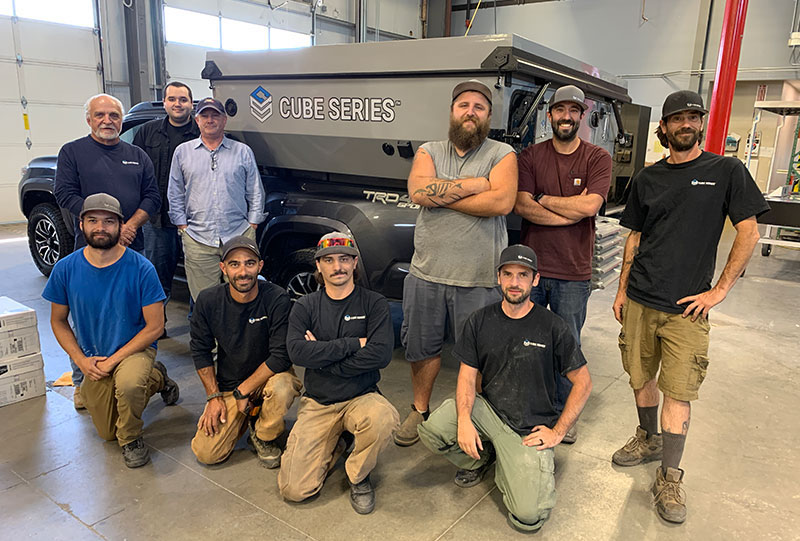 Above: The Cube Series Team at their Redmond, Oregon factory
What led you to found Cube Series? What's the back story?
Rick: I was the General Manager for a Toyota dealership for eleven years. At the time, my brother lived in Bend and worked at an RV dealership. He kept telling me to move to Bend and join him in the RV business. In 2011, I took a job as General Manager at All Seasons RV and Marine in Bend. In 2014, we purchased the company.
During my time at All Seasons RV, I noticed how many potential customers had mid-size trucks including Toyota Tacomas, Ford Rangers, Chevy Colorados, etc. That got me thinking about a camper that could work with a mid-size truck bed and payload capacity. I envisioned a hard sided truck camper that could be ultimate in security and four-season insulation.
From there I designed a camper that worked within the mid-size truck limitations and started to build a prototype. We explored a wide range of materials before selecting fiberglass for its low weight, high strength and long-term quality. Then we met Composite Approach, the incredible fiberglass company and team that also builds the bodies for Earth Cruiser's premium overland vehicles. The concept of Cube Series was taking shape.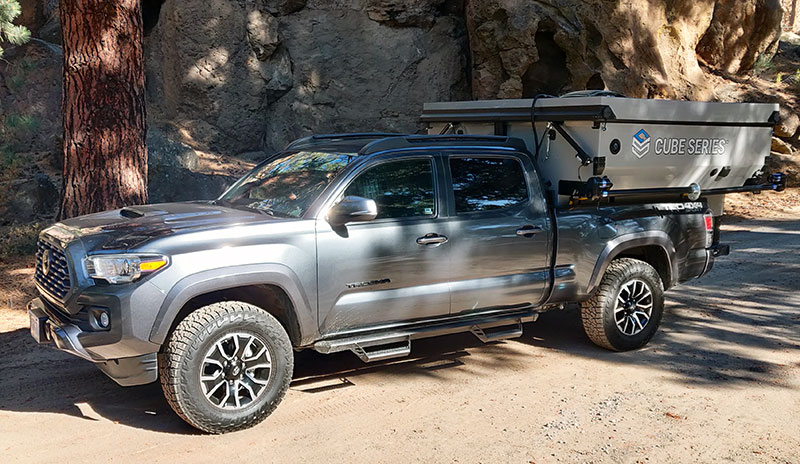 Above: A Cube Series in travel mode on a Toyota Tacoma mid-size truck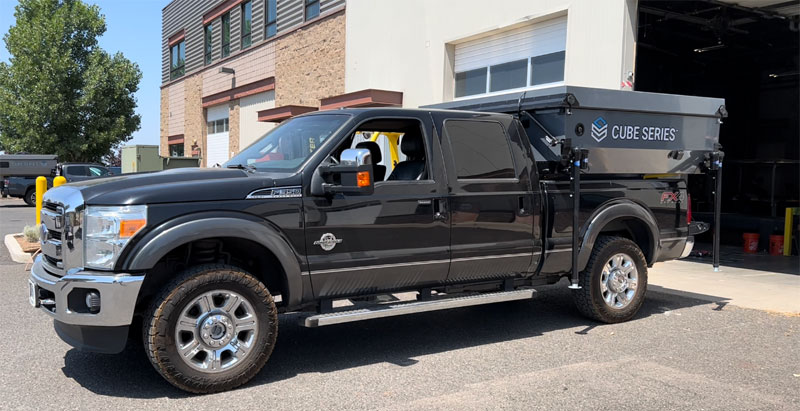 Above: Shown here leaving the factory, the Cube Series also fits full-size trucks
That's right about when All Seasons RV and Marine received a buyout offer from Camping World. During the acquisition, we secured the building that is now shared between Cube Series and Composite Approach, and started working on the final design, fiberglass molds and manufacturing process. That's how Cube Series started.
Randall: I grew up in the woodworking industry making millwork, windows, and doors. I started working in my father's mill when I was 15 years old and eventually became the general manager. We employed as many as 1,800 people and consumed approximately 9.5 million board feet a month of pine shop lumber. After we sold the company, I spent another ten years in the window and door industry. Then, I spent a decade in the cabinet industry where we manufactured, pre-finished, and installed cabinets in approximately sixty residences a week.
Around 2011 I transitioned into the RV industry and started working for Host Industries. I've known the owners, Dave and Mark, for 30 years or more. One day Dave asked me to join them at Host, which I did, and thoroughly enjoyed my time there.
At All Seasons RV, Rick was a Host dealer and customer. When Rick asked me to help him with Cube Series, it was a good fit. I also wanted to do something different until I retire. The challenge of starting a new company and brand is compelling and Cube Series is clearly an intriguing product. I'm very excited about it.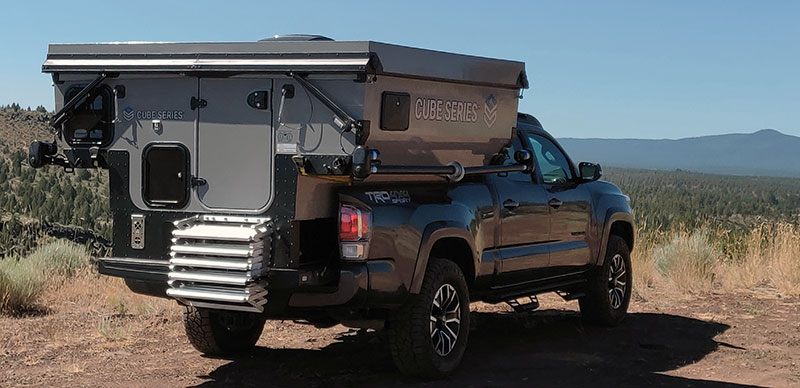 Are Cube Series sold factory direct, or through a dealer network?
Randall: Cube Series is sold through our dealer network. We can achieve a higher volume of sales by selling through dealers, and it allows potential customers to see the product in their market.
Rick: Dealers also offer local customer service, parts departments, and warranty support. Selling through dealers is a huge advantage for the customer. From my time with Toyota, I understand that treating the customer right and taking care of them after the sale is critical. At Cube Series, we are building a high-quality product and making customer satisfaction a top priority.
The Cube Series camper is 88-inches wide and 88-inches long. Why 88-inches for both dimensions?
Rick: Cube Series needed to be 42-inches between the wheel wells. That's the length needed to respect the wheelbase and center of gravity of mid-size trucks. The 88-inch width and length hit the mark on the widest number of mid-size truck makes, models, and configurations.
"The Cube Series will fit on almost any truck, even a full-size dually."
Randall: The Cube Series will fit on almost any truck, even a full-size dually. The only requirement is a 6-foot bed, or longer. On a 5.5-foot bed, the center of gravity is too far behind the rear axle.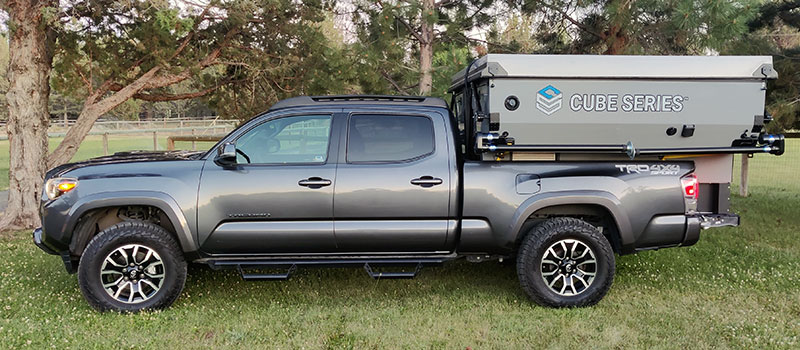 With a 52-inch-high collapsed height, the Cube Series is designed to fit inside a standard garage loaded on a truck. Was that an important design consideration?
Rick: It was for me. As an RVer, I'm a weekend warrior. By having the Cube Series fit a standard garage height, it's ready to go.
Randall: With so many HOAs not allowing RVs outside, the ability to not be seen behind the fence or to fit inside a garage was important to our design. Mounted on a Tacoma, the Cube Series will fit into a 7-foot garage without a roof rack or skylight. If you have a taller truck, or taller accessories on the roof, you need an 8-foot garage. Of course, you can also unload the unit and push it into a 7-foot garage on a dolly. The other major reasons are low center of gravity for drivability and the low collapsed height when off-roading.
Cube Series are being manufactured in different exterior colors; white, grey, and charcoal. This is unusual in the truck camper market. Why did you decide to offer different exterior colors?
Rick: We're offering Cube Series in three standard colors so that customers can choose what they like for their trucks. A lot of campers are available in grey and white, but we also offer dark charcoal.
Randall: The other day a dealer said, "This makes me inventory more models." Dealers do not need to inventory every color we offer. If a customer wants a different color, we have a quick turnaround. With spray-in gel coat, color changing is easy for us. And it doesn't affect the price. That's an advantage we have as a fiberglass camper over traditional frame and lamination construction.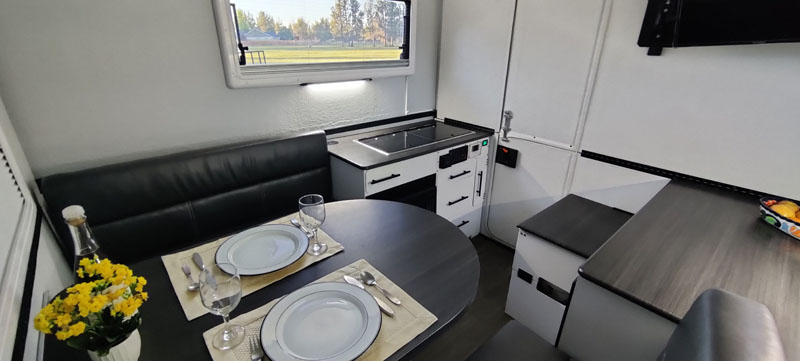 You describe the Cube Series truck camper as a four-season unit. What makes it ready for four seasons?
Rick: Cube Series has a hard-sided pop-up with a heated basement and thermal pane windows. We designed it as a four-season unit.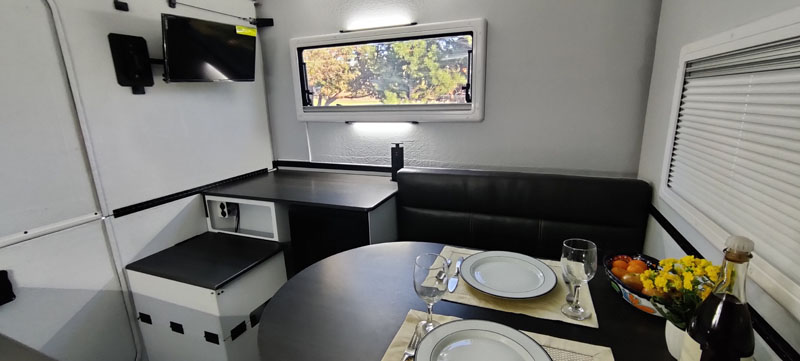 Randall: There is a 19,000 BTU furnace, so there's a ton of heat for the living area and basement. It's ready for winter camping.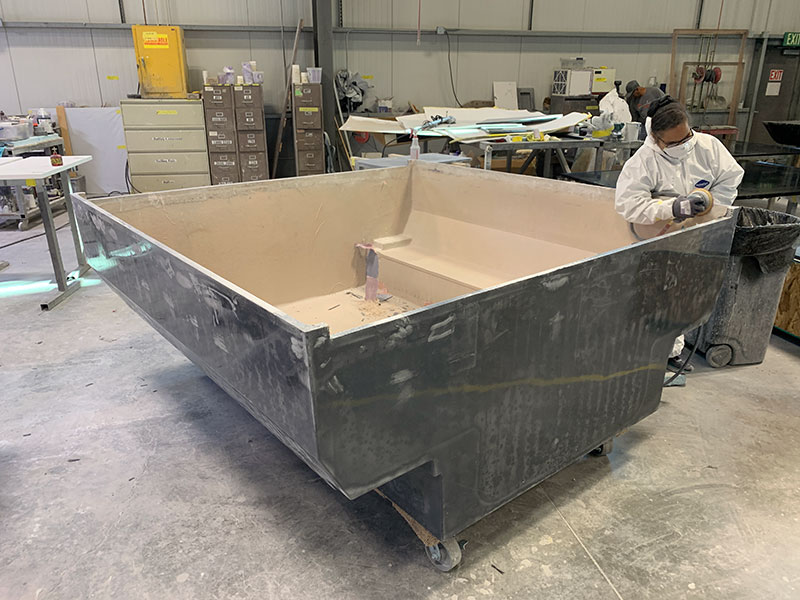 Above: A Cube Series fiberglass tub gets prepped for production
The Cube Series fiberglass tub, roof, and walls are resin-infused and vacuum bonded. Why was this manufacturing approach the best choice for Cube Series?
Randall: It's incredibly light and strong. Our first mock-up was aluminum-framed with styrofoam insulation and traditionally laminated panels. It was much heavier, and not nearly as robust as our resin-infused fiberglass build today.
It is not going to rot, delaminate, or leak. There's no wood in our structure. The tub, roof, and walls are one-piece units. Our cabinets are all aluminum. The only wood in our camper is under the dinette cushions. You could literally hose out a Cube Series if you removed all the electronics.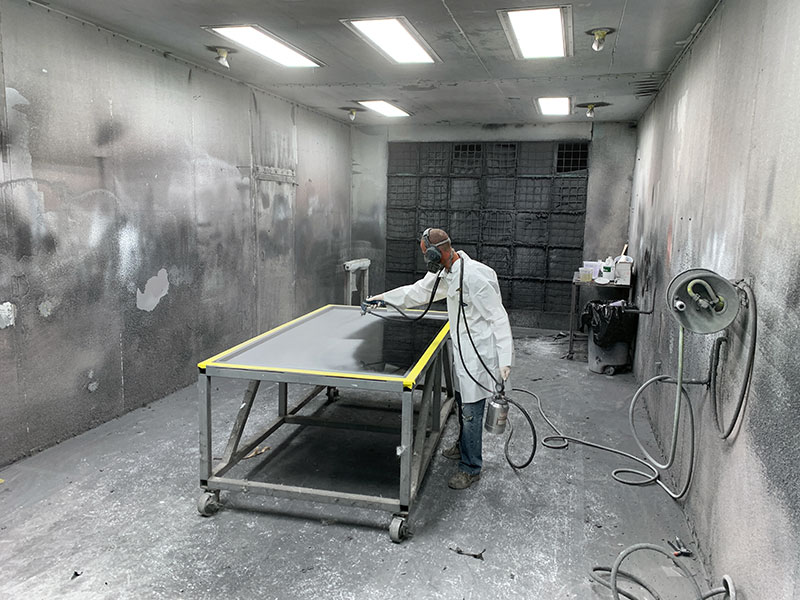 Above: A Cube Series panel mold is sprayed with grey gel coat
Is there any aluminum inside the fiberglass tub, roof, or wall panels?
Randall: Inside the fiberglass, we embed some aluminum and steel in the fiberglass for additional strength or attachment points. Specifically, we put metal where the jacks mount, basement attaches, and in a few other areas.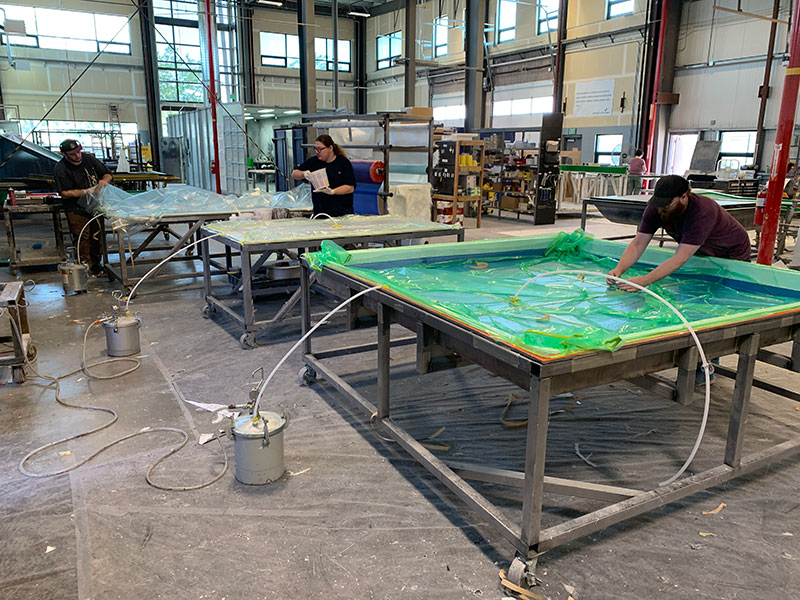 Above: A Cube Series fiberglass roof and side panels during the vacuum infusion process
Where are your resin-infused vacuum-bonded tub, roof, and walls manufactured?
Rick: At Composite Approach. They're located in the same facility as Cube Series here in Redmond, Oregon. We work with them hand in glove. It is a unique situation with huge benefits to our manufacturing, quality, and efficiency.
Composite Approach does aviation, so they work a lot with carbon fiber and have manufactured nose cones for satellite-bearing rockets and submarine drones designed to autonomously navigate oceans for months.
Randall: We have a joint meeting with Composite Approach once a week. They make our custom entry doors as well. It's a fantastic partnership.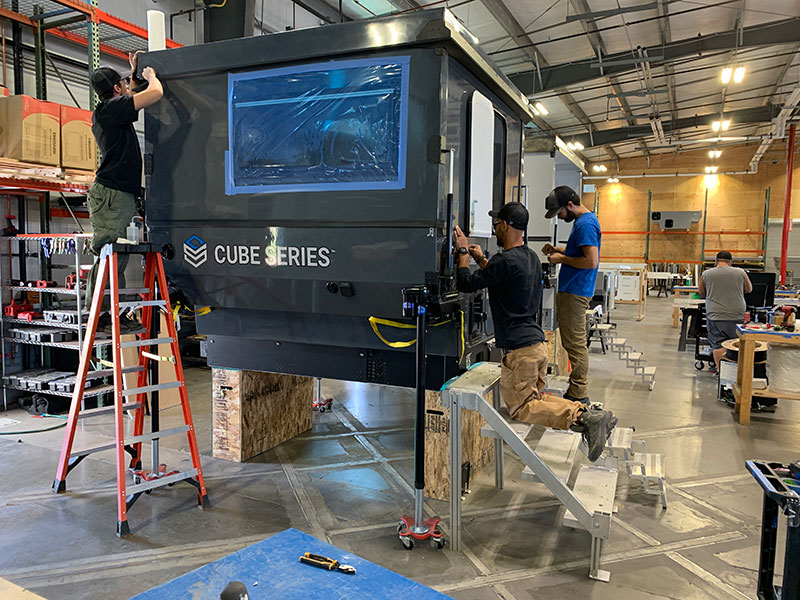 Above: A Cube Series is completed on the factory production line
The rest of the Cube Series structure is made of aluminum and steel. What parts of the Cube Series are made with aluminum and what parts are steel?
Randall: The parts that have steel are the jack mounts, actuator mounts, and things that require more structural strength. Other than that, nearly everything is aluminum.
Rick: Our cabinets are all-aluminum. We chose aluminum because it makes our cabinets lighter and higher quality. Everything about Cube Series is built to last.
Randall: In some ways, Cube Series is overbuilt. All of our design guys are off-roaders. From experience, they know what breaks on washboard roads. Wood cabinets can break apart from off-road punishment. Our aluminum cabinets will not.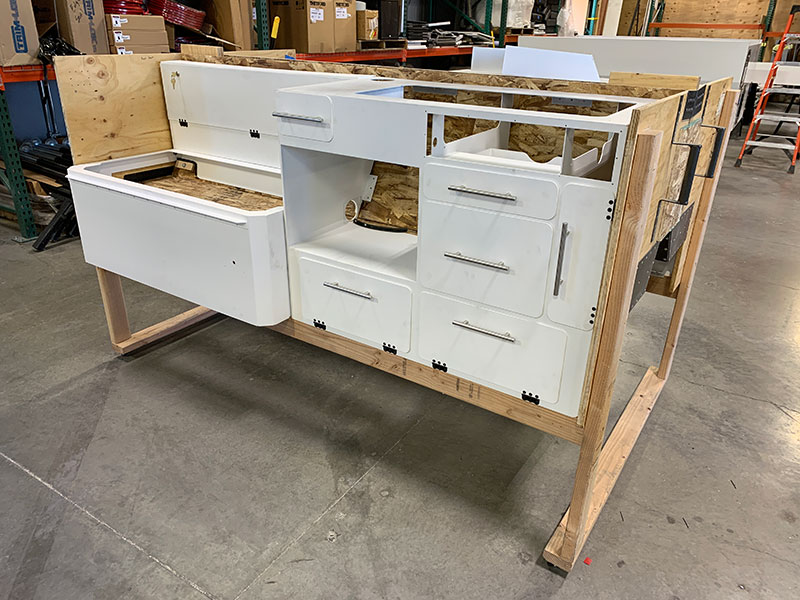 Above: A complete set of CNC laser cut and laser-welded aluminum cabinets
Are your aluminum cabinets also made in-house?
Randall: Yes. We cut, bend, weld, and finish our aluminum cabinets in-house. The only thing we don't do is the powder coat. There's a powder coat facility five blocks away. Any exposed piece of metal on a Cube Series is powder coated.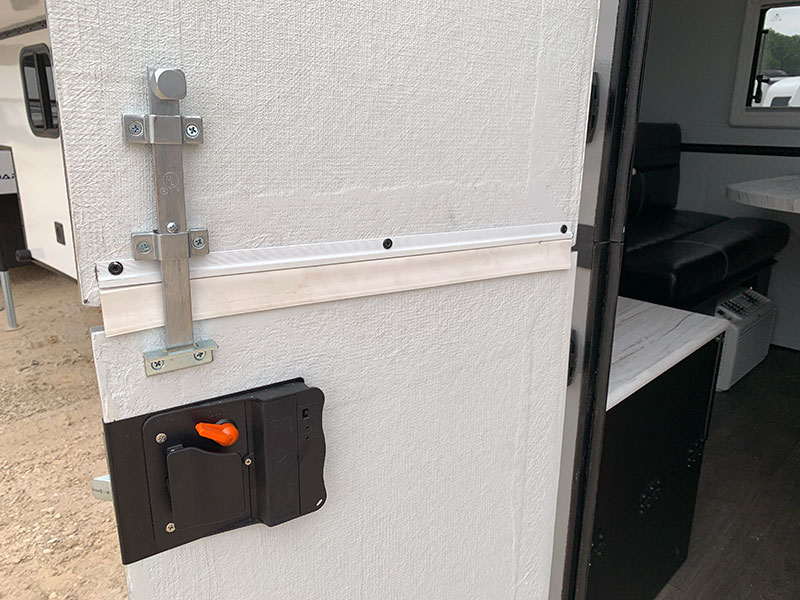 Above: The custom two-piece rounded fiberglass Cube Series door
You mentioned the custom doors. Why are you making your own doors?
Rick: That was Randall. Our doors were originally square. He designed a submarine-style (rounded corners) door that gives the doorway more structure and support. It's also easier to seal, so less moisture can get in. It's a much tighter seal.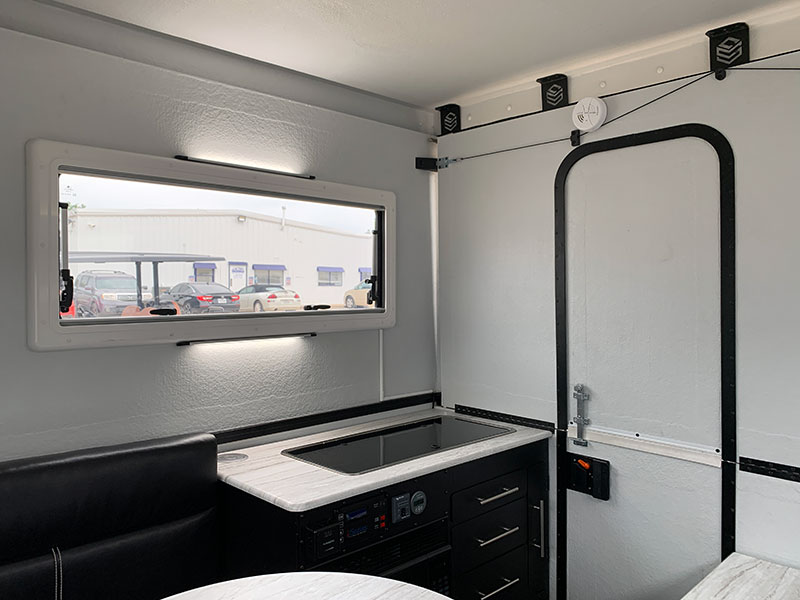 Randall: The majority of the Dutch-style doors in the RV industry are junk, so we decided to design and build our own door in order to maintain the same quality level that you find in the rest of our camper.

There are acrylic windows on the driver and passenger side of the Cube Series. Tell us why you choose acrylic windows.
Randall: Acrylic windows are a quarter of the weight of glass windows. They also feature a pull-up shade for privacy and a pull-down screen for bugs. That eliminated the need for a curtain. The windows are also tinted and insulated.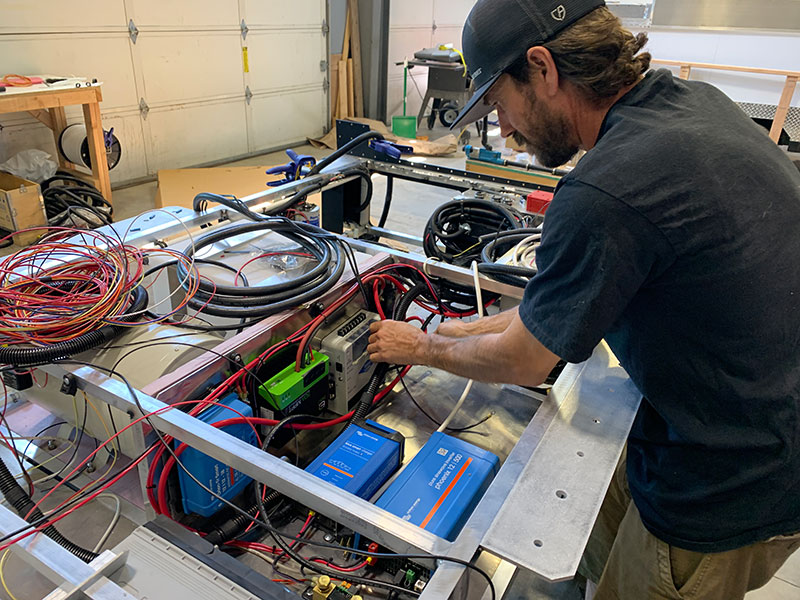 Above: A Cube Series team member works on a Rieco-Titan jack controller in the aluminum basement
Basements are typically a feature we see on larger hard side campers, not small pop-ups. What's the story behind the Cube Series basement?
Randall: Underneath the Cube Series fiberglass tub there's an 11.5-inch-tall aluminum structure. That is the Cube Series basement.
Nearly everything is in that basement space; the water systems, heat systems, electronics, batteries, water heater, water pump, furnace, DC-to-DC charger, and more. That's how we got the proverbial ten pounds stuff in a five pound bag. The basement panels come off so you can access everything.
Rick: We designed this camper with service in focus. As an RV dealer, I understand the importance of accessible batteries, battery disconnects, water pumps, electrical systems, plumbing systems, and beyond. What frustrated our techs was how every RV was different and had varying access to critical systems. Being a former Toyota dealer, I wanted to manufacture a product of the highest quality with serviceability built in from the ground up. Cube Series is that camper.
Randall: We are bringing a fully functioning basement display (see photo above) to the Overland Expos and other events. People will be able to see the fuses, water tanks, and water pumps are inaccessible spots.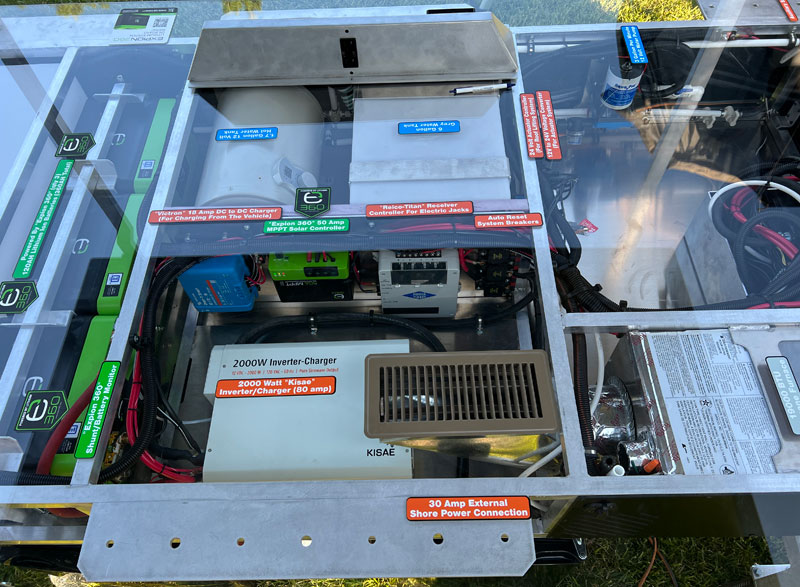 Above: A section of the Cube Series basement display showcased at Overland Expo Pacific Northwest
We have horizontal and vertical access panels to get to things. All service can be done through the side panels. The only thing you would need to drop the belly pan to access would be the furnace.
That's fantastic. We wish our 11-foot hard side camper was that easy to work on. How does a customer load a Cube Series truck camper?
Randall: Like any truck camper. Lift the unit with the four Rieco-Titan corner jacks and back your truck under the unit. Then lower it down into the truck bed and attach the camper with ratchet straps. Manual jacks are standard and powered jacks are optional.
Are the Rieco-Titan corner jacks field removable?
Randall: Yes. The jacks are easily field removable, or they can be turned into a horizontal position for maximum off-road clearance. The mount is rectangular steel tubing. Just remove the locking pin, pull out the jack, rotate the jack to the horizontal position, put the jack mount back into the steel tube and reinsert the locking pin. The nice thing about bringing your jacks is the ability to level the rig when camping on uneven ground.
How does a Cube Series tie down to a truck?
Randall: We use ratchet straps that go down to the rings in the bed of the truck. It's easy in the front to reach in and the back attaches to the rings near the tailgate.
If a customer chooses, they could use an external turnbuckle like Torklift Fastguns, but there's no need to. The included ratchet strap system is solid and lightweight.
Tell us about the design and development of your electric lift system and design.
Randall: You have four folding walls, so the lift system must be on the exterior. We use 24-volt actuators that are mounted to the outside of the unit. The actuators are custom-built to our specifications.
How does an owner pop up the roof for camping mode?
Randall: It's all push-button. When you push the up button, the side walls go up which also lifts the roof.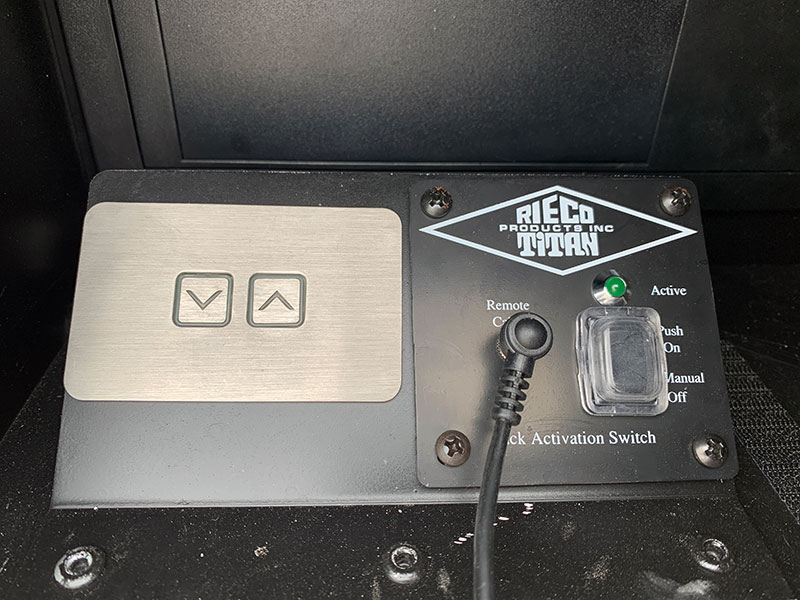 Above: The controls for the electric roof lift, and the Rieco-Titan electric jacks
After the side walls and roof go up, there are two arrows that you check for square alignment. Then you manually stand up the back and then front wall, and the latches click into place. Flat and bulb seals keep the camper tight against the elements.
Rick: If your Cube Series is in a truck bed, the square alignment and arrows will most likely be perfect. If the camper is unloaded on uneven ground, you may need to make some adjustments to the jacks to square up the unit.
If it rains, do Cube Series owners need to dry the panels before putting the camper into travel mode?
Randall: A little water may stay on the fiberglass walls. That's not going to matter. The side walls don't fold to 100-percent flat. There is a shallow angle, so they will shed any water.
Rick: There are no worries because the structure is waterproof.
What about the exterior actuators? Are they designed to be exposed to the elements?
Rick: Yes. They are waterproof and marine grade. And the housing and casing are all aluminum. They are designed for outdoor applications.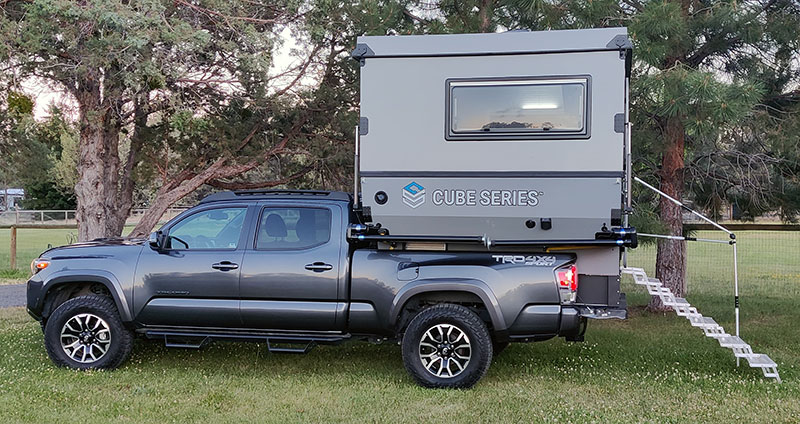 Above: Torklift GlowSteps and handrail on a Cube Series
What is the recommended entry step system for the Cube Series?
Randall: We have Torklift Glow Steps and their matching handrail as standard equipment.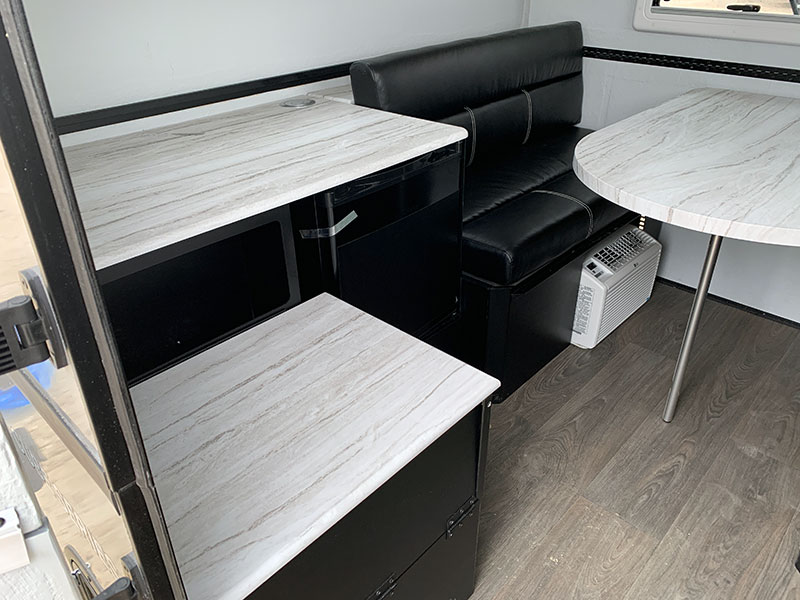 Tell us about the table tops and countertops.
The countertops and table tops are Thermofoil, vacuum-formed and sealed with an MDF core.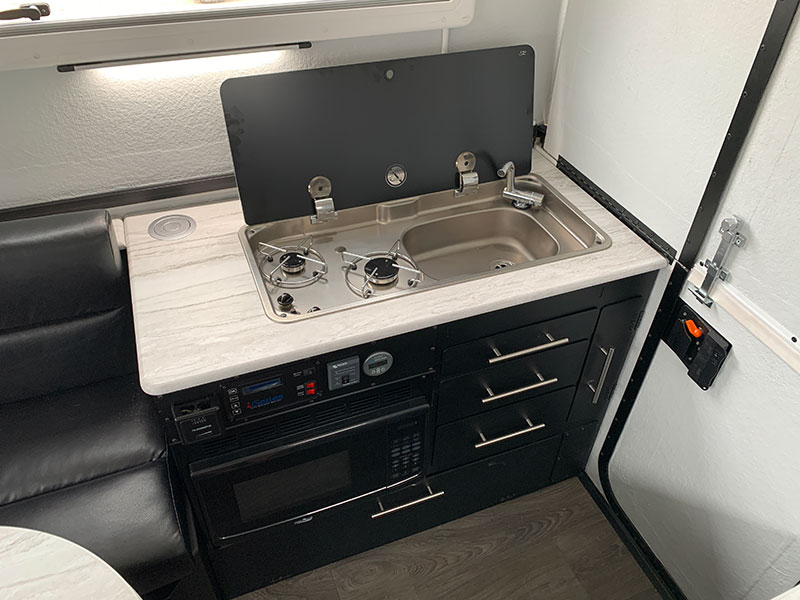 The combination two-burner cooktop and sink is huge. Why did you select a combination unit this size for Cube Series?
Rick: I benchmarked many elements of the Cube Series against the Winnebago Revel. The square footage inside the Cube Series is similar, as are the amenities. As for the combination cooktop and sink, if it's good enough for a $200,000 Winnebago Class B, why not use the same components in our Cube Series? We did our due diligence and tested every component, but the Revel was our reference.
Randall: The combination cooktop and sink has a flush glass top creating more countertop space when it's closed.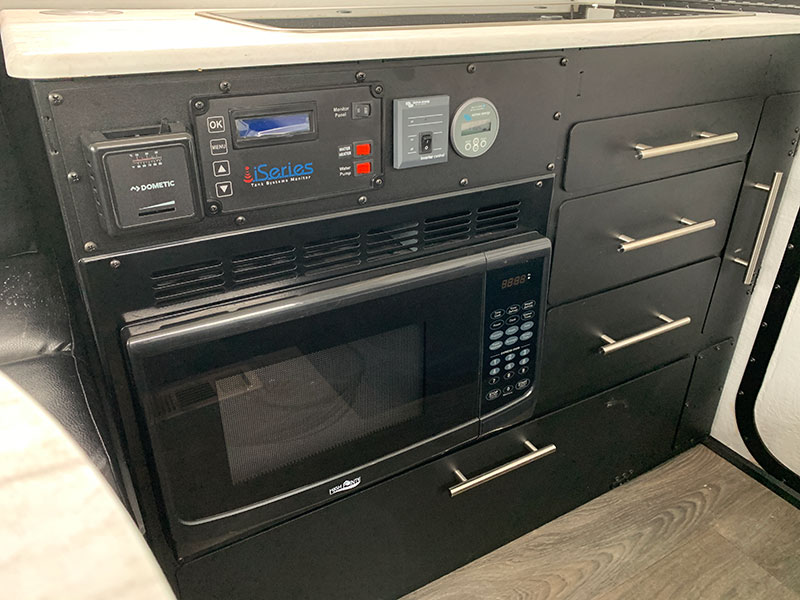 The microwave is also huge, especially for a small pop-up camper. Is that standard?
Randall: Yes. The microwave is a size that is readily available. If you want to swap it out, it would be easy to do. And if someone doesn't want the microwave, we could make that space storage.
We haven't come across the iSeries tank systems monitor before. What are the advantages of that system?
Randall: It's accurate. It features a strip on the outside of the tanks that gives you the actual percentages of each tank; not the 1/3,2/3, full like most tank monitors. It monitors both grey and fresh. And there is a switch in the panel for the water heater and water pump. It's all one control panel. iSeries tank systems are made here in Oregon.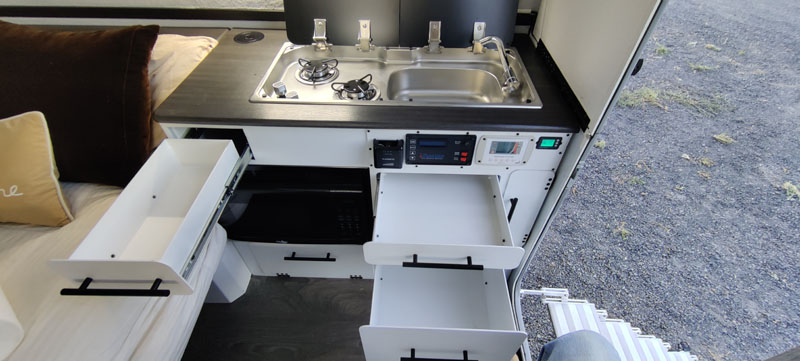 The kitchen drawers with ball-bearing drawer slides are insane for a camper this size. Why are drawers an important part of the Cube Series design?
Randall: The functionality and how the drawers operate is important. We needed to maximize the useable space as best as possible. We also want the drawers to operate smoothly and that is why we use full extension, ball bearing, soft close drawer guides.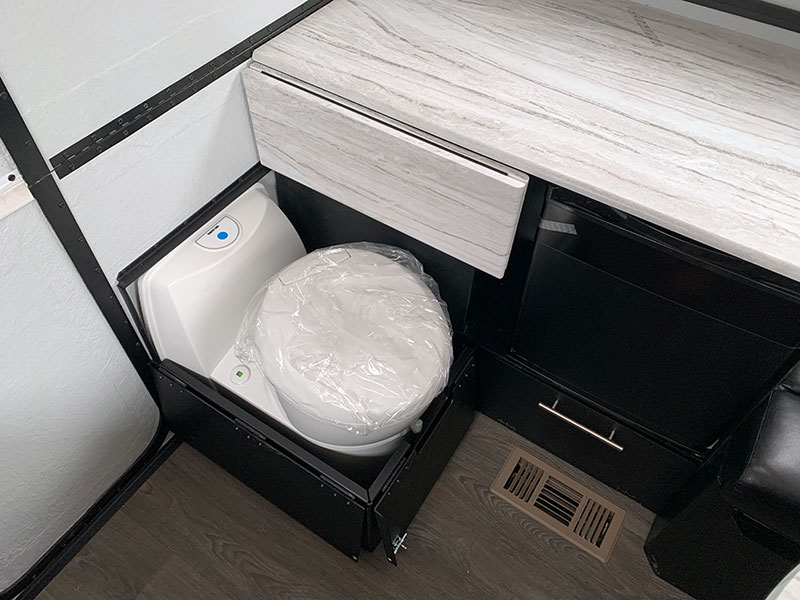 Why did you decide to include a cassette toilet in the Cube Series?
Rick: I wanted Cube Series to be a fully self-contained camper. That meant a toilet and holding tanks.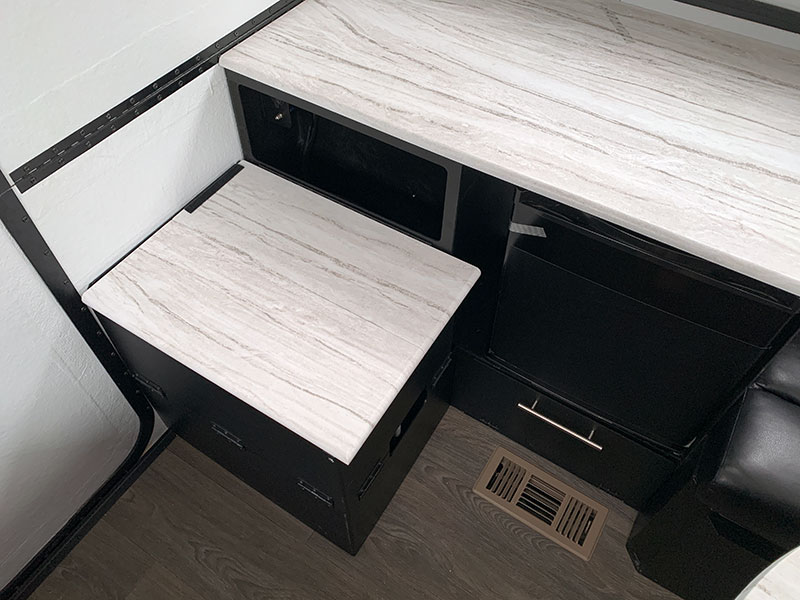 Going back to our benchmark, the $200,000 Winnebago Revel has a cassette toilet system. It's the perfect solution for Cube Series.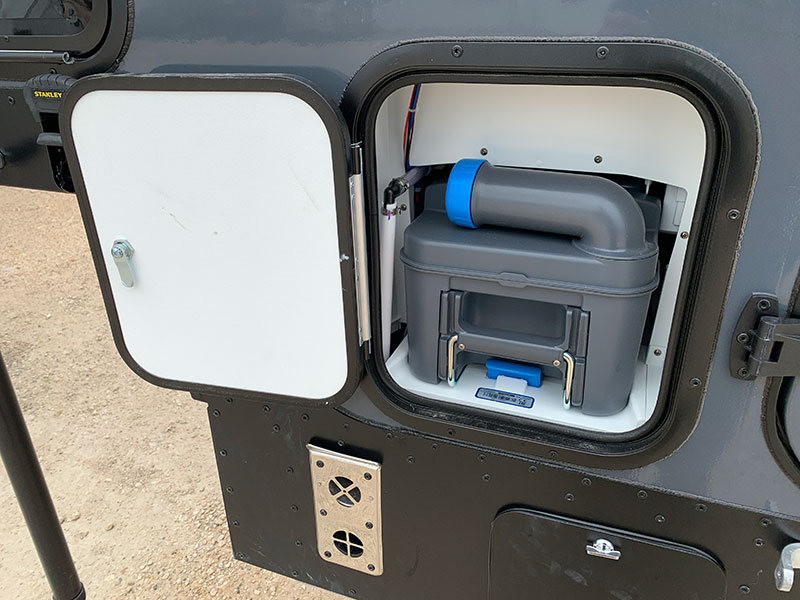 Randall: On a typical truck camper, there's a black tank and a dump connection that comes down. Cube Series fits entirely inside the truck bed, so we can't have a standard dump connection. The obvious solution was a cassette toilet. They're easy to use and built to last.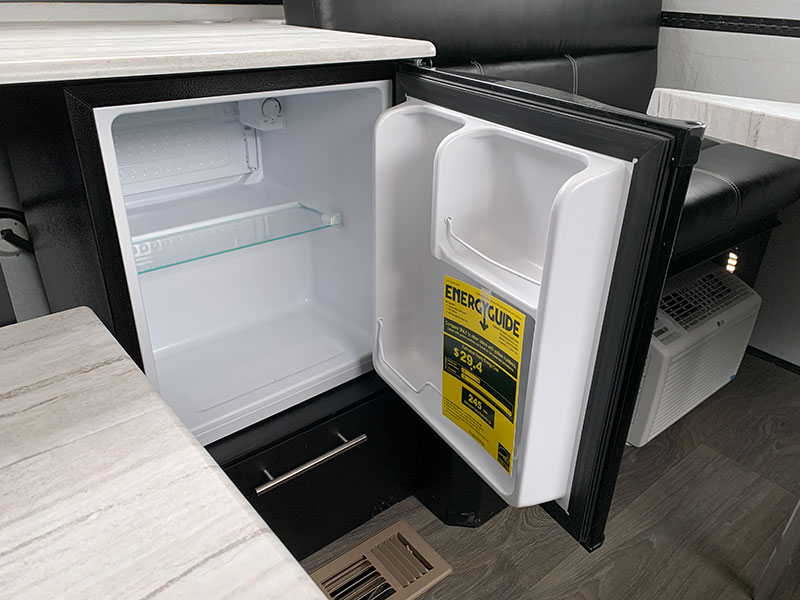 Having a built-in refrigerator in a truck camper this size is remarkable. Why not go with a removable cooler-style unit?
Randall: We considered that approach, but we would lose counter space.
Is the refrigerator you selected a 12-volt compressor model?
Randall: Actually, no. It's a 1.7 cubic foot 110-volt refrigerator that runs (on average) approximately 2.5 amps (12-volt). We have a Victron 500-watt inverter in the basement specifically to run the refrigerator. We also offer 380-watt, 500-watt, and 760-watt solar panel options.
When we ran the efficiency numbers, the 110-volt refrigerator made more sense than a 12-volt refrigerator. We made the same decision about using a 110-volt air conditioner. If you properly spec your battery, solar and electrical system, sometimes it makes more sense to use 110-volt components.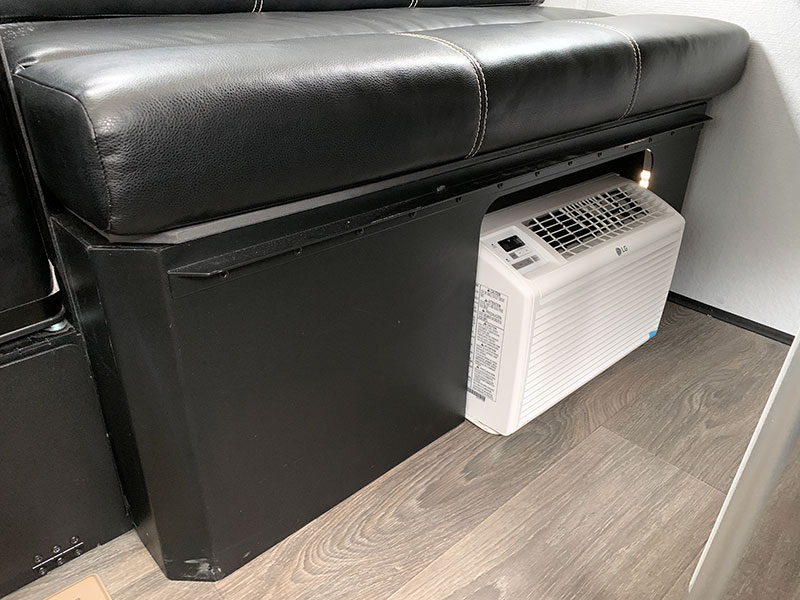 A 6,000 BTU residential-style window air conditioner installed under the dinette seat is unique in the truck camper marketplace. Why was this decided to be the best place for an air conditioner?
Rick: We needed the air conditioner low because our unit is a pop-up. I also wanted the Cube Series roof free for kayaks and other gear.
I first saw the air conditioner we're using in Jayco 145 trailers. It worked beautifully, and it kept a 14.5-foot trailer cool. That's what gave us the idea to use it in Cube Series.
Randall: A lot of teardrop trailers are using the same air conditioner. It's very efficient at 35 to 40 amps (12-volt) and pumps out 6,000 BTU. It's hard to beat for what the Cube Series needs.
Does this AC install location work when the camper is mounted in a truck bed?
Rick: Yes. It will run just fine. The Cube Series is set back just enough on mid-size trucks to give the unit enough room. On larger trucks, it has even more breathing room to operate.
Believe it or not, our 110-volt air conditioner and refrigerator run on 42 amps. You can get 8 to 9 amps from a 190-watt panel, and we have four panels.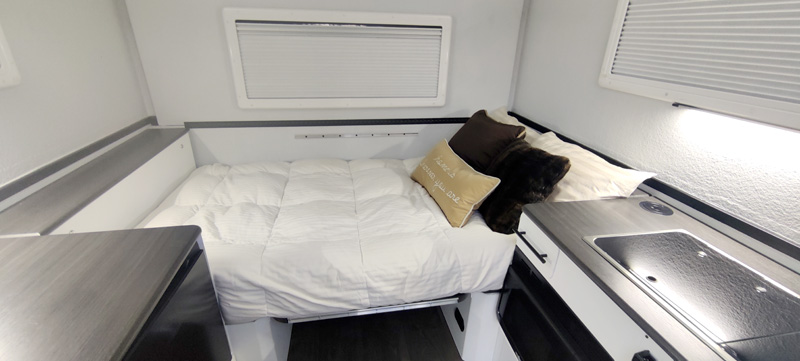 Tell us about the dinette. Does it convert into a bed?
Randall: Yes. It converts into a 75 by 43-inch bed. We also have a cot/bunk that we can put above that stands on top of end cabinets. The cot is 80 inches long.
Rick: The optional bunk is called a Disc-O-Bed. It's perfect for a camping buddy, child or pet, and fits perfectly above the dinette when the unit is in camping mode. It is remarkably stable and can be rolled up against the wall when not in use. It's like a modular bunk bed.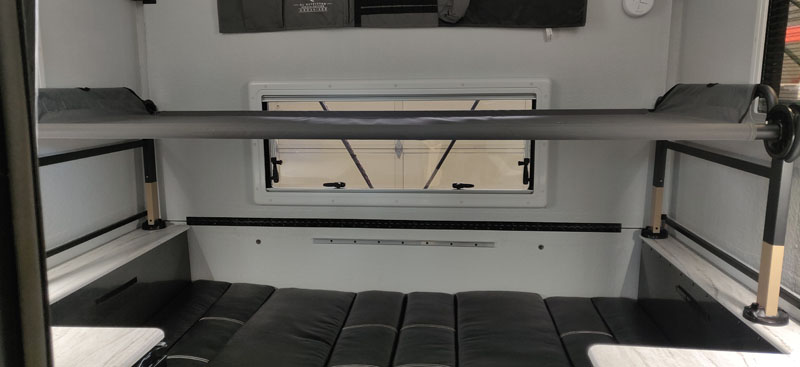 What make and model of furnace and water heater did you select for CubeSeries?
Randall: The forced air furnace is a 19,000 BTU Suburban. We chose that size because it fit our camper and offered the BTUs the Cube Series needs for winter camping. The 1.7 gallon water heater is made in China and is superior to a unit we were previously sourcing for ten times the cost. If we can source a domestic water heater that fits our design and works better, we will make the switch.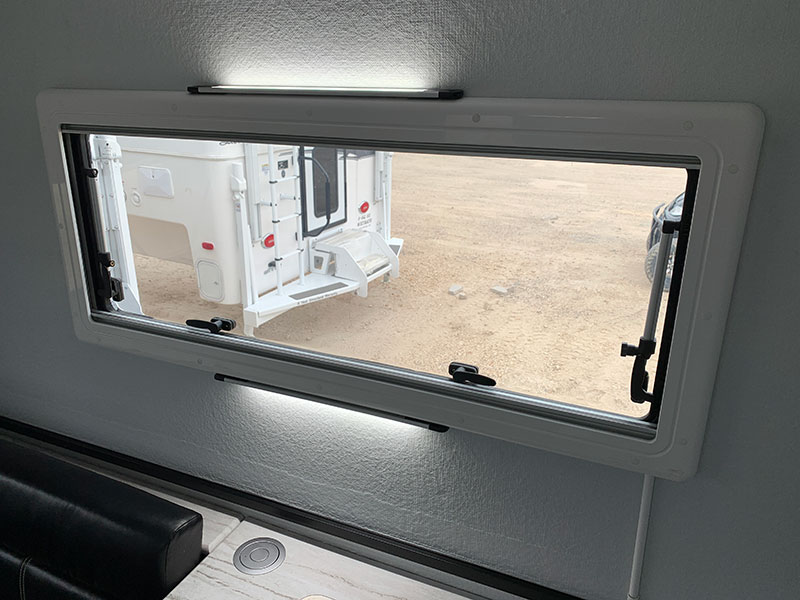 The lights inside the Cube Series are LED strip lights above and below the windows. What's the story behind this approach?
Randall: The walls collapse down so there's no power on the roof. We opted for four LED strip lights permanently mounted above and below the windows. The 12-volt wiring runs inside the window valance for a clean installation. When turned on, the unit is bright and fully illuminated inside. The lights are also dimmable.
What size batteries are available on the Cube Series?
Randall: There are two different battery and electrical systems available in a Cube Series; Base and the optional Off-Grid package. The Base system is a single Group 31, 100 amp hour AGM battery, 30 amp AC/DC battery charger, an 18 amp DC-to-DC charger, and a battery monitor system.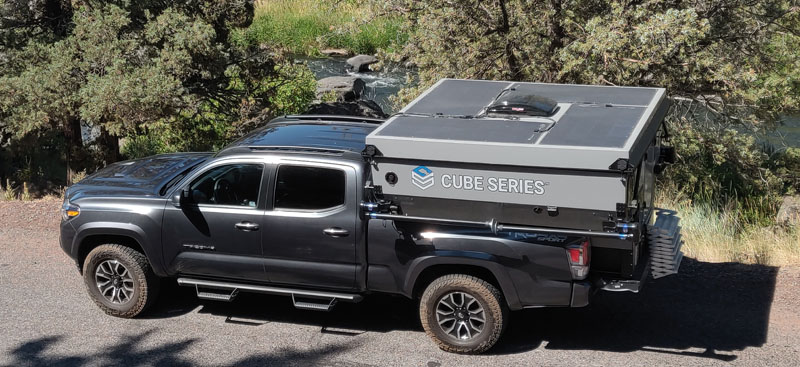 Above: 760-watts of solar on the Cube Series roof
The optional Off-Grid package includes three 120 amp hour Expion 360 lithium batteries (360 AH total), a 2,000-watt inverter/charger (80 amp charge rate) and control panel, four 190-watt flexible solar panels (760-watts total) with 50-amp MPPT controller, and a battery monitor system, Victron 18-amp DC-to-DC charger and 4 OT cabling. The Off-Grid package allows you to run the air conditioner and microwave off-grid on batteries.
Our Off-Grid package is sized correctly for the air conditioner unit as well as the other appliances. At the Pacific Northwest Overland Expo, the weather was in the high 90s. All day, for three days, we ran the air conditioner, lights, refrigerator, computer, and ceiling fan and never ran out of battery power. In fact, after the three days, we still had 68-percent in the batteries.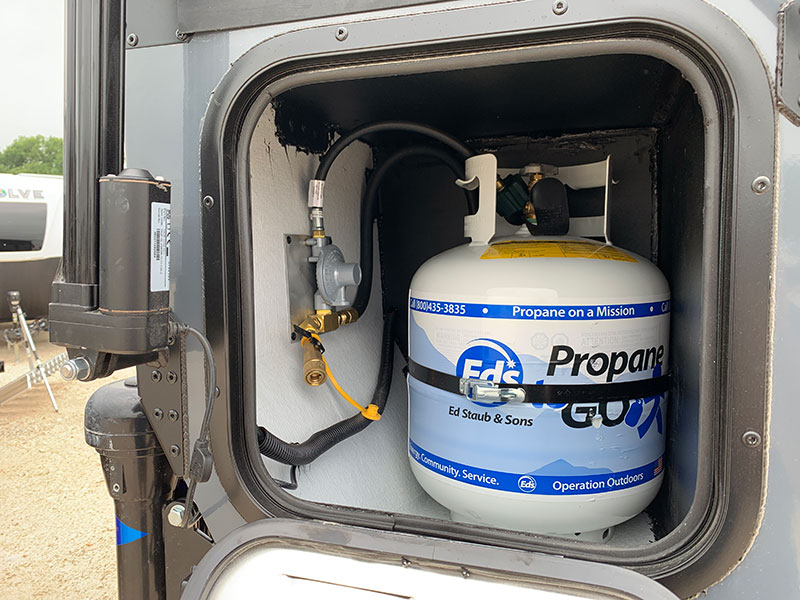 That's impressive. What size propane tanks does the Cube Series have and where are they located?
Randall: There's one 20-pound horizontal propane tank on the driver's side rear corner inside a compartment door. It's a standard-size propane tank that you can swap from your barbecue or exchange at a convenience store, Home Depot, etc.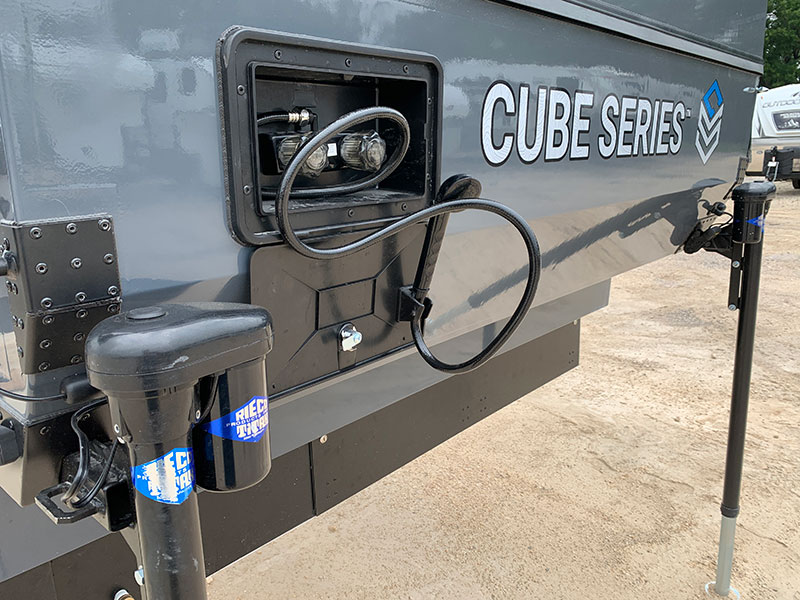 The fresh tank in the Cube Series is 21 gallons. Why did you choose this capacity?
Randall: That's what fit in the basement. The tank is in the front of the basement. The batteries are right behind it. We kept the weight forward and low for the center of gravity.
It's unusual for pop-up campers to even have a grey tank. Why did you decide to put a 6-gallon grey tank in the Cube Series?
Rick: I didn't want people to feel like they had to have the grey water go to the ground. We have a small grey tank, and we also have a hose connection if the customer wants to use an outside container.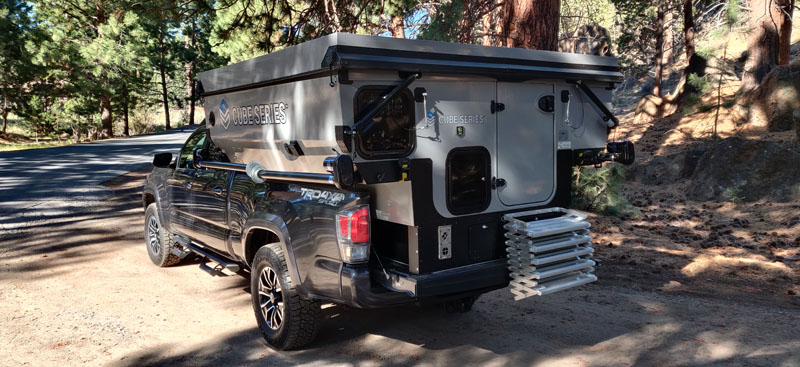 What is the base dry weight of the Cube Series?
Randall: It is 1,206 pounds.
If you add every possible option, what is the weight of the Cube Series?
Randall: The Cube Series is about 1,750 pounds with every option. Most Cube Series are shipping around 1,450 pounds including the no-charge options. We weigh every camper. You get a paper in your camper that tells you your specific camper's weight.
What is the MSRP for the 2023 Cube Series with standard build features?
Randall: It's $43,509. That includes the microwave, refrigerator, sink, cooktop, toilet, manual jacks, dinette, furnace, water pump, and water heater.
What is the warranty for Cube Series campers?
Rick: Cube Series has a two-year warranty.
If a Cube Series customer has a warranty claim, how will that be handled?
Rick: Call us directly and we'll handle it. If your Cube dealer is a long way away, take it to a local RV dealership. They will need to get pre-authorization before working on the unit. Have the dealer call us so that we can authorize the work.
Above: Watch this video to see how the Cube Series pop-up mechanism works
As of now, there's one Cube Series model. Will there be more Cube Series truck camper models in the future?
Randall: This is it. We'll make it better. There have already been a lot of rolling changes as improvements become evident. More are coming.
Is there anything else about Cube Series that you want our readers to know?
Rick: Cube Series realizes the vision I first had at All Seasons RV. It perfectly matches the bed size and payload capacity of mid-size trucks, and offers an enormous amount of amenities, capacity, and comfort without compromising off-road capability. And it all fits into a standard garage with an honest build quality that will last.
Put another way, Cube Series is a legitimate truck camper for mid-size trucks. There's really no competitor for it. I think we nailed it. We are setting a new benchmark.
Randall: Rick had the idea for a hard side pop-up truck camper for off-road enthusiasts who have mid-size trucks. His goal was to make something better than anything else out there; tougher, stronger, more versatile, and built to last. Cube Series is that camper. I'm excited to be a part of it.
For more information on Cube Series, visit their website at cubeseries.com. Click here to request more information about the Cube Series Camper.