In early March, Hallmark Manufacturing filed Chapter 11 Bankruptcy. Under the filing, the 54 year family owned business will continue to build campers as it negotiates with creditors and fulfill its obligations. Here's how Hallmark is charting its path to a fresh start.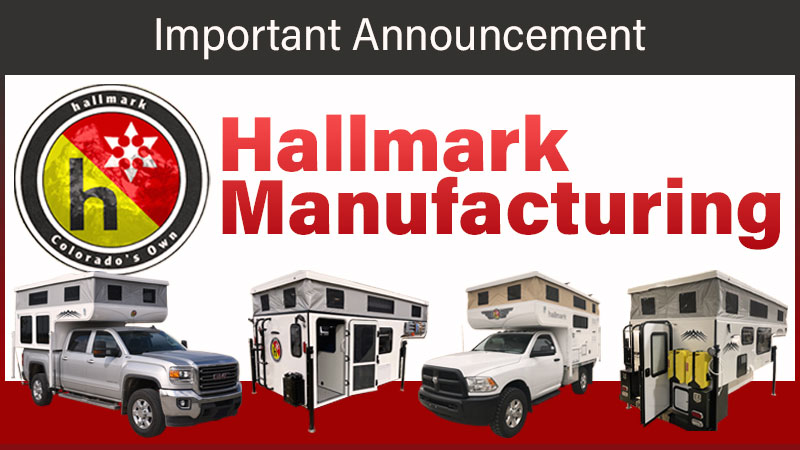 It's never a good day when we have to report a beloved truck camper manufacturer has filed for Chapter 11 bankruptcy. While details are necessarily slim due to a related lawsuit, here's the information and context we have.
Hallmark Manufacturing, Inc. of Fort Lupton, Colorado filed for Chapter 11 on March 9th, 2023. Under Chapter 11, Hallmark Manufacturing is not required to sell assets and can continue to build and deliver campers at a profit.
Under Chapter 11, Hallmark Manufacturing has the opportunity to restructure its contracts and debts with creditors, negotiate new repayment plans, and emerge with a fresh start, new balance sheet and a business plan that's more aligned with current operational and marketplace realities.
The negative side of Chapter 11 is the required filing and legal fees which can stretch out over an extended period of time. That cost and timeline is further complicated by a pending lawsuit with C.F. Maier Composites. Additional details about the Chapter 11 filing and lawsuit are unlikely to be made public due to the pending legal proceedings.
It's very possible that Hallmark Manufacturing will come out of this unfortunate experience stronger and more operationally focused than it was before. After all, Marvel Entertainment (1996), Delta Air Lines (2007), Six Flags (2009), and even the Chicago Cubs (2009) all filed Chapter 11 and successfully emerged. Even hallowed EarthRoamer (2009) filed for bankruptcy and emerged to become a dominant player in the overland marketplace.
Matt Ward of Hallmark Manufacturing has stated that all current customer orders will be fulfilled and that the company is fully operational and moving forward with the required Chapter 11 proceedings as quickly as possible. He has also requested that customers with questions call the company directly at 303-659-5572.