Hellwig Products debuts an all-new multi-leaf progressive spring pack for the Toyota Tacoma designed to improve and smooth the Tacoma's performance loaded and unloaded.

Tom Hanagan, President of Four Wheel Campers, is always looking for the opportunity to take his personal Four Wheel Camper out and push his off-road and off-the-grid knowledge and experience.  That pursuit led Tom to add a new Toyota Tacoma to Four Wheel Camper's truck fleet and trick it out with some of his favorite overland aftermarket accessories.
During that process, Tom discovered that the stock rear suspension on the Toyota Tacoma left much to be desired, especially for pop-up truck camper applications.  Looking for a solution, Tom contacted Melanie White, Marketing Director at Hellwig Products.  Melanie, a fellow truck camper herself, understood what Tom was after and offered to conduct research at Hellwig to improve the Toyota's rear spring pack.
What follows is the full-story on how Hellwig Products and Four Wheel Campers collaborated to develop the all-new Hellwig Toyota Tacoma Spring Pack.  In short, Four Wheel Campers had a dream, and Hellwig Products made it happen.
Hellwig Products
TCM: Tell us about working with Four Wheel Campers to develop the Hellwig Tacoma Spring Pack.
Melanie: About a year ago I contacted Tom Hanagan, President of Four Wheel Campers, to talk about possible synergies between our two companies.  During our conversation, Tom told me that his Four Wheel Camper customers needed a better rear suspension solution for Toyota Tacomas.
Tom explained that Four Wheel Camper owners were looking for a more durable and effective Tacoma suspension product and that airbags were too exposed and prone to failure in off-road and overland conditions.  A properly engineered spring pack, he suggested, would be the perfect solution.
A few weeks later, Tom visited Hellwig Products and talked to our engineers.  During the meeting, the engineers explored airbags and helper springs as possible directions, but Tom was quick to tell them neither of those were the answer for his customers.  So, my engineers adjusted and came up with the spring pack solution.  From that point, we began the research and development for the Hellwig Tacoma Spring Pack.
The timing was perfect as we were able to develop a prototype Tacoma spring pack and install it on Tom's truck before the 2012 Overland Expo.  This gave Tom the opportunity to experience the spring pack on many different conditions from highway driving to off-road trails.  When we caught up with him at the Expo, he was already happy with how the spring pack was performing, with and without the camper loaded.
TCM: What were the performance goals for the Hellwig Tacoma Spring Pack?
Melanie: Tom's Tacoma was sagging with a loaded camper.  Keep in mind that Tom's Four Wheel Camper has all the bells and whistles including extra water and fuel tanks attached to the back of the camper.  Those heavy fluids on the rear of the camper become a leverage point moving the center of gravity back and making the truck sag even more.
The problem when any vehicle sags is that the vehicle will not brake or perform as it was designed because the weight isn't evenly distributed.  It also looks funny.  The Hellwig Tacoma Spring Pack restores the truck to its stock height, even when loaded with a camper.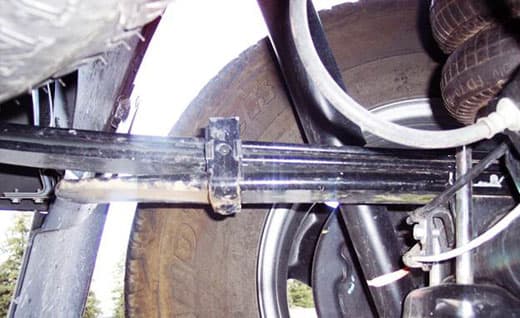 Above: The factory leaf pack has two main leaves and an additional overload.  The overload is about ¾" thick so, when it engages, it has a harsh and stiff ride.  The leaves are fairly soft up until that point.
TCM: Does the Hellwig Tacoma Spring Pack completely replace the OEM Tacoma factory spring pack?
Melanie: No, only the bottom leaf in the OEM spring pack is removed.  The bottom leaf is very rigid and rough riding.  We wanted to make the ride smoother whether the truck is loaded with a camper, or empty.
The other OEM springs remain as part of our new spring pack system.  The Hellwig Tacoma Spring Pack adds five adjustable rate springs that come into play as the truck is loaded.  When the truck is not loaded with a camper, you will not feel the additional springs making for a smooth ride.
Above: The Tacoma helper spring being manufactured at Hellwig Products in California