Hellwig Products debuts an all-new multi-leaf progressive spring pack for the Toyota Tacoma designed to improve and smooth the Tacoma's performance loaded and unloaded.

Tom Hanagan, President of Four Wheel Campers, is always looking for the opportunity to take his personal Four Wheel Camper out and push his off-road and off-the-grid knowledge and experience.  That pursuit led Tom to add a new Toyota Tacoma to Four Wheel Camper's truck fleet and trick it out with some of his favorite overland aftermarket accessories.
During that process, Tom discovered that the stock rear suspension on the Toyota Tacoma left much to be desired, especially for pop-up truck camper applications.  Looking for a solution, Tom contacted Melanie White, Marketing Director at Hellwig Products.  Melanie, a fellow truck camper herself, understood what Tom was after and offered to conduct research at Hellwig to improve the Toyota's rear spring pack.
What follows is the full-story on how Hellwig Products and Four Wheel Campers collaborated to develop the all-new Hellwig Toyota Tacoma Spring Pack.  In short, Four Wheel Campers had a dream, and Hellwig Products made it happen.
Hellwig Products
TCM: Tell us about working with Four Wheel Campers to develop the Hellwig Tacoma Spring Pack.
Melanie: About a year ago I contacted Tom Hanagan, President of Four Wheel Campers, to talk about possible synergies between our two companies.  During our conversation, Tom told me that his Four Wheel Camper customers needed a better rear suspension solution for Toyota Tacomas.
Tom explained that Four Wheel Camper owners were looking for a more durable and effective Tacoma suspension product and that airbags were too exposed and prone to failure in off-road and overland conditions.  A properly engineered spring pack, he suggested, would be the perfect solution.
A few weeks later, Tom visited Hellwig Products and talked to our engineers.  During the meeting, the engineers explored airbags and helper springs as possible directions, but Tom was quick to tell them neither of those were the answer for his customers.  So, my engineers adjusted and came up with the spring pack solution.  From that point, we began the research and development for the Hellwig Tacoma Spring Pack.
The timing was perfect as we were able to develop a prototype Tacoma spring pack and install it on Tom's truck before the 2012 Overland Expo.  This gave Tom the opportunity to experience the spring pack on many different conditions from highway driving to off-road trails.  When we caught up with him at the Expo, he was already happy with how the spring pack was performing, with and without the camper loaded.
TCM: What were the performance goals for the Hellwig Tacoma Spring Pack?
Melanie: Tom's Tacoma was sagging with a loaded camper.  Keep in mind that Tom's Four Wheel Camper has all the bells and whistles including extra water and fuel tanks attached to the back of the camper.  Those heavy fluids on the rear of the camper become a leverage point moving the center of gravity back and making the truck sag even more.
The problem when any vehicle sags is that the vehicle will not brake or perform as it was designed because the weight isn't evenly distributed.  It also looks funny.  The Hellwig Tacoma Spring Pack restores the truck to its stock height, even when loaded with a camper.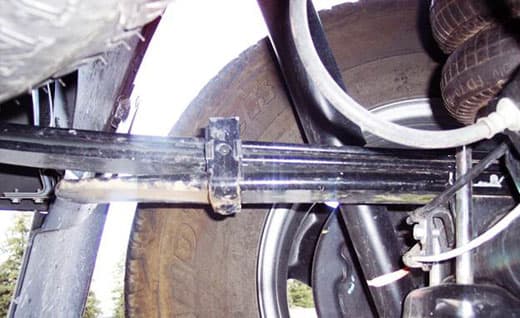 Above: The factory leaf pack has two main leaves and an additional overload.  The overload is about ¾" thick so, when it engages, it has a harsh and stiff ride.  The leaves are fairly soft up until that point.
TCM: Does the Hellwig Tacoma Spring Pack completely replace the OEM Tacoma factory spring pack?
Melanie: No, only the bottom leaf in the OEM spring pack is removed.  The bottom leaf is very rigid and rough riding.  We wanted to make the ride smoother whether the truck is loaded with a camper, or empty.
The other OEM springs remain as part of our new spring pack system.  The Hellwig Tacoma Spring Pack adds five adjustable rate springs that come into play as the truck is loaded.  When the truck is not loaded with a camper, you will not feel the additional springs making for a smooth ride.
Above: The Tacoma helper spring being manufactured at Hellwig Products in California
TCM: Why was 5160 steel selected for the Hellwig Tacoma Spring Pack?
Melanie: We use heat treated 5160 alloy steel for all of our Hellwig springs.  It can be quenched and tempered for high tensile strength and good durability.  We have found it to be the most effective steel available for spring manufacturing.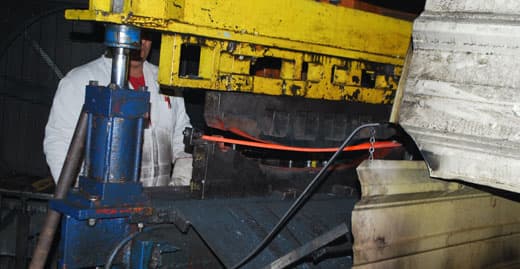 Above: Heat treated 5160 alloy steel is used for all Hellwig springs
TCM: How did you go about calculating the correct thickness, camber, and span for the Hellwig Tacoma Spring Pack?
Melanie: We use many variables including leaf thickness, length and camber to provide the desired spring rate.    We also perform calculations to make sure that spring stresses are held within the material specifications.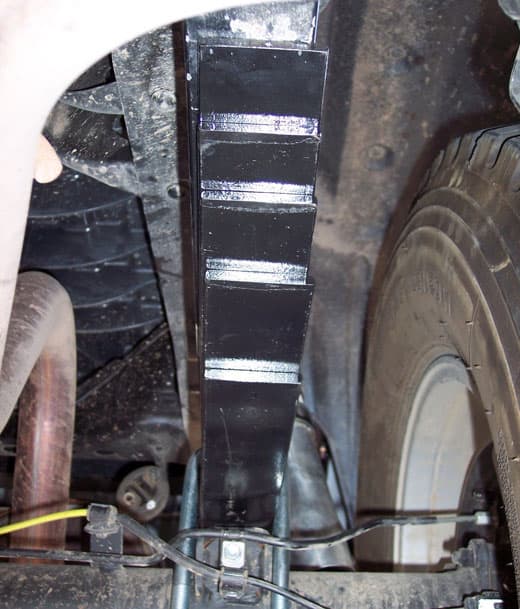 Above: This shows the additional five leaves and their different lengths installed under the two remaining factory leaves.
TCM: Tell us about the design and purpose of the multi-leaf second stage.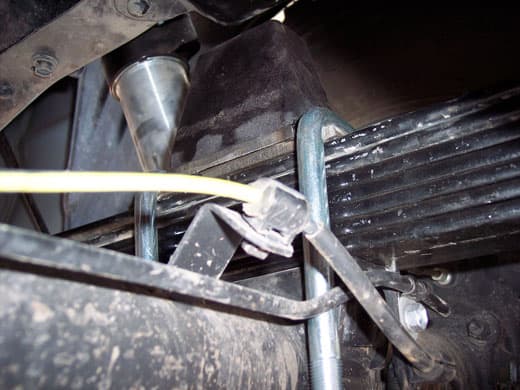 Above: This shows the additional five leaves added in place of the large factory overload.  Each of these leaves are 8mm thick.  The photograph also shows the new 9/16" U-bolts included in the kit.  The kit retains the factory bump stop.
Melanie: We needed more spring rate and didn't want to get it from a thick leaf.  A thick leaf would not allow the spring to be as progressive and would make for an overall rougher riding vehicle.
Having five smaller multi-leaves allows for a progressive spring rate.  We leave a little space in between the ends of each spring.  When the vehicle gets loaded, that space disappears engaging the multi-leaf second stage which provides a better ride while also reducing deflection under load.  When the vehicle gets unloaded, the multi-leaf second stage is not engaged allowing for a smoother ride.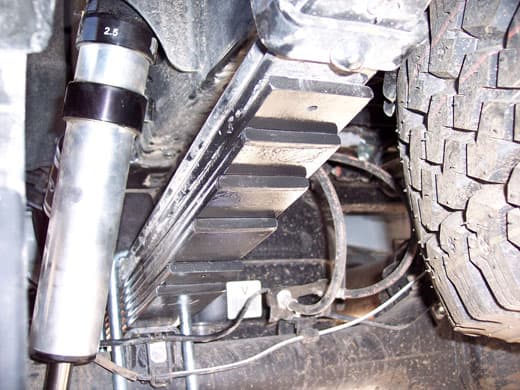 Above: Six leaves, Tacoma Helper Spring Pack installed
TCM: How do you ensure uniformity from spring pack to spring pack?
Melanie: The shape and camber of every spring is checked by hand and, if needed, corrected with a machine.  As part of our quality control, every spring is matched against a perfect example of that spring.  We have very specific specifications that we need to see for each spring.
TCM: Is the powder coating just for aesthetics and corrosion protection?
Melanie: Yes, powder coating is primarily for corrosion resistance.  It's a more durable way to paint our products.  Preventing corrosion also increases the durability of the spring.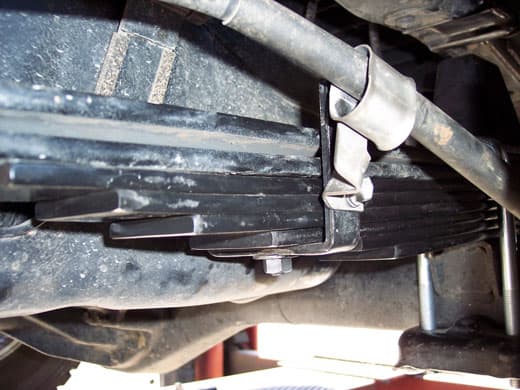 Above: This is the retainer plate Hellwig includes with the springs.  The retainer plate prevents the leaves from splaying out and provides the mounting point for the factory emergency brake cable.
TCM: Is the Hellwig Tacoma Spring Pack completely made on site at Hellwig in Visalia, California?
Melanie: Yes, the springs are manufactured here at Hellwig Products in California.  We have several steel mills in the United States that we use.  Most of our steel comes from the Chicago area.
TCM: What trucks will the Hellwig Tacoma Spring Pack fit?
Melanie: The Tacoma Spring Pack fits the 2007- 2012 Toyota Tacomas.  For now, it is just a Tacoma product and it just fits those years of trucks.
TCM: Will it fit the 2013 Tacoma?
Melanie: It may fit the 2013s, if they have the same design.  We are looking into that now.
TCM: Will the Hellwig Tacoma Spring Pack work with campers and applications other than with Four Wheel Campers?
Melanie: Yes, the Hellwig Tacoma Spring Pack will help Tacoma owners who use their vehicle with heavy loads.  Anyone who tows or hauls with a Tacoma would also benefit from the Hellwig Tacoma Spring Pack.  The primary benefits include improved performance while towing, steering, and stopping.  The Hellwig Tacoma Spring Pack also levels your truck so your headlights are pointed in the right direction.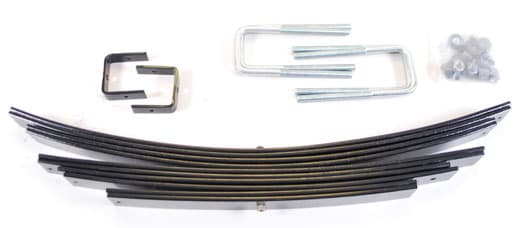 Above: This picture shows all the pieces of the kit.  It also highlights the three different progressive stages in the leaves.  As the vehicle sags, more and more leaves are picked up to increase the stiffness.
TCM: Hellwig Products has a lifetime warranty on their springs.  If in the unlikely chance that there is a warranty claim, how is it handled by Hellwig?
Melanie: Kevin Parriera is our full time tech support.  Contact him and explain your situation and he will help you.  It's quite difficult to damage one of our spring products.  Most of the phone calls to Kevin relate to improper installations.  If a leaf does fail, we would send out a replacement for the leaf that failed.  We will take care of it.
We are very excited about the Hellwig Tacoma Spring Pack and want to thank Tom Hanagan and Four Wheel Campers for bringing the need to our attention and working with us to make it a reality.  Tom continues to give us wonderful feedback and we really appreciate that he gets out there and really uses his products.  We admire his passion and dedication to Four Wheel Campers and look forward to future collaborations.
Four Wheel Campers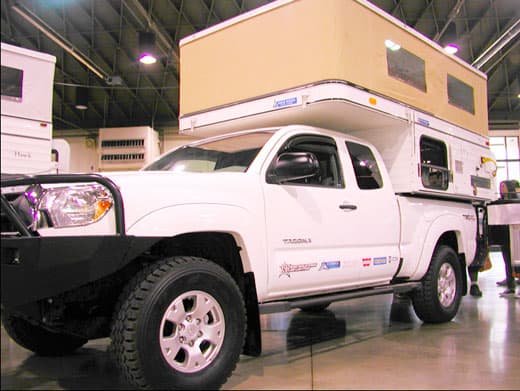 Above: Four Wheel Camper's show rig with Hellwig's Tacoma Spring Pack installed
TCM: Tell us where the initial concept for the Hellwig Tacoma Spring Pack came from.
Tom: The concept for a Tacoma spring system got started after we bought a Toyota Tacoma for a company truck.  We outfitted the new truck to be a true overland vehicle complete with Aluminess bumpers, Warn winch, Icon shocks, DeMello sliders, and Toyo tires.
When we were done, the loaded truck sagged in the rear.  The Tacoma uses two long thin leaf springs and one short and fat leaf spring.  The springs were not keeping the rig level and the pack was not optimized for overland travel.
When Melanie contacted us, I talked to her about the idea for a Hellwig steel spring pack for Four Wheel Camper owners.  Shortly there after, I visited Hellwig with our new truck.  Their engineers decided that it would be best to replace the short, fat leaf spring with a multi-pack of thinner springs for a more progressive load.  This would allow the truck to ride better with a camper loaded.
TCM: Were you involved with the development after that meeting?
Tom: I relied on their expertise.  They are experts in suspension, so I let them come up with the ideas and provide a solution.  Hellwig's engineering team took a good look at the suspension on our truck, went to the drawing board, and figured it out.
When the prototype spring pack was ready, they installed the springs on my truck and asked me to test it out.  I went on a road trip and the performance was excellent.  Even unloaded, the vehicle handled better.
Overland travel was also greatly improved.  I carry a lot of stuff, including extra fuel and tools.  Without the new Hellwig spring pack system, the rig is uneven and sags.  With the new system and the Icon shocks, the rig is level and offers a steady ride when loaded.  It's especially noticeable on precarious roads.  Hellwig really hit the mark.
TCM: Given your experience with the Hellwig Tacoma Spring Pack, are you recommending the Hellwig Tacoma Spring Pack for all Four Wheel Camper owners with Toyota Tacomas?
Tom: Yes, we are.  Most Four Wheel Camper customers need a suspension upgrade to keep their trucks level.  That could be airbags, but some people don't like airbags because of their vulnerability in off-road situations.  The Hellwig Tacoma Spring Pack is an excellent option.
TCM: Are there any other suspension enhancements that you recommend to Four Wheel Camper customers with Toyota Tacomas?
Tom: The only other thing we're specific about at Four Wheel Campers is recommending E rated tires.  They have better tread ratings and stiffer side walls which are better for on and off road applications.  When you're on the interstates, E rated tires give you better stability and tracking.  Off-road, the stiffer sidewalls help with stability, control, and protection from rocks.
TCM: Do you have a preferred brand of E rated tires?
Tom: Most people will use Michelin or BF Goodrich, MT or all terrain tires.  Although Toyo makes very good all terrain, I wanted a commercial grade off-road tire.  So right now I have Toyo commercial grade off-road tires.  I wanted greater protection.
I've been happy with them because of their heavy nature.  They have decreased my fuel mileage a bit more than expected.  With the camper on, I'm getting 15.3 to 15.4 miles per gallon.   Without the camper, I am getting closer to 17 miles per gallon.
I really enjoyed working with Hellwig Products and I know our Tacoma customers are going to appreciate the new spring pack.  We now have an off-road tough suspension product for Four Wheel Camper and Tacoma rigs.  Thank you Hellwig.
For more information on the Tacoma Helper Spring visit their website at Hellwig Products Tacoma Helper Spring and for more information on Four Wheel Campers visit their website at Four Wheel Campers.