Hellwig Products has announced new suspension products for the aluminum-bodied 2015 Ford F150 and restyled 2016 Toyota Tacoma.  Don't miss Mike's Overland Expo story.

Consumers usually learn about a new car or truck from a television commercial, or by seeing one drive past them on the road.  "That car looks different.  What is it?"
Enthusiasts usually learn about a new car or truck from a car magazine or website.  Perhaps they got scooped by a factory spy photograph.  Maybe the company leaked some preliminary designs.  Then the enthusiasts get an eye full of the new car or truck from a media reveal, or a major car show.  Within minutes, photographs and specifications flood the internet, and the public buzz or beat down of a new automobile begins.
Then there are the true insiders; people who work inside the automotive and automotive aftermarket industries.  These folks sign non-disclosure agreements, arrive at secret locations, and get direct access to cars and trucks us mere mortals have never seen.
Ben Knaus, Director of Engineering for Hellwig Products, contacted us with information about their new line of products for the 2015 Ford F150 and the 2016 Toyota Tacoma.  He had seen the trucks, measured the trucks, and, in the case of the aluminum-bodied F150, tested its mettle.  Naturally we called him for a more information.
We also talked with Mike Hallmark, West Coast Sales Manager for Hellwig Products, on his recent experience at Overland Expo West.  From that experience, he shares some photography that you have to see to believe.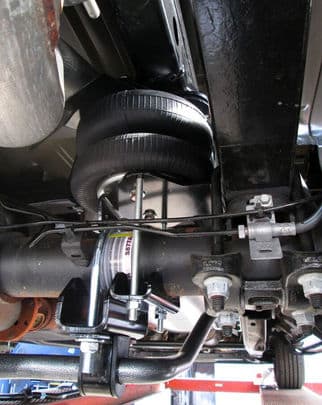 Above: Hellwig's air suspension system installed on a 2015 Ford F150
TCM: Ben, you're now Hellwig Products Director of Engineering.  Please tell us a little about your background and how you came to work for Hellwig.
Ben: I graduated from Cal Poly, San Luis Obispo with a degree in Mechanical Engineering.  I started working for Hellwig over four years ago as an R&D Engineer designing new products.
I've always been a gear head and really grew to love suspension design when working on my 1985 Toyota Pickup rock crawler through college.  I always knew I wanted to work in the automotive industry and really lucked out getting the position with Hellwig doing exactly what I hoped to do.  I am now the Director of Engineering, overseeing research and development, production engineering, and quality control.  I and am really enjoying it.
TCM: How did you get access to a 2016 Toyota Tacoma? It hasn't been released yet.
Ben: SEMA offers measuring sessions to its member companies.  These sessions allow us to get early access to pre-release vehicles for measurements and other important specifications.
Through SEMA, we were granted access to the 2016 Toyota Tacoma, and the new 2016 Nissan Titan diesel trucks.  At these sessions there will be between forty and fifty other companies taking measurements for their products.  Everyone signs NDAs, or non-disclosure agreements, so no photography or information we gather is shared.
TCM: How do you go about taking the measurements from a SEMA session and designing Hellwig products?
Ben: For the 2016 Toyota Tacoma, most of the 2015 products simply carried over.  Toyota made significant changes to the styling of the truck, but the suspension is unchanged.  If they had made changes, we would have needed to bring in a 2016 Toyota Tacoma into the Hellwig plant, and perform testing.
TCM: So the changes to the size and weight of the truck don't change your product design?
Ben: For the size and weight changes to affect our design they would have to be more significant.  Our Tacoma products have already taken into account the wide variety of trim levels, body styles, and bed lengths available for the Tacoma.  The relatively slight changes in weight and and cab sizes in the 2016 Toyota Tacoma are not enough to affect our product design.