Hellwig Products lets a robot drive to test the Electronic Stability Control (ESC) in trucks modified with Hellwig suspension enhancement products.

On September 1, 2012, the US National Highway Traffic Safety Administration (NHTSA) will enact Federal Motor Vehicle Safety Standard 126 (FMVSS 126).  This new standard requires that any motor vehicle with a gross vehicle weight rating of 10,000 pounds or less has an Electronic Stability Control (ESC) System that complies with specific design, performance, and diagnostic requirements.
One year later (September 1, 2013), the FMVSS 126 standard will be applied to aftermarket products.  While the interpretation of FMVSS 126 is not without controversy, the general consensus on the FMVSS 126 mandate is that any aftermarket product designed for 2011 or newer vehicles cannot interfere or disrupt the performance of the vehicles ESC system.
Obviously the impact of this new standard could be far reaching, impacting the truck camper and truck camper gear marketplace as well as the greater RV industry.
Hellwig Products is taking the lead with SEMA to test their products and comply with FMVSS 126 through self certification.  Hellwig Products has already performed tests and is learning a great amount form the resulting data.  To tell us about FMVSS 126, the testing, and what Hellwig has learned from the data, we talked to Mark Hellwig, President of Hellwig Products.
The following is an interview with Mark Hellwig, President of Hellwig Products, about the Hellwig Product testing with SEMA. 
TCM: What brought about Hellwig's product testing with SEMA?
Mark: The national traffic safety administration imposed FMVSS 126 in 2005.  To comply, the automotive manufacturers had to have electronic stability control (ESC) in their vehicles by 2011.
Aftermarket companies that produce parts designed for vehicles need to compliant with FMVSS 126 by 2013.  FMVSS 126 contains a mandated aftermarket product standard that states that any aftermarket product cannot interfere with the performance of an ESC equipped vehicle.
For the past four or five years, SEMA has been assembling a team of experts to help aftermarket manufacturers test their products with ESC systems and become compliant with FMVSS 126.  Aftermarket products that could impact a vehicle's handling dynamics, and thus ESC systems, include wheels, tires, coil springs, shocks, anti-sway bars, airbags, and other suspension and steering components.  All of these products will need to be compliant for FMVSS 126 by 2013.
When SEMA's Technology Vehicle Group offered their FMVSS 126 testing, we decided that we needed to get in on the ground floor and take advantage of the testing.  At this time, not many aftermarket manufacturers are taking advantage of it.  We want to encourage other manufacturers to participate with SEMA and gain compliance.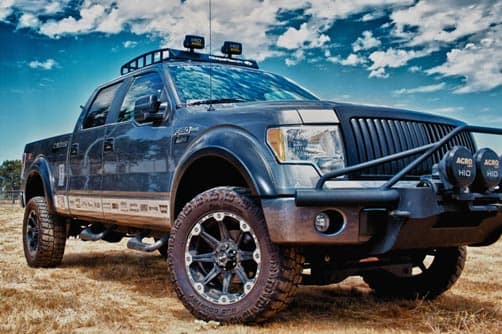 Above: The Ford F-150 used in the testing
TCM: What does it mean to say you're certified compliant with FMVSS 126?
Mark: The aftermarket manufacturers will self certify that their products will not interrupt or disrupt electronic stability control on vehicles equipped with the technology.  My concern is that manufacturers may simply state that they are certified, but not do the testing.  To be fair, the testing is expensive and involved.
I am not comfortable with stating we're compliant without the prudent testing.  With the SEMA testing and other testing we're running, Hellwig's certification will be backed up with data and analysis provided by independent experts including the SEMA team.
TCM: You and Melanie White, Marketing Director for Hellwig Products, participated in a FMVSS 126 presentation at SEMA last month.  Tell us about what was discussed.
Mark: One of the most interesting topics that was discussed was insurance.  As a company, Hellwig cannot self insure for product liability.  Since we insure through an insurance company, the insurance companies will require us to be compliant with FMVSS 126 or they will not insure us.
To prove that we did our due diligence to certify our products as compliant, we need to conduct the testing.  Some of the larger aftermarket companies can self insure so they may not need to have the same proof of testing.