Your East-West spouse sleep maintaining maneuvers are about to become obsolete.  That's right cabover crawlers, Hallmark has announced an all new North-South cabover option.  Time to go, right now!

It's 2:36am and you suddenly wake up with that gotta-go RIGHT NOW feeling.  The only problem is you're all the way forward in an East-West cabover and sleeping beauty, aka your spouse, does not like to be disturbed.  After one such experience, she woke up in a wild panic and called you a, "Lousy Eskimo Pie" and went back to sleep.  Naturally she doesn't remember any of that, but it still has you wondering.
Getting back to the situation at hand, she's managed to scoot her feet down to the end of the bed with her arms reaching above her head until her fingers just touch the other side.  You're trapped, but you need to get out soon or there will be a water bed in your camper.  That won't be good for center of gravity, or your marriage.
The delicate and sometimes embarrassing contortions one has to perform in order to avoid waking up their significant other in an East-West cabover bed are simple, but not easy.  It usually starts with one leg extended up and over the sleeper creating a toes-down pivot point for the lower body.  Once that's established, an arm goes over and creates a second contact point on the far side of the spouse.  Now you've committed and must act quickly.  If she wakes up at this juncture, you'll be in the dog igloo for sure, with lots of explaining to do.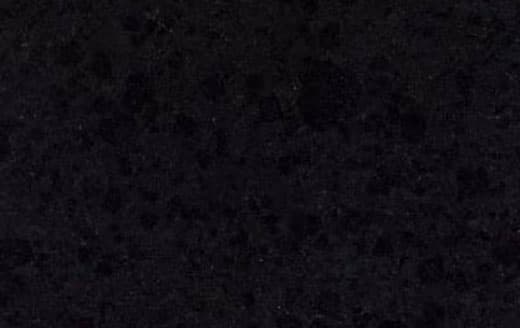 Above: As you can see in this mid-action photo, all of this happens in total darkness
Cue the Mission Impossible music.  With one fell swoop, you must push with your other arm, arc over the honey in hibernation, and make your triumphant escape.  You can't sneeze, cough, or even laugh if she burps in her sleep.  All bedding must stay in place or the jig is up.  For a moment, you consider scrapping the exercise, but now you've really, really gotta-go.  Don't think about water, don't think about water, don't think about water.
Then thoughts of how you ended up in this position in life flash before you.  Maybe you should have gone away to college.  Perhaps that fifth margarita wasn't a good idea.  And what if you had won that gold fish at the third grade school fair?  Yeah, life might be different.  You could have been an architect, or a fire fighter.  A real contender.
Then you come to, and realize it's now or never.  Time to make your move, sport.  What's it going to be?  Ready or not, it's time to go.
Hallmark Announces North-South Cabover Option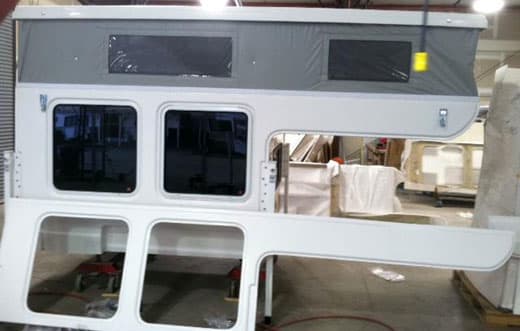 Above: Here you can see the difference in length of the new North-South side wall versus the East-West configuration
For decades, Hallmark has only offered East-West cabovers in their pop-up truck campers.  This is certainly understandable as there are many important advantages to East-West cabovers in pop-up truck campers including lower weight, lower cost, and reduced structural stress.  Put another way, building a pop-up truck camper with an extended North-South cabover requires more material and a stronger structure resulting in more cost and more weight.  For these reasons, Hallmark stayed East-West cabover purists.
No matter how much you begged, pleaded, and cried, one option you could not get on a Hallmark pop-up truck camper was a North-South cabover.  Not going to do it.
Above: Side-by-side an East-West cabover Hallmark next to a North-South cabover Hallmark
Now that too has changed.  With growing demand for North-South cabovers, Hallmark has made the official decision to offer North-South cabovers as an option for all but one of their pop-up truck camper models.  Consider this the next evolution for Hallmark as they remake their truck campers, one facet at a time.
To get the inside take on why Hallmark is now offering North-South cabovers, we talked to Matt Ward at Hallmark RV.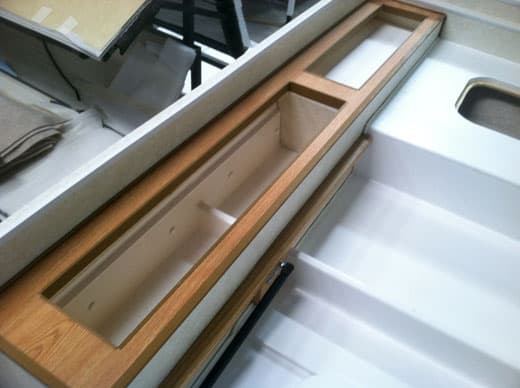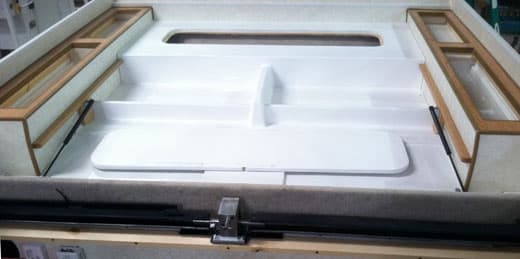 Above photos: The North-South configuration gives you more storage in the overcab
TCM: Why is Hallmark debuting a North-South cabover option?
Matt: There are many advantages to a North-South cabover including more storage, more room, and not having to climb over your spouse to get out of bed.  Our composite sidewalls make this the strongest North-South pop-up truck camper available.
Of course there are some disadvantages to a North-South cabover compared to our traditional East-West design.  A North-South cabover is not as strong as the design places more stress on the fulcrum point of the cabover.  A North-South cabover also adds more weight and mass to the camper.
TCM: So you will continue to offer both East-West and North-South cabovers?
Matt: Yes.  North-South will be a paid option.  East-West will continue to be our standard build.
TCM: Speaking of options, can you order a North-South cabover with wood, aluminum, or Coosa composite framing material?
Matt: Yes, but it's important to point out that the molded exterior fiberglass walls are what gives our campers their strength.  The material behind those molded panels, whether it be wood, aluminum, or Coosa, is primarily for interior features and cabinetry.
With the molded composite structure we use now, the wall is pre-formed and has an inner core material.  This means the only possible failure would be a complete break.  Since our molded walls are about four times stronger than a vacuum laminated wall, chances for failure are slim to none.
Above: Some unique custom Hallmark interiors from 2013.
TCM: We hear that Hallmark is attending the Overland Expo from May 17 – 19th, 2013.
Matt: Yes, we are.  We will have aluminum, wood, and coosa inner walls at the Expo for you to see as well as a North-South cabover configuration.  So, please come out and see us at the show.
The Evolution of Hallmark
Hallmark RV does not announce a big list of updates to their campers every year.  Design and material updates happen at Hallmark when they are ready, and are often subtle and evolutionary.
When this article was coming together, we were discussing these changes and how they were adding up.  Our thought was, had Hallmark debuted all of these changes as once, they would have made quite an impact.  Instead, the changes came slowly, over time, with little fanfare.
So what would happen if these updates were presented rapid-fire as if Hallmark did indeed debut them all at once?  That would also present the new North-South cabover in its proper context; as the most recent evolution of Hallmark.  Let's do it.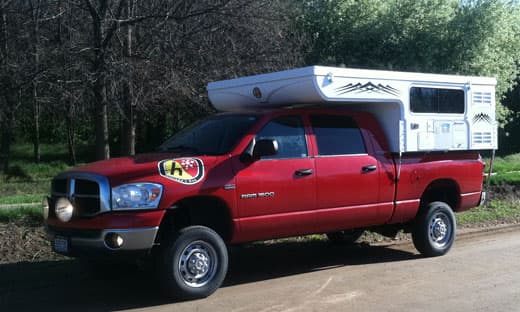 Something happened a few years ago that began to change the game at Hallmark.  They started to challenge their materials starting with molded fiberglass panels for their camper exteriors.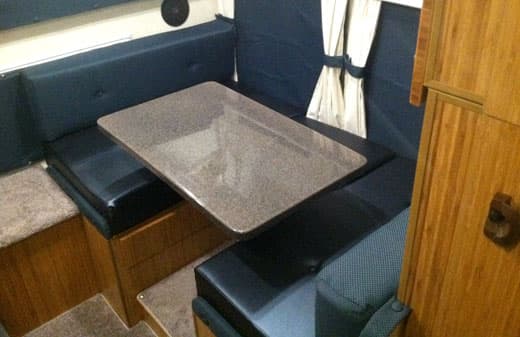 That experience led them to further explore the use of fiberglass for interior counter and table tops.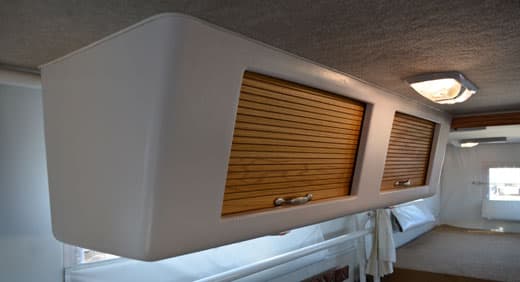 Then they added molded polycarbonate upper cabinetry reducing the weight on their roofs.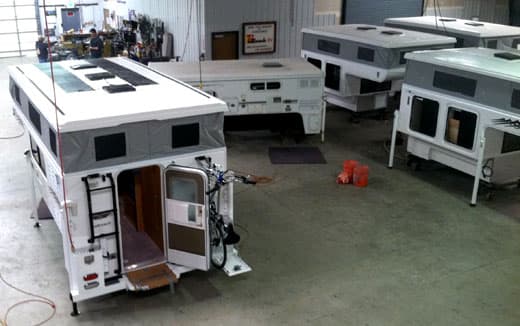 Next they switched to a one-piece carbon fiber reinforced roof.
Above: Hallmark has upfitted their campers with the latest overland gear and solar technology.
Piece by piece, material by material, Hallmark transformed their product.  But during this time, one thing did not change; Hallmark truck campers remained 100% wood framed.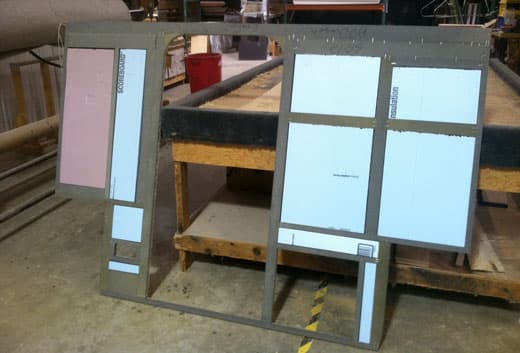 Above: A Coosa composite Hallmark frame.
That didn't change until last year when Hallmark announced the availability of wood frames, aluminum frames, and Coosa composite frames (pictured above).  When you order a Hallmark, you now choose what material it's framed with.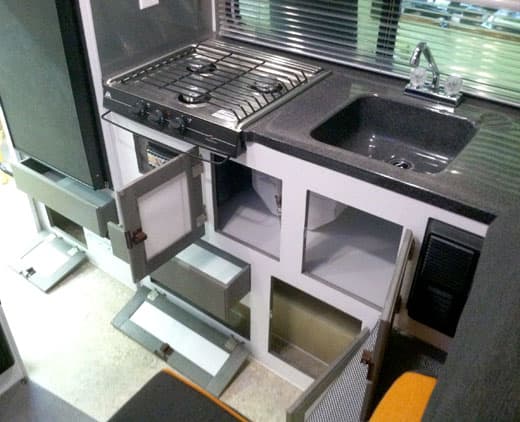 Above: A 100% composite Hallmark interior.  No wood here.
Each of these changes in and of themselves are not as exciting or headline grabbing as a totally new truck camper.  Like we said, they're evolutionary.  It's only when you put a 2003 Hallmark next to a 2013 Hallmark that these evolutions add up to something more than the sum of their parts.
For more information on Hallmark campers, visit their website at www.hallmarkrv.com.