Presenting a new square case and aluminum turnbuckle, the Torklift SpringLoad XL.  Think turnbuckles are boring?  Torklift wants your attention.

We hear some of the same questions at every RV show we attend.  One question we're almost guaranteed to hear is, "How does the truck camper attach to the truck?".  If we think the person isn't serious, we'll answer "Chewing gum and rubber bands".  Just kidding.  We never say, "rubber bands".
But seriously folks, tie downs and turnbuckles are often an under appreciated and misunderstood part of a truck camper rig.  They're like the Rodney Dangerfield of truck camper equipment; no respect.  Then we ask our poor tie downs and turnbuckles to safely control a truck camper load, at highway speed, uphill, both ways, in the snow.  Like we said, no respect at all.
Galloping to rescue in their shining aluminum armor, the brave Torklift knights (and knight-ettes) are here to champion the cause of the too often forgotten truck camper tie downs and turnbuckles.  They have even pulled a brand new turnbuckle from their Torklift anvil and stone.  To learn more about this once and future turnbuckle, we approached the court of Torklift and addressed the roundtable at Sumner, Washington Castle.  Hear ye, hear ye…
The following is an interview with Jack Kay, Principal of Torklift International, and Jay Taylor, Torklift's General Manager.
TCM: Torklift is using aluminum for the casing for the SpringLoad XL.  Why aluminum?
Jay: The XL stands for extra light.  By changing the casing of the SpringLoad XL to aluminum we were able to remove four pounds from of the turnbuckle system.  This is a big deal with anyone with weight concerns and the way fuel prices have been going.  The casing of the SpringLoad XL is made with aircraft grade T6061 aluminum.
Jack: There will be colored versions of the SpringLoad XL to match the colors of our Fastguns; black, white, and grey.  We're now in the process getting part numbers for the different colors.
TCM: Let us know when the color versions are ready and we'll post a blog in TCM.  What are the advantages of changing the round cylindrical casing to a square shaped casing?
Jack: A cylindrical turnbuckle case is not going to be as strong as square turnbuckle case.  And if you've ever hooked up or disconnected a cylindrical turnbuckle, it can be slippery and difficult to adjust if there is any oil or moisture on your hands.  The new square cases are much easier to turn and adjust.  With the square case, most people are able to adjust spring tension by hand instead of needing wrenches.
TCM: The SpringLoad XL is made from aluminum and stainless steel.  Does using two different metals cause any issues?
Jack: As far as electrolysis or a reaction when using different metals, there are formulas utilized by our engineers to determine the volume of content of dissimilar metals to use to avoid a reaction.  We do this with every product we manufacture.  The SpringLoad XL was correctly designed and tested.  There will be no issues.
TCM: Obviously, the SpringLoad XL is spring loaded.  Tell us about the spring and why it's an important part of the tie-down system.
Jack: When you're tying the camper down to the foundation of the truck, you are going to make the camper and truck frame one unit.  If you don't allow some room for fluid motion and suspension, you can tax the camper's frame and the camper's anchor points.  For this reason, we provide springs with our turnbuckle systems specifically to protect the camper anchor point.
Our turnbuckles attach to the frame of the truck 100%, not partially, and not a little bit.  You have to allow for some flex and some movement.  A camper is like a little house.  When a camper heats and cools, it moves.  It's shrinking and growing, so you need to allow for adjustment.  You can have problems if you are not allowing for this movement.
Our warranty states that you must be spring loaded to have us warranty the camper's anchor points.
TCM: So, you actually warranty the truck camper's anchor points as part of your turnbuckle and tie-down warranty?
Jay: Yes, if you are using our system, we warranty the truck camper's anchor points as long as the warranty on the truck camper exists.
TCM: Is the spring in the SpringLoad XL the same spring that you use in your other turnbuckles?
Jack: We use the same spring for every turnbuckle product we manufacture except for the Basic SpringLoad because it's a different diameter.  The Basic SpringLoad is an entry level product for Torklift International.  It has the same spring rates; it's just a different diameter.
TCM: Are the springs made in the United States?
Jack: Yes, our springs come from the United States.  They are a special spring made specifically for Torklift International, and no one else.  That's all I can tell you about that as the rest is Area 51, Torklift International top secret.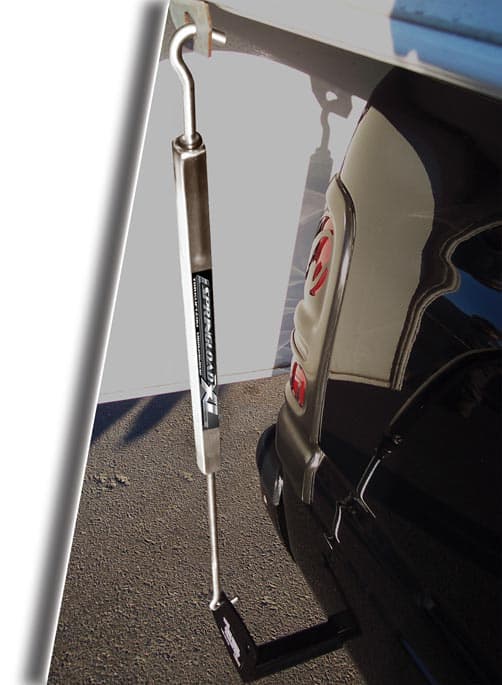 TCM: Understood.  How does a SpringLoad XL owner properly adjust the tie-down?
Jay: You put the turnbuckle into the camper anchor and then into the upper bolt on the truck into the tie-down itself.  Then you turn the turnbuckle casing clockwise until you take the slack out of the assembly.  There's a rubber O-ring, which we call a spring tension indicator, that you push down until it comes into direct contact with the XL case.  Then keep turning the case clockwise until you have a quarter inch gap between the O-ring and the XL casing.  At that point you are at 300 pounds of pressure.  Then take a wrench to the jam nut on the bottom and you're good to go.
Jack: Might I add that the O-ring is made in the United States and is a UV protected piece.  We even have a patent on the O-ring as our spring tension indicator on turnbuckle systems.
TCM: The SpringLoad XL is designed to fit Torklift's frame-mounted tie down system.  Does it also work with other tie-down systems?
Jay: The short answer is yes, but we don't encourage it because the system was designed and tested as a complete Torklift International tie-down and turnbuckle system.
Jack: The turnbuckle will work just fine, but obviously there isn't going to be a warranty for the camper's anchor points.  Tie-down and turnbuckle systems may have similar attachment points but, beyond that, the other systems that are available are not nearly as rigid as our system.
Jay: On the SpringLoad XL page of our website, there's a silver button on the side that explains very clearly that our turnbuckles are designed for a frame mounted system.
TCM: Is the SpringLoad XL made at the Torklift International factory in Washington?
Jack: It's manufactured here in Sumner, Washington, by Torkliftians.
TCM: Torkliftians?  That explains the Area 51 reference.  Your secret is safe with us!  How does the new SpringLoad XL fit into the Torklift International tie-down product line that includes the Torklift International Original Fastguns, Derringer Fastguns, AnchorGuards, and SpringLoads?
Jay: If you go to our webpage and look at our turnbuckle range of products, we rate them as good, better, and best.  Working in conjunction with the tie-down, it comes down to convenience.
Our Basic SpringLoads require tools and extra time.  If a truck camper owner puts a camper on in the beginning of the season and never takes it off, it's not really an issue.  The Basic SpringLoads are made from the same technology as our better turnbuckles and offer the same warranty.  Our Basic SpringLoads are good and are rated as good.
One step up from the Basic SpringLoad is our SpringLoad XL, which is rated as better.  You only need one wrench to lock down the jam nest/nut for a SpringLoad XL making them more convenient and easier to use.  Our SpringLoad XLs are better and are rated as better.
The Fastguns are rated as best as they require no tools and no continuous adjustment.  Fastguns are simple to use as they have a handle that locks into place.  You can snap our Fastguns on and off as fast as you can walk around your truck.
TCM: What about the Derringers?  How do they fit into your turnbuckle mix?
Jay: The Derringer incorporates the Original Fastgun technology with its handles.  Looking at the SpringLoad XL, you can convert it to Fastgun technology by cutting off the hook on the long end of the hook bolt assembly and attach a Derringer.  The Derringer hooks into place, and you are able to lock the SpringLoad XL just like an Original Fastgun.  It's a low cost upgrade for the SpringLoad XL.
TCM: You know, we didn't know that.  How about the Anchor Guard?
Jay: The Anchor Guard came along a few years back when many people had so many problems with other tie-down and turnbuckle systems.  For example, the other turnbuckles could get water filled.  The Anchor Guard works with bed mounted systems and avoids the problems of other systems.
Jack: They are also 100% stainless steel.
TCM: Can you use the Derringers with the Anchor Guard system?
Jay: Yes.  You simply cut off the hook on the long end of hook bolt assembly and you can attach Derringers to the anchor guards.  You then have a quick disconnect that's lockable.  The Derringer handles are unique.  They can go with any turnbuckle except for the Original Fastgun as the Fastgun already has those handles.
TCM: It sounds like the Derringers are an under appreciated Torklift product.
Jack: Agreed.  And I'm glad you brought them up.  Turnbuckles are a very important part of a truck camper rig.  They take an incredible amount of stress during travel.  Some people spend a lot of money on their trucks and campers and then use chains to tie their rig together.  Think about how much damage this can cause over time, especially to the camper anchor points.  People just don't realize how important a spring loaded turnbuckle is to the longevity of a truck camper rig.  With the Basic SpringLoad, SpringLoad XL or Original Fastguns, customers have more options to match their needs with the proper turnbuckle and tie down system.
TCM: What is the MSRP for the SpringLoad XL?
Jay: $124.75 per pair, which includes two turnbuckles per pair.
TCM: How does someone go about contacting Torklift International about a possible warranty claim?
Jay: When you buy a Torklift International product from your Torklift dealer, you will get an instruction booklet.  In that booklet, there is information to register your Torklift product.  You send the registration to us and it goes to our customer service department.  You can register online on our website and go to the warranty page.  Our Torklift Certified Dealers are trained to know this.  We encourage people to buy a product through our certified dealers.  You'll get a thank you and gift for registering your product.
TCM: Oh boy!  A gift?  What's the gift?
Jay: A Torklift survival flashlight.
TCM: A survival flashlight?
Jack: Have you ever had a flashlight that's gone out on you?  The survival light is a battery-less flashlight that has a crank on it in the body of flashlight.  With one minute of cranking, you have twenty minutes of flashlight light.  It even has an emergency flash setting.  If that's not cool enough for you, you also get a USB connection and any device can be plugged into the flashlight and be charged.
TCM: Okay, that's cool enough for us.  Joe and Anne Brown recently visited Torklift with their brand new 2011 Chalet 116DS rig.  Tell us about their experience at Torklift.
Jack: They are awesome people.  While at the factory here, they got WobbL-Stopprs installed.  Their rig has jack extensions because they have a dually truck.  Those swing out brackets add quite a bit of additional movement and additional strain on the camper.  I mentioned to Anne and Joe the amount of strain on the jacks and that front jacks are taking most of the weight.  We were able to get our techs to do the installation of WobbL-Stopprs while they were here.  The results were instant.  The camper was rock steady.
TCM: What did you think of their Chalet DS116?
Jack: That's an amazing camper.  The DS116 has the center island.  We got to step into it and it astounds me that you are standing in the back of a pick-up truck.
TCM: Thank you Jack and Jay.  I know that you will soon have some more products to share with us, but you're not telling.
Jack: Area 51 again.  We can't tell you, yet.  But I can tell you to keep an eye on Torklift International.  We have some very exciting things to debut in 2011.
TCM: And you'll debut them here in Truck Camper Magazine, right?
Jack: Of course!