In a new video, Ford engineers smoke the tires testing the highly-anticipated aluminum-bodied 2017 Ford F350 Super Duty using a 5,000 pound welded-steel truck camper simulator.  Roll Stability Control to the rescue.

Early yesterday morning Truck Camper Magazine was contacted by Ford Motor Company about tests involving an all-new 2017 Ford Super Duty truck and a custom-built 5,000 pound truck camper simulator.
The tests involved loading the 5,000 pound truck camper simulator and driving the resulting rig through a series of slow and high-speed lane changes and slaloms.  At one point during the resulting video, the Ford team literally smokes the tires as they push the new Super Duty to its limits.
Here is the Ford Motor Company video:
After reviewing the Ford video, photography, and supplied information, we requested an interview with a Ford engineer to answer additional questions on the truck, simulator, and test.  Ford put us through to Scott Brack, Senior Development Engineer at Ford Motor Company.
TCM: The truck in the test appears to be a 2017 Ford F350.  Can you tell us more about the specifics of this truck?
Scott: The truck in the test video was a 2017 Ford F350 XLT, crew cab, dually with a 6.7L Power Stroke diesel engine, and four-wheel drive.  We test with multiple rear axle ratios, but I don't know the rear axle ratio for the test truck.
For the test, we added the Camper Package which includes higher spring rate in the front, a rear stabilizer bar, and a rear auxiliary spring.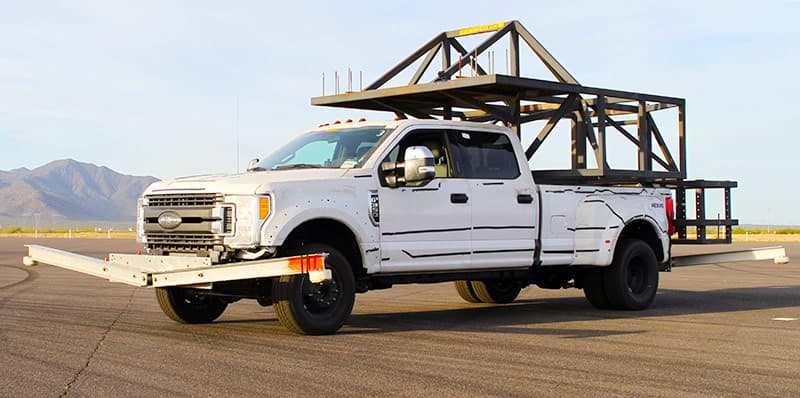 TCM: Other than the Camper Package, was the truck suspension 100% stock for the test?
Scott: There was no extra suspension added to the truck.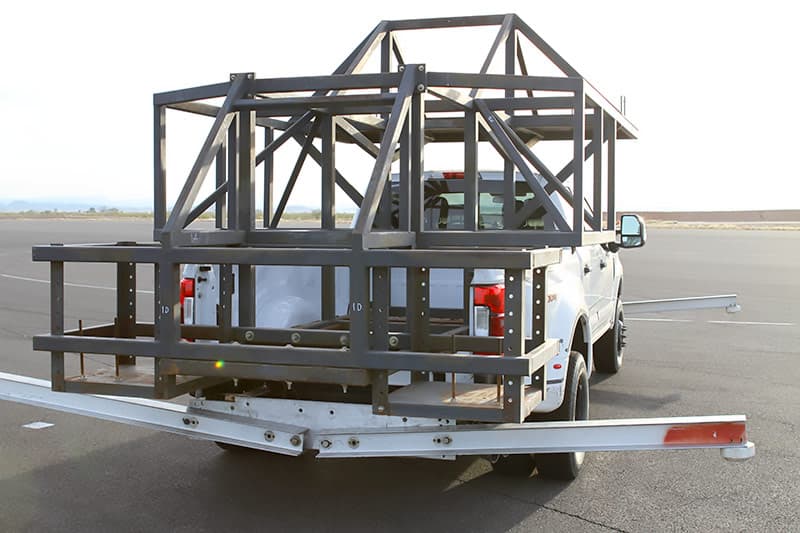 TCM: Can you tell us about the custom made truck camper simulator, and how it was built to weigh up to 7,500 pounds?
Scott: Without the rear tail section and without added weights, the slide-in simulator weighs 2,500 pounds.  To increase the weight to 4,000 pounds, we can add rear tail section weights and add upper cab weights.
To increase the weight to 6,000 pounds or more, we can add up to two 1,000 pound center weights, and a platform weight above the cab of the truck.  The platform adds a lot of weight to the structure.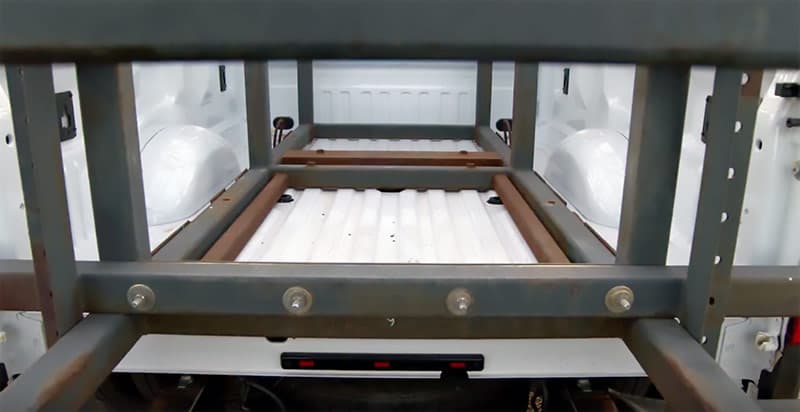 The center weights go into the box of the truck on what looks like an Erector Set of steel tubes.  If completely loaded, the slide-in simulator can weigh 7,500 pounds.