Starting this June, Ford will offer onboard weight scales that display the weight of your payload on the infotainment screen, taillamps and a smartphone app.  The implications of this technology for the truck camper industry are profound.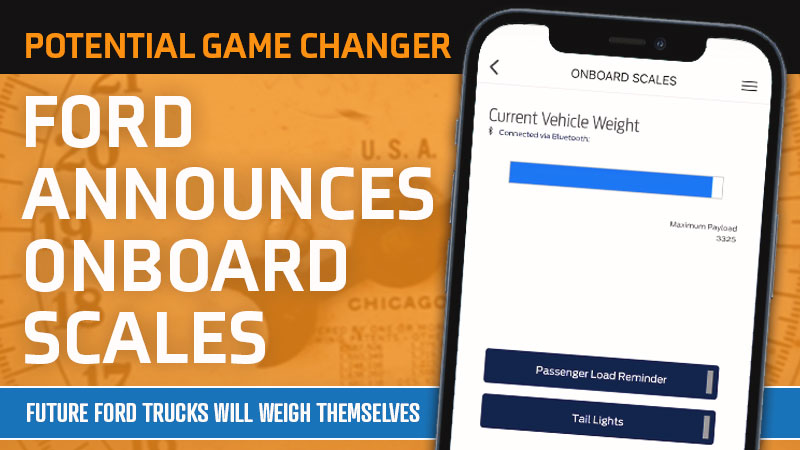 This past Wednesday, Ford Motor Company announced three new options for the 2021 Ford F-150; onboard payload scales, a Smart Hitch that weighs tongue weight, and continuously controlled active damping.
Active Damping System
For the mainstream automotive press, the new active damping system all but stole the show.  The active damping system consists of sensors that analyze the road conditions and then dynamically adjust the dampers and suspension for the best possible ride and handling.
The example that's being widely given is sensing a pothole, instantly firming the associated dampers, and minimizing the impact.  We could have used that driving back through a construction zone from Louisville one year.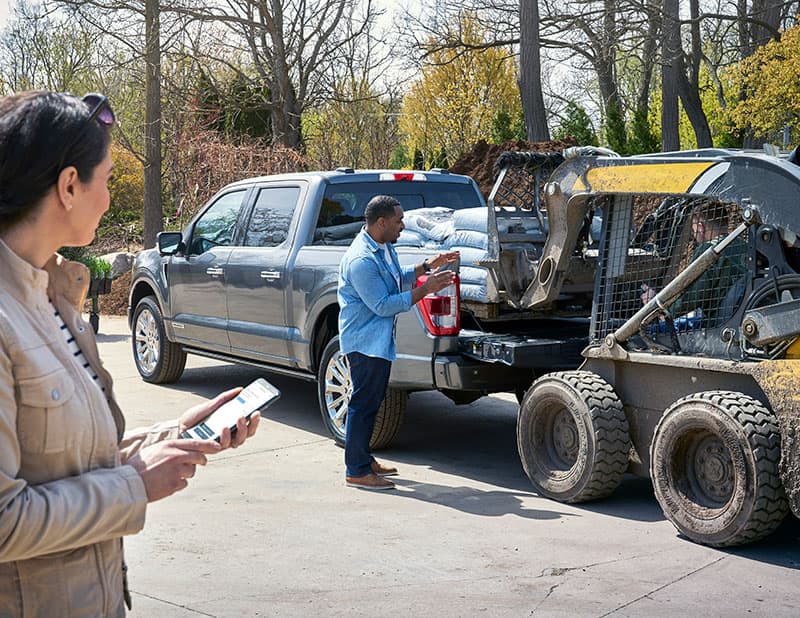 Above: Imagine being able to see the weight in your truck bed, on your smartphone, in real time
Onboard Payload Scales
What caused me to do a double and triple take was the announcement that Ford will be offering an onboard weight scale as a $650 option.  This option will also include Ford's new Smart Hitch making it potentially very appealing to truck camper owners.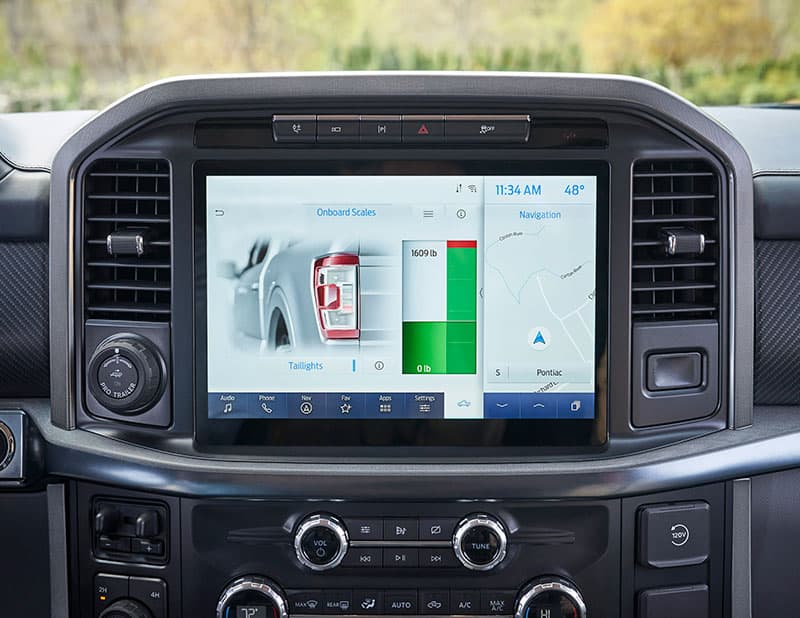 Above and below: The main scale displays on the 2021 Ford F-150 infotainment screen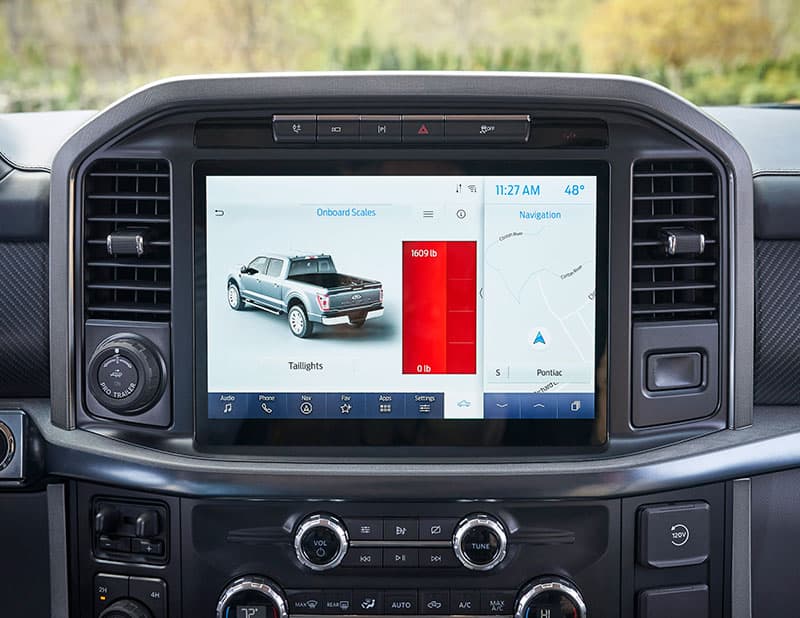 The new onboard payload scale system uses sensors to measure and display the payload weight on the truck's infotainment system, the FordPass app, and another gobsmacking Ford innovation; Smart Taillamps.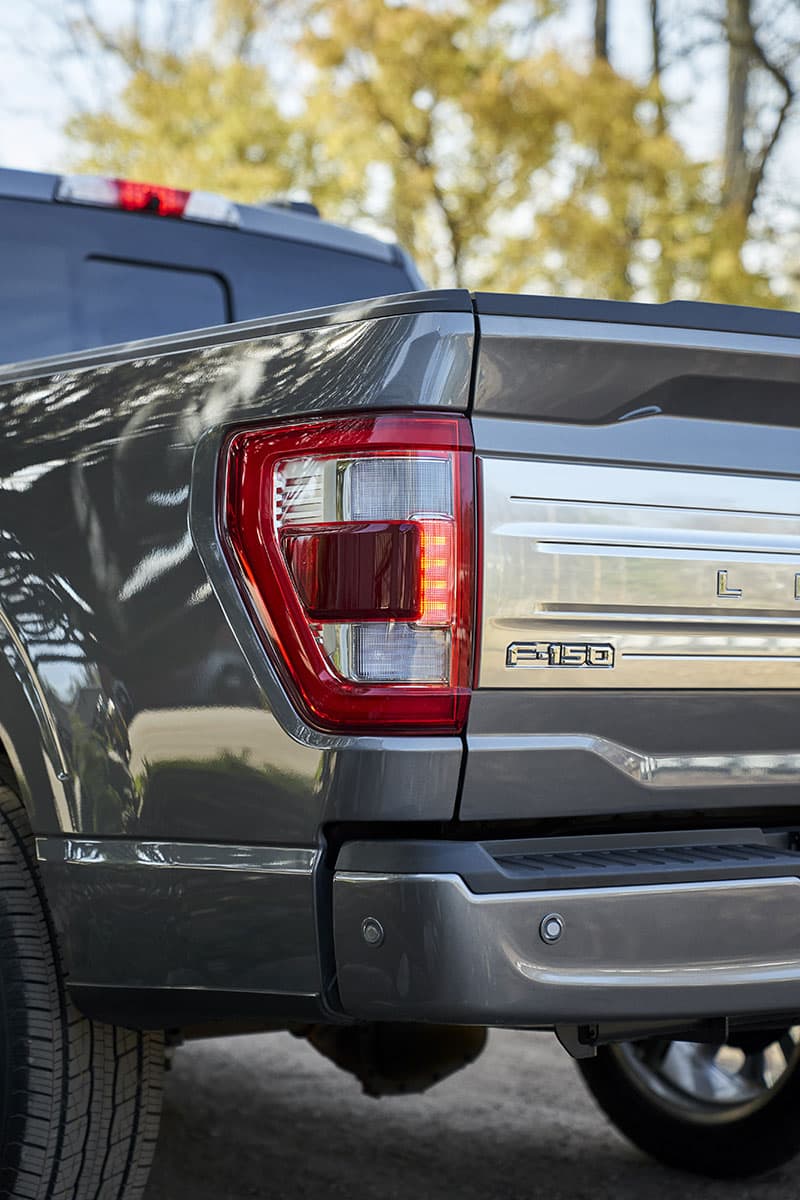 Above: The Smart Taillamps in this photo show four-bars; a fully-loaded truck
Using a vertical LED bar similar to the battery level on a smartphone, the Smart Taillamps display the percentage of loaded weight from outside the truck.  When the truck is fully loaded, all four bars will illuminate.  If the truck is overloaded, the taillamps will blink.
Ford Smart Hitch
The third option Ford added this week is the Smart Hitch, a new hitch system with built-in sensors that measure the tongue weight of a connected trailer.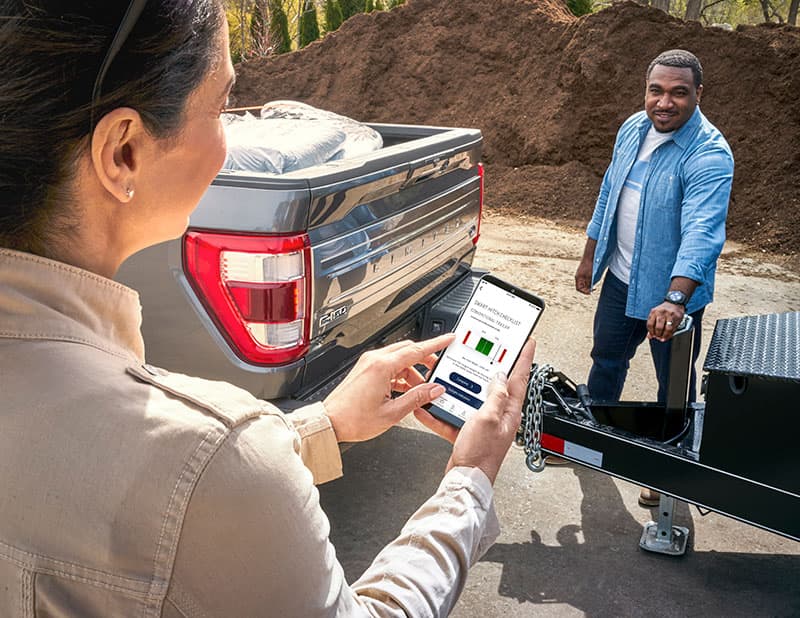 Above: Imagine being able to see the tongue weight on your hitch, on your smartphone, in real time
Like the onboard payload scales, the Smart Hitch system displays the tongue weight on the truck's infotainment system, the FordPass app, and – yes – those crazy-clever Smart Taillamps.
The Smart Hitch system is also able to help distribute trailer weight by indicating the weight distribution. In theory, this should make an important impact on safe towing.
What Onboard Scales Mean For Truck Campers
At first blush, the announcement of onboard scales may not seem like a big deal for the truck camper marketplace.  After all, it's just a new option for the 2021 Ford F-150.  The Ford F-150 may be the best-selling vehicle in America, but it's not exactly the most popular truck for a truck camper rig.
However, it's all but certain that Ford will offer this new technology in their 2022 SuperDuty series.  It's also likely that Chevrolet, GMC, Nissan, Ram, and Toyota will follow suit.  Ford is not the only company with access to weight sensors.  If this option is popular, the others will follow in short order.
So what does it mean for the truck camper marketplace to exist in a world where the trucks have onboard accurate scales?
Implication 1: More Accurate Dry Weights
Onboard truck scales could force every aspect of the truck camper industry to be more accurate with reported camper dry weights.  There will be no sense in under-reporting a camper's dry weight if the customer will have an accurate weight as soon as the camper is loaded.
Implication 2: More Accurate Payload Matching
Onboard truck scales could also force manufacturers, dealers, and customers to more accurately payload match rigs.  If a truck and camper are not a proper payload match, the customer will know before they leave the lot.
These two issues have been the third-rail of the truck camper industry for decades.  Evidently Ford didn't get the memo.  With this new onboard scale technology, Ford is effectively putting the truck camper universe on notice.  Get ready for onboard truck scales.  They're coming.
Travel Trailers Are Also Facing An Impact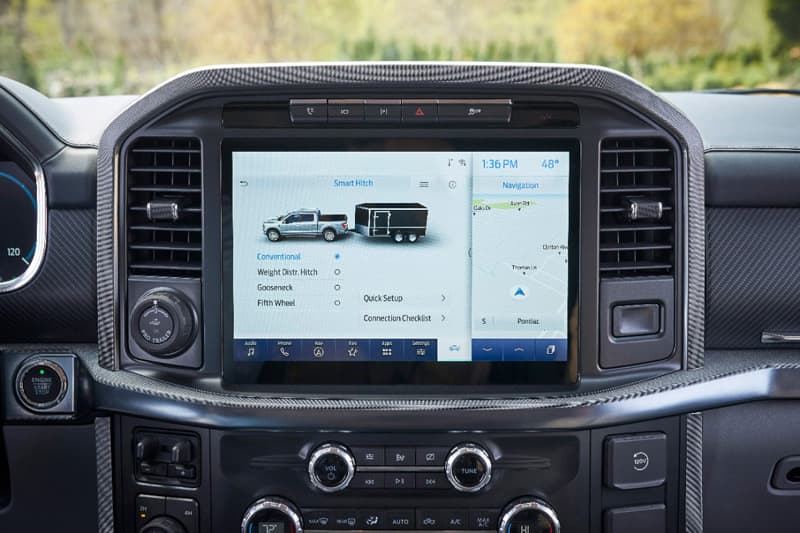 I don't usually give two hoots for travel trailers, but Ford's new Smart Hitch also takes aim at the towed RV and toy market.  The difference is that travel trailers are required to be individually weighed by the manufacturer, campers are not.
The Question of Accuracy
Many will question how accurate an onboard scale system can possibly be.  After considering this point, I believe it will be extremely accurate.
Starting about 14 years ago, some truck camper dealers offered to weigh campers using Intercomp SW500 portable scale systems.  For $1,195, the Intercomp SW500 E-Z Weigh Scale System features four billet pads and a cabled indicator.
Designed for race cars, each billet pad has a 1,500-pound capacity giving the four-pad system a 6,000-pound capacity.  For all but the heaviest multi-slide truck campers, the 6,000-pound capacity is perfect.  More importantly, the system is certified to 0.1% accuracy.
Starting around 2007, we have witnessed the Intercomp SW500 system (and its newer wireless variants) used to weigh many dozens of truck campers at dealerships, manufacturer facilities, and even RV shows across the United States and Canada.  We can attest to its startling accuracy.  It's actually spooky to step into a camper on the Intercomp system and see the total weight increase precisely what you weigh.
Given that the sensors and technology in the Intercomp scales date back at least 14 years, it's no stretch to imagine that the sensors in Ford's new system are equally accurate.
Scale Mode: Zero and Weigh
One detail I haven't addressed is a feature of Ford's onboard scale system called, "Scale Mode".  Scale mode allows you to zero the onboard scale and then add items to be weighed.  This could allow truck camper owners to learn what their truck camper weighs dry, wet and fully loaded.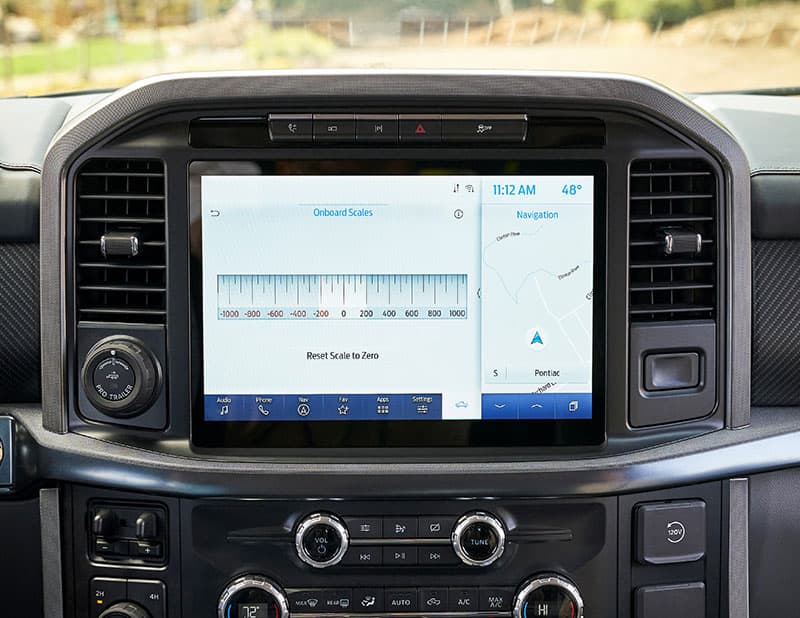 It could also tell you that Bruster the wonder mutt has put on a few pounds and needs to cut back on the dry food.  More squirrel chasing.  Less treats.  And those rocks you've been collecting all over the West (yeah, you).  They add up.  Of quartz they do.
The Final Weigh In
Right now this a lot to do about nothing.  Ford sent out a press release about a few new features in their Ford F-150.  That's it.
Looking at the bigger picture, it's really no surprise that trucks will soon be weighing their cargo.  Over the years we have all seen a rapid proliferation of sensors on our automobiles; coolant temperature sensors, intake air temperature sensors, mass air flow sensors, manifold absolute pressure sensors, and so on.  Most vehicles have well over two dozen sensors.
More recently we've seen an explosion in driver-assistance systems and sensors; automotive radar sensors, LiDAR sensors, ultrasonic sensors, and camera sensors all working together with a central computer system.  Combustion engine to all-electric, automobiles are now computers covered in sensors that happen to take us places.
So it's not a big surprise that trucks will soon be able to weigh their payload.  Everyone in the truck camper marketplace and industry should now be expecting this technology, and start to prepare for it.