TCM: Have you been honoring previous Eagle Cap warranties through your dealer networks?
Greg: We have been continually working with retail customers and working on issues with previous Eagle Cap product.  We are not legally bound to provide the warranty care, but we want to provide good will and assistance with existing Eagle Cap owners.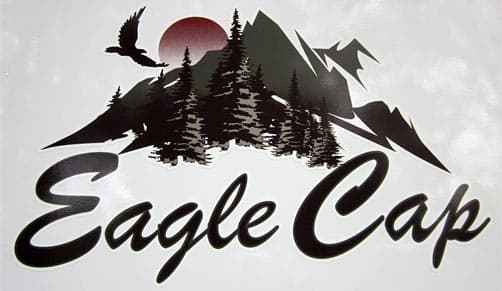 ABOVE: The Eagle Cap logo has not changed
TCM: Speaking of warranty, what will the warranty be for the new Eagle Cap campers?
Greg: 2012 Eagle Cap campers will have the same two year warranty the old Eagle Cap campers offered.  We may look at offering a longer warranty in the future, but we decided not to make any changes at this time.
We also didn't change the exterior graphics on the campers.  We really want the same Eagle Cap look, feel, and experience.  As the saying goes, "If it ain't broke, don't fix it".
TCM: When can we expect to see new Eagle Cap campers at dealers?
Greg: The first shipment of 2012 Eagle Caps is going out this week to dealers who have ordered early.  We also have several new Eagle Cap customers who bought their campers after we talked to them on the phone.  They are very excited.
TCM: How about the price of the new Eagle Cap campers.  Is the price going up, down, or will it be the same?
Greg: Actually, the price has come down about $600 per unit.  Our team did a lot of research on the products that we're purchasing to build the camper and has been able to drive cost out.  We also found cost savings in the production and labor time needed to build each camper.
TCM: Can you save money by buying product and materials for both the Adventurer and Eagle Cap line at the same time?
Greg: In some cases, we're able to buy material or appliances in quantity with the buying power of Adventurer.  For example, water pumps and water heaters cost us less because we buy in quantity.  The biggest price change for Eagle Cap is in the cost of options, which have fallen substantially.
TCM: Is there anything else you would like existing and potential Eagle Cap owners to know about the new Eagle Cap?
Greg: We looked long and hard at Eagle Cap before making the acquisition of the Eagle Cap assets.  We see Eagle Cap as a long term opportunity.  I believe we've now been through the tough times and Eagle Cap will be stronger and better than ever.  I'm very excited about the line.  There are more plans on the drawing board and we are very committed to the Eagle Cap brand.
TCM: You mentioned several times during the interview that dealers have come by to see the new Eagle Cap production line.  Can our readers make an appointment to see the new Eagle Cap production line as well?
Greg: Absolutely.  We offer tours.  We do not have scheduled times so please call ahead and we'll take you through to see the Adventurer and Eagle Cap production lines.
TCM: We need to schedule a tour ourselves.  Thanks for sharing the news and please keep us up to date on the latest at Eagle Cap.
Greg: We will.