After months of negotiations, Truck Camper Magazine exclusively reveals a groundbreaking agreement between leading truck camper manufacturers. The implications of this commitment for all 2023 truck camper models could be a game changer.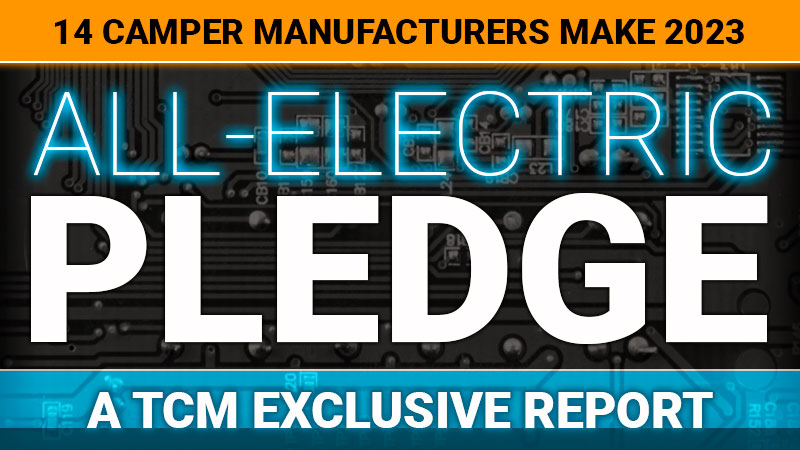 In direct response to the dramatically increasing interest in EV trucks, fourteen RV manufacturers representing sixteen truck camper brands have signed a pledge that all installed 12-volt and 110-volt features, appliances and options will be 100-percent all-electric by 2023.
This bold and comprehensive agreement includes but is not limited to all AC and DC powered compressor refrigerators, air conditioners, microwaves, water pumps, fans, LED lights, converters, inverters, circuit breakers, fuse panels, solar controllers, solar panels and electrical outlets.
According to industry leaders, there will be no exception to this commitment.  Any installed 12 or 110-volt feature or appliance in 2023 truck campers will only use alternating or direct current.  Even battery systems will be strictly limited to electricity.  As part of this agreement, all installed LP systems will continue to operate on propane.
As a footnote to this historic commitment, the fourteen manufacturers have also pledged to use Pledge Multi-Surface Cleaner to remove fine particles of solid matter (dust) from any interior camper surface exposed to the prevalent mixture of nitrogen, oxygen, carbon dioxide and water vapor (air) often found in their production facilities.
This groundbreaking agreement demonstrates the forward-thinking focus of the truck camper marketplace and should be a model for the broader RV industry to follow.  If the motorhome and towable manufacturers refuse to adopt the all-electric example this important pledge represents, the truck camper industry will leave them in the dust.