BestTank Industries reveals an innovative and environmentally responsible way to handle black tank waste.  Ladies and gentlemen, meet the beetles.

Imagine if you never had to dump your black tank again.  As if by magic, your black tank waste simply disappeared.  Your black tank dumping days would be over.
That was the bold vision of Pete Best, President of BestTank Industries.  Pete saw a future where RVers could boondock longer and avoid the unpleasant realities of black tank dumping.  To accomplish this ambitious goal, BestTank Industries has utilized an extremely unusual ally; dung beetles.  That's right, dung beetles.
BestTank has discovered a way to use dung beetles to eliminate the waste in our RV black tanks.  What might seem like the mad science of RVing entomologists is now reality.  When it comes to black tanks, we can now all have a bug out vehicle.
To find out more about Black Tank Beetles, we talked to Pete Best, President of BestTank Industries.
TCM: Where did the idea of using dung beetles for RV black tanks come from?
Pete: There were a number of inspirations.  We were inspired by Marcus Byrne's TED talk, "Dance of the Dung Beetle".  The work of George Bornemissza on the Australian Dung Beetle Project also provided important data points.
All of these projects and presentations demonstrated the amazing abilities of dung beetles and their potential for environmentally friendly waste management.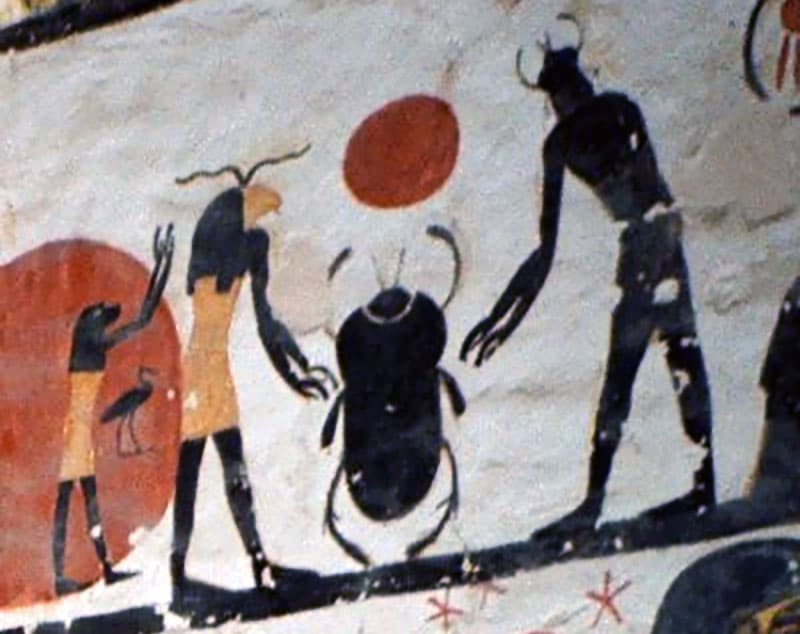 Above: A petroglyph from the Egyptians using dung beetles for their chariot pots
When we learned that historians believe the Egyptians used dung beetles for their chariot pots – the earliest known type of portable toilets – the light bulb went off.  What if we used dung beetles in black tanks?  It made perfect sense.
TCM: Tell us about the research and development of Black Tank Beetles.
Pete: All of the research was done at BestTank Laboratories in Indiana.  To perfect the Black Tank Beetles, a team of six BestTank entomologists worked around the clock for almost a year.
We had four dung beetles in our initial tests.  Naturally, we named them John, Paul, George, and Ringo.  One of the lab techs named the test tank, 'Liverpool' and began playing, "Love Me Do", "We Can Work It Out", "I Feel Fine", and "Twist and Shout" every morning.
I finally said something after Bob put a, "Yellow Submarine" sticker on the tank.  Obviously, it had gotten a little out of hand.  Bob is no longer with the company.
TCM: The dung beetles are processing the waste, but how are you addressing odor?
Pete: Along with the supplied beetles, we provide a packet of BestTank Beetle Base; a careful blend of activated charcoal, peppermint extract, and active bacteria and enzymes that break down anything the beetles don't like.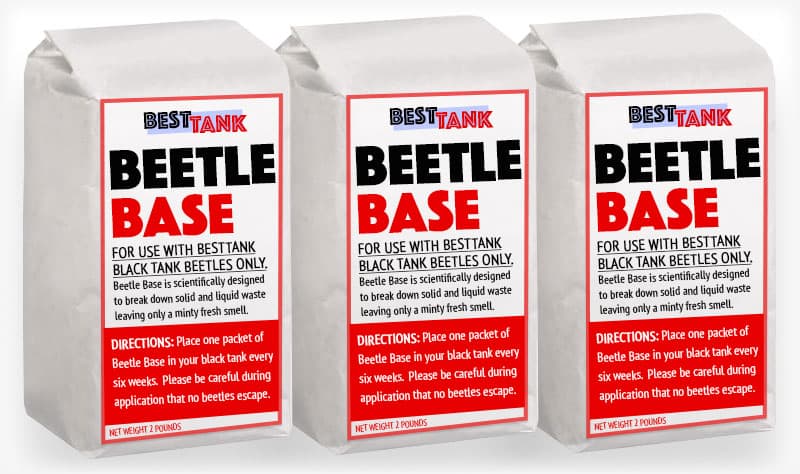 Above: BestTank Beetle Base comes in 2 pound packets