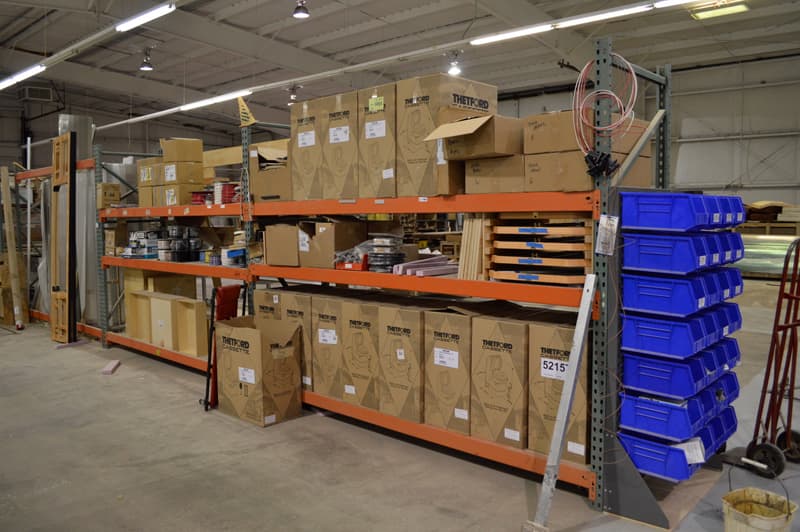 Above: The expanded inventory of parts and materials needed to build Alaskan Campers
TCM: How does increasing inventory help with efficiency?
John: There are hundreds of pieces that go into building an Alaskan Camper.  There are stoves, furnaces, air conditioners, awnings, and windows.  Then there's the plywood, maple, and metal.  All of these items constitute the inventory I was speaking of.
The first thing I told the production team was, "You're not to want for anything.  Whatever you need to build an Alaskan Camper, it will be here.  Tell me what you need."  The team was very happy to hear that, and told me exactly what inventory and equipment they needed.
Some parts take 30 days to arrive once their ordered.  To avoid production delays, we ordered more than we needed.  With our new facility, we now have the room to store this inventory.  Having everything on hand and well organized is a tremendous help for efficiency.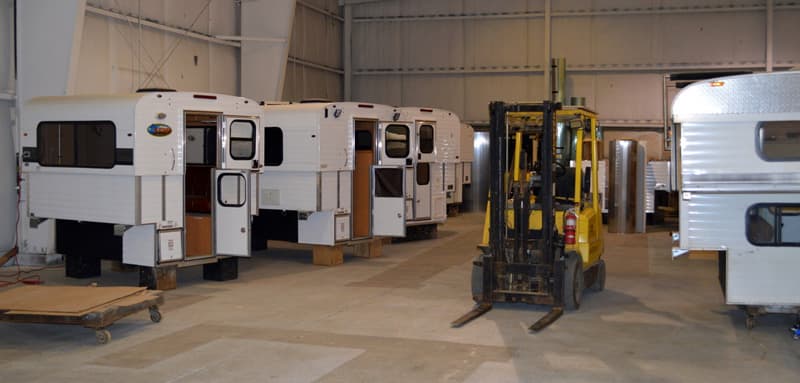 Above: New Alaskan Campers ready for their new owners
Last year Alaskan didn't complete one camper a week.  Building one camper a week is our goal for 2017.  I asked the team, "How many guys does it take to build one camper a week?"  They told me, and we made the hires.
TCM: You live in Anchorage, Alaska and Alaskan Campers is in Winlock, Washington.  Some folks might be concerned about the idea of an absentee owner for Alaskan Campers.
John: I am at Alaskan Campers a lot, and my partners are less than an hour away from the factory.  We are very fortunate to have an established management and production team that knows exactly what they're doing.
Everyone at Alaskan is motivated and doing a good job.  As an owner, I would only be standing in their way if I was there all the time.  These guys have been doing this a long time, and they're good.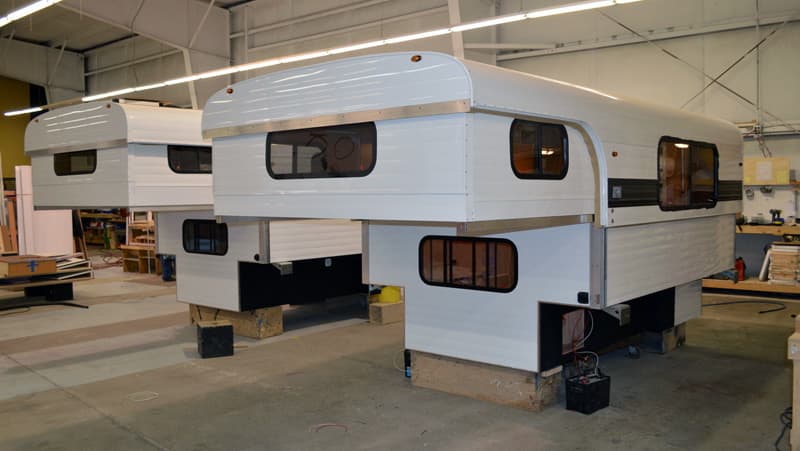 TCM: Since you're not going to be at the factory day to day, what do you see as your role and responsibility to the company?
John: My responsibility is to help the existing team become more efficient.  We do not want customers waiting months and months for their Alaskan Camper.
We have already started having some of the more labor intensive components manufactured on a CNC machine.  We also hired more people for production.  Our new facility has the space for more team members, more equipment, and more parts inventory.  My goal is to maintain and to even improve quality, while delivering Alaskan Campers in less time.
TCM: Alaskan Campers has been building truck campers essentially the same way for over half a century.  Do you plan on modernizing the methods and materials with which Alaskan Campers are built, or do you want to preserve the time-tested and proven Alaskan build?
John: The original Alaskan Campers design has persevered for over 60 years, and will continue for many more.  Any changes we make would be in the technology side, like more efficient refrigerators or heaters.  The Alaskan design will remain the same.  It just works.
It's not unusual to see 40 year old Alaskan Camper out in the field.  That's another testament to the quality of the Alaskan Camper design and build quality.
The people who purchase and own an Alaskan Camper are friends; almost like family.  They stop by the factory and show off their latest modifications and ideas.  That's how Alaskan Campers evolve over time.  There are no model year changes, but customer suggestions have made Alaskan Campers better year, after year, after year.