John: Yes, I'm an outdoors guy.  I like to go fishing and hunting.  Having a truck camper was a natural fit for my lifestyle.  I used the pop-up quite a bit for work and pleasure.
TCM: So how did you come across Alaskan again?
John: The oil spill clean-up went on for quite a few months.  During that time, I flew to Cordova.  I stopped at a store and picked up a Sunday Seattle newspaper for something to read.  In the classifieds I found an ad for Alaskan Campers.  I called Don Wheat, Owner of Alaskan Campers, and ordered an Alaskan Camper sight unseen.
On the phone I told Don I didn't need it right away.  About six months later, I went to Seattle to pick it up.  I couldn't believe how nice they were, and asked what would take to become an Alaskan dealer.  Don said that if I bought four, I could be an Alaskan dealer.  I only had money for three, but we made a deal.  I got my first shipment of Alaskan Campers in April of 1992.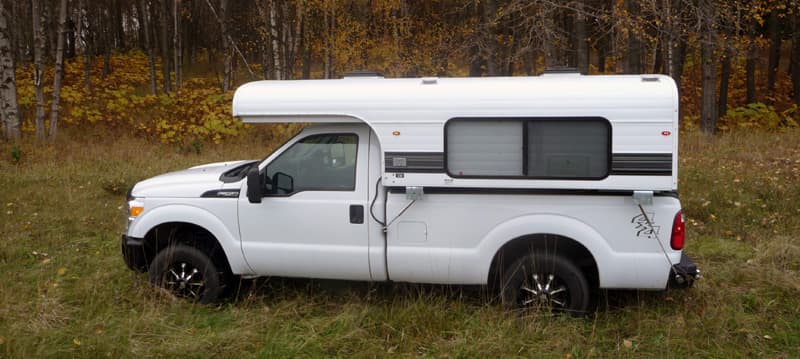 Above: John's Alaskan Camper rig
TCM: Why did you think becoming an Alaskan Camper dealer in Alaska was a good idea?
John: I thought I couldn't be the only guy who thought Alaskan Campers were cool.  And it turned out I was right.  I really never had to sell an Alaskan Camper.  People just wanted them.  They sell themselves.
TCM: What led you to purchase the company 24 years later?
John: Don Wheat stepped down from the day to day management of Alaskan Campers over ten years ago.  His son, Bryan Wheat, stepped in and has been actively running the company ever since.  I have known Don for more than 24 years, and Bryan as long as he's been there.  In other words, I know the people and product very well.
About 18 months ago, Bryan mentioned that Don was selling the company.  That's when I talked to Bryan Wheat, President, Dorrie Benson, Office Manager, Rick Bremgartner, Foreman, and members of the production crew.  After learning of their intention to stay on board with Alaskan after the sale, I decided to seriously look into purchasing the company.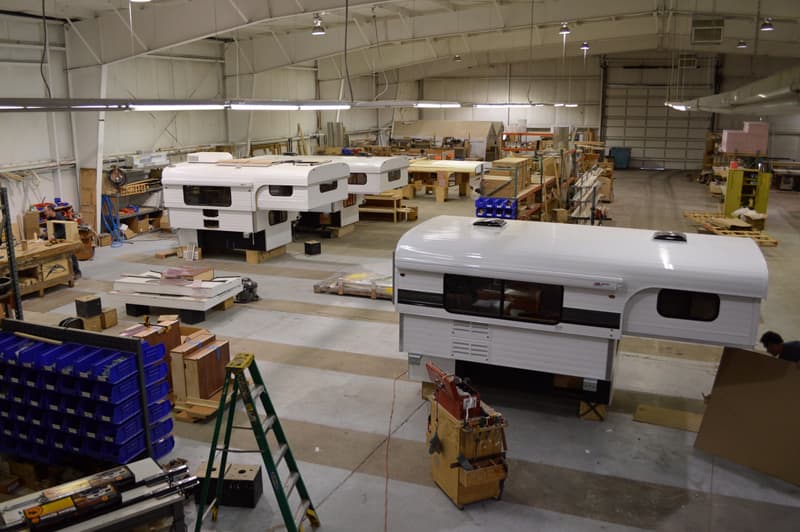 Above: Inside Alaskan's new facility in Winlock, Washington
TCM: What led to your final decision to move forward and buy Alaskan Campers?
John: They were back ordered for months.  They had just moved into their new facility, and were all set up for production.  Everything the team told me that needed to be changed to improve efficiency was very feasible.
During my research, I called my uncle.  He lives in Vancouver, Washington and is good with numbers and analysis.  Together we went to Alaskan with his son who happens to be an investor.  That was the second time I had been to Alaskan to review the business.  After crunching the numbers, they both said, "Need a partner?"  After I purchased Alaskan, they became shareholders.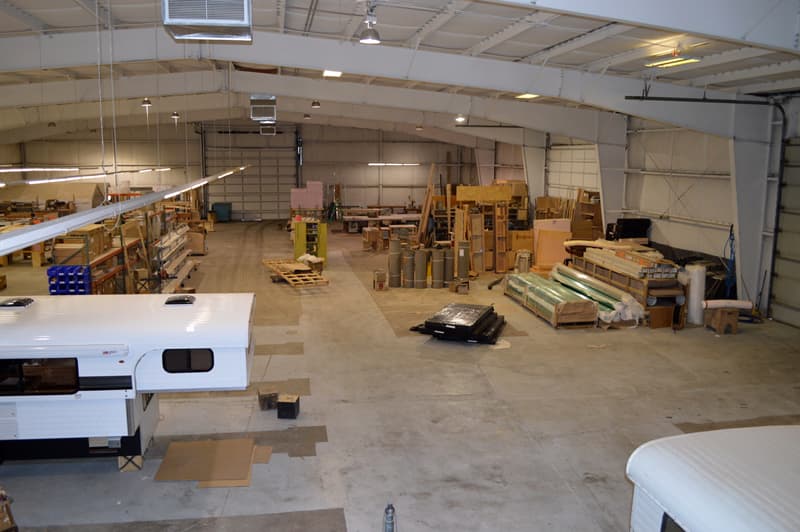 TCM: How did things progress from there?
John: I asked Bryan, Dorrie, and Rick about what the company needed to get cracking.  They knew conceptually what needed to be done, but I asked for actionable specifics.
For starters, their bookkeeping system was a dinosaur, their accounting was a mess, and the website was antiquated.  We updated and rebuilt all of that.  At the same time we increased the parts inventory and bought new equipment to dramatically increase efficiency.  Those things weren't hard to do, and really got things moving.  It's been a lot of fun these last six months.