Four Wheel Campers is upgrading to Redarc isolators, Victron converters, and optional Dakota lithium batteries. Power up pop-up players. FWC is charging ahead.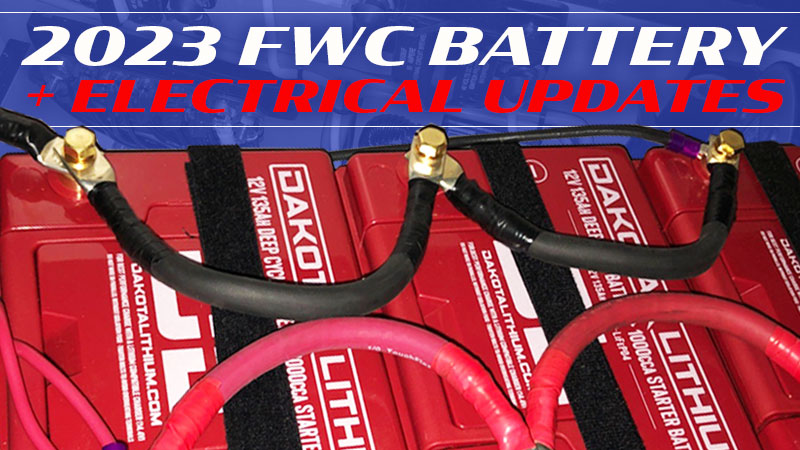 The Luddite in me is sorry to report that all of us have apparently lost the battle to keep our screens, gadgets, and electronics out of truck camping. Long gone are the days of an ice box, a few incandescent lights, and a good book. Now we have phones, tablets, laptops, smart watches, cameras, and beyond. And all of it needs ever more power.
To support everyone's increasing power needs, truck camper manufacturers have been adding more solar, battery capacity, and power outlets. With that comes the need to integrate newer technologies that are then integrated into our phones. All of this is before the foreseeable tidal wave of EV trucks brings yet another technology sea change to our marketplace. Honestly, we're not too far away from labeling every truck camper manufacturer a technology company. Yeah, I said that.
In the meantime, Four Wheel Campers is serving up a huge leap forward in onboard tech for 2023. Out goes a number of tried and true but technically outdated products from Blue Sea Systems and Iota to be superseded by the new power-to-go rockstars; Redarc and Victron. To that power play, FWC is adding Dakota lithium batteries totaling up to 405 amp hours (depending on the camper model) and significant upgrades to the onboard isolator and converter.
To find out exactly watts going on at Four Wheel Campers, we talked to James Cloherty, FWC Engineer, and Stan Kennedy, FWC's brand champion and chief keeper of company history. Let's get plugged in.
For 2023, FWC is changing its battery isolator and DC charging system from Blue Sea to Redarc. Why are you making this change?
James: Prior to 2023, we used a Blue Sea Systems automatic charging relay (ACR) to charge the camper batteries from the truck alternator while traveling and to isolate the truck and camper batteries when discharging or not traveling.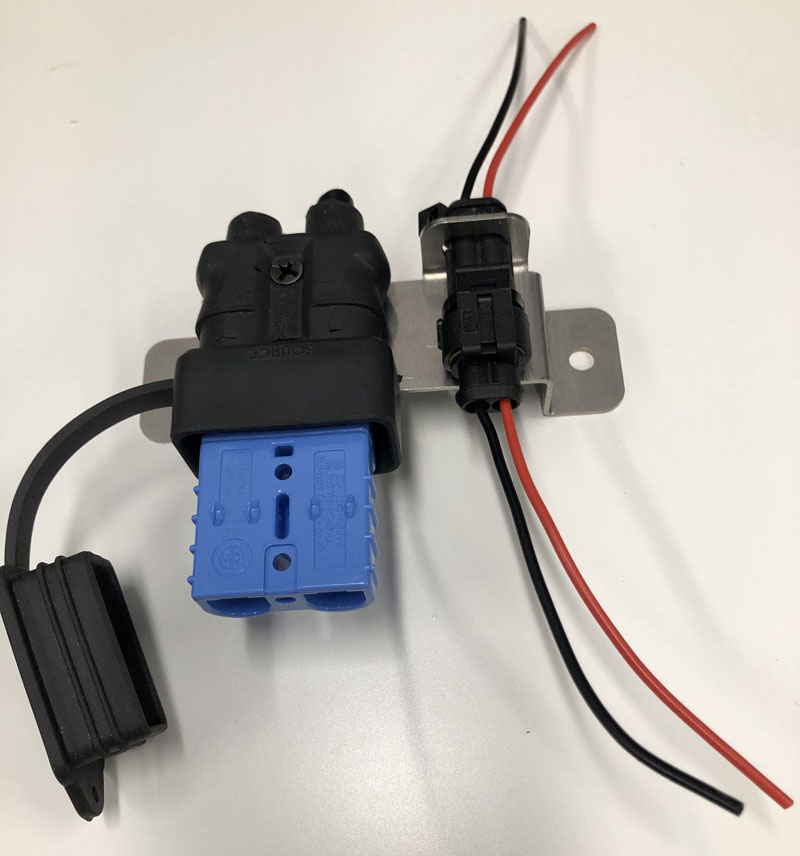 Above: The new Anderson truck to camper plug connection allows FWC to use thicker gauge wire.
For 2023, we are upgrading to the Redarc DC-DC charger; a 12-volt, 25-amp, DC-DC battery charger that works with lithium, AGM, gel, and standard lead acid and calcium batteries.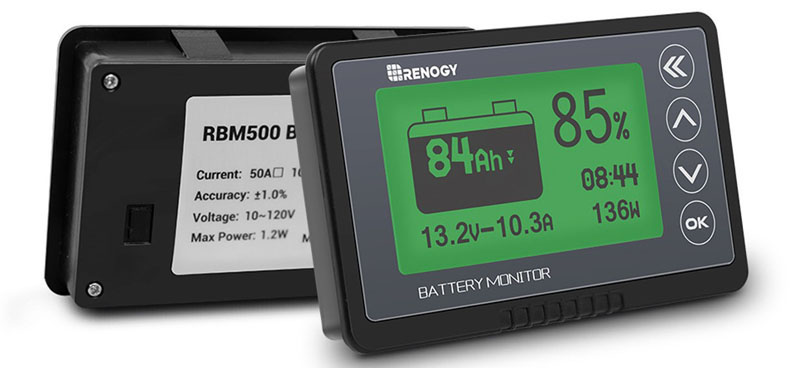 Above: The Renogy 500A displays battery and solar power and will be installed with a basic lithium battery system if the customer orders the complete solar system from FWC.
The Blue Sea ACR remains a solid choice and we use a lot of Blue Sea products in other areas of our campers. The reason why we are upgrading to the Redarc DC-DC charger over the Blue Sea ACR is for better camper battery isolation from the truck battery and different charging characteristics.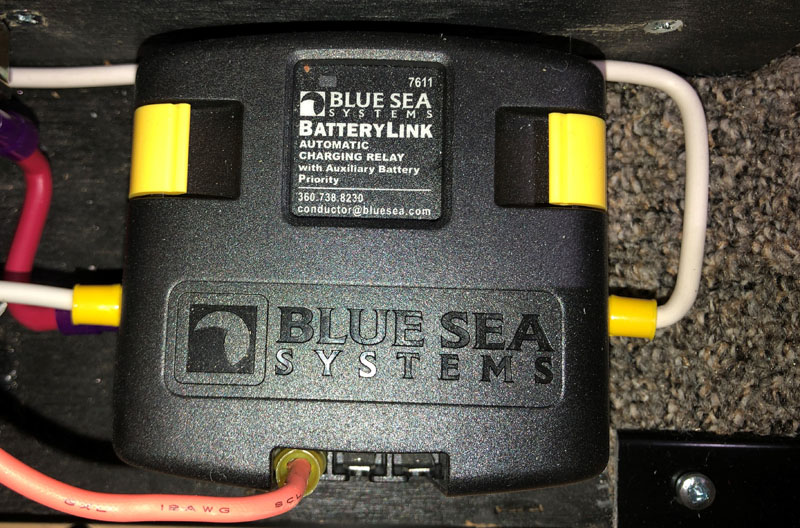 Above: Before the Redarc DC-DC charger, FWC used the Blue Sea ACR which is just a simple isolator
The Blue Sea ACR is just a simple isolator. It works perfectly well with most trucks, but some modern trucks have smart alternators that will step-up or step-down the provided voltage to save fuel economy. With a smart alternator, the Blue Sea might sense the lower voltage and shut down charging the camper batteries.
The Redarc DC-DC charger will continue to charge the camper batteries with the lower voltage and provides better battery isolation. It's a nice upgrade.
Stan: Smart alternators are so well integrated into some trucks that some truck owners might not even know they have one until they experience a charging problem. Most customers with a smart alternator need a DC-to-DC charger because they work better together. But, the Blue Sea ACR has been working well for years without any problems. It just doesn't isolate or charge the batteries quite as well.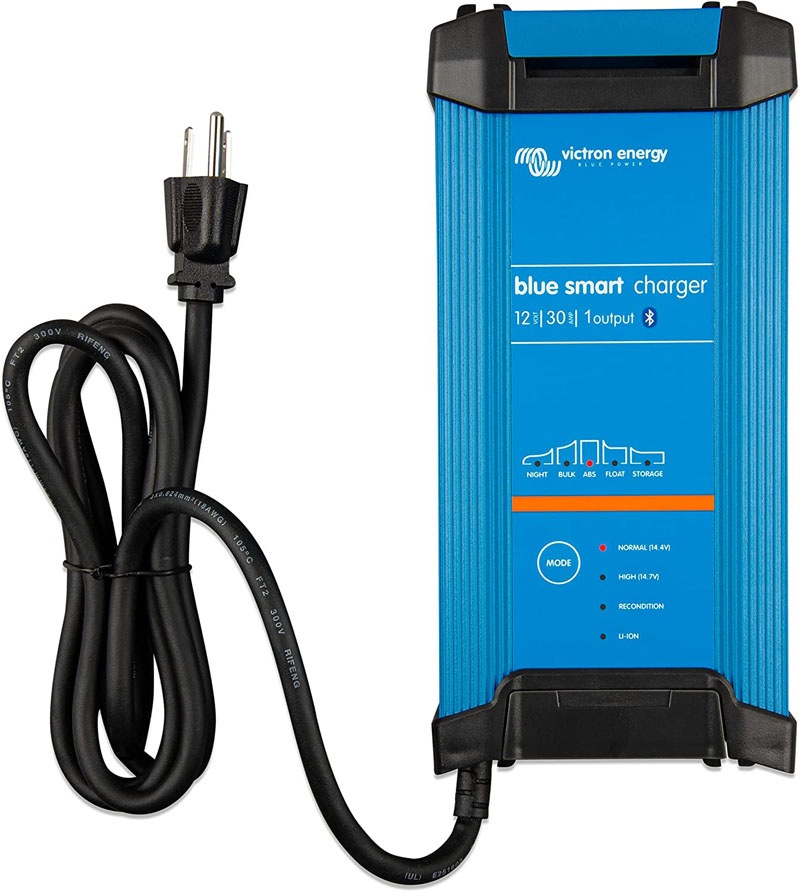 For 2023, FWC is upgrading from Iota to Victron converters. Like the Blue Sea isolators, Iota converters have proven reliable for years. Why are you upgrading to a Victron converter?
James: The Iota has worked well, but we have been looking for a converter that could work seamlessly with AGM and lithium batteries. The Iota converter offers AGM and lithium functionality but requires a separate module. The new Victron converter offers AGM and lithium functionality at the push of a button.
It's easy to set the Victron converter for whatever the camper battery type is. Owners with the Victron product can easily upgrade from AGM to lithium. The Victron also has Bluetooth and connects to a phone app.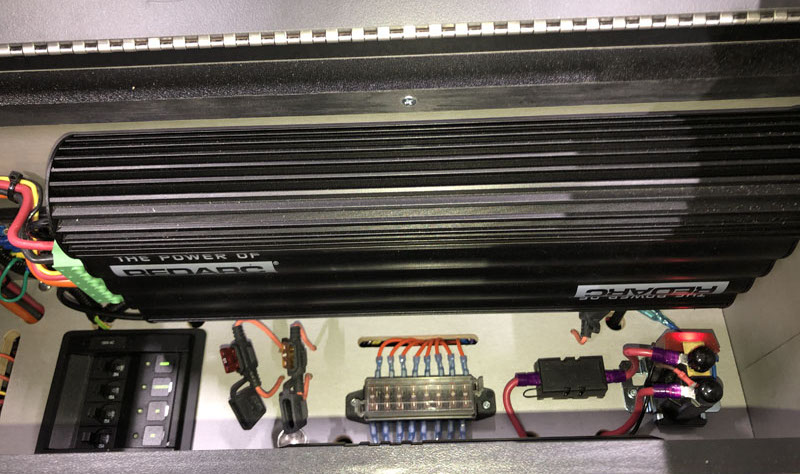 Above: The Redarc Manager 30 installed in a Four Wheel Camper
Are the Redarc and Victron systems standard on all FWC models for 2023?
James: Soon, the Redarc DC-DC charger and Victron converter will be standard on all Four Wheel Campers, except for shell models, unless the customer upgrades to the Redarc Manager 30.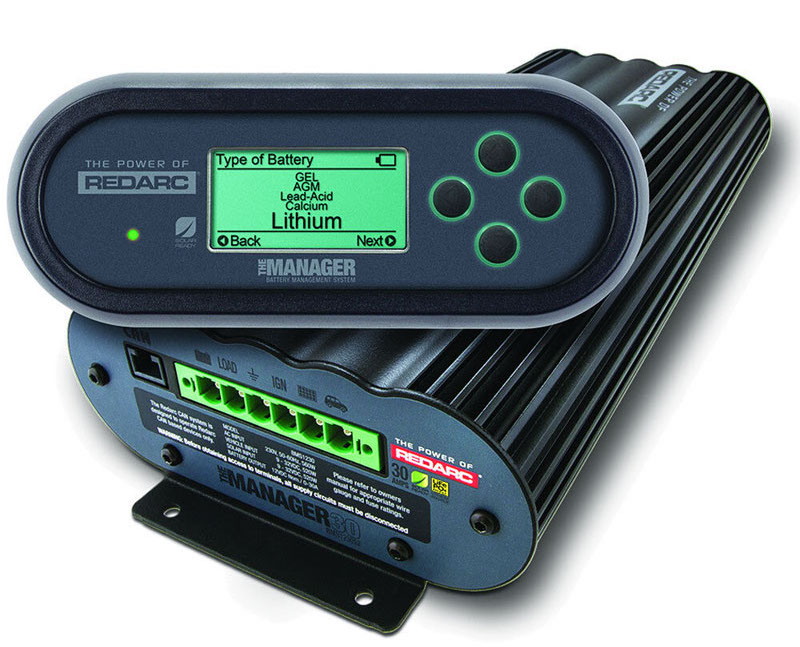 The Redarc Manager 30 gives the user detailed monitoring of the current flow status, solar charge status, truck battery status, and a 30 amp charger with 25 amps; DC to DC. It also offers an MPPT solar regulator, battery isolator, and remote battery monitor.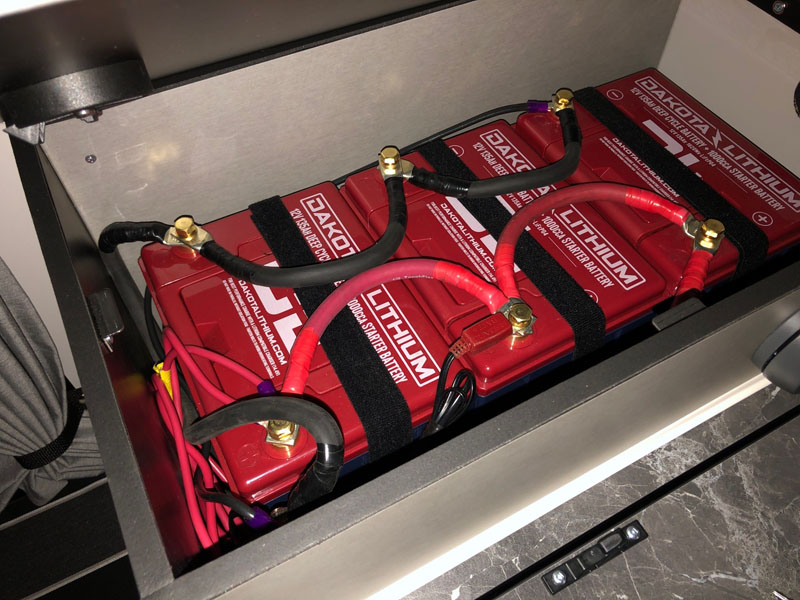 Above: Three Dakota lithium batteries set up in a Four Wheel Camper Hawk flatbed model
Tell us about the lithium battery options for 2023.
Stan: For 2023, customers can upgrade to Dakota 135-amp hour lithium battery. One, two, and sometimes three Dakota 135-amp hour batteries will fit depending on the camper. With Dakota lithium batteries, you have more amp hours and an 11 year warranty.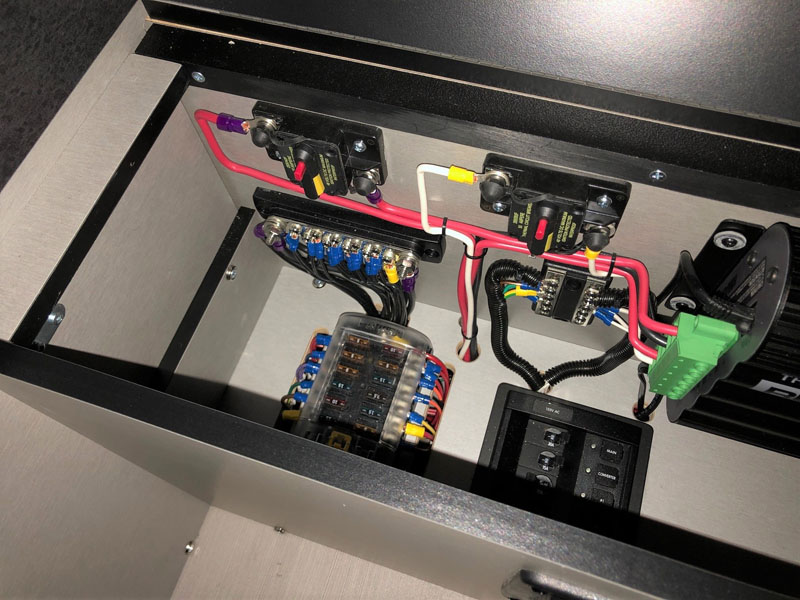 Above: Lithium battery fuses and wiring in a Hawk Flatbed Model
You are much less likely to run out of power with that kind of capacity in a little Four Wheel Camper.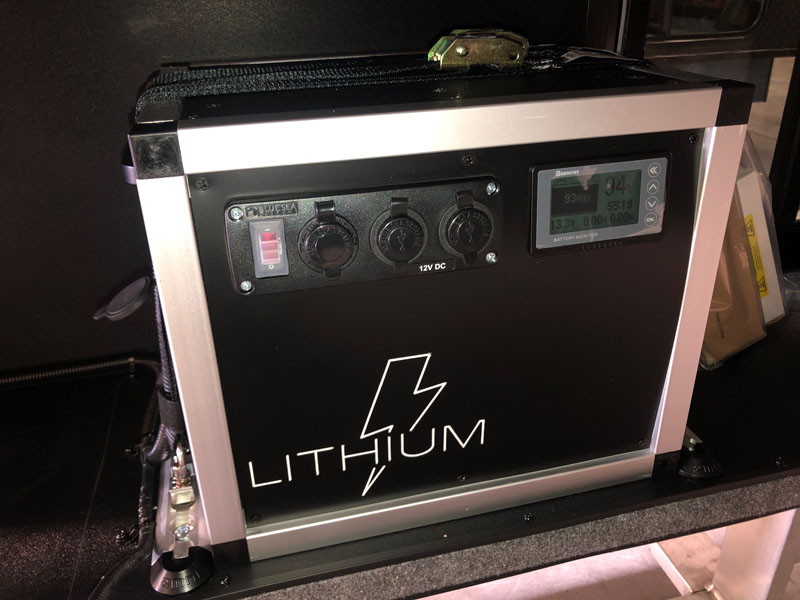 Above: Project M topper lithium battery box is optional
AGM batteries are still standard on our slide-in and flatbed models. Power solutions for the Project M Toppers remain optional.
Above: Stan Kennedy talks about the new power systems in Four Wheel Campers
Why would someone need that kind of power in a FWC?
Stan: Years ago our campers were simple; sink, stove, ice box, and maybe a battery. Over the last 20 years, people want more and more stuff. Customers just want it. We have customers who are putting together $150,000 rigs that include triple lithium with converters, more solar, the Redarc, and Rogue system. You can turn on your lights from your phone or check your water. Technology-oriented people want all the gadgets to track all of this stuff.
I was hesitant to suggest lithium when systems were $7,000. Now we offer a single lithium battery and lithium-compatible Victron system starting around $1,400.
Above: Lithium options for 2023 Four Wheel Campers, more information on fourwheelcampers.com.
What is the pricing structure if you want more than the single battery?
Stan: We have a lot of different levels to choose from. You can do basic single lithium battery system, basic with dual lithium batteries, and some of our flatbed campers have room for three lithium batteries.
The basic lithium battery systems start around $1,400 to $3,000 for single or double lithium batteries and then it bumps up to $6,000 to $8,000 for fancier set-ups. The options are on our camper builder tool at fourwheelcampers.com. It will also be on our price list when you order from one of our dealers.
Above: An overview of the Redarc Manager 30 battery management system, TVMS Rogue and RedVision display.
Can someone with older FWC upgrade to the new Redarc and Victron components?
James: We are working on retrofit kits now.
Stan: When the retrofits become available, it might be best to call our factory first for additional details and pricing. Some of our dealers are set up for that type of service, but not all. The factory is also available for an upgrade.
Any more FWC developments with the F-150 Lightning or other EVs?
Stan: We just took an order for a FWC Raven that will go on a Ford Lightning with the shorter 5'8" bed. The customer has brought it in four times and it's been tested. The truck weighed the camper with its onboard weight scales. We looked at the 12-volt battery and bed and tie-down points. We will be installing that in the next few months.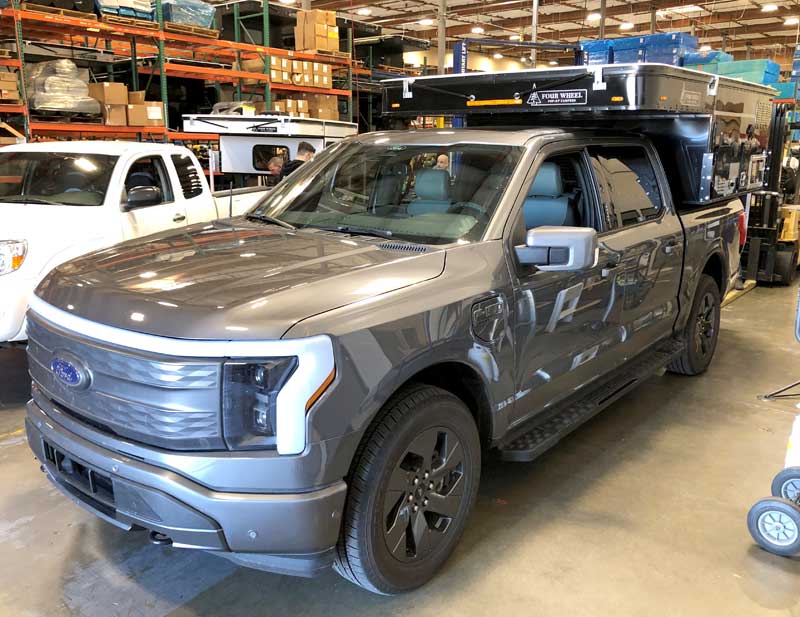 The Ford F-150 Lightning weighed the camper?
Stan: Yes, the truck weighed the camper while it was loaded. There is an onboard touchscreen on the dash. The numbers were off for the weight. We knew this because we weighed the camper on our scales and then put it on the truck and it was like 500 pounds more. When the owner got home he figured out that he needed to recalibrate the truck.
Onboard scales certainly have interesting implications for the future. Any other changes or news from FWC?
Stan: We just signed on two new dealers in the last three or four months. There's now Expedition SuperStores in Salt Lake City, Utah and CB Adventure Supply in Fort Worth, Texas. We also have a ton of different shows on our website under events. Once again we'll be attending all the Overland Expos.
Click here to request more information about Four Wheel Campers.  To visit the Four Wheel website, go to fourwheelcampers.com.