Capri Campers launches two big options across its camper line and announces in-house CNC cabinetry, camper maintenance access panels, and a nationwide dealer network. Capri Campers is on the move in 2023!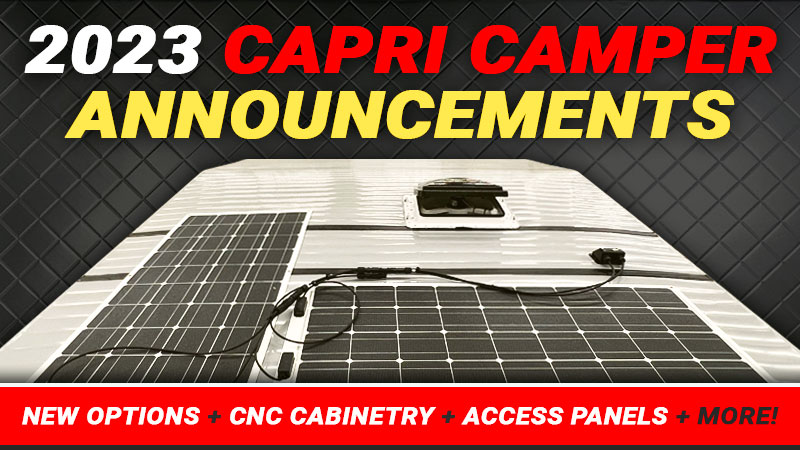 Since coming under new ownership in 2015, Capri Campers has established themselves as high-value and low-weight champions. In that same time period, the marketplace has become increasingly full of campers bursting at the seams with ballooning features, options, weight and cost.
As a magazine, we have celebrated Capri's high-value and low-weight products, and given them well-deserved kudos in a number of reviews. Then we contact them mid-year every year and attempt to tempt them off their precarious position.
"Hey, fellas! What are you doing for 2023? New camper? New model year updates? New features and options? It's that time of year! What's up for 2023?"
We say it a bit nicer than that, but you get the idea. We make a habit of poking every industry leader starting about mid-summer about what they're planning for the following model year. We are, after all, a magazine about truck campers. We want to announce new truck campers and model year updates. And make it snappy!
Thankfully, the team at Capri knows their mission. They also understand how easy it can be to lose their high-value and low-weight position. Add a few new features here, make your camper a bit larger there, offer a couple more options and – poof – it's gone. We have seen many truck camper manufacturers fall into this trap. It's so tempting. Customers will literally ask you to do it.
All of this is why we're excited to see Capri Campers continue to hold the line for 2023 and focus on improving the quality and serviceability of their models. Yes, there are two new options, but the really compelling news is the addition of CNC technology at the factory and maintenance access doors on the campers. Oh, how we wish our personal camper had maintenance access doors. So much time could have been saved.
To get the full story on Capri's 2023 updates, we talked to Pete and Tyson D'Acosta, President and Vice President of Capri Campers.
Before we talk about your 2023 announcements, tell us how it's going with your new location. How has it impacted manufacturing?
Pete: We were extremely lucky with the timing of our new building acquisition. It allowed us to expand to meet the increasing demand. It also allowed us to stock more parts and materials to keep our operation ahead of the curve. The additional space has been a big help as we work through unpredictable supply chain issues.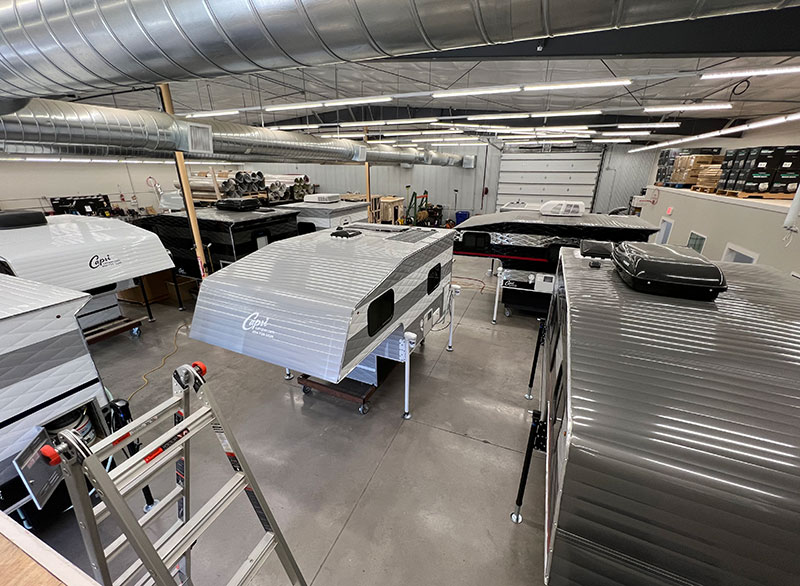 Above: The new 8,400 square foot Capri Camper building
Nearly every phone call with suppliers over the past two years has been a challenge. Far too often suppliers have been out of inventory or back ordered. When they do have inventory in stock, we order more inventory than usual to keep our operation moving forward.
With the new building, we've been able to maintain two to three times more inventory, including air conditioners, jacks and back doors for example. Keeping our signature quilted aluminum in stock might have been our biggest challenge, pushing us to the edge a couple of times. Now we have several tons of it on hand and we're in much better shape. Without the new facility to store the parts and materials, that would not have been possible.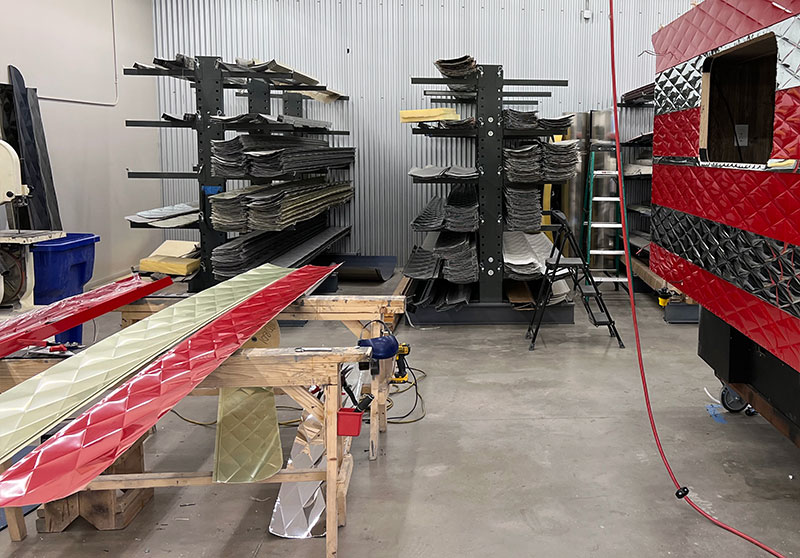 Above: Quilted aluminum inventory in the new building
Tyson: Our facility has streamlined our operation. For example, keeping the wood shop in a separate building keeps the camper installs a lot cleaner. We have a shop manager in both facilities. Everyone communicates well.
With the shortages are you still facing price increases?
Pete: Yes. There have been consistent price increases every time we place an order. It's nothing like we've experienced before. At the same time, freight and shipping costs have been rising at rapid paces as well. It's frustrating because even after fuel prices came down, freight costs have not followed.
The most troubling thing is how these challenges have been exasperated by a lack of communication from suppliers. Many of the suppliers have had turnover impacting every facet of their business. Some won't answer their phones and others simply don't have answers because they are new to their own company system. It's been maddening. Fortunately, we're a small and tenacious company. Despite the constant supply challenges, we have worked hard to make sure our customers get their custom campers on time when they were promised.
One of the advantages of a small, family-owned business is that we've been able to adapt in ways larger companies could not. We don't need to have a board meeting to make changes or react quickly to changing market conditions. If something needs to happen to help us move forward, we make that decision quickly and move on.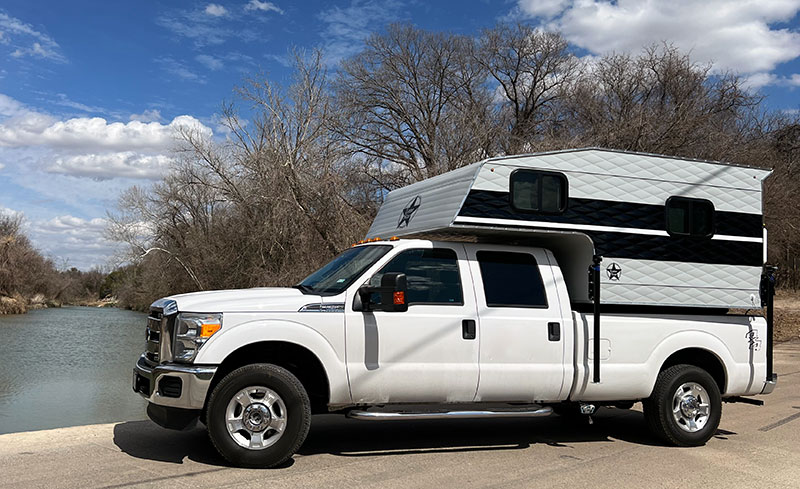 The Lone Star model debuted in March of 2022 with a focus on making nearly every feature and option modular. How has the Lone Star performed so far?
Tyson: It's doing well. The main challenge with the Lone Star model is that it's not well known yet. That said, we just had a customer drive down from Calgary to pick one up. He was excited about the ski closet feature. We are continuing to improve the Lone Star. For customers here in Texas, we added an air conditioner option.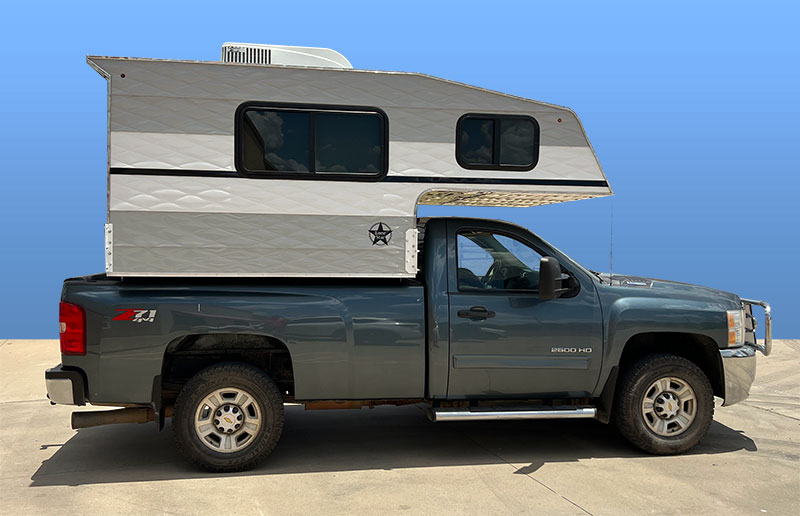 Above: For 2023, an air conditioner is available on the Capri Lone Star
Have there been any rolling changes to the Capri Camper materials, manufacturing process, or appliances over the course of 2022?
Tyson: With the new shop we've made some significant changes to how we manufacture campers. Before the new shop, every camper was built from the ground up by teams of two. With two different shops, we changed how we approached manufacturing.
Now we have the guys specializing in certain areas. Two guys install all the plumbing, two guys install all the electrical, and two guys install the aluminum skin. Not only does this approach improve the quality of the work being done, but it allows us to standardize our manufacturing processes. Before, each team did things a little differently. It's a big difference.
Pete: It also adds a level of accountability throughout our manufacturing process. We know exactly who is responsible for what. It also makes it easier to identify and improve certain processes if they become issues. Our two-man teams did an amazing job, but specialization has allowed us to further improve our quality and quality control.
Tyson: It's also improved how we hire and train new employees. Before it was much harder to bring someone onboard who had to learn how to build a camper from the ground up. Now they can train with a specialized team and learn that specific job. We also added a wood-cutting CNC machine to further improve our efficiency and quality.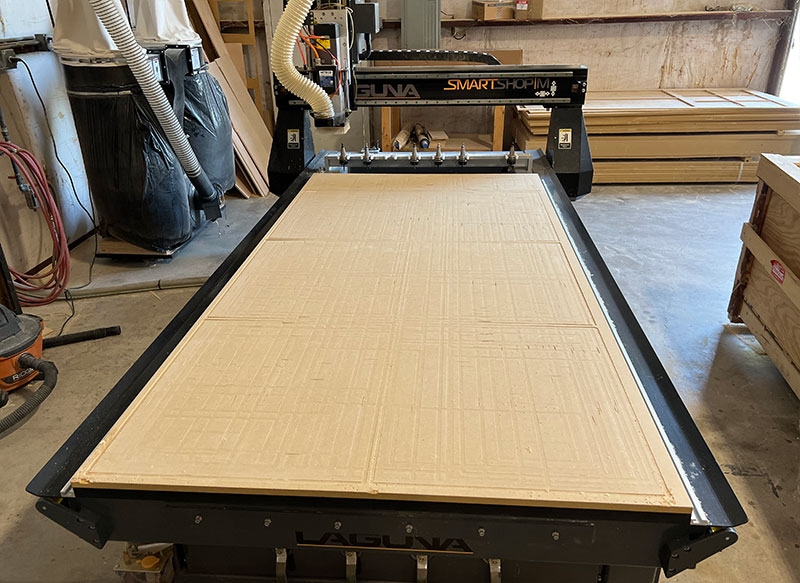 Above: The new CNC machine at Capri Campers
CNC machines have had an enormous impact throughout the camper industry. What are you using the CNC machine for?
Tyson: We've been using a CNC to make our cabinets for about a year. We used to build our cabinets all by hand. Our cabinet maker did a fantastic job, but the quality and precision of CNC has taken our cabinets to the next level. We have one team member whose job is managing the CNC machine.
Pete: CNC machines can run 24/7 and they don't quit or complain about being overworked. That said, CNC machines are not always the answer to everything. And the cost of a CNC machine isn't always justified. It's another tool to improve our quality and efficiency. We think about new ways to utilize CNC technology all the time.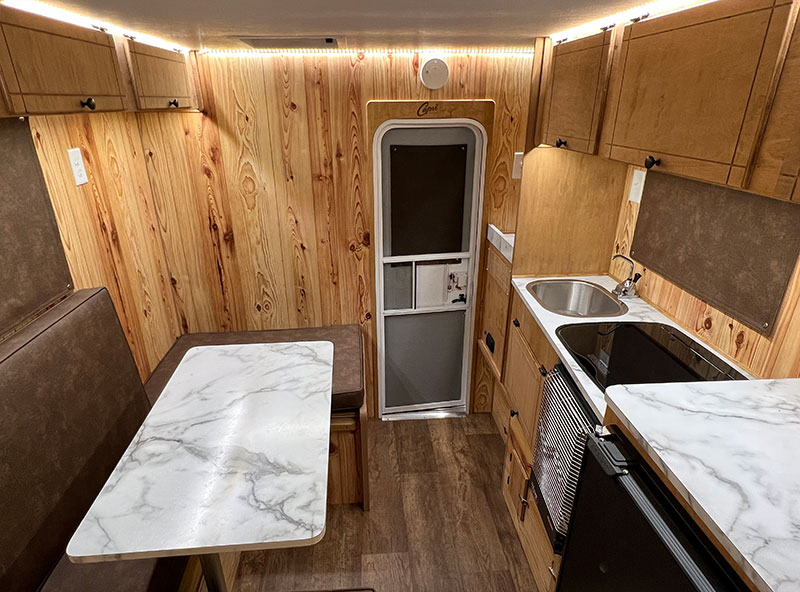 Above: CNC cut cabinetry in a 2023 Capri Camper
Tyson: Another important change we've implemented this year is adding access panels throughout our campers. We now have an access panel on the back of the shower where the fittings are located. When we previously had an issue in this area we had to cut into the wall. Now there's an access panel for easy maintenance and repairs.
Under our sink used to be a spider web of plumbing and electrical. Now there's an open space with secured power boxes, breakers and fuses. It's another huge improvement that most people might not notice.
More than anything, we're focusing on the user experience. If things go wrong in a Capri Camper, we want everything to be easy to access and repair.
That is huge. We've had our fair share of system malfunctions in our camper and easy access, maintenance and repair can be the difference between continuing a planned trip, or not.
For 2023, Capri is offering a Renogy 200-watt solar panel set-up with two 100-watt panels and a Renogy Voyager 20-amp PWM waterproof solar charge controller. Did you offer an installed solar panel option before this announcement?
Tyson: Actually, no. This is the first time we've offered solar panels installed at the factory. For the last two years, our campers came pre-wired for solar via a back wall solar port. The customer could add solar and outfit their camper as they wanted.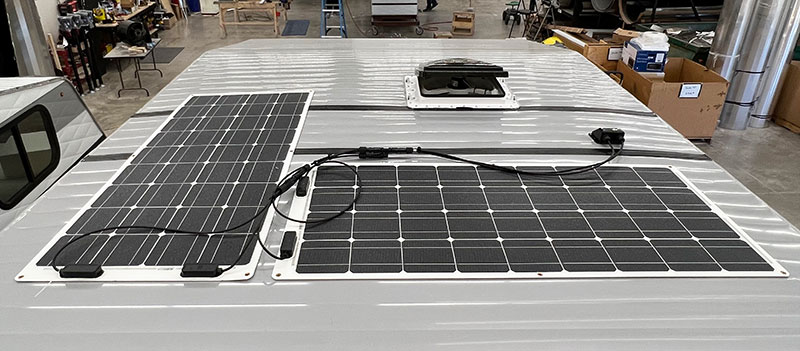 Above: The new 200-watt Renogy solar panel package
People are starting to go off-grid more, without access to electricity. Today, solar is leading the way for RVs. It was only a matter of time for us to offer solar as an option.
Why did you choose the Renogy 200-watt solar panels?
Tyson: We like the flat and flexible Renogy solar panels because we don't like drilling holes in the roof. We have been using 175-watt Renogy panels for the Lone Star. They offered the best option to avoid drilling holes in the roof.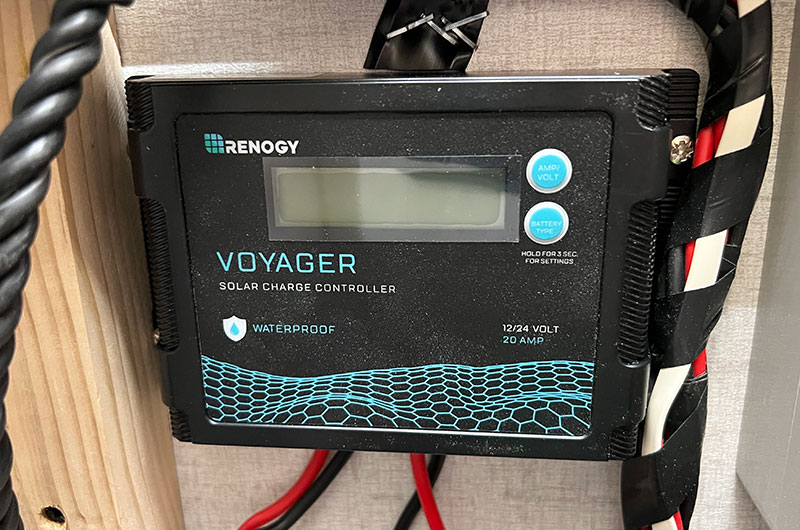 Above: The new 200-watt solar package includes a Renogy Voyager solar controller
Is the Renogy Voyager compatible with AGM and lithium batteries?
Tyson: Yes. The Renogy Voyager accepts flooded, AGM, and lithium batteries. A GoalZero portable lithium power station has a built-in charge controller so you can go right from the solar panels to the battery, which I love. With all these battery choices, customers can choose what's best for them.
Will the 200-watt solar panel option be available on every Capri Camper? Even the shortest Cowboy for mini-trucks?
Tyson: Yes. The panels are in an L-shaped array on the Cowboy's roof. One is north-south, one is east-west. And the Lone Star comes with the 175-watt panel standard.
What is the cost of the 200-watt solar panel option?
Tyson: It's $1,295 for the two panels, charge controller, and installation.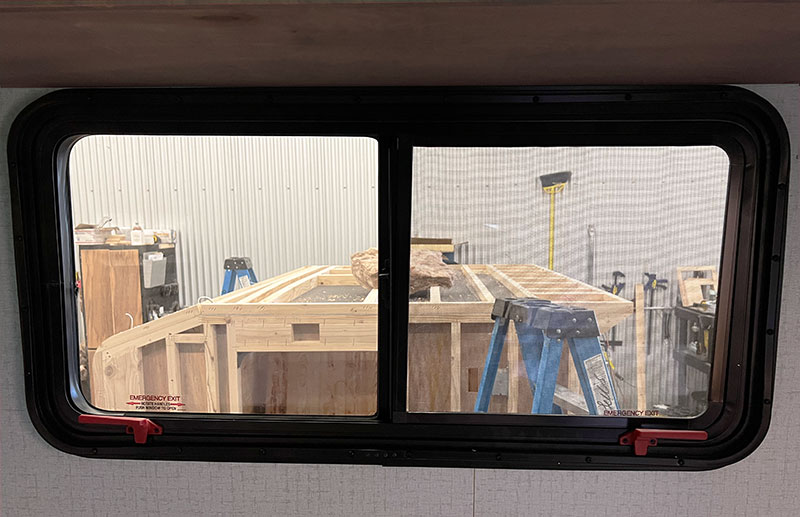 Above: The new thermal pane window option installed in a Capri Camper
For 2023, Capri is offering thermal pane windows on any Capri Camper. Have thermal pane windows ever been available on a Capri Camper?
Tyson: This is the first time thermal windows have been available across the full line of Capri Campers. We previously offered thermal pane windows on the Lone Star. The Lone Star is designed to be an off-road, off-grid, four-season ready camper.
With the experience we gained with the Lone Star model and its thermal pane window option, we decided to make thermal pane windows available for all Capri models.
Pete: For the record, we have not had Capri Camper owners complain about our standard camper windows. We even have testimonials from Capri customers using their campers at 20 below zero. We help owners navigate the issues of single-pane windows and condensation if that materializes. I don't want Capri owners to think they need thermal pane windows unnecessarily. They're an option, but far from a necessity.
Our camper doesn't have thermal pane windows and we haven't missed them. Then again, we don't camp in extreme cold very often. How much weight do the thermal pane windows add to a unit?
Tyson: Above the weight of single-pane windows, they add about 35 pounds to a unit.
What is the cost of the thermal pane window option?
Tyson: For the Retreat, it's $995. For the Cowboy, it's $595.
The other big Capri Camper news is the announcement of six Capri Camper dealerships across the United States. Tell us about this development.
Pete: Capri has expanded to six dealerships across the country and conversations with additional dealers are in progress now. Our goal is to provide our growing customer base with better access to the Capri experience. We get calls every day from all over the country from folks wanting to see one of our campers in person. Until recently, we've been unable to accommodate that request.
Almost all our custom orders are from people who purchase their camper sight unseen. In most cases, they drive to our Texas location to pick up their camper. In almost nine years now, no one has ever left here unhappy. But that process is not for everybody, and we understand that. In the months ahead, we hope to have about a dozen locations across the country that will have inventory and the ability to take a custom Capri Camper order.
Tyson and I are working hard to streamline the ordering process so our dealer network can guide customers through the selection of colors and options. Once ordered, the campers will be built here in Texas and delivered to the customer's local dealer.
Even though customers can order directly from our factory today, the prices through dealers would be the same. The big difference in "out-the-door" prices are transportation costs, installation costs and sales tax. But convenience is a very big factor to most folks, along with the ability to actually walk inside an existing camper.
We believe the exposure that our dealer network will give us and the added convenience to the customer of regional dealer locations will result in a better overall experience. For a current list of our Capri Camper dealers, check out our website at capricamper.com/dealers. All of our dealers have inventory on the ground and can assist with the purchase of a custom Capri.
A nationwide dealer network is obviously a huge change for Capri Campers, but I need to ask you a more serious question. On April 14th, Tyson accepted our triple-dog dare to go truck camping. Time is running out for the November deadline. So what's the plan?
Tyson: It's been incredibly hot here in Texas all summer. I've been waiting for the fall for my camping trip. I am taking out the Lone Star demo unit and it has no air conditioner, so I wanted to wait until it cooled off here a bit.
Is there anything else you want folks to know about your new 2023 options, or Capri Campers moving into the new year?
Tyson: We've learned over the years how to perfect our simple little campers and make things easier and more effective. Simple is what we live by here. We make sure that when we wire and plumb, we have access doors to everything. We are constantly testing things and making sure we have the right vendors to give our customers the best product possible.
On our website's Build Your Own system, you can see all the current standard features and options for our campers. If you have any questions, we're here to help.
For more information on Capri Campers, visit the Capri Camper Buyers Guide and their website at capricamper.com. Click here to order a free Capri brochure.