General Motors announces the 2020 Chevrolet Silverado 2500 and 3500 trucks with a new 6.6-liter V8 gas engine, 6.6-liter V8 Duramax diesel upgrades, a new Allison transmission and all-new exterior styles.  Unfortunately, we have several fitment flags to report.

Love it or hate it, nobody is going to mistake General Motor's newly announced 2020 Chevrolet Silverado (or 2020 GMC Sierra HD) for any other truck.  GM has thrown the safe path out the window and has debuted radical new exterior looks for its popular HD trucks.
All-New Sheet Metal
The recent exterior design trend in trucks has been for manufacturers to blend the look of their half-ton line into their heavy duty line.  That's not what's going on here.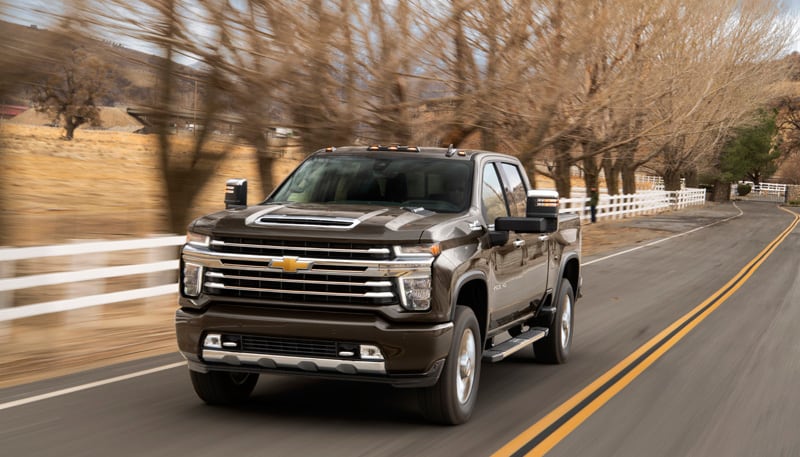 Above: 2020 Chevrolet Silverado 2500HD High Country
GM believes its HD customers want their three-quarter and one-ton trucks to look entirely different than their half-ton cousins.  In fact, they decided that each and every trim level should be visually distinct from the others; Work Truck, Custom, LT, LTZ, and High Country.
According to GM, the only sheet metal that's carried over from the half-ton trucks is the roof stamping.  Everything else is fresh; new grilles, new wheels, and new trims.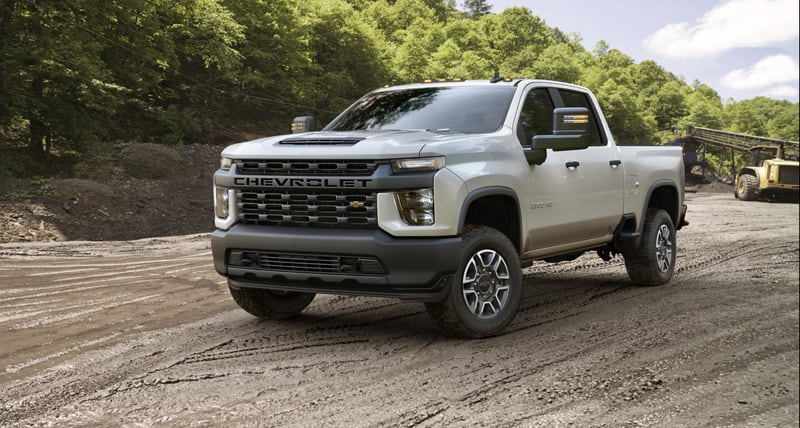 Above: 2020 Chevrolet Silverado 2500HD Work Truck
As you might imagine, this new sheet metal also means dimensional changes abound.  These changes could mean critical fitment issues for truck campers, or not.  More on this later.
Interior Design Mirrors Half-Tons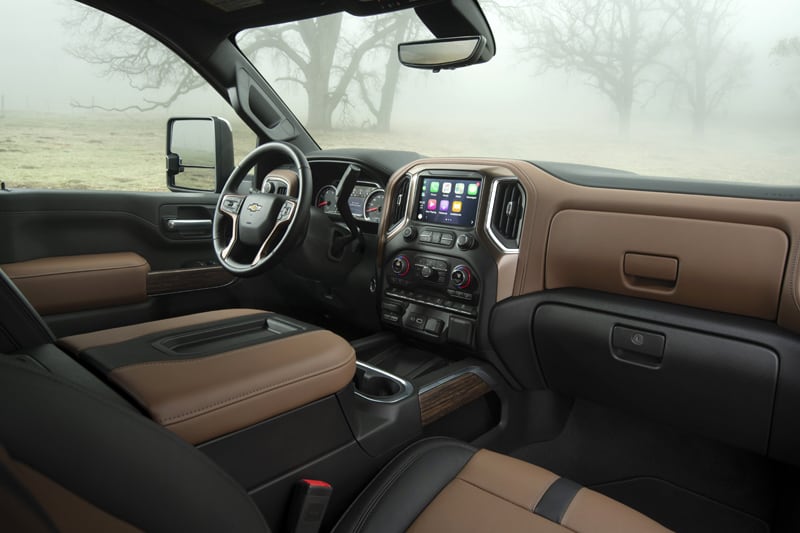 Above: 2020 Chevrolet Silverado 2500HD High Country Interior
Where the exterior is a bold departure from the new Chevy 1500 series, the interior is essentially identical to the 2019 Chevy Silverado 1500-series.
New 6.6-Liter V8 Gas Engine
The standard engine for the Silverado HD line-up is an all-new, direct-injected 6.6-liter gas V8 engine.  The 6.6-liter gas engine features a cast-iron small-block, aluminum heads, forged-steel crankshaft and forged connecting rods.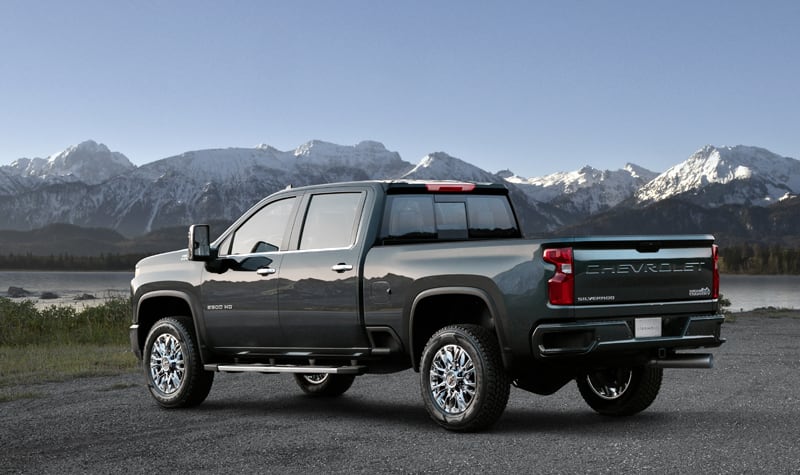 Mated to the 6-speed 6L90 transmission, the new gas engine offers 401-horse power and 464 pound-feet of torque.  That's 21-percent more torque than GM's outgoing 6.0-liter gas engine.
The improved torque means the gas engine offers up to 17,400 pounds of towing capacity.  That's an 18-percent increase over the outgoing 6.0 gas engine.
Of particular interest to truck camper owners, the new gas engine will be available with dual alternators.  Properly wired, dual alternators will charge your camper batteries faster while you drive to that next boondocking destination.
Updated 6.6-Liter Duramax and New Allison Transmission
GM has tuned the 6.6-liter Duramax Diesel to produce 445 horsepower and 910 pounds-feet of torque.  Combined with a new 10-speed Allison 10L1000 automatic transmission, the maximum towing capacity of the 2020 Chevrolet Silverado HD is now 35,000 pounds, a 52-percent increase from the previous generation.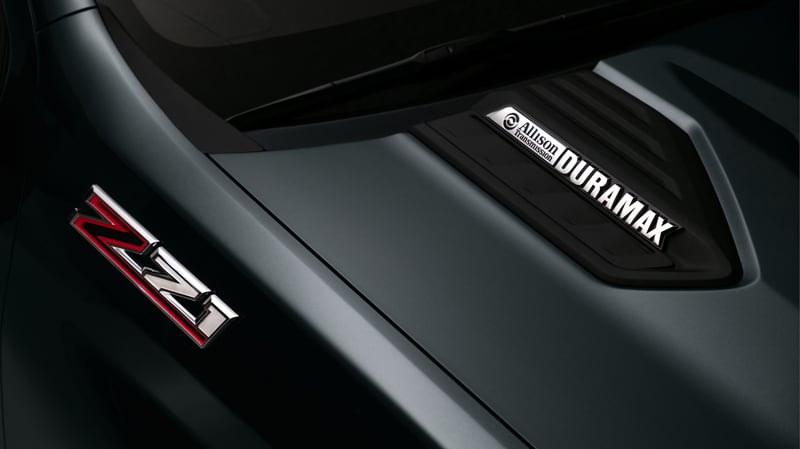 GM claims that all 910 pounds-feet of torque can be put to the rear axle in 1st gear.  GM also reports that every 3500-series truck with a Duramax will achieve 30,000 pounds of towing capacity, or better.
In addition to the updated Duramax engine and Allison transmission, GM has introduced a new 28-inch cooling fan, improved drivetrain and driveline components, new front and rear axles, 11.5-inch (2500-series) and 12-inch (3500-series) ring gears, and a 30-percent increase in prop-shaft diameter.
Advanced Trailering System
Towing visibility technology has become another competitive arena for the truck manufacturers.  For 2020, GM is offering an Advanced Trailering System incorporating 8 cameras around the truck for a total of 15 possible views.
For truck camper owners, the biggest news here will likely be the optional accessory camera designed to be mounted on a trailer.
This accessory camera gives the driver an unobstructed view of the rear – as if the trailer isn't there.  While we do not have experience with this new system, mounting it to the back of a truck camper should yield a similar result.
GM has also announced a Trailing smartphone app as part of its multi-media system.  This app can keep track of tailer profiles, checklists for pre-departures, and tire-pressure/temperature information.
New Engine Block Heater Doors
For folks who live in colder climates, the new engine block heater plug door will be a welcome change.  The new spring-loaded door is integrated into the front bumper of the 2020 HD trucks.  Diesel trucks get this feature standard.  It's optional for gas trucks.
DEF Tank Fill and Gauge Changes
For the 2020 model year, GM has moved the DEF tank filler from under the hood to next to the diesel fill.  GM has also added an improved DEF gauge to help owners know the level of DEF remains in the tank.
New Standard Tow Mirrors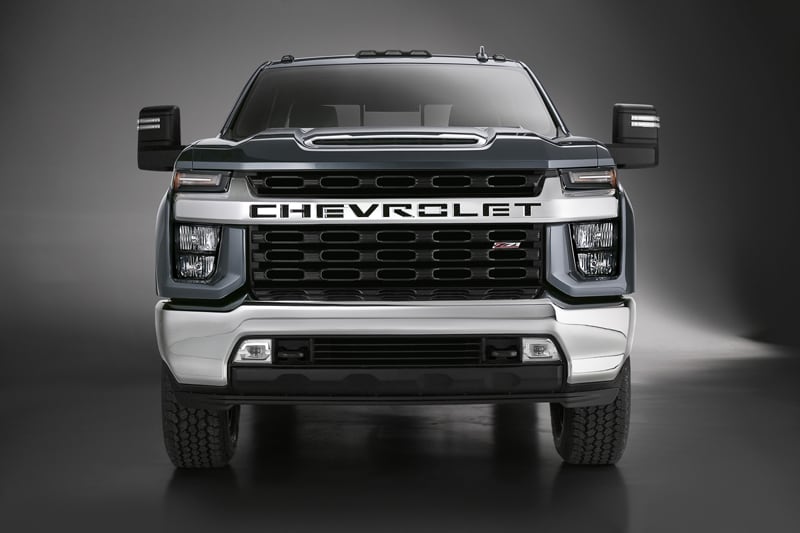 Every 2020 Chevrolet Silverado HD will come standard with manual or powered folding trailing mirrors.  The newly designed mirrors are larger than the previous model and offer forward-facing spot lamps to illuminate campsites.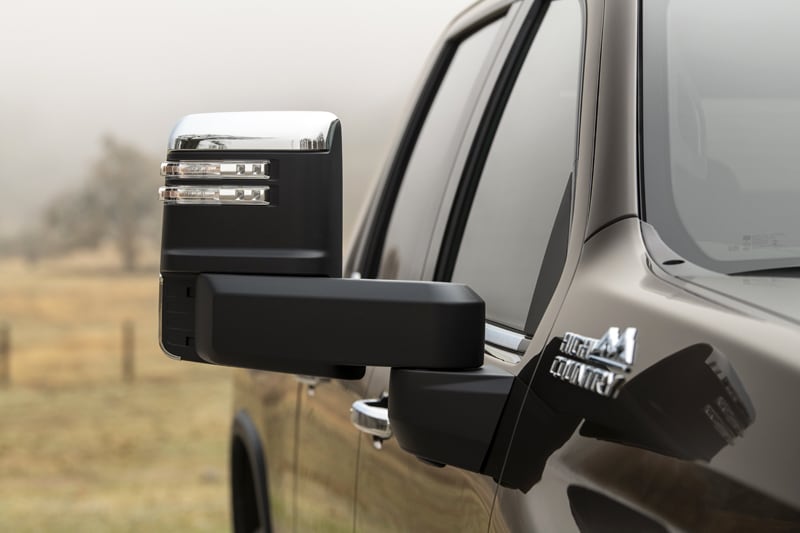 Upper-tier models get side-view cameras, puddle lamps and rear-facing spotlights integrated into the new mirror design.
ATS Integration with iN-Command
Of everything GM has announced about the 2020 Silverado HD, the ATS (Advanced Trailering System) Integration with inCommand might have the most interesting implications.  What is ASA's iN-Command Control System?  I'm glad you asked.
The concept of ASA's iN-Command Control System is to implement smart home technology into RVs.  Imagine being able to control your truck camper's climate control, generator, slide-outs, tire pressure monitoring system, awnings, jacks, lights, tank monitor, battery monitor and more from an App on your smartphone.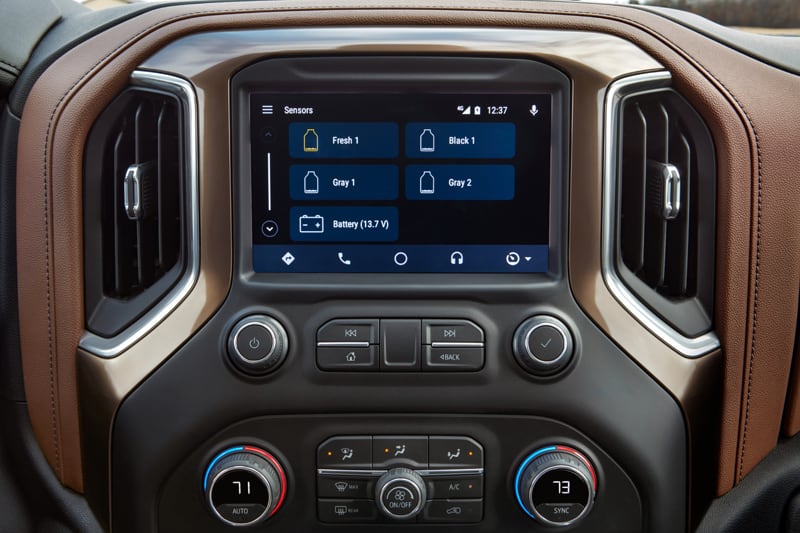 GM has tied these same RV systems into the main screen in their new 2020 HD trucks.  Theoretically, you could open your slides before getting out of your truck.  While driving, you could also check your holding tank levels to see if you need a dump station.  Pulling into a campsite in the total darkness?  Turn your camper's exterior lights on – all from inside the truck.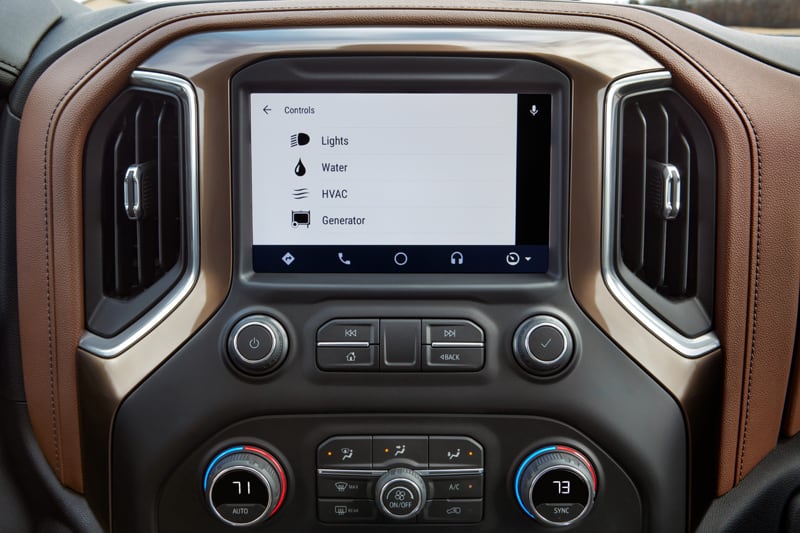 Of course part of me wonders how long until a 13-year old girl in India hacks this app and simultaneously dumps everyone's holding tanks; slip, slide, and eww-way!
Camper Fitment Warnings Abound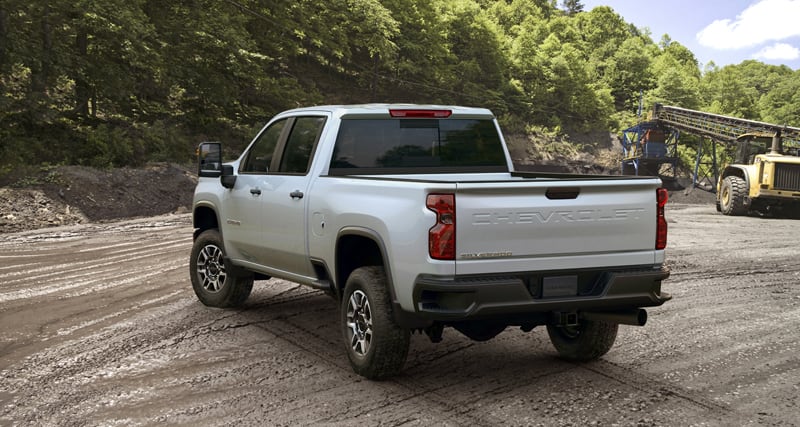 Nearly every truck camper fitment alarm went off when we read through the press information on the 2020 Chevy Silverado HD trucks.  For starters, the 2020 trucks have different dimensions than the outgoing model; up to 10.4-inches longer (crew cab), and 1.4-inches wider and 1.6-inches taller across the board.  The wheel base is also 5.2-inches longer than the 2019s.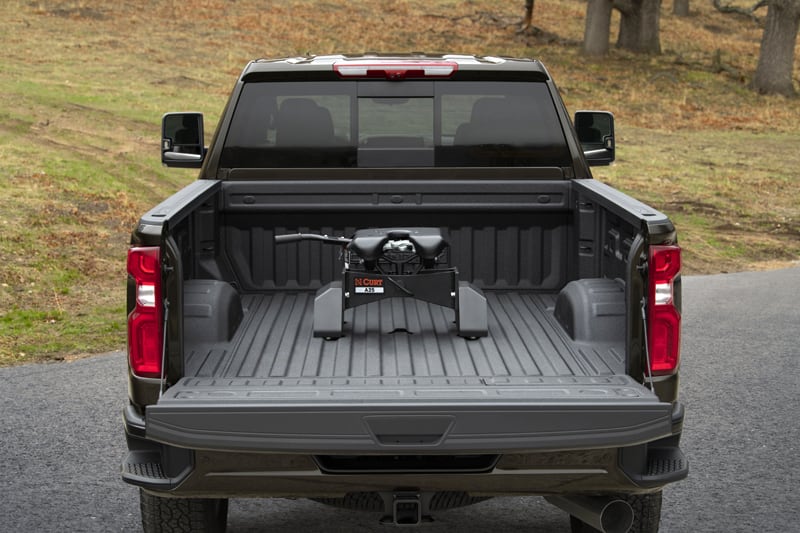 On a positive note, it has been reported that the 2020 HD bed rails sit at the same height as the 2019 HD bed rails.  That's one dimension the truck camper industry can check off their fitment concern list.
It's possible that none of these changes make a lick of fitment difference.  Then again, it's possible that truck campers will have multiple fit and obstruction issues.  If you're in the market for a 2020 Silverado of GMC HD truck, don't assume anything.  Talk to your dealer about fitment concerns, and measure twice before attempting to load a camper.
Wrap Up: Get Your Measuring Tape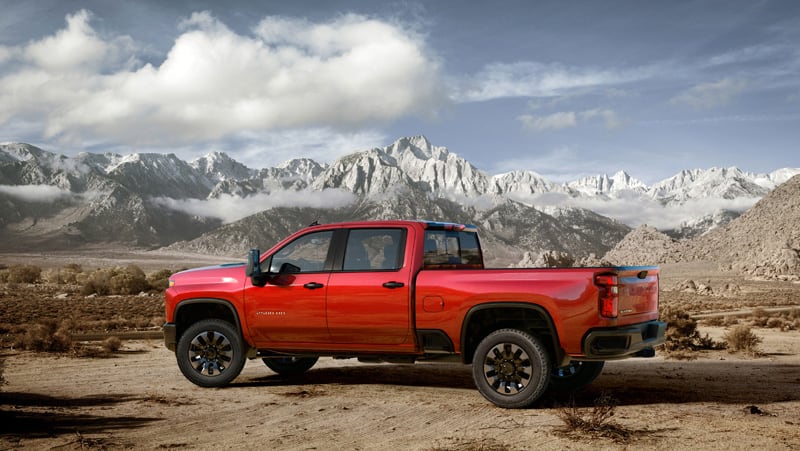 Hopefully the truck camper manufacturers are doing preliminary fitment checks now (based on the reported data), and preparing any necessary adjustments for their dealer networks.
That aside, we are very excited about GM's new 6.6-liter gas engine.  We had GM's 6.0-liter in our 2013 Chevy Silverado 3500 and found that to be a very capable gas engine.  Unfortunately, it was also a fuel hog.
With fingers crossed, the new gas engine is not only more powerful, but also more fuel efficient.  As of now, the most interesting part of the new 6.6-liter engine is the availability of dual alternators.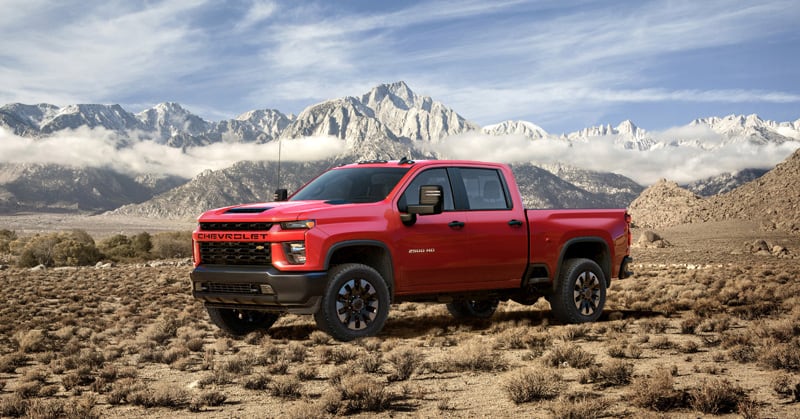 The 6.6-liter Duramax diesel doesn't beat the competition at the endless horsepower and torque game.  That said, the numbers are more than enough for pulling a truck camper up mountain grades and/or towing your toy choice.  We are especially impressed with the new 35,000-pound max towing capacity.  What needs that much towing capacity is beyond us, but it's impressive.
The rest of the 2020 GM update list consists of smart refinements to an already strong truck line-up.  We can envision many current Silverado and GMC HD owners thanking GM for the new engine block heater doors, DEF tank fill move, DEF tank gauge, and standard tow mirrors.  Someone at GM is listening to their customers.
Coming Late Summer 2019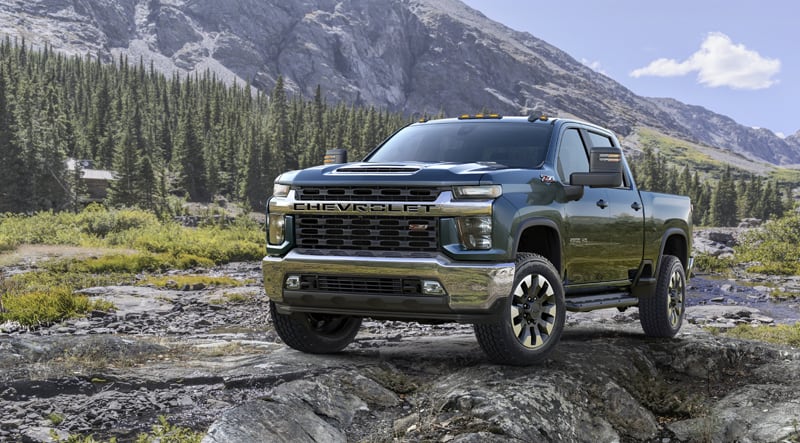 The 2020 Chevrolet Silverado HD trucks are scheduled to arrive on dealer lots by mid-2019 (late Summer according to GM).  When it finally debuts, we are quite interested to see the bold new sheet metal on the road.  This is one truck refresh everyone is going to notice.
Per the industry's standard practice, pricing for the 2020 Silverado HD trucks won't be announced until we get closer to the actual release date.  GM fans, start saving.