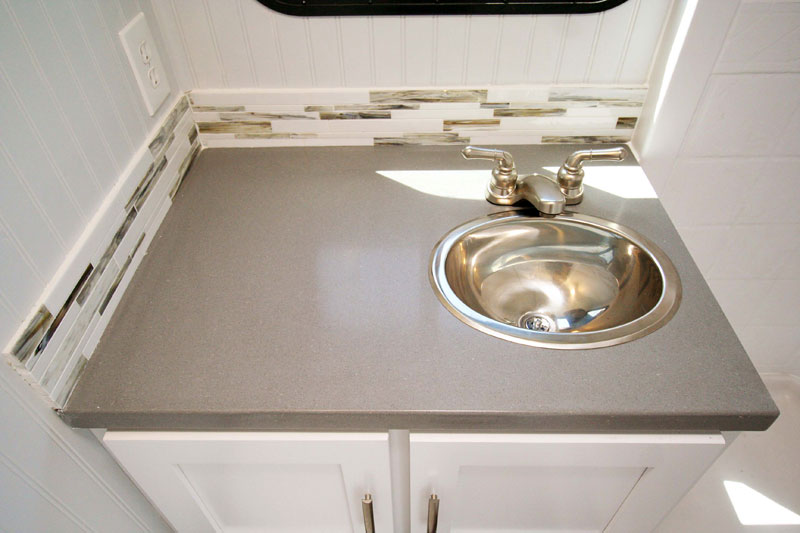 Before building tiny homes and truck campers, I was an electrician. I decided on 12-volt puck lights for a residential look. I wanted the whole camper to be bright and open. We went back and forth on television placement and lighting placements.
TCM: After the first prototype was completed, did you make any changes before starting production?
Jesse: I made a lot of changes throughout entire prototyping process. Making changes to the prototype sometimes frustrates our build team, but I want the Granite to be perfect.  Once our extensive prototyping process is done, the only changes necessary are interior colors and fabrics. So, yes, it changed quite a bit though the process.
TCM: Tell us about the framing material, lamination, and other construction details.
Jesse: At Rugged Mountain RV, we have built wood-framed and hung wall truck campers since day one. Our Crane Composite high-gloss fiberglass sidewalls are vacuum bonded to a quarter-inch luan backer. Crane Composite's vacuum seal lamination process is superior to everything we have evaluated or seen from competitors. It's also more expensive, but it's worth the extra cost.
We have very cold winters and very hot summers here in Idaho. For that reason, we selected the insulation factor of wood framing. With wood framing, we avoid the cold/heat conductivity and sweat issues of aluminum. Nails and other fasteners also have a superior bite with wood framing compared to aluminum.
From our own in-house testing, adhesives hold significantly better to wood than aluminum. With aluminum framing, lamination adhesives can de-laminate between the luan backer and exterior fiberglass. Wood framing does not conduct temperature or sweat, and prevents this type de-lamination. We do not want de-lamination issues at Rugged Mountain.
For the ultimate front nose seal, all Rugged Mountain truck campers have a one-piece fiberglass nose cap. The nose cap overlaps the TPO roof. The TPO roof wraps around the overhangs of the camper by three-eights of an inch around the entire perimeter of the units. Finally, we use the same high-end exterior sealants that we employ with our tiny homes.
Overall, the side walls of the Granite 11RL have a R9 insulation value. The basement and holding tanks are completely heated. The 11RL is a four-season truck camper.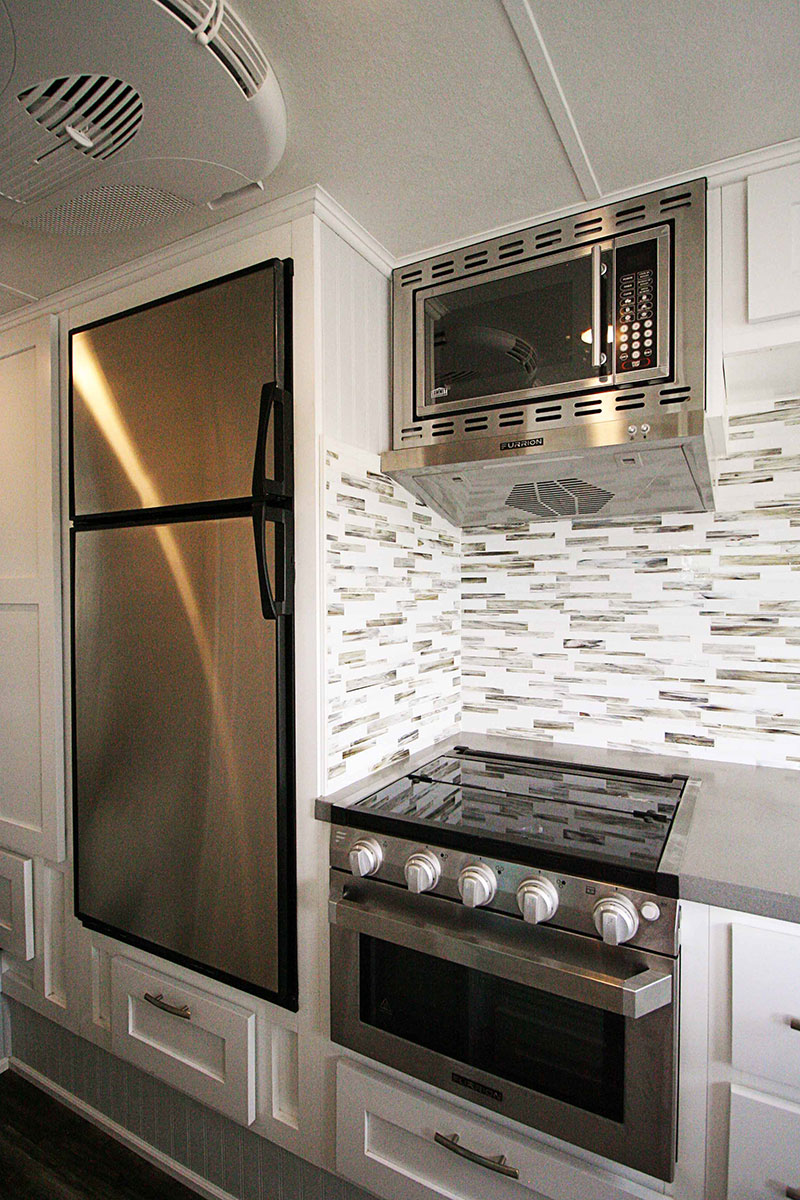 TCM: Were there any new materials, components, appliances, or processes used in the development of the Rugged Mountain Granite 11RL?
Jesse: We did crown and base molding in the Granite. We have used crown and base molding in our tiny houses for many years and it works beautifully. The material itself is a wood-plastic, also known as a natural fiber plastic composite. It will not absorb moisture. The 1-inch crown molding really gives the camper a residential look.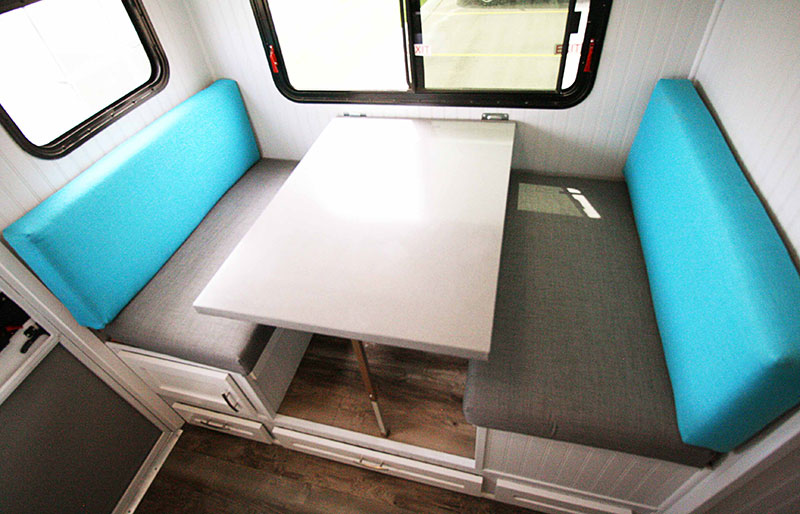 The dinette table is solid surface to match the solid surface kitchen counters. It is heavier than a traditional dinette table, but it looks incredible.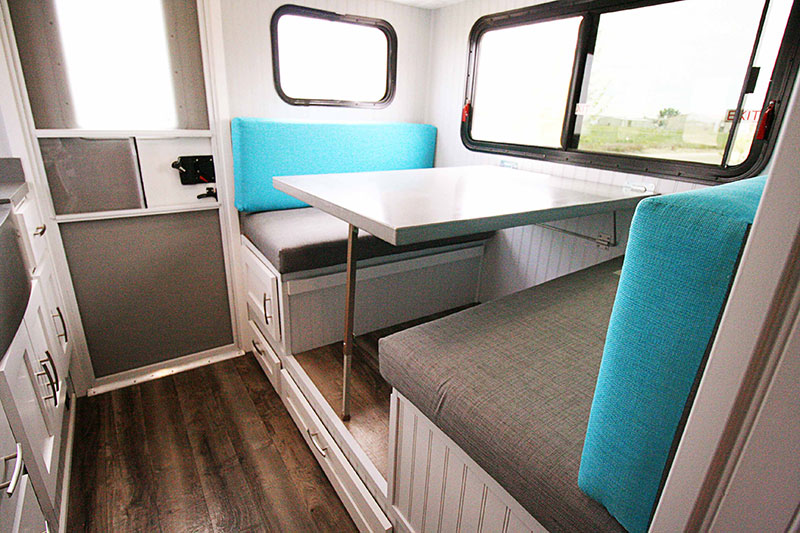 The dinette has a swing down bracket to keep it anchored in place.  When you sit at the dinette, the table is level and does not move when you lean on it.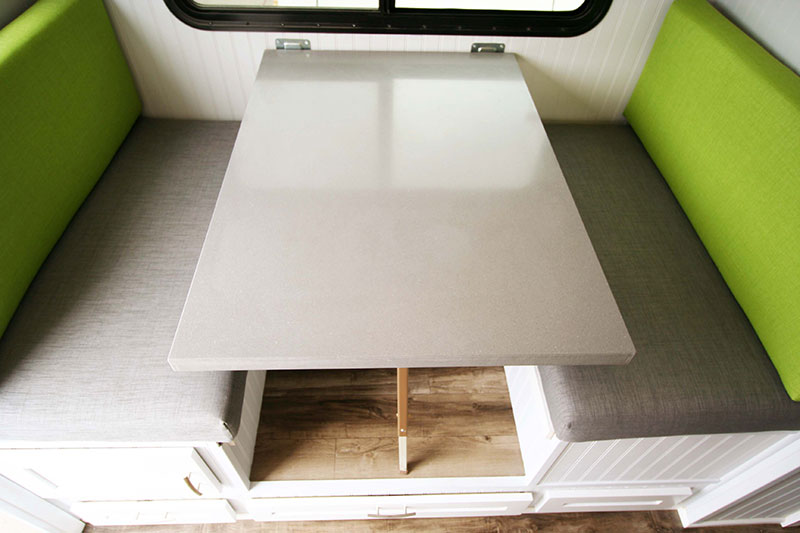 TCM: The fabric colors alternate between modern grey and bright colors. Tell us about this design choice.
Jesse: When we were selecting fabrics for the Granite, I wanted something bright and modern. No RV fabric supplier had anything I liked, so I had to go out and get residential-quality fabrics. Then we took the fabrics to our cushion maker.