Retired law enforcement officer, Bryan Appleby – aka the Xtreme Boondocker – shares his personal safety advice for truck campers including potential threats, camping security, and dangerous animals.

"But there is no one around!"
That was the cry and tone of my new bride as we sat under the stars at a backcountry camp, in Arches National Park.  We had just spent three hours four-wheeling to a very remote arch.  We had set up our camp, and were now being shown a beautiful night show of stars in the moonless heavens above our head.
Not recognizing the initial tone of my wife's earlier comment, I continued with my excited comments.
"Yeah!  Can you imagine our luck?  There is not a single person within miles and miles!"
"Yes, but there is no one anywhere around us".
My bride, who had very little camping experience, was trying to convey to me her discomfort.  I already had a lifetime of backpacking in some of the most remote areas of America.  Of course I too was just beginning at one time.  From her hesitation, I knew to go slowly until her comfort level, with remote camping, was established.
Thus begins the topic I wish to peel apart; personal safety and comfort level while camping off-the-grid, possibly alone, and away from populated areas.
As the majority of my camping is boondocking in remote locations, my sharing will be geared more towards this type of camping.  However, much of what I am sharing can be used in more organized camping situations as well.  Ultimately, I defer to your own judgment as only you can determine the style of camping that works for you, and how safe you feel while doing it.
What and whom should I guard against?
When I worked as a National Park Ranger, this was a frequent question.  My answer was, "You should watch out for the most dangerous animal in the woods, Man!"
Yes, Man should be your first concern over any animal you might encounter.  The people you should be concerned about are not necessarily the homeless, but more often the campers found around you.
That said, one should also be aware of snakes, birds, bears, and coyotes.  The elements, including rain, wind, and even hurricanes and tornadoes, also pose a potential threat while truck camping.  I will cover all of these topics.
How do I assess my own personal comfort level, and the comfort level of those traveling with me?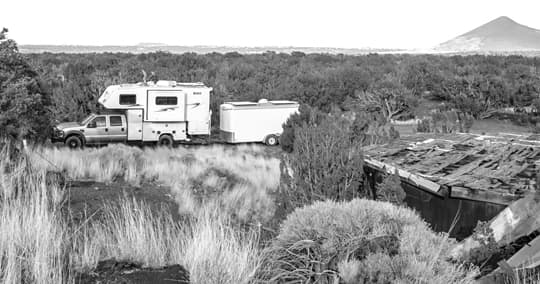 Above: A remote camp in the Coconino National Forest, Arizona
If you are like me, you look forward to traveling to a location to camp without a single man made object in sight; no phone poles, buildings, or fences within view.  The only visible improvement might be the road you negotiated to arrive at your location.
At night there is not a single light to be seen, 360⁰ around you.  Off on the distant nighttime horizon, you see a glow, defining the nearest town, forty miles away.  The only pressure felt upon you is the weight of the nighttime sky and its carpet of stars as it defines the Milky Way.
This kind of off-the-grid solitude is accessible to everyone.  Sometimes it takes considerable effort.  Sometimes it's just a matter of driving a few miles away from home.  Either way, one needs to be comfortable with being in a remote location, far from the reaches of civilization.
As I sorely found out with my poor bride, you need to assess the remote camping comfort level of your fellow travelers.  Talk with everyone with you, before you venture out.