by John Stuart
We got off to a late start.  The first day of our vacation we both slept in.
Angela had made us a list; what to take, and what was already in the camper.  She and Gordon were letting us borrow their truck camper rig for a week.  We were psyched.  They had been writing about the truck camping lifestyle for over six years and, finally, we were putting our toes in the water.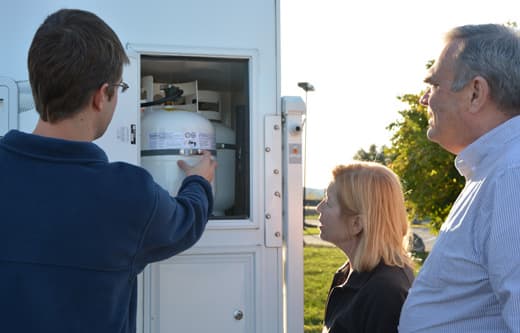 Above: Gordon shows how to change out propane tanks
We picked up the rig at Gordon and Angela's house in Lancaster, Pennsylvania.  Angela had pages and pages of written instructions; some to hand to us, some posted in strategic places so we could see them when we needed them.  For example, there was a page posted on the inside back door to remind us to close all the windows, top hatches, cabinet doors, and drawers, and to put everything away before travel.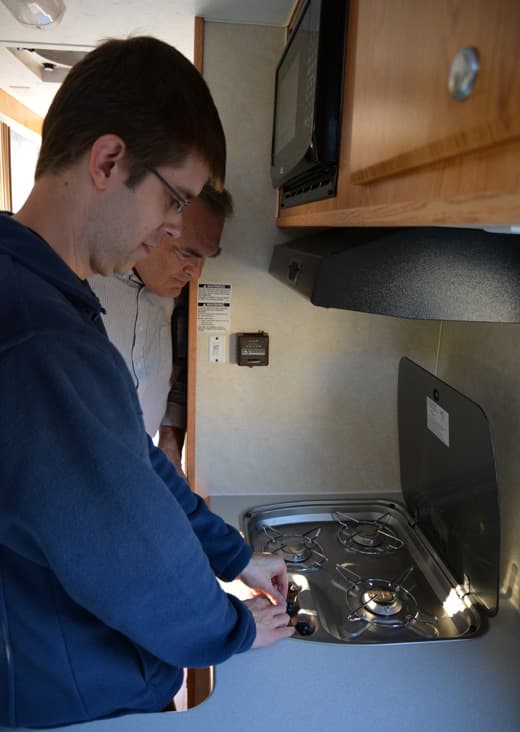 Above: Using a propane camper stove is a little different than a house stove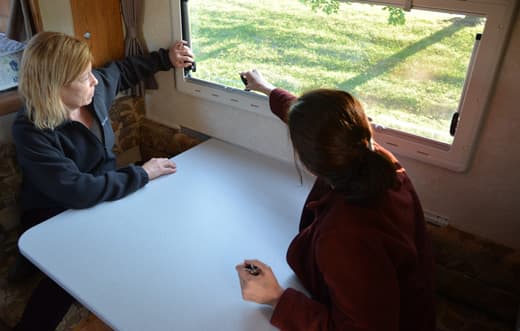 Above: Angela gives a lesson on how the Dometic windows open and close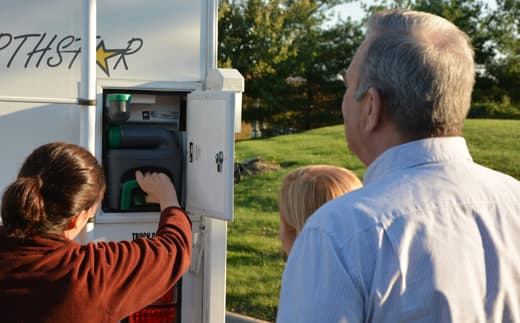 Above: Angela demonstrating how to remove the cassette toilet
For the following hour, Gordon and Angela walked us through how to operate the camper from stem to stern, including emptying a cassette toilet filled with simulated "stuff".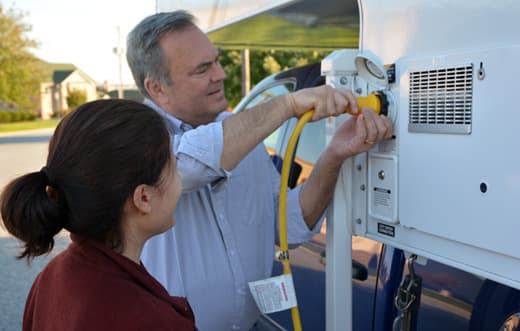 Above: John practicing how to use the detachable shore power cord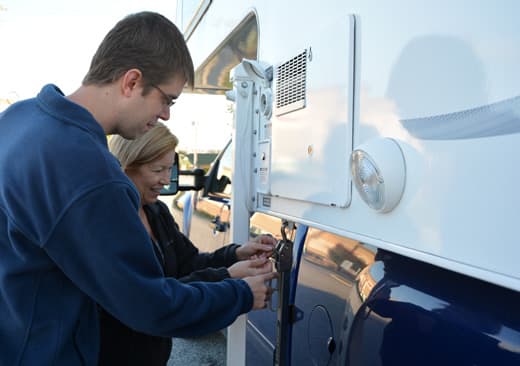 Above: Pam practicing how to remove the turnbuckle when they stop for fuel
We were already running late, like I said, and they accommodated us by running through things quickly.  Hopefully we would remember everything.
And then, in a perfectly timed torrent of rain, we were off.
Man, the camper was big!  While it handled very well, I could sense the size of the truck and camper as we carefully drove our way out of the summer down pour.  This was definitely not my Toyota RAV4.
We began our journey heading north on Route 501 winding our way through lovely villages on the edge of Amish country, and then up Appalachian mountain sides, all on a two lane highway originally designed for a horse and buggy.  When we reached Route 81, we turned north towards Scranton, Pennsylvania.  There where we dropped down to I-84 and continued north, crossing into New York a few hours later.
First ← Previous 1 2 3 ... Next → Last Read Entire Article