After years of frustration and breakdowns, Rick Johnson finally decided to sell his 2004 Ford F-350 with the notorious 6.0-liter diesel and make a very different choice.  One year and several Colorado mountain passes later, here's his in-depth report.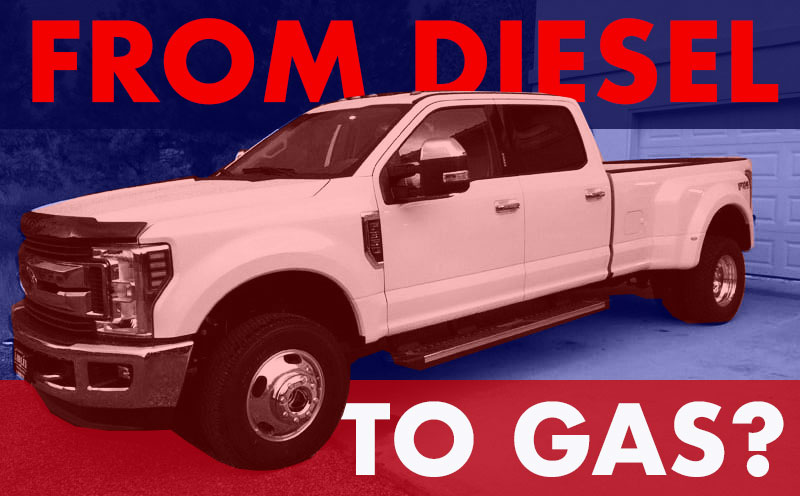 One never knows what will arrive in the Truck Camper Magazine email box.  We get just about everything you can imagine – positive feedback, questions galore and a few folks who clearly woke up on the wrong side of the bed, stubbed their pinky toe, and chugged sour milk before furiously typing us with their elbows.  Of course I'm kidding about the pinky toe.
Lucky for us, we also get some truly wonderful comments and the occasional unsolicited article that demands our attention.  I only wish we could respond to everyone who writes us, but then we wouldn't have time to run this magazine.  Anyone out there want to handle a few hundred random emails every week?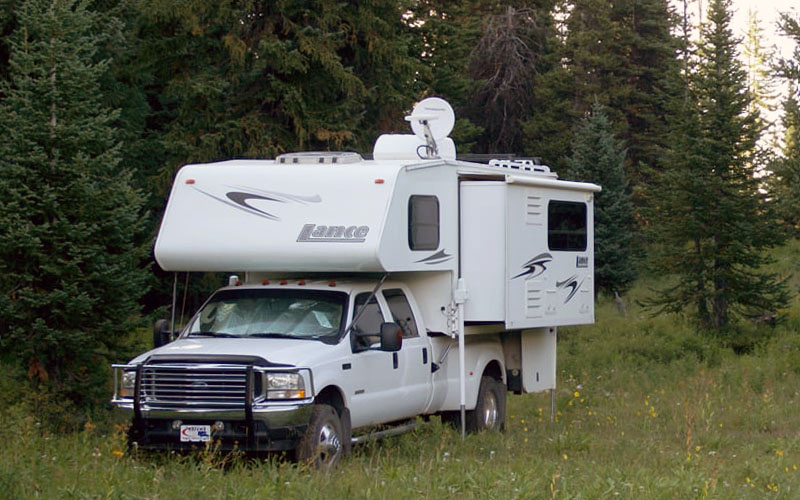 Before: Rick's 2004 Ford F-350 diesel and 2007 Lance 1181 truck camper
Speaking of unsolicited articles, what follows is a Truck Camper Magazine reader's deep dive into an experience many of us have shared; choosing a new truck.  What made Rick Johnson's story compelling was his decision to go from diesel to gas, moving exactly the same Lance 1181 from his old diesel to his new gas truck, and his subsequent report one year later.
Now it's only fair to point out that poor Rick had long suffered with Ford's infamous 6.0-liter diesel.  Ford's 6.0-liter diesel debuted in 2004 Ford Super Duty trucks and quickly became known for a laundry list of problems including oil cooler failures, sensor failures, sticking injectors, coolant leaks, turbocharger lag and so on.  After his 6.0 experiences, just about any reliable truck engine would have been a huge relief.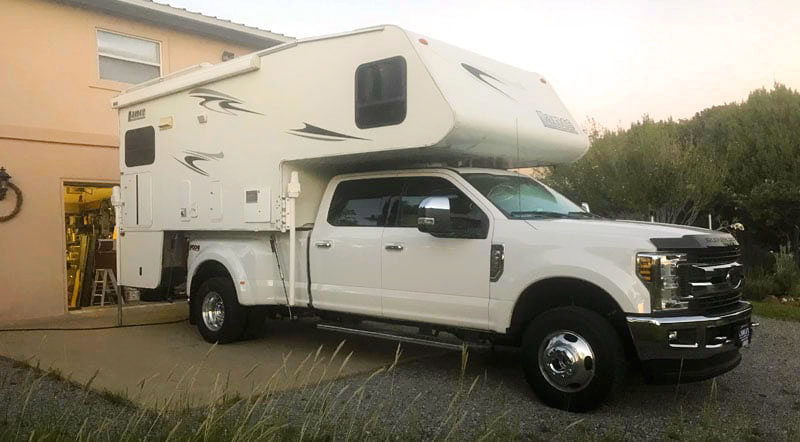 After: Rick's 2019 Ford F-350 gas and the same 2007 Lance 1181 truck camper
Rick's journey to a gas is well worth the read.  He clearly agonized over the decision, and has some interesting insights one year later.
Going Gas: A Diesel Owner's Experience
by Rick Johnson
For those familiar with the issues regarding Ford's 6.0-liter diesel, we have struggled with all of them.  Our 2004 Ford F-350 diesel had twelve fuel injector replacements, an oil cooler failure and three turbo cleanings – on top of the usual maintenance a diesel engine requires.
We bought the truck used with 27,000-miles on the odometer.  With the truck hitting 100,000-miles, the reliability just wasn't there.  When the engine was healthy, it was a fabulous experience.  But when camping far from services, every day brought stress wondering if the engine was okay.  My wife would do most of the worrying about the potential for failure, and not without good reason.  That stress weighed heavily on our camping experiences.
In April of 2018, we finally made the decision.  It was time for a new truck.
Currently, we own two Fords and two Toyota 4Runners.  Since Toyota Tundras can't carry our payload and we want to support our local dealers, I really didn't consider the other truck manufacturers.  When starting my research, I went straight to Ford's website to explore the available options.  The fully boxed frame really got my attention.  I was getting a Ford truck.
The Big Decision: Gas or Diesel Engine
The next decision was what engine to consider.  The current Ford 6.7-liter Power Stroke diesel engine has an excellent reputation, 450-horsepower, 935-ft-lbs torque, and a hefty price at roughly $10,000.  But what about the standard 6.2-liter gas engine?
Ford's 6.2-liter gas engine has 385-horsepower (at high RPM) and has pretty good torque for a gasser; 430 ft-lbs.  The gas mileage is not published, but some online discussions suggested somewhere between 80 to 90-percent to that of the diesel.
Diesel fuel in my small town costs 10 to 20-percent more than gas and similar conditions occur in the states where we travel out west.  In my mind, the miles per gallon concern became a wash under current fuel price conditions.
But what about the power and torque?  My old diesel had plenty of both when it was working (325 horsepower and 560 lb-ft torque), but did I need that level of performance?
After careful consideration, I choose Ford's standard 6.2-liter gas engine.  It wasn't an easy decision, but the gas engine just made more sense.  I decided that the specs are fine for what we do.  The considerable cost difference for the diesel, higher diesel fuel price, and diesel's DEF requirement also influenced my decision.
My wife and I are now in our mid-70s and retired.  Only time will determine if I made a good choice with the gas engine.  As you'll see, so far, so good.
More Truck Choices: Trim, Packages, and Options
Armed with my online research, I went to the dealer to initiate an order for a 2018 Ford F-350 crew cab, long bed, dual rear wheel pickup.
I went with Ford's XLT trim level and the Premium package.  The Premium Package includes PowerScope trailer tow mirrors, 17-inch forged aluminum wheels, heated front seats, fold-down middle seat console and a hood deflector.  It also has the shift-on-the-fly four-wheel drive with a 3.73 limited slip rear end.
On an online discussion I initiated, it was suggested that the 4.11 rear end would lead to better performance.  My calculations showed that 6th gear with the 4.11 was almost equivalent to 5th gear with the 3.73 and when I don't have the camper loaded, the lower RPM in 6th with the 3.73 would be a benefit.
The sales person was very supportive of the engine choice since several customers have made the same choice and he was also helpful with seat options.  In addition, an extra heavy duty alternator and a 14,000-pound GWVR package were available at no additional cost.  Both were selected.
It took an overnight time-out for the dealer to agree to my offer that included trading in my old truck. When that was agreed to, we special ordered the truck.  At this point it was the first week of May, 2018.  The tentative delivery was about ten weeks.
Waiting For Delivery
The first real feedback was in late May.  Ford said they were no longer taking orders for the 2018 model, but the 2019 version was exactly the same price.
I soon discovered that Ford had stopped accepting 2018 Super Duty orders in March and my dealer was clueless.  So that set back the factory build schedule by two to three weeks.  Of course, I agreed to get one of the first 2019s.
In the first week of June, we attempted a trip to Mesa Verde with the old truck, but turned back after 100-miles with turbo issues.  It was carbonized again.  I just didn't drive the engine hard enough!  So we gave up on any camping until the new truck would arrive.
It became a hurry up and wait summer.  Ford started up the 2019 Super Duty assembly line in early July, but our local dealer could not get a reliable build date even when the VIN had been assigned.
Out of frustration, I posted on the Blue Oval forum, explaining my situation and asking for any help.  It came from a dealer in Connecticut with a PDF of the window sticker and a build date of August 1st.  They would not normally do that, but felt sympathy for my situation.  Evidently small town dealers just do not have the experience to deal with the complicated Ford information systems.
The Ford transportation system was the next obstacle.  The truck would be shipped by rail to Albuquerque, New Mexico then loaded on a transporter for delivery to our small New Mexico town 200-miles away.
The truck arrived in Albuquerque by mid-August.  However, getting it scheduled and transported was problematic because the drivers don't like the hassle of crew cab, long bed dual rear wheel trucks.
Finally, it was loaded and arrived on August 22nd.  I knew about when to expect it and happened to drive by the dealer just when the transporter arrived.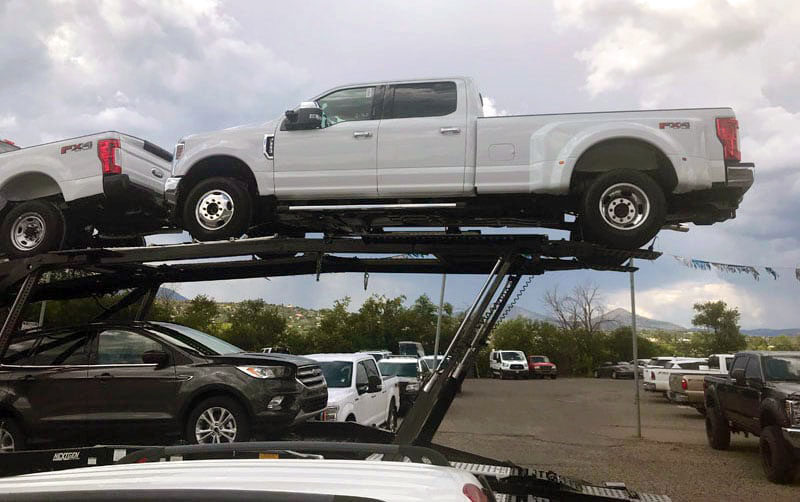 After watching and taking some video of the unloading process, I hurried home to retrieve my trade-in and a check.  The dealer could perform the delivery tasks and have it ready that same afternoon.  Upon my return, I signed the papers, paid the balance and took possession.
As a side note, the youngster performing the vehicle checkout had come running into the sales manager saying there was a mistake.  The truck did not have a diesel engine!  He could not believe it was ordered that way.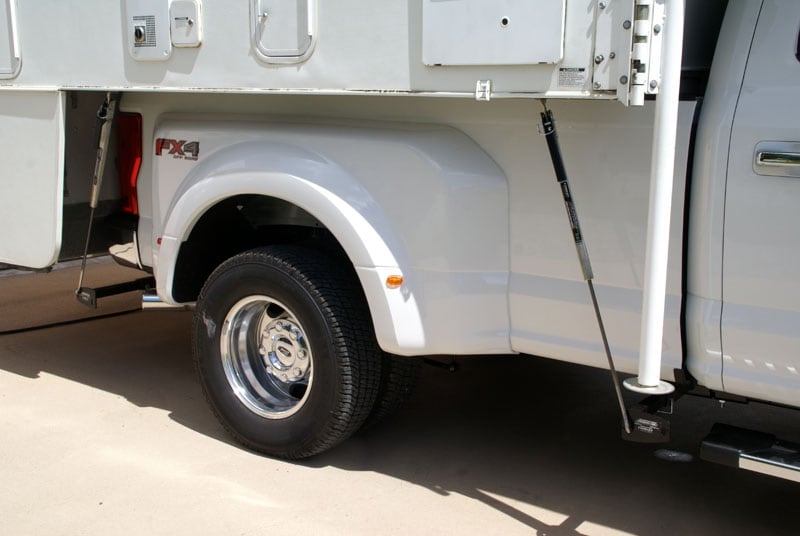 For the tie-downs, I purchased Torklift frame-mount tie-downs with Fastgun turnbuckles.  With the exception of fishing bolts into the frame, the installation was straightforward.
The bed rails on the 2019 Ford F-350 are higher than the rails on the old truck.  To make sure the camper cleared the bed rails, I bought and installed rubber horse stall mats from Tractor Supply.  I cut the mats to fit the entire bed and topped them with the old bed mat.  After the mats were in, the bed rail and cabover clearance was great.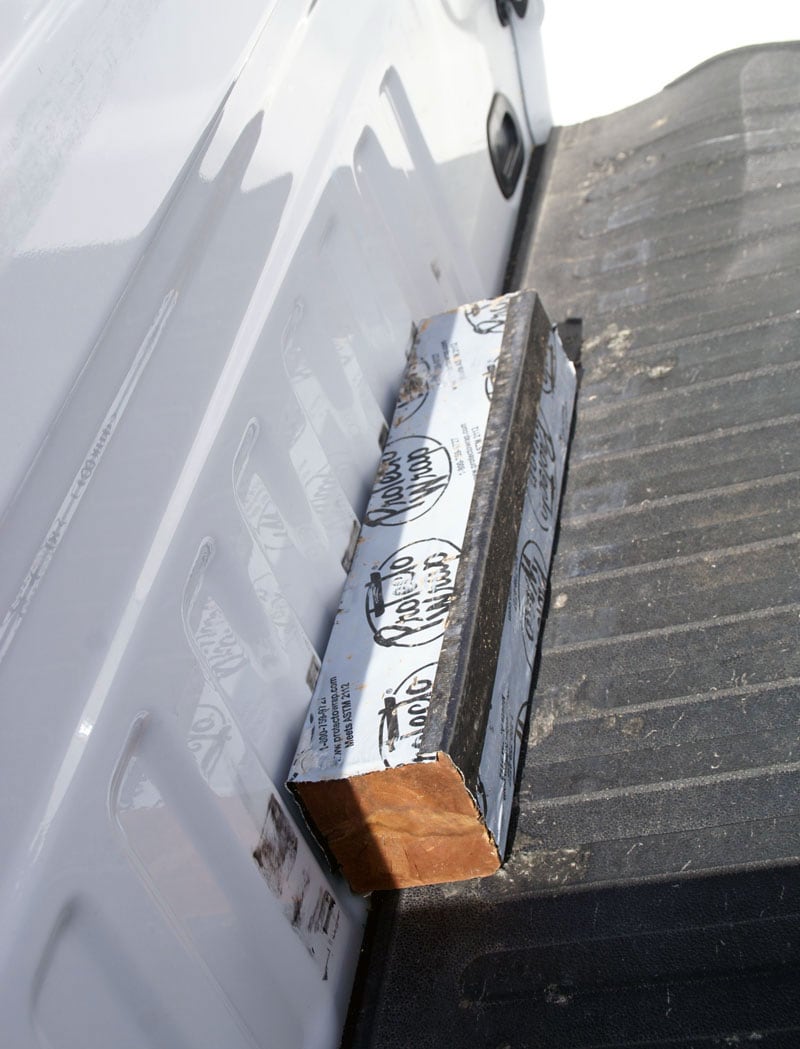 I added a 4×4 wood spacer at the front of the truck bed to move the camper back and avoid the camper rear overhang from impacting the new truck bumper.  The new tailgate is also a touch narrower making loading slightly more demanding.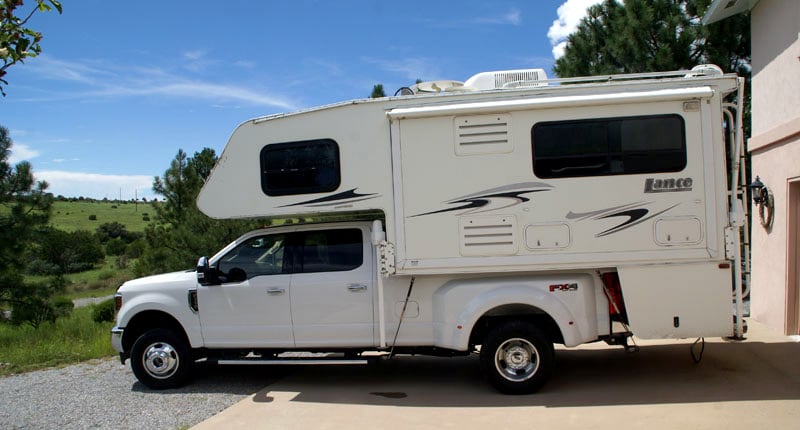 Ford's literature promotes the aluminum body with the steel boxed frame as 24-times stiffer than unboxed frames.  Knowing that porpoising comes from the frame flexing at the cab-bed position, I hoped the cabover struts would no longer be needed.  I can now say that this is definitely the case.  I no longer experience the annoying issue of porpoising.
With the lighter gas engine, and 14,000-pound GWVR option, the truck's payload capacity is a whopping 6,380-pounds.  The minimal squat when the camper is loaded is very acceptable.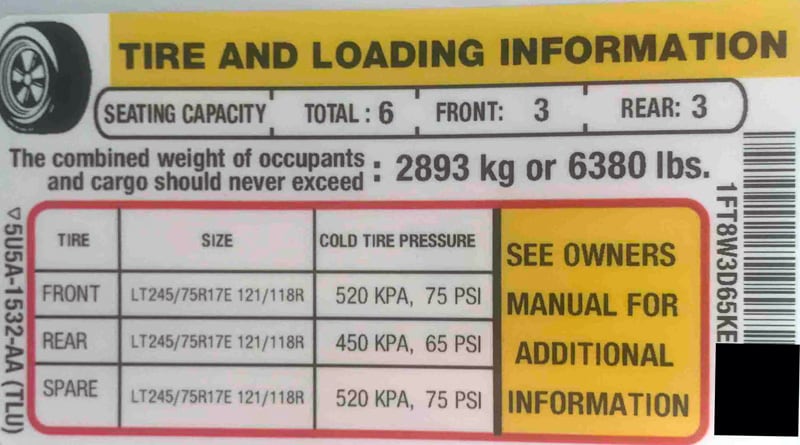 I also bought an aftermarket camera that interfaces to the tailgate wiring and is mounted at the top of the license plate on the rear of the camper.
One Year Later: Pros and Cons
I have owned the 2019 Ford F-350 gas truck for over a year now.  The gas engine has been a good performer.  I have made three trips to Colorado, traveled several mountain passes and mild four-wheel drive roads.  The gas engine doesn't race up the mountain like the diesel did, but it's not far behind.  It's been the reliable performer we wanted.
My gas mileage runs between 9 and 10-miles per gallon, depending on speed and incline.  Instantaneously, the mileage can be less when climbing mountain passes, but makes up for it on the downhill side.  The 6.7-liter diesel probably gets better fuel mileage, but not enough to off-set the cost of the engine, fuel and the continuous repair and maintenance costs as I stated earlier.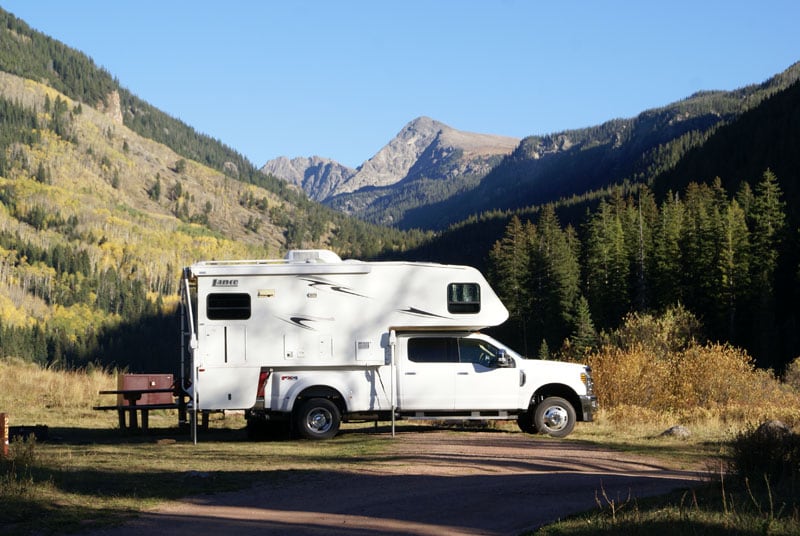 Above: Yeoman Park Campground, Colorado
I appreciate the TorqShift 6-speed automatic transmission in manual mode so that I can overcome the searching that happens, particularly when in cruise control.  I can choose the RPMs and speed that I want.  It's an excellent transmission.
For downsides, I find the instrument panel to be quite a distraction with all the information it displays.  On the XLT trim level, only the driver's seat is powered – an issue for my wife.  The console and middle front seat does work for us.  The option with only two seats and a large middle console would not.
Looking back, we would prefer separate air conditioning controls for the driver and passenger.  That feature would have been a few bucks more, but it would have been well spent.
So, there you have it.  Overall we are very happy with our new truck.  It has more than enough payload capacity for our Lance 1181 slide-out truck camper, and it's been trouble-free since the day we bought it.  Even better, there's been no need for suspension mods, cabover struts or any other enhancements.  We are happy campers!
Rick Johnson's Rig
Truck: 2019 Ford F350, crew cab, dual rear wheel, 4×4, long bed
Camper: 2007 Lance 1181
Tie-Downs/Turnbuckles: Torklift
Suspension: Stock