David Robinson of Roadmaster, Inc. explains everything you need to know about using tow bars with truck campers.  Ready to flat tow a Jeep, car, or SUV?  Here's how it's done.

The majority of tow bars are used by motorhome owners who enjoy staying at RV resorts with full hookups and a towed car or SUV to get around.  Find yourself a Class A motorhome and you'll likely find a towed Jeep Wrangler, Honda CRV, or Suzuki Samurai – just to name a few of the more popular motorhome "toads".
But tow bar use is far from exclusive to the Class A marketplace.  According to the 2017 Truck Camper Magazine Reader Survey, 17.2 percent of our readers tow a car, Jeep, or SUV.  This was clearly evident at the 2017 Texas Truck Camper Rally this past April where at least ten of the fifty rigs came in flat towing a vehicle with a tow bar.  This was our sign to finally take the topic of tow bars and truck campers head on.
To get the full picture on using tow bars with truck campers, we talked to David Robinson of Roadmaster.  With a long history in tow bar research, development, and manufacturing, Roadmaster is a leading brand in the tow bar marketplace.  Roadmaster also gets truck campers, and was excited to engage our readership on the subject.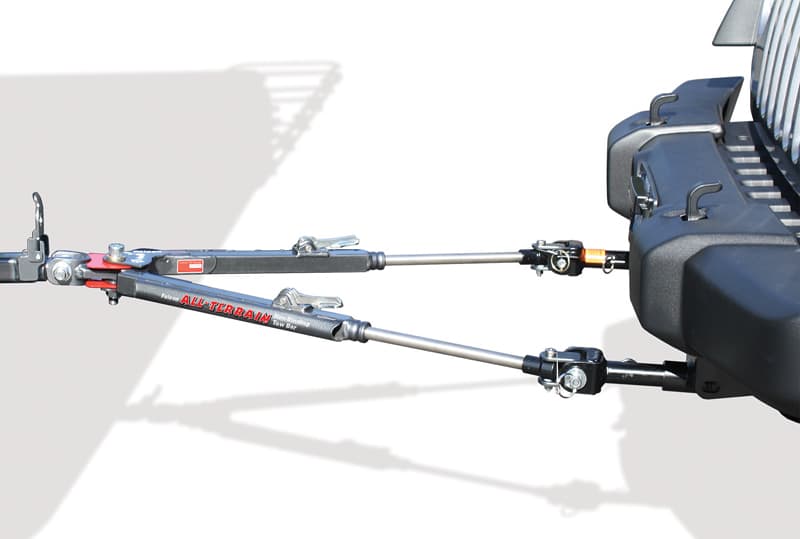 Above: The Falcon All-Terrain non-binding tow bar, photo courtesy of Roadmaster, Inc.
TCM: Let's start from the very top.  What is a tow bar?
David: A tow bar is a device that couples between a truck camper and a towed vehicle.  Having a tow bar means you can bring another vehicle with you.  Once you're set up at a campsite, you can use your towed vehicle to get groceries or go sightseeing.  Many truck camper owners also want to get further into the woods or desert.  Having a tow vehicle, like a Jeep, allows you to have that experience.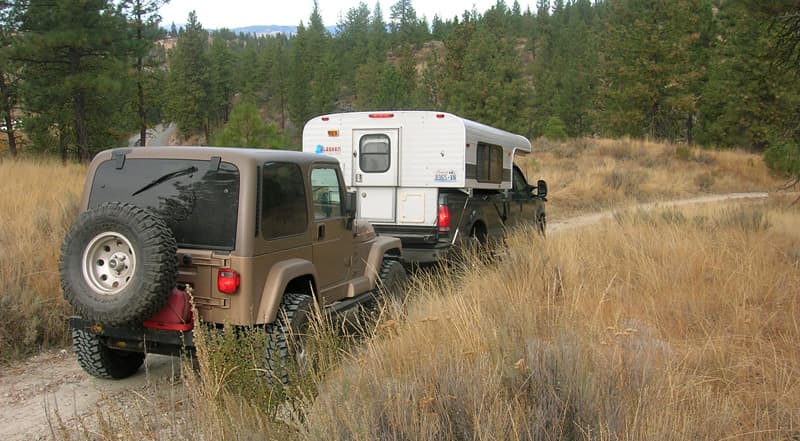 Above: Towing a Jeep into the wilderness, photo courtesy of Nancy Williams
TCM: We see a lot of truck campers towing Jeeps for exactly that reason.  Why would someone choose to flat tow with a tow bar versus towing with a trailer?
David: If you are a serious off-road enthusiast, you may actually prefer to tow a flatbed trailer with your vehicle.  Flatbed towing puts less wear and tear on a custom off-road vehicle, and offers the additional benefit of being able to tow gear on your trailer.
On the other hand, flat towing with a tow bar (also called four down) offers faster hook up and set up, and fewer axles, brakes, and tires to maintain.  Also, there are no worries about licensing or insuring a trailer.   Depending upon where you go, it might be a challenge to find a campsite that has room for your truck camper, second vehicle, and a trailer.  This is why flat towing with a tow bar is so popular with Class A motorhome owners.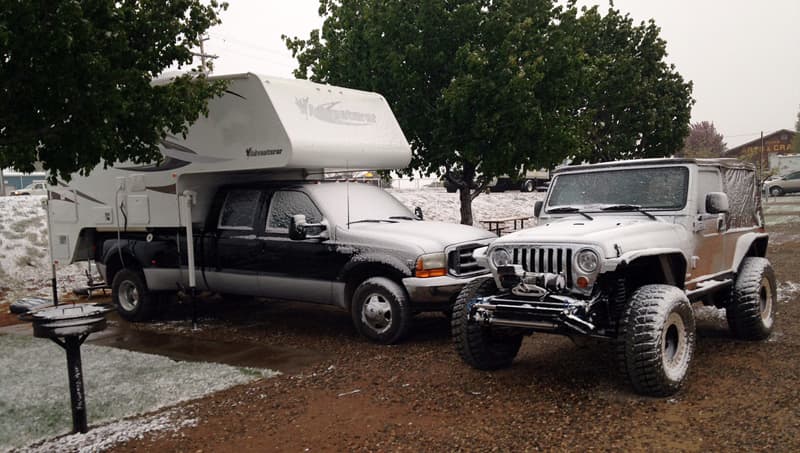 Above: At the campsite with the Jeep unhooked, photo courtesy of Bruce Allison
If you're looking to get to a campsite and unhook your towed vehicle in a couple of minutes, flat towing is a beautiful way to tow with less equipment.  It's freeing to be able to quickly go from one vehicle to another.
TCM: Most hard side truck camper models have an overhang.  How does a tow bar installation accommodate an overhang?
David: With a hitch extension.  To use a tow bar, you need to extend your receiver hitch past your overhang and bumper.