David Robinson of Roadmaster, Inc. explains everything you need to know about using tow bars with truck campers.  Ready to flat-tow a Jeep, car, or SUV?  Here's how it's done.

The majority of tow bars are used by motorhome owners who enjoy staying at RV resorts with full hookups and a towed car or SUV to get around.  Find yourself a Class A motorhome and you'll likely find a towed Jeep Wrangler, Honda CRV, or Suzuki Samurai – just to name a few of the more popular motorhome "toads".
But tow bar use is far from exclusive to the Class A marketplace.  According to the Truck Camper Magazine Reader Survey, 17.2 percent of our readers tow a car, Jeep, or SUV.  This was clearly evident at the Texas Truck Camper Rally where at least ten of the fifty rigs came in flat towing a vehicle with a tow bar.  This was our sign to finally take the topic of tow bars and truck campers head-on.
To get the full picture about using tow bars with truck campers, we talked to David Robinson of Roadmaster.  With a long history in tow bar research, development, and manufacturing, Roadmaster is a leading brand in the tow bar marketplace.  Roadmaster also gets truck campers and was excited to engage our readership on the subject.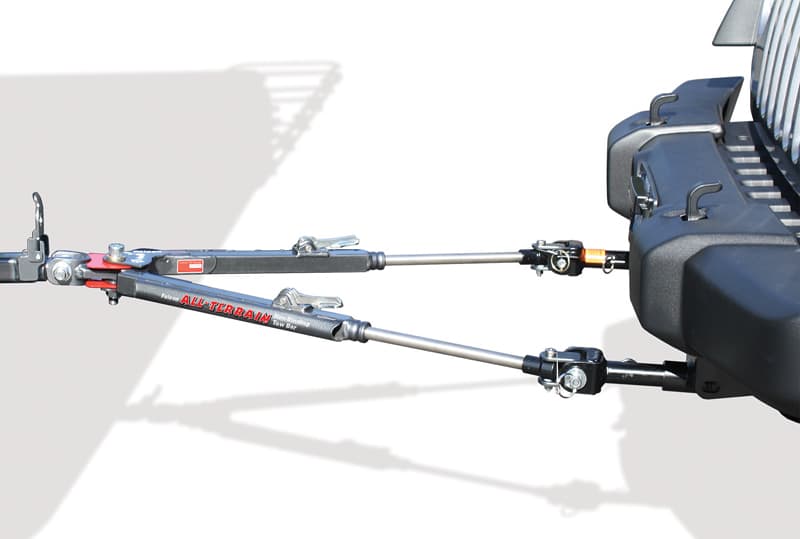 Above: The Falcon All-Terrain non-binding tow bar, photo courtesy of Roadmaster, Inc.
What is a tow bar?
A tow bar is a device that couples between a truck camper and a towed vehicle.  Having a tow bar means you can bring another vehicle with you.  Once you're set up at a campsite, you can use your towed vehicle to get groceries or go sightseeing.  Many truck camper owners also want to get further into the woods or desert.  Having a tow vehicle, like a Jeep, allows you to have that experience.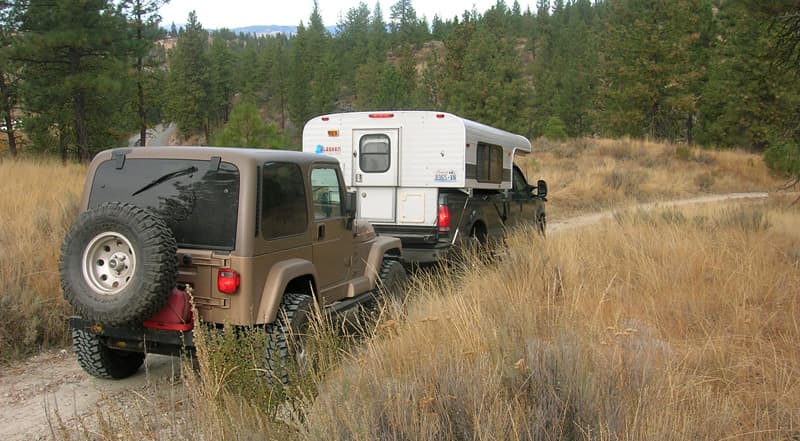 Above: Towing a Jeep into the wilderness, photo courtesy of Nancy Williams
We see a lot of truck campers towing Jeeps for exactly that reason.  Why would someone choose to flat tow with a tow bar versus towing with a trailer?
If you are a serious off-road enthusiast, you may actually prefer to tow a flatbed trailer with your vehicle.  Flatbed towing puts less wear and tear on a custom off-road vehicle, and offers the additional benefit of being able to tow gear on your trailer.
On the other hand, flat towing with a tow bar (also called four down) offers faster hook up and set up, and fewer axles, brakes, and tires to maintain.  Also, there are no worries about licensing or insuring a trailer.   Depending upon where you go, it might be a challenge to find a campsite that has room for your truck camper, a second vehicle, and a trailer.  This is why flat towing with a tow bar is so popular with Class A motorhome owners.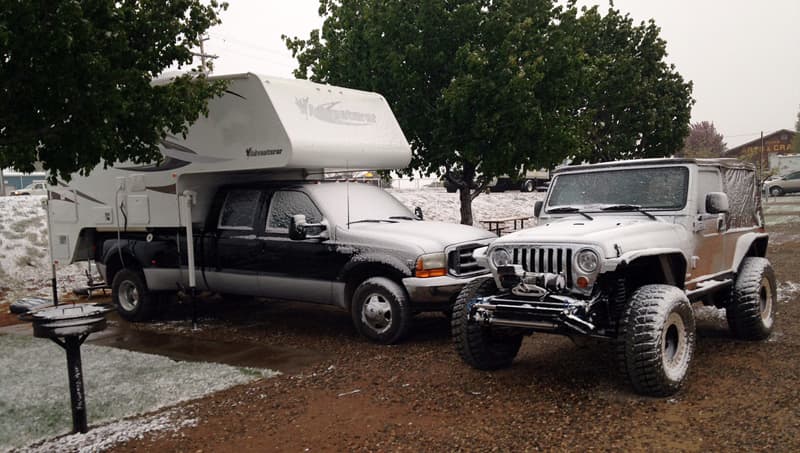 Above: At the campsite with the Jeep unhooked, photo courtesy of Bruce Allison
If you're looking to get to a campsite and unhook your towed vehicle in a couple of minutes, flat towing is a beautiful way to tow with less equipment.  It's freeing to be able to quickly go from one vehicle to another.
Most hard-side truck camper models have an overhang.  How does a tow bar installation accommodate an overhang?
With a hitch extension.  To use a tow bar, you need to extend your receiver hitch past your overhang and bumper.

Above: Hitch extensions make towing with truck campers easier, photo courtesy of Mike Barrow
Truck camper's overhangs can be upwards of two feet long.  Is a long extension an issue for tow bar use?
Not at all.  For motorhomes, the rear axles might be ten to fourteen feet forward from the end of the coach.  In a truck camper, you are not extending nearly that far.  If anyone is concerned about their receiver being out too far, truck camper set-ups are far shorter than motorhomes.

Above: Flat towing a Jeep using a Roadmaster Stowmaster and Torklift SuperHitch and SuperTruss, photo courtesy of Bruce Allison
What do you recommend for an extension hitch?
Roadmaster does not make extension hitches long enough for truck campers with overhangs.  For truck camper set-ups, we recommend Torklift International's SuperHitch and SuperTruss extension system.  Torklift's tow hitch and extension products are specifically designed for truck and camper towing applications.
Most motorhomes attach their tow bar system to the RV itself.  Most truck campers attach the tow bar system to the tow vehicle.  Which is the best approach for a truck camper rig?
There are two different types of tow bars; RV mount, and car mount.  RV mounted tow bars mount to the back of an RV or truck and then collapse into the stowed position on the RV or truck when not in use.
Car mounted tow bars mount to towed vehicles and then collapse into the stowed position on the car.  Both tow bar types can also be quickly removed when not in use.
For truck campers with rear entry doors, car-mounted tow bars might make the most sense.  RV mounted tow bars would likely block the rear-entry door.  However, it can easily be removed in a few seconds by simply pulling a hitch pin.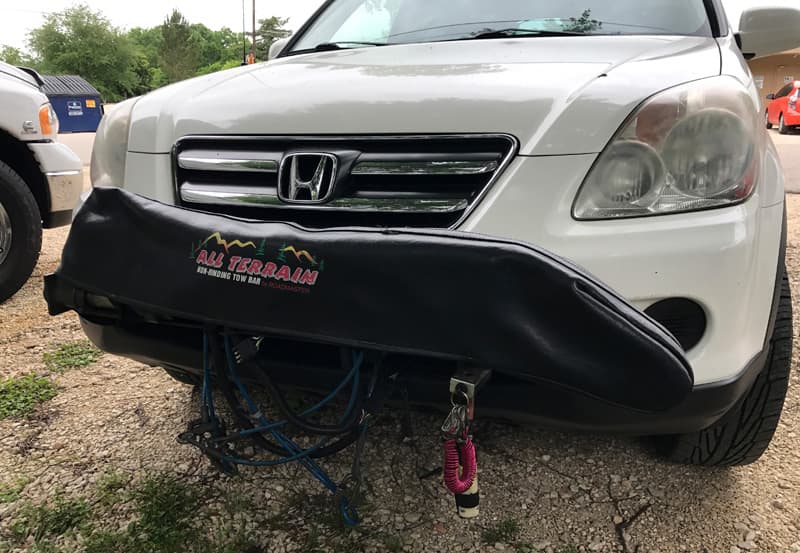 Above: The Stowmaster is stowed on the front of your towed vehicle
Could you walk us through the day-to-day use of both tow bar types?
Since many truck campers will utilize a car-mounted tow bar, let's start there.
For a car-mounted tow bar, you insert a ball hitch into your truck receiver or Torklift International SuperHitch.  The Roadmaster Stowmaster folds up and stows on the front of the car.  When you are ready to tow, you unfold the Stowmaster, extend it to the ball mount, lock it in place, connect the cables, and drive away.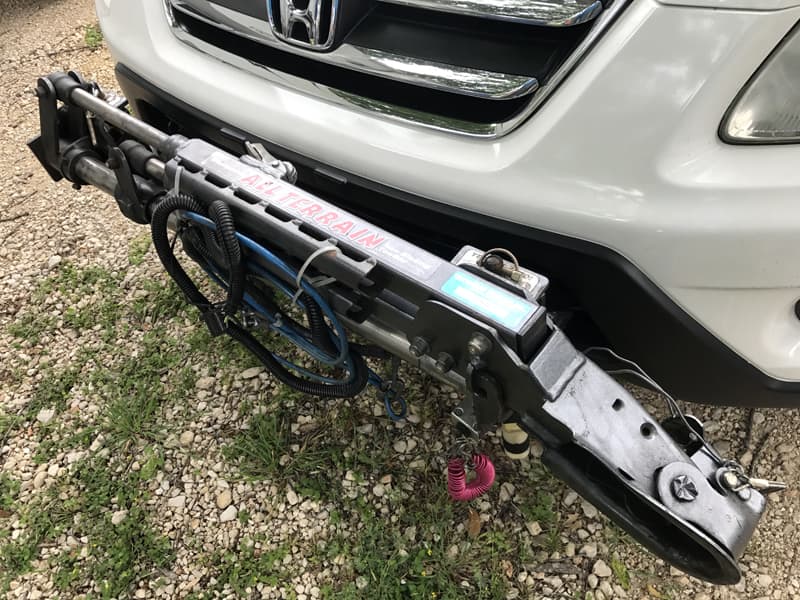 Above: The Stowmaster on the Honda CRV in the stowed position
Above: Unfolding the Stowmaster – thank you Darryl Stolica for demonstrating the process of hooking up a towed vehicle
Above: Driving the car up and hooking it onto the ball mount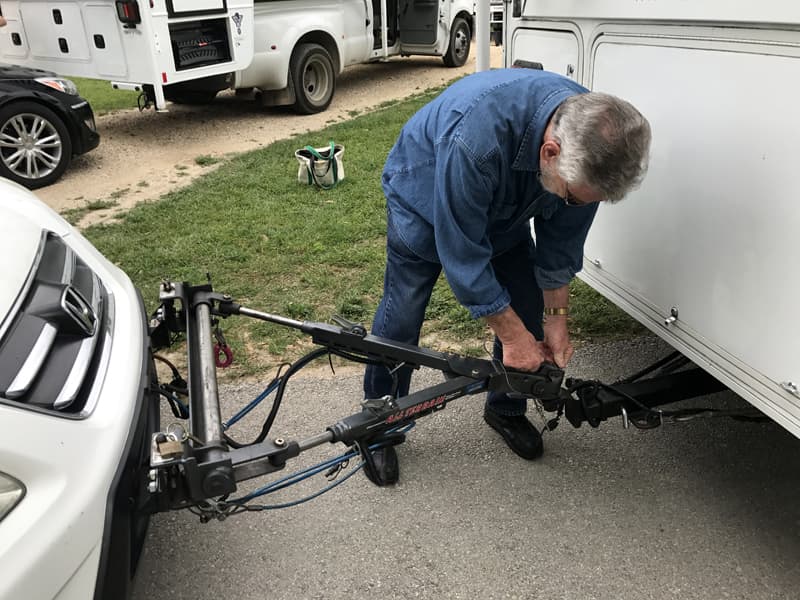 Above: Locking the Stowmaster into place
Above: Connecting the cables
When you are done towing, you simply do the reverse.  If preferred, you can remove the car-mounted Stowmaster by pulling two pins.  The tow bar comes completely off for storage in your towed vehicle, truck, or camper.  It's a very easy system to install and operate.  Even better, the Stowmaster has a 6,000-pound capacity.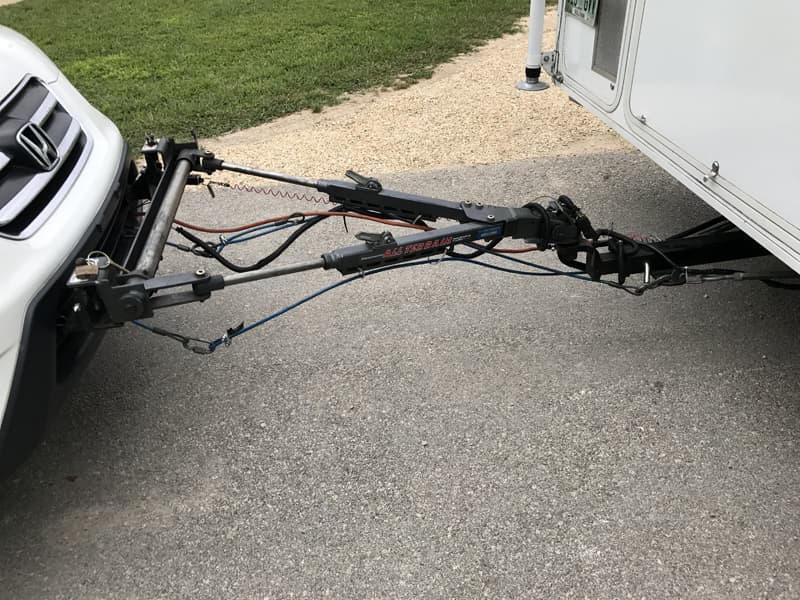 RV mounted tow bars work much the same way but are simply pinned into the 2-inch receiver hitch on the RV or truck.  When you're ready to tow, you unfold the tow bar from the RV or truck mount, reach it out towards your tow vehicle, extend the inner arms, pin it to the tow vehicle, connect the cables, and drive away.  Once properly installed, car-mounted and RV-mounted tow bars are simple to use.
How close do you need the towed vehicle to be before connecting the tow bar?
Once you get the vehicle within a few feet, the tow bar arms will extend and reach the towed car.
Do you need to be perfectly lined up?
You no longer need to get perfectly aligned like you did with older rigid A-frame tow bars.   Modern non-binding collapsible and adjustable tow bar arms extend and then lock to create the correct geometry for strong and safe towing.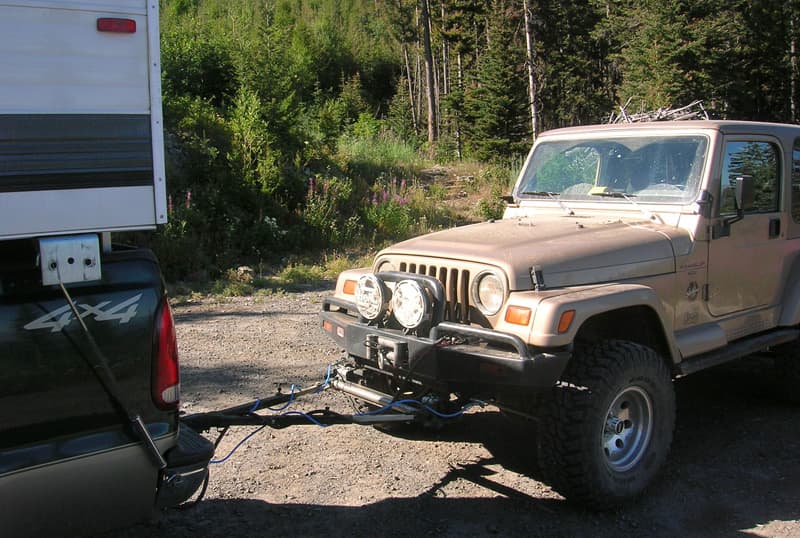 Above: The most popular towed vehicle is a Jeep, photo courtesy of Nancy Williams
In your experience, what are the best choices for a towed vehicle?
The most popular towed cars are Jeeps.  Five of our top ten sellers are brackets that fit Jeep Cherokees and Jeep Wranglers.  Jeeps are 30 to 40-percent of our sales.
Another popular tow vehicle for the RV motorhome market is a Ford F150 pickup.  We have customers who tow Smart cars, the original Hummer, Sprinter Vans, and everything in between.  We get a high percentage of large towed vehicle set-ups because Roadmaster builds the strongest products in the industry.

Above: Roadmaster towing system with Suzuki Samurai after driving the Dempster Highway in the Yukon Territories, Canada, photo courtesy of Sylvie Mathis
What's the craziest vehicle you've ever seen towed?
The most radical setup was probably from a guy in Australia who was towing something that looked like a Unimog.  It was a giant van assembly doing some serious off-roading with a platform on top.
There is no limit to what you can tow.  Jeeps are good tow vehicles because they can be flat towed without damaging the transmission.  If you have a vehicle that can be safely flat towed and is within the weight limitations of your truck, tow bar, and/or trailer, you can tow it.
Some people with classic cars flat-tow their cars to shows.  Personally, I would put a classic car in a trailer, but some flat tow them.  I've seen folks tow 1956 Corvettes, heavy-duty Hummers, and everything in between.
Above: The Stowmaster is a car-mounted tow bar, photo courtesy of Roadmaster, Inc.
What features are important to consider when selecting a tow bar?
First, decide if you need a tow bar that is going to be stored on your truck's hitch or on the front of your towed car.  That is an important difference.  It is a major investment to switch.
Most motorhome owners want the tow bar mounted on the RV.  With most truck campers having rear entry doors, a car-mounted tow bar like our Roadmaster Stowmaster might be a smart choice.
Next decide if you want a rigid A-frame tow bar or a non-binding, adjustable tow bar.  Unlike a trailer, you cannot simply manhandle the coupler over the ball.  With rigid A-frame tow bars, you must jockey the car around until the coupler is perfectly lined up.  This usually takes one person to drive while the other holds the tow bar and guides you over the ball.
Another thing to be aware of is that rigid A-frame tow bars can be difficult to release.  The more the car is at an angle to the truck or RV, the harder it is to disconnect.
About 12 years ago we developed non-binding tow bars and a patented latching mechanism.  With our non-binding tow bars and latching system, it doesn't matter what angle your towed vehicle is at.  The inner arms of the tow bar slide out to line up with their attachment points, so you no longer have to jockey the car.  You just get close and simply extend the arms to connect them.  It's a far easier and faster set-up, and superior for anyone with mobility issues.
Are non-binding tow bars more expensive?
There is a price difference.  Rigid A-frame bars run from $150 – $250.  Non-binding, adjustable tow bars run from $500 to $1,000 depending on the model.
There are some other important factors to consider when choosing a tow bar.  For example, there is no government testing for tow bars, so the consumer has no baseline standard.  If you are looking at a 6,000-pound bar from brand A and brand B, you can't compare them that well.
At Roadmaster, we test our products to failure.  We fatigue test 150,000 strokes in and out against the pressure we are testing at.  It takes two weeks to perform that test.  Every time we change the tow bar, we test it.  We even test the tow bars of our competitors.  One of their 10,000-pound bars does not pass our 6,000-pound test.  The people with larger vehicles trust us because our safety margin is over 2 to 1.
We also use stainless steel in our products for less rust and corrosion.  That way our tow bars work better longer.  Most of our tow bars have solid stainless steel inner arms.  Our competition has plain steel hollow tubes.  Additionally, we have a baked-on powder-coated finish.  Trucks kick up sand, rocks, and pebbles, so you want something that's durable.
When did Roadmaster begin manufacturing tow bars?
Roadmaster has been manufacturing tow bars since the mid-1980s.  We bring in raw steel, cut it, mill it, turn it, and use CNC machines to shape it and form it.  Then, we weld it.  Where our competitors outsource many of their parts and then assemble or just re-box existing products, we are a true American manufacturer; raw material to finished product.
Jerry Edwards, President of Roadmaster, started with an RV dealership.  In his welding shop, he made rigid A-frame bars for customers who wanted to tow.  Then he got into the distribution of awnings with three warehouses in the northwest.
Around that time there was a guy named Lee Duncan who invented a collapsible tow bar called the EazAligner.  The EazAligner used chains for arms and didn't need to be perfectly aligned.  Despite being time-consuming to set-up and store, the alignment flexibility made it very popular at the time.  For several years Jerry distributed the Duncan system and brackets for various vehicles.
After selling his warehouses to Coast Distribution, Jerry was approached by another inventor, Daryl Davis, who had developed a rigid arm, collapsable tow bar; the predecessor to the Stowmaster.  It was the right product at the right moment as Jerry was looking for a new venture after selling his distribution chain.
The final product took a quarter of the time to install.  Jerry is a stickler for quality and used a lot of stainless steel in its design.  Even now, thirty years later, the Stowmaster is still 10-percent of our tow bar sales.  From there, Jerry got into safety cables, wiring, braking systems, and more.  He has expanded the Roadmaster tow bar line into what it is today.
We are a family company.  The core team has been there for the last 20 to 30 years.  I have been here for 25 years.  Roadmaster is owned by one man, not a corporation.  We are a good business to do business with.
That's a great American success story.  Is there anything else our readers should know about using a tow bar?
Towing a vehicle can be daunting at first.  Besides the tow bar and mounting brackets, you will need safety cables, a power cord between the two vehicles, and a special wiring kit that allows the towed vehicle's taillight system to be connected to the truck's system.
To simplify things, Roadmaster offers a combo kit that contains all of these necessary accessories.  It's easy to choose your tow bar, buy the mounting bracket to adapt it to your car and purchase the combo kit for everything else.
Many truck camper customers have SUVs or Jeeps with aftermarket bumpers.  A lot of them have D-tabs welded on the face to hook up a D-ring.  That is a popular feature for off-road vehicles.
Roadmaster makes connectors that replace the collars on our RV-mounted tow bars allowing the bar to be pinned directly to the D-tabs on the aftermarket bumper.  This eliminates the need to purchase a car-specific tow bar mounting bracket saving several hundred dollars.
If our readers have questions about a specific tow bar application, can they contact Roadmaster directly?
Absolutely.  Give us a call at the factory at 1-800-669-9690.  We'd be happy to answer questions and help your readers.
For more information on Roadmaster's tow bars, visit their website at roadmasterinc.com.  Click here to request a Roadmaster brochure.  Click here to request a Torklift towing brochure.