Truck Camper Magazine asks Don Payne, Happijac's Product Manager, about the proper use and maintenance of Happijac camper jacks.

Camper jacks are an often overlooked feature of a truck camper, but they are the key feature that make modern truck camping possible.  Think about it, truck campers that you couldn't load or unload wouldn't be much fun.  If life were a drive through, we would order our truck campers to go.  Camper jacks make that happen, often at the touch of a button.  Isn't modern life grand?
Getting back to Happijac, we visited the factory and enlisted the help of Don Payne, Happijac's Product Manager, to tell about the proper operation and maintenance of Happijac camper jacks.  All kidding aside, this is serious business as we not only need camper jacks to work, but we need them to work reliably, and safely.  As you're about to read, proper use and maintenance is the key.  Thank you to Don for helping us with this important information.
Happijac Camper Jacks
Happijac manufactures two types of camper jacks at their factory in Kaysville, Utah; acme screw camper jacks and ball screw camper jacks.  On the head of each Happijac camper jack, there's a sticker that tells you the model number of that jack.  All of Happijac's mechanical jacks can be converted into remote controlled electric jacks with a Happijac conversion kit.
According to Don, the square steel inner and outer tubing offers additional strength to the design to resist possible twisting, bending, or other structural compromises during loading and unloading.  To further strengthen their camper jacks, Happijac has added a strip of one-quarter inch steel at the bolt strip, where the outer tube connects to the camper.  Don said that the bolt strip is a full eighteen inches from top to bottom to add even more of a strength and safety margin.  As Don explained it, Happijac is very conservative with it's camper jack ratings and over designs their jacks for safety.  Of course this is not an invitation to overload your jacks, but it's certainly reassuring to hear that Happijac is serious about our safety.
Moving down the square tube, the foot of a Happijac camper jack is shaped like a lifted cup.  Don explained that this design feature helps to compensate for the fact that truck campers often lean and rock just a little one way or another when raised.  This lifted cup design allows the jack to lean and rock with the camper while keeping the camper weight centered on the jack.  Don suggested that if the foot were flat or cupped down the weight would be on the edge of foot and could over stress the jack leg.
All Happijac camper jacks utilize a double breaking system to safely control the decent of a truck camper.  Don warned that Happijac camper jacks are never to be taken apart in the field as they are very complex and an incorrectly re-assembled jack could cause serious safety issues.
If a Happijac camper jack does experience a problem, Happijac offers a service to recondition their jack products.  If the Happijac technicians determine that the camper jack is repairable, the charge is $59.95 plus shipping to recondition the jacks including replacing all worn parts and re-lubricate the jack.  To arrange to have your Happijac jacks reconditioned, contact Happijac customer service at 800-231-7440 and arrange for a Return Merchandise Authorization (RMA) number.
Happijac Ball Screw Jacks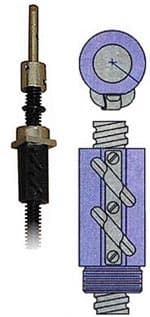 Happijac manufactures two types of ball screw jacks, the 4500 and 4600.  The ball screw jacks use a double circuit of 144 ball bearings.  Don explained that these ball bearings greatly reduce drag on the hardened screw and reduce drawn amps on the jack motor.
The Happijac 4500 and 4600 ball screw jacks are each rated at 1900 pounds.  With ball screw jacks, it takes five revolutions to move an inch vertically.  The Happijac 4600 camper jack adds a drop leg feature which allows the operator to drop the camper jack leg to the ground quickly without use of the remote control or manual cranking.
Happijac Acme Screw Jacks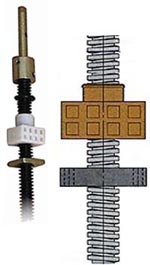 The acme screw camper jack is screw and nut camper jack design.  For their acme screw camper jacks, Happijac has developed a special nut made from space age nylon to reduce drag and reduce draw on the motor.  Again, reducing drag reduces the draw of amps from the camper battery.
Happijac also has a floating safety nut on their acme camper jacks for redundancy.  The floating safety nut only carries the load if the primary nut fails, which, according to Don, makes Happijac 4150 jacks as fail safe as possible.  The Happijac camper jacks can break a roll pin if they're overextended or retracted and allowed to "ratchet", but Don stated the roll pin breaking only disconnects the screw from the motor and does not create a safety hazard.
The rating on the Happijac 4150 acme camper jack is 1,500 pounds per jack under the ANSI national standards.  With the acme jacks, it takes six revolutions to move an inch vertically.  Don explained that you have 34" of extension on the Happijac 4150 before you get a warning and the jack is overextended.  Happijac does sell an extension kit for people who need more leg length in their jacks, which gives you an additional six inches.
Happijac Camper Jack Retraction