Palomino RV sent their entire sales management team to camp in Palomino truck campers at the 2011 Mid-Atlantic Truck Camper Rally. Here are their stories. … … … … … … … …

If there was one thing we would ask the truck camper industry sales and design teams to do, it would be to camp more often in their own campers. Even better, camp with the truck camping community at truck camper rallies. Truck camper rallies are an opportunity to show your product, have fun, meet the community, have fun, answer questions, have fun, experience your own products in a natural setting, and have more fun.
Did I mention rallies are fun? If you're a truck camper industry representative, click over to our Shows and Rallies and mark the listed rallies on your calendars. Come camp with us, and have some fun for goodness sake.
A little over a year ago, we were at Palomino RV to kick off our 2010 industry tour. On the first day of our visit, we met with Gene Cronin, Palomino's National Sales Manager. Gene asked us for ideas to get his team more in tune with the truck camper marketplace. Immediately we said, "Camp with the community at rallies. The Mid-Atlantic Truck Camper Rally would be a great start".
Gene took notes and then took action contacting Ron Humphress, the Founder of the Mid-Atlantic Truck Camper Rally, and announcing that he and his entire sales team would be attending. The whole sales team was coming? Now that's initiative!
What was it like to take five guys and four truck campers 729 miles from Palomino RV headquarters in Colon, Michigan to the rally in Sanford, Virginia? What was their rally experience like? How did they like driving a truck camper? Did they find anything about their truck campers that they would like to improve? We had so many questions. When we asked Gene, he agreed to have the whole team answer. Let's camp!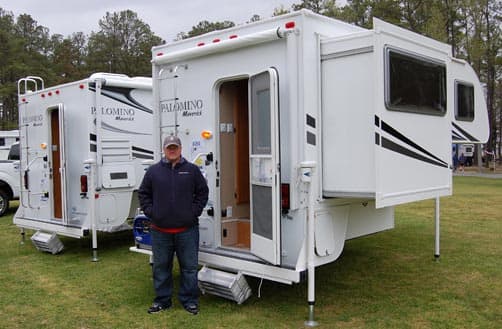 Gene Cronin, National Sales Manager
I started with Palomino RV in the spring of 2003. I was fresh out of college at Alaska Pacific University and had just come to Palomino after working at Dutchmen RV for a few months. I have worked for Palomino RV ever since working my way from the Southeast sales position to currently covering the Northeast and Eastern Canada. My days are split between selling, servicing and training our dealers in the territory and managing the rest of the sales team and product design.
I camped out in the new Palomino M-2902 for the rally. This is a new camper for us and I wanted to experience firsthand how it operated. I wanted to check out how the floor plan flowed and to make sure we had designed the layout to be functional and user friendly.
I was the co-pilot for the trip and rode with Mark Fioritto for most of the way. We had a M-8801 on a 2010 Ford F-350 two wheel drive extended cab truck. We also pulled a thirty foot trailer with a M-800 and a bunch of gear on it for the weekend.
The truck and trailer combination was great and handled superbly. We have our trucks equipped with Torklift SuperHitches and SuperTruss systems so we can easily tow different combinations. We traveled in a convoy of sorts and typically rode in the middle of the group with Pat and the Bronco F-150 combination leading the way.
The Mid-Atlantic Truck Camper Rally was great. We arrived a little late on Thursday night because we had made such great time on the way down. We were immediately greeted by Ron Humphress that evening and started to kick the rally off right away! I really enjoyed myself at the rally as it was nice to be in a more relaxed setting showing off our products. We met a bunch of great people and swapped stories and ideas. We even came away with a few that we are starting in production!
This was my first multi-night trip in a Palomino truck camper. My wife and I currently have a Class C Motorhome that we and our two young girls camp in. I can see myself in a truck camper in the near future. It is a great way to get around in a smaller rig. It's also more maneuverable and you can tow! I can see a lot of short weekend trips in our future with a truck camper.
I think we can always improve and, as a company, I think we are always looking to improve. Let's face it, the alternative is not good! The first thing I discussed with our production team upon our return was to take each model and raise it four feet off the ground. It sounds simple, but in a production facility you are always working and designing them six inches off the floor. Things are harder to reach when the unit is sitting on the truck and think we picked up a few ideas from this exercise.
Overall, I was pretty impressed with the units and the build quality. Again, I think we can always improve and we have been stressing lately that they need to be as user friendly as possible. My generation especially has come to expect their leisure time to be filled with leisure and no set up work.
I would like to thank Ron and Michelle for all of the time and hard work it takes to put on such a great rally and all the volunteers that help them out! I would also like to thank Tall Pines Harbor Campground for being such great hosts and offering such a nicely kept facility. It was great to meet everyone we did and we will see you next Spring!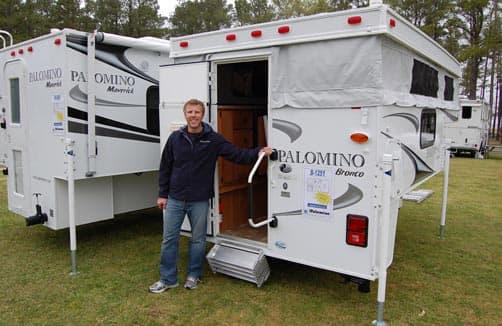 Pat Hines, Northwest & Western Canada Regional Sales Manager
I've been at Palomino RV for one year this week. I was a Regional Sales Manager with another RV manufacturer for six years prior to joining the Palomino RV team. I am responsible for covering the sales territory in the Northwestern part of the United States; California, Oregon, Washington, Idaho, Montana, and Wyoming as well as the Western Canadian provinces of British Columbia, Alberta, and Saskatchewan.
During the rally, I stayed in the 2011 Palomino Bronco 1251. I wanted to get a feel for what it was like to stay in a soft sided pop-up camper because that seems to be the most popular selling style camper in my territory. I wanted to have a hands on experience for when I'm talking to my dealers and retail customers at the shows.
I drove the factory stock Ford F-150 with the Palomino B-1251 on it from Colon, Michigan to Sanford, Virginia. It wasn't the first time I've driven this combination and I always enjoy it. It's a great truck and camper combination that is very easy to navigate through traffic, and doesn't really diminish fuel economy. I typically average 14.7 miles per gallon without anything on the Ford F-150. With the B-1251 it only drops the mileage down to around 12 miles per gallon. Since I had the smallest truck camper combination, I led the crew most of the way to the rally. They started calling me "Porsche" because I was able to move around in traffic so easily. With the B-1251 you really don't even know that there is a camper in the bed of the truck.
I had a really nice time at the rally. We were able to interact with a lot of people and heard a lot of positive comments about all of our campers that we had on display. It was the first time most people had seen our new M-2902 and we received rave reviews. Most people commented on how much bang for your buck you got with the M-2902 compared with some of the other manufacturer's offerings.
It was nice to get feedback and learn tricks of the trade from the people who use truck campers on a frequent basis. The most common quote heard around our display was, "You guys have come a long way in the past few years". We were proud of that because we've really concentrated and worked hard to improve our products. It's nice to see other people are recognizing that too.
Camping in the B-1251 was a lot of fun. I learned that, in a soft sided unit, even though it got pretty chilly at night, you could keep really toasty in the unit with the furnace on. I actually had to turn the furnace off a couple times because it was too warm in the camper. I also came away realizing that there is really a lot of functional space in the camper. I never felt cramped and had a lot of cabinet space and room in the refrigerator for all of the food and supplies that we used over the weekend. Also the under bed storage was a great space for me to store my sleeping bag and pillow during the day while we were showing the campers.
Of course we found a couple minor things that we want to improve, but nothing really major. You get some good ideas when you get to really use the campers. We only found a couple minor things that we'll bring to the attention of our quality control team, but mostly everything worked seamlessly.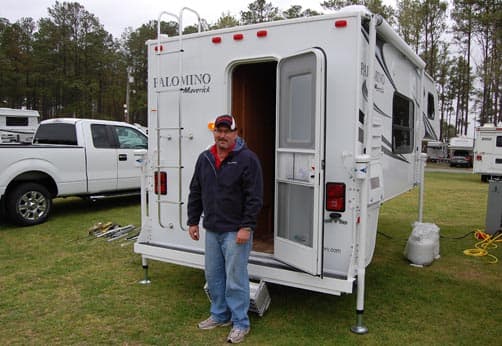 Mark Fioritto, Southwest Regional Sales Manager
Prior to working for Palomino RV, I was in the business selling motorhomes for Four Winds. An opportunity presented itself at Palomino so I interviewed with Gene Cronin and was offered the job. I also think they wanted to add some "age" to the average age of the sales team and needed an old guy!
For the weekend, I had a Maverick 8801 on our company Ford F-350. Behind the truck I pulled our show trailer with a Maverick 800 on board. Once again, age was a factor with me getting the largest rig!
Through the mountains of Western Pennsylvania to crossing the Bay Bridge in Maryland, it was a great trip. Since I had the largest rig pulling a trailer I was in the middle of our convoy. Pat Hines was our convoy leader and he did a wonderful job of getting us to our destination in a timely fashion. There is no better way to see this great country of ours than in an RV!
The campsite was surrounded by water and nestled between tall pines. I felt the rally was well attended and very organized. Our location was perfect for the attendees to come by and go through our product. I enjoyed speaking with everyone! I really was impressed with the numerous places the attendees were from as well as where they had visited. I also enjoyed seeing the dogs. Truck campers love their dogs!
The Palomino M-8801 is a great unit. It's a full size unit for a full size guy! The Serta mattress that comes standard in our units was very comfortable. I was able to easily store all of my clothes and accessories. I slept great!
I think we just have to continue to make our products as seamless as possible for our customers. My unit was in great shape!
I felt it was a great experience for us to get our product out there and to show customers the enthusiasm we have for our own product. I believe people came to realize that there are products available to them at a much lower price point!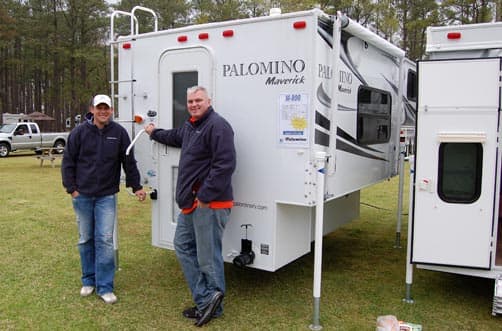 Ben Meloche (left), Midwest Regional Sales Manager
I started working for Palomino almost five years ago when my wife and I moved to the area from Detroit. As a Sales Representative, my responsibilities mostly include helping and supporting Palomino dealers in my territory. The typical dealership will carry multiple manufacturers so it is important for us to keep them up to date with the most current information. I also spend time answering retail customer calls and emails. It is important that we do not let any question go unanswered.
At the Mid-Atlantic Truck Camper Rally, we had five guys and only four campers. Two of us stayed in the 2011 Palomino Maverick M-800 because it has a large dinette that converts to a bed. I'm 6'1" and was able to sleep very comfortably in the dinette bed. I can't say that would be true for many of the other dinettes out there.

Our drive out to Virginia could not have gone any better. We had great weather and made excellent time. Palomino truck campers are known to be lightweight; sometimes we forgot the camper was there. Even traveling through the mountains, we felt very little sway from the height of the truck camper.
At the rally we met and talked with a ton of great people. We value feedback from customers whether is it good or bad. The rally gave us an opportunity to speak with truck camper owners and other manufacturers. There is no better type of focus group than that. It was nice to hear so many hard side owners praise our Maverick line. We hope we got the chance to meet many future Palomino owners. 

I give our engineers and production team loads of credit. Obviously a big challenge with truck campers is storage. Our campers do not have wasted space; every cabinet or cubby maximizes the storage capacity. The five of us brought a lot of gear and food to fit into the four campers. Surprisingly, we had room to spare.
There were only a few small things that I noticed that should be improved. Truck campers are built and usually displayed at ground level. We have to remember that there are a couple things that are not as easily done when the camper is on the truck. Door catch placement and LP storage are two things that can be addressed right away.

We have a terrific production crew with a large focus on quality control. The few items I saw on the campers we were in were fit and finish issues. We are very picky at Palomino and crooked seam tape does not cut it.
I would like to thank Ron Humphress and everyone else that made this years Mid-Atlantic Truck Camper Rally a success. We had a great time and look forward to participating in future events.
Adam Simonson (right), Southeast Regional Sales Manager
After recovering from Leukemia and graduating from Central Michigan University, I returned to my hometown of Sturgis, Michigan. I was substitute teaching and working a part time job in Sturgis. My wife and I were expecting our first child and it was evident that I needed a more stable income.
I applied to Palomino RV and was hired to head up their receiving department. If you have had a chance to look at the pictures of our tour story, you can see we receive a lot of parts in a day! After working as the receiving manager for a couple of years, I was fortunate to be offered a Sales Coordinator position and a small territory in the Midwest. I am currently the Regional Sales Manager for the Southeast and cover eleven states. My days are consumed by servicing, selling, and training our numerous dealers in the Southeast on all of our Palomino RV products.
I was in our Palomino M-800 for the Rally. Even though it is designed to fit small trucks, it has a great layout. So impressive actually, that two of us stayed in this particular unit. It has a nice large dinette that a six foot adult can sleep on!
I personally drove a 2010 Ford F-350 with our new M-2902 truck camper for the 729 miles from Colon, Michigan to Sanford, Virginia. It handled great and got surprisingly good mileage. I was able to navigate the busy Baltimore traffic with ease and get in and out of rest areas with no problems!
This was my first experience at a truck camper rally. The group of people that we met were unlike any RV show when we only see a few truck camper customers. It was great to meet so many truck campers at the rally because of all the truck camper specific ideas that were given.
This was also my first time overnight in a Palomino truck camper. My past truck camping experiences were in the early 1980s. The comforts were so much better than what I was expecting. The furnace was easy to light the first night with no pilot light.
One of the main reasons for bringing the entire sales staff to the rally was to get hands on experience and to listen directly to consumer comments. I think I now have a better understanding of what it is to be a truck camper owner. There are all kinds of neat storage ideas that I would like to look into.
I believe that we can always improve. Overall, I was impressed how we could use the units during the night and have them show ready in the morning!
I would like to thank Gene Cronin, our Sales Manager, and the rest of the staff for the opportunity. Thank you to Tall Pines Harbor for putting up with us for two days. This was a great experience!