Palomino RV sent their entire sales management team to camp in Palomino truck campers at the 2011 Mid-Atlantic Truck Camper Rally. Here are their stories. … … … … … … … …

If there was one thing we would ask the truck camper industry sales and design teams to do, it would be to camp more often in their own campers. Even better, camp with the truck camping community at truck camper rallies. Truck camper rallies are an opportunity to show your product, have fun, meet the community, have fun, answer questions, have fun, experience your own products in a natural setting, and have more fun.
Did I mention rallies are fun? If you're a truck camper industry representative, click over to our Shows and Rallies and mark the listed rallies on your calendars. Come camp with us, and have some fun for goodness sake.
A little over a year ago, we were at Palomino RV to kick off our 2010 industry tour. On the first day of our visit, we met with Gene Cronin, Palomino's National Sales Manager. Gene asked us for ideas to get his team more in tune with the truck camper marketplace. Immediately we said, "Camp with the community at rallies. The Mid-Atlantic Truck Camper Rally would be a great start".
Gene took notes and then took action contacting Ron Humphress, the Founder of the Mid-Atlantic Truck Camper Rally, and announcing that he and his entire sales team would be attending. The whole sales team was coming? Now that's initiative!
What was it like to take five guys and four truck campers 729 miles from Palomino RV headquarters in Colon, Michigan to the rally in Sanford, Virginia? What was their rally experience like? How did they like driving a truck camper? Did they find anything about their truck campers that they would like to improve? We had so many questions. When we asked Gene, he agreed to have the whole team answer. Let's camp!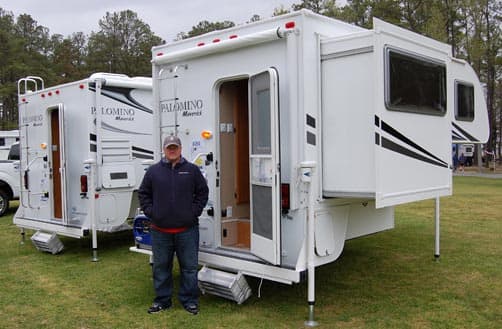 Gene Cronin, National Sales Manager
I started with Palomino RV in the spring of 2003. I was fresh out of college at Alaska Pacific University and had just come to Palomino after working at Dutchmen RV for a few months. I have worked for Palomino RV ever since working my way from the Southeast sales position to currently covering the Northeast and Eastern Canada. My days are split between selling, servicing and training our dealers in the territory and managing the rest of the sales team and product design.
I camped out in the new Palomino M-2902 for the rally. This is a new camper for us and I wanted to experience firsthand how it operated. I wanted to check out how the floor plan flowed and to make sure we had designed the layout to be functional and user friendly.
I was the co-pilot for the trip and rode with Mark Fioritto for most of the way. We had a M-8801 on a 2010 Ford F-350 two wheel drive extended cab truck. We also pulled a thirty foot trailer with a M-800 and a bunch of gear on it for the weekend.
The truck and trailer combination was great and handled superbly. We have our trucks equipped with Torklift SuperHitches and SuperTruss systems so we can easily tow different combinations. We traveled in a convoy of sorts and typically rode in the middle of the group with Pat and the Bronco F-150 combination leading the way.
The Mid-Atlantic Truck Camper Rally was great. We arrived a little late on Thursday night because we had made such great time on the way down. We were immediately greeted by Ron Humphress that evening and started to kick the rally off right away! I really enjoyed myself at the rally as it was nice to be in a more relaxed setting showing off our products. We met a bunch of great people and swapped stories and ideas. We even came away with a few that we are starting in production!
This was my first multi-night trip in a Palomino truck camper. My wife and I currently have a Class C Motorhome that we and our two young girls camp in. I can see myself in a truck camper in the near future. It is a great way to get around in a smaller rig. It's also more maneuverable and you can tow! I can see a lot of short weekend trips in our future with a truck camper.
I think we can always improve and, as a company, I think we are always looking to improve. Let's face it, the alternative is not good! The first thing I discussed with our production team upon our return was to take each model and raise it four feet off the ground. It sounds simple, but in a production facility you are always working and designing them six inches off the floor. Things are harder to reach when the unit is sitting on the truck and think we picked up a few ideas from this exercise.
Overall, I was pretty impressed with the units and the build quality. Again, I think we can always improve and we have been stressing lately that they need to be as user friendly as possible. My generation especially has come to expect their leisure time to be filled with leisure and no set up work.
I would like to thank Ron and Michelle for all of the time and hard work it takes to put on such a great rally and all the volunteers that help them out! I would also like to thank Tall Pines Harbor Campground for being such great hosts and offering such a nicely kept facility. It was great to meet everyone we did and we will see you next Spring!