Above: Our first Truck Camper Magazine rig; 1998 Ram 3500 and 2008 Lance 1055
For our part, we designed the show maps illustrating what companies were in attendance and where their sites were.  On the back of the map we had an invitation to meet us and watch a short video about our truck camping adventures.  We even had movie posters at our site to entice walkers by to watch the DVD.

Above: Jack Kay, President of Torklift International, under our Ram 3500 truck.  Per our request, he was checking our Torklift SuperHitch and tie-down installation.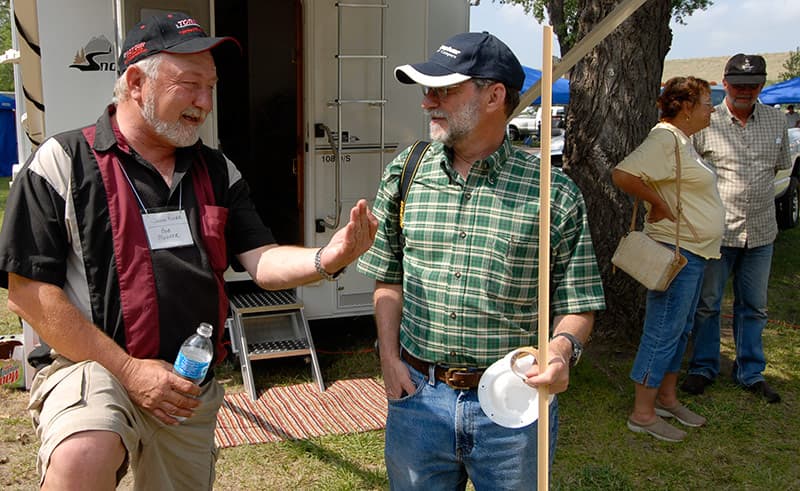 Above: Bob Mehrer of Snowriver talking to an attendee
The show itself was very well organized and run by Rex and the NATCOA team.  NATCOA had a sign-in tent and a security detail patrolling in yellow shirts.  The security detail made sure only truck campers were allowed into the campground area.  No pesky motorhomes or towables allowed.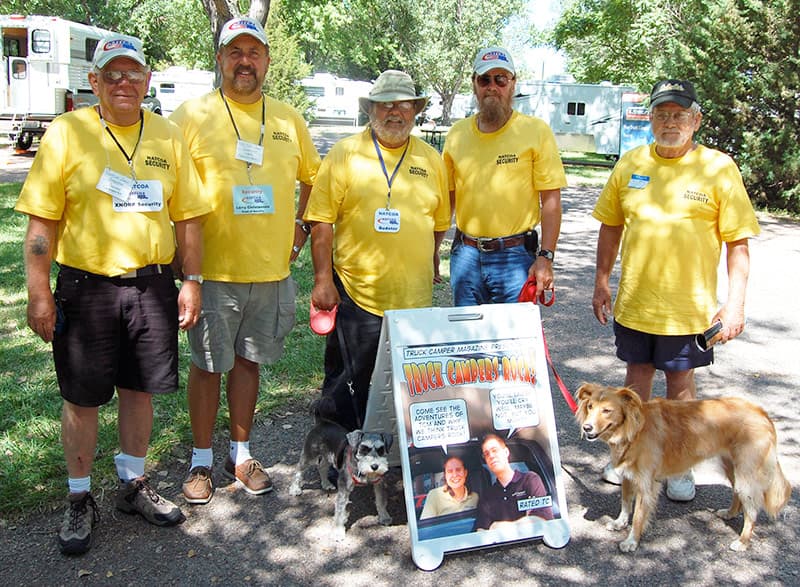 The NATCOA security team included (left to right) George Chambers, Larry Christensen, Jerry Galang and his dog Gidget, John Straight and his dog Kola, Watt Doolin.  Not pictured are Rick Law, Dale Johnson, Tim Conroy, Paul Beddows, Tom Emerick, Peter Thomas, John Kenyon, and Bill Osborn.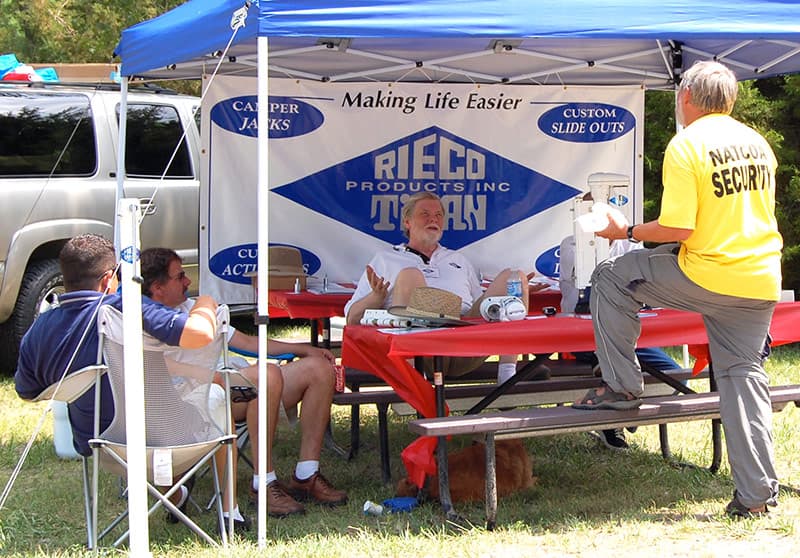 Above (left to right): Doug Bakker, Rieco-Titan, Doug Karr, Arctic Fox, Bob McCarthy, Rieco-Titan, and Paul Beddows, NATCOA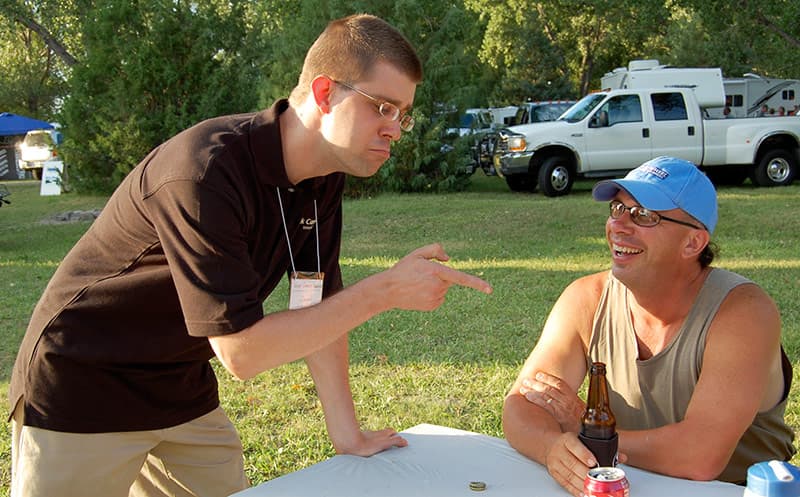 Above: Gordon White, Publisher of Truck Camper Magazine, giving Sean Dempsey of Go Anywhere a hard time.  What's in that bottle mister?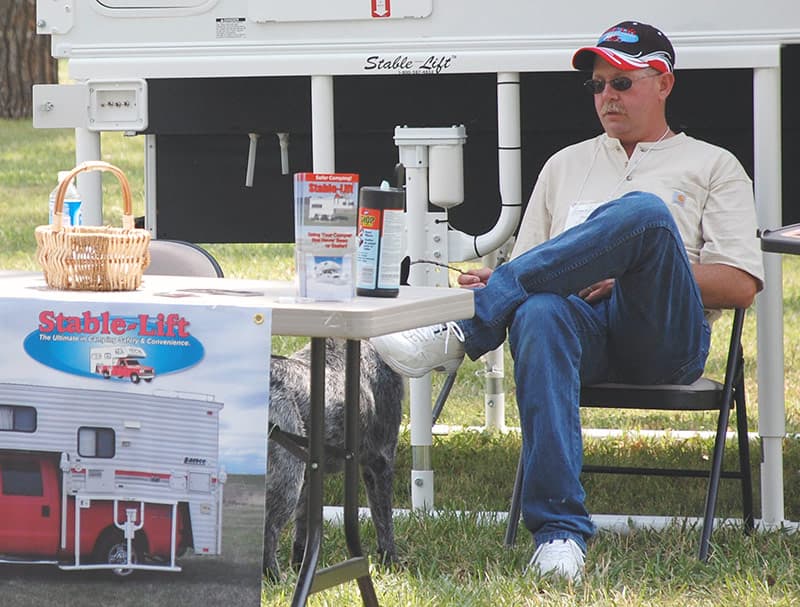 Above: Mont Peters of Stable Lift
The atmosphere at the show was more like an outdoor festival than a typical RV show or rally.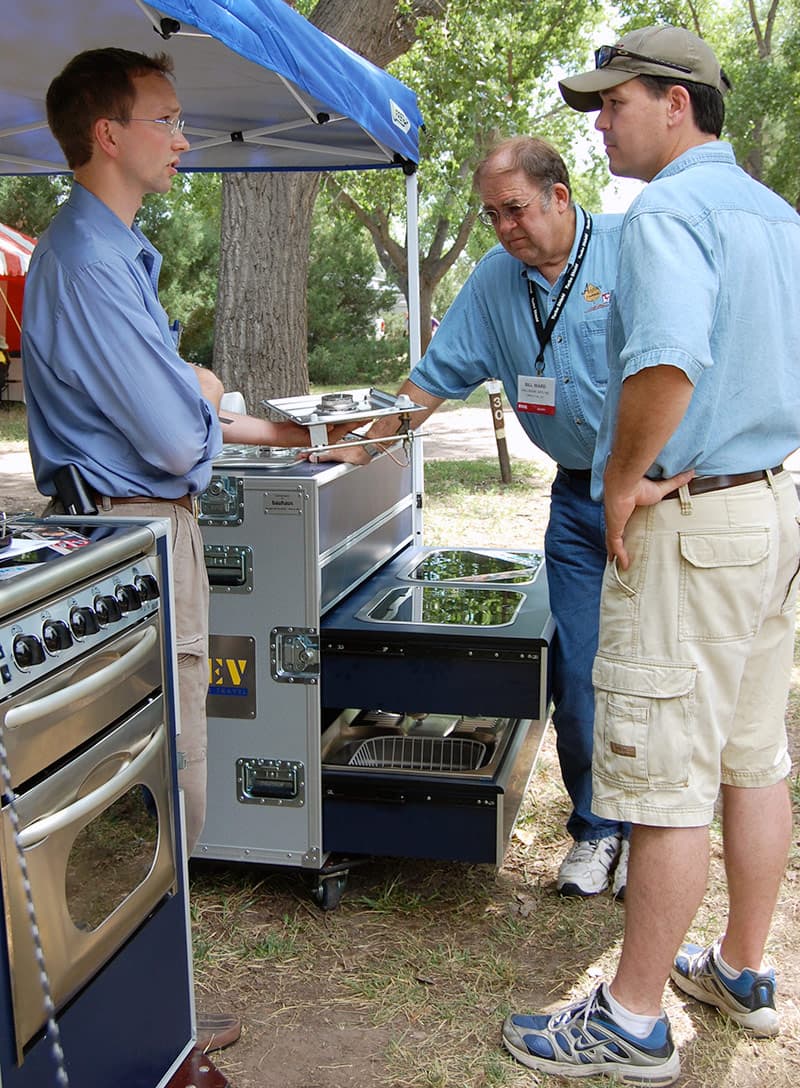 Left to right: Elden Wood representing SMEV, and Matt and Bill Ward of Hallmark RV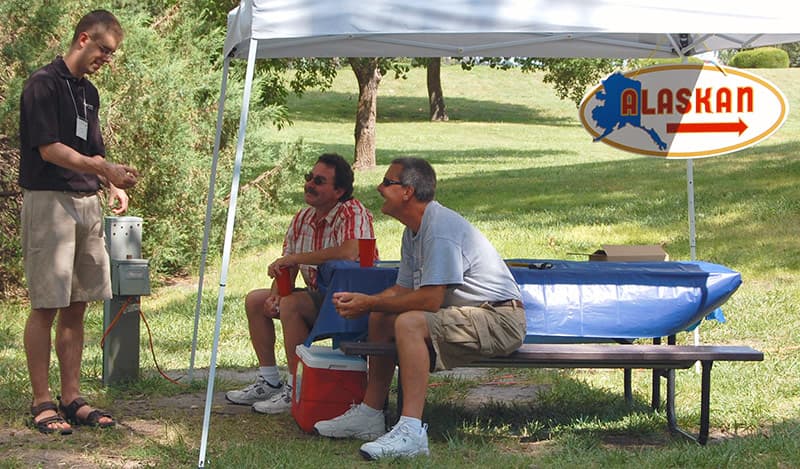 Above: Gordon talking to Rick Bremgartner and Bryan Wheat of Alaskan Campers