Here are five ideas for traveling truck campers that can be both fun and profitable.  Want to turn a buck while boondocking?  Make clams while camping?  Try these tricks to truck camping for cheddar.  Who says truck camping can't pay?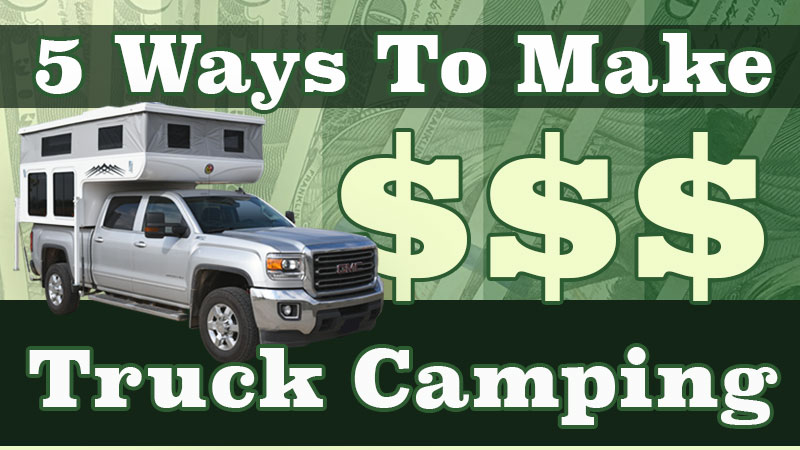 Not everyone is cut out for the no-work retired life.  Some folks like work.  Others might need or just want a few extra bucks to pay for their travel adventures.  I actually enjoy thinking about ways to make money while truck camping.  How do you think this magazine happened?
So how can you be free to travel and camp at will and make money?  Now that's a challenge worth digging into!  Money on the run!  Cash and truck camping!  Love it.
But before we tackle that tantalizing dream, let's at least cover what every other online article suggests for making money on the road.  You know, the basics.
The Basics: Workamping, Freelancing and Seasonal Jobs
The most commonly recommended ways to make money on the road are workamping (aka campground hosting), freelancing and/or consulting (selling your professional skills/knowledge), and seasonal jobs (everything from Amazon CamperForce to working the annual sugar beet harvest).  Let's take a look at each of these options in detail.
1. Workamping
Our most popular T-shirt from our 2017 T-shirt series was, "WE DON'T NEED NO STINKIN' CAMPGROUND".  For many truck camper owners, free overnight parking is a huge part of the truck camping culture.  It certainly is for us.
On balance, I am writing this article in a truck camper parked in a campground with electricity and water.  It happens to be a free campground, but that's another story.  Evidently, we don't need no stinkin' campground, but we enjoy one now and then anyway.
If you also enjoy spending time in campgrounds, there are ample opportunities to work at a campground in exchange for free camping with hookups.  Sometimes they even pay you in addition to the free campsite.
By far the most established and well-known resource for finding a camp hosting job is Workamper.com.  Workamper lists part and full-time positions that run from one season to year-round.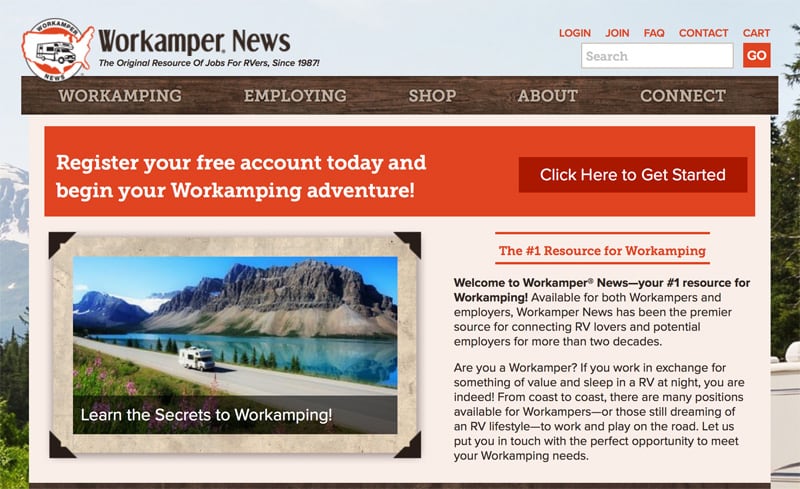 The jobs include campground and RV park hosting, grounds keeping, maintenance, housekeeping, reservations, and office work.  There is a $19.95 a year fee to join Workamper.com, so keep that in mind.
The dark side of working for a campground is that it's hard work.  You will have a boss, hours and responsibilities.  You will also be dealing with the public and could be on call 24-hours a day.
The pay for workamping isn't generally that spectacular, if the position pays at all.  According to my research, paid positions pay somewhere between $500 and $800 a month, plus a free campsite.  That's the deal.
If you're the kind of person who enjoys being in a campground with hookups, a community, and the resources and opportunities that environment affords, working at a campground could be a fantastic opportunity for you.  If Angela and I found the right campground, we might even try workamping someday.
2. Freelancing
Another popular way to make money on the road is by offering your professional skills, experience, and training for freelance work.
For example, if you have professional experience as a bookkeeper, there are freelance jobs available for bookkeeping.  Extrapolate that to IT services, marketing, writing, editing, web development, and customer service representatives and you get the idea.  There are likely freelance jobs for your professional skill set.
Naturally, not all freelance jobs are location independent.  Some may require you to initially meet an employer, or be regularly available at their location.  Unless that employer is where you want to go truck camping, that's probably not what you're looking for – at least not long-term.
Fortunately, there are many freelance jobs that allow you to work from anywhere.  As long as you have an internet connection and get the assigned work done properly and on schedule, you can make a solid income.  In fact, you can make a living freelancing.  Millions of people do.
There are a myriad of websites specializing in freelance job opportunities including Indeed.com, Upwork.com, Fiverr.com, Flexjobs.com, and Freelancer.com.  Please don't limit yourself to this list.  There are many more, including some that specifically focus on a particular skill, industry, or opportunity.  Dig into Google, and you might find something impossibly perfect – just for you.
The dark side of freelancing is that it's essentially a job without the location requirement.  You might have to put in 40-plus hours a week, deal with some (though remote) office politics and handle the usual work-related fires.  You know, real-life work stuff.
Then again, maybe you love what you do and you can't imagine not engaging your honed skills and experience.  You want to travel, but you also want to work in your chosen profession.
Your profession might also take on some exciting possibilities because you are location independent.  That's something worth thinking about.  What can you and your skill set offer if you can be anywhere?
I have often thought about freelancing my photography and writing skills.  For example, I can see helping a new business with their product photography and website copywriting.  It would be fun to work with a small team and help them develop their brand and marketing materials.  That's my skill set, and it would be rewarding to engage it in my retirement years.
Angela has talked about returning to her roots in education.  She has a Masters in Reading and taught 3rd, 4th and 5th grade before joining me with Truck Camper Magazine.  I can see Angela tutoring English as a second language, or volunteering in a classroom.  Of course, she could also build websites or train folks on the finer points of WordPress.
3. Seasonal Jobs: CoolWorks
Just when you think you understand the disruption potential of the internet, something like Airbnb is created and challenges the hotel industry with your guest room.  That seemingly impossible idea is currently valued at $35-billion.  We're clearly in the wrong business.
While researching this article I came across another brilliant business made possible by the internet; CoolWorks.com.  CoolWorks started in 1995 with the concept of connecting travelers and other location-independent folks with, "meaningful and exciting work".
As the story goes, the Founder, Bill Berg, had the idea while working in the Tower Ranger Station at Yellowstone National Park.  That's funny because I think I first had the idea of Truck Camper Magazine in Yellowstone back in 2005.  There must be something in the bubbling mud and sulphur.
The CoolWorks website is beautifully designed and offers a stunning variety of seasonal working opportunities.  As categories, they offer Conservation Corps jobs, Food and Beverage jobs, Golf Course jobs, Guide and Trip Leader jobs, Island and Beach jobs, jobs with Fish, jobs with Horses, Lodge and Resort jobs, Ranch jobs, Science and Environmental jobs, Ski Report jobs, and more.  If young adults see this website, they may never want a "real job".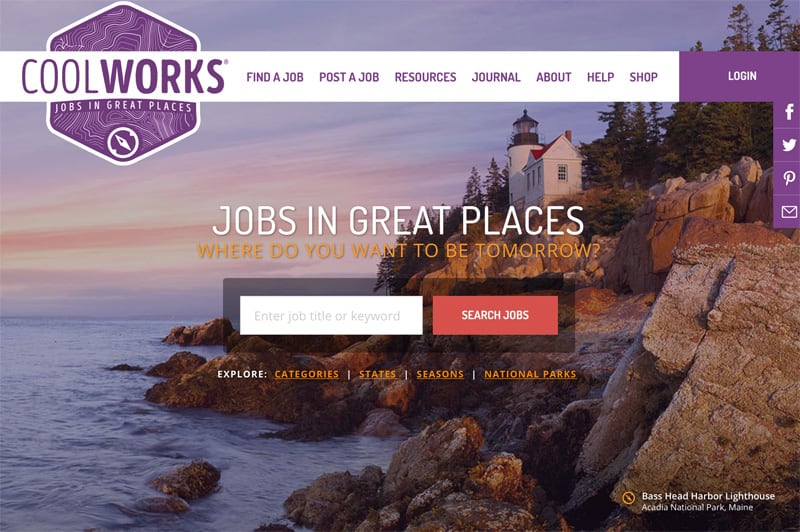 Oh, CoolWorks also has a category for Jobs with RV Spaces.  At the time of this writing, the RV Space category had a couple dozen jobs listed including a Marina Manager at a Lake Powell resort, Maintenance Engineer at a Utah ranch, a House Operations Manager at an Alaskan lodge, General Manager at a Florida campground… does any of this sound interesting?  There's more!
The dark side of CoolWorks?  It's still work and the pay isn't disclosed on many of the listings.  Beyond that, it looks amazing.  If anyone in our readership takes on a CoolWorks opportunity, we'd like to hear about it.  I'm sure we'll be exploring the opportunities further.
The Dream: Go Anywhere, Camp Anywhere, and Make Money
In the introduction, I asked a big question; How can you be free to travel and camp at will, and make money?  Put another way, how can you retain the go anywhere, camp anywhere lifestyle of truck camping and still pull in some cash?
Taking that step further, what if you don't want to work on somebody's schedule?  You need to put work time in, but you want to do it on your schedule.  Go anywhere, camp anywhere, and work only when you want to?  And make money?  Is that possible?
You're darn right it is.  And I have two ideas to get you started.
4. Turn Your Collecting Hobby Into Cash
I have written extensively over the years about how one's hobby takes on new and exciting dimensions on the road.  Kayaking, fishing, Jeeping, photography, rock climbing… nearly every hobby you can think of has exciting possibilities on the road.
But what about folks who enjoy collecting as a hobby?  That's where things can get profitable!  If you're traveling with a developed knowledge about a very specific collectible, you are literally sitting on cash money.  No, not under your dinette seat – it's in your noggin.
My main hobby in life is music.  As part of this endless passion, I have been collecting LP records for over 30-years.  I know what records I'm looking for in regards to my music interests, but I also know what records are valuable.  Specifically, I know what record labels, artists, pressing numbers, and conditions are prized by collectors.  It's all between my ears.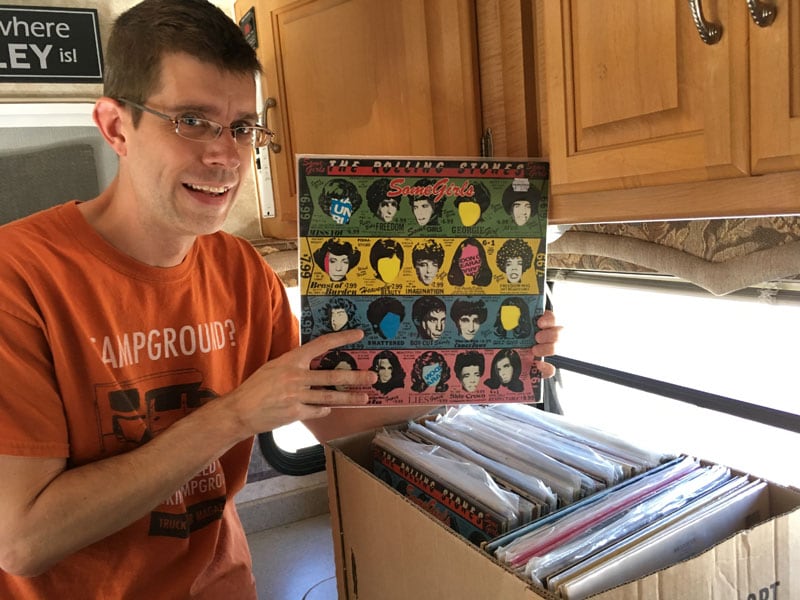 Above: This box of LPs came from a church yard sale we came across while truck camping
I have bought records for 25-cents that I later sold on eBay for $100 or more.  It's very rare that I find a record that valuable, but it happens at least once a year.  More often than not I find a record for $2 that I sell for $25.  Do that 20 to 30-times a year – which is about right – and it adds up.  I also find about the same number of records for my personal collection.
If that doesn't sound like much, keep in mind I'm also working full-time on a certain online magazine.  I could multiply the records found and subsequent cash earnings many times if I had more time to do so.
The money I make from selling LPs on eBay is my, "Angela doesn't need to know money".  Put another way, I don't have to tell Angela what I'm buying with my LP money.  It goes straight from eBay to PayPal. And what happens on PayPal stays on PayPal.
By design, truck campers fit beautifully in the parking lots of thrift stores and flea markets and the side of the road for garage and estate sales.  Two years ago I scored an unspeakable trove of LPs at a church yard sale we just happened to drive past.  Unspeakable!
The trick is to be on the lookout for opportunities and make the effort to turn around.  Yes, you might need to park next door to properly plunder that estate sale – but you can do it!  You're a truck camper!  Parking pirates to the end.  Arrr!
There are so many things that we humans collect.  For starters; trading cards, dolls, stamps, coins, comics, watches, paintings, furniture, sports memorabilia, rare books, apothecary jars, beer steins, zippo lighters – you name it.  If you're an expert or have the determination to become an expert, any one of these could be both fun and profitable on the road.
Maybe your hobby is working on restoring vintage and classic cars at home.  You pull into a flea market in Montana and there's a 6-volt starter for a late-40's Buick.  From experience, you know that's worth at least $500, but the guy's only asking $50.  He also has a Ford Offy 3X2 manifold for $100.  That's at least $750!  Talk about fuel money.
Just don't start collecting LP records on the road.  That one's taken.  Ha!
Now the dark side of this opportunity.  I've sold hundreds of records and other items on eBay.  The experience can be a serious pain in the hindquarters.  You need to take quality pictures of the item, write a good description, and complete eBay's listing form.  It's not a big deal in the grand scope of things, but it's not easy either.
You also need to be prepared for returns.  That said, of the hundreds of records I have sold on eBay only a handful have been returned.  That's the business.  My best advice is to research best practices for selling on eBay before you begin.  That's what I did.
Another option is selling items on Craigslist (USA) or Kijiji (Canada).  Listing on these services is much easier, but you're limited to a local market and won't get the prices or interest that's possible on eBay.  If you have something very collectible to a niche market, go with eBay.  If you have something with a broader appeal, Craigslist or Kijiji might be better.
5. Turn Your Interests Into Money
Not everyone collects things or wants to dive into thrift stores, flea markets, and church basements hunting for treasures.  More often than not, you get skunked.  So what about another opportunity to make money from your passions?
Let's imagine that you're really into aviation.  You love anything to do with airplanes, vintage, warplanes, airshows, airplane museums – you can't get enough.  In fact, the very idea of planning a truck camper adventure going from air show to airplane museum to fly-ins sounds like heaven on a control stick.
Now substitute aviation for whatever you're into; kayaking, fishing, boating, surfing, ATV riding, skiing, hang gliding…  The more specific the niche the better.  Flatwater kayaking in The West.  Backcountry skiing in the Yukon.  You get the idea.
Obviously, you are not alone in your passion for these activities, places, and events.  You are unique in that you have a truck camper, the time, passion, and knowledge about your specific hobby.  Now let's translate that formula into money.
YouTube is a phenomenon that seems to have absolutely no bounds.  I personally follow YouTube creators (aka YouTubers) with hundreds of thousands of fans.  YouTube is absolutely huge and growing.
So here's the idea; make videos showcasing the places you go for your hobby.  Using the aviation example again, make a video about the air show you attend.  Then make another video about a specific airplane that was there that you found interesting.  Make a third and fourth video interviewing some of the pilots and airplane owners.  In a nutshell, make the aviation videos you would want to watch if you were stuck at home.
Then go to the next aviation event and do it again.  And again.  Over time you'll build up a following of aviation enthusiasts who watch every video you make.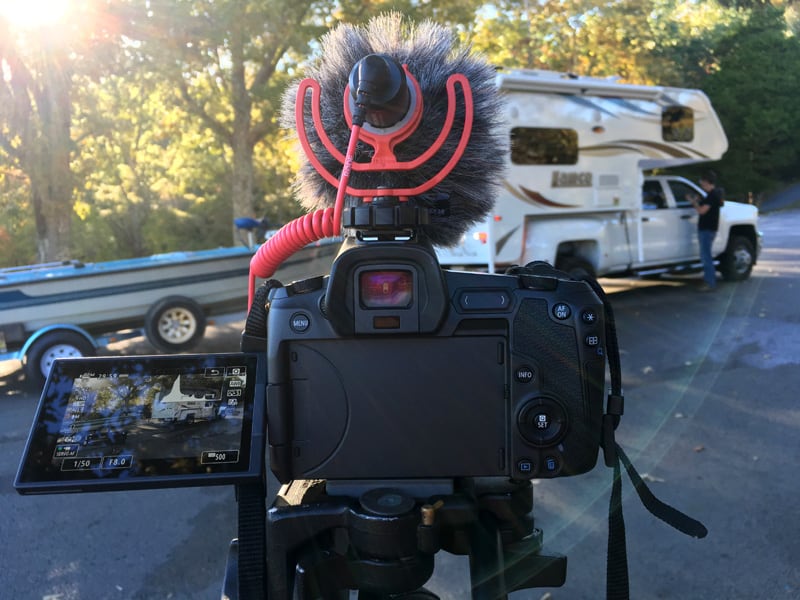 Above: I use a Canon EOS-R, but my iPhone shoots video that's almost as good
Don't worry if you don't have a fancy video camera.  Chances are you have a late model cell phone that shoots video quality that's more than good enough for YouTube.  I have a current iPhone and am shocked at the video quality it captures.  Use your phone!
Once you hit a certain threshold of followers, YouTube will allow you to put ads on your videos.  At first, you might only make a few cents each day, but that will turn into dollars over time.  Those folks with over 100,000 fans are living full-time off their YouTube income.  If your videos are good and you make enough of them, YouTube can be a profitable business.
Now the dark side of this opportunity.  It is very easy to turn a hobby into work.  If you don't enjoy video production, you might soon hate attending another air show because you feel like it's a job.  Then again, you might love making videos for yourself, family and friends and find it actually adds to the experience.
An Inspirational Starting Point
There are many, many more work and business opportunities afforded by truck camping and travel than what I have described above.  The real idea behind this article is to inspire you to look at truck camping as a gateway to unique possibilities to make money.
Being mobile means you can be places and do things that anyone stuck in one location simply cannot.  Factor that into a niche marketplace and you might find yourself an interesting new career, or at least a lucrative side hustle.
Go anywhere, camp anywhere – and make money?  Take it from me.  It's possible.