Truck Camper Magazine visits the Stable-Lift factory in Kalispell, Montana.  Here's how the all-steel Stable-Lift truck camper lift system gets welded, blasted, powder coated, assembled, and installed.  Ready to load and unload your truck camper in three minutes?

For as long as truck campers have existed, loading and unloading truck campers has been an anxious experience – especially for newbies.  This anxiety fades with experience, but loading and unloading a truck camper is always a focused and careful procedure.
A significant part of the anxiety folks initially experience comes from the idea of having a multi-ton truck camper five feet in the air on four corner jacks.  Remote control electric jack systems have made lifting and lowering truck campers push-button easy, but you still have to watch that the jacks stay in contact with the ground, lift the camper evenly, and keep the camper's nose up.
You also need to avoid lifting a camper in any kind of wind.  In windy conditions, we have seen all kinds of truck campers sway when fully lifted.  If that doesn't crease your cheeks, you're a cooler cat than I am.
Taking a step back, we don't hesitate to load and unload our camper on four corner jacks.  If the ground is even, the wind is minimal, and the camper batteries are charged, Angela and I bring our full attention to the task, and load and unload our camper in about ten minutes.  Are there moments of intense marital discourse in those ten minutes?  Maybe, but we get the job done.
Stable-Lift: A Different Approach
Even those of us with years of loading and unloading experience would entertain the idea of making the process calmer, easier, and faster.  Folks who are new to truck campers, or just dislike the experience of loading and unloading, would probably jump at the opportunity.
That's where the Stable-Lift camper loading system comes in.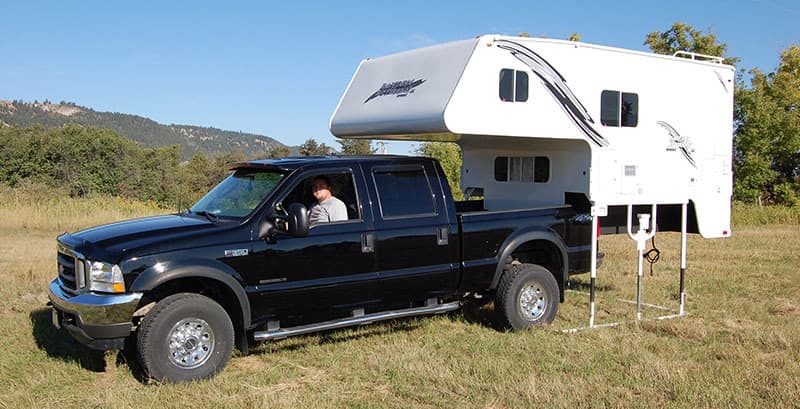 Stable-Lift is camper loading and unloading system that's designed to load, unload, and tie-down a truck camper.  Essentially, the Stable-Lift system is a steel frame that is bolted directly to a truck camper.  A set of four saddle brackets bolted to the truck's frame secure the camper to the truck when the Stable-Lift is raised into position.
Once installed, the Stable-Lift completely eliminates the need for corner jacks, tie-downs, and turnbuckles.  You can literally remove these items once the Stable-Lift system is installed.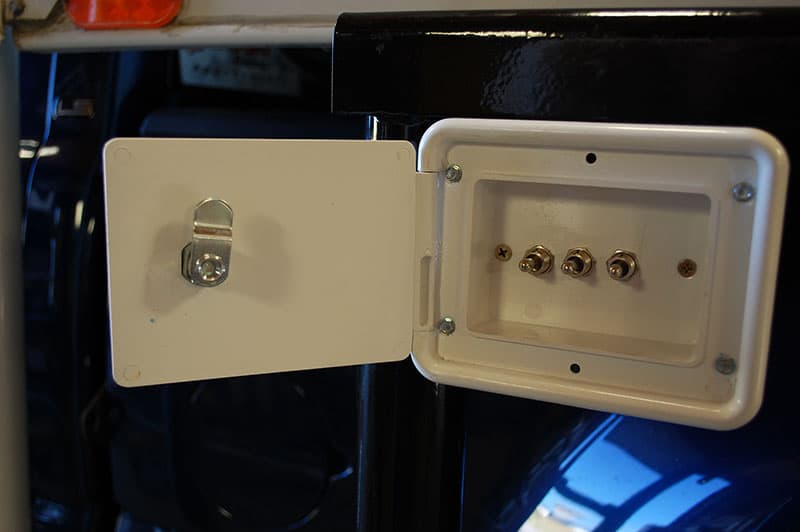 The controls for the Stable-Lift system consist of a set of switches mounted behind a small door on the front driver's side.  Using these switches, the Stable-Lift system can change front-to-back and side-to-side angle of a camper for leveling.  A camper can be leveled on or off the truck.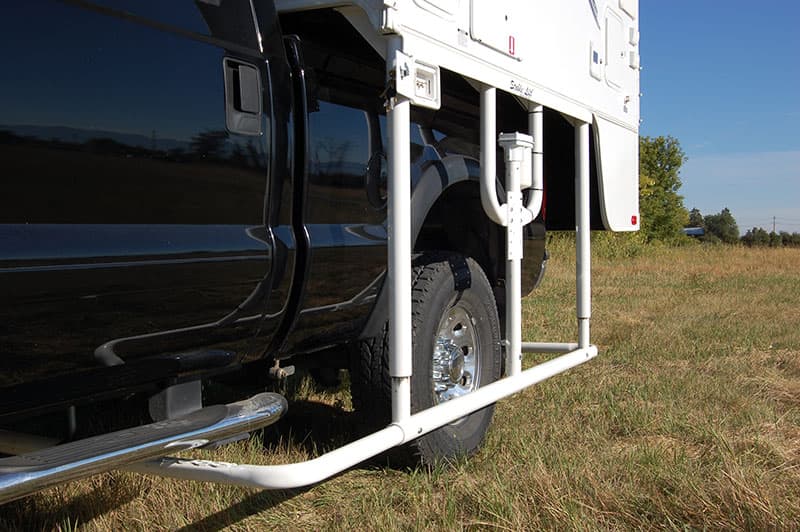 The Stable-Lift system is made of steel.  With its white power coated tubes, the Stable-Lift system may look like PVC pipe, but we're here to tell you it's steel, steel, and more steel.  Add two or three electric Acme screw jacks and you have about 99-percent of a Stable-Lift system.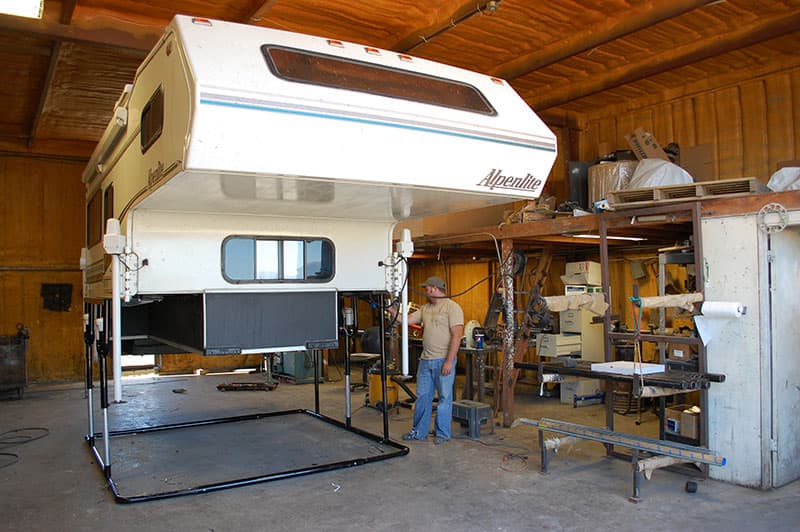 Above: A Stable Lift Three Jack Dually system installed at the Stable Lift factory
Stable-Lift offers three different models designed to accommodate truck campers of different sizes and weights; Two Jack, Three Jack, and Three Jack Dually.  Most Stable-Lift customers opt for the Three Jack or Three Jack Dually system.
Installing a Stable-Lift System