Truck Camper Magazine visits the Stable-Lift factory in Kalispell, Montana.  Here's how the all-steel Stable-Lift truck camper lift system gets welded, blasted, powder coated, assembled, and installed.  Ready to load and unload your truck camper in three minutes?

For as long as truck campers have existed, loading and unloading truck campers has been an anxious experience – especially for newbies.  This anxiety fades with experience, but loading and unloading a truck camper is always a focused and careful procedure.
A significant part of the anxiety folks initially experience comes from the idea of having a multi-ton truck camper five feet in the air on four corner jacks.  Remote control electric jack systems have made lifting and lowering truck campers push-button easy, but you still have to watch that the jacks stay in contact with the ground, lift the camper evenly, and keep the camper's nose up.
You also need to avoid lifting a camper in any kind of wind.  In windy conditions, we have seen all kinds of truck campers sway when fully lifted.  If that doesn't crease your cheeks, you're a cooler cat than I am.
Taking a step back, we don't hesitate to load and unload our camper on four corner jacks.  If the ground is even, the wind is minimal, and the camper batteries are charged, Angela and I bring our full attention to the task, and load and unload our camper in about ten minutes.  Are there moments of intense marital discourse in those ten minutes?  Maybe, but we get the job done.
Stable-Lift: A Different Approach
Even those of us with years of loading and unloading experience would entertain the idea of making the process calmer, easier, and faster.  Folks who are new to truck campers, or just dislike the experience of loading and unloading, would probably jump at the opportunity.
That's where the Stable-Lift camper loading system comes in.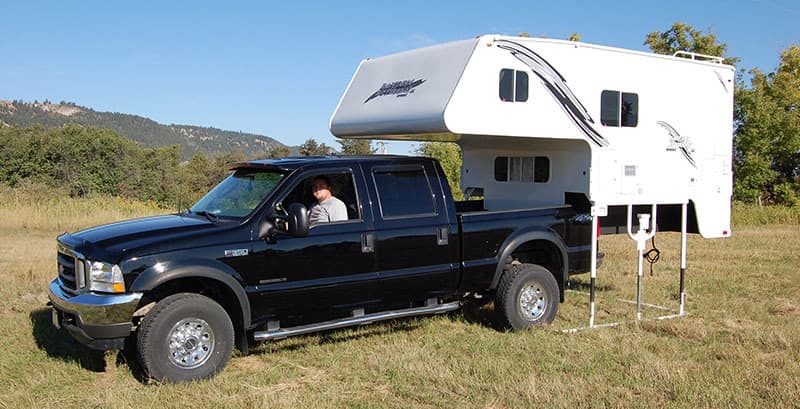 Stable-Lift is camper loading and unloading system that's designed to load, unload, and tie-down a truck camper.  Essentially, the Stable-Lift system is a steel frame that is bolted directly to a truck camper.  A set of four saddle brackets bolted to the truck's frame secure the camper to the truck when the Stable-Lift is raised into position.
Once installed, the Stable-Lift completely eliminates the need for corner jacks, tie-downs, and turnbuckles.  You can literally remove these items once the Stable-Lift system is installed.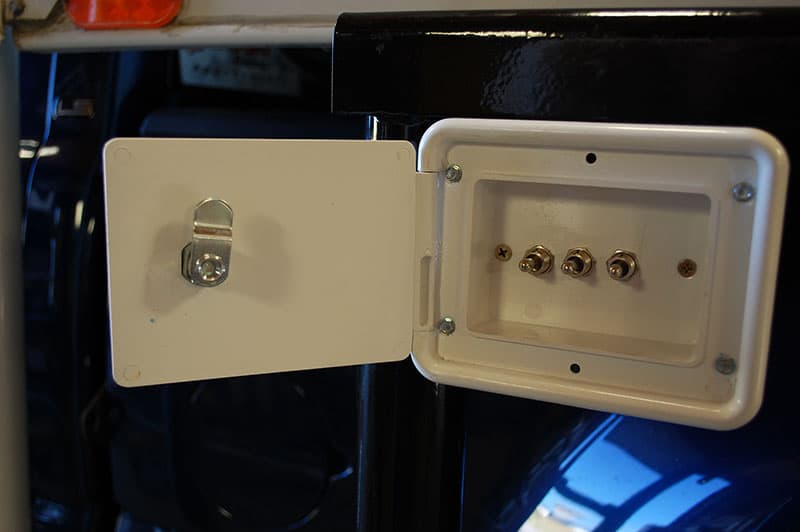 The controls for the Stable-Lift system consist of a set of switches mounted behind a small door on the front driver's side.  Using these switches, the Stable-Lift system can change front-to-back and side-to-side angle of a camper for leveling.  A camper can be leveled on or off the truck.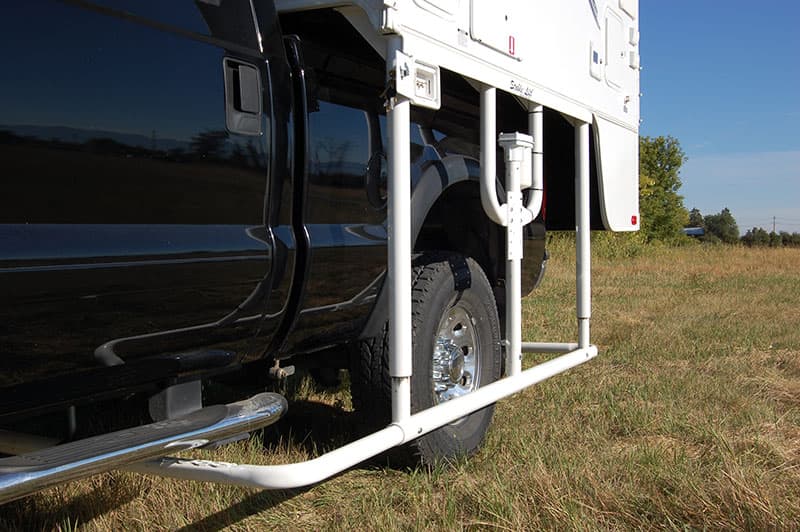 The Stable-Lift system is made of steel.  With its white power coated tubes, the Stable-Lift system may look like PVC pipe, but we're here to tell you it's steel, steel, and more steel.  Add two or three electric Acme screw jacks and you have about 99-percent of a Stable-Lift system.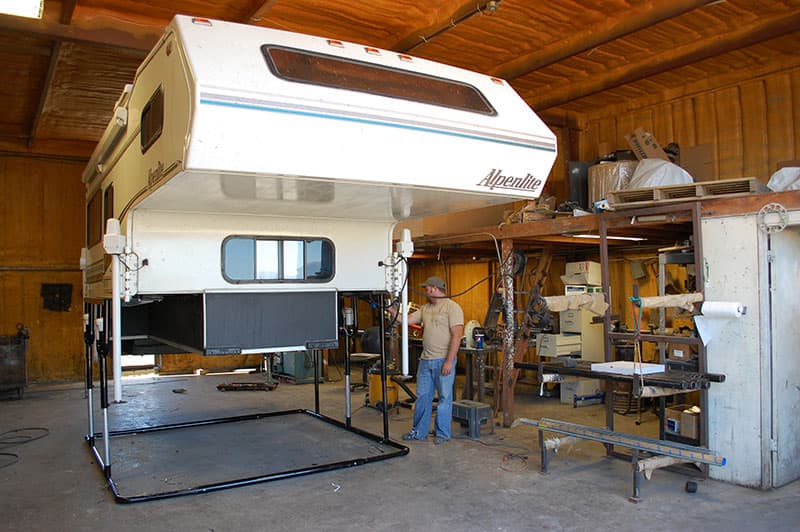 Above: A Stable Lift Three Jack Dually system installed at the Stable Lift factory
Stable-Lift offers three different models designed to accommodate truck campers of different sizes and weights; Two Jack, Three Jack, and Three Jack Dually.  Most Stable-Lift customers opt for the Three Jack or Three Jack Dually system.
Installing a Stable-Lift System
There are three ways to install a Stable-Lift system.  First, you can install the system yourself.  Second, you can have Stable-Lift install their system at their Kalispell, Montana headquarters.  And third, you can have a local participating truck camper dealership install a Stable-Lift system.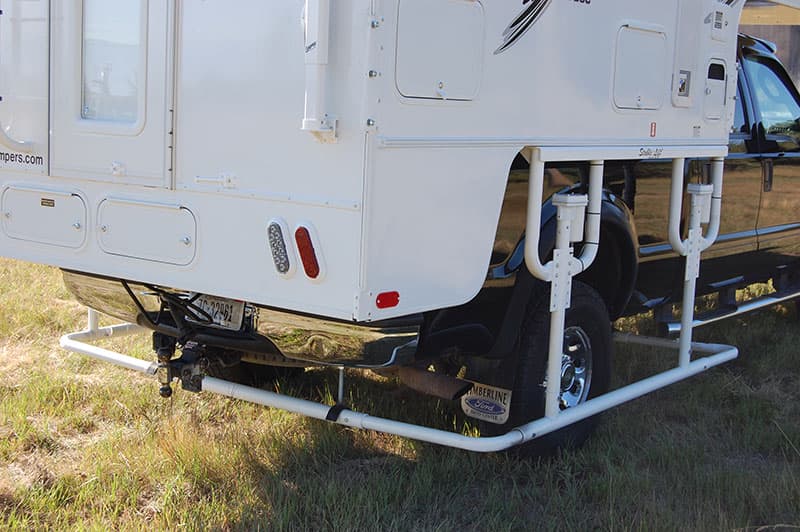 Above: Stable Lift jack system installed on a truck camper
A large part of the Stable-Lift system comes pre-built from the factory.  According to Stable-Lift, the most difficult part of the installation is finding where to drill eight holes on each side of your under-camper wings, finding the center of gravity on your camper to correctly position your Stable-Lift system, and mounting the saddle brackets to the truck's frame.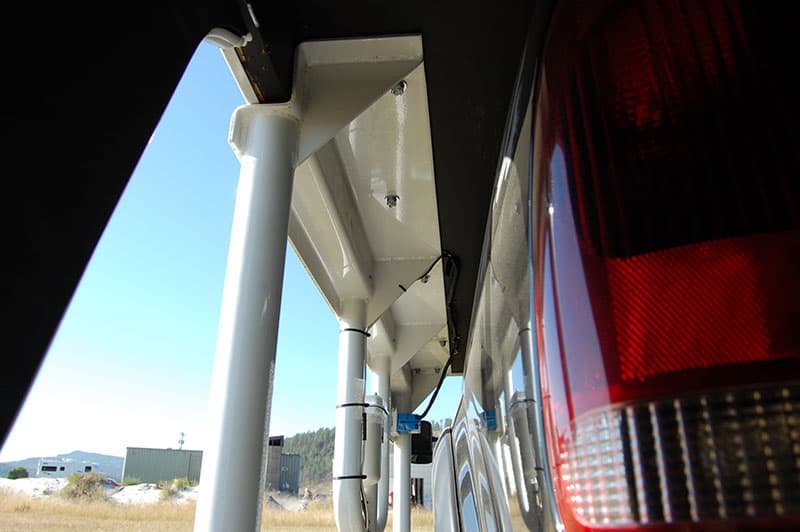 The rest of the installation is fairly straight forward including fitting a series of steel pipes together, securing the parts with nuts and bolts, and some minimal wiring.
If you install the Stable-Life system yourself, you would order the system directly from the factory and have it shipped to you.  The system weighs between 350 and 450 pounds depending on which Stable-Lift system you order.  Stable-Lift advises its self-install customers to allow for a weekend of installation and that includes eleven pages of instructions with diagrams.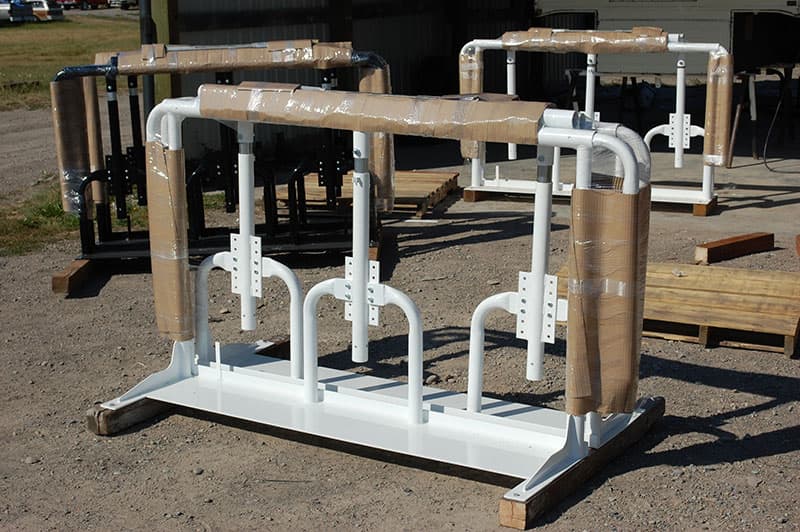 Above: Stable Lift systems ready to be shipped
Having a Stable-Lift system installed at their headquarters is a good option if you're willing to travel to Kalispell, Montana.  For installation, Stable-Lift charges $780 for trucks with single rear wheels and $880 for a dually.  There are many advantages to having the Stable-Lift system installed at the factory including eliminating your shipping costs and having the factory's own experts perform the installation.
The third option, having a participating truck camper dealership install a Stable-Lift system, requires a bit of research.  Before considering this option, call or email Stable-Lift and ask them to recommend a dealership that has previously installed the Stable-Lift system.  Additionally, find out what the recommended dealership will charge as each dealership charges differently to install a Stable-Lift system.
Visiting the Stable-Lift Factory
Let's visit Stable-Lift and see how they turn steel tubes into Stable-Lift systems.  As luck has it, they were installing a Stable-Lift system on a customer's truck when we pulled in.  The installation was in its final steps and the customer was due to pick up the truck, camper, and installed Stable-Lift system in a matter of hours.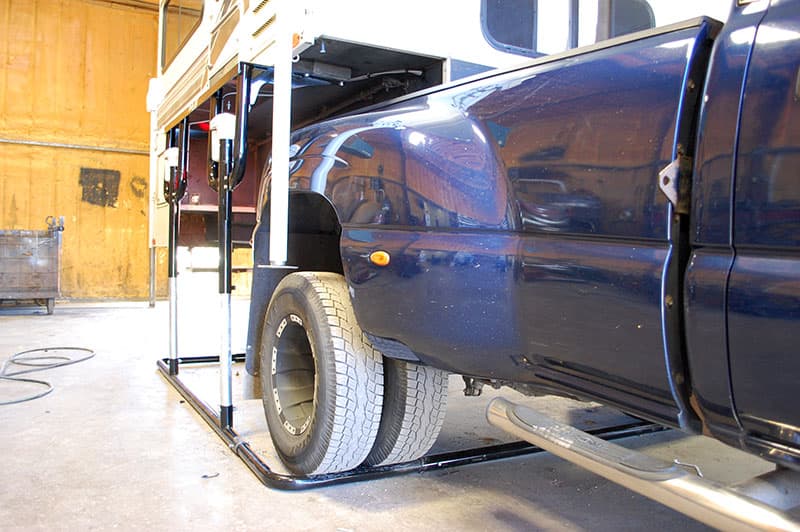 In these photographs you can clearly see that this Stable-Lift system was ordered for a dually truck.  On this particular installation, the customer requested that the existing corner jacks remain on the camper.  Once the Stable-Lift system is installed, there is no need to keep the original corner jacks, tie-downs, or turnbuckles.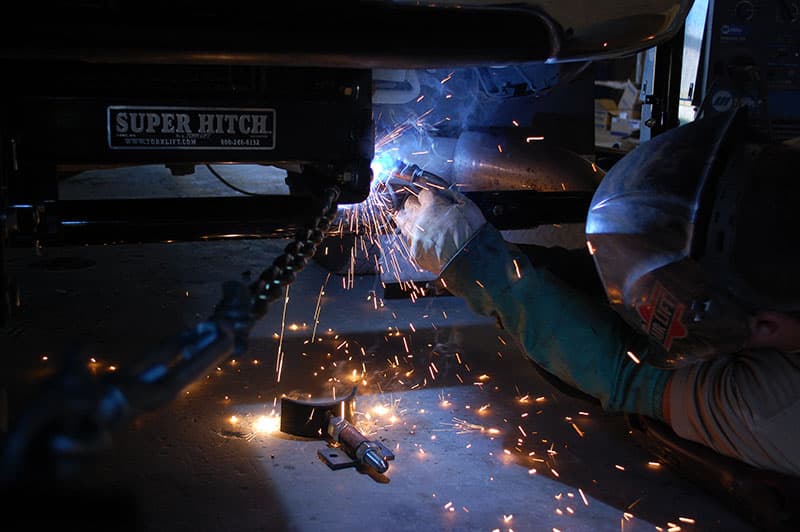 When the truck was fully under the camper, Craig Peters welded the four side mount brackets into position under the truck.  The side mount brackets can also be bolted on, but Stable-Lift prefers to weld them into place at the factory.  The saddle brackets receive the Stable-Lift elbows when the system is retracted for travel.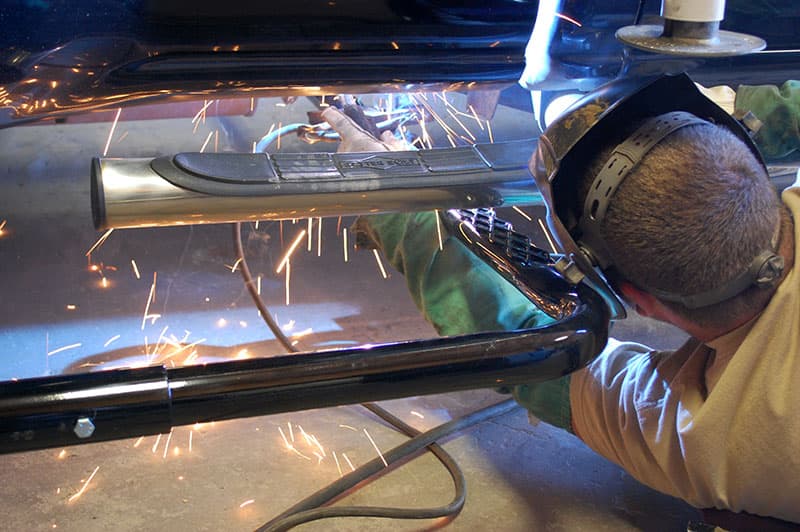 When the owner arrived, Shane Howe gave them a complete walk through of how to use the Stable-Lift system.  The Stable-Lift system is designed to be very straight forward to use and it didn't take more than a half-hour to explain the process and send the new owners on their way.
Manufacturing A Stable-Lift System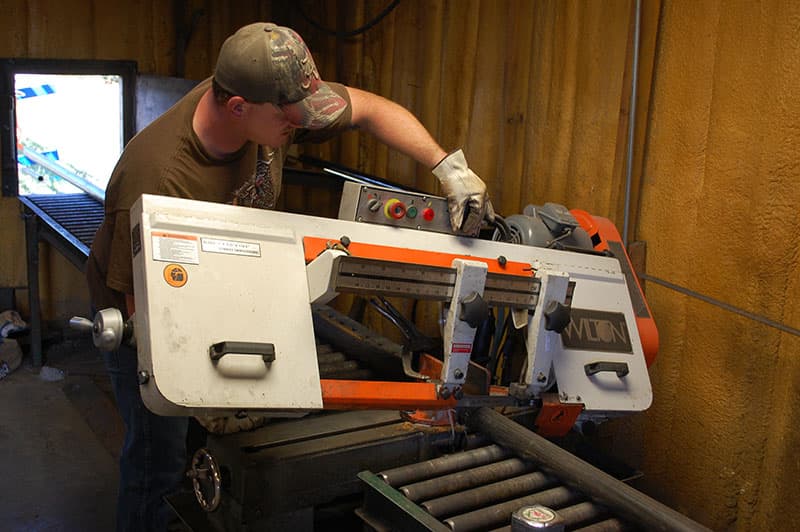 A new Stable-Lift system begins with steel tubing that Stable-Lift cuts, bends, grinds, and welds into shape.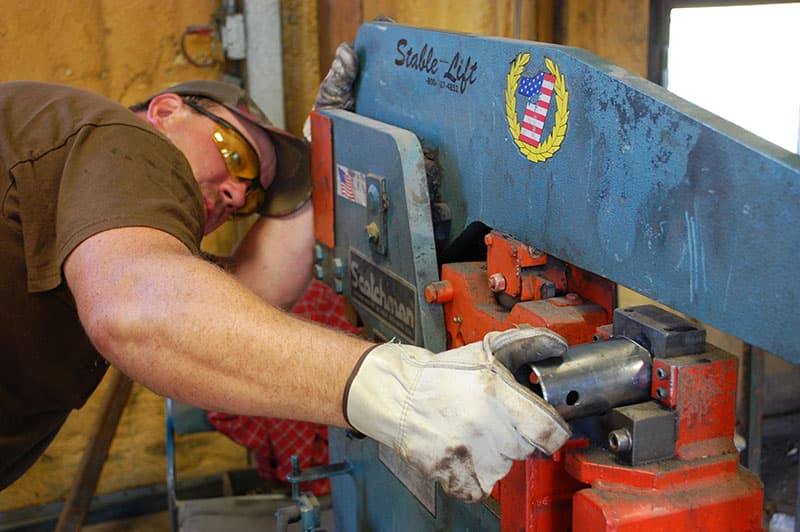 In these photographs, Shane cuts the steel tubing and makes some angle cuts.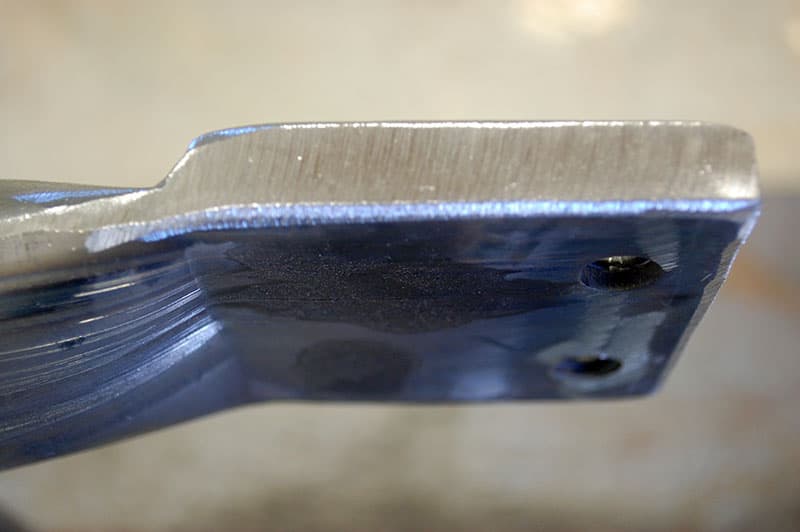 After the steel pieces for a Stable-Lift system are cut and bent into shape, the team grinds the edges smooth.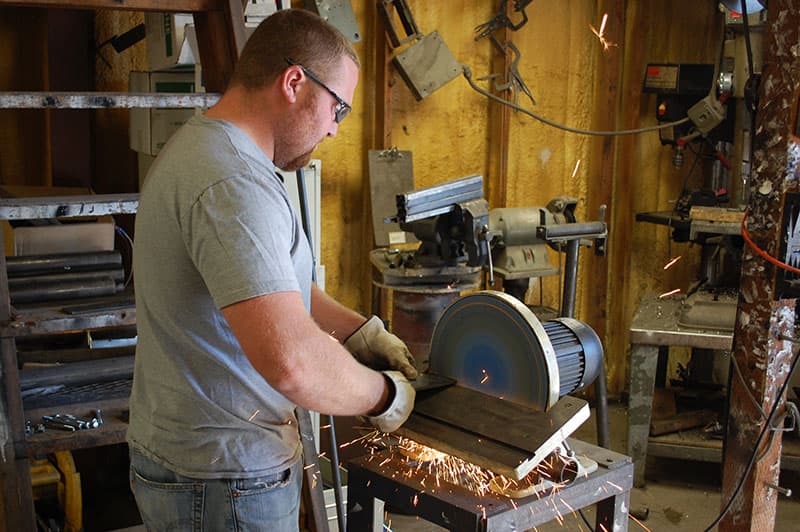 This is the final step before the pieces are welded together and begin to look like a Stable-Lift system.  Here you see Craig grinding part of a lift.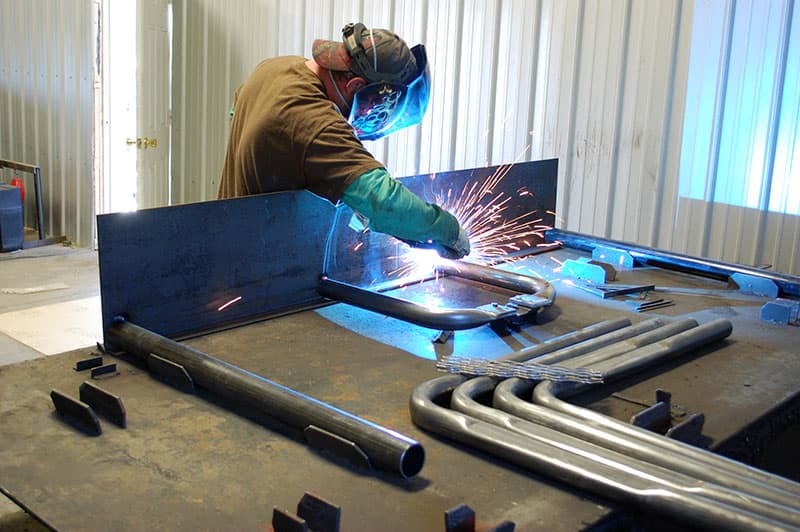 In a room adjacent to where the Stable-Lift system was installed, Craig and Shane work on welding table jigs.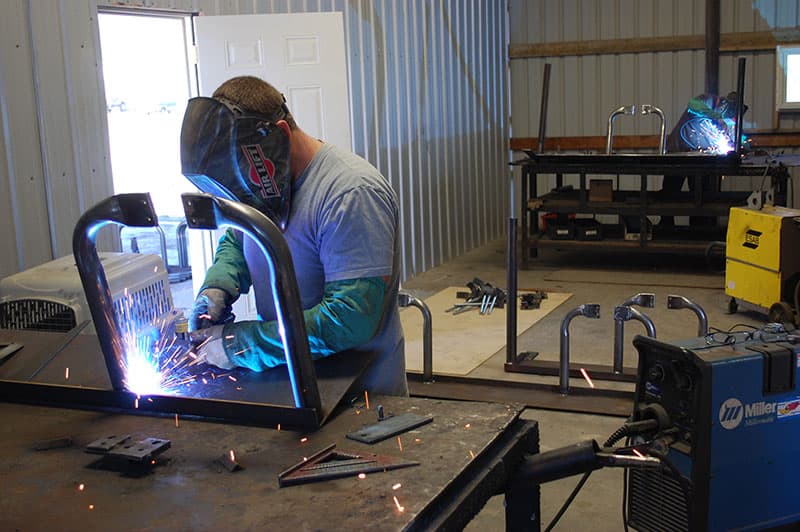 From opposite sides of the room, they weld the steel components they have pre-cut and ground.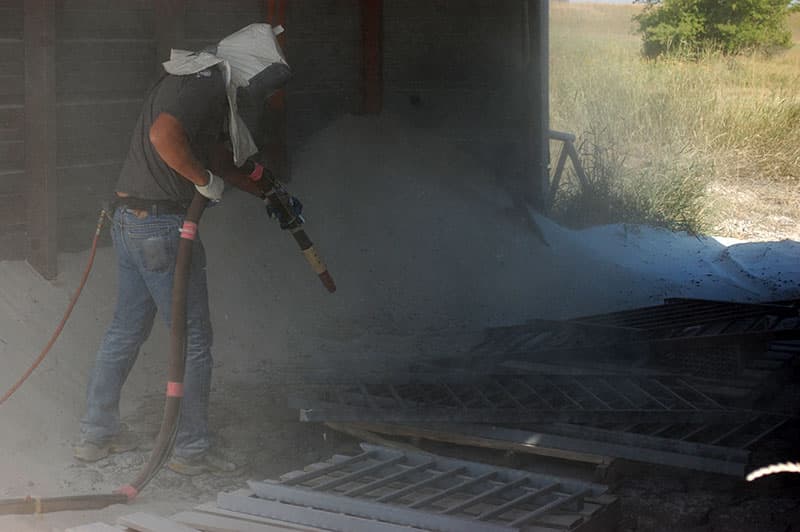 After Craig and Shane weld a complete Stable-Lift system, the components are sandblasted by Jim Cochran.  Sandblasting is not something for the faint of heart and requires a respirator mask, hood, and eye protection.  Even then, the resulting fine mist of sand and dust has a way of getting into everything.
Sandblasting also blasts away any imperfections on the surface of the metal and prepares the steel surface for powder coating.  Without proper sandblasting, the weather resistant powder coating would not be as strong and rust resistant.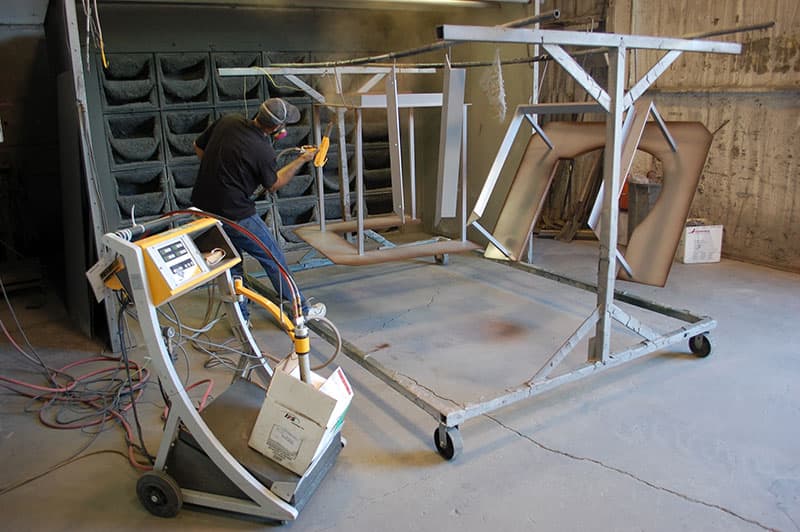 After the components have been sandblasted, they are brought inside for powder coat application.  First the steel sections are hung on metal racks and an electrostatic charge is applied.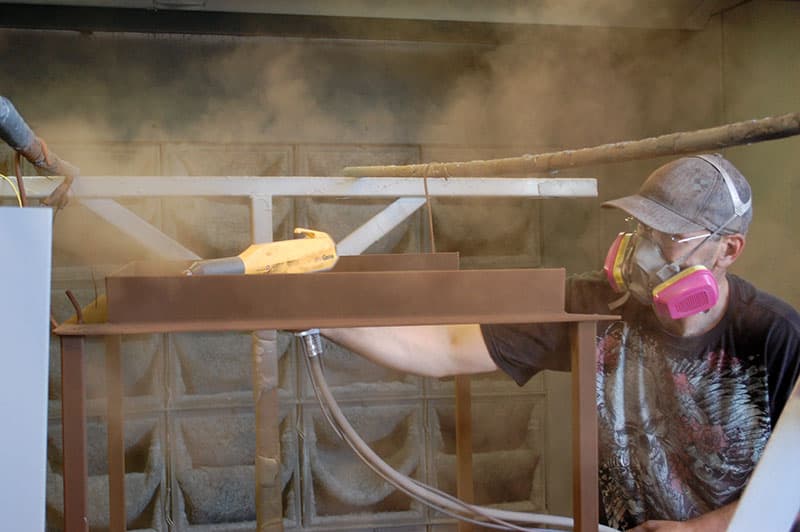 Then Steve Brown uses a powder coat gun to apply a fine mist of powder to the steel components which stick to the electrostatic-charged metal.  Again a respirator is necessary to avoid breathing the fine particles.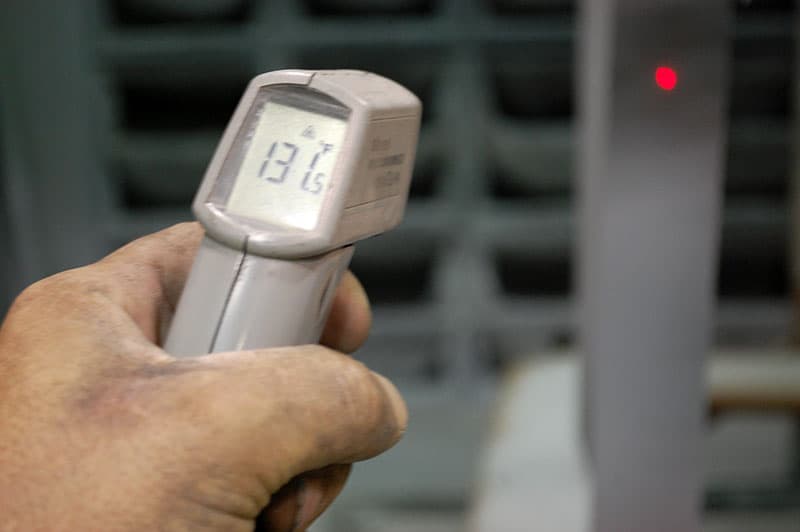 Steve had a really interesting tool that we hadn't run across before, a point and shoot infrared digital thermometer.  The thermometer had a targeting red laser which allowed Steve to precisely target a section of metal and take the temperature of that exact section.  This is important as the powder coat process is most effective when it's done at specific temperatures.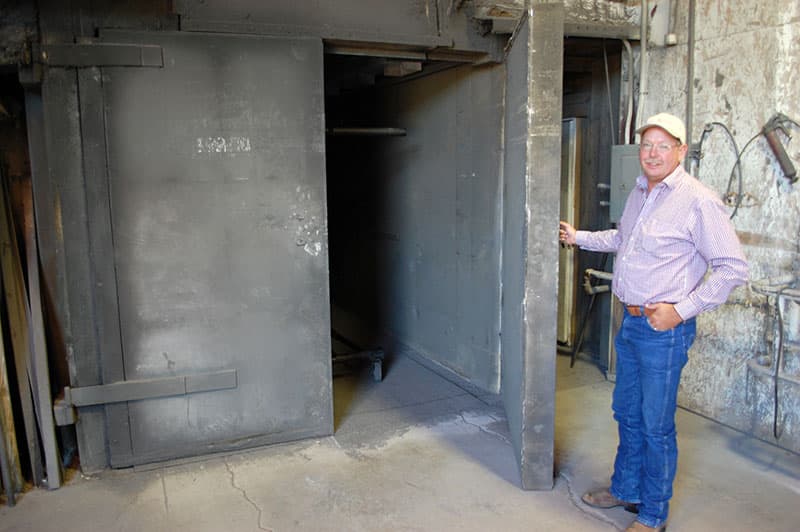 A few feet from where Steve was applying the powder coat, Mont Peters, President of Stable-Lift, showed us the 400 degree oven where the powder coated material is baked for about twenty minutes.  Mont also owns a powder coating company which keeps this facility humming year round.  Mont explained that the oven keeps the building nice and warm through Montana's cold winters, but it makes the hot days of summer almost unbearable.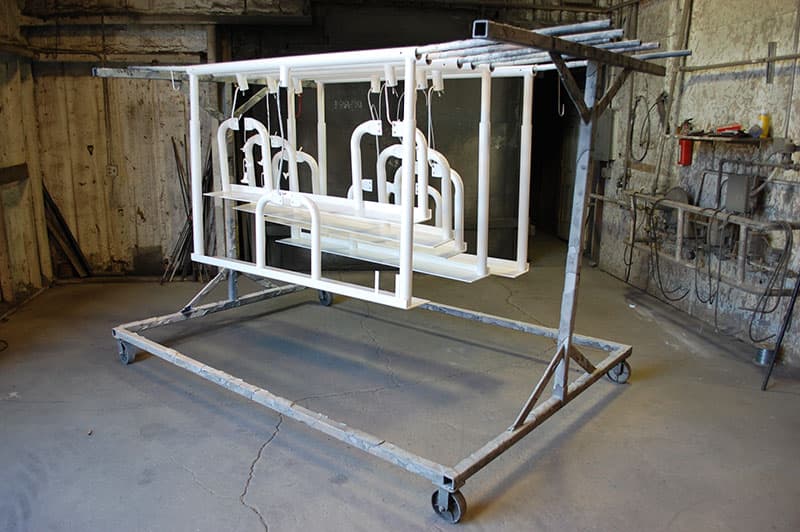 Here is a new Stable-Lift system fresh out of the oven.  This set was powder coated white, but you can get black for no additional charge or almost any other color you can imagine for an additional fee.  Now that these components are powder coated, they're ready for final assembly followed by on-site installation or shipping.
Stable-Lift Packed and Shipped
The Stable-Lift team has the packaging and shipping of their system down to a science.  While we were on site, I took the opportunity to see how the system is packaged for shipping.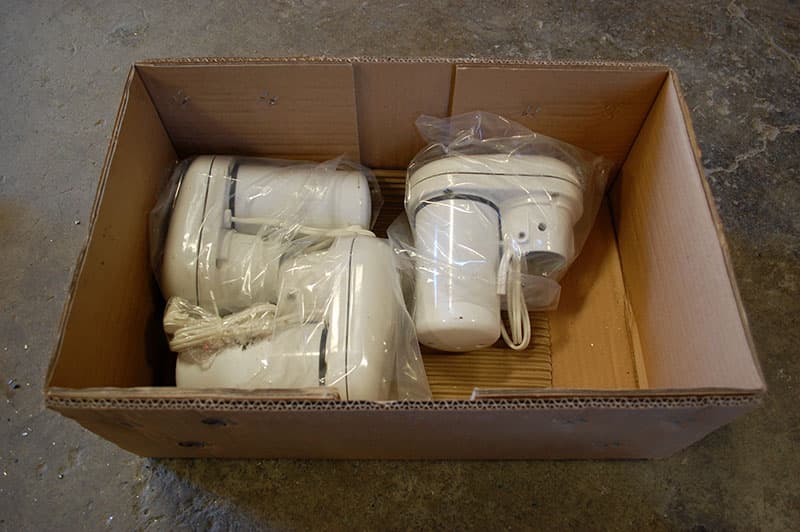 Every Stable-Lift system comes with a box that holds all of the smaller components that make up a Stable-Lift system.  As you can see, the first layer includes the jack heads which contain the motors that lift and lower your camper.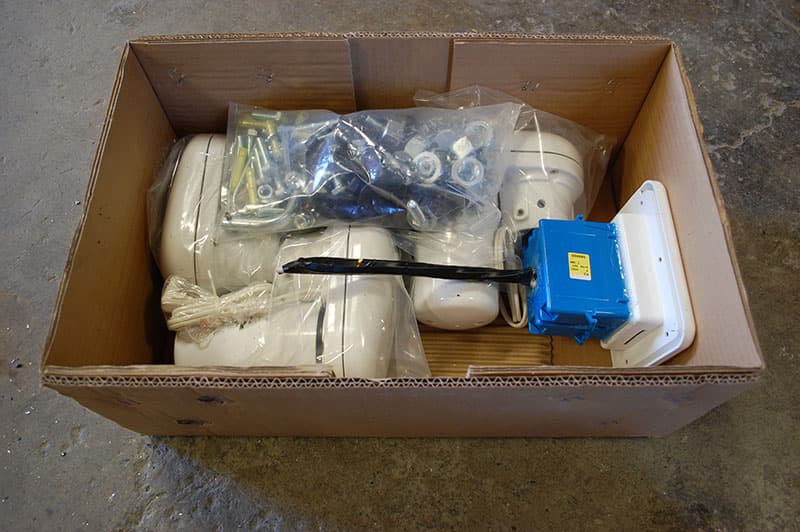 The next component that's added is the switch box.  The switch box houses the switches that control the system and raise and lower the camper.  Following the addition of the switch box, a bag of hardware is added.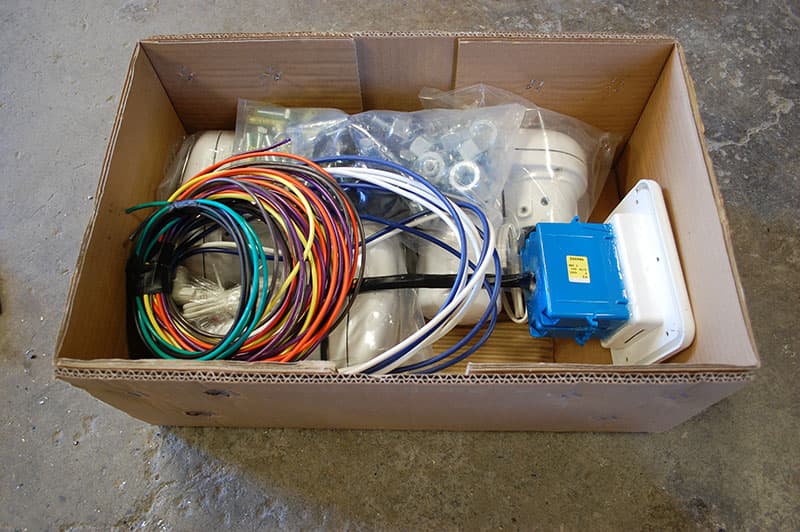 Stable-Lift provides all of the wiring you will need to install their system.  The wiring harness is color coded and cut to the correct lengths.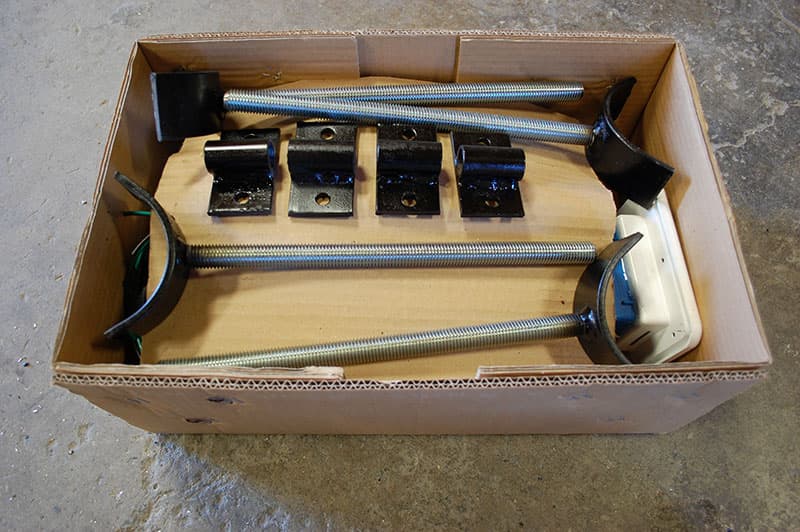 On top of the wiring, a layer of protective cardboard is added before the four side mount and saddle brackets are placed into the box.  As you saw in the Alpenlite installation above, the side mount and saddle brackets are mounted under your truck.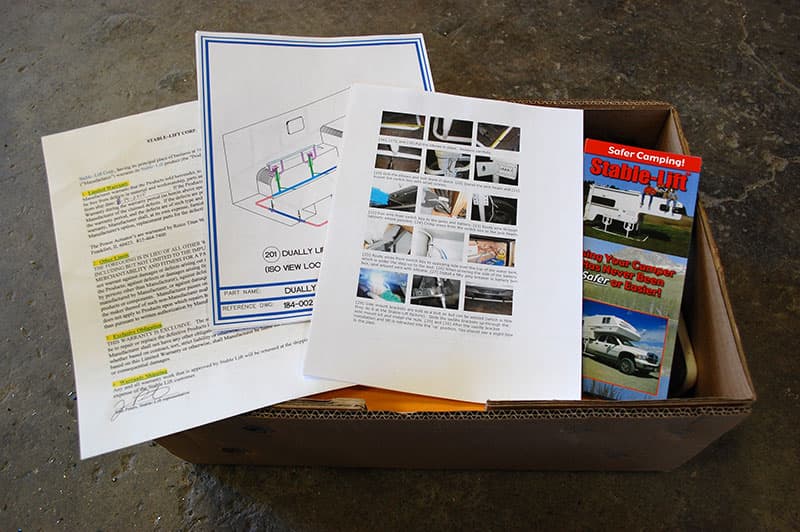 The last item to go into the box before being bundled with a Stable-Lift system is a manila folder containing detailed written instructions, precise AutoCAD diagrams, and a few Stable-Lift brochures.  Not only has Stable-Lift done everything it can to provide complete and detailed step-by-step instructions, but Mont also assured us that his team is available by email or phone to help you with any installation questions you have.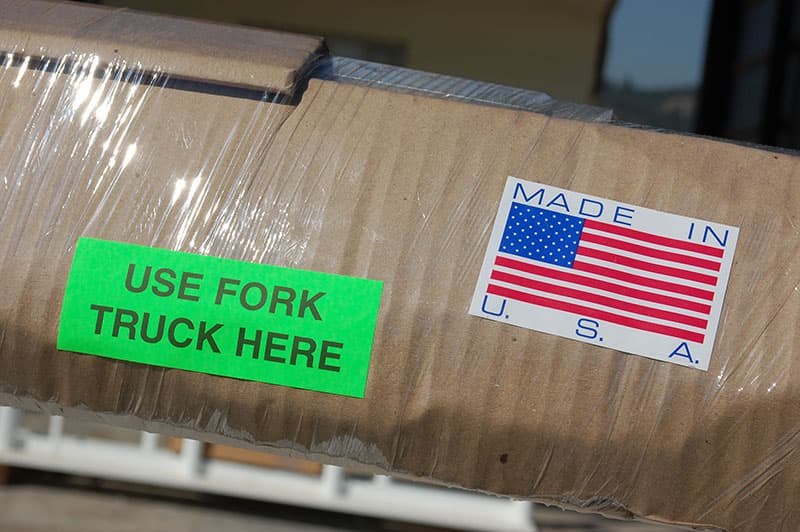 There's a lot of American pride at Stable-Lift and they make sure that every shipment goes out with a red, white, and blue Made In USA sticker.
Weight, Compatibility, and Cost

As with all things in the truck camper world, there are a few trade-offs with the Stable-Lift system.
First, the all-steel Stable-Lift system will add a minimum of 100 pounds and up to 200 pounds to your rig.  The amount of weight the Stable-Lift system will add depends on which Stable-Lift system you need, and whether you remove the existing camper jacks, tie-downs, and turnbuckles.
Second, Stable-Lift does not recommend their lift systems for all truck camper types.  Stable-Lift systems are most compatible with (a) hard-side non-slide, and (b) hard-side single-slide truck campers.  That said, Stable-Lift systems have been successfully installed on select multi-slide, molded fiberglass shell, and pop-up campers over the years.
According to Stable-Lift, their two and three-jack systems work on campers with 7 to 12-foot floor lengths.  The sweet spot for a Stable-Lift installation are 9 to 10 foot non-slide and single-slide models.
The Arctic Fox 990 was mentioned as the perfect example candidate for a Stable-Lift system.  Other good Stable-Lift candidates include non-slide and single-slide floor plans from Lance, Adventurer, Eagle Cap, Northstar, Palomino, and Wolf Creek.  No matter what truck and camper you have, be sure to contact Stable-Lift about your specific truck and camper combination first.
Third, the cost of the Stable-Lift system is considerable.  The Two-Jack Stable-Lift system is $2,495, the Three-Jack Stable-Lift system is $2,895, and the Dually Three Jack system is $2,995.  Taking into account the materials, components, and labor involved with manufacturing the Stable-Lift system, these prices are in-line with other RV products.
If there's another potential catch, it's the installation process.  The best solution is to have the system installed at the Stable-Lift factory in Kalispell, Montana.  If you're interested in having a local dealer install the system, or installing the system yourself, you will need to consult with the Stable-Lift team first.  Mont told us that 85-percent of Stable-Lift systems are installed by the end user with great results.
A Compelling Proposition: A Easy Three-Minute Load and Unload
There are many truck campers who need or want the stability, ease of use, and overall simplicity that the Stable-Lift system provides.  And there's something to be said for replacing corner jacks, tie-downs, or turnbuckles with one system.  Plenty of truck campers must agree as Stable-Lift systems were selling faster than they could make them during our visit.  Weld done, Stable-Lift.