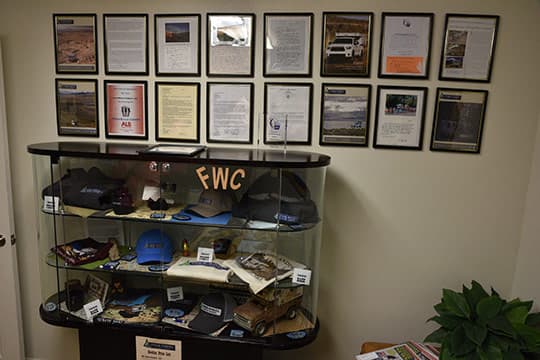 The display cabinet showcases Four Wheel Camper merchandise.  It goes without saying that any self-respecting Four Wheel Camper customer needs a Four Wheel Camper baseball hat.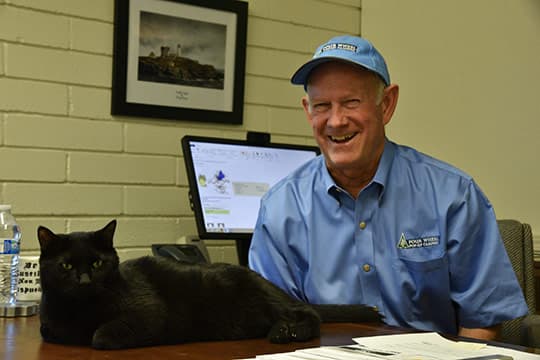 If there's one thing that hasn't changed at Four Wheel Campers, it's the management's love of cats.  Here Tom Hanagan, President of Four Wheel Campers, poses with Fozzie.  For the moment, Fozzie has graciously decided to let Tom sit at his own desk.
As the photograph clearly shows, Fozzie shows no concern for Tom's top-dog title, and demands constant attention.  Talking on the phone to an important customer?  Fozzie does not care and demands petting.  Reading a proposal from a critical vendor?  Fozzie does not care and demands petting.  Posing for a picture for Truck Camper Magazine that will be seen by tens of thousands all over the world?  Fozzie does not care.  Pet him now, or else.
Wrap It Up
So there you have it.  The company making some of the smallest truck campers on Earth has one of the largest truck camper factories on the planet.  With their new factory, Four Wheel Campers has the room to run, and play, with the big boys.
Once we got past the much bigger facility, the other macro themes we gathered from Four Wheel Campers was their continuous push towards organization, ergonomics, and improving production.  Spend an hour at their facility and you will see exactly what I mean.
Add to this their growing interest in outsourcing CNC manufactured parts and you have a recipe for more growth.  Growth while maintaining quality will always be the challenge for any quality-oriented company that's experiencing surging sales.  Based on the organizational structure and discipline on display in every corner of Four Wheel Campers' new building, we have no doubt they will meet this challenge, and exceed it.
For more on Four Wheel Campers, visit their website at fourwh.com.