Newer campers sometimes come in for options and upgrades keeping the service department quite busy.  Of course the bulk of service is done by their dealer network.
Speaking of dealers, Four Wheel Campers has successfully transitioned from direct sales to dealer sales over the past decade.  In those ten years, Four Wheel Campers has opened dealers in northern California, southern California, Oregon, Arizona, Utah, Colorado, Wyoming, Texas, Wisconsin, Pennsylvania, western Canada, Germany, Zimbali, Australia, Brazil, Chile, Peru, and Taiwan, and Japan.
These dealerships, and their increasing demand for inventory, was a major reason Four Wheel Campers moved to a significantly larger facility.  Every dealer has a showroom with at least four Four Wheel Campers on display.  These include the most popular floor plans with the most popular options.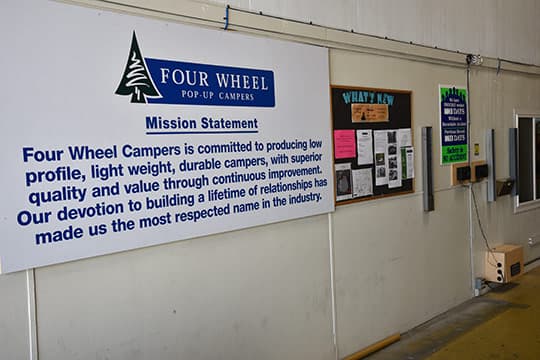 Next to where the Four Wheel Camper manufacturing team checks the company bulletin board and clocks in and out for the day is the company mission statement.  As mission statements go, this one's on the mark keeping the FWC production and office team focused.  We were particularly drawn to the idea of "continuous improvement" with a product that was originally introduced in 1972.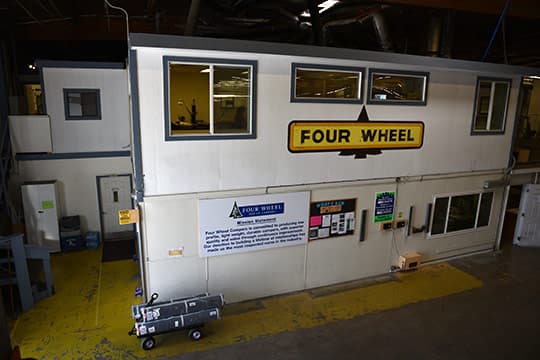 Sewing, purchasing, service, and the foreman offices are contained in a building within the main building.  Behind this building in a building are the sales, management, and administrative offices.  I took this photograph from yet another building within the main building.  That building holds a large boardroom overlooking production, and the engineering department.
Are you starting to get an idea of the scale of this place?  It's huge, and as multi-faceted as any truck camper manufacturing facility we've seen.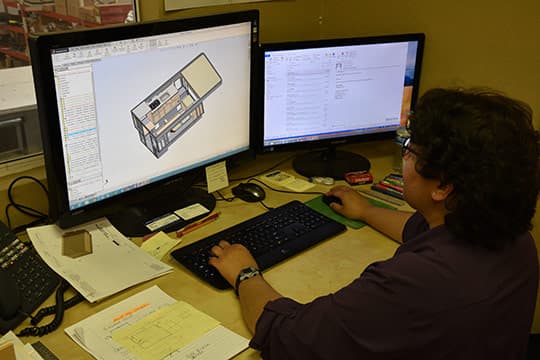 Up the set of stairs I used to take the previous office image is where the Four Wheel Camper engineering team resides.  In this photograph, Reena Obediah, a degreed Engineer with SolidWorks certification, works on a three-dimensional layered Four Wheel Camper model.
Engineering currently has two SolidWorks computer stations responsible for generating the CAD drawings needed by the welding, cabinetry, and assembly lines.  Behind this station are at least a dozen binders full of detailed CAD drawings of every Four Wheel Camper.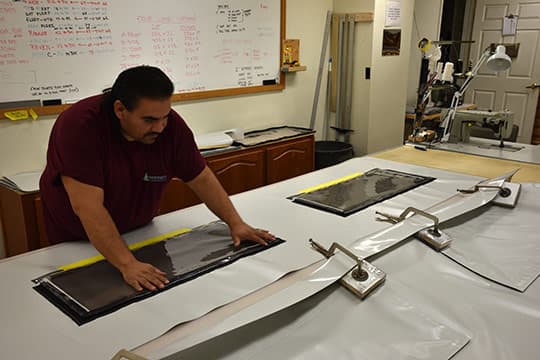 Now I've gone across the service area and up another set of stairs to the stitching department,  Here the pop-up soft walls and cushions are manufactured in house.  This has always been true, but now the sewing department has many times the square footage available allowing for more sewing stations and the ability to keep more materials and fabric templates close by.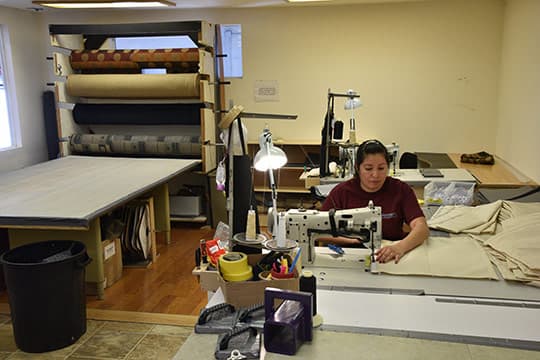 Four Wheel Campers upgraded the soft wall fabric in 2011 after Tom Hanagan, President of Four Wheel Campers, visited a manufacturer in Germany and was extremely impressed with the quality and consistency of their coated soft-wall material.  He explained that it's virtually the same material used by Zodiac to build their inflatable boats.
Celeste Hanagan, Vice President for Four Wheel Campers, shared an interesting story about a recent efficiency change in the stitching department.  She told us that there is a small detailed fabric corner piece that once took a Four Wheel Camper team member an hour to carefully cut 24 pieces.  An outside vendor with a CNC water jet table now cuts 2,800 in 40 minutes.  The best part?  The fabric team hated cutting those little pieces.
On both sides of the main production floor are storage areas large enough to house truck camper production lines of their own.  I wasn't kidding when I suggested to the Four Wheel Camper leadership team that they could have another whole truck camper line in each of these wings.  They could at least open a few bowling lanes or an indoor football field.
In these areas Four Wheel Campers keeps everything from pallets of doors, to Dometic appliances, to small items like hardware and adhesives.  This additional space allows purchasing to buy in higher volume, pushing down cost, and ensuring there are no slow downs on the production line waiting for parts or materials.
There is also plenty of additional storage inside the main production area.  The pallets of plywood shown above are actually stored immediately next to the cabinet shop.  This allows the cabinetry team to have fast access to material, and keep an eye on the level of their wood inventory.