Truck Camper Magazine visits Hellwig factory in Visalia, California and finds out what's hot, extremely hot, screaming orange and yellow hot, at Hellwig.

The day after our visit at Lance Campers, we drove our camper 170 miles north to Hellwig Products in Visalia, California.  Hellwig Products had joined the magazine while we were in Denver, Colorado and we were very excited about the opportunity to meet their team and see their facility.  We had no idea what irons in the fire Hellwig Products had in store for us, literally.
Hellwig Products manufactures sway bars and helper springs and offers a line of air suspension products.  Sway bars, also known as stabilizer bars, anti-sway bars, and anti-roll bars, are suspension enhancement products that are designed to decrease sway and body roll and improve cornering traction and control.  Hellwig Products also touts the advantages of sway bars for towing and heavy hauling.  Obviously anything that controls sway and aids with towing and heavy hauling is right up our alley.
LEFT: Our guides for our visit were none other than Mark Hellwig, President of Hellwig Products, and Melanie White, Mark's daughter and Hellwig Products's Marketing Director.  Mark is the third generation owner of Hellwig Products and told us wonderful stories about his father and grandfather.  We'll be interviewing Mark in Truck Camper Magazine in the near future to learn more about Hellwig's history and products.
CENTER: If you call Hellwig Products with a product question or need customer support, you'll most likely talk with Tim Lamarsna.  Tim has been at Hellwig Products for many years and has worn many hats at the company.  We only met Tim for a few minutes, but we quickly got the sense that he's the go to guy for any Hellwig Products question.
RIGHT: The Hellwig Products factory is nestled in a California farming community and gives no exterior indication of what lies inside.
The first room we walked into at Hellwig's manufacturing plant immediately reminded us of the Rieco-Titan factory.  There were the immense punch presses, custom steel dyes, and the familiar, "Cah-CHUNK" sounds bringing back recent memories of Rieco-Titan's Bertha.
LEFT: At the front of the room were piles of long steel bars of varying thickness.  Mark explained that the steel Hellwig uses is either 4140 chromoly steel for the sway bars or 5150 steel for the helper springs.  This exact steel chemistry allows Hellwig Products to heat, form, and treat the steel into finished Hellwig sway bars and helper springs.
CENTER AND RIGHT: In these two photographs you see Garland Slover punch cutting (CENTER) and Corny Ortiz using a CNC machine to cut the steel bars (RIGHT).  While the sound of steel being cut isn't exactly music, it was neat to watch the machine precisely cut the bars to length.
Without question, the furnace area at Hellwig Products is the most extreme environment we've ever been in as a magazine.  Like something out of a Steven King novel, the furnaces have a dark and menacing presence.  Inside they glow an intense orange and yellow that screams, "Danger!  Extremely hot!".  And if the visuals weren't enough to set off your common sense alarms, the incredible heat coming off these firey beasts certainly would be.  With Mark and Melanie calmly guiding us, we settled down and enjoyed the show.
Here see Robert Rios heating, bending, and punching solid steel sway bars.  After the steel bars have been heated to 2,200 degrees, Robert moves the bars into a bending press and then into a punch press.  The punch press puts 520 pounds per square inch of pressure on the heated steel to punch holes in the bar.  Once half of the bar has been heated, bent, and punched, the other half of the bar is placed back into the furnace to be heated, bent, and punched.
On the backside of the press, an invisible laser barrier prevents the press from operating should someone get too close to the press during operation.  We learned this after getting too close with our camera and shutting down the press.  In the center photograph you see Robert signaling to us that we were in the way.
Hellwig Products manufactures a significant amount of product for other companies including Freightliner Trucks, the largest manufacturer of heavy duty trucks and chassis in North America, and Oshkosh Corporation, a leading manufacturer of defense, fire, emergency, and commercial trucks.
TOP ROW: The jig shown in these photographs was custom designed to manufacture sway bars for a major Hellwig Products client.  Again the steel is heated to 2,200 degrees before being lifted by Raymond Martinez and Roy Rader with steel tongs and placed into the jig.  Once the heated steel bar is in the jig, Raymond and Roy operate the jig to bend the metal both horizontally and vertically.
BOTTOM ROW: Once the bends are completed, the bar is again lifted via tongs and placed into a 100 to 225 degree mineral oil bath.  When the hot steel bar hits the oil there's an immediate hot flash of fire and steam as the metal descends into the bubbling liquid.  Raymond and Roy have to move fast to avoid the firey hot flash.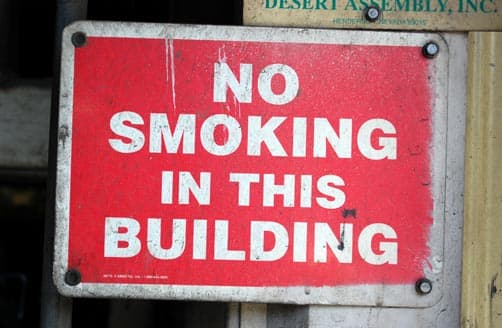 This sign hangs just outside of the area with the 2,200 degree furnaces and tubs of bubbling hot oil.  Oh the irony!
Along side of their sway bar production, Hellwig also manufactures a line of steel helper springs.  Once removed from the furnace with steel tongs, the spring is punched on one press (LEFT) and then the curvature of the spring is formed on a second press (CENTER).  After the spring has been punched and pressed into shape, it's dropped out the back side of the second press and into a hot mineral oil bath (RIGHT).
There are multiple stations for sway bar production in the Hellwig plant.  Each one is designed for a different thickness of metal bar and has a different corresponding jig.  Here Raymond and Roy hold another glowing hot orange bar, bend it around the jig, and then lower it into the hot oil mineral bath.