TCM visits the Happijac factory in Kaysville, Utah and gets permission to show their incredible state-of-the-art automated sheet metal fabrication room.

There's a lot of trust involved when a manufacturer allows a magazine free and unrestricted access throughout their facility.  Most businesses have trade secrets including materials, processes, and designs that they do not want their competitors or potential competitors to see.  For example, if Trailer Life discovered that our cat Harley writes all the articles for Truck Camper Magazine, we would be ruined!  That secret's never getting out.
During our visit to Happijac in 2007, we were shown, but asked not to photograph, a large room full of very high-end automated CNC sheet metal fabrication machines.  By far, these were the most impressive machines that we saw during our 2007 tour and we were dying to show them to you.  Unfortunately, Happijac needed to keep the machines secret as much of the technology was critical to their process and considered competitively sensitive.
Three years later, the automated fabrication machines were still most impressive machines we saw on our 2010 tour, but this time Happijac granted us permission to show and tell.

Happijac uses these state-of-the-art fabrication machines to automate their sheet metal shop, maintain quality and uniformity, and reduce costs.  Perhaps most impressively, the auto loaders and unloaders allow the automated turret punch presses to operate unmanned twenty-four hours a day, seven days a week.  If you walk past the Happijac factory at 2:30am, you'll hear, "ca-CHUNK ca-CHUNK ca-CHUNK" as the turret punches punch steel into Happijac slide mechanisms and bed lifts in total darkness.
In the above photographs you see Amy Eisminger bending slide mechanisms and Mark Hepworth bending tie-downs.  Don Payne, Product Manager for Happijac, told us that a team of three to five people can run the automated sheet metal shop and go through, "a huge amount of steel".  Domo arigato, Misuta Roboto.

In the same room, Chad Johnson sits at an SolidWorks workstation where he models new Happijac products on his computer and creates programs that run the automated sheet metal fabrication machines.
Chad took a few moments and showed us his three-dimensional computer models for Happijac's slide mechanism and turnbuckle.  He explained that everything Happijac manufactures has been modeled which allows him to quickly develop updated and improved versions of existing products.  He added that the marriage between AutoCAD and the automated machines is continuously opening up new design and product possibilities.

The rest of Happijac's factory is divided into a CNC machine shop for turning and milling, a welding shop for manual and CNC robotic welding, and areas for assembly, quality control, shipping and receiving, and administrative offices.
We found Chris Weigle operating two CNC lathes in Happijac's CNC machine shop.  These multi-tool lathes turn out many of the parts found inside Happijac camper jacks and other products.  As Chris explained it to us, much of what he does is maintain the CNC machines and check that the pieces produced are within Happijac's specifications.  Once the CNC machines are programmed and loaded with material, they too can work lights out overnight.
Adjacent to where Chris was monitoring the CNC lathes, James Porter was operating a different type of CNC machine to produce Happijac slide gears.  As the slide gears were completed, James carefully measured them for quality while monitoring the next batch on the CNC machine.

We get regularly get emails from newbies asking how a truck and truck camper is connected.  That may sound funny to the experienced truck campers among us, but we clearly remember wondering this exact question when we first came into contact with truck campers about six years ago.  The answer, for our newbie readers, is toothpaste and chewing gum.  Just kidding.
Tie-downs and turnbuckles are the products that connect a truck to a camper and keep it firmly in place as you travel.  Tie-downs are mounted to your truck and act as anchors for the turnbuckles.  Turnbuckles connect the truck and tie-downs to the camper.  Modern turnbuckles are spring loaded to better control a loaded truck camper in all possible directions of motion.
In these photographs, Josh Auton is assembling Happijac's spring loaded turnbuckles.  We watched Josh take a stainless steel turnbuckle tube, insert a linear compression spring assembly, and punch and crimp the turnbuckle together.  In the right photograph you can see one of the final crimps just under where the solid steel hook meets the tube.
During our morning meeting, Aaron Rasmussen, Happijac Company's General Manager, brought up what he believes is an often overlooked and critical part of the Happijac tie-down and turnbuckle system; the frame mounted front stabilizing I-beam truss and centering guide locks.  Aaron stated that these components are unique to Happijac's tie-down and turnbuckle system and are the key elements that allow Happijac's tie-down and turnbuckle system to control a truck camper's yawl, pitch, and roll characteristics.

We had hoped to see Happijac's welding robot welding camper jack tubes, but the robot had already completed its jack run and was off duty when we arrived.  Thankfully, the robot's human co-workers, Dwain Hansen and Juan Pedoza, were on the job and grinding and welding camper jack components.  Once the jack tubes have been welded, they are sand blasted, primed, and power coated in a five stage powder coating process.
While we were at Happijac, we learned about Happijac's jack refurbishing service.  If you send in your Happijac jacks into Happijac, they will bring the jacks back to factory specifications, including all lubrication and maintenance, for $59.95 per jack.  Aaron Rasmussen added that Happijac will go above and beyond what most people expect to help get your camper jacks in perfect working order.  If a jack is damaged or unrepairable, Happijac will quickly make that assessment and contact you accordingly.  If you're interested in having your Happijac jacks refurbished, contact the factory.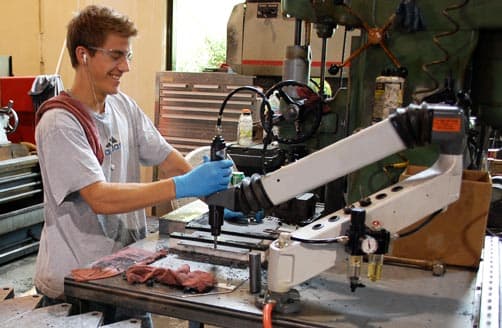 This looks like an image right out of some futuristic science fiction movie.  Is Matt Whittle arm wrestling with the robot arm?  Not exactly.  Matt is guiding the robot arm in a kind of choreographed production dance.  When the robot arm finds it's mark on the front tie-down anchor, it machines a hole.  While Matt and the robot arm won't win Dancing With the Stars anytime soon, they seemed quite happy and productive together.  Just be careful Matt, one day the robot may take the lead.

Lowell Hall is responsible for camper jack head assembly and testing.  While we observed him building a gear assembly, he told us stories about how Happijac continuously looks for areas to improve the quality of their products.
For example, when a Happijac jack comes back to the factory for service or refurbishing, Lowell is one of the technicians who studies it to see if there are areas that could be improved during production.  One area they found that could be improved was the moisture seals around the jack head motor assemblies.  As a result, every Happijac jack head is now carefully sealed at every point of possible water intrusion.  Lowell even showed us exactly where these seals were.
To further assure quality to the consumer, Lowell tests each assembled jack head at his work bench.  He watches the amperage meter for any irregularities and listens intently to the motor.  He could do this testing with his eyes closed as he knows exactly what a motor should sound like and what it should not sound like.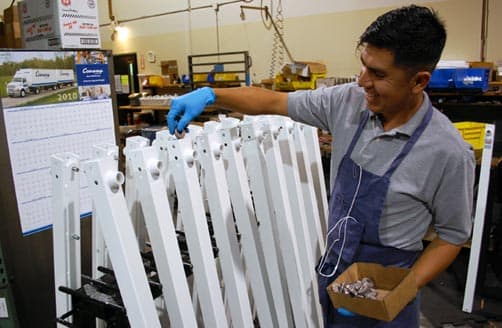 As we walked between stations, we took this photo of Edgar Mendoza final assembling Happijac camper jacks.  He's installing the gear system that raises and lowers the jacks.  These gears will be well lubricated before the jacks are completed and tested.  Speaking of jack testing…

Every jack that leaves the Happijac factory is physically tested at it's maximum rating on Happijac's custom test stand.  In these photographs, Edgar monitors the amperage draw as the jacks are put through the test to ensure the jacks are operating within Happijac specifications.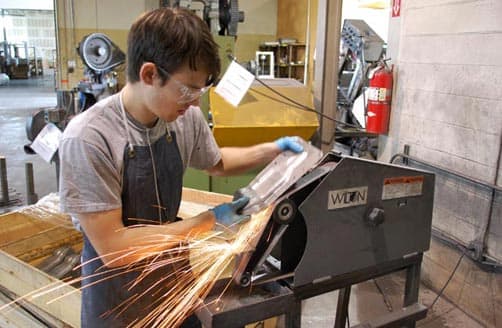 You've probably noticed in our factory stories that we love anything that sparks.  If there are sparks flying, we're there.  I can honestly say that we ruined at least one perfectly good Nikon lens from getting too close to flying sparks.  We can't help it.  They're so pretty.
Here Michael Dyatt is helping to feed our spark addiction with a gnarly belt sander and a front tie-down anchor that needs some rough edges addressed.  No fancy CNC machines here.  Just sparks, sparks, and more sparks!  Rock on Michael.  And thanks for the fix.

Several truck camper manufacturers use Happijac slide mechanisms.  If you own a Lance or Eagle Cap truck camper with a slide-out, we can almost guarantee you own at least one Happijac slide mechanism.
In yet another room in the Happijac factory, Happijac has a dedicated slide-out assembly team.  We visited the slide-out team and observed Gary Oakley as he assembled and tested one slide-out mechanism every few minutes.
Gary also showed us plans for a special order slide-mechanism for Eagle Cap and explained that each manufacturer orders their slide-out mechanisms with very specific dimensions.  Gary added that they often build one-off slide-out mechanisms for factory prototypes and are involved in the research and development process with the camper manufacturers.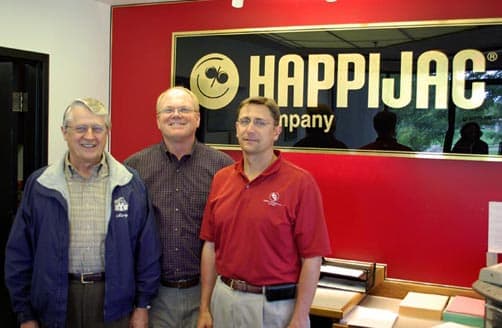 The final official photograph we took on our 2010 tour was a group shot with (left to right) Marty Rasmussen, Founder of Happijac, Don Payne, Project Manager, and Aaron Rasmussen, Marty's son and the General Manager of Happijac.
As we rounded up our last day at Happijac, Angela and I experienced a surreal feeling.  Five months and a few weeks after leaving our home in Lancaster, Pennsylvania, we were finishing our last factory tour.  What once felt like a never ending mission (in good ways and bad), was actually coming to a close.  We were a bit sad, but mostly relieved and excited to get home and see our family and friends.
Now all we had to do was get into our truck camper and drive about 2,100 miles.  And wouldn't you know we did that drive in just three days!  We were so excited to get home we did nothing but drive, eat, and sleep, never at the same time of course.
Upon our arrival, our house was a mansion, our shower a gift from the gods, and our washer and dryer prizes beyond our wildest dreams.  Shore electric power literally flowed from our walls and wireless internet was everywhere.  We truly love truck camping, but it was so good to be home.  Until next time.
For more information about Happijac Company, visit their website at www.happijac.com.