Truck Camper Magazine visits the Adventurer factory in Yakima, Washington.  After forty-one years, it's time to meet the new Adventurer.

Most of the manufacturers we've visited so far on our 2010 industry tour have made changes to their facilities, teams, or manufacturing processes since we last saw them three years ago.  Some companies have even made changes in all three categories.  That said, no manufacturer has made more changes all three categories than Adventurer Manufacturing.
The changes actually began in the Spring of 2008 when Adventurer announced it would be moving from Abbotsford, British Columbia to Yakima, Washington.  The previous Fall we had visited Adventurer in Abbotsford and, like many in the truck camping industry and community, we could not have been more surprised by the announcement.
Two years after their move to Yakima, we pulled into the new Adventurer plant in our 2010 Adventurer 90FWS.  We were excited to see Adventurer's new facility, meet their new management and production teams, and learn about any new manufacturing processes.  It was time to meet the new Adventurer.
LEFT: Adventurer's offices, lamination, and production lines are located under one roof in a building previously set up for camper production by Western RV.  Having the building already set up for camper production allowed Adventurer to get their new production line up to speed quickly.
CENTER: Adventurer's camper production line runs straight back and through the building.  Here you see 2010 Adventurer 950B campers emerging from the production line and waiting for a final quality control inspection.
RIGHT: About two dozen completed campers were waiting for delivery in front of Adventurer's building.  Most of this inventory is already sold to Adventurer dealers throughout the United States and Canada.
We interviewed Dave Frampton, Product Development Manager, and Dave Catron, Engineer, when Adventurer debuted the 80SK back in February.  During our visit in July, Dave and Dave were working on a new camper design.  Naturally we asked if we could see what they were up to and take a few photographs.
LEFT: Pictured here is Dave Frampton's AutoDesk design station with the new camper on his monitor.  Burk Morgan, Adventurer's Director of Sales and Marketing, told us that we should be able to announce the new camper sometime in September.  Until then, it's a secret.
CENTER: Dave Catron showed us how he models camper systems in three dimensions using AutoDesk Inventor.  Here he's showing us a tank system for an Adventurer truck camper.  Dave explained that three-dimensional computer models allowed him to see how the system would work and improve the design before building a prototype.
RIGHT: Then Mr. Catron showed us this model and explained that it was a, "knife valve" for a camper tank system.  Of course anyone could see that this is clearly Darth Vader's Tie-Fighter from Star Wars.  Nice try Dave.  May the farce be with you.
LEFT: There are quite a few Adventurer team members who came over from Western RV when it closed in the Spring of 2008.  One of the team members from Western RV who made the move is Marvin Kern.  And just as he did at Western RV, Marvin works the CNC aluminum and wood saw at Adventurer.
CENTER AND RIGHT: Adventurer always builds campers in runs of ten.  For example, they will build ten Adventurer 950B's and then ten Adventurer 80W's.  When we were at Adventurer, they were completing a run of ten 950B's and starting a run of ten 80W's.  As those two models were on the production line, the welding team was preparing ten aluminum frames for a run of ten 90FWS campers.
To build a set of ten aluminum frames, Axel Guido first builds one frame on a jig table.  Then he stacks the aluminum pieces for nine more frames on top of that first frame and welds all ten frames at once.  Behind Axel Guido in the center photograph, Andrew Catron, Dave Catron's son, is building roof vent frames.
Adventurer uses a polyurethane hot melt roll coater and pinch roll system for their lamination.  This lamination system is common in the truck camper industry and has proven itself to be fast and reliable.
LEFT: To begin the lamination process, Ryan Bettis, the lamination team supervisor, runs sheets of interior luan and exterior filon fiberglass through the roll coater where the polyurethane has been heated to a specific temperature.
CENTER: This photograph shows the lamination area from above.  In the center right you can see Ryan and the roll coater.  In the center left you can see the lamination table where camper walls are built and then run through the pinch roller located in the center right of the photograph.  Here the lamination team is placing panels onto the table adhesive side up to receive the next layer of the wall build.
RIGHT: With the adhesive coated luan panels in place on the lamination table, the team then brings over the aluminum frames.  This is a roof frame for an Adventurer 90FWS.
LEFT: With the roof frame now placed onto the adhesive coated luan panels, a second layer of panels is run through the roll coater and carefully placed onto the frame.
CENTER: With the lamination layers now completed, the team pushes the roof through the pinch roller.  After the pinch roller, the adhesive needs several hours to fully cure.
RIGHT: The next morning the same lamination team will rout the frames they laminated the day before.  These side walls had been completed a few days before our arrival and were waiting for the camper production line.
LEFT: In Adventurer's cabinet shop, Francisco Barrera was using a pneumatic framing table.  Framing tables allow Adventurer to screw together their cabinetry at precise angles in pre-drilled holes which hide the screws.
CENTER AND RIGHT: Later we saw Francisco preparing to laminate a set of cabinetry walls.  After building and glueing the walls, the cabinetry walls are placed into a press where the glue is allowed to set under pressure.  This lamination process dramatically increases the strength of the cabinetry walls.
Rather than have a dedicated quality control check only at the end of the production line, Adventurer has a team member who walks the entire production line full-time and checks the quality of the campers throughout their production.
Camper production moves fast, but it's at a pace where one person can walk a camper production line several times an hour and see how each station is doing.  We know this because that's exactly what we do when we're on a camper production line.
As we walked up and down the Adventurer production line, we saw Miguel Garcia here, there, and everywhere checking each station along the way.  And everywhere he went he had his red squawking tape at the ready.
LEFT: In this photograph, Miguel is inspecting a fiberglass front nose on a 950B and has found a blemish in the fiberglass.  Notice he's not only looking with his eyes but also running his fingers along the material to find imperfections.
CENTER: At the other end of the production line, Miguel is observing the laminate flooring installed on an 80W.  Here he was making sure there were no air bubbles in the laminate as they are difficult to remove further down the line.
RIGHT: We just never knew were we would find Miguel.  In this photograph he's fixing some basement screws in a 80W that were not quite straight.  Like any good quality control professional should be, Miguel was a little neurotic about quality.  If you look closely at this photograph you can see that he even wears the red squawking tape around his wrist.
LEFT: Duct taped to the front wall of every truck camper on the Adventurer production line is what Adventurer calls a line traveler.  A line traveler is a packet of papers that include a build sheet, production checklist, and quality control checklist.
Note that this unit was ordered without a Fantastic Fan as noted by the red all-caps writing that says, "NO FANTASTIC FAN".  Whoever ordered this camper, no Fantastic Fan for you.
CENTER: The production checklist is where the production team signs off on each and every step during a camper's build.  This allows Adventurer to maintain accountability, discover problems, and find opportunities to improve quality control.  The production checklist also tracks the model and serial number for every component going into a camper.  A complete copy of the line traveler for every camper is kept at Adventurer so that quality control can be continuously monitored and improved.

RIGHT: Finally, every line traveler also serves as a quality control checklist.  Miguel uses the quality control checklist to sign off on every aspect of quality control as the unit moves down the line.  Other production line team members also sign off on every unit.
LEFT: Next to the lamination table, Alberto Lopez is responsible for cutting the foam insulation using a hot wire cutter.  This allows the foam insulation to be cut precisely for a tight fit with Adventurer's wood and aluminum camper frames.  The wire is quite hot as you can see from the puff of smoke above the insulation.
CENTER: After the wall components are laminated, the sections are routed out for the production line.  Here Cy Mullen is routing a wing wall a few feet from the lamination table and pinch roller.

RIGHT: Once the plumbing and gas lines are installed on a camper, they are checked using pressure tests.  In this photograph, Juan Ortiz is testing a camper's plumbing and holding tank system to make sure it can maintain pressure.  Any drop in pressure could mean there's a leak somewhere in the holding tank system.
LEFT: Before an Adventurer's sidewalls are installed, the interior cabinetry, plumbing, electrical systems, appliances, and molded fiberglass bathrooms are installed.  This photograph was taken about a third the way down the production line and shows a cross section of a camper before the passenger-side wall is installed.  At the front nose of the camper, Alberto Nateras is installing carpeting in the overcab.
CENTER: Slide-outs are manufactured on a parallel production line to the main camper production line.  Here Anthony Niemann is completing a double bunk slide for a 950B.  The 950B is the only camper on the market to feature a bunk slide and is well suited for families with children.
RIGHT: In a room just off the end of the production line, Jerry Guzman manufactures the head knockers and valances for Adventurer campers.  Adventurer brings as many things as possible in house to further drive down costs and improve quality.
Adventurer has a clever and efficient way of hoisting a camper roof onto the top of a camper on the production line for installation.  The process begins by placing metal inserts with hooks in the places where Fantastic Fans will later be installed.  With the inserts placed, the roofs are connected to a crane in the ceiling that then lifts the roofs up and over a new camper.  As the roof makes it's ascent, the roof installation team guides the roof gently into place on the new camper.  With the roof in place, the roof team then screws the roof down.
LEFT: With the roof installed, the roof team takes over to install the TPO skin, vents, and other features onto the roof.  In this photograph, Danny Ontiveros (left) and Steve Vosberg (right) install the roof vents and complete the TPO roof installation.
CENTER: After the roof vents are installed, Danny and Steve install the rear roof rack and add a final seal around the TPO seam.

RIGHT: Here Danny is applying self leveling Dicor sealant to a roof vent.  Rather than apply the Dicor with individual Dicor tubes, Danny used an applicator connected to a large Dicor drum.  By using the drum and applicator, Danny is able to complete a roof without having to reload with individual containers of Dicor.  Anything that saves time on the production line without sacrificing quality helps Adventurer to reduce costs.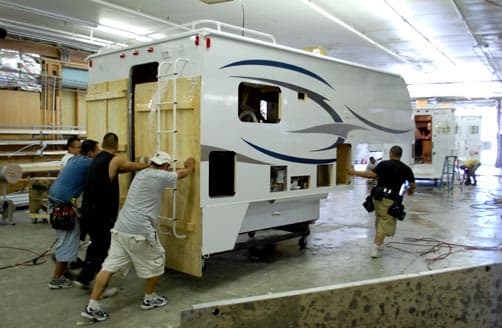 Throughout the day on any truck camper assembly line the campers need to be rolled down the line to next station.  In this photograph the Adventurer production team pushes a 950B toward final finishing.
LEFT: At the end of the production line, Daniel Sanchez in final finishing inspects the seals around the Happijac jacks and takes care of any issues identified by Miguel with red squawking tape.
CENTER: Final finishing is also where an Adventurer gets it's comfort-step bumper.  More than any other feature on our 2010 Adventurer 90FWS, the comfort-step bumper gets the most compliments.  We like how the comfort-steps are spaced like residential steps and feel solid when entering or exiting the camper.  The comfort-step system is also very quick and easy to fold up before traveling.  If you're someone who's ever been frustrated with camper steps, be sure to check out Adventurer's comfort-step bumper.
RIGHT: Another detail added at final finishing is the rear camper logo.  Chris Leingang is responsible for adding all of the exterior graphics at Adventurer and he completes his task at various points on the production line.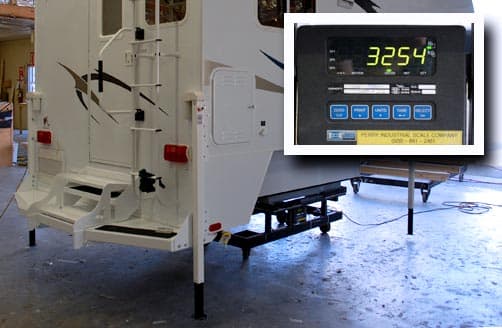 Every camper that comes off the Adventurer production line is individually weighed on a GSE 350 industrial scale.  Once again we are very happy to see a truck camper manufacturer weigh each and every camper that leaves their factory with options.  The camper in this photograph is a 2010 Adventurer 950B and the dry weight with options was 3,254 pounds.
Even more exciting than seeing each and every camper weighed as it comes off the production line is seeing that weight clearly posted on each and every camper.  Adventurer posts their standard dry weight on the outside of their campers and the weight with options on an inside kitchen cabinet.
LEFT: For the 2010 truck camping season we are using a 2010 Adventurer 90FWS.  We have really enjoyed our camper and it's been our home since we left Pennsylvania on April 12th.  Our Adventurer's exterior weight sticker lists the weight of the camper at 3,096 pounds with full water (38 gallons / 316.9 pounds) and full propane tanks (2x 20 pound tanks / 40 pounds).
CENTER AND RIGHT: The inside weight sticker lists the weight of the unit at 3,244 pounds dry with options.  Add back in the water (38 gallons / 316.9 pounds) and the full-propane tanks (2x 20 pound tanks / 40 pounds) and you get 3,600.9 pounds.  The difference is 504.9 pounds of options.
It was very good to see Adventurer Manufacturing doing so well in Yakima, Washington.  If we didn't know the company had moved 250 miles south from Canada just two years ago, we would have had no idea.  All of the proverbial moving boxes have long since been unpacked and the team is clearly focused on designing, building, and selling truck campers.  Full steam ahead.
So what's the real story here?  Adventurer's new vision.  With the move behind them, the new management team has taken a fresh look at every aspect of the forty-one year old company and is charting a new course forward.  After talking with Burk Morgan, Dave Frampton, and Dave Catron, we expect to see plenty of innovative new camper designs, new dealerships coast-to-coast, and, most importantly, a renewed passion to make Adventurer truck campers a strong and compelling value in the marketplace.