Michael and Paula Webster reveal their triumphs and near-disasters from living five years in South America in a Four Wheel Camper. This is what living a life of purpose on the road can look like; the good and the nearly sunk, blown over and sand stormed.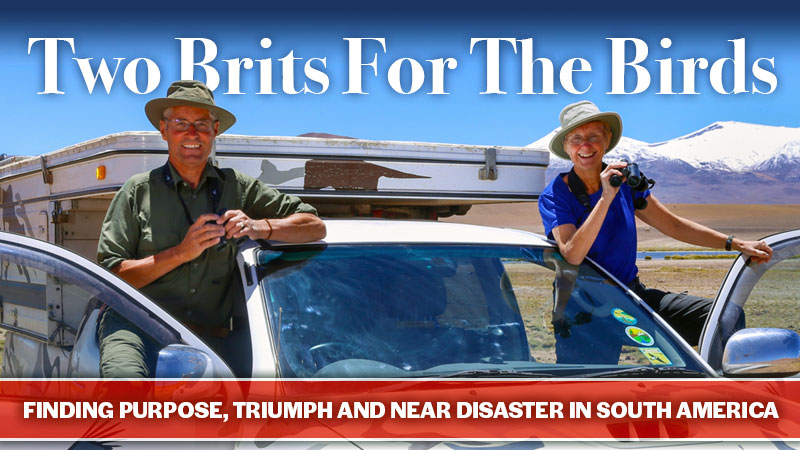 Last December we published a short post about a remarkable husband and wife team who recently spent five years exploring South America full-time in a Four Wheel Camper rig. What got our attention was their incredible wildlife film and photography work promoting conservation on the continent and around the world.
Michael and Paula Webster responded to our post and offered a much deeper dive into their life on the road. As you might imagine, what we published barely scratched the surface. Even what follows cannot do justice to the experience they enjoyed – and at times endured and nearly lost everything – to access and camp in the remote places they needed to reach. These two have some serious grit.
For the most complete picture possible, Michael has completed a new book, The Condor's Feather; Traveling Wild In South America. The book debuts today, May 17th, and features their Four Wheel Camper rig on the cover. Looking for some authentic overland-inspired summer reading? Click the link.
Perhaps the most exciting news is that the Websters are returning to the road in 2022. Only this time they're coming to North America to continue their photography and filmmaking efforts. Maybe we can talk them into a truck camper rally, or two. I can certainly guarantee they'd meet a few more birds.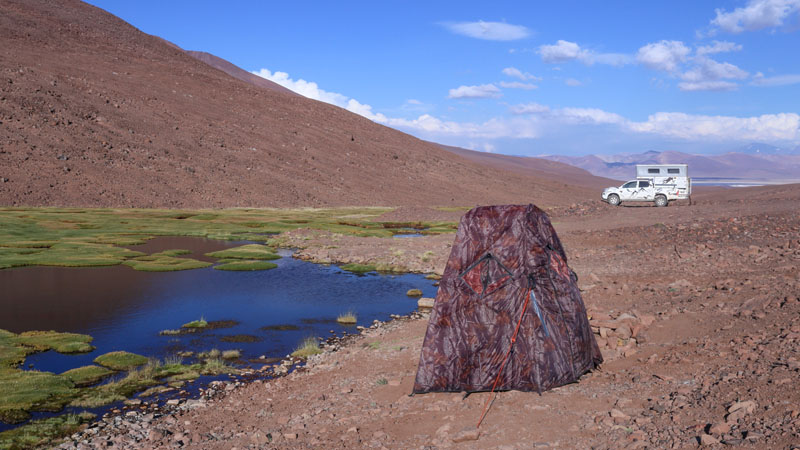 Above: Filming in the remote Andes
Tell us about your mission on the road.
Our mission is to help people enjoy and protect wildlife and conserve natural habitats.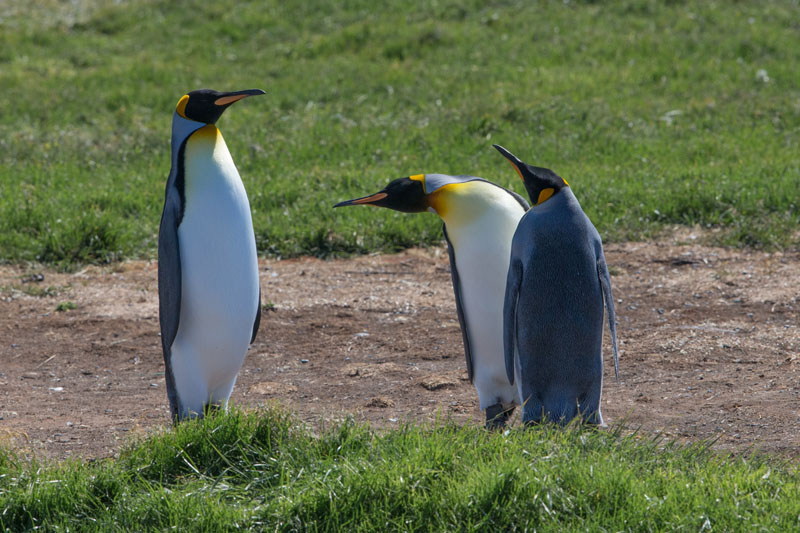 Above: King Penguins in Tierra Del Fuego
Why South America and not somewhere closer to home?
South America is the best continent on the planet for wildlife. Its biodiversity is stunning. There are more bird species here than on any other continent. We had never visited it before and wanted to explore such an amazing place.
It's also a relatively easy place to get around. Virtually everywhere speaks Spanish. To import a vehicle you don't need any expensive paperwork, just a free Temporary Import Permit for each country.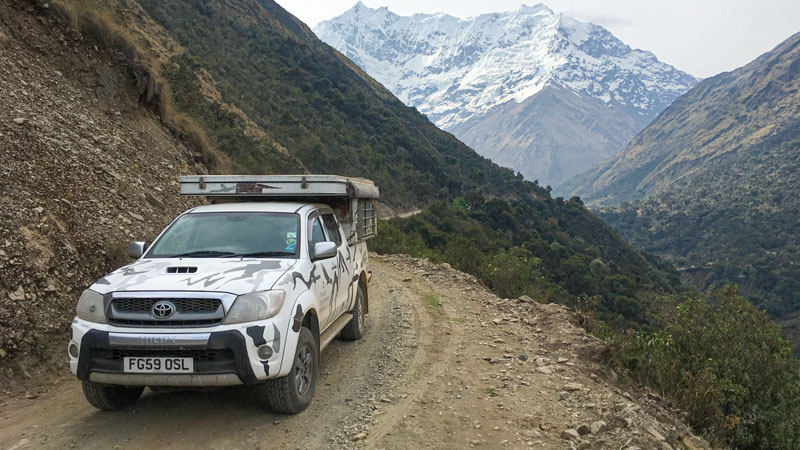 Above: Through the Peruvian Andes
How did you get involved in your conservation efforts in South America?
We have always been actively involved in promoting wildlife conservation so we wanted to do the same in South America. We arrived in Buenos Aires and went straight to the offices of Aves Argentinas, the major bird protection organization in Argentina. We asked them how we could help.
Obviously, they were a bit mystified by these two Brits knocking on their door and offering to make films for them for free. Eventually, they got to know and trust us and it was this organization that asked us to film the rare and iconic Hooded Grebe in Patagonia.
Our film, Tango in the Wind, was instrumental in opening doors for us all over South America. Conservationists all over the continent started to ask for our help to make films for them and this is how we got to access some of the wildest places in South America.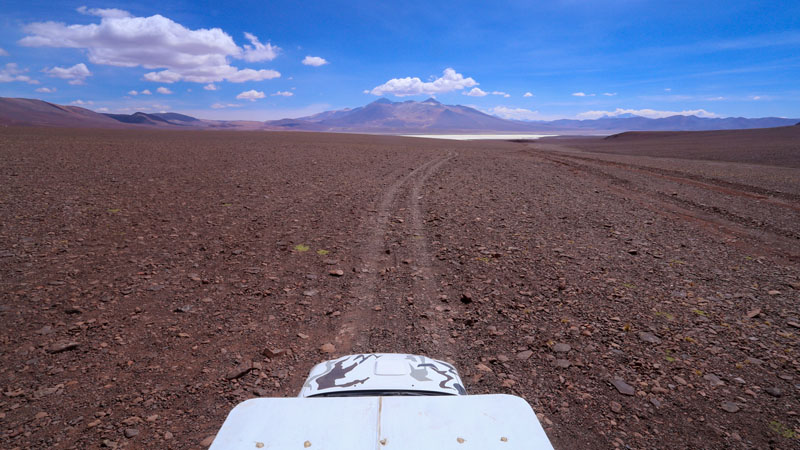 Above: Over the top of the Andes
You worked in business (Michael) and teaching (Paula). Is this your job now?
One of the most common questions we were asked on our journey was, how do you fund it? We used to say, "He funds me and I fund him!"
We make our films purely on a pro bono basis. We do it because we are passionate about the conservation of habitats and wildlife and have been ever since we were teenagers. We are lucky in that we both had good jobs that gave us the opportunity to retire early and live our dream.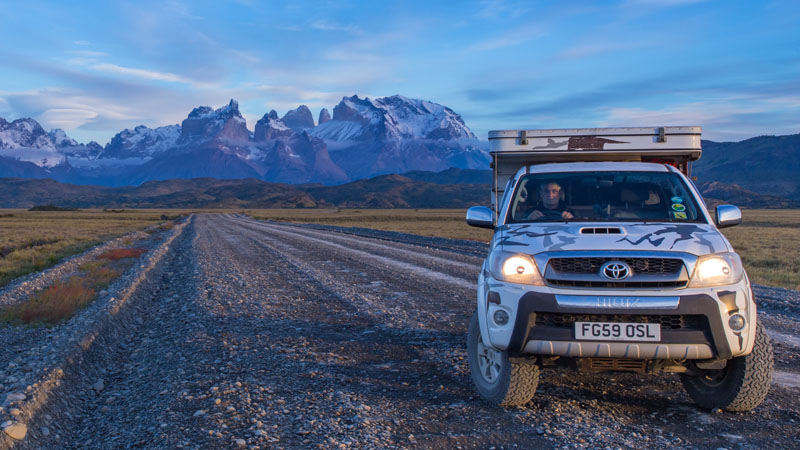 Above: Torres De Paine National Park, Chile
Tell us about your day-to-day living on the road, and how you plan where to go.
When we were driving, we got into a routine. We would get up early, empty our baggage from the truck into the camper and set off straight away. Paula usually did the navigating, looking out for potholes and stray guanacos (closely related to the llama) and I drove. After a couple of hours of traveling we would stop for breakfast, a flask of coffee, and a marmalade sandwich that we'd made earlier.
Then another few hours of traveling and a stop to eat lunch. A bit of bread, a tomato, and a bag of crisps – nothing fancy. As we drove we spent hours discussing our strategy for our next film, thinking up a script, trying to get a good story. To entertain ourselves we would listen to podcasts and BBC radio programs.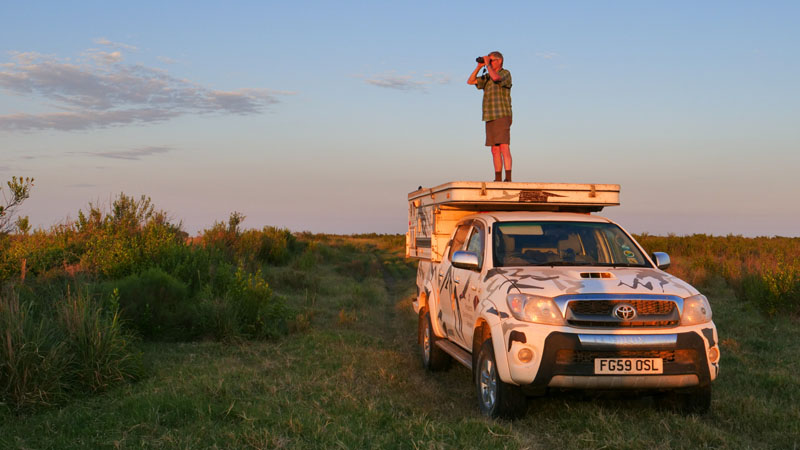 Above: Birdwatching in remote grasslands, Argentina
Distances are vast in South America so, after lunch, we would set off on the road again. If the fuel gauge dropped to three-quarters full we tried to fill up straightaway.
At about 4pm, Paula would start pointing out suitable places to camp for the night. I would usually ignore her and say we had plenty of time to find a campsite before it got dark. We liked to find a quiet spot just off the main road; it's a balance between being hidden and being safe. We sometimes used iOverlander to locate places to camp, but often relied on our own intuition.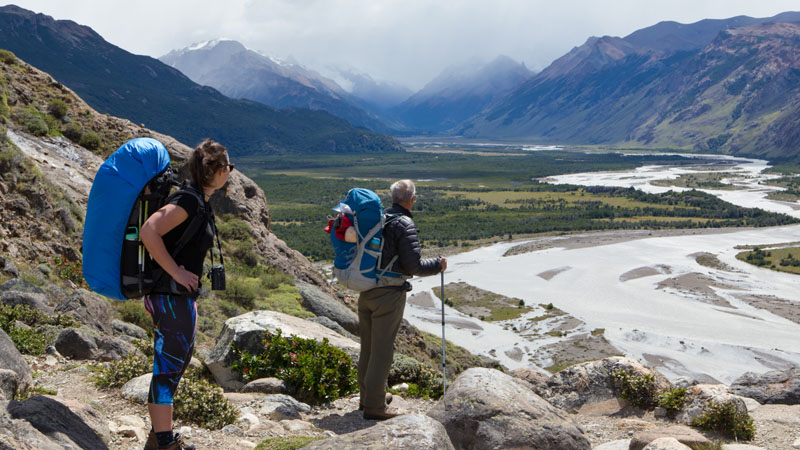 Above: Walking in El Chalten National Park, Chile
We usually had a destination to head to. We felt it was important to attend Bird Fairs and Ornithological Conferences which meant trips to Buenos Aires, southern Chile, Iguazu, and Colombia. We were also asked to go to specific places to make films for people; for example Patagonia, the Amazon rainforest, and the savannas of Colombia.
We were in Lima when we were suddenly asked to make a film for the Amazon Conservation Association. That meant a five-day drive to Puerto Maldonado on the banks of the Rio Madre de Dios.
The distance from Tierra del Fuego up to the Caribbean coast of Colombia is 10,000 kilometers but we clocked up over 100,000 kilometers on our travels. So you can imagine we did a lot of backtracking and seeking out unknown parts of the continent.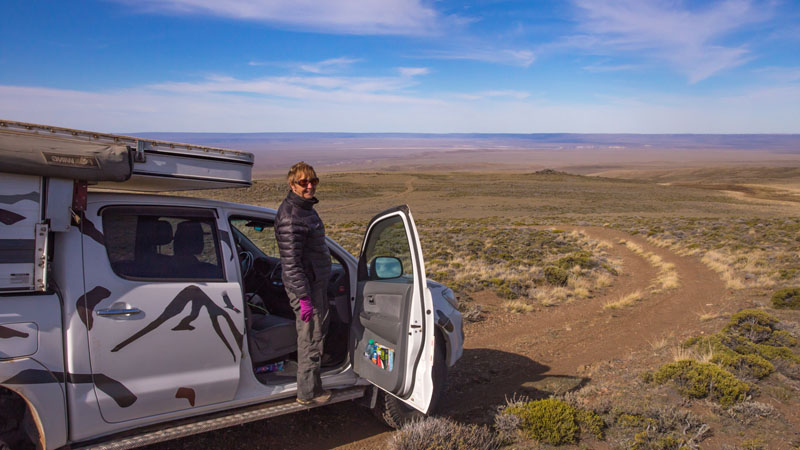 Let's talk about your camper, why did you choose a truck camper, and more specifically a Four Wheel Camper for your travels?
We are based in the United Kingdom so we needed a rig that would fit in a 20-foot container to be shipped over to South America. We bought a Toyota Hilux truck in the UK as they have a very good reputation for reliability and are manufactured in South America.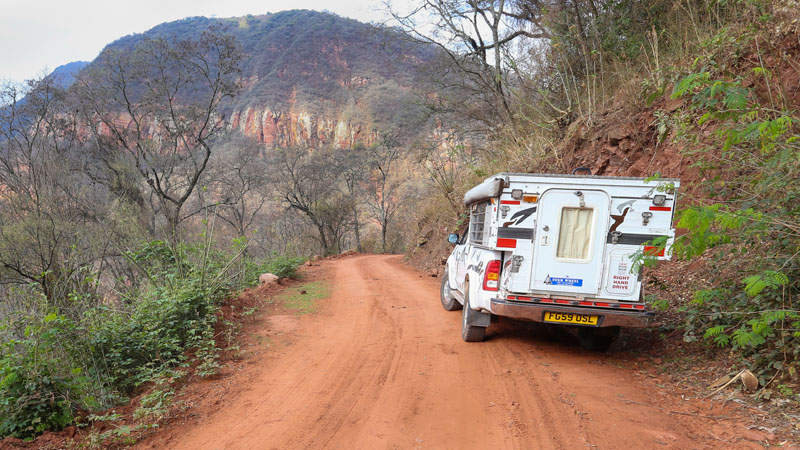 Above: Negotiating narrow roads in Argentina
We decided a Four Wheel Camper was going to be the ideal home on wheels for us as it was well-made, light and small on the outside, but big when opened up. It fitted well on our double cab Hilux, gave us 4×4 capability, and the pop-top meant it drove really easily. Most of the time we were unaware that we had a camper on board, even when driving through the winds of Patagonia.
We imported our Four Wheel from California to the UK and had it fitted to the Hilux. We had to beef up the suspension to cope with the extra weight and fitted a new double-size fuel tank. Then we sent the whole lot, full of all our photographic and camping gear, back over the Atlantic to Buenos Aires. We love the flexibility that a truck camper gives us.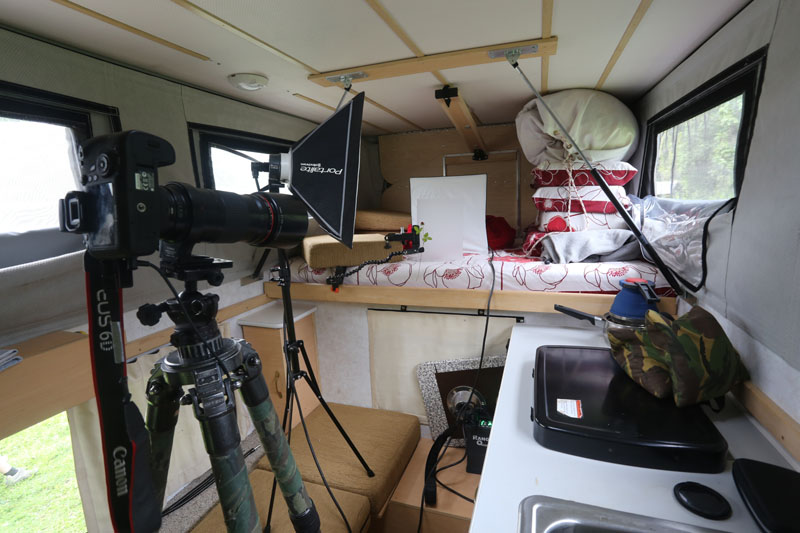 Above: Inside their Four Wheel Camper
Were you living full-time in your camper when you were in South America?
Yes. Occasionally we would check into a hotel for a hot shower or to get a WIFI connection. To be honest, we found the bed in the camper more comfortable than the cheap hotels where we stayed. Sometimes people would invite us to stay with them in their house and we always enjoyed the luxury of a washing machine and a home-cooked meal.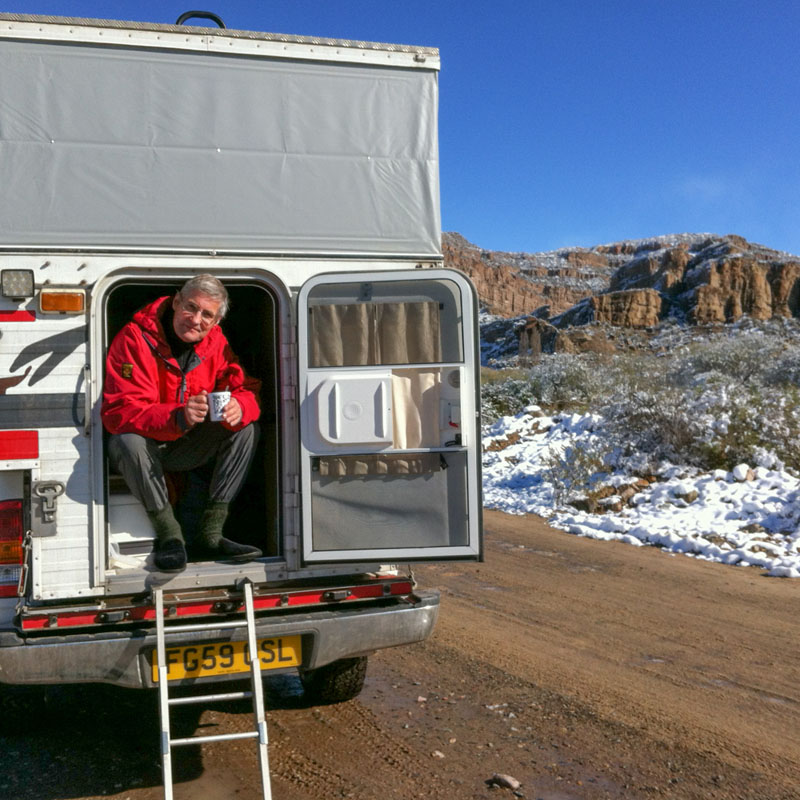 That's a small space to live in for five years. How did that go?
Yes, it is a bit on the small side. At the end of five years, we certainly haven't got any secrets from one another! We got into a routine that meant we used the space efficiently.
First thing in the morning I would get up, push the bed back to reveal the stove, and make a cup of tea. Paula doesn't get up until she's had a cuppa. Then I would get dressed and vacate the camper to give Paula a bit of floor space for her to get dressed. In the evenings one of us had to lie on the bed while the other would cook.
We kept our meals simple; pan-fried steak with onions and instant mashed potato was a favorite. Pasta with tomato sauce was simple to prepare. To relax we would read books on our tablets – no need for a light! Occasionally we would perch a laptop on a cushion between us on the bed to watch a film. For a bathroom, we had a tiny porta-potty and used the kettle to heat up water if we wanted a wash. It certainly makes you realize what you actually need in life and what you can do without.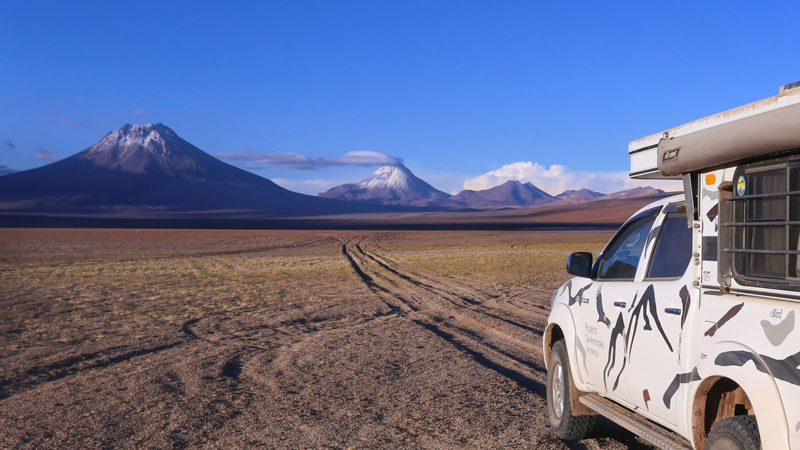 Above: Through the Andes in their Toyota and Four Wheel Camper
Where are some of the highlights of places you've visited in South America?
South America is a huge continent and there are vast areas we never reached. We spent a lot of our time making films and staying put in one place. We tended to concentrate on traveling the length of the Andes, the longest mountain chain in the world, but we also made short side trips to Paraguay and Brazil.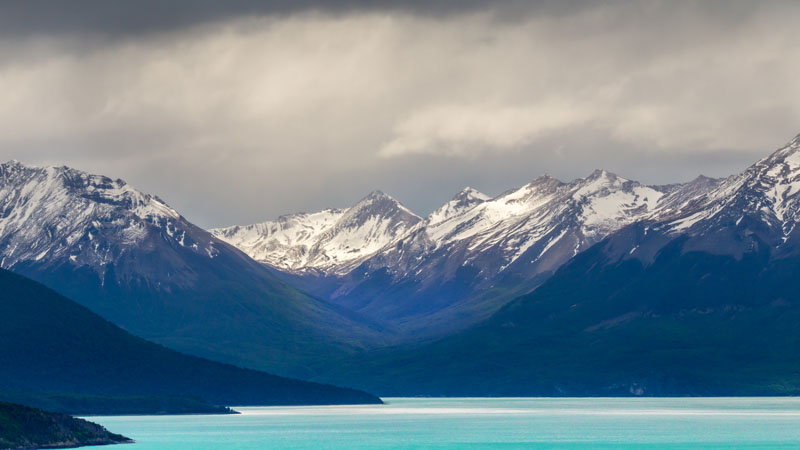 Above: Patagonia, Argentina
For me, my favorite place was Patagonia; clear azure skies, unending plains, snow-capped mountains, and so much special wildlife.
Above: Camping on the beach, northern Chile coast
Paula particularly enjoyed relaxing on the Chilean coast watching whales pass by. Of course, exploring the Amazon jungle was a special experience, full of macaws and so many monkeys.
We both were awed by the majesty of the Iguazu waterfall in Argentina as well as by the arid bleakness of the Atacama desert (pictured below).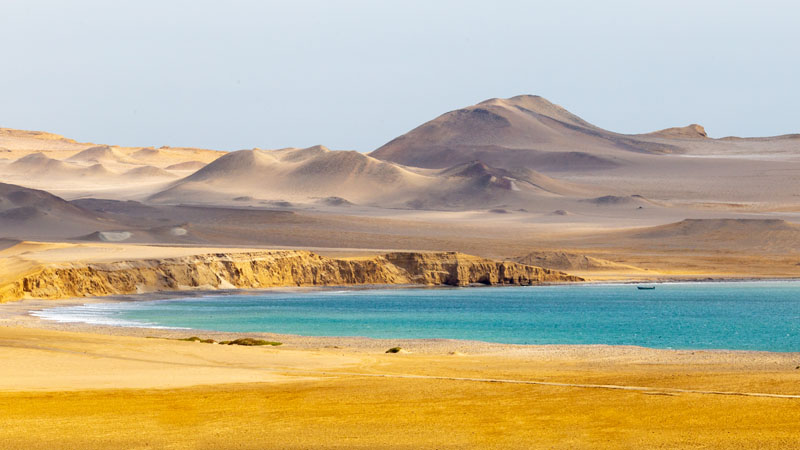 Before going to South America we went on test runs to the Shetland Islands off the north coast of Scotland as well as a two-month trip around Spain. These were important to iron out our engineering issues.
What have been some of the biggest challenges?
We've certainly had some scary experiences on the road. We've been caught in a tornado-like dust storm in Patagonia when I thought the wind would blow the truck over. If it hadn't been a low pop-up camper it would have done.
In Northern Argentina, we were nearly stranded halfway up a mountain when the rains came early. To escape we had to drive down the mountainside and ford two raging torrents that had been streams on our way up. How we didn't get swept down by the force of the water I still don't know. Four-wheel drive was an absolute no-brainer for what we were doing.
In Colombia, we were driving along the coast looking for Caribbean flamingos when I foolishly crossed an area of water right on the shoreline. I hesitated and all was lost. The truck started to tilt and sink down into the soft sand. The tide was coming in and we just knew that the truck was going to be swept out to sea. Strangely we were totally calm.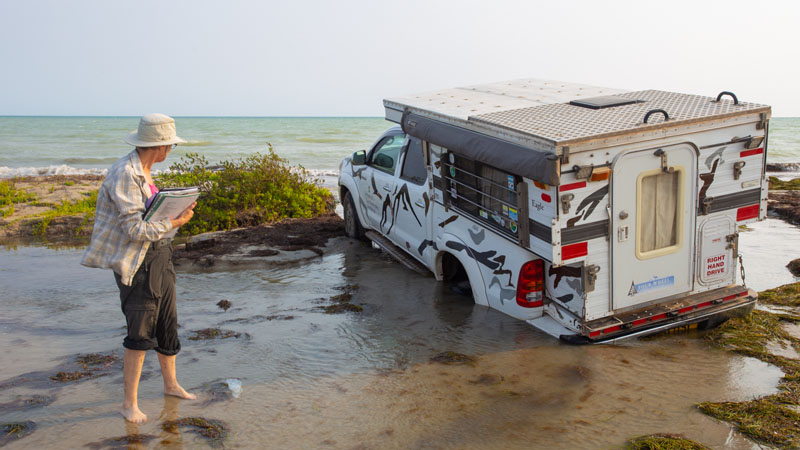 We knew it was the end and there was nothing we could do except take photos for the insurance company. You'll have to read my book to see how that ended up!
We did have many happy, memorable times. Seeing an anteater for the first time, watching its long bushy tail come over its head and then it curling up to sleep in the coolness of the forest. Taking part in the premiere of our film, Tango in the Wind, in a theatre in Iguazu. Enjoying king crab in a warm bar in Tierra del Fuego as the wind howled outside and the rain crashed against the windows.
Did you have any challenges communicating with the people you met?
Fortunately, Paula had been learning Spanish for quite some time before we went to South America and that was really useful in building up a network of contacts. We would never have got pushed into a cage full of pumas if it weren't for Paula's language skills.
Virtually all the countries in South America speak Spanish and generally, the people we met were very kind and appreciated her efforts to speak it. On the Valdes Peninsula, we had dinner with a Park warden and some of her friends. Paula referred to one of the friends as a caballo (horse) instead of using the word caballero (gentleman) and they fell about in hysterical laughter and immediately became firm friends.
We felt frustrated in Brazil because they speak Portuguese there and we couldn't talk to people.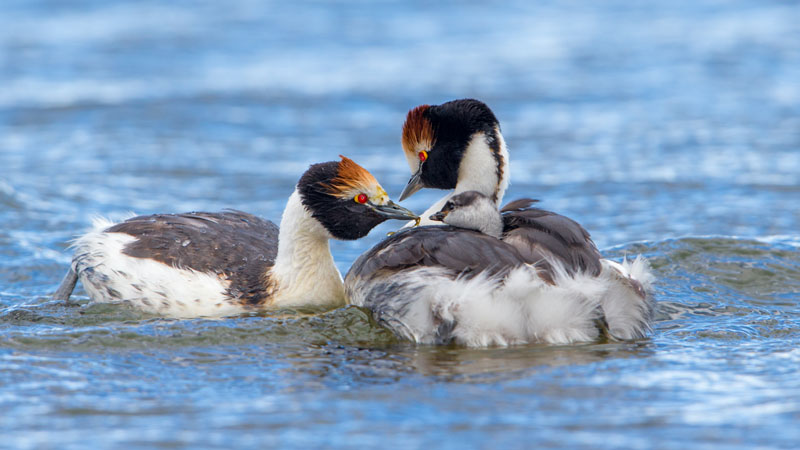 Tell us about camping and traveling to get closer to the birds.
The Hooded Grebe (pictured above), the star of our film Tango in the Wind, lives on top of the high plateaus of Patagonia. To reach the lagoons where the bird breeds was a challenge.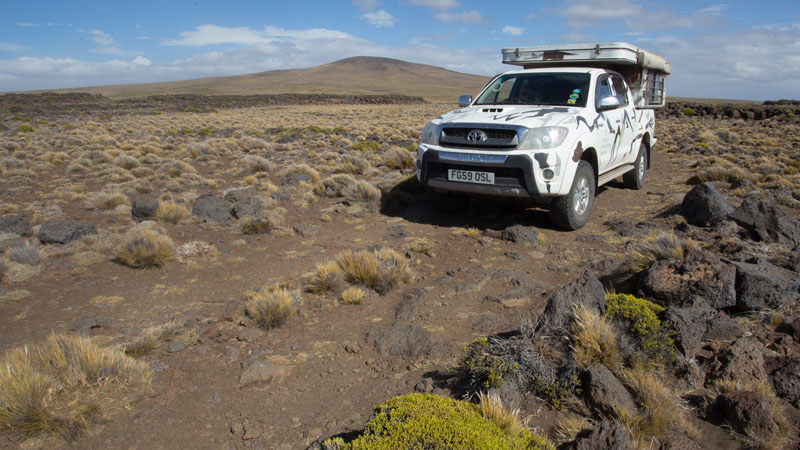 Above: Across a volcanic lava field in Patagonia
First, we had to drive up the steep slope to get to the top of the plateau. There are no roads just tracks used by shepherds. The tracks are narrow, rutted, and full of rocks. Once on the top, the real problems begin. Here there aren't even any tracks.
We had a set of GPS coordinates that gave us the location of the lagoon where the Grebes had been seen and we set off in that general direction. There were dried-up river beds to negotiate, deep gullies and the entire landscape was a lava field, strewn with boulders and smaller rocks. We had to stop and retrace our path several times as we couldn't safely get around obstacles. Finally, we found the lagoon and, to our delight, the grebes were still there.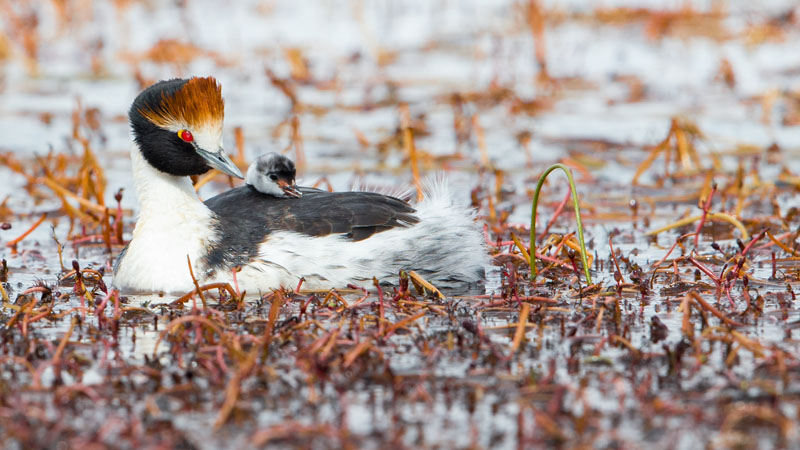 There was nowhere to shelter from the wind so we set up camp on the shore of the lagoon. Some nights we dared not to raise the pop-top because of the fierce Patagonian winds. Paula slid into the Four Wheel and slept on the seats while I camped in a tiny mountain tent. Being able to get so close to the grebes was a real bonus. We have lots of heavy photographic and filming equipment so it was a luxury not to have to trek for miles carrying it all.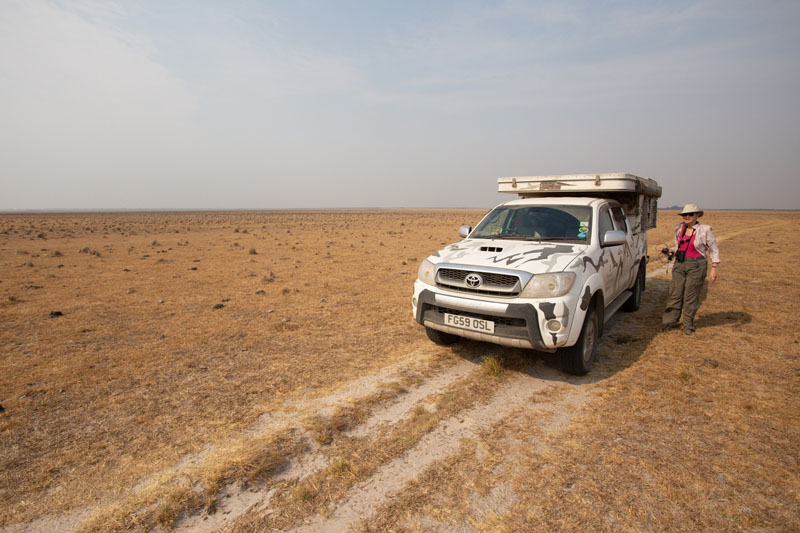 Above: Across the Colombian Los Llanos
Having a truck camper was ideal for us as it could get us close to wild places where we could film the wildlife there. In Colombia, we were able to drive across the savannas of Los Llanos to find and film the Buff-breasted Sandpiper (pictured below), the star of our film, Sons of the Savanna.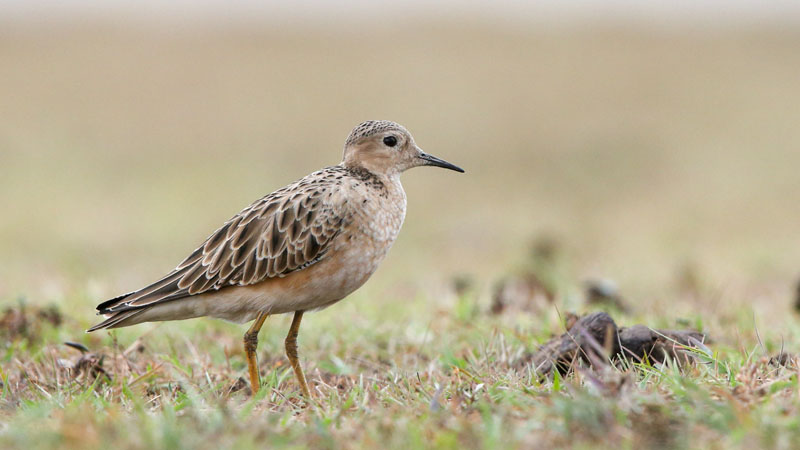 Our high clearance meant we could ford rivers with few problems. We knew that best practice meant we should test the depth of the rivers first, but we were advised against this due to the presence of electric eels and stingrays.
In northern Argentina, we crept up steep, narrow footpaths in the Yungas rainforests to track down the Red-mitred Parrot. Our light, small vehicle was ideal for that.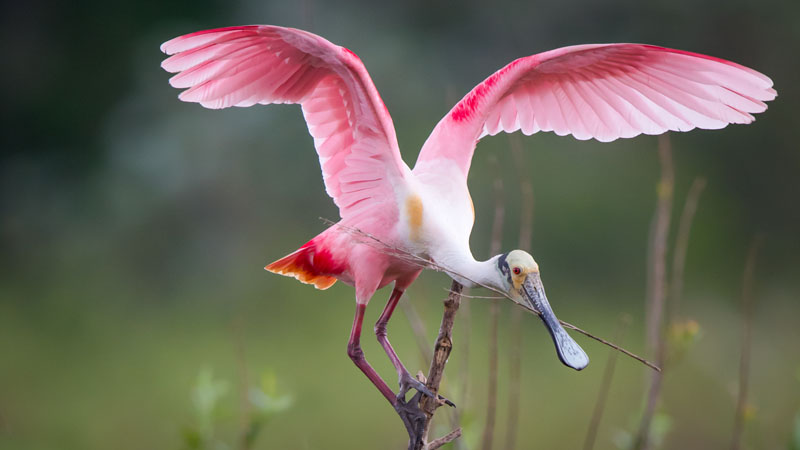 Above: Roseate Spoonbill in Argentina
Your photos of birds on your Instagram page are beautiful. How and when did you get into photography?
Thank you! I've always been interested in photography, right from a teenager when I had an old Russian Zenit camera. Nowadays my gear is much better and a bit more expensive. I love the challenge of taking birds in flight.
My Canon camera can take 16 frames per second as well as use autofocus to lock on a bird in flight, but it's still not easy. Couple that with hand-holding the 5-kilograms (11-pounds) 600mm lens and you can see why I don't need to go to the gym. You need patience and stamina.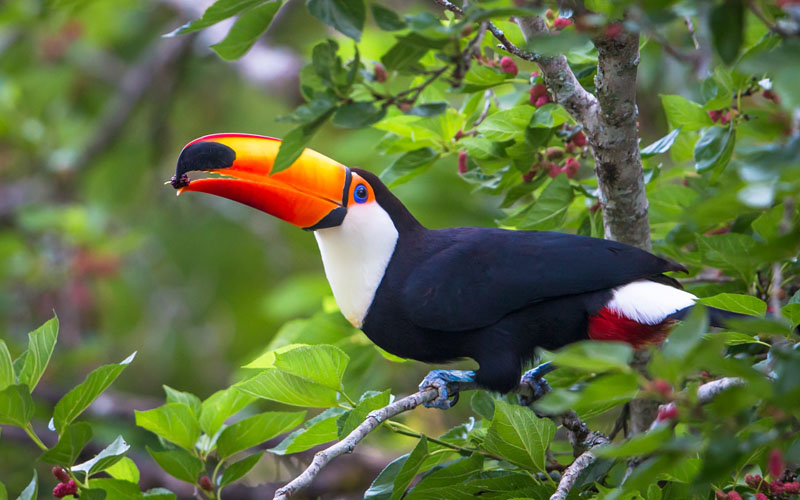 Above: Toco Toucan eating mulberry fruits, northwest Argentina
We were really pleased to give many of our photos to organizations in South America both to use in scientific publications and to promote eco-tourism and conservation.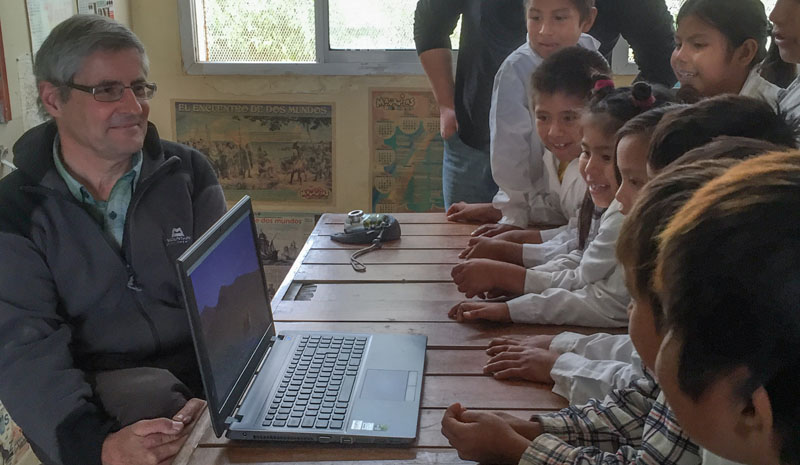 Above: Conservation class in northern Argentina
One of your pictures on Instagram shows you teaching conservation. How did you get involved with the schools?
It's important to us that people appreciate the birds and animals that are around them. When passing through a village we would often call into the local school and offer to talk to the children about how lucky they were to live in a land with so much biodiversity. Their teachers often told us that no one had ever talked to the children about wildlife conservation.
We had a short PowerPoint presentation ready and were delighted to find that even tiny schools in remote villages had a digital projector we could use – though one school asked us to do our talk later in the afternoon when their solar power kicked in. We also had a stock of wildlife posters to give out as well as memorabilia from our home team football club, Leicester City, that the kids liked too.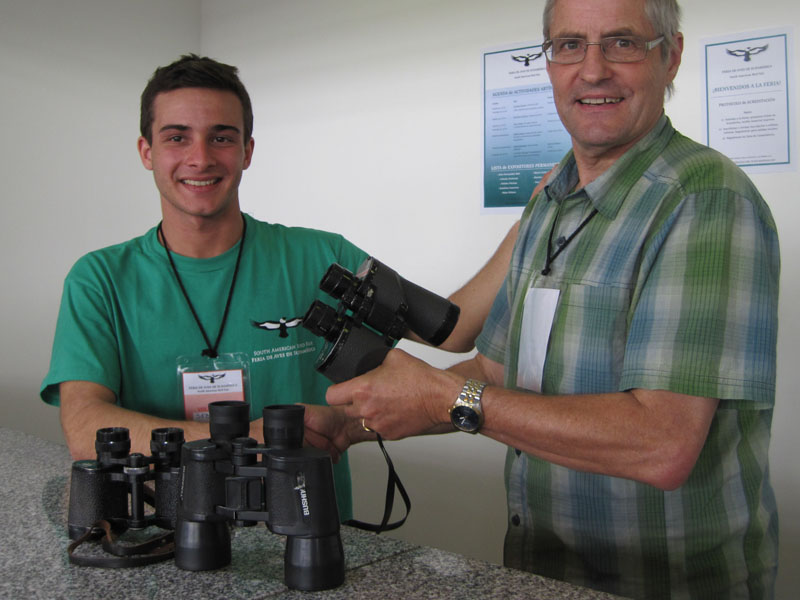 It also looks like you donate binoculars to different organizations and people.
You need binoculars to properly see wildlife. When we were back in England we would give talks to local bird groups and ask them to donate any binoculars they were no longer using. Birders always have an old pair at the back of a cupboard. We were thrilled with the response and probably took out about 50 pairs of binoculars to donate to schools and conservation projects.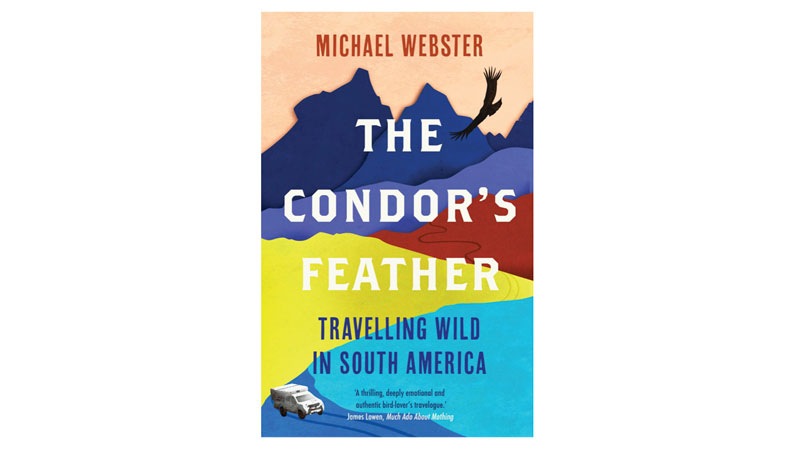 Congratulations on your book! What is it about?
My book, The Condor's Feather, just came out in North America. It's a travel memoir about our five-year adventure in South America following and filming birds. I wanted to share my passion for nature and tell people about the stunning wildlife in South America and the people we met.
You can get my book from Amazon or from Chapters in Canada.
Tell us about your films and how we can watch them.
The first major film we made is called, Tango in the Wind (below) and it's free to watch on Vimeo.  It's 30-minutes long so you need to sit down with a glass of Argentine Malbec to enjoy it! It was filmed in Patagonia and is about an extremely rare bird, The Hooded Grebe.
Another of our films, this time set in Colombia, is called Sons of the Savanna (below). It's also free to watch on Vimeo. This film is about the cowboys of the savannas of Colombia and how their traditional methods of raising cattle are helping preserve the Buff-breasted Sandpiper, a declining species.
How did you get into making films?
I am the one who does the still photography and Paula does the camera work on our films. We think that watching a film is a great way to engage an audience and get people involved in protecting wildlife. We love the challenge of making a watchable wildlife documentary.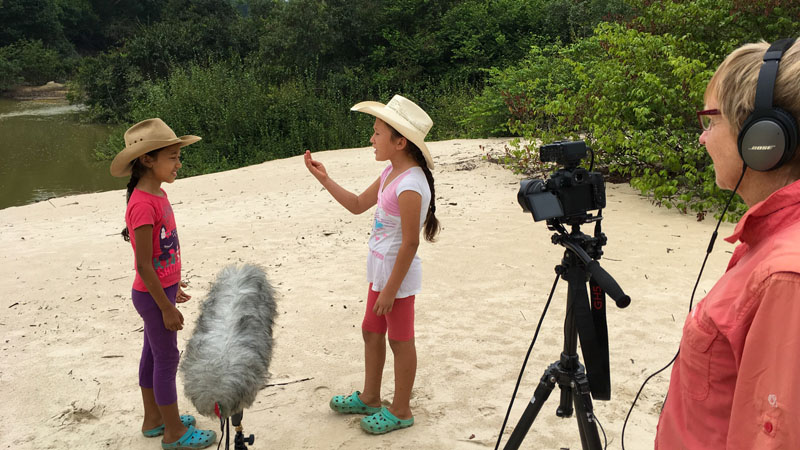 Above: As two Colombian girls sing, Paula films them
Sometimes our films are about a particular animal, sometimes about a person or even a specific project. In addition to Vimeo, have produced a YouTube channel called the Condor's Feather that showcases the films we made in South America.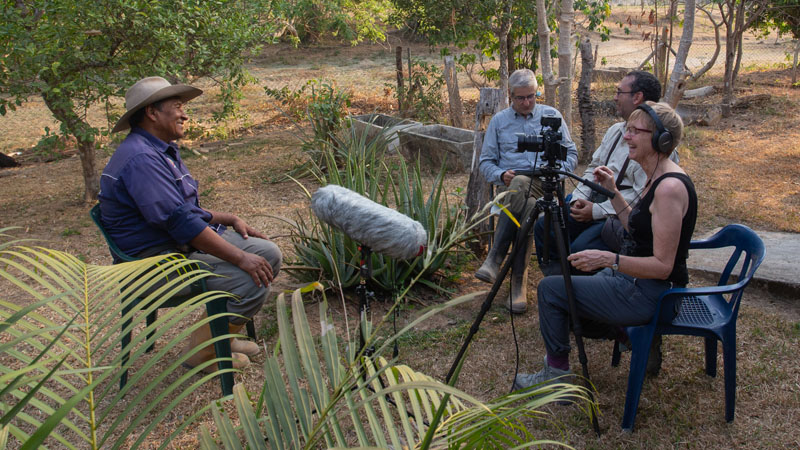 Above: Filming a Colombian farmer
Making a film is a time-consuming business. We have to research the theme of the film, write a script, and find people to interview. It isn't easy appearing in front of the camera. We were lucky to occasionally find people who performed really well, like Lucila in our films about Mar Chiquita and Arianna in our film about Los Amigos.
Then, we have to do the filming. It's no good making a film about macaws if you haven't got the footage. I am usually the presenter for the films so I had to learn the script and try to deliver it in front of the camera. Then it's down to Paula to do the editing. All of this meant that our progress through South America was slow. We were not driving quickly from place to place. To make Tango in the Wind took a full year.
Did the pandemic pause your travel?
After five years of being on the road, we had driven all the length of the Andes from Patagonia to the Caribbean coast of Colombia. We had a lot of video footage that needed editing and felt we could best do that back home.
We were lucky that we decided to do this shortly before the pandemic started. Many overlanders found themselves in real trouble when they couldn't get home because of the Covid restrictions.
You are now back in England. Are you planning to go back to South America?
Our plans for the future are exciting. We want to carry on helping people enjoy and protect wildlife, but this time in North America. Our son lives in Ottawa so that will be our new base instead of Buenos Aires. We couldn't export our Four Wheel and Toyota into Canada so we are on the lookout for a new rig! North America – Here We Come!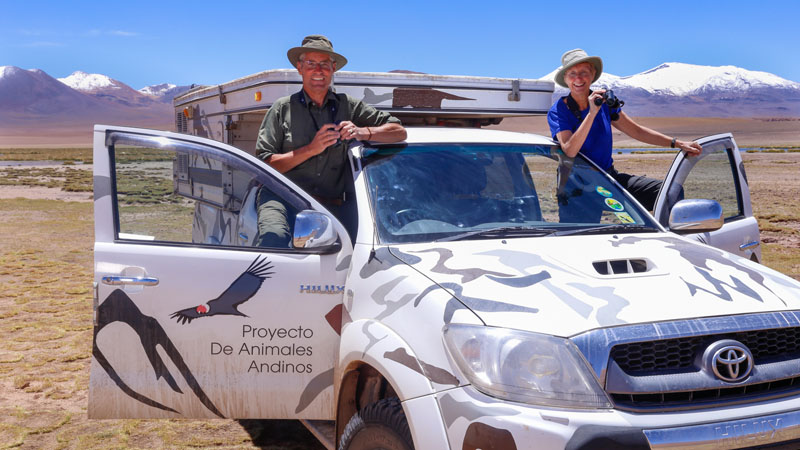 Editor's Note: I really enjoyed listening to their podcast!
You can also learn more about Michael and Paula in this podcast hosted by Bird Banter.  Feel free to follow Paula and Mike on their website, Instagram, YouTube and Vimeo.  And don't forget to check out their new book, The Condor's Feather; Traveling Wild In South America.