Above: Peruvian border crossing
After that was completed, we drove to the next countries' border and did the same thing.  Each country allowed us to visit for ninety days.  Once we were legally allowed into the country, we progressed to the customs official who issued us with a vehicle temporary import permit.  All we needed was an original vehicle title certificate and our passports.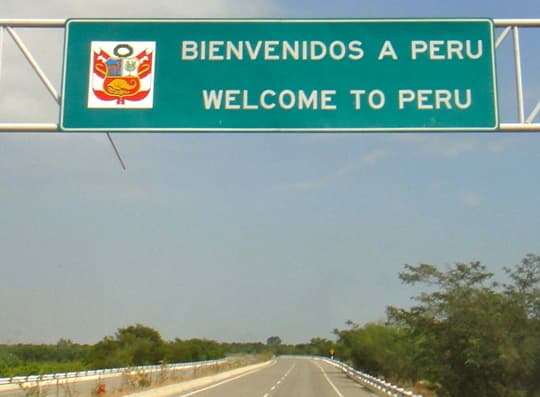 Lastly, we visited the local insurance office and bought our liability insurance.  The average cost was about $5 to $45 USD for ninety days.  The fastest we went through a border was twenty minutes and the slowest was about two hours, since we arrived at the same time as a local tourist coach.
Corrupt Police in Peru
During our trip throughout South America, we had dozens of police and army inspections.  All of these interactions were courteous and friendly, except for one.  There's on particular point in Peru where the police extorted $100 USD.  We would have needed excellent Spanish language skills to talk our way out of that situation.  We paid the fee, and moved on.
Finding Fresh Water
We were always able to find fresh water for our truck camper, but we preferred to buy five liter drinking water bottles from supermarkets for our daily drinking water.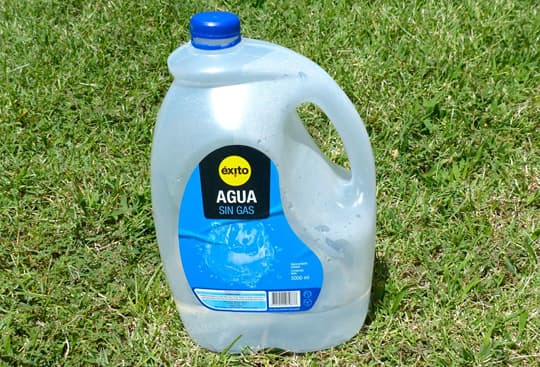 Although we did not drink local water, we did fill our camper fresh tank with local water.  More often than not, the water supply was located a good distance from our campsite.  To fill the tank, we used an old drinking water container and made an average of six trips to the water faucet.
Diesel Fuel
Before we began our South American trip, one concern we had was using high sulphur diesel fuel instead of the ultra-low sulphur diesel (15ppm ULSD) that is universally available in the United States.  South American countries provide diesel with sulphur content from 60ppm to 150ppm.
Well, we had no reason to worry.  Everything went well.  The exhaust filter cleaning process went through its normal cycle, and our diesel engine had no issues.
Finding Campgrounds and Boondocking Opportunities
Above: Campgrounds in Ancud, Chile, San Antonio East, Argentina and Madela, Ecuador. Click to enlarge.
Before the trip, we downloaded campground listings from fellow travelers' journals and blogs.  These notes helped tremendously including details of campgrounds and hostels that allowed overnight camping, recommended boondocking spots, and fuel stops that offered overnight parking in their lots.
Above: Boondocking at Rio de Mayo, Argentina, Lake Azul Volcano, Argentina, and San Pedro de Atacama, Chili. Click to enlarge.
We actually never had a problem finding a seemingly safe spot to overnight in.  Many spots we simply stumbled upon when we felt we had had enough driving for the day.