Above: Just north of Lima, Peru
No insurance company would insure our truck and camper while we were in South America, so we decided to self-insure.  It was a financial risk that meant we had to be extra cautious at all times, and drive defensively.
It is compulsory in all South American countries to have liability insurance for any injury caused to the locals.  We were able to obtain this at every border crossing fairly easily.  This insurance did not cover any damage to other property or our rig.  The cost of this insurance ranged from $5 to $45 USD for ninety days, depending on the country.
As Australians, we had comprehensive medical and travel insurance from an Australian company called World Nomads.  They provided superb service when needed, and fortunately that was only once.
Using a Roll-On/Roll-Off Shipping Line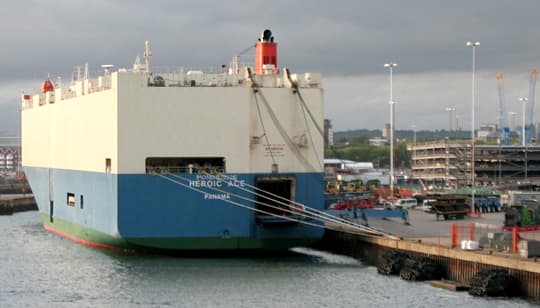 Above: The Heroic Ace Ship, Roll-On/Roll-Off (RORO) shipping service out of Jacksonville, Florida
There is no way to drive from Panama to Columbia.  Therefore we had no alternative other than shipping the rig to South America.  Our truck and camper was too big to fit into a container, so we enlisted a Roll-On/Roll-Off (RORO) shipping service out of Jacksonville, Florida.
Roll-On/Roll-Off ships are designed with ramps that allow cars, trucks, and tractor trailers to drive on, and drive off the ship.  Unless your rig can fit into an ocean container (7'8" wide by 7'10" tall) a Roll-On/Roll-Off shipper is your only option.
We shipped our rig from Jacksonville to Buenos Aires, Argentina.  The shipping company we used was Sefco Export Management Company Inc.  The cost to ship the rig to Buenos Aires was $5,500 USD.
It's not possible to accompany a truck and camper during shipping, so we made sure to secure our rig carefully before putting it on the Roll-On/Roll-Off ship.  To make our truck and camper as secure as possible, was indeed difficult.
We only used the camper supplied locks and had no problems at all.  RORO shipping is becoming more secure than ever.  However we did take valuables such as cameras, a laptop, and an iPad with us.  The shipping took thirty-one days and the rig arrived without a scratch.  We flew from Miami to Buenos Aires to meet our rig when it arrived.
When we returned to the United States, we shipped the camper from Cartagena, Columbia to Port Everglades, near Miami, Florida.  During the shipping time from Cartagena to Port Everglades, we stayed on in Cartagena and flew to Miami.  We waited for the truck to be cleared from the port, which actually took longer than the shipping.  Again, the rig arrived without incident.  The cost to ship the rig back to the United States was $3,000 USD.
Using a GPS, and Maps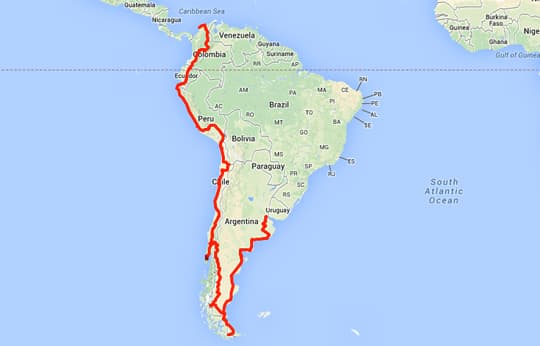 We used a Garmin GPS because we were able to load third-party South American maps into it.  Specifically, we used maps provided by OpenStreetMap (OSM).  OSM is a collaborative project to create a free editable map of the world.  We downloaded Garmin Basecamp for the Mac, and then selected the country maps we required.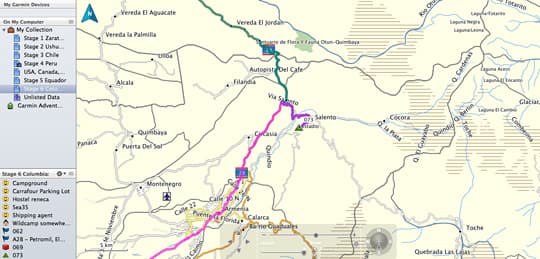 For the adventure traveller, OSM not only provides the best quality digital navigation maps for much of the non-developed world, but the maps are also free.  The OSM map database is easy to convert into a format for Garmin satellite navigation and Garmin Basecamp, Mapsource, and other road trip software.  Thanks to Horizons Unlimited for the clue about these maps.  Our route shown is in purple.
Border Crossings
Border crossings were far easier than we anticipated.  When exiting a country, we parked in a designated parking area.  We then walked into the customs building and got our passport entry stamp cancelled by the border officials.  Then, at the customs counter, we got our TIP (Temporary Import Permit) cancelled.