Gary and Elizabeth Gray shipped their Travel Lite truck camper rig from Florida to Argentina to continue their exploration of the Americas.  Here are some important travel tips from their trip.

We were inspired to visit South America by the overland adventures of three couples; one English, one Australian, and one American.  We met the English couple when they were in Australia five years ago.  We met the American couple last November in Texas after they returned from a few months in Italy.  And we serendipitously ran into the Aussies on an isolated beach in the Bay of Conception in Baja, Mexico last January.
On several occasions, Gary asked them each questions via their blogs and received timely and relevant answers.  But, to actually meet each of them was a real buzz for us.  Knowing there were others out there exploring gave us the feeling that we were never alone.
While crossing the Canadian prairies last summer, we discussed the desire and the need for a real adventure in our lives.  South America had been a topic of intense discussion with each of our overlanding friends.  It made sense, while we were here to use the United States as a jumping off point, to journey to South America.
For us, the hardest part of doing most worthwhile things in life is actually making the decision.  Once we made the decision to go to South America, our excitement ran high.  When people learned of our plans, many of them feared for us.  Those who were excited were folks like us; curious, adventurous, and making every day count in their lives.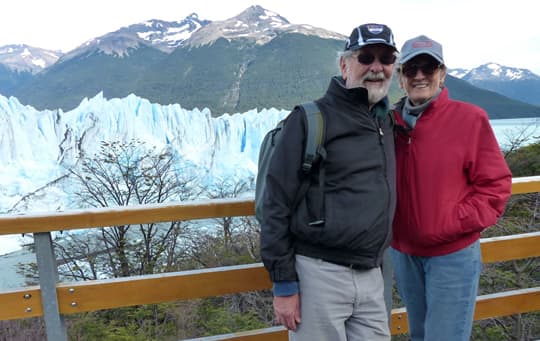 Above: Gary and Elizabeth Gray at the glacier Perito Moreno
We didn't know how long exploring South America would take us.  Six months seemed very short, but twelve months seemed like a long time.  We packed for twelve months and left the rest to fall into place.  We have the philosophy that things have a habit of sorting themselves out.  Usually, they do.
Pre-Trip Planning and Preparation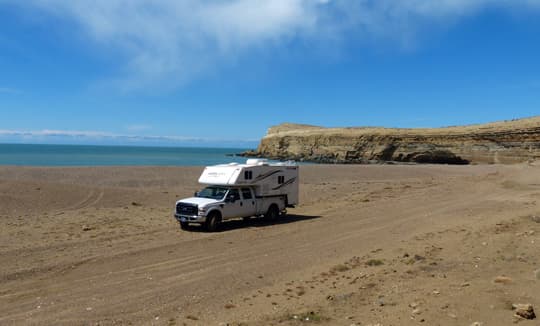 Above: Boodocking north of San Julien, Argentina
Being prepared for a trip to South America can be complex, but there's no need to reinvent the wheel.  We conducted a significant part of our research by reading the online blogs and journals of travelers who had already explored South America.
Here are our favorite South America travel blogs and journals:
Whiteacorn
While surfing the web we came across this website Whiteacorn which was packed with information about their trip to South America.  They are two Aussies now living in the USA. They are currently in Europe after driving right across the Russian continent from Vladivostok.
Travelin-Tortuga.com
We found this site through another Aussie overlanding in Africa at the time.  Travelin Tortuga has incredible information about every country including wild camp spots, shopping, internet, and more.
Stephen Stewart's Website
Stephen Stewart was a guy we met while he was touring Tasmania (Australia) and we have followed his travels ever since.  His information is a bit limited, but his wit is very strong!
From Alaska to Brazil
One other site well worth a visit if contemplating South America is from Alaska to Brazil.  This couple we have not met, but their travel and camping information is excellent.
Auto, Liability, and Medical Insurance