D. Gorton and Jane Adams take a Tonke demountable truck camper through northern Europe and navigate the narrow streets, run the autobahns, discover the camping culture, and delight in the rich cuisine.

It was September 2015.  Jane and I were traveling on the German autobahn.  I had a white-knuckle grip on the wheel of a Mercedes diesel Sprinter loaded with a Dutch made Tonke demountable truck camper.
We were driving north from Holland to our first "campingplatz" in Worpswede, Germany.  We were making tracks for Copenhagen, where we would camp and visit relatives, then enjoy a leisurely trip back to Holland along the Wadden Sea.  Always game for new experiences, the autobahn was testing my resolve.
Before we left the States, Steve Blackman, an acquaintance in Great Britain whom I met through RV.Net, had schooled me on European driving.  But nothing had quite prepared me for the challenge of driving the 7,500 pound, 25-foot long Tonke truck camper on narrow European streets and bustling highways.
I was bewildered when we drove through the streets of Terheijden, Netherlands, after we picked up the Tonke.  The urban intersections with lanes for bikes, pedestrians and cars were totally unfamiliar.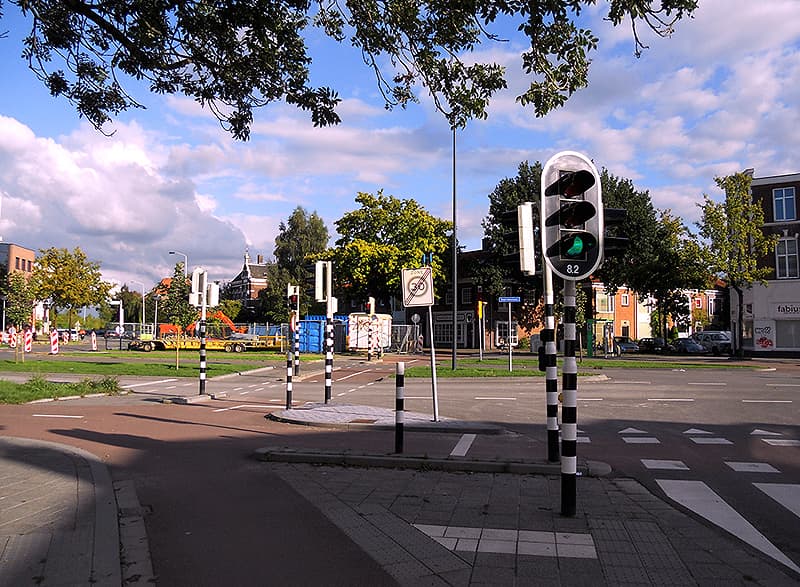 The autobahn was in a league by itself.  Unlike US freeways, the right lane is reserved for large trucks with a speed limit of 80 KPH (54 MPH).  Most of the autobahn we took, A1, has no speed limit in the left lane, something Steve had warned me about.
I was shaken when a Mercedes passed us at over 180 KPH (115 mph) practically blowing my doors off.  It came up so fast that I did not see the sedan approaching.  It seemed that a constant procession of Mercedes, BMWs, Porches, and Audis flew by at light-warp speeds, along with an occasional BMW or Ducati motorcycle.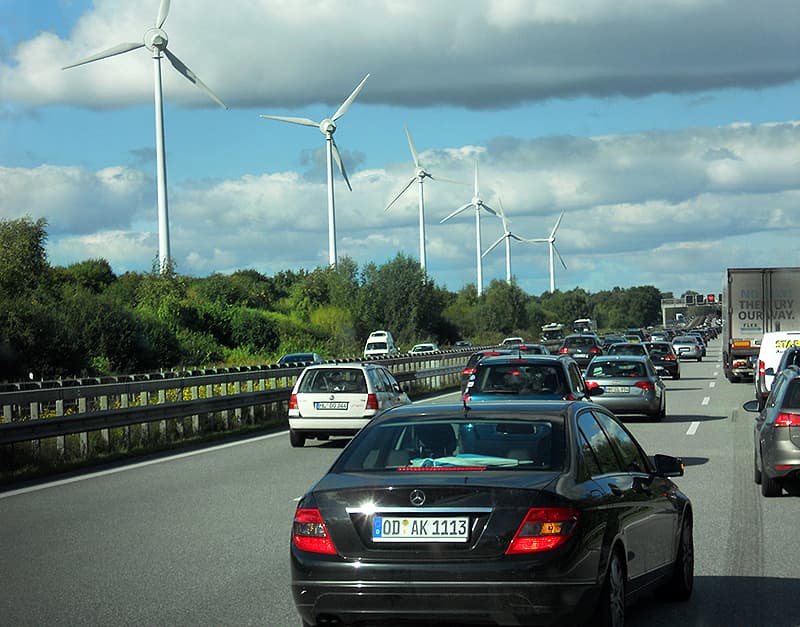 We planned to explore northern Europe the way we travel in our American truck camper – a vintage 1967 Avion on a Ford F350 – taking back roads, stopping when we please, even reversing course on a whim.  We sought to buy our food locally and prepare it onboard.  We also aimed to be as frugal as possible.  Northern European cities are quite pricey.
Our decision to travel in late September and early October was a calculated gamble.  The weather can change dramatically that time of year.  But, it would be the beginning of the "off season" when prices are lower, campgrounds less-crowded, and the museums aren't packed. As it turned out, we had absolutely gorgeous weather for the entire trip – 70s during the day and 50s in the evening.
Months prior to the trip we had been in touch with Maarten van Soest, the builder of the impossibly beautiful hand-made Tonke truck camper.  The Tonke Classic Silverline that we were renting is known in Europe as a "demountable" camper.  We met Maarten on a Saturday morning at the Tonke shops in Terheijden, Netherlands.
Warned that German grocery markets are closed on Sunday, Maarten's wife took Jane to the local Albert Heijin grocery store where she bought wonderful breads, cheeses, fruits, meats, yogurt (the best I had ever tasted) and wines. She quickly learned that bags are not supplied.  At checkout she purchased sturdy plastic bags that folded neatly into her purse.
Maarten showed us the Tonke and helped us put away our things.  We signed rental papers, produced our Illinois drivers license, as well as the International drivers license that we received from AAA.  Then got a tour of the coach.
It turned out that Europeans bring all of their cutlery, bedclothes, towels, etc. when they rent an RV.  Since we were coming from overseas, we could not carry any camping gear.  So there was a lot of last minute packing as Maarten and his wife searched for pots and pans.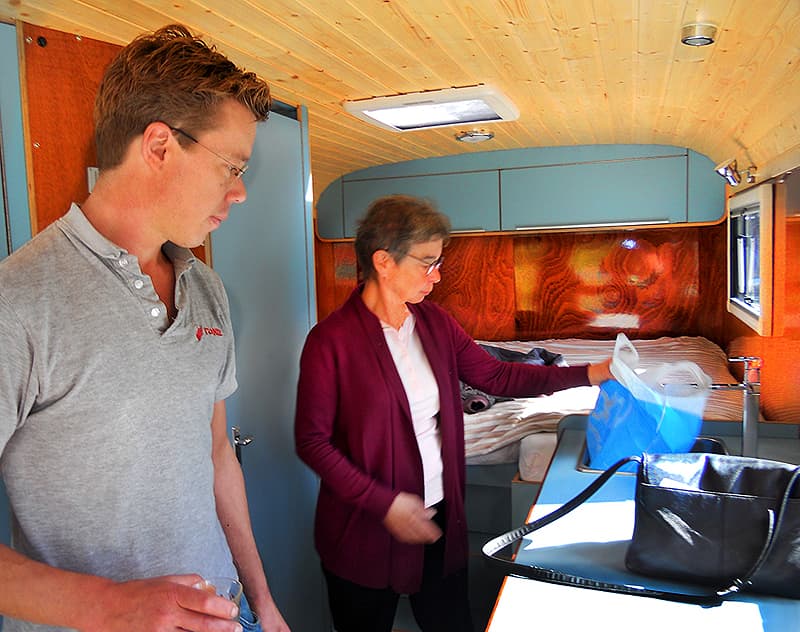 Above: Maarten is over 6 feet tall and the camper fits him perfectly.  Jane is getting a tour of the coach.
We were delighted to have the Tonke truck camper.  We're not aficionados of group tours, where you are herded from place to place in a world of limited choices and high prices.  Even on your own, European travel is expensive, especially when you're too old for back packing and hostels, and want to eat real meals.  In comparison, despite the challenge of learning new driving skills, truck camping is liberating.
We made most of our arrangements through the internet before we left home in Illinois.  We found desirable campgrounds, recorded their coordinates and, where possible, made reservations on-line.  Then, as we travelled, we fed the coordinates into our TomTom GPS which we had loaded with the Western Europe map.  With the TomTom GPS, we could wander the city streets and rural roads secure in the knowledge that we would reach our destination.