Garry Davis of Truck Campers Australia reveals the unique Northern Lite models he imports, the lazy axle most Australian trucks require, and the state of the truck camper marketplace and community down under.  Anyone want to take a lap?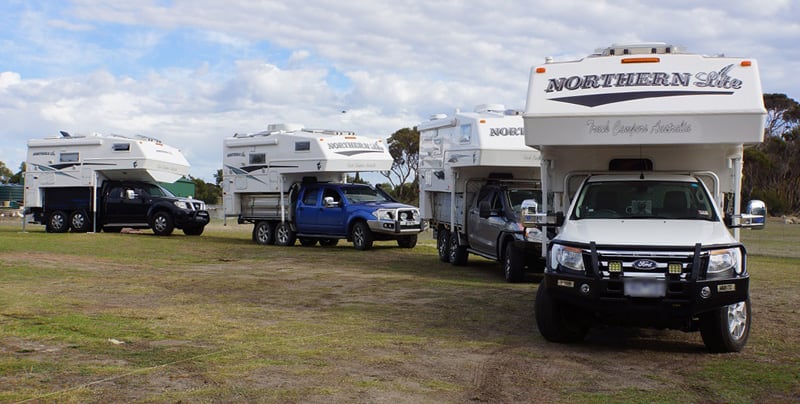 Above: A Northern Lite get together on Kangaroo Island off the coast of southern Australia
Deeply carved into the Truck Camper Magazine bucket list is a truck camping adventure to Australia. We don't know exactly how or when we'll put that trip together, but we are determined to make it happen.
With this goal in mind, we were quite excited to be contacted by Garry Davis, the Northern Lite importer from Australia.  He offered a tantalizing glimpse into the Australian truck camper marketplace and its considerable opportunities and challenges.  He also shared some fascinating insights into the Australian truck camping community and lifestyle.  Perhaps we need an Australian edition.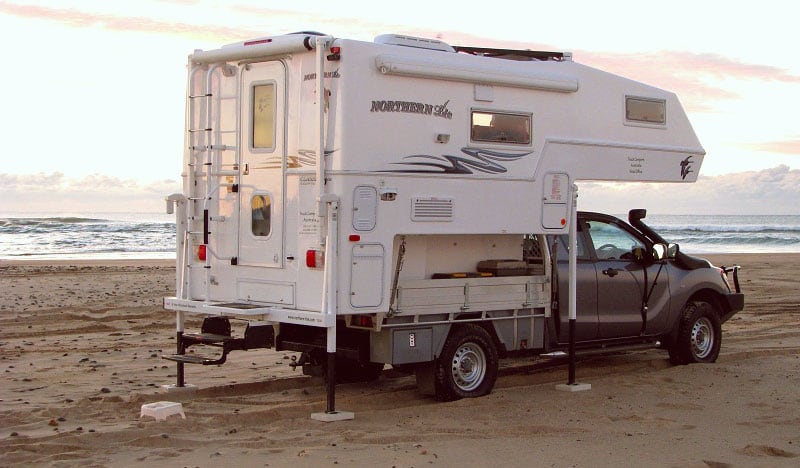 Above: Garry's first Northern Lite, a 2012 Northern Lite 8-11
To dig further into the Australian truck camper situation, we sent Garry a list of questions for a formal Truck Camper Magazine article.  In his interview Garry is quite direct about the realities the truck camper product category faces down under.  For starters, an imported Ford F-350 will set you back about $116K.  You read that right.
Maybe a few of us could pool resources, purchase an Australian truck camping rig, and take turns exploring OZ.  While we're at it, let's invite more Aussies to explore the United States and Canada.  How about a truck and camper exchange program?  A few truck campers on both sides of the world just said, "Heck, yeah!"
Here's our interview with Gary Davis.  Warning: You're about to want to go to Australia.
How did you get into truck camping?
Like many Australians, we love camping, boating and fishing.  Packing and setting up tents and camping gear was taking far too much of our valuable free time and we were often limited by the weather.
Over a number of years, we looked at all the options and decided that truck campers best suited us.  We imported one from the United States, which was a nightmare with all the regulations.
Then several people saw our truck camper and asked us if we could get them one like it since we had knowledge of the import process.  That is how Truck Campers Australia came into being.
The appeal is the ability to use your vehicle year-round and to tow a boat or other trailer.  In Australia, a lot of people unload their truck camper while camping.  It only takes five minutes to unload and frees up your truck to explore, shop, or launch a boat.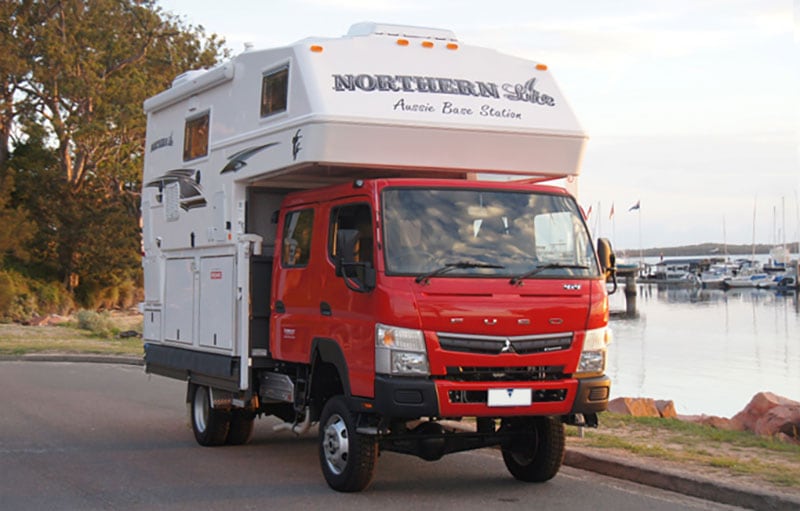 Above: Aussie Base Station on a Fuso Canter hauling a Northern Lite 10-2 SE
Do you think the Australian interest in truck campers is growing?
Sadly, no.  There are several factors affecting the market.  Foremost is the lack of commercially available vehicles suitable to carry a full-size truck camper.  However, we do have a lazy axle conversion that is, in some ways, better.
There are some small pop-top campers that fit factory standard Australian utes (aka pickup trucks like the Ford Ranger).  The tiny amount of space in these campers acts more as a deterrent rather than an advertisement for the truck camper concept.  People see one and immediately cross truck campers off their wish list.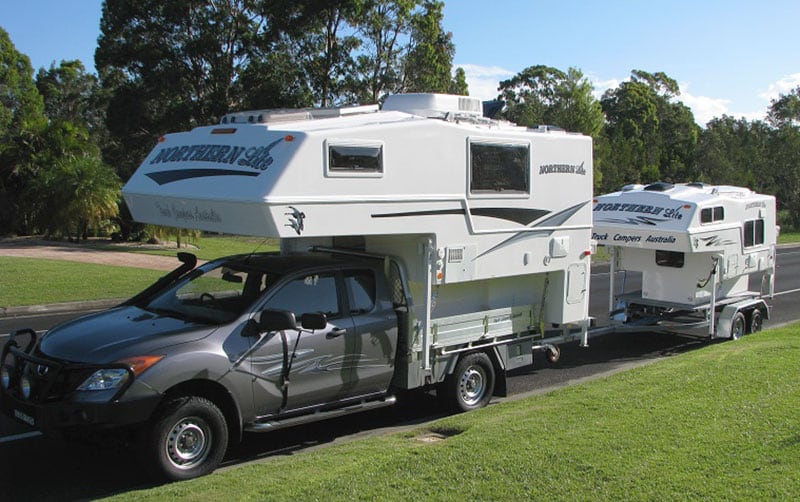 Which Northern Lite models are you importing?
The Northern Lite 8-11 LE and the 10-2 LE are the models we currently import.  These are sold here as Northern Lite Australian Ultimate models.
Both are built by Northern Lite for us only.  We love Northern Lite because the build quality can handle the very tough Australian conditions.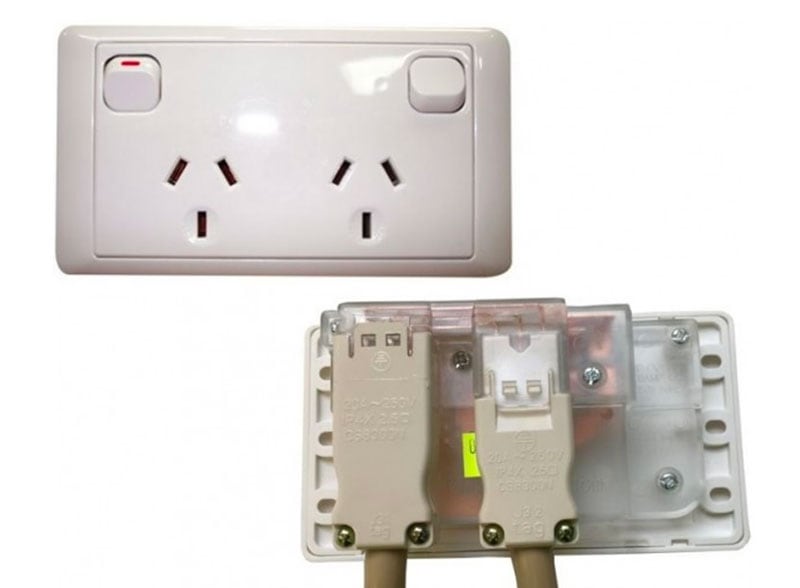 Above: 240 volt wiring in Australia using the CMS Electracom system.  It is expensive and is a piggy back system that can be easily added to safely without the need for an electrician.
What needs to be adapted on a Northern Lite to meet Australian codes?
The LPG fittings, the tail lights, the electrical system (which requires 240-volt wiring) and 240-volt appliances.  Northern Lite does the propane, the tail lights and installs a 240-volt three-way refrigerator.  We do the 240-volt wiring and the 240-volt reverse-cycle air conditioner.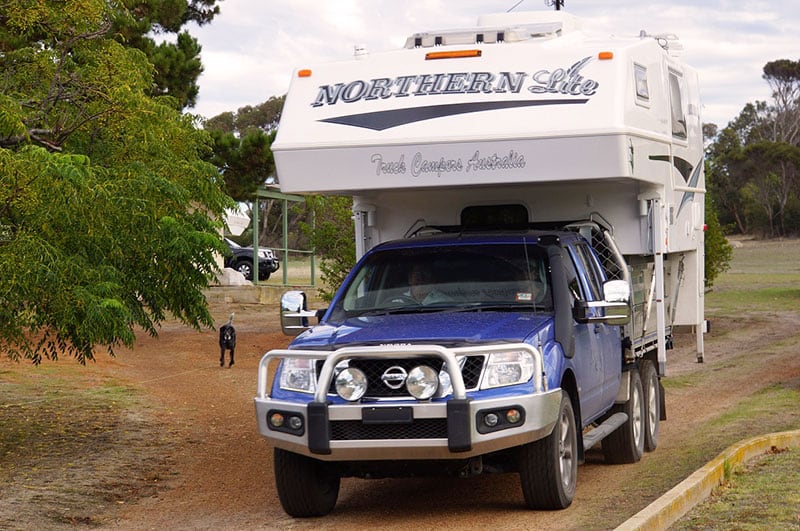 Above: Nissan Navara with Northern Lite 8-11 SE
Beyond the codes, are there any other adjustments required to make Northern Lite truck campers comply to the Australian market?
Not to comply, but more to suit the market.  Most of our customers want to be able to camp off-grid for prolonged periods with many creature comforts.  This requires larger lithium battery capacity, solar, efficient battery chargers and Redarc monitoring systems.
Many of the systems that we have been installing for years are now being introduced by caravans and motorhomes.  In many ways we have been the pioneers in these fields in the Australian RV industry.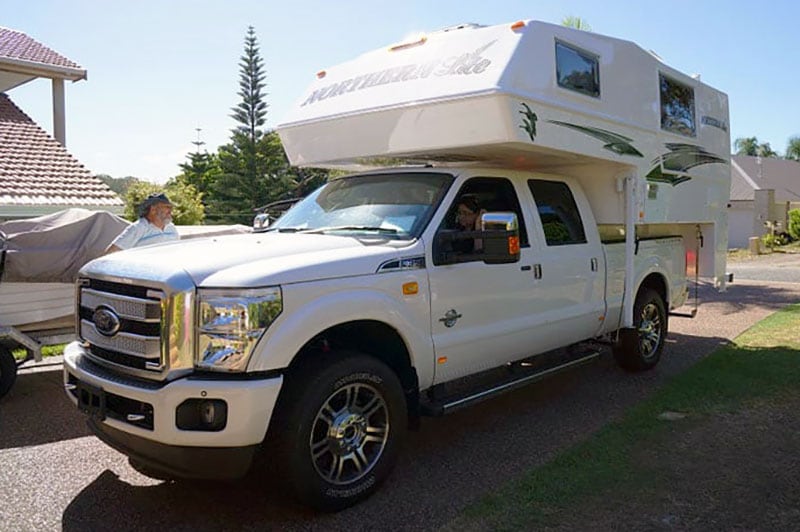 Above: Chris And Bev's Ford F350 and Northern Lite 8-11SE
Can you get American pickup trucks in Australia?
In Australia, prices for Ford F-350s and the equivalent Chevrolet and Ram models start at $165,000 ($116,333 US / $155,842 Canadian).  While they need to be freighted out here and converted to right-hand drive, these prices are, at best, excessive.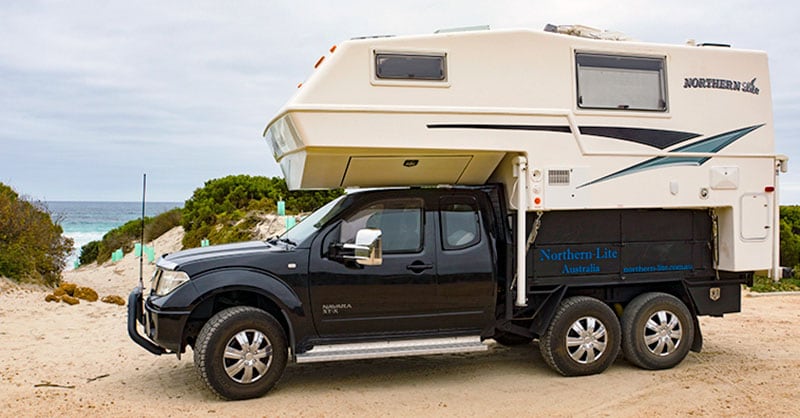 Above: A lazy axle is fitted to the Garry and Robyn's Nissan Navara
What Australian trucks are you matching to Northern Lite campers?
The Ford Ranger, Mazda BT50, Nissan Navara and Toyota Landcruiser fitted with lazy axles are the most popular.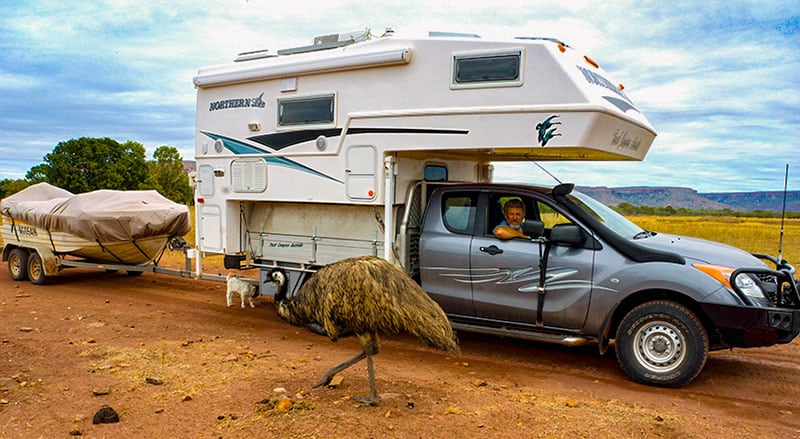 Above: Garry and Robyn's Mazda BT50 with a Northern Lite 8-11 SE
We also have recently fitted our new Aussie Base Station to a Fuso Canter.  This could be fitted to other light trucks such as the Isuzu NPS.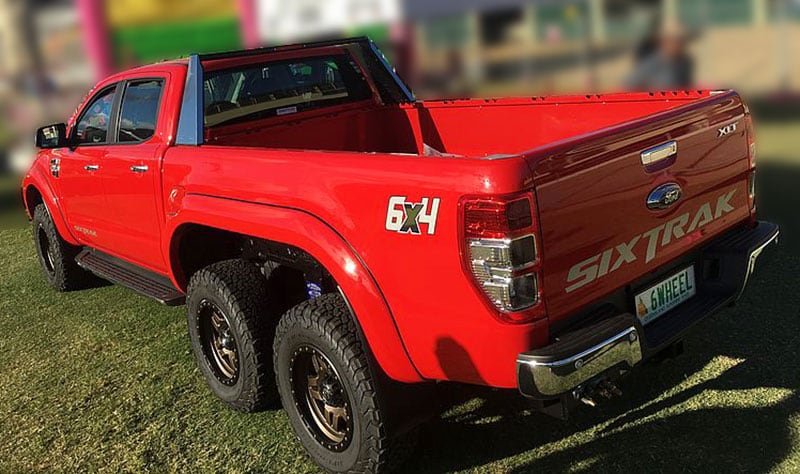 Above: This Ford Ranger fitted with a lazy axle by 6 Wheelers Conversions has a payload more than some 3500-series trucks with dual rear wheels.  It is also available in with a flatbed instead of the tub as shown.
Not only is the payload similar to a Chevy 3500 dually but when you put the same camper on both trucks, the Ranger rides infinitely better, as the owner of the Silverado will begrudgingly attest to.  The cost of this truck in Australia is around $90,000 (Australian Dollars) but the Chevy is close to double that.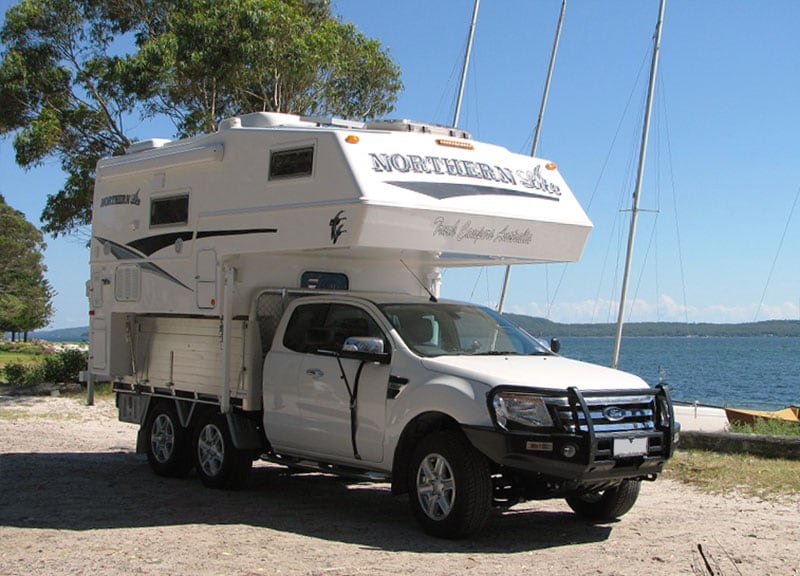 Above: Denis And Rhonda's Ford Ranger with a lazy axle and Northern Lite 8-11 SE
To carry a full sized truck camper, a lazy axle needs to be fitted to all Australian utes.  These come standard with heavy duty springs and shocks.  Tires need to have the correct load rating.  Some have air bags fitted and roll bars.  Sway bars are sometimes added if they are not included with the lazy axle installation.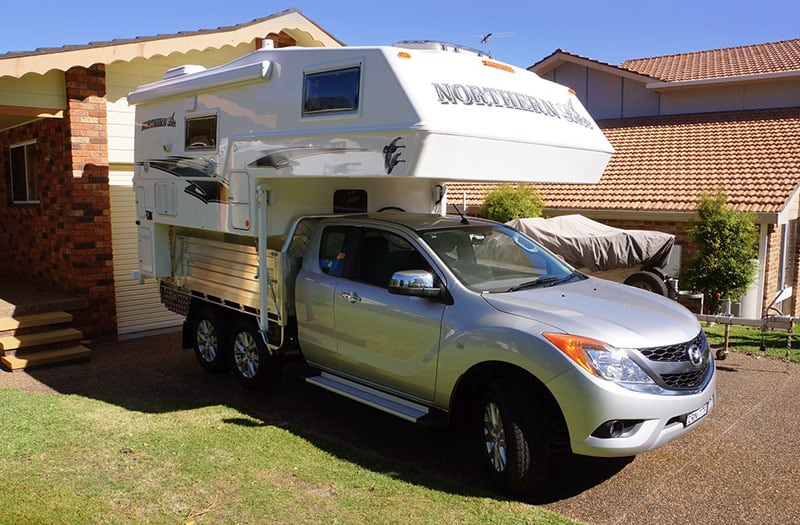 Above: John and Leonie's Mazda with a lazy axle and Northern Lite 8-11 SE
Are there any issues with payload capacity and center of gravity with Australian trucks?
Yes, and it has caused a huge problem for the industry here.  With regards to payload, there were, and probably still are, dealers selling people 1,400-kilogram (3,000-pound) campers and putting them on their trucks which had an 800-kilogram (1,750-pound) payload.  This damaged the reputation of the truck camper industry in Australia.
Similarly they were putting truck campers on dual cab Australian utes which had the rear axle virtually adjacent to the rear door of the truck.  When the camper was loaded, the center of gravity was a good three-feet behind the axle.  These problems do not exist with a lazy axle fitted truck.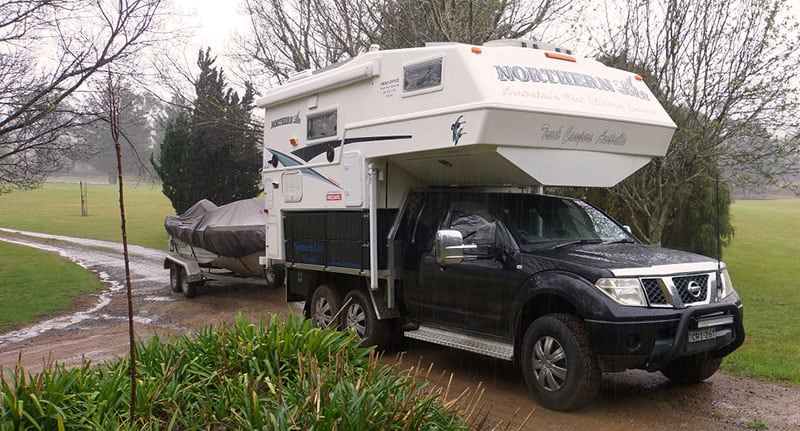 How do the assembled rigs handle?
As you should expect with a 10-foot tall vehicle, there is some sway, but most people are pleasantly surprised.  It is still infinitely better than towing a large caravan.  My camper with a boat in tow is better than towing with a caravan.
I have a video on my website, taken a few years back, of a trip through the trees on the sand with the boat in tow.  You need to watch for tree branches at the same time making sure you don't turn too fast and leave the boat on a tree.  It's all good fun.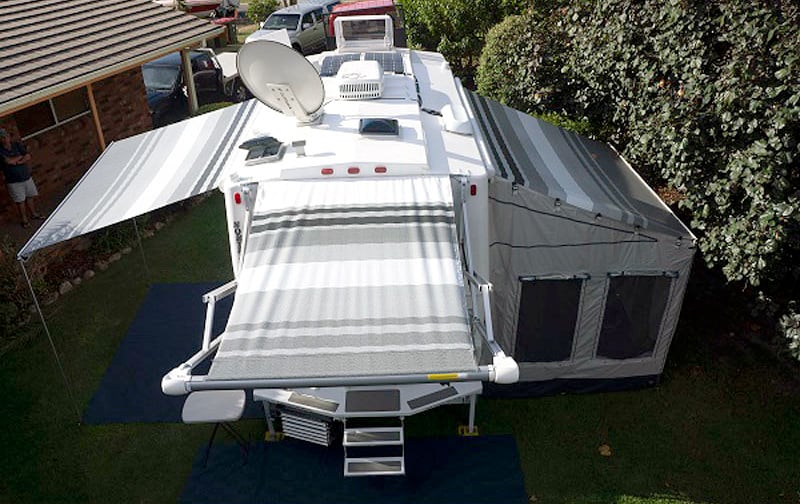 Above: Awnings and screen room have been added
In your emails to Truck Camper Magazine, you have described the changes you are making to Northern Lite truck campers as re-manufacturing.  Can you explain what you mean by re-manufacturing?
The Northern Lite Australian Ultimate campers we sell here are the very top of the market.  We start with the top of the range Northern Lite and include most optional features available.  Then we add a range of additional features that are either required or desired for prolonged travel in Australia.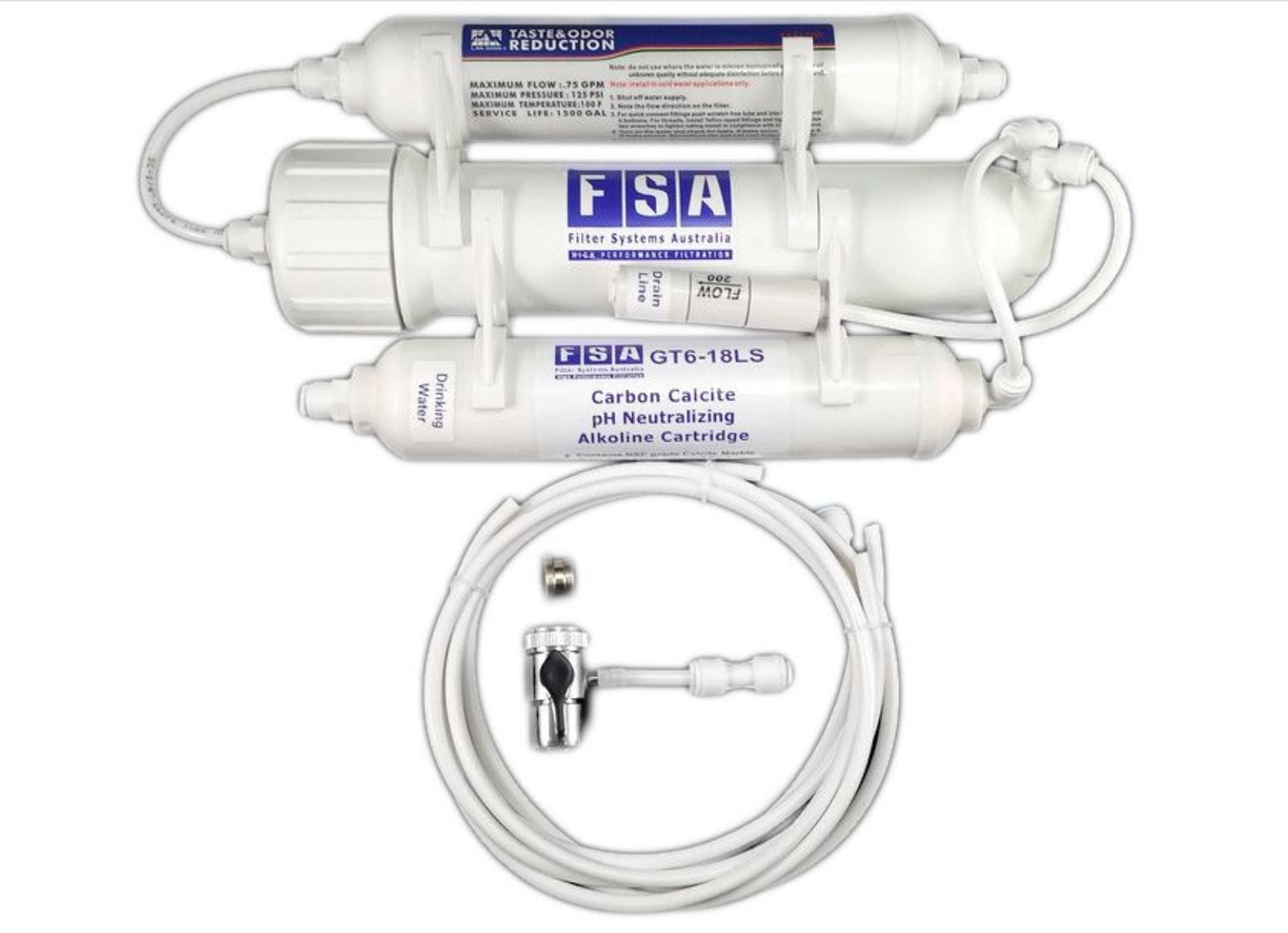 An item like the reverse osmosis water filtration system is just about essential.  ​The portable Reverse Osmosis (RO) system above was developed for us by Filter Systems Australia.
The idea is that we can put less than totally clean water in our fresh water tank and use this water for showers and washing.  The RO system filters this water to 99.9% pure giving us clean, safe drinking water.  The system has its own 10-liter storage tank which is pressurised and we have a second faucet on the sink for the finished product.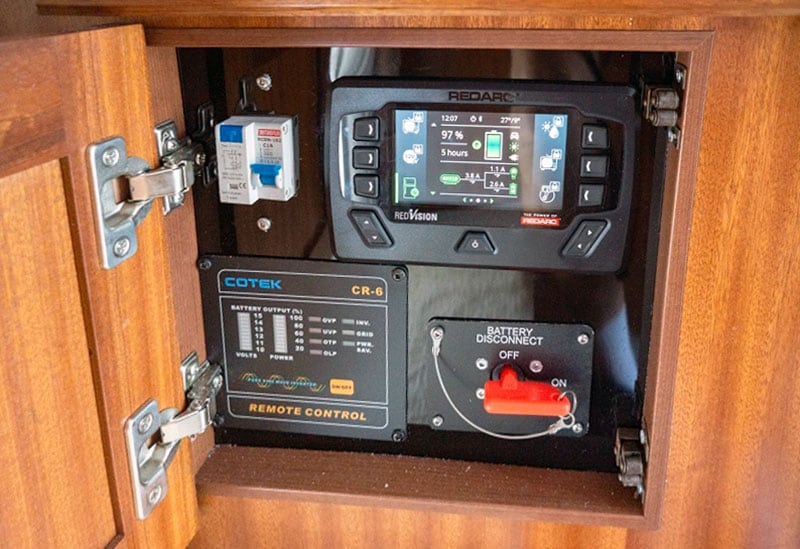 Above: The internal panel for the new Redarc Battery Management System which shows the  Inverter remote control unit, the 12-volt cut off switch and the 240-volt circuit breaker
Tell us about the electrical system modifications and why you make them.
We like, and often need, to camp off-grid.  This requires a reliable power source.
Lithium (LiFePo4) batteries are great, but they need to be kept charged.  In the good old days we simply ran a lead from our vehicle's alternator to the house battery.  That won't work with today's lithium batteries.  Lithium (and all batteries for that matter) need to be properly charged using a four-stage charger.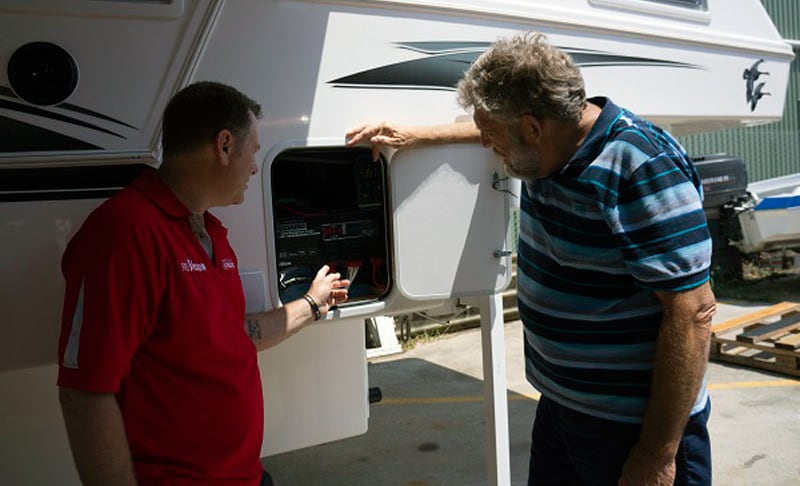 Above: Garry getting an explanation of the Redarc Redivision System
As we have done with our Redarc Battery Management System (BMS), this can be achieved by using one charger.  The Redarc BMS can be powered by solar, shore power, a generator or from the vehicle.
Of course you need to be able to easily monitor your battery's state of charge.  We monitor the battery bank with the Redarc monitor and with the Redvision phone app.  There is a lot more to the system than this.  In reality, it is efficient and user friendly.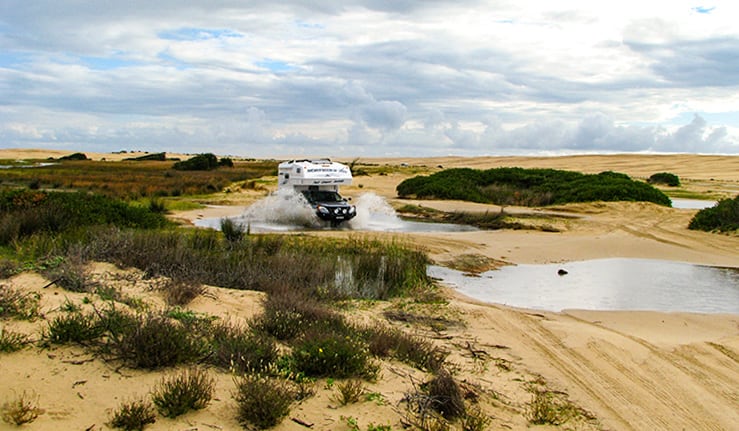 Above: On the sand dunes behind Stockton Beach
How much of Australia is accessible by truck camper?
Virtually anywhere there is a road.  Many are not roads in the true sense, but just tracks or stock routes.  Other roads are homemade goat tracks made without goats.  Sometimes we need to find a way around a tree in our path.
People in Australia talk about doing a lap.  This means a trip right around the whole of mainland Australia and Tasmania.  I know some people who have done this in six-weeks, but six-months is too short in my opinion.  Six-years would be very relaxing.
It's a long way.  Not all achieve this.  Many do specific trips to the Kimberley region or Cape York or the Centre around Alice Springs.  There are many enjoyable and must-see destinations, but the journey is also good.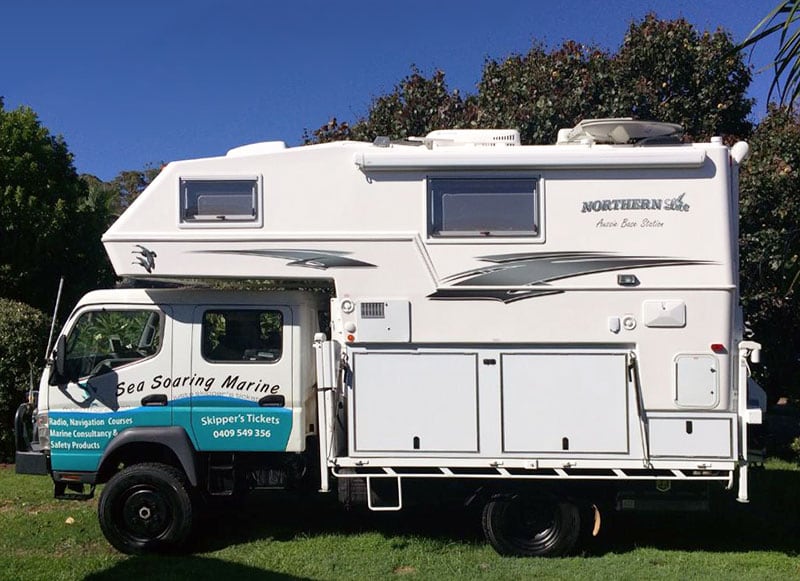 Above: Wayne's Fuso Canter with storage boxes
Do people go truck camping year-round in Australia?
The short answer is yes.  Retired people tend to head north in the winter and south in the summer.  That may seem illogical to you, but remember we are in the Southern Hemisphere.  Non-retired people are more likely to be short trip specific.  Generally Australians camp in the spring, summer, and autumn.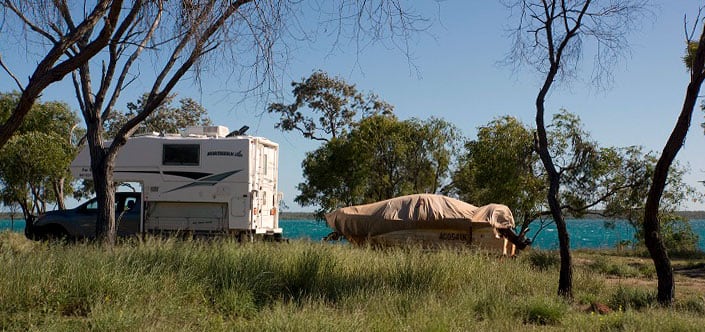 Above: Bush Camp near Cape Leveque, western Australia
Are public campgrounds, dump stations, and fresh water fill locations easy to come by in Australia?
There is a growing movement in Australia to close public campgrounds.  This, of course, is instigated by private caravan (trailer) parks and their national bodies.
Yet these same caravan parks are making less sites available for RVs and putting in more cabins.  They are also trying to control dump stations and water fill locations by having them on the site and charging non-patrons to use them.
Cassette toilets that can be emptied into any toilet system are best here.  Water can be obtained from service stations before you buy fuel.  I have always said that I can find plenty of dump points except when the black tank is full.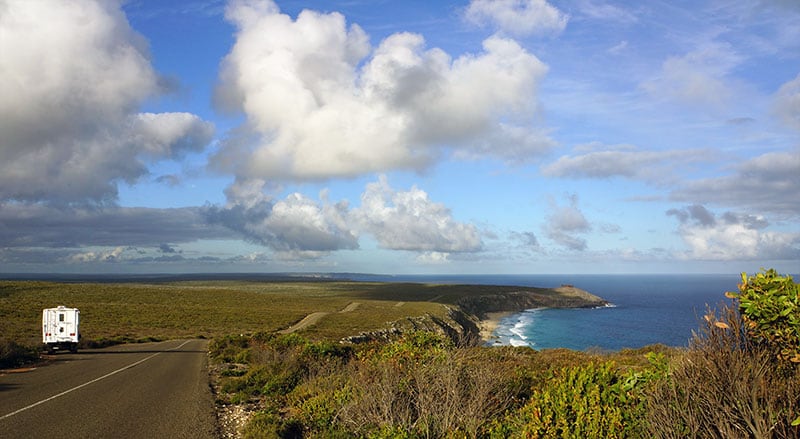 Above: Kangaroo Island, Australia
What are some of the must-see truck camping destinations in Australia?
All of it.  I personally liked the Kimberley region and Cape York, Fraser Island, Tasmania, the West Macdonnell Ranges and many small coastal towns.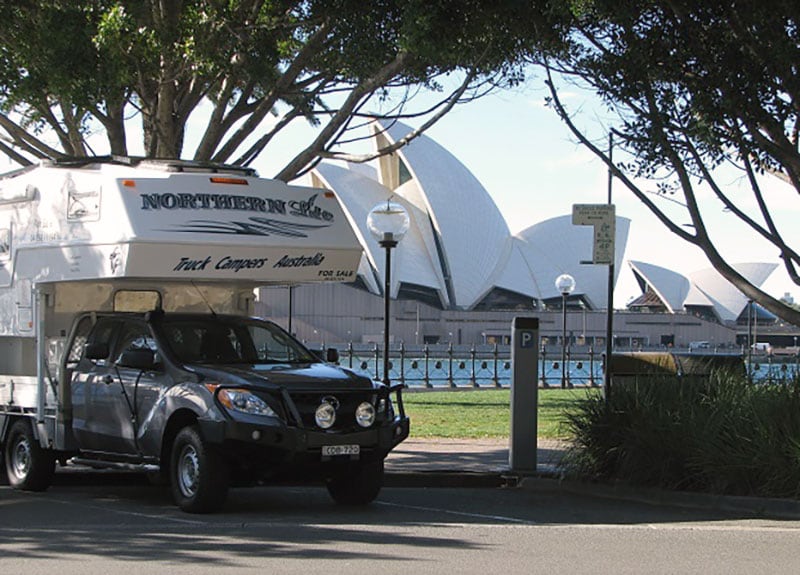 Above: Sydney Harbor Bridge near the Opera House
Living full-time in a truck camper is not uncommon in the United States and Canada.  Do you have folks living full-time in a truck camper in Australia?
I am trying to!  I can and often do run my business from my Northern Lite which bears a sticker saying, "Head Office".  No doubt there are some living full-time in truck campers, but not a lot.  There are more living full-time in caravans, but then again there are a lot more caravans here in Australia.
Do you have a truck and camper for rent for folks want to travel to Australia and go truck camping?  I might know two people that fit that description.
No, but I can organize it.
What would you want readers of Truck Camper Magazine in the United States and Canada to know about the Australian truck camping marketplace and community?
We are a relatively small community.  Most of my customers, actually they are friends now, are people who did a lot of research before deciding on a truck camper.  So you would have to say they are fairly smart.  They own campers that are technologically more advanced than many other RVs in Australia, which makes them somewhat elite.
Nearly all read Truck Camper Magazine, so I have to be careful what I say.
Click here for more information about Truck Campers Australia including more photographs of Australian truck camper rigs.