Romulo and Mirella are the full-time truck camping couple behind Travel and Share, a YouTube channel with over 913,000 subscribers.  This is the remarkable story behind their globe-trotting lifestyle and the tenacious entrepreneurship that makes it possible.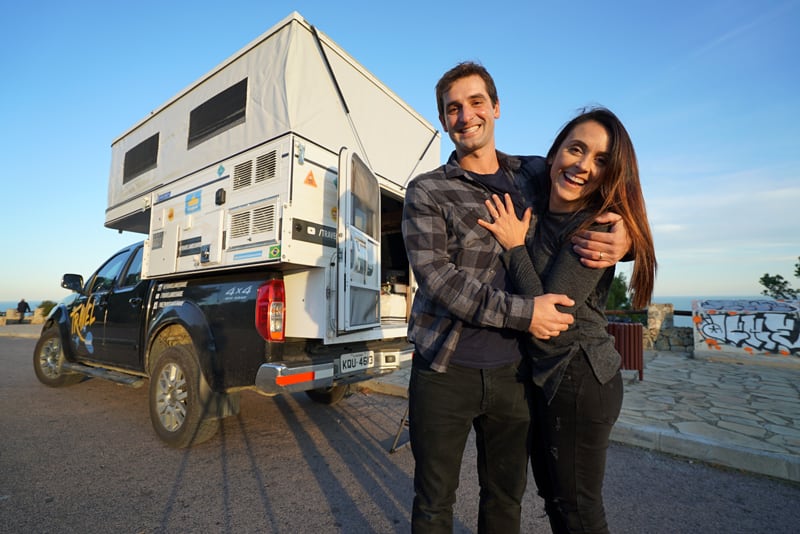 When we first went to Romulo Wolff and Mirella Rabelo's YouTube channel in 2018, our jaws dropped.  Not only did they have 915 videos and over 866,000 YouTube subscribers (both staggering figures) but their videos had been watched 85,751,439 times.  That's over 85-million views.
By our conservative calculations, their videos are viewed no less than 50,000 times per day.  Can you imagine having 50,000 people a day watch videos about you and your travel adventures?  It's mind-blowing.
These numbers led us to one conclusion.  Romulo and Mirella are, without a doubt, the most famous truck campers on the planet.  Nobody even comes close.
Romulo and Mirella's backstory is not what some might expect.  First, Romello has a Masters in Information Technology and Mirella has a Masters in Business Administration.  Second, both were gainfully employed jobs before quitting their corporate jobs, selling everything, and hitting the road.  Put another way, these two were well on their way to a successful "normal" life – but that wasn't their dream.
Today Romulo and Mirella travel in a 2018 Nissan Navara and Four Wheel Camper Swift rig they call Gallega.  They continue to post videos three times a week.  The catch?  Almost all of them are in their native language of Portuguese.
Você fala português?  Me neither, but their videos are still stunning.  Just have a look at their YouTube introduction video:
To get the low down on how Romulo and Mirella escaped the daily grind and made the leap to YouTube stardom, we went to the source.  Since they were out of the country, we interviewed them via email.  Here's their incredible story.
How did you guys get into your amazing lifestyle?
We both were sales managers in Swedish companies based in Brazil.  At that point, I was 32 and my husband was 34.  We had finished college and had masters and MBA degrees.
Life was pretty stable, but we had a dream.  For some people, it was a crazy dream to leave everything behind and travel the world, but that's what we did.
We sold everything we had in 2014.  The only house we own is the one we have on the back of our truck.  We only carry the things we can take with us.
That's a huge life-changing decision.  How did you make it happen?
We set a date.  On December 8th, 2014, we would start traveling the world.  It sounds too simple, but that's exactly what we did.  With a date set, we created a list of everything we needed to do to leave on that day and got started.
We were not 100-percent ready on December 4th, but we said, "We will never be 100-percent ready".  Some things would have to be figured out along the way.
We were in our early 30s with no kids.  If we didn't take this risk at that time, we might never have done it.  We both knew we wanted to travel the world, so we just had to set a day to start.  That's exactly what we did.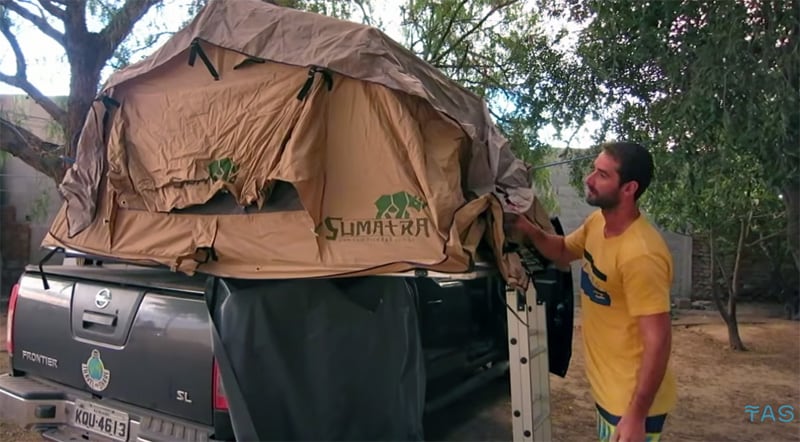 You started with a roof-top tent and then moved up to a Four Wheel Camper.  What led you to switch to a pop-up truck camper?
The first time we saw a Four Wheel Camper we were in Banff, Alberta.  By that time we had traveled from Ushuaia to Alaska and had suffered enough living in a tent.
The idea of moving to a Four Wheel Camper was a dream.  More importantly, their Swift model would fit a 2018 Nissan Navara; our mid-size truck.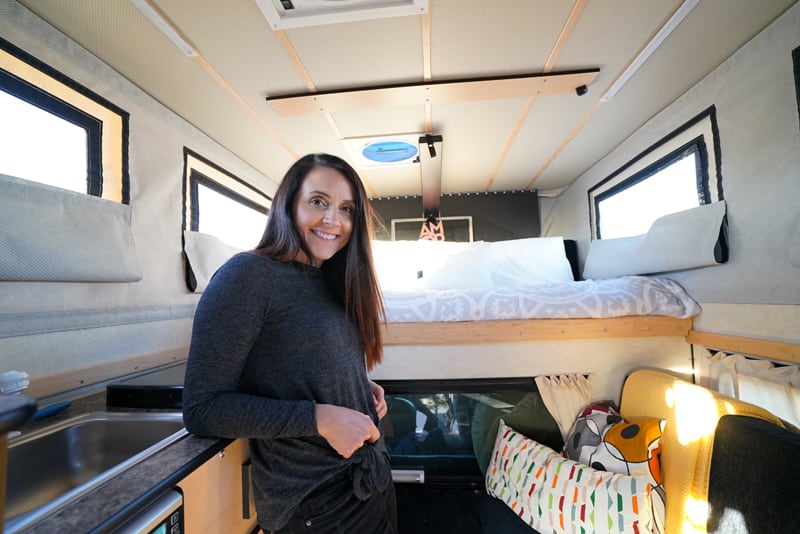 Everything in the United States is so big, including the trucks.  Even though we saw many pop-up campers on the road, nothing would fit our Navara.  The Four Wheel Camper Swift was the answer.  In July of 2016, we switched from the roof-top tent to a Four Wheel Camper.
Many people dream of seeing the world.  How did you afford it in your early 30s?
Before we started, we saved up and then sold everything.  For two years we backpacked, but we didn't want the experience to end.  We did not want to return home to Brazil with empty pockets.
That's when we decided to develop ways to work on the road that would pay for our travel expenses.  We created a business that would give us enough money to pay for a life of traveling without needing to work while we were in it.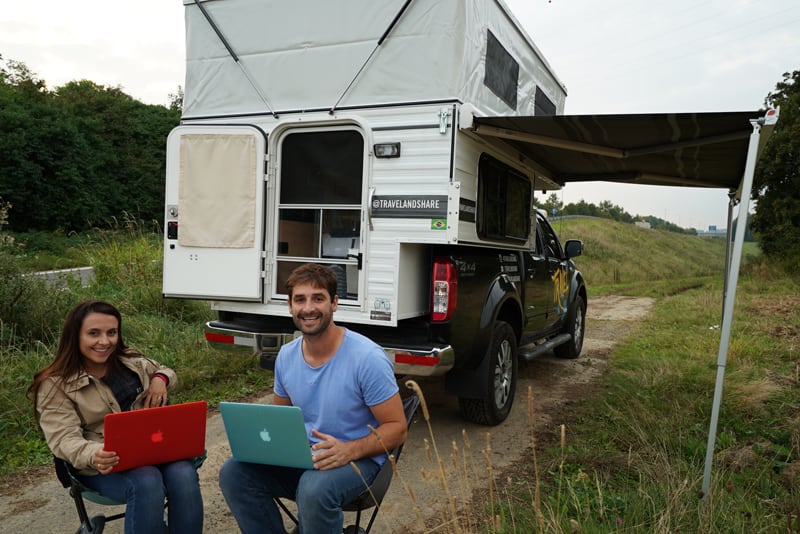 We have many different ways of making money.  We call it pizza.  Each slice is a different part of the income we earn.  The slices include YouTube advertising revenue, companies that want to advertise on our social media, our book, motivational speeches, and our online course.
We are also partners in a subscription box company.  We have a travel conference in Brazil and are now developing an App related to living on the road.  We hope to have some income coming from that in the future.
Since we started to live on the road, we learned that it was extremely important to diversify the ways we make money.  We can't be sure that things will last forever.  Everything has a start and an end.  If we want to make living sustainable, we need to make sure to have enough money to pay for it every month.
You post multiple videos per week to YouTube.  From experience, that's a lot of work.  How do keep up that video production pace and still enjoy traveling?
YouTube is our profession.  We do three videos per week, but there was a time when we were uploading daily videos.  That was insane.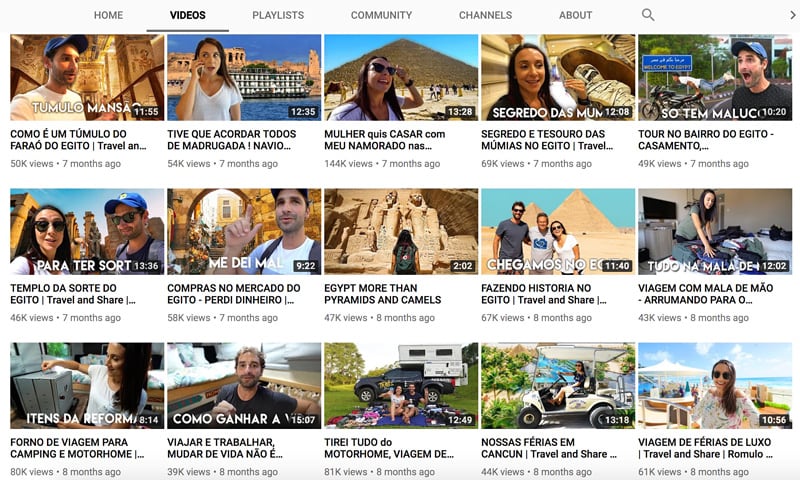 Above: Mirella and Romulo's YouTube channel has 913K subscribers
We edit the videos ourselves and upload many videos at once when we find the internet.  We use a lot of co-working spaces to do that.
Part of our day is used to create the videos.  After that, we turn off the camera and live our lives.  We need time to just be two people exploring a destination.
How do you handle communicating in countries where you don't speak the language?
We speak English, which helps a lot.  We also speak Spanish and Portuguese.  For everything else, we use the Google Translator App.  The Google Translator App has saved our lives in places like Russia, France, and Egypt.
We also smile and try to start the conversation with at least one word in the language spoken in that country.  After that we try English.  If that doesn't work, we try the other languages or the Google Translator App.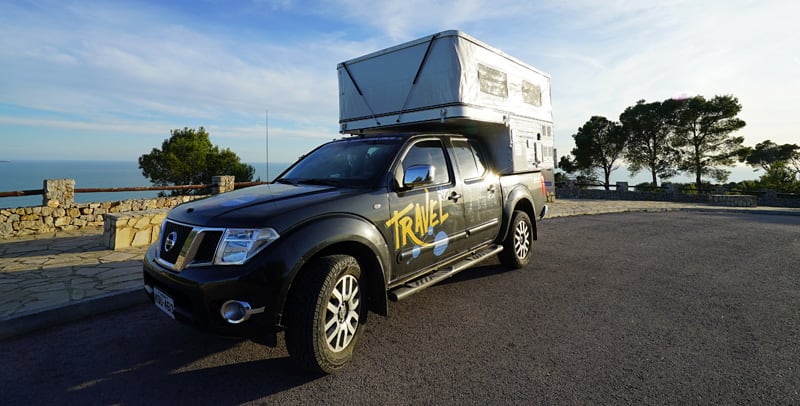 Other than exploration and video production, what are your goals when you're traveling?
We also joke that we want to make enough money that we don't have to work while traveling the world.  The truth is that we like to keep our minds active while traveling.  We are entrepreneurs, so we like that feeling of being able to create a business while still living a different life.
Our main goal is to travel a little slower.  We want to have more time to enjoy the places we visit while living with a little more comfort.
Is one of your goals to visit every country?
No.  We want to go to countries we feel good about.  That is a goal.  For example, we still want to visit Australia and New Zealand.
Where are some of your most favorite places that you have visited?
Iceland, Eslovenia, and Austria are our favorites.
How do you decide where to go next?
We run from cold weather.  We try to go anywhere that is not too cold to be in a camper.
Does going from place to place to place get exhausting?
For sure it does.  When we start to feel like it is becoming too much we stop in a campground or rent an Airbnb for a week.  After five days in the same place, we are ready to hit the road again.
What have been some of the challenges on the road?
When we are tired, hungry and in a place that doesn't look safe, it creates a lot of stress.
What have been some of the most rewarding moments on the road?
The day we got the Four Wheel Camper was a great day.  The day we found out that our sponsor was switching our old truck to the new one was rewarding.  Another good day was when we closed the first contract that would help us pay for our trip without having to count every penny.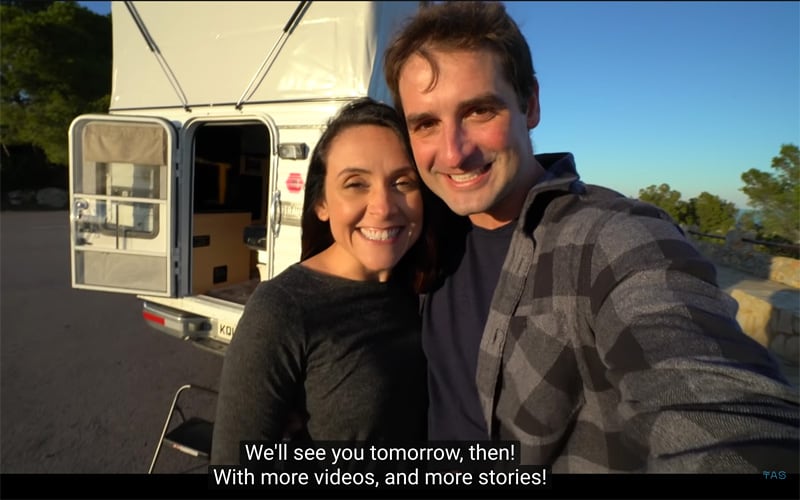 It's interesting that your website address is Travel and Share – in English, but your website is in Spanish. Why is that?
My website is in Portuguese. In Brazil, we speak Portuguese but we love English words.  There are many English words that don't have a Portuguese translation.
We thought, "Travel and Share" sounded good.  We had no idea that people wouldn't understand the meaning.  There are many followers on YouTube who think Romello is Travel and I'm the Share, like those are our names.  It's very funny!  You can also follow us at Travel and Share on Instagram!
Like Sonny and Cher!  That is funny.  Speaking of sharing, is there anything else you'd like to add?
I wish more people could experience this way of living.  They don't have to do it for a long time, but at least for a year.
On the road, we have learned to value what is really important in life.  Living in a small house forces us to not carry a lot of physical belongings, but we make a lot of good memories.
Mirella and Romulo's Rig
Truck: 2018 Nissan Navara, four wheel drive, diesel, short bed
Camper: 2016 Four Wheel Swift
Suspension: Extra Springs
To visit the Four Wheel website, go to fourwheelcampers.com. Click here for a free Four Wheel brochure.