Unless you have obtained one beforehand, the first order of business is to locate the immigration desk and get your six month tourist card.  As soon as you do this, look for the usual copy booth and make copies of it.  They will ask when you move on to the Banjercito window to get your permit.
If there is no copy booth they will usual do the copy themselves. A vehicle permit will be issued for your truck and any other vehicles, like a tow car.  This costs around $40 for six months.  If you have a trailer, scooter, etc, they will generally add those to the same sticker.  If your camper is licensed, you may be required to purchase another one for your camper, but that is unlikely.  It is possible to get a ten year permit for the RV itself, but I advise against it.  If you sell your RV and then try to re-enter with a new rig, you will have no end of hassles.
My advice is to copy all documents they issue you and, if possible, scan and email them to yourself.  I also do this with all my vehicle registrations so I can access copies on the road in a worse case scenario.  I now carry a small portable scanner and printer with me.  Banjercito will also take note of your credit card number and, if you do not return with the vehicle, you will be charged duties.  If you replace a windshield, make sure you salvage the piece with the permit affixed.  Another reason I email a copy to myself, in case I am unconscious from an accident and unable to do that.
Upon leaving Mexico, you have to return the permit at the same Banjercito or a Banjercito at another crossing. They will remove the permit, scan it, and take a photo of your VIN tag.  If you declared a trailer, scooter, or any other vehicle, make sure they are aware of them.  They will issue a receipt.  Do not throw it out.  If you return the following year make sure you have it with you, just in case.
Your United States and Canadian insurance is not valid in Mexico.  You can purchase Mexican insurance in most border towns on the United States side or online.  You can expect to pay about $100 for every $10,000 of coverage.  Make sure you have both collision and liability coverage.  The insurance company should also provide you with a bilingual lawyer in case you do have an accident.  Many policies will also allow you to have repairs done in the United States if the vehicle is drivable.
Unfortunately, if you do have an accident, your vehicle will be impounded until things are sorted out.  If you injure someone, you may also find yourself in jail until things are sorted out.  That is why the lawyer is so important and the very first thing you should do if you have an accident is call your insurance company.  For that reason I recommend carrying a cell phone.  I can discuss that further on in this interview.
Some reliable insurance companies are Don Smith, San Xavier, and Lewis & Lewis and Sanborns.  A six month policy is recommended.  You need to ensure it covers all areas you plan to travel.  You should also check with your normal insurance company.  Many will rebate you for the time spent in Mexico. For that reason keep lots of documentation.  For example, keep copies of the vehicle permit, exit receipts, campground receipts, toll receipts, etc.  You may find you end up breaking even.
TCM: RV caravans to Mexico are nothing new, but more and more folks may be interested in them as concerns about safety in Mexico are heightened.  What can you tell us about caravans into Mexico?
Paul: A caravan is a good way to get an introduction to RVing in Mexico.  Most caravans these days operate in Baja, although one or two are doing the mainland.  If you speak French, there are several Quebec companies that travel into mainland Mexico.  A new trend we are seeing is RV parks running caravans to their park for a small fee, provided you commit to a couple of months.  La Penita, just north of Puerto Vallarta and Celestino Resort, just north of Mazatlan, are two that come to mind.  See http://www.celestinocaravans.com and http://www.lapenitarvpark.com.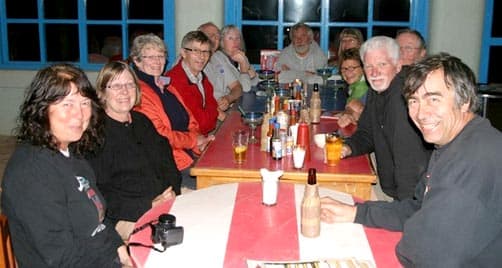 Above: Dinner at Huatabamapito with the travel buddies we found through www.mexicorvforums.com
TCM: If a Mexico newbie doesn't sign up for a caravan, do you recommend crossing the border and traveling with a RV buddy?  How would that work?
Paul: This trend appears to have taken off this last season. I did this myself for the first time, traveling with two other truck campers, a travel trailer, and a fifth wheel.  We stuck together for a couple of weeks, especially for the first few hundred miles south of the border.  We found the folks in one of the other truck campers particularly compatible and plan to travel together in future, possibly to South America.  They live in the San Francisco Bay Area.  Oddly enough, we first met them at the Host RV factory while on a NATCOA caravan in 2005.
Last year, I established a new web site, www.mexicorvforums.com to try and promote a "no-paranoia" information site for Mexican RVing.  If you register on the forum there, you will find a calendar that you can enter your travel buddy request into.  Others can then contact you via private mail.  It worked well for many, last season, and, as it becomes better known, it should become a useful resource.  I run that site on a non-profit basis as a means of helping the RV industry.  Several Mexican businesses are advertising on it.  I use the money to produce bumper stickers promoting RVing in Mexico.  I will provide those for the cost of postage to anyone who would like a couple (see www.mexicorvforums.com/bumper.pdf).  I apologize for the silhouette of the Class C on the stickers.  If you would like one, you may contact me through that web site or [email protected]
TCM: Many readers would be concerned about navigating their way around Mexico.  Can you successfully use a GPS in Mexico?  Or are there better ways to navigate Mexico, like map books?
Paul: GPS maps for Mexico are not yet up to the standards of those for Canada and the United States.  For this reason, I recommend finding a copy of Guia Roji, the definitive Mexican road map book.  They can be found in large department stores in Mexico such as Mega or Walmart.  You can also order them on line, but the site is only in Spanish; http://www.guiaroji.com.mx.
For GPS maps, I used to recommend BICI maps for either the Garmin or Magellan, but things have recently changed.  Garmin now includes Mexico with its North American updates.  I did a recent side-by-side comparison and they proved to be currently superior to BICI.  BICI does, however, show contours.  Garmin uses Navteq as their supplier.
Tom Tom uses Tele Atlas which also provides Mexico maps.  I have no idea how good those are.  A GPS is useful if you don't completely rely upon it.  If you have the Church's book, they provide co-ordinates for over 400 Mexican RV parks and entering those into a GPS can help you locate them.  Microsoft Streets and Trips also has very detailed Mexican maps.  The big problem is Mexico's love of one way streets.  No GPS so far appears to be able to deal with those, nor do they tell you if a road is passable for an RV.  Low trees, narrow streets, and archways are a big hazard in many Mexican towns.
I have an overview map on my web site showing the general location of RV parks and cross referencing with the Churches book.  Some new ones since the book was printed also show on there along with their co-ordinates.  Mike and Terri also regularly post updates on their site, www.rollinghomes.com.