Fresh back from another winter in Mexico, Paul Beddows cuts through the hysteria and tells us the latest we need to know about truck camping in Mexico.

Three weeks ago, Paul Beddows pinged our email announcing, "I'm baaaacccck".  He had just returned from another winter in Mexico and wanted to share his current findings on truck camping south of the border.  "I wasn't murdered this year or anything like that," he added, as if dead people write us email.
Of course Paul's point was clear.  For the past few years the media hysteria surrounding travel to Mexico has been fever pitched.  Paul even suggested the question, "Is Mexico a War Zone?" for his interview.  Paul then added a laundry list of other critical topics that directly address the fears and concerns we regularly hear about Mexico.  It would be a daring story, on what many believe is a daring destination.  Who can deny a double dare?  It had to be done.
As a magazine, we've never been truck camping in Mexico.  It's only a matter of time.  We will follow in the truck camping tracks of Paul and Terry Beddows, Paula and Jerry Gale, Ken and Kris Cardwell, Mike and Terry Church, and many, many others.  But before we cross the border, we will read everything we can find on the subject.  We will heed the advice of our fellow truck camping friends.  We will absorb Mike and Terry Church's book, "Travelers Guide to Mexico Camping".  We will be prepared.
And a new world will open to us.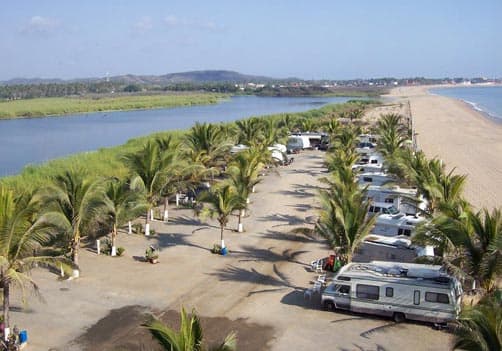 Above: Laguna del Tule RV park, Melaque
TCM: Let's get right to the big question; is Mexico a war zone as we frequently are told by the media in the United States?  Can you give us some first hand experience with this question?
Paul: Every time one talks about RVing in Mexico, this is the first matter that comes up. Anyone who tells you Mexico is hassle free or 100% safe are deluding themselves. However, the media in both the United States and Canada has blown the risks out of proportion.
Mexico is not a war zone, anymore than the United States was a war zone during prohibition, and there are many parallels to that period.  There are areas of Mexico that are highly unsafe and should be avoided, such as Cuidad Juarez.  Cuidad Juarez is, in fact, a war zone.  Other trouble spots come and go.  Right now, Acapulco and the Northeast state of Tamaulipas are possibly the areas to avoid.  The astute traveler will keep updated on problem areas.
I believe the risks to RVers in Mexico are highly overestimated.  A single incident in Mexico sends people running for the hills.  A similar incident in the United States or Canada appears to get shrugged off.  That is not to say one should not remain wary and alert.  Your chance of being a victim of property crime is higher, simply due to the economic differences between Mexico, the United States, and Canada.
Mexico is also very different country in terms of language, culture, and laws, all of which are waiting to trip up the unwary.  Most people are pleasantly surprised at just how generous and helpful the majority of Mexicans are towards RVers, especially when you do run into trouble.  This year was my fourth season in Mexico, by the way.  Now we have the usual question out of the way, let's talk about logistics.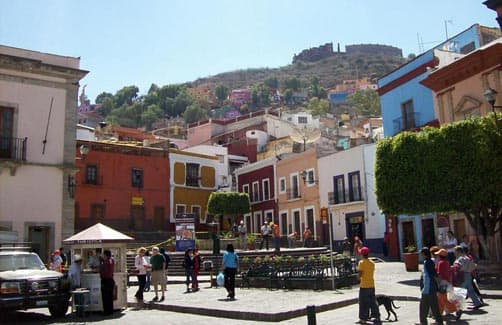 Above: Colonial city of Guanajuato, Mexico
TCM: Talk to us about the procedure for taking a truck camper into Mexico.  Specifically, tell us about insurance, permits, vehicle registration, and anything else one needs to cross the Mexican border, and get back again.  The back again part is particularly important.
Paul: Mexicans love paperwork. This means that you really have to have all your ducks in a row before crossing the border. You will need originals of all vehicle registrations.  If your truck is leased, or is a company owned truck, you need notarized permission to take it into Mexico, even if you are the company owner.
Having a couple of copies of all your documentation is also advisable. I would also carry a copy of any original sales agreement. If you are from a State or Province that does not require truck camper registration, it is a good idea to carry the original sales agreement, although I have never been asked.
You should also have a copy of Mike and Terri Churches "Mexico Camping"  book.  This is the bible and contains valuable information on individual crossing points.  No Mexican RVer should be without a copy.  I recall Truck Camper Magazine interviewed Mike and Terri a few months back.  I frequently run into them, and their Adventurer truck camper in Mexico.
A vehicle permit is required unless you are traveling to Baja or remaining in northern Sonora State, known as the hassle free zone.  Permits are issued by the Banjercito and usually you have to locate the offices which are often ten or twenty kilometers south of the border.  You will be required to have vehicle registrations, a drivers license, and a credit card.