A first-grade school teacher from Belgium, Jean-Paul Gerday, handcrafted a custom pop-up truck camper using only a certain online magazine and YouTube for design inspiration.  The results have been all over Europe.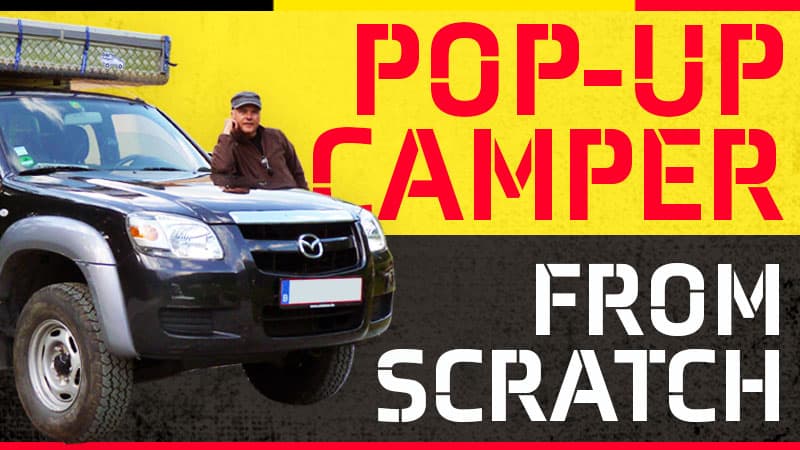 Jean-Paul Gerday contacted us after reading our, "Never Before Told Story" on the 14th anniversary of Truck Camper Magazine.  After reading about how TCM came to be, he completed our, "Share Your Story" form with an incredible DIY camper build that we had to share.
For the first time, we are including Jean-Paul's original French under the English translation.  We know a number of fellow truck campers in Europe and Canada (Bonjour Quebec!) will enjoy reading Jean-Paul's story in their native language.
Pour la première fois dans l'histoire de Truck Camper Magazine, nous incluons le français original de Jean-Paul sous la traduction anglaise. Nous savons que plusieurs camarades campeurs en Europe et au Canada (Bonjour Québec!) Aimeront lire l'histoire de Jean-Paul dans leur langue maternelle.
Cliquez ici pour passer à la version française.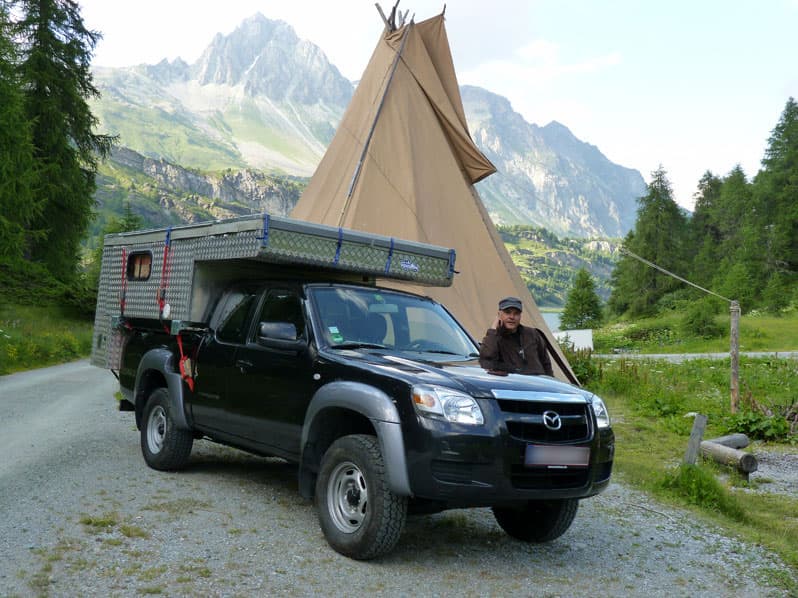 Above: Jean-Paul and his Oufticamper that he built from scratch, Stopover in Maloja at the Plan Curtinac campsite in the Grisons region, Switzerland
How did you discover truck campers in Belgium?
I always liked the concept of cells (campers) on pickup trucks.  It was thanks to Truck Camper Magazine that I discovered the truck camping lifestyle.  In Europe, cells are very expensive and not very common.
In 2012, I was a teacher and had free time after school and during school holidays and decided to build my own cell.  I called it Oufticamper.  I started building in September of 2012 and the process lasted for a school year.  I wanted it to be finished by the end of June of 2013 so I could go on vacation that July.
We love camping.  We camped in a tent and a caravan (RV) when our two children were younger.  At the time, I also had two extended cab pickups to pull a trailer.
One day I thought to myself, when the kids don't go on vacation with us anymore, I would consider buying a cell.  I built a pop-up camper because it's smaller, more aerodynamic, and easier to construct.  We also weren't planning to camp in the winter.
In Europe, there are often bars at the entrance to certain car parking lots to prevent motorhomes from parking there.  The motorhomes are about two-meters high.  With Oufticamper, I can pass below those bars and take advantage of better places to park.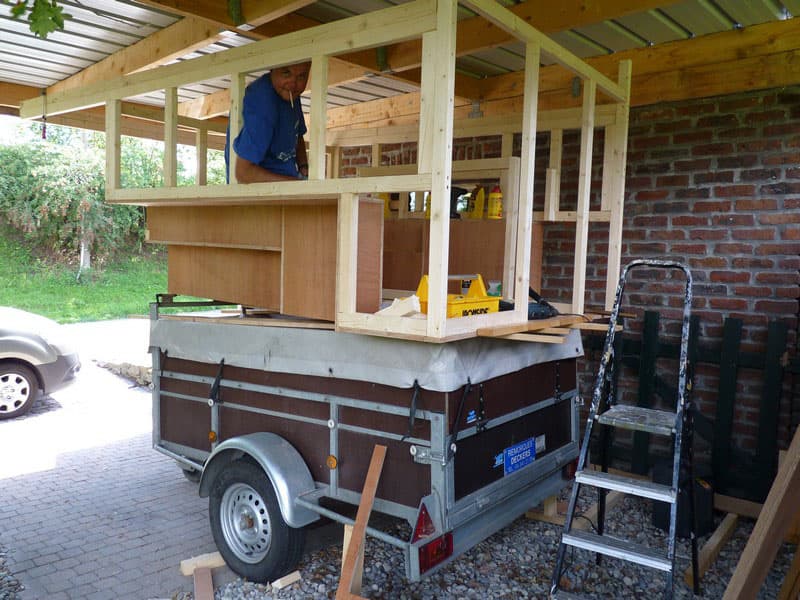 Where did you build it?
I built the camper under the carport next to our house.  It was easier for me because I was sheltered and I could work in it whenever I had a moment.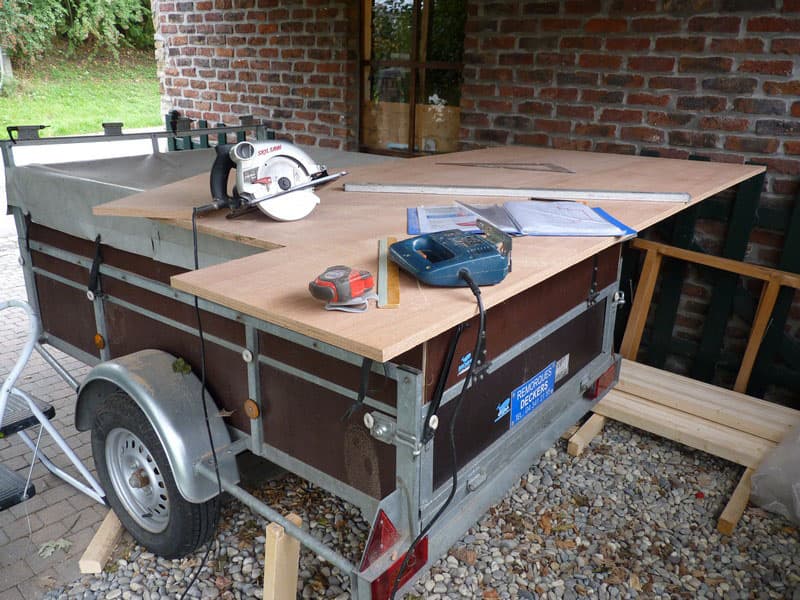 How did you know how to build a truck camper?
When I decided to build the camper myself, I looked at your magazine and watched videos on YouTube.  At the time, I no longer had a pickup truck.  I had to take measurements online with the truck dealer websites and make a plan.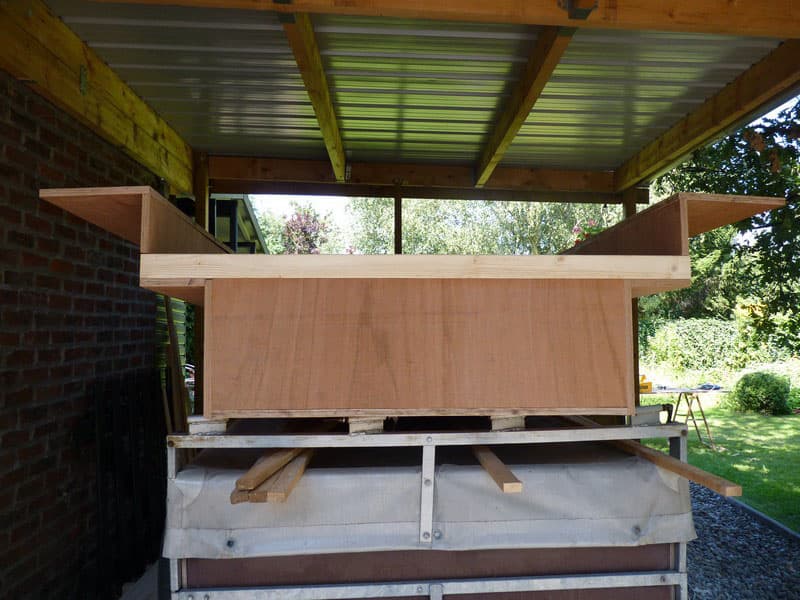 I built a camper for two people because our two children, Maxime and Marie, had grown up and no longer came with us on vacation.  We used to have a trailer and had a great time with the family.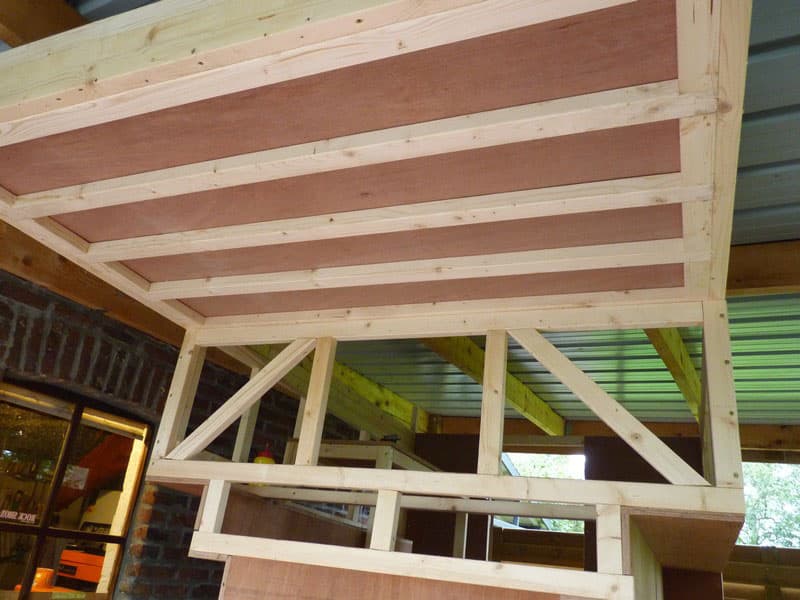 From the internet, I studied how to build the camper and developed specifications.  I wanted the table and two seats at the front of the cell.  I did not want the cell to be wider than the pickup and needed the inside to be livable for two people.
Marie-Eve wanted cabinets to store dishes and clothes.  It was necessary to place a reserve tank for fresh water, another reserve tank for grey water, the refrigerator, gas cylinder, and battery.  That's why I had to make the cell stick out from the pickup bed.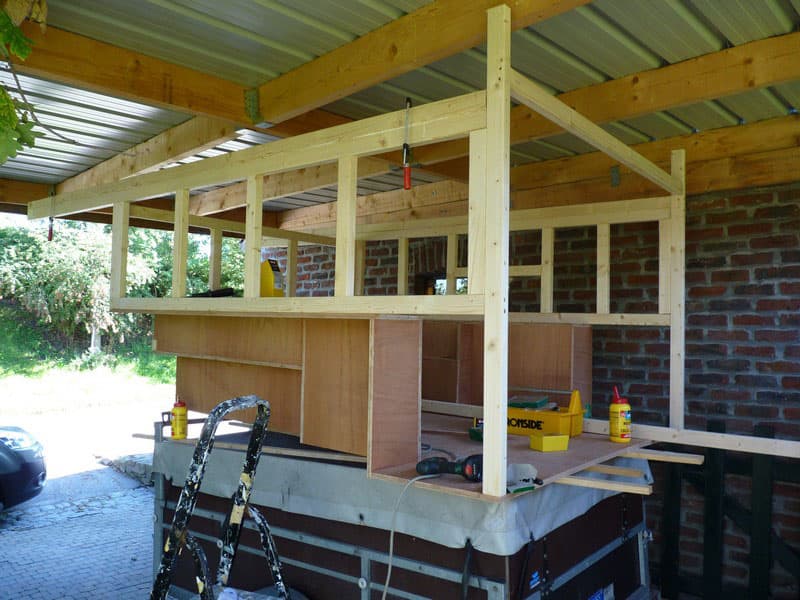 What material is the camper framed with and why?
The cell is wood framed with aluminum plates.  I chose a wood frame because I don't know how to weld aluminum.  Wood is also insulating by nature, but it can degrade with water.
I selected ridged aluminum plates because they are strong.  Unfortunately, they are also quite heavy.  I glued the aluminum plates to the wood frame and screwed it with stainless steel screws adding silicone to each hole.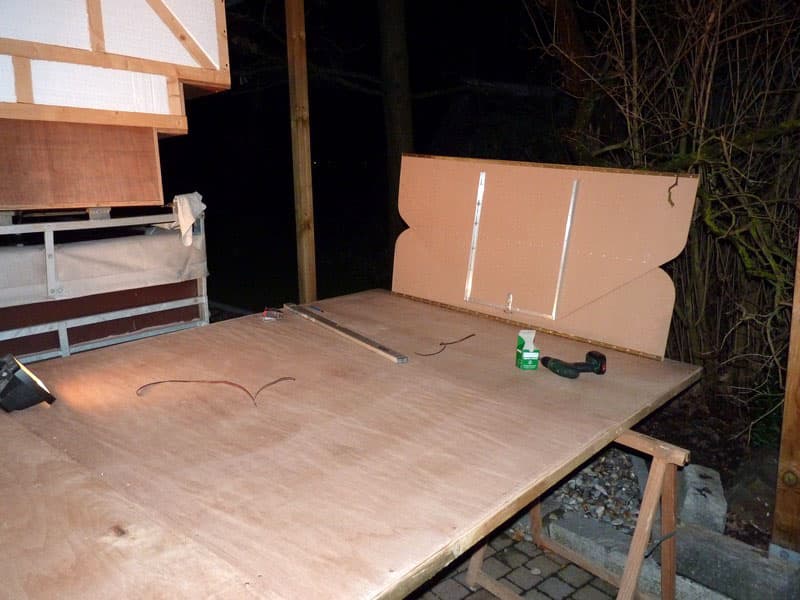 The roof was constructed the same way.  It's framed in wood with smooth and lighter aluminum plates.  I riveted the plates as they were too short.  I also used a special silicone to perfect the roof's seal.
Inside the roof, I used thin wood panels to cover the ceiling frame and insulation.  I also ran wires to power the LED lights and placed a skylight above the table for light and airflow.  The walls and roof were insulated with 4-centimeter (1.57-inch) polystyrene.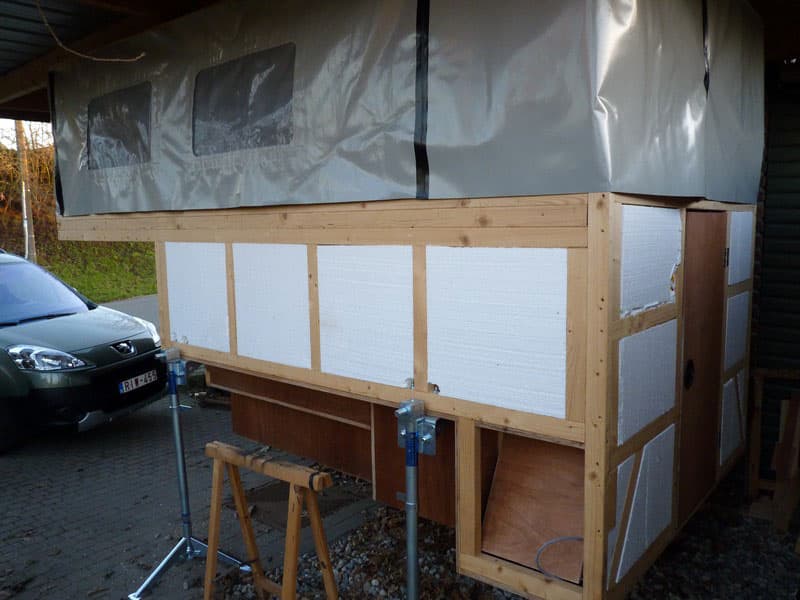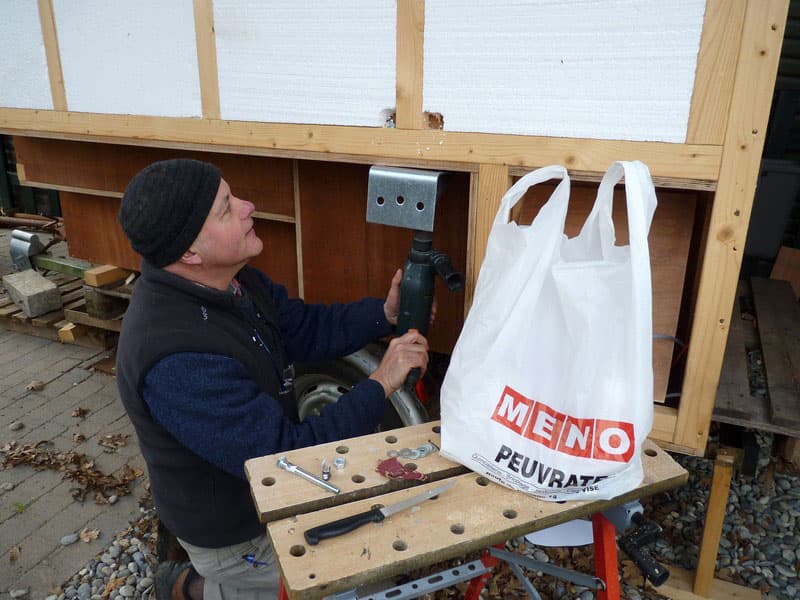 Had you ever attempted to build something like this before?
I am not a professional builder, but I love DIY.  I don't have a lot of professional tools, but I figured it out.  I needed a circular saw, jigsaw, standing drill, screwdriver, and a hacksaw.  I signed up for an evening welding class to take advantage of the bender machine to cut and angle the aluminum sheets.
Before I built the cell, I bought an old house and had to remodel a lot.  I also made bedrooms and closets for our children.  This is how I learned to build things.
Where did you get the materials and parts?
My wife picked out the mattress from Ikea.  The sink is also from Ikea.  I told my first-grade students and their parents, who didn't know what a cell was, about building a camper.  A student's mother happened to be a seamstress and volunteered to sew the pop-up canvas and windows.
The jacks came from Rieco-Titan in the United States.  The freight and customs cost more than the jacks, but they're very well made.  The rest of the materials I bought on the internet or in stores here in Belgium.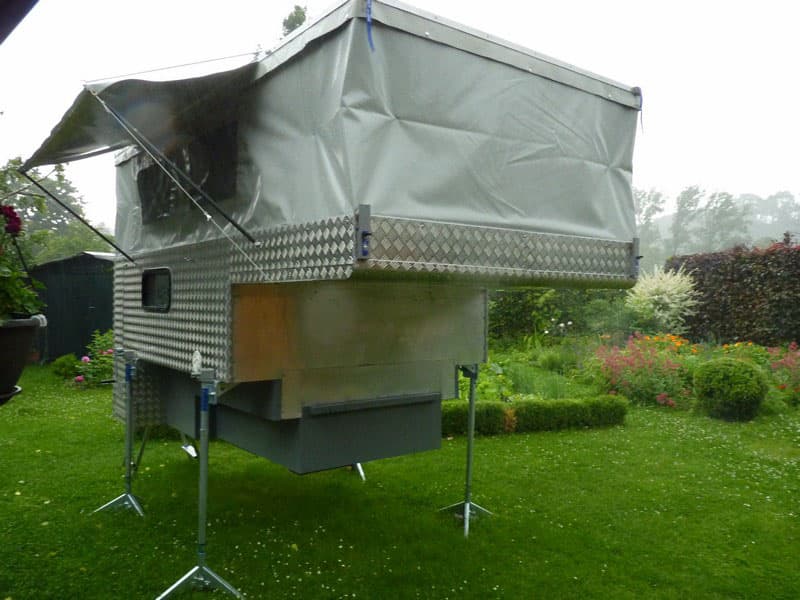 From YouTube videos, I was inspired by the way Four Wheel Camper's roofs are raised.  I was taking stills from the videos to understand how their system worked.  Their mechanism is made from wood.  I was able to create a version with my rivet pliers and jigsaw.
When I finished assembling the lift mechanism, I realized the roof was too heavy to lift.  For this reason, I later installed four hydraulic jacks which greatly facilitates the task.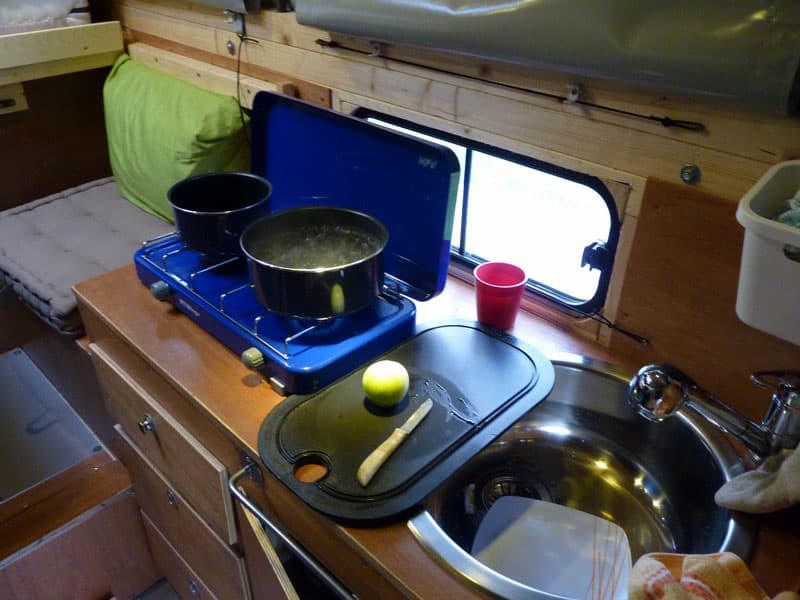 Does your camper have holding tanks?
My camper has a 70-liter (18.5-gallon) fresh tank under the table and a 45-liter (11.8-gallon) grey tank under the front door.
I also installed a Dometic Waeco 35 compressor refrigerator, portable toilet, and a water pump for the sink.  I just installed a small diesel heater to heat the cabin and a Howling Moon awning on the exterior.
There's no water heater on the camper yet.  This is why we often stay at small campsites and use their shower and facilities.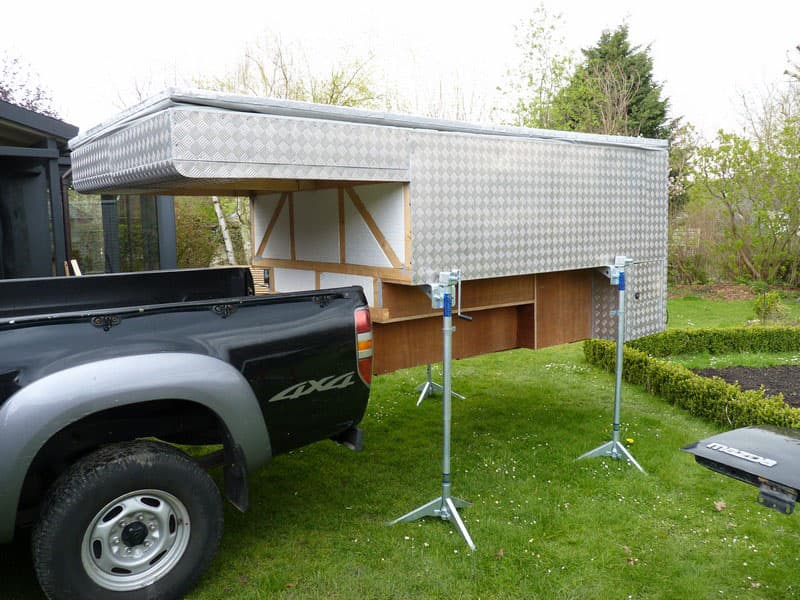 What are the dimensions and weight of your camper?
The total length of the camper is 3.4-meters (11.2-feet).  The width is 1.8-meters (5.9-feet).  The height is 1.33-meters (4.4-feet) when the top is down.  When the top is up, the interior height is 2-meters (6.6-feet).
The camper weighs around 640-kilos (1,411-pounds) fully wet and loaded for camping.  I am not counting the weight of our two electric mountain bikes that we can mount on either side.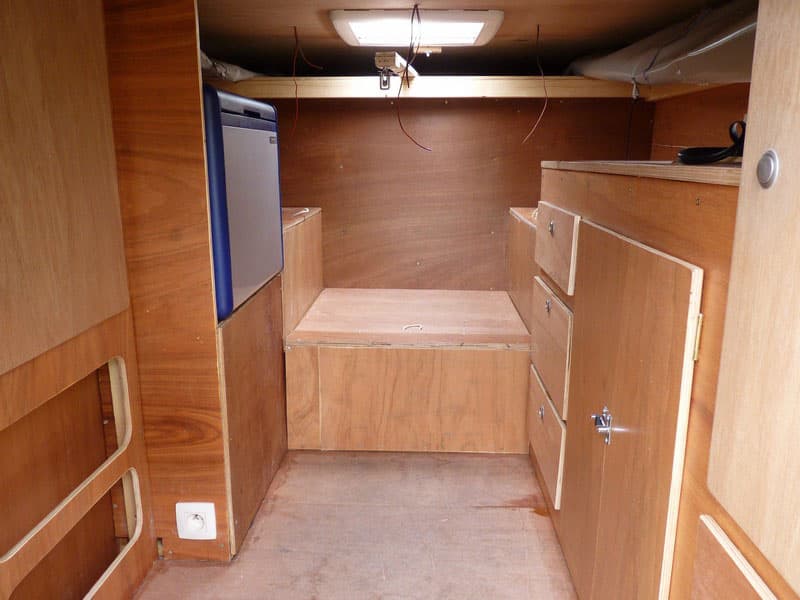 Now that it's completed, what would you do differently?
If I had to start over again, I would have the tarps and welds made by a specialist company that manufactures awnings for caravans (RVs).  I would make the space around the table big enough for at least four people.  I would also move the battery to free up a space for a mini shower, and I would increase the bed length by about 10-centimeters (3.9-inches) so the camper is above the cabin.
The most difficult part of the build was convincing Marie-Eve, but we didn't have many arguments.  As long as it's for traveling, she's okay!  The hardest part was making it waterproof.  Now, I have that solved.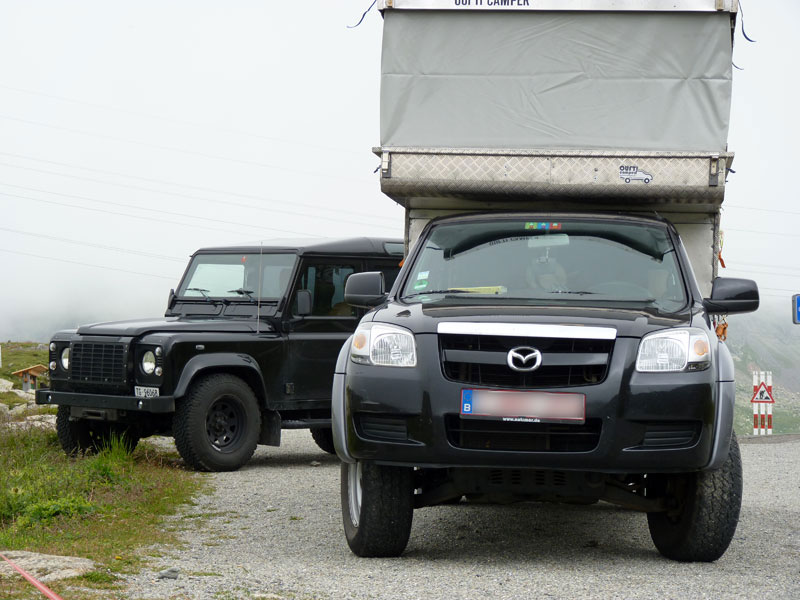 Tell us about your truck.
The first truck was a used Mazda BT50 pickup truck from Germany.  In Belgium, there are hardly any big pickup trucks.  We could only find a double cab. I kept the Mazda for three years and then the gearbox broke.  After that, I bought a Nissan Navara King Cab in France.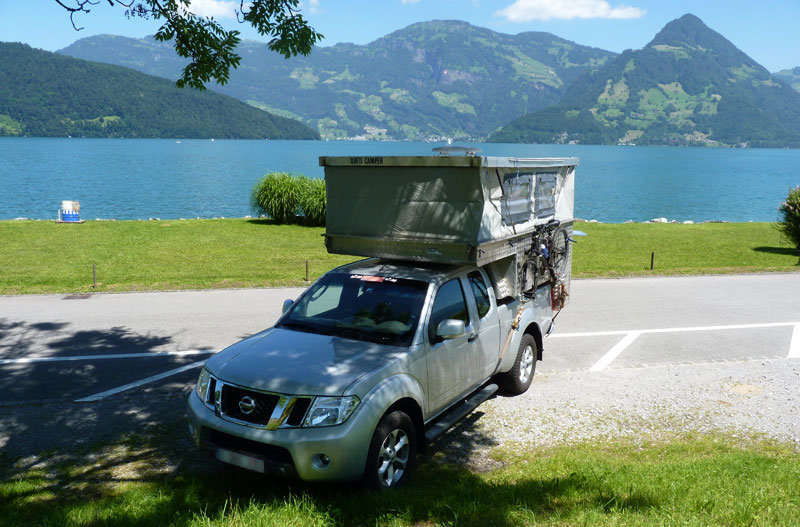 The Nissan has a bigger engine and more horsepower.  I had to modify the camper because the dimensions of the Nissan were different.  I also changed the rear leaf springs which were too soft.  I bought the blades from Pedders UK.  They are made in Australia and work well on my pickup.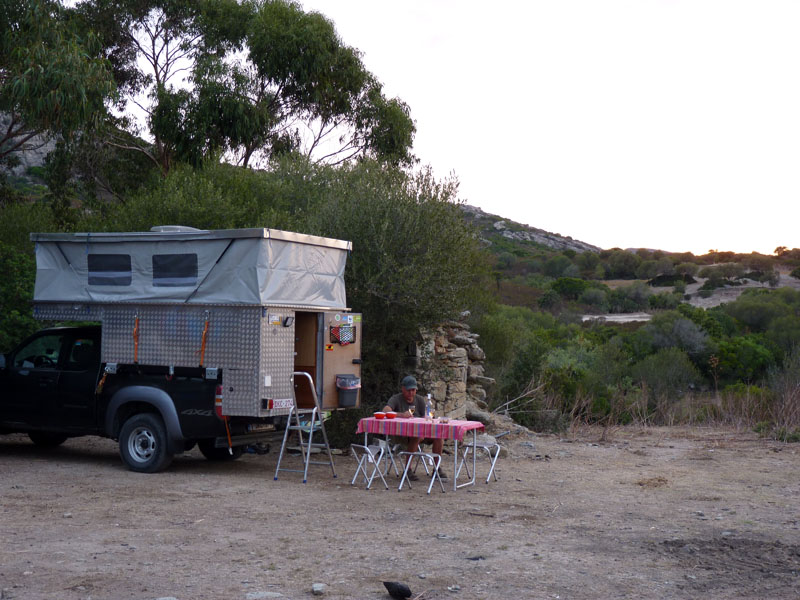 What are you using for tie-downs and turnbuckles?
For turnbuckles, I opted for ratchet straps.  The straps attach under the frame and through eyelets attached to Rieco-Titan jack mounts on the frame front and rear.
The orange straps in the pictures are from the first year after I built the camper.  I have now abandoned that approach and made improvements.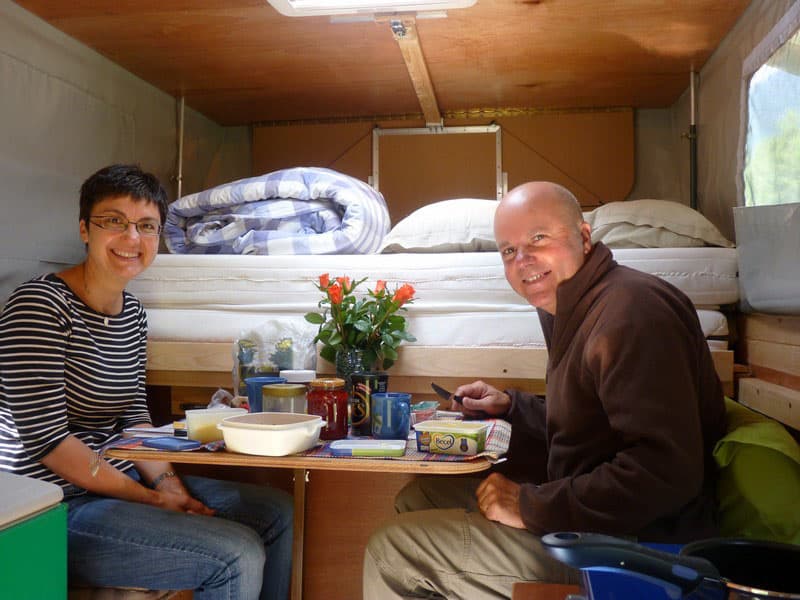 Where have you been with your camper?
At the end of the 2013 school year, we went on vacation with the Oufticamper and loved it.
We often go to Corsica.  It's a French island quite far from where we live, but we love the sea and mountains.  To get there you cross the east of France and Switzerland.  It's a beautiful country, but very expensive.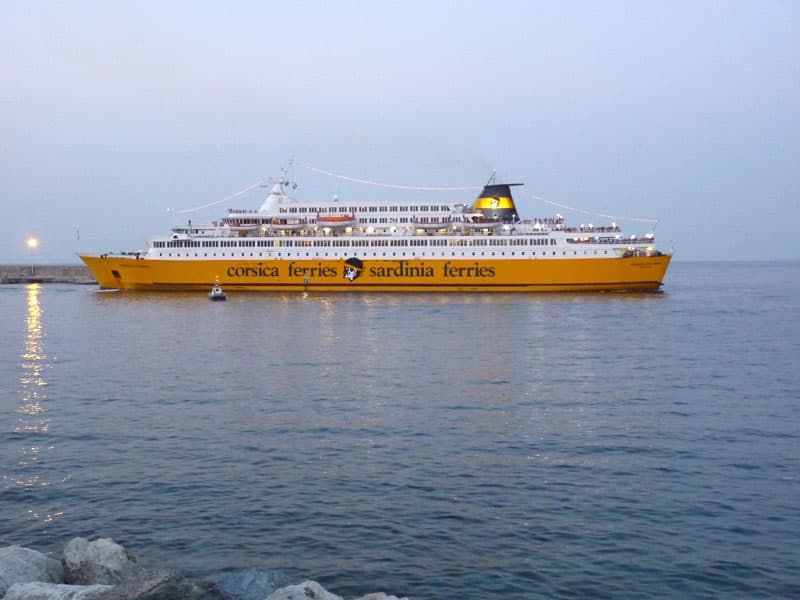 We arrived in the north of Italy and continued to the port of Livorno and take a ferry to cross part of the Mediterranean Sea.  The crossing takes about four hours.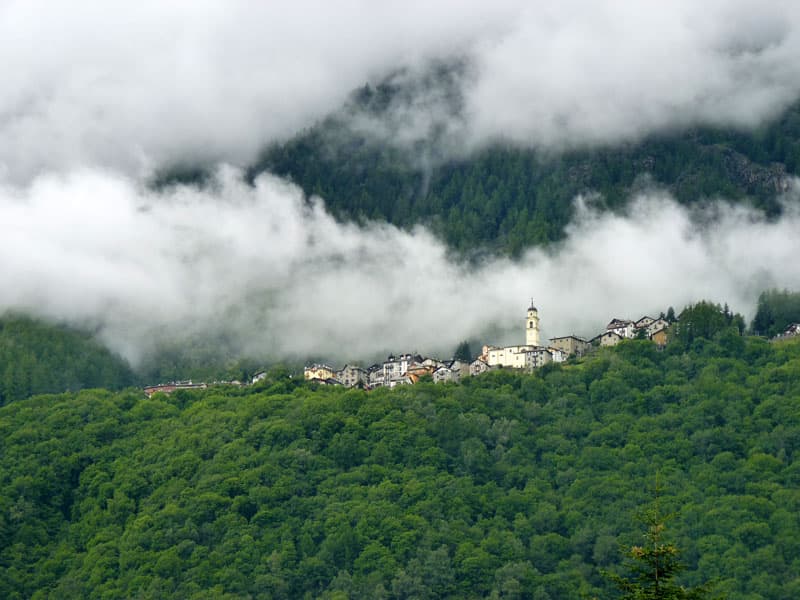 In the photos it shows that we crossed the Bernina Pass in Switzerland to go to Italy.  That year we decided to visit a few friends in the Italian Alps.  They live in a small village named Primolo (pictured above) near the town of Chiesa in the province of Sondrio.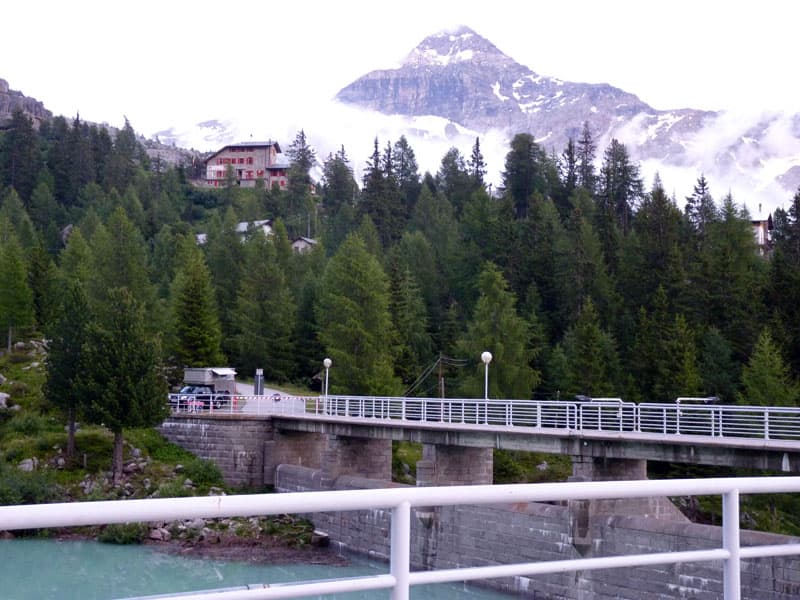 Above: Night at the edge of the Campo Moro Dam, Lombardy, Italy
From there we traveled around the region and had a great time in our new vacation mode.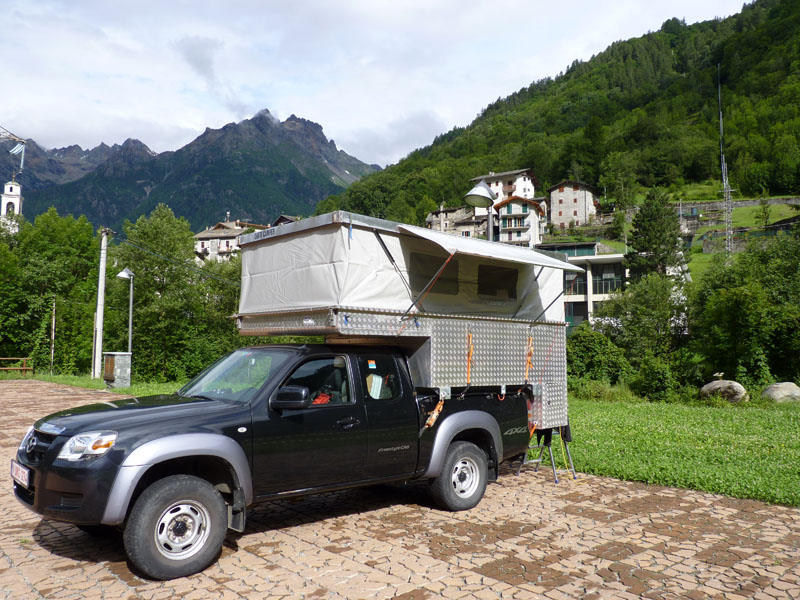 Above: Lanzada dans la Valmalenco campsite in Italy
From northern Italy we went to Corsica.  We love the north of Corsica, called Cap Corse, because it is wilder.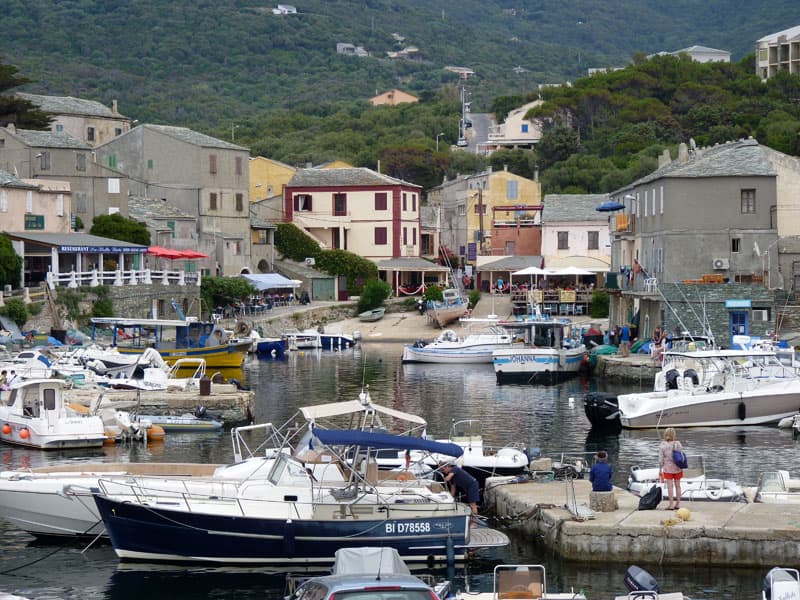 Above: Small port of Centuri in Cap Corse, Corsica
We also enjoy the mountains for cooler temperatures and beautiful scenery.  Over the years, we have returned to Corsica several times with our camper.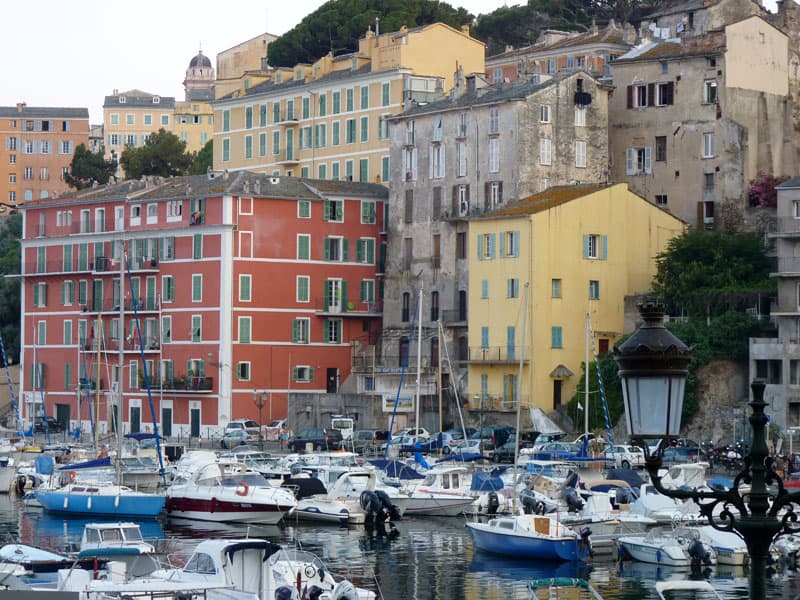 Above: Old port of Bastia, Corsica
Wild camping (boondocking) is prohibited in Corsica.  We followed along the sea to Calvi and stopped at the campsites.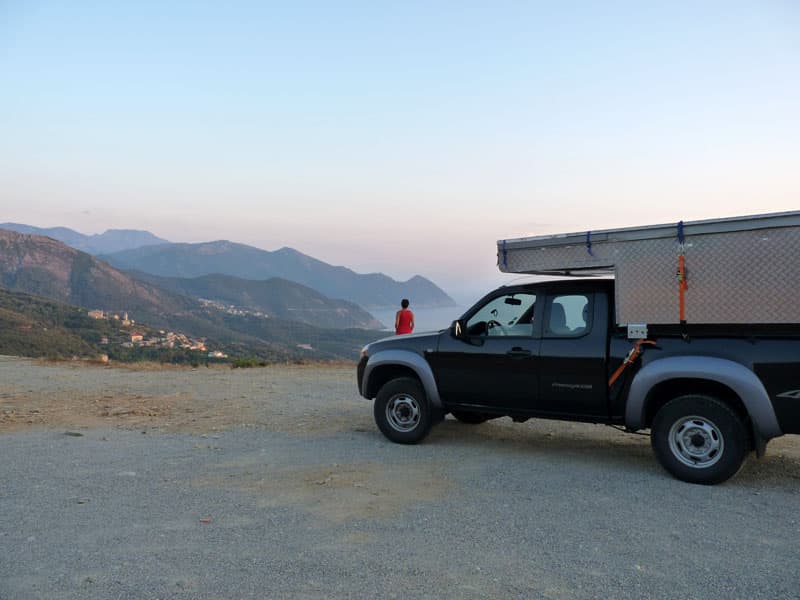 Above: Col De La Serra in Cap Corse, Corsica
Whenever we go to a campsite or parking lot or village square, we always have the opportunity to discuss our mode of travel.  We have some great meetings.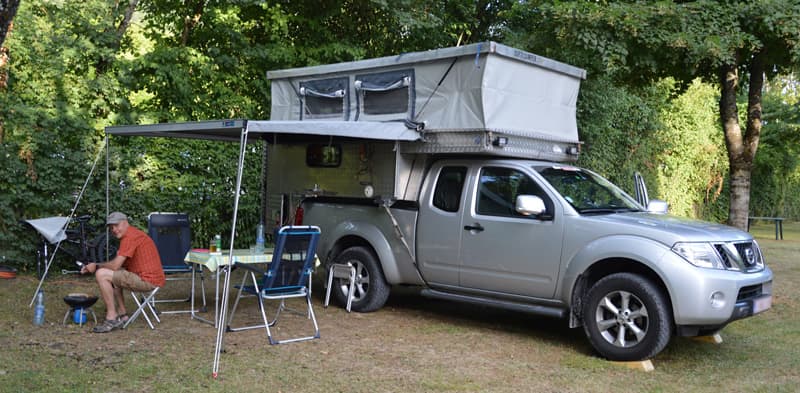 Above: Camping in the mountains, Corsica
Unfortunately, during the trip, I realized our camper was not waterproof.  I had to modify some construction defects as soon as I got back to Belgium.  I welded the windows with zippers on the tarp so there was no more water inside.  I also added fixings on the side to take our two ATVs and installed hydraulic jacks to lift the roof, which was a bit heavy.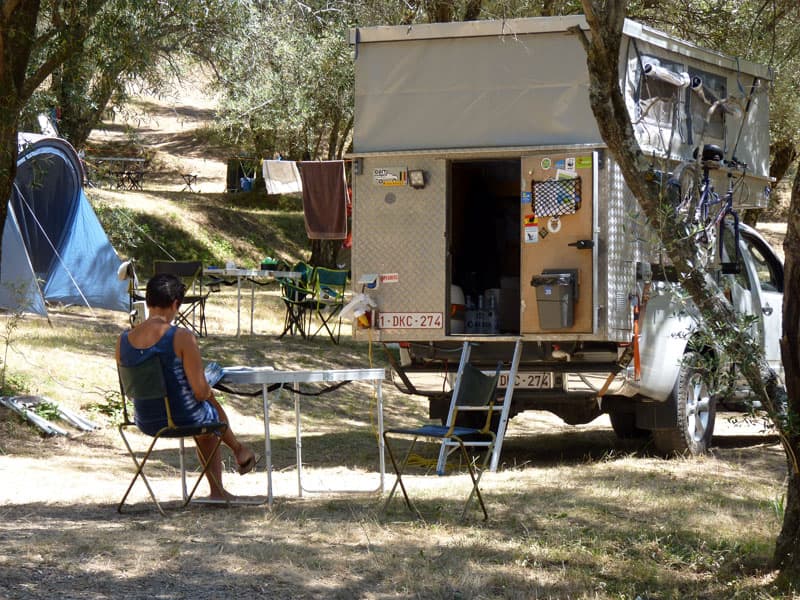 Do you typically camp in campgrounds, or dry camp?
We go to small campsites more often and take advantage of the facilities.  It's a bit more expensive, but we like the atmosphere of the campsites.
Any plans to add solar panels or additional batteries?
I recently received a 100-watt solar panel that I need to install.  We don't use a lot of electricity, but power is needed for the refrigerator, lights, and diesel heater.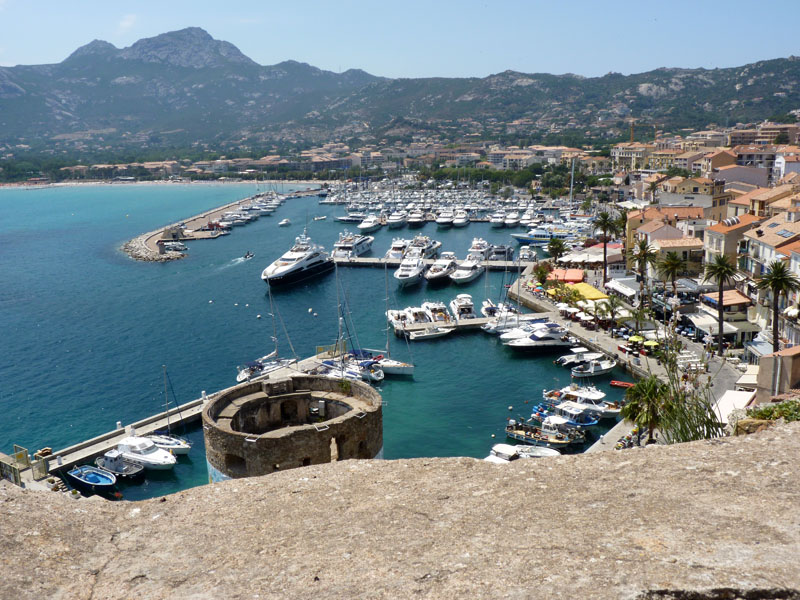 Above: Port of Calvi in ​​Balagne, Corsica
What are your future truck camping plans?
We intend to discover other countries in northern Europe.  We have already been to Norway and Sweden, but not with our camper.  We would like to visit Finland.  We'll see.  During Covid, we can no longer travel.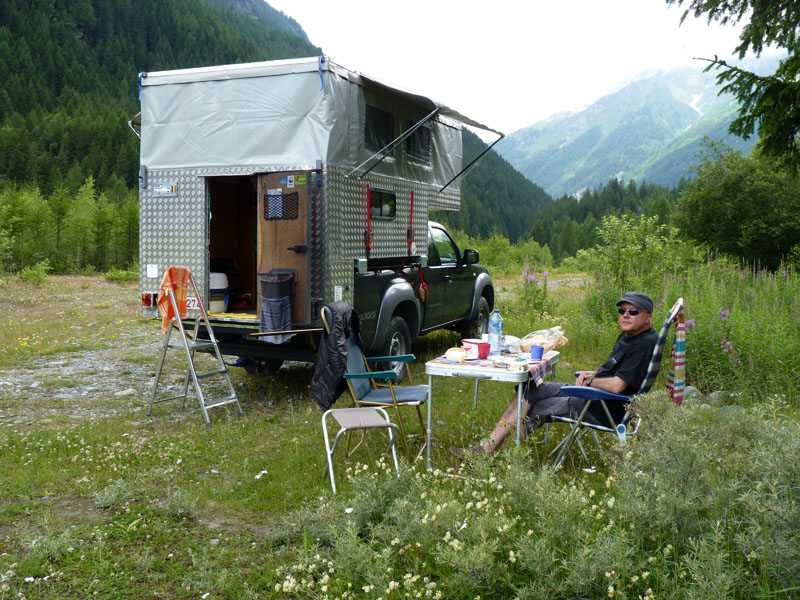 Above: Overnight by the Torrent in San Giuseppe, Valmalenco, Italy
I want to thank you for the magazine.  I love to read the articles that you publish from all over America and beyond.  I also enjoy the calendar photos and comments from the photographers.
I love seeing your pickup trucks, your campers, and the beautiful places.  It has allowed me to travel virtually.  Maybe one day I can come to America, rent a camper, and visit some national parks.
– From Belgium, a very small country, Jean-Paul and Marie-Eve Gerday, and Oufticamper
L'article de Jean-Paul en français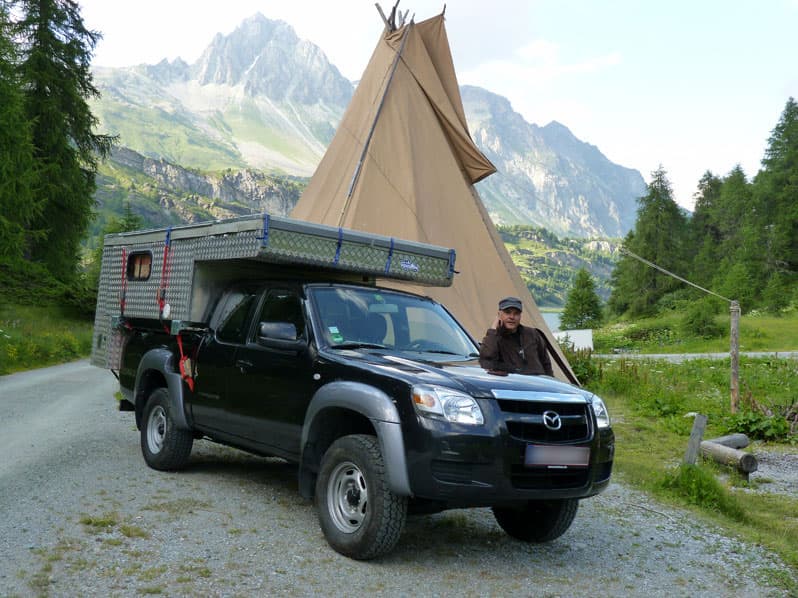 Ci-dessus: Jean-Paul et son Oufticamper qu'il a construit à partir de zéro
Parlez-nous de la façon dont vous avez construit votre camping-car.
Je vous écris depuis la Belgique. J'ai toujours aimé les cellules sur un pick-up. C'est grâce à Truck Camper Magazine que j'ai découvert ce type de vacances. Chez nous en Europe, les cellules sont très chères et ne sont pas très répandues. En 2013, j'étais enseignant et j'avais du temps libre après l'école et pendant les vacances scolaires. J'ai donc décidé de construire ma propre cellule que j'ai appelée Oufticamper.
Il m'a fallu toute une année scolaire pour la construire. J'ai commencé sa construction en septembre 2012 et le processus a duré une année scolaire. Je voulais qu'il soit terminé à la fin de Juin 2013 afin que nous puissions aller en vacances l'été en Juillet.
Pourquoi avez-vous choisi de construire un camping-car de camion et non pas une remorque ou un autre type de VR?
Nous adorons le camping. Nous avons déjà essayé la tente, la caravane quand nos deux enfants étaient plus jeunes. A cette époque, j'ai eu également deux pick-up double cabine pour tirer une caravane. Un jour, je me suis dit que quand mes enfants ne viendraient plus en vacances avec nous, j'envisagerais d'acheter une cellule. J'ai construit une pop-up car elle est moins imposante, plus aérodynamique, plus facile à construire et nous n'envisagions pas de partir en hiver avec. Et puis en Europe, il y a souvent des barres à l'entrée de certains parkings pour empêcher les motorhomes de se parquer. Celle-ci se trouve à plus ou moins 2 mètres de hauteur et avec « Oufti camper », je passe en dessous donc je peux profiter de meilleures places pour stationner.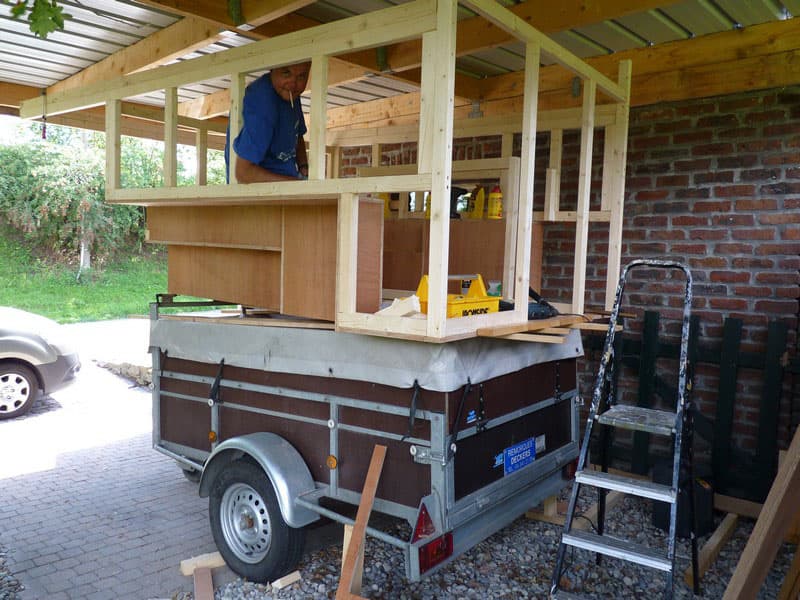 Où l'avez-vous construit?
Je l'ai construit sous le carport à côté de la maison. C'était plus facile pour moi car j'étais à l'abri et dès que j'avais un moment de temps, je pouvais travailler dessus.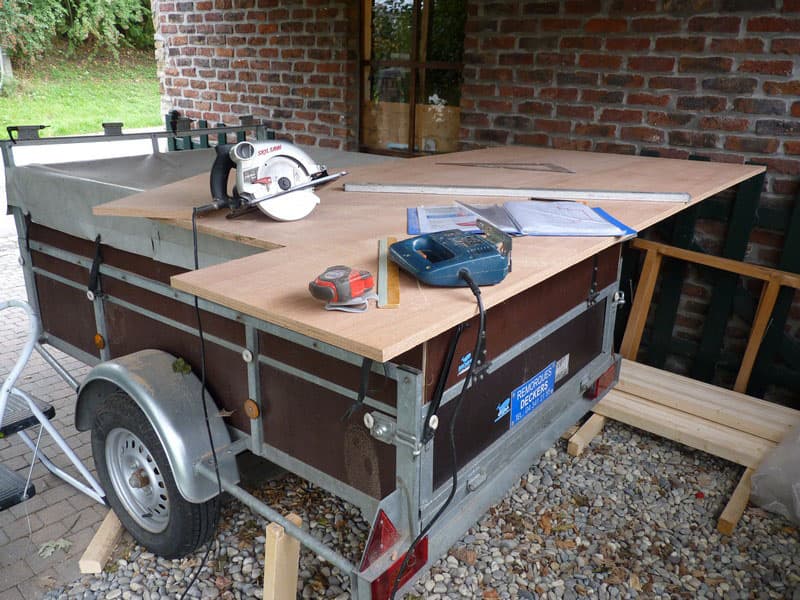 Comment avez-vous découvert comment mettre votre campeur ensemble?
Un jour, j'ai décidé de construire moi-même un camping-car. J'ai regardé votre magazine et regardé des vidéos sur You Tube. Au début, je n'avais plus de pick-up, alors j'ai dû prendre les mesures sur les sites de marques de pick-up et faire un plan.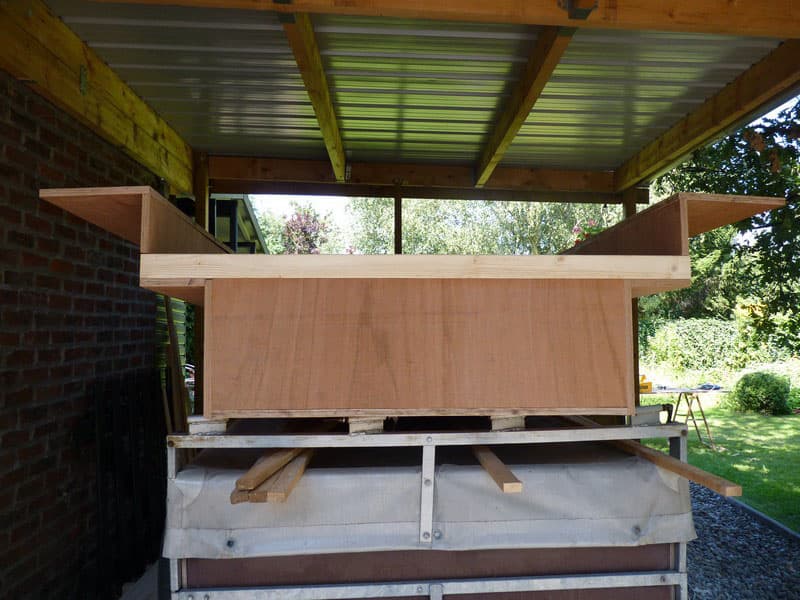 J'ai construit un camping-car pour deux personnes parce que nos deux enfants, Maxime et Marie, avaient grandi et ne venaient plus avec nous en vacances. Nous avions l'habitude d'aller dans une caravane et nous avons passé de très bons moments avec la famille.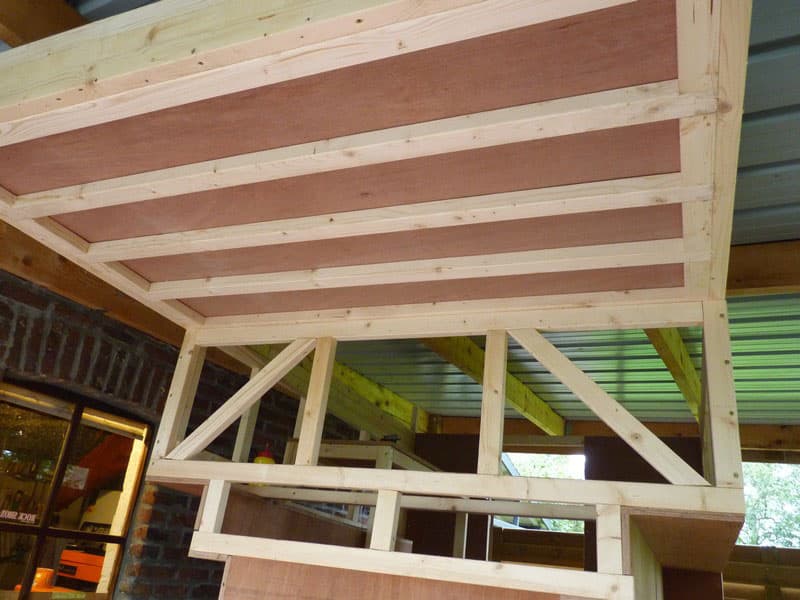 Comment avez-vous décidé d'un plan d'étage? Je vois que tu as la dinette en avant près du lit, quoi d'autre?
J'ai beaucoup étudié comment la construire et j'ai élaboré un cahier des charges.
Je voulais que la table et les 2 sièges soient à l'avant de la cellule, qu'elle ne soit pas plus large que le pick-up, qu'elle soit vivable à l'intérieur pour deux personnes.
Marie-Eve voulait des armoires pour ranger la vaisselle et les vêtements. Il fallait placer une réserve d'eau propre, une réserve d'eau usée, le frigo, la bonbonne de gaz et la batterie. C'est pour cela que j'ai dû la faire dépasser de la benne du pick-up.
Sa conception est un cadre en bois que j'ai recouvert de plaques d'aluminium.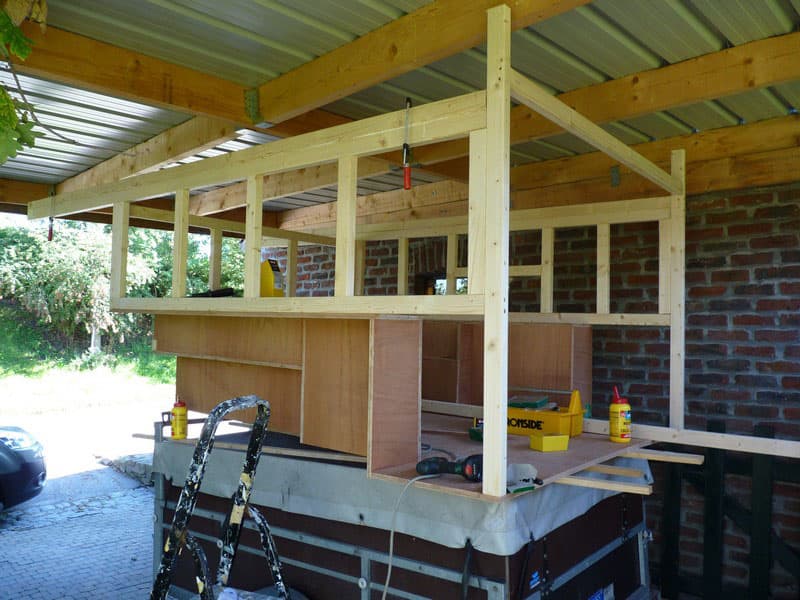 Pourquoi avez-vous choisi de le construire de cette façon – cadre en bois et plaques d'aluminium? 
J'ai choisi de la construire avec une ossature en bois parce que je ne sais pas souder l'aluminium. Le bois est isolant par nature mais il peut se dégrader avec l'eau. J'ai choisi des plaques d'aluminium striées car je les trouve jolies, solides mais malheureusement elles sont assez lourdes. Je les ai collées sur l'ossature et vissées avec des vis en inox en ajoutant du silicone dans chaque trou.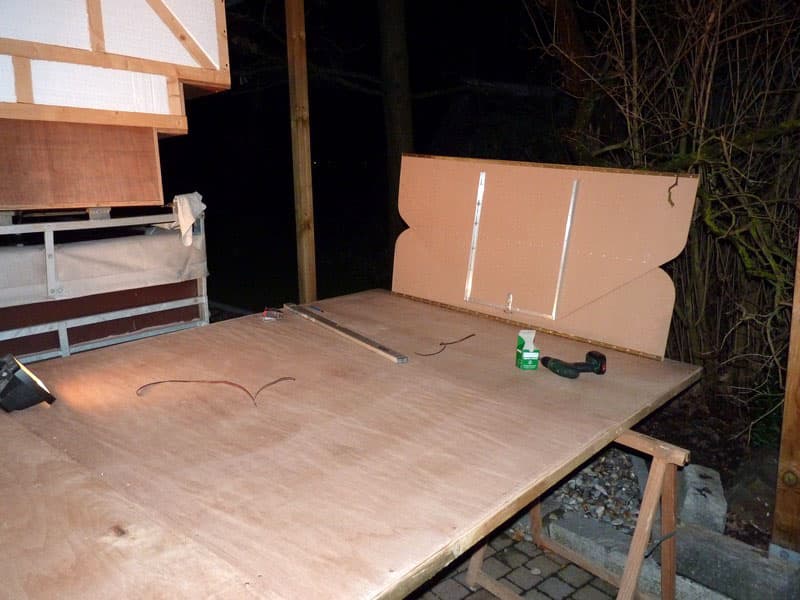 De quoi est fait votre toit ? Pourquoi avez-vous choisi ce matériel?
J'ai réalisé le toit de la même manière. C'est une ossature en bois que j'ai recouverte de plaques lisses plus légères en aluminium. Je les ai rivetées car elles étaient trop courtes. J'ai utilisé également du silicone spécial pour parfaire l'étanchéité. A l'intérieur, j'ai utilisé de fins panneaux de bois pour recouvrir le cadre du plafond et l'isolant. J'ai également fait passer les câbles pour alimenter les spots à led et placé une fenêtre de toit au-dessus de la table pour avoir de la lumière et de l'air.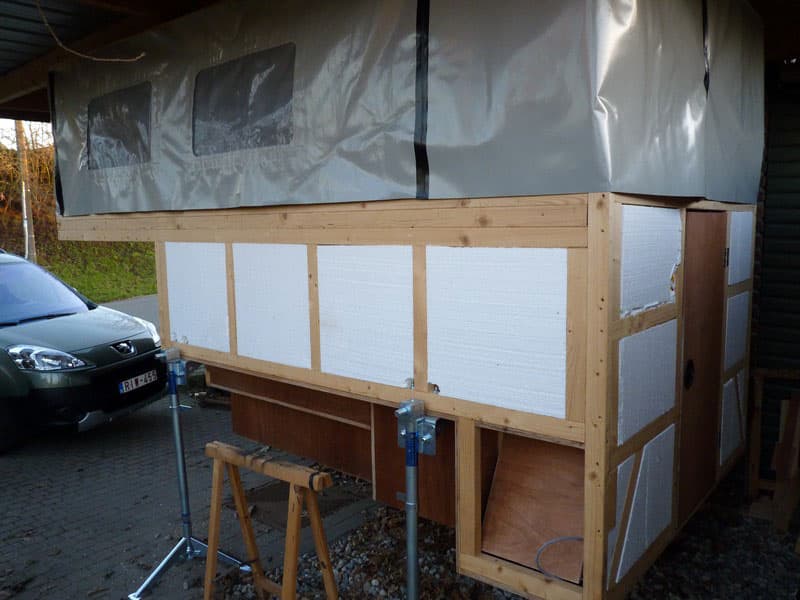 Qu'avez-vous utilisé pour l'isolation à l'intérieur des murs?
J'ai utilisé du polystyrène de 4cm d'épaisseur pour isoler la coque et le toit.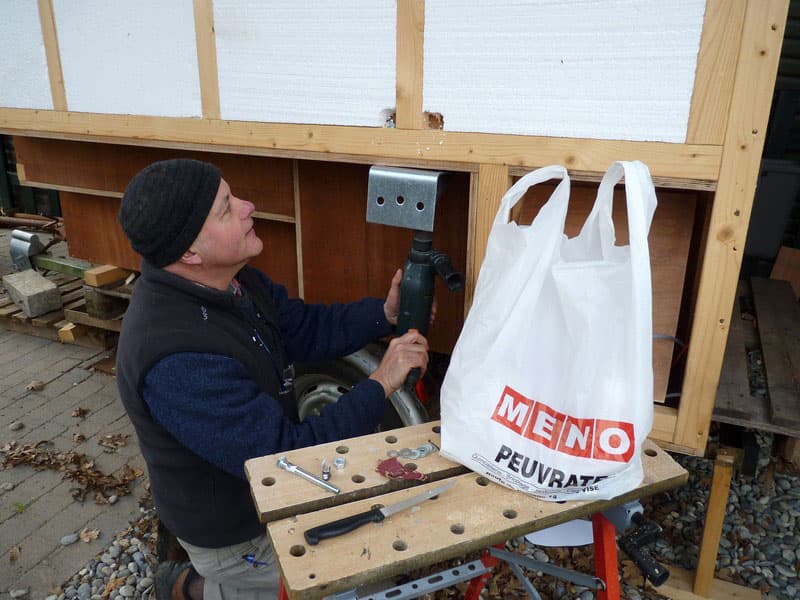 Avez-vous déjà construit quelque chose comme ça?
Je ne suis pas un professionnel de la construction puisque j'étais instituteur, mais j'aime bricoler. Je n'ai pas beaucoup d'outils de "pro".
Je me suis inscrit à un cours de soudage en soirée pour profiter de la machine à cintrer, de la machine pour couper les feuilles d'aluminium ainsi que la plieuse pour réaliser les cornières.
Avez-vous dû acheter des outils coûteux pour cette construction ou pourriez-vous les emprunter à d'autres personnes / entreprises?
Pour ce type de construction, il ne m'a pas fallu beaucoup d'outils spéciaux ni très coûteux. Une scie circulaire, une scie sauteuse, une foreuse sur pied, une visseuse, une scie à métaux.
Quelle est la plus grande chose que vous avez construite avant cela?
J'ai acheté une vieille maison que j'ai dû beaucoup transformer, y aménager des chambres, des placards pour les enfants. C'est de cette manière que j'ai appris à construire beaucoup de choses.
Où avez-vous eu les pièces pour votre campeur?  
Ma femme, Marie Eve, a découpé le matelas qui vient d'Ikéa. L'évier vient aussi d'Ikéa.
J'ai parlé de construire mon camping-car à mes élèves de première année et à leurs parents qui ne savaient pas ce qu'était une cellule. Une maman couturière s'est portée volontaire pour coudre la toile pop-up et les fenêtres. J'ai été très inspiré par les cellules de Four Wheel Camper et Northstar.
Les vérins venaient de Rieco-Titan aux Etats-Unis. Les frais de transport et de douane m'ont coûté plus cher que les vérins. C'est du très bon matériel.
Le reste des matériaux  je les ai acheté sur Internet ou dans les magasins en Belgique.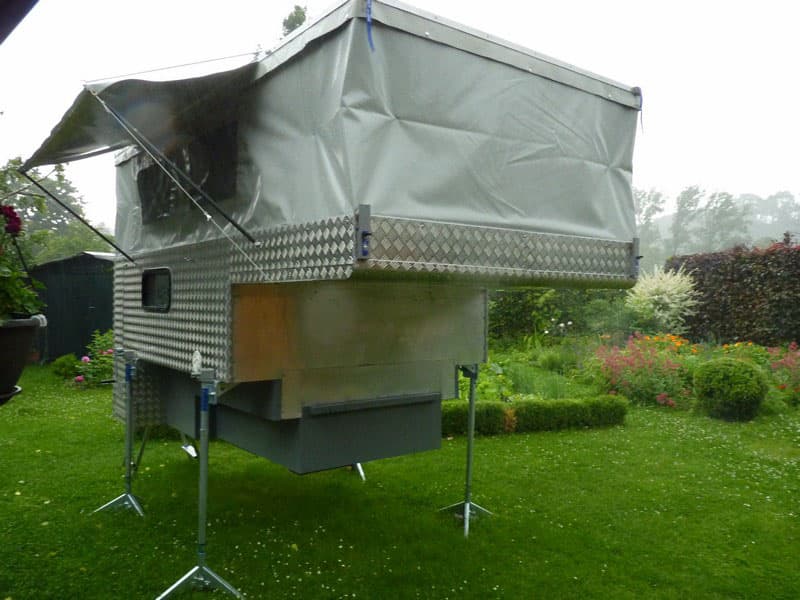 Comment le toit du campeur s'élève-t-il? Avez-vous construit un mécanisme d'ascenseur? Comment cela fonctionne-t-il?
Je me suis beaucoup inspiré de la manière dont s'élève le toit des cellules Four Wheel Camper sur You Tube. Je faisais des arrêts sur image pour comprendre le fonctionnement. Le mécanisme est en « bois », il ne tombe pas en panne et j'étais capable de le réaliser avec ma pince à rivets et ma scie sauteuse.
Quand j'ai eu terminé l'assemblage, je me suis rendu compte que mon toit était quand même lourd à soulever. C'est pour cette raison que j'ai placé plus tard, 4 vérins qui m'ont grandement facilité la tâche.
Avez-vous des réservoirs pour l'eau douce et les eaux grises?
J'ai une réserve d'eau douce de 70 litres sous la table et une de 45 litres sous la porte d'entrée.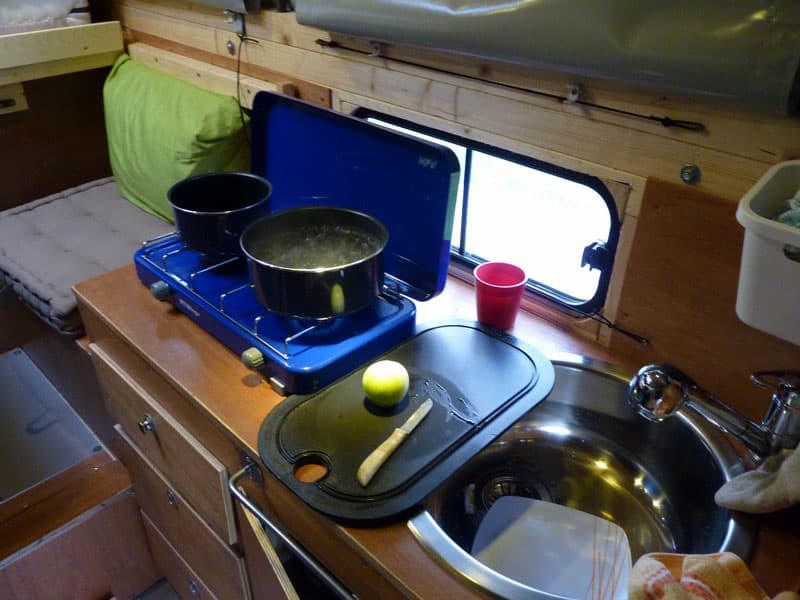 Qu'est-ce que votre campeur pourrait avoir que nous ne pouvons pas voir en images? 
J'ai installé un frigo Waeco Dométic à compression de 35 litres, une toilette portable, une pompe qui amène l'eau au robinet de l'évier. Je viens d'installer un petit chauffage au diesel pour chauffer l'habitacle, j'ai aussi installé un auvent Howling Moon sur le côté. Je n'ai pas encore de chauffe-eau. C'est pour cette raison que nous allons souvent dans des petits campings pour prendre une douche et profiter des différentes installations.
J'ai soudé les fenêtres avec des fermetures éclair sur la bâche afin qu'il n'y ait plus d'eau à l'intérieur. J'ai également ajouté des fixations sur le côté pour être en mesure de prendre nos deux VTT et installé des vérins hydrauliques pour soulever le toit qui était un peu lourd.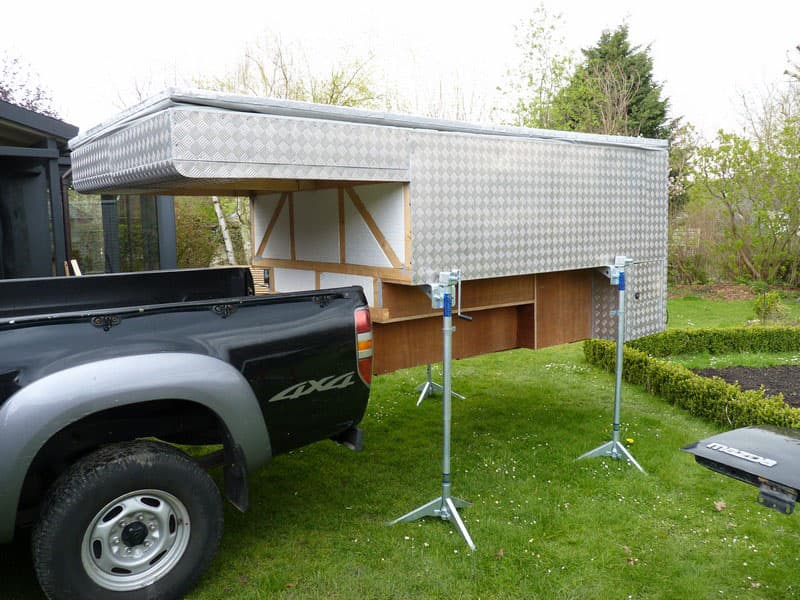 Quelles sont les dimensions? 
La longueur totale est de 3,40 mètres, sa largeur est de 1,80 mètre et 1,33 mètre de haut. La hauteur intérieure est de 2 mètres.
Que pèse votre campeur?
Mon camper pèse 640 kilos environ avec tous les pleins réalisés et prêt à partir.
Je n'ai pas compté les deux mountain bike électriques que nous pouvons placer sur chaque côté.
Quelle a été la partie la plus difficile de ce projet?
Convaincre Marie-Eve mais il ne lui a pas fallu beaucoup d'arguments. Tant que c'est pour voyager, elle est toujours d'accord ! La partie la plus difficile a été de le rendre hermétique à l'eau. Maintenant, j'y suis arrivé.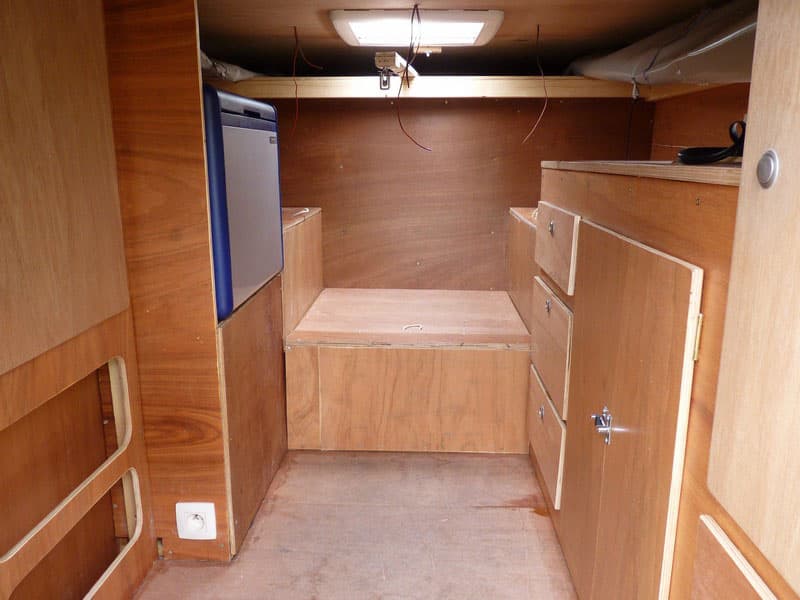 Qu'est-ce que tu ferais différemment si tu devais tout recommencer à zéro?
Je ferais réaliser toutes les bâches, les soudures dans une entreprise spécialisée où l'on fabrique des auvents pour caravane. J'agrandirais l'espace autour de la table pour que l'on puisse être au moins à quatre personnes. Je déplacerais la batterie pour la recentrer sur l'avant près de la réserve d'eau pour libérer un petit espace pour une mini douche. J'augmenterais de 10 cm la longueur du couchage donc du camper au-dessus de la cabine.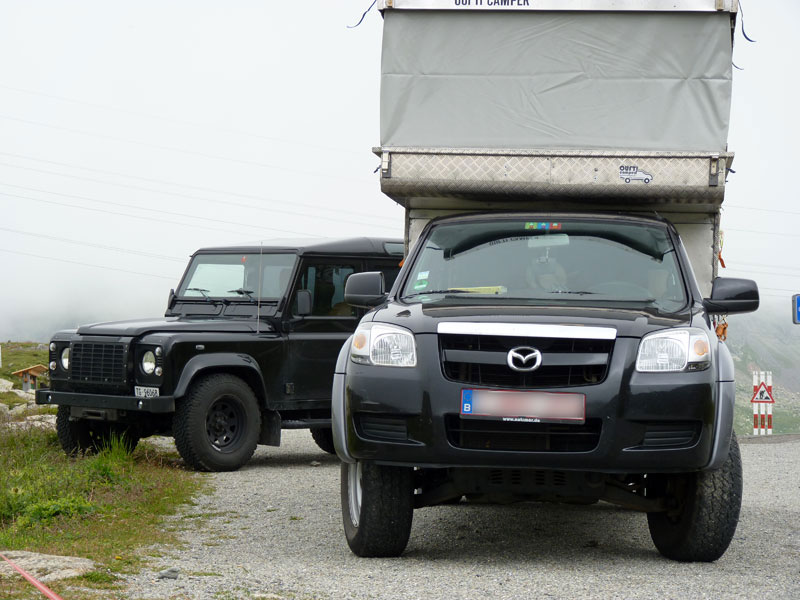 Parlez-nous de votre camion.
J'ai acheté mon pick-up Mazda BT 50 utilisé en Allemagne parce que je voulais une cabine agrandie. En Belgique, il n'y a pratiquement pas de pick-up avec benne agrandie, on ne trouve que des "double cabine".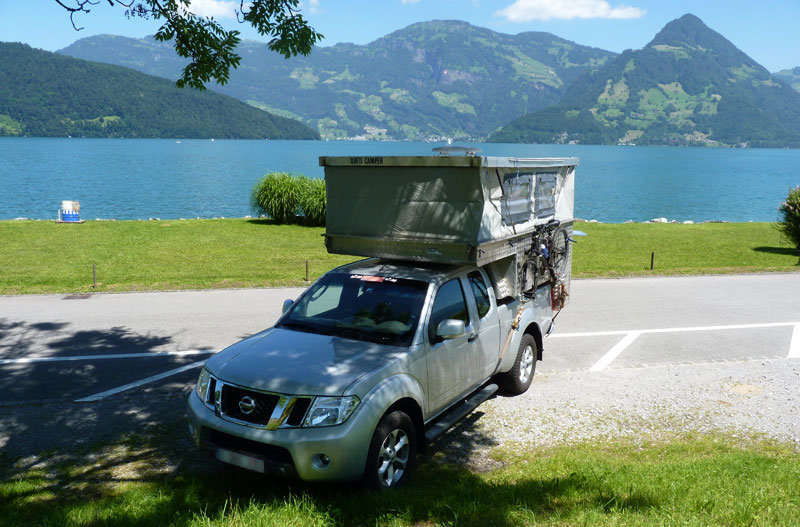 Je l'ai gardé pendant trois ans, puis la boîte de vitesses est tombée en panne, alors j'ai acheté un Nissan Navara king cab en France.  Mon nouveau pick-up était plus grand et plus puissant. J'ai dû alors modifier mon camper car la benne du Nissan était plus longue. Je lui ai ajouté un petit coffre sur l'avant. Je viens d'y installer le réservoir de diesel pour le chauffage.  J'ai aussi changé les lames de ressort arrières qui étaient trop souples. J'ai acheté des lames chez pedders.uk. Elles sont fabriquées en Australie et fonctionnent bien sur mon pick-up.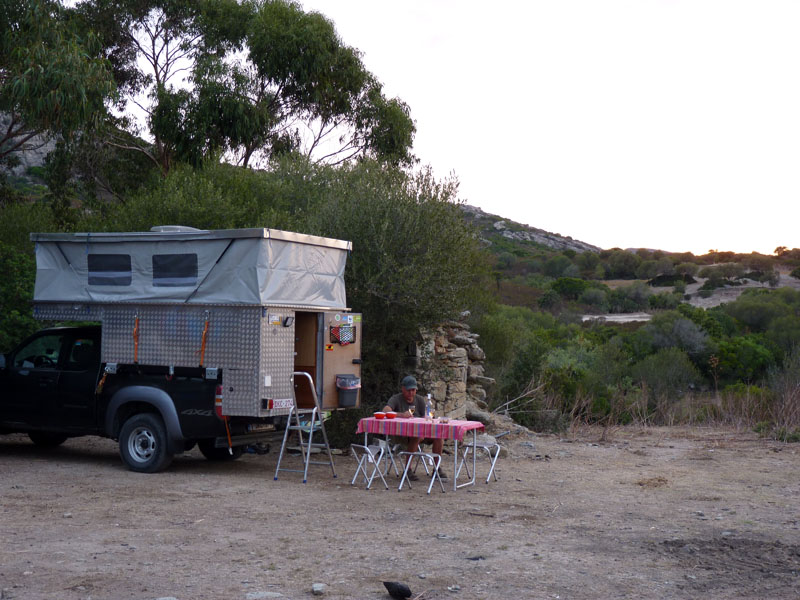 Comment gardez-vous votre camping-car et votre camion ensemble?
J'ai opté pour des sangles à cliquets qui s'attachent sous le chassis et dans des œillets fixés au support Rieco-Titan sur la cellule à l'avant et à l'arrière.
Les sangles orange du haut sont-elles pour garder votre toit bas? Je vois qu'il y a des sangles bleues ainsi.
C'était la première année que j'avais conçu ce système que j'ai abandonné. J'ai dû améliorer beaucoup de choses sur mon camper.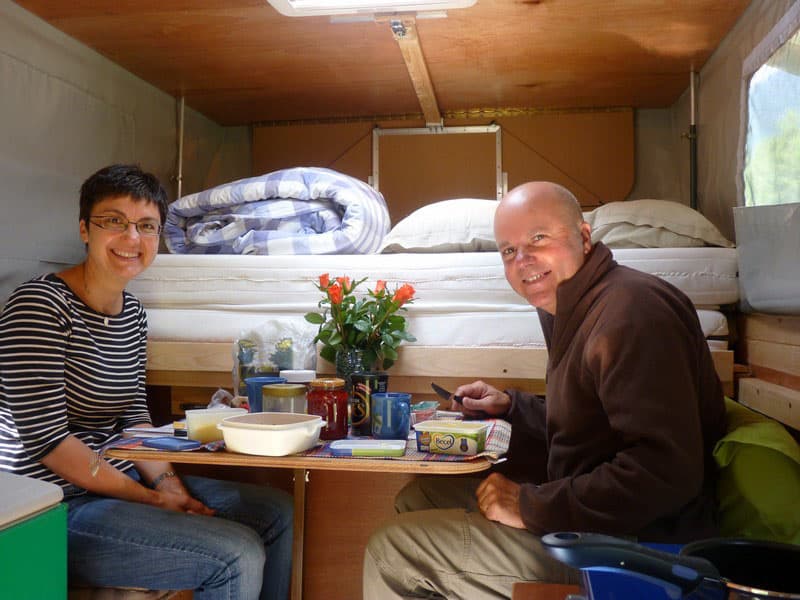 Où avez-vous campé avec votre campeur?
À la fin de cette année scolaire en 2013, nous sommes allés en vacances avec « oufticamper » et nous avons adoré.
Nous allons souvent en Corse. C'est une île Française assez loin de l'endroit où nous vivons, mais où il y a  la mer et des montagnes. C'est ce que nous aimons voir.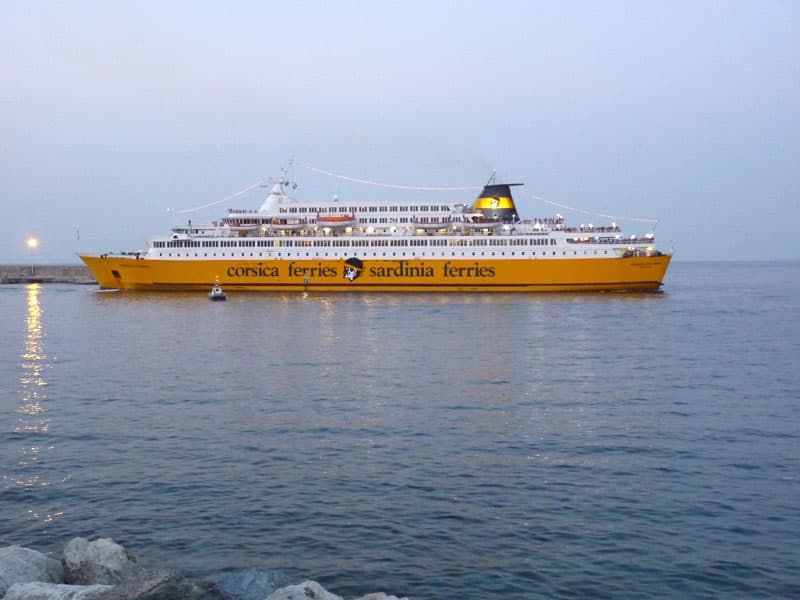 Pour y arriver, il faut traverser l'Est de la France, la Suisse qui est un beau pays mais très cher puis nous arrivons dans le nord de l'Italie. De là, nous allons au port de Livourne ou Genova, et devons prendre un ferry pour traverser une partie de la mer Méditerranée. La traversée dure environ quatre heures.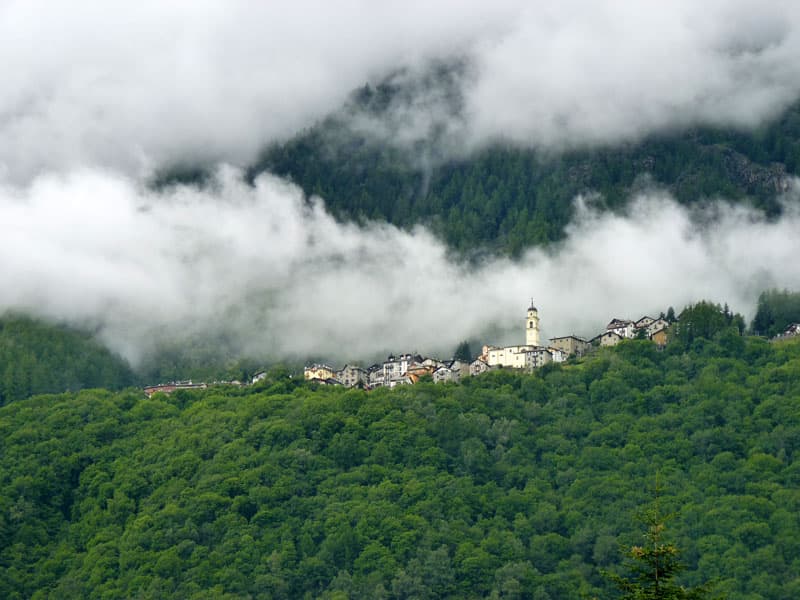 Ci-dessus: Primolo près de la ville de Chiesa dans la province de Sondrio
Les photos que j'ai jointes montrent que nous avons choisi de traverser le col du Bernina en Suisse pour aller en Italie. Cette année-là, nous avons décidé d'aller dire bonjour à quelques amis dans les Alpes italiennes. Ils vivent dans un petit village appelé Primolo près de la ville de Chiesa dans la province de Sondrio.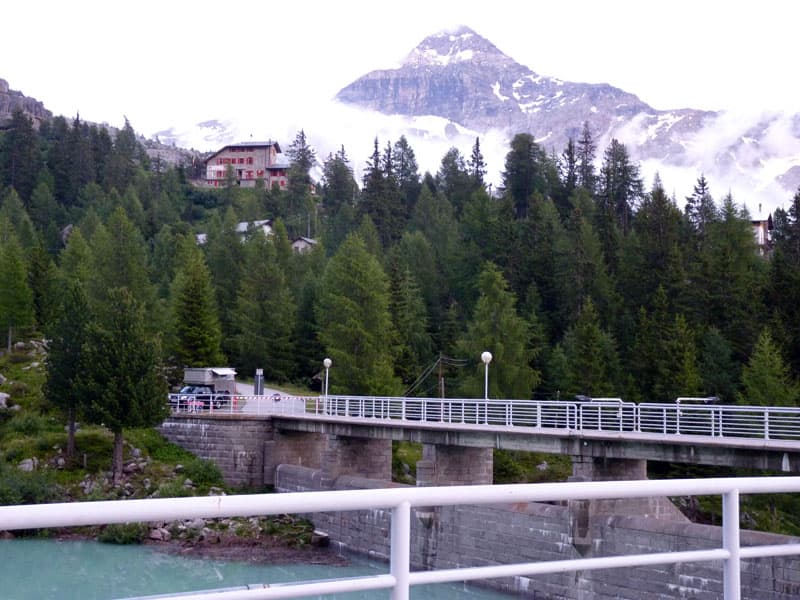 Ci-dessus: Nuit au bord du barrage de Campo Moro
De là, nous avons voyagé dans la région et dormi au bord d'un barrage et un torrent. Nous avons passé de très bons moments dans notre nouveau mode de vacances.
Malheureusement, au cours de ce voyage, j'ai réalisé que "Oufticamper" n'était pas imperméable à l'eau. J'allais devoir modifier certains défauts de construction dès notre retour en Belgique.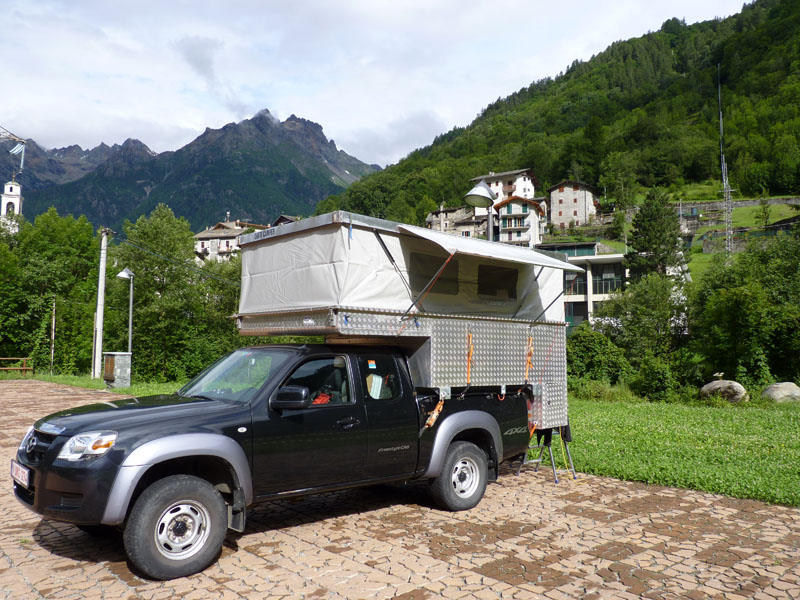 Ci-dessus: Camping de Lanzada dans la Valmalenco en Italie
Du nord de l'Italie, nous sommes allés en Corse.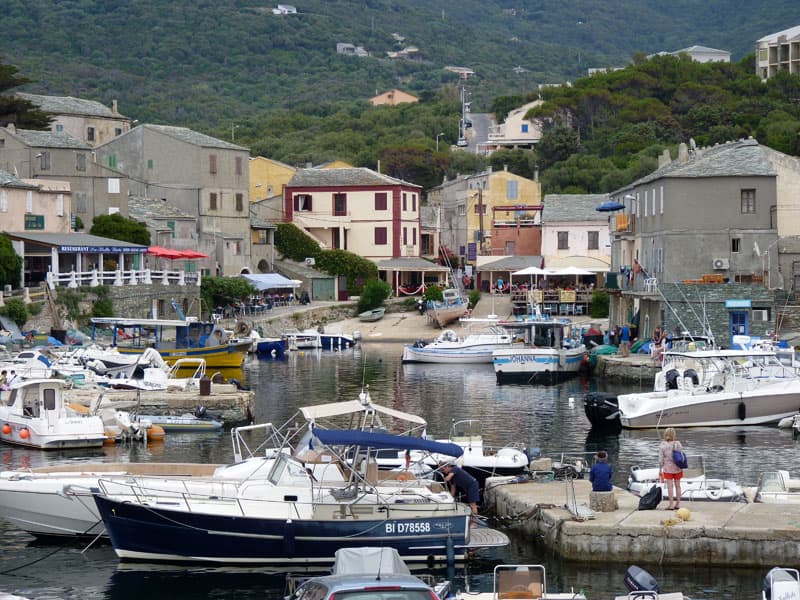 Ci-dessus: Petit port de Centuri dans le Cap Corse.
Nous aimons le nord de la Corse qui s'appelle le Cap Corse parce qu'il est plus sauvage. Nous avons suivi la route le long de la mer jusqu'à Calvi.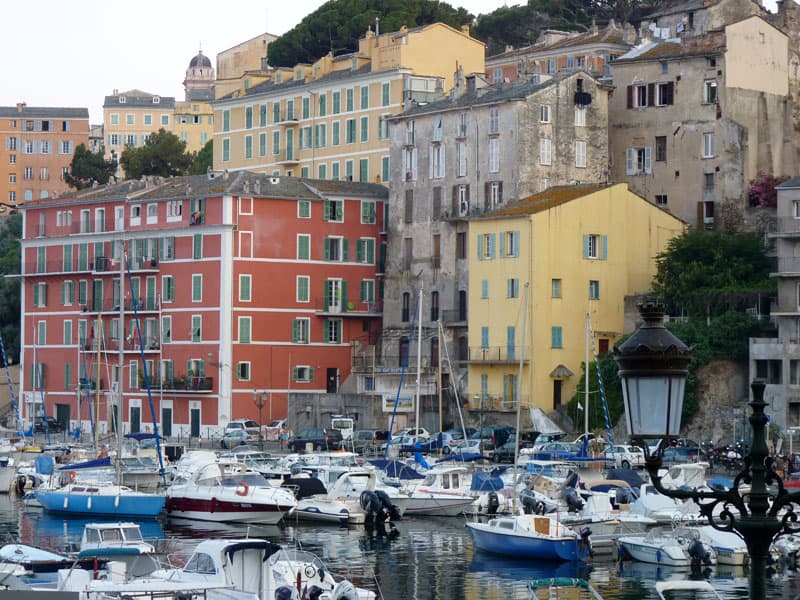 Ci-dessus: Vieux port de Bastia, Corse
Nous nous sommes arrêtés dans les campings car le camping sauvage est interdit en Corse.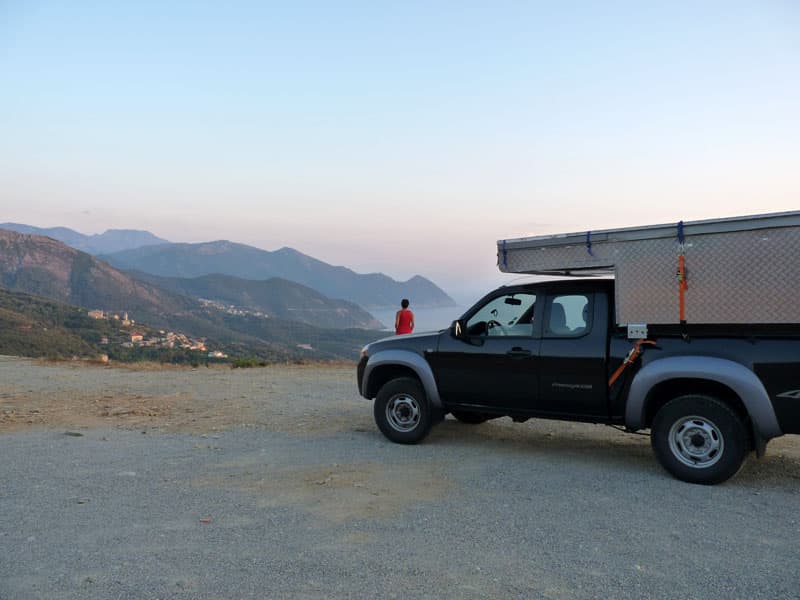 Ci-dessus: Col de la Serra dans le Cap Corse
Nous sommes également allés à la montagne parce qu'il fait plus frais là-bas et le paysage est magnifique. Au fil des ans, nous sommes retournés en Corse à plusieurs reprises avec notre campeur.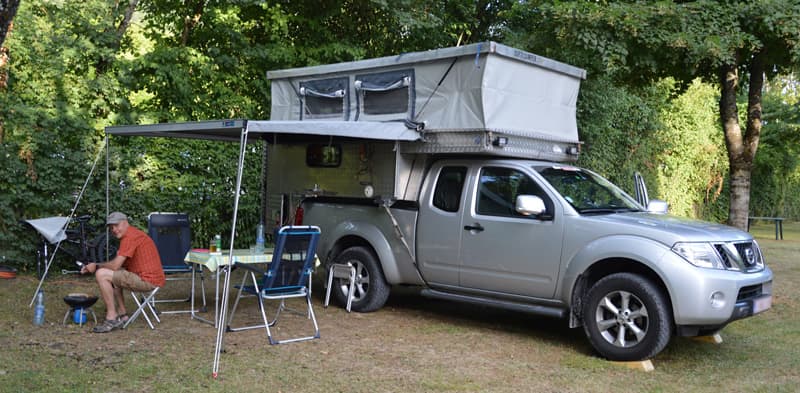 Ci-dessus: Camping en montagne, Corse
Chaque année, quand nous campons, j'améliore toujours un peu certains détails. Chaque fois que nous allons dans un camping, un parking ou une place de village, nous avons toujours l'occasion de discuter de ce mode de voyage et nous avons fait quelques belles rencontres.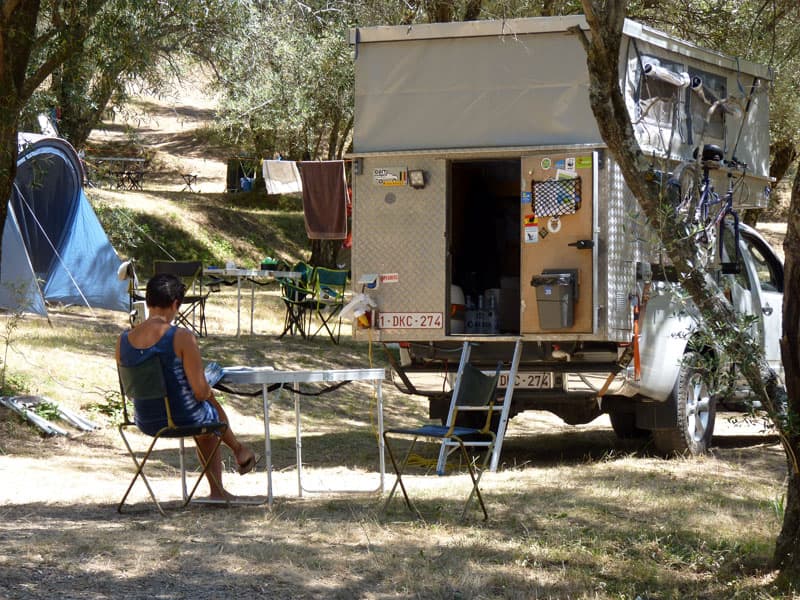 Allez-vous généralement dans des terrains de camping ou de camp hors réseau ou un mélange des deux?
Nous nous rendons plus souvent dans des petits campings pour profiter des installations. C'est un peu plus cher mais nous aimons l'ambiance des campings.
Si vous campez hors réseau, avez-vous des panneaux solaires, un générateur ou des piles? Si oui, combien? Comment obtenez-vous le pouvoir?
Je viens juste de recevoir un panneau solaire de 100 Watts que je dois encore installer. Nous ne consommons pas beaucoup d'électricité. Juste pour le frigo, l'éclairage et maintenant pour alimenter le chauffage diesel.
Avez-vous d'autres mises à niveau de camping-car prévues pour l'avenir?
Non, je pense que pour le moment, il nous convient.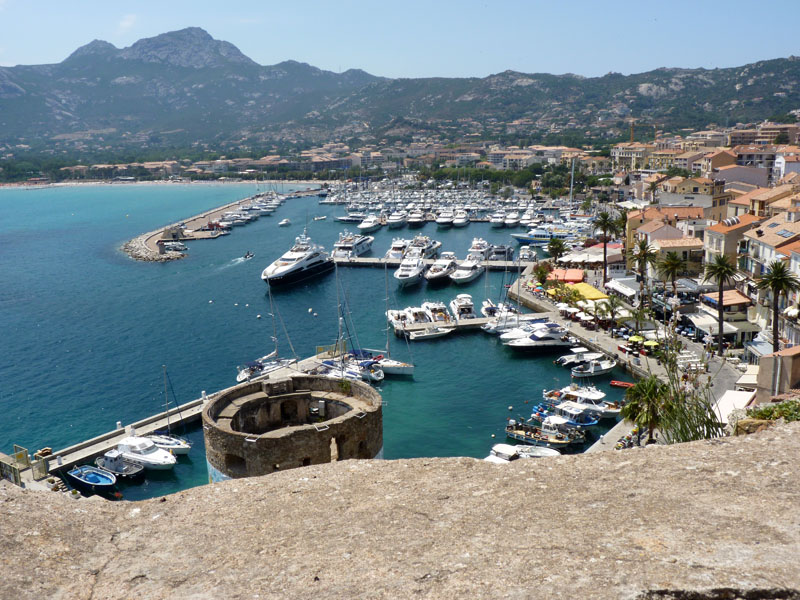 Ci-dessus: Port de Calvi en Balagne, Corsica
Y a t-il autre chose que vous souhaitez ajouter sur votre camping-car ou voyager à travers l'Europe?
Nous comptons découvrir d'autres pays comme les pays du nord de l'Europe. La Norvège, la Suède où nous sommes déjà allé mais pas avec notre Camper, la Finlande… On verra bien mais pour le moment, en cette période de Covid, on ne peut plus voyager.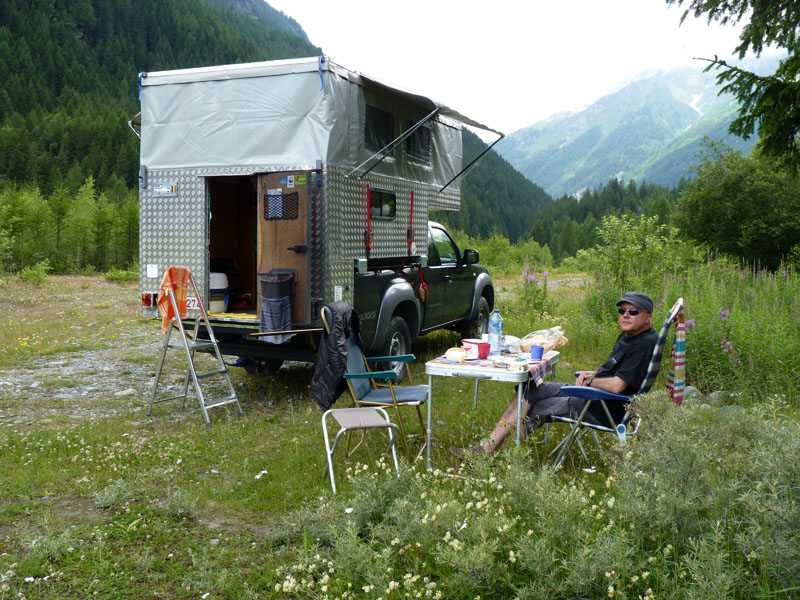 Ci-dessus: Nuit au bord du Torrent à San Giuseppe Valmalenco, Italia
Je voulais vous remercier Angela pour votre magazine dont j'adore lire les articles que vous publiez de tous les coins de l'Amérique et d'ailleurs, pour les photos du calendrier et les commentaires des photographes. J'adore voir vos pick-up "démesurés", vos campers "luxueux" ainsi que les magnifiques endroits photographiés. Cela m'a permis de voyager virtuellement et peut-être qu'un jour, je pourrai venir chez vous, louer un camper et visiter quelques parcs nationaux.
– Depuis la Belgique, un tout petit pays, Jean-Paul et Marie-Eve Gerday et Oufticamper