After discovering an Adventurer 76R slide in camper, Christopher Smith quickly sold his converted bus to explore New Zealand's natural wonders, gravel roads, and occasional overgrown goat track.

Even after crossing the United States three times in a truck camper, we have barely scratched the surface of what's available to see and experience in our own country.  We have yet to really explore New England, have many off-road opportunities beckoning in the Four Corners area, and can hardly wait to see more of California, Oregon, and Washington.  Not to mention that we haven't visited eastern Canada or explored Nova Scotia.  When we start thinking about it, the opportunity list is nearly endless.  We could probably spend the rest of our lives happily exploring the United States and Canada, never wanting for more.
That said, there's an undeniable appeal to the rest of our planet.  We would love to go truck camping in England, Ireland, Germany, Italy, Australia, and New Zealand.  These countries, and many others, are on our bucket list under the, "Not sure how this would be possible but want to do it anyway" category.  Starting Truck Camper Magazine was once in that category too, so there's some hope.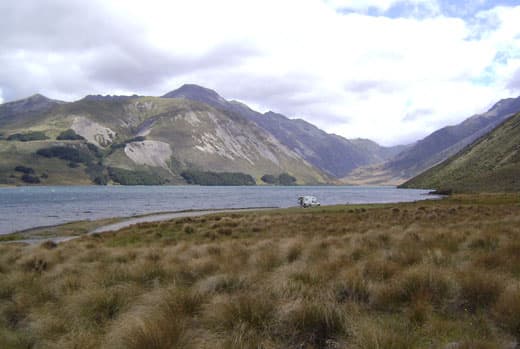 Above: One of Christopher's calendar contest entries from Lake Tennyson, Central South Island, New Zealand
Last year, Christopher Smith sent us three amazing calendar contest entries from his New Zealand truck camping trips.  Naturally, we fell head over heels and sent Christopher an email asking for more New Zealand truck camping pictures, and his truck camping adventure stories.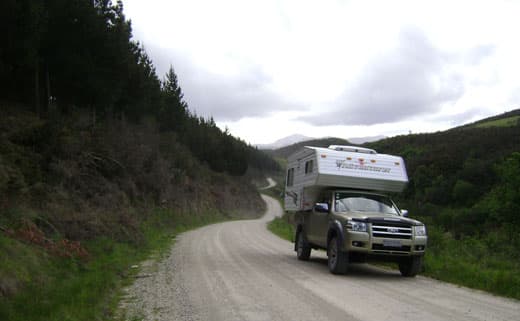 Above: Catlins area, New Zealand
TCM: Tell us about your truck and how you prepared it for your truck camper.
Chris: Our truck is a standard Ford Ranger XLT with four-wheel drive.  By trade, I am a welder fabricator with a workshop at home.  I made my own side bar and rear bar for tie-down points for the camper.  I also fabricated my own Highfield levers as turnbuckles.  They are quick and easy to use for securing the camper.
TCM: As a welder fabricator, have you made modifications to your Adventurer 76R as well?
Chris: Yes, modifications to the camper have been numerous.  To start, I added a fifty-five liter grey water tank and changed both hatches to Euro-style hatches.  I prefer to not carry the extra weight of the hydraulic jacks, so I made slide-in brackets to easily remove the jacks from the camper.  I have made lots of small adjustments and modifications, all of which make life using the camper easier.
TCM: Truck campers are not common in New Zealand.  What led you to purchase a truck camper?
Chris: Slide in campers are a bit thin on the ground here in New Zealand.  Caravans and motorhomes seem to be more popular.  There have been a couple of New Zealand manufacturers over the years.  I am seeing more of the bigger American campers being imported now though.
When the family was younger we did the tent thing.  Then we progressed to a 6MTR converted bus.  I already had a truck for work.  When the Adventurer slide-in came into my sights, it was a no brainer.  There is no registration here for slide-in campers.  Plus there's not an extra engine or wheels and tires to maintain.  Once we had the slide-in camper, the bus was quickly sold.
TCM: Was your truck camper available at a dealership, or did you order it sight unseen?
Chris: We bought our camper new in 2007 from a dealership here in Auckland.  I'd had my eye on it for about six months before buying it.  I was making regular trips to the dealer getting him to open it up and I would just sit in it and think how great it would be to have it on our Ute.  This was the only slide on camper he had as he mostly sells fifth wheelers and caravans.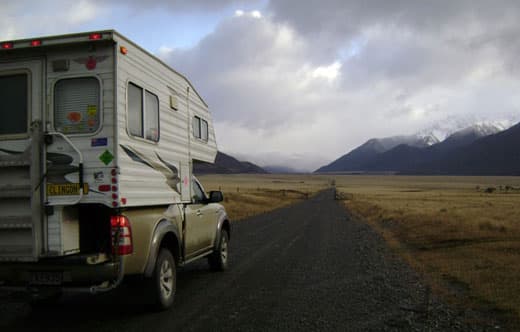 Above: Torlesse Range, New Zealand
TCM: We love all the off-road adventure photos that you shared with us.  Tell us about the places you go with your truck camper.
Chris: I will go anywhere I'm able to with the camper and with my four-wheel drive Ford Ranger I can do just that.  I really love going off the tar seal and heading down those gravel roads.  They really do take you to some beautiful spots.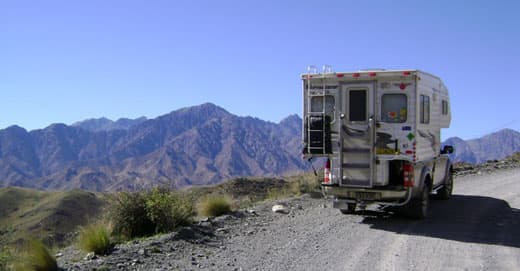 Above: Road to Molesworth Station
My wife, Linda, and I have traveled pretty much all over New Zealand.  We did a three week tour of the South Island last year, which was great.
Last June I was on the west coast of the South Island with my brother.  We found a road on the map that looked quite interesting.  When we got to it, it had a sign on the gate across it saying the local council no longer maintains it, so enter at your own risk.  That was like a red rag to a bull.
I drove in about three kilometers and the road became more like an overgrown goat track and was getting narrower and narrower.  I eventually came to a wash out and could not go any further, or turn around.  I had to reverse maybe a kilometer until I could do a twenty point turn.  That was fun!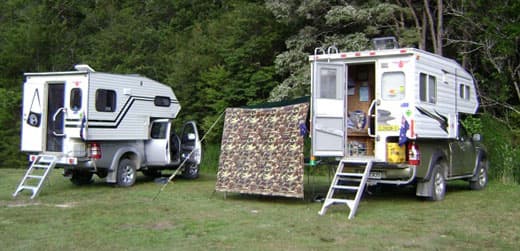 Above: Chris and his brother camp together at Lyell DOC campsite, Upper Buller Gorge
TCM: Your brother has a truck camper too.
Chris: Yes, my brother has a New Zealand made Super Camper.  It's very similar to our Adventurer and is on the same truck as ours.  When he lived closer by, we would get away quite often for a night or two, have a meal, take a walk in the area, play cards, and return home refreshed back to city life.
Unfortunately, he has recently moved to the South Island so we will see him maybe once a year now.  We still get away in our campers when we get together.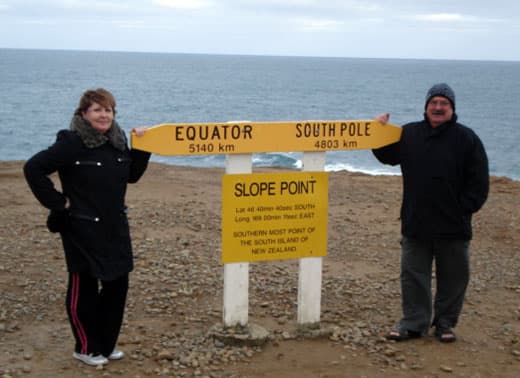 Above: Slope Point, New Zealand
TCM: Tell us about going to Slope Point.  It looks very cold in the pictures.
Chris: Slope Point is the most southern part of the South Island.  That was one of the places Linda and I visited on our trip.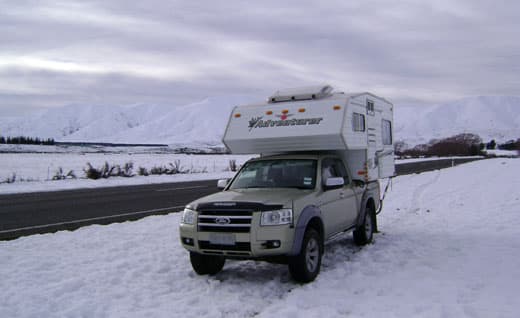 Above: Pig Route, Central Otago
It does get cold there and has some very strong, cold southwesterly winds that blow up from Antarctica as you will see by the wind shaped trees.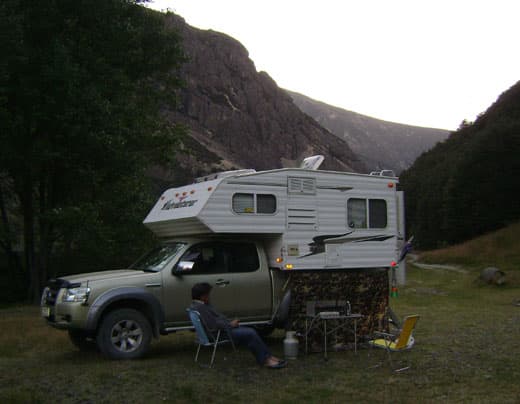 Above: Campsite on St Arnaud to Hanmer Springs Road
TCM: Where do you typically camp for the night in your camper?
Chris: We like to stay mainly where we can freedom camp, or boondock, but our Department of Conservation camps are cheap and always in nice locations.
Some weekends we might just go to a local Regional Park and stay the night.  It's just great to get away for a night.  I get to do the camp cooking.
I love to find new places that we haven't been to.  Any open space in the wilderness will do for us.  I have recently bought a two person inflatable kayak that we hope to use in our rivers and lakes come summertime.
There are lots of parks and Department of Conservation camp areas all over the country.  We also have POPs (park over properties) which are private properties belonging to members of the New Zealand Motor Caravan Association made available only to other members for short periods of time.  These offer safe and secure places to stop for a night or two, regardless of whether the owner is at home or not.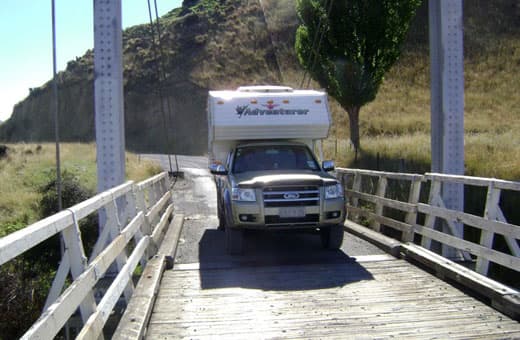 Above: Road to Molesworth Station
TCM: Have you had any unexpected challenges since you got your camper?
Chris: A couple of years ago, a friend and I were camped in the winter miles from anywhere using the heater and lighting in the camper.  Little did I realize at the time the truck battery was supplying power to the camper as well as the house battery.
Needless to say, come morning the truck wouldn't start!  As luck would have it, we had parked near a slope so were able to push start down the hill.  That was a lesson learned and I now have an auto switch installed.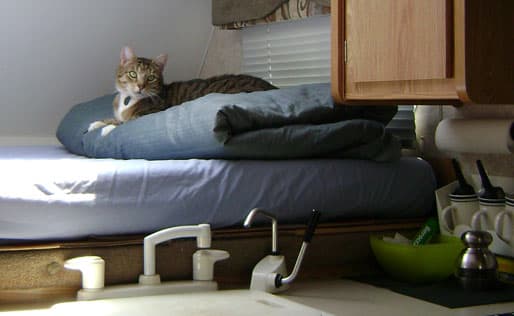 Above: Here's Asparagus Gus our cat.  Every time I open up the camper he bolts in and has a sleep.  As soon as I start to jack the camper up though he is out.  He doesn't travel with us like your cat, Harley, does.
TCM: We did something like that once, many years ago.  We woke up to our LP detector alarm going off.  The low battery triggered the alarm.  What's next for you in your truck camping future?
Chris: Lots more of the same I hope.  As long as I'm able to fit the camper to the truck and climb up into and out of the bed, I will continue to truck camp.  There is no better way!
New Zealand is a small country compared to the United States, but there is still more of it for us to see. I have always admired the vast spaces of your country with the deserts having an attraction for me.  I'm particularly fascinated by the Monument Valley area.  I guess it has come from my childhood memories of western movies.  One day maybe a trip down Route 66 would be a bucket list item, too.
TCM: The irony is that many of us living in the United States and Canada are thinking the same thing about visiting New Zealand.  And Monument Valley is certainly worth the bucket listing.  It's incredible.  Thank you for the interview Chris.
Chris: You're welcome.