Here's the plan; head south from San Francisco in a Palomino pop-up truck camper, get married in Costa Rica, and then explore the Pan-American Highway for a year, or more.  Meet the Pribbenos!

Most folks get married in a church, go on a short honeymoon, and then begin the tried and true married life plan; house, kids, work, work some more, and then retire.  Not the Pribbenos.  At least, not so far.
Rather than keeping to the normal life path, the Pribbenos charted a daring course.  Together, they planned a the trip of their dreams on the Pan-American Highway through Mexico, Central America, and South America.  On the way, they would be married at sunset on the beach in Costa Rica.  Their honeymoon would be an adventure the likes of which most people could barely imagine, much less summon the courage to try.
The Pribbenos are now over eleven months into their trip.  Has everything worked out according to their careful plans?  Have they had any problems with safety or breakdowns?  And what's their plan now that they're nearing the end of their incredible journey?  For those questions, and more, we emailed Logan and Brianna, somewhere in South America.

Above: Brianna and Logan in Boliva's southwest circuit

TCM: What have you been up to for the past ten months?
Logan: We've been on the road south from San Francisco, California en route to Patagonia, Argentina in our truck camper.  Over the last eleven months, we've covered about 13,000 miles.  We've immersed ourselves in totally foreign cultures, testing the limits of how much our minds can absorb.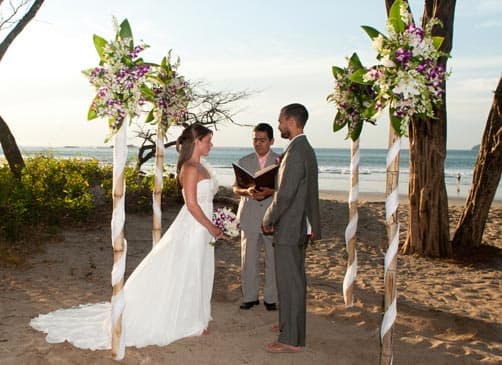 Above: Brianna and Logan's wedding in Costa Rica
Brianna: We've tried to get in on every opportunity, hiking volcanoes in Guatemala, ascending peaks in Peru, kayaking the Sea of Cortez.  But perhaps more exciting than all of those was our wedding.  We said our "I do's" in an intimate ceremony at sunset on Playa Langosta, Costa Rica.
TCM: Wow.  Congratulations on the wedding, and an incredible trip.  Where did the idea for all of this come from?
Brianna: It wasn't one of those light bulb moments.  It started as a wild dream and we slowly came to accept its possibility.  There were many little instances that pushed us toward traveling down the Pan-American Highway.  Ultimately our circumstances (young, mortgage-free, gainfully employed during a recession, without kids) convinced us that if there was going to be a "some day", it must be now.
Logan: We both had a yearning to do something big.  Honestly, just driving south was the coolest thing we could come up with.  It was a goal we could rally behind.
TCM: How did you go about planning a trip of this magnitude?
Logan: We planned a lot.  By the time we made it to mainland Mexico, our plans all went out the window.  The things you need to plan for, such as a FARC uprising or a union strike in Bolivia, cannot be planned for in advance from your living room.  You can't read about those Corona commercial locations.  You'll hear of them from other travelers.
Brianna: We now plan country by country, often day by day.  For example, we planned Bolivia while in Peru.  This is the way to go for long-term travel.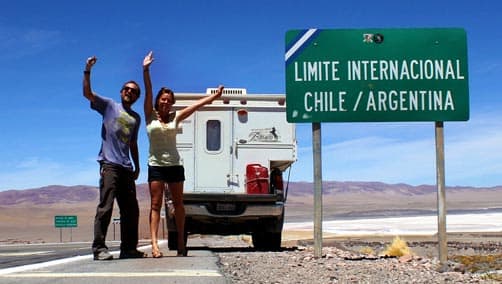 Above: The border of Chile and Argentina
TCM: Before going on the trip, what did you need to figure out (passports, vaccinations, shipping, border crossings, etc.)?