Wrapped like a Christmas present in a container, Dick and Christine's Lance 825 cruised the Pacific, traversed the Panama Canal and crossed the Atlantic.  Sailing from Quebec, their Ford F-250 was months behind.  Once in Rotterdam, will their rig match?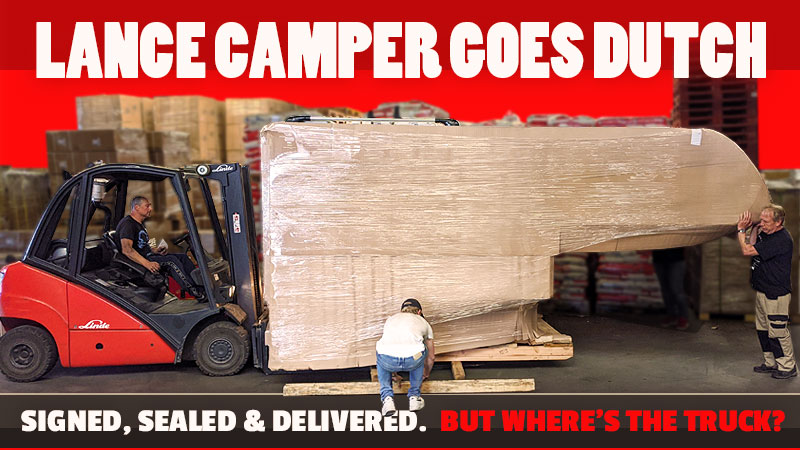 In January of 2019, we received an email from Dick van Leeuwen and his wife, Christine.  They were researching a truck and camper purchase from America to be shipped to them in the Netherlands.  They already had a 2017 Ford F-150 3.5L EcoBoost, an exceptionally rare vehicle in Europe.
How rare are full-size trucks in Europe?  Dick relayed the experience of parking their Ford F-150 next to a Ferrari in Italy, and having people pass the Ferrari to take pictures of their Ford.  That certainly doesn't happen here.
Dick had already read our newbie content, but still had questions.  This is understandable given that he didn't have access to the truck or camper, nor did he have access to a domestic community of truck camper owners.  We don't know how lucky we are sometimes.
After months of online research, writing emails to dealers and shipping service providers, and deliberating their choices, Dick and Christine bought a Ford F-250 and Lance 825; all sight unseen.  They did eventually fly to California to see the camper in person, but it would be months until their truck and camper would come together.
The saga of shipping and importing their rig is not to be missed.  It certainly puts into perspective any issues we may face about the challenges of getting trucks and campers in the United States and Canada.  How they approached the camper to work with Europe's 220-volt electrical grid and modified the wet bath with a Europe-friendly cassette toilet system is also a must-read.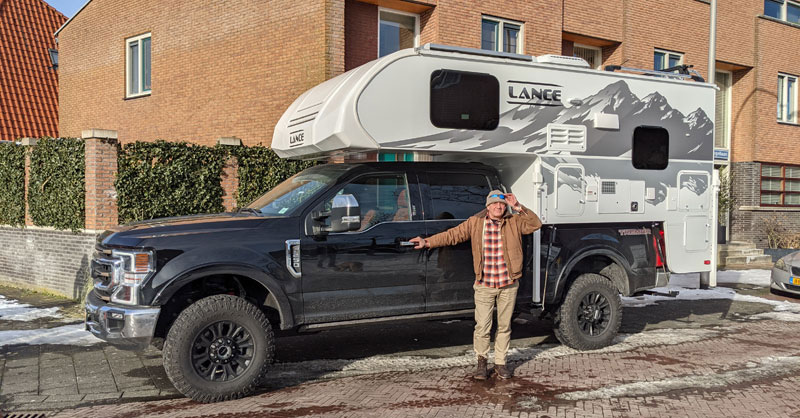 Above: Dick van Leeuwen with his Lance 825 and Ford F-250
From your own description, truck campers are exceptionally rare in the Netherlands.  So where were you introduced to the idea of a truck and camper?
I first camped when I visited my uncle and aunt in Sacramento, California in 1979.  They had a 1972 GMC long bed truck and a Siesta truck camper.  I had never seen a truck camper before in Europe.  They just didn't exist at that time.
My dad took me on a road trip to Lake Tahoe in the truck and camper and let me drive it there.  That was the first time I ever drove a vehicle.  Later, in the military, I had plenty of time camping.
Do you see truck campers in the Netherlands today?
Hardly ever.  I once saw a Ford Ranger with a German license plate and a small Tischer truck camper.  Tischer is a small German brand that is inspired by the American truck camper companies and is meant for Ranger, Tacoma, and Volkswagen Amarok trucks.  If we see a Tischer every four to five years, it is a lot.  Of course, we do see them if we go to Germany.
If truck campers are so rare in the Netherlands, why did you go in that direction?
When we saw the old pictures of my family in California and their road trips in the 1970s and 1980s we thought, "Why not try that here in Europe?"  That was the start of a lot of research.
Truck Camper Magazine was our main source of information because, here in Europe, there's nothing available.  My Aunt Erika in California who was originally from the Netherlands loved the idea of us making road trips with a truck camper.  "Good memories", she said.
We imported our Ford F-150 in 2017 because we love pickup trucks.  Trucks larger than a Ranger are rare here.  There are maybe five truck dealerships in our country.
People mainly buy Ram 1500s and Ford F-150s here.  One out of every ten trucks is a Ford F-150 and we see maybe one Ram a day or so.  Ford is a bit more expensive than the Ram and European buyers think Ram is more American.  That makes them more popular.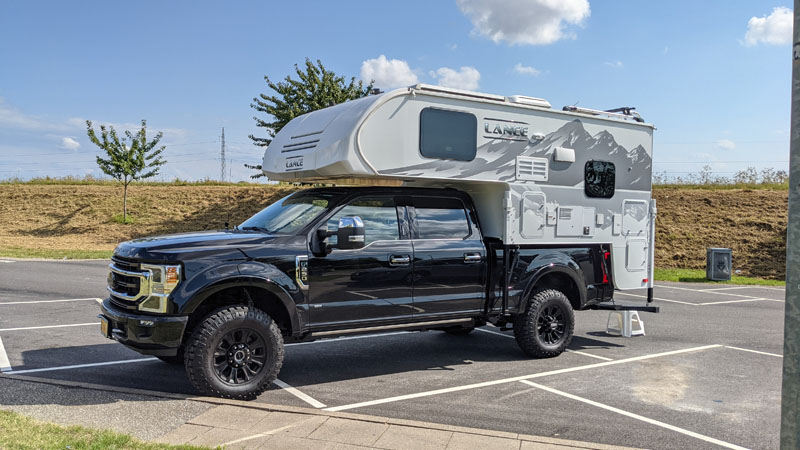 What specific truck and camper did you purchase?
We now own a Ford F-250 Tremor with the 7.3L gas engine and the King Ranch package.  Not the two-tone, but all black.  Even the bumpers are black-wrapped now.  We had the legs of the camper black wrapped so they wouldn't stand out as much when the camper is mounted.  It was the logical step up from our 2017 Ford F-150.
For the camper, we started to make a wish list and basically downsized the list to a Lance 825 or a Cirrus 620.  Cirrus had a few nice features like the Alde hydronic heating system, a cassette toilet, and a more European aesthetic.  But, Lance has a ton of history and is appealing inside and outside.  We took over a month to decide which one it was going to be.  Lance finally won.
What tipped the scale towards the Lance 825?
Lance has a very good reputation.  The looks appealed to us.  We like the new front of the cabover.  The floor plan of the 825 and materials they use are just as we like it.  The Alde system was not important enough for us.  We did install the Froli bed system ourselves.  And the mountain decal was a bit of help as well.
Were you able to see your Lance camper before purchasing it?
No.  It's crazy to nearly purchase something in that price range without being able to actually see and touch it.  We have a good friend who lives in the Los Angeles area.  He drove to the dealership in Ontario to take a look.  "Seems like a legit place", he wrote us back.  "There are many truck campers here".  He was our scout to check out the dealership!

Was it challenging to import the Ford F-250?
Lance states the 825 can be mounted to an F150/1500 truck, but that would probably be on a rear-wheel drive, regular cab.  Our F-150 didn't have enough payload.  The F-150 or a 1500-series Ram or GMC is somewhat accepted by our version of the DMV.  They call this a grey import and can indeed be imported, but an HD truck isn't.
We used a specialized import company that imported the truck from Canada and basically did everything for us including the paperwork.  The Canadian speedometer is in kilometers, the same unit we use here in Europe.  It took the import company nearly three months to get Dutch DMV-approved license plates after it was freed by our customs.  The closed-down Kentucky truck plant didn't help.
There are currently about five newer Ford Super Duty trucks in our country and one Ram 2500, according to my friend who can see into the DMV system.  Older three-quarter ton models do drive around on a rare occasion, often 1980s or 1990s models.
"People sometimes stop, stare, take pictures, or put their thumbs up."
People outside of our country often think we're Americans because, when importing a truck from the United States, you need special permission to have a small license plate.  Our plates are normally much wider.
We once had a parking ticket under our wipers in Italy saying, "Vehicle country of origin: USA".  Our license plate holder had the name of a Sacramento-based Ford dealership, so that must also have helped.  In the end, we got a license plate number combination that only semis here have.  Christine actually had to go to truck driving school to get her small-semi license to drive our F-250.  I still have my small-semi license from my military days.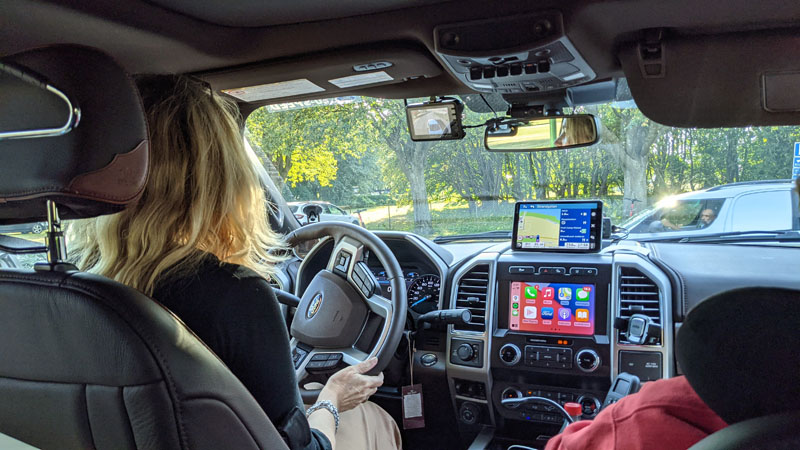 People sometimes stop, stare, take pictures, or put their thumbs up.  They have never seen such a big truck although our country is highly industrialized and modern with many nice cars from all over the world.
With the truck and camper coming from different places, how did you know the truck and camper would be a good match?
This is where you guys came in again.  We were and are still glued to TCM.  All the information and measurements and your matching a camper and truck article gave us enough confidence to go ahead and order the truck in January of 2020.
Then, we flew to Ontario, California in February of 2020 to purchase the Lance.  This was the point-of-no-return.  Of course, we spent hours and hours on the Ford, Lance, and Truck Camper Magazine websites before our trip.
"We stood there eye-to-eye with our future adventure machine. It was even cooler than we had hoped."
The Lance Camper arrived in the Netherlands in mid-May 2020.  What was that process like?
The guys at Galaxy Campers really did a great job.  We called them in January and said, "We're Europeans.  We would really like you to keep the 825 on your lot until we can pick it up."  That must have been strange to them.
We stayed in Long Beach and the next day drove to Ontario, California to see our camper in person.  I remember being a bit nervous about it.  Did they actually keep it there?  Will it be as nice as we anticipated?  We bought a coffee around the corner of the dealership and said to each other, "Okay, in 10-minutes we'll actually see our camper.  Wow!"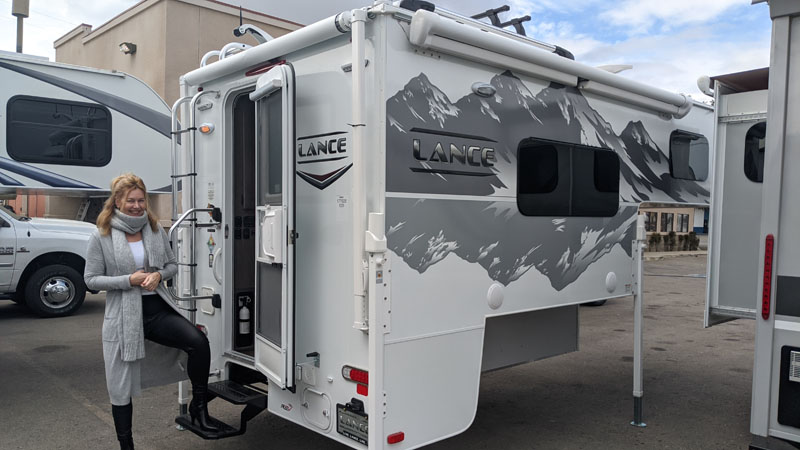 When our sales rep, Miguel, came up to us he turned around, saying, "This is yours!"  We stood there eye-to-eye with our future adventure machine.  It was even cooler than we had hoped.
Two days later Miguel drove it to an expedition company in Compton where it was later stuffed into a 40-foot sea container.  There was a classic Porsche in the same container.  The air conditioner unit, jack legs, and side awning were taken off at the dealership to make it fit with inches to spare.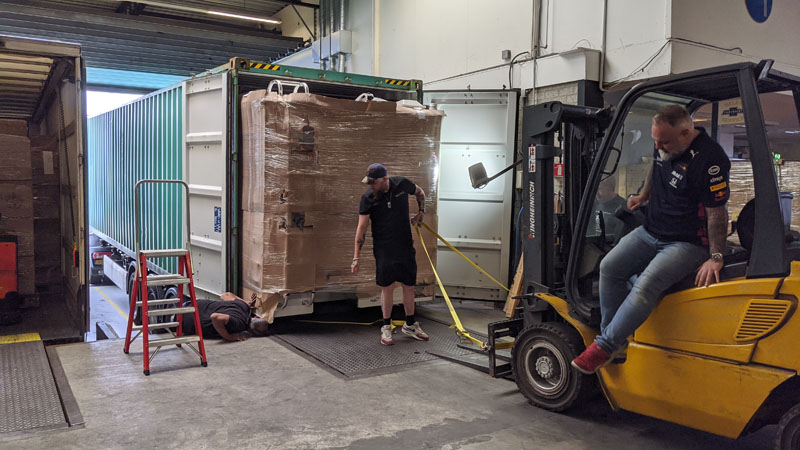 How did the container ship and import process play out?
In May of 2020, the container ship arrived at the port in Rotterdam.  We actually went to the port entrance to see the huge container ship come in.  A week later the container was delivered.  The Dutch company that received the container took over an hour to extract the camper.  There wasn't much to grab on to.  The Compton guys apparently slid it off the forklift without anything beneath it.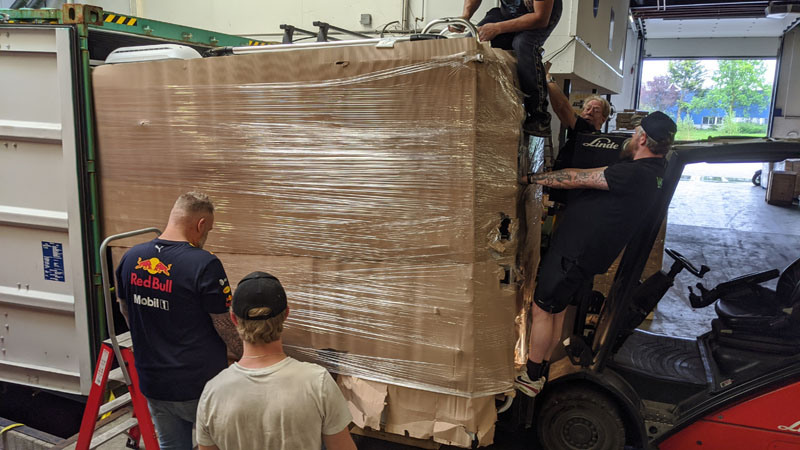 The Lance was wrapped in protective material and looked like a Christmas present.  They arranged customs to declare it but the customs guys never showed up to accept it.  We made a payment for the import fee and got a call, "Where do you want us to bring your camper?"  At the time we still had the F-150 so picking it up ourselves was a no-go.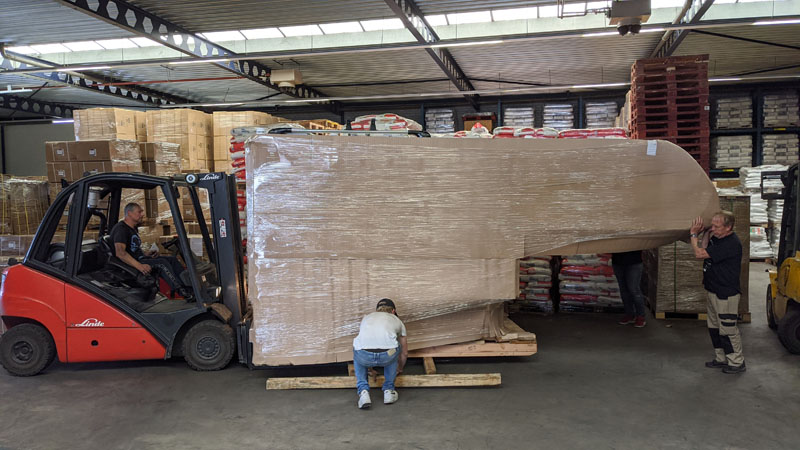 For our laws and regulations, the camper is just cargo on a truck.  The only thing we had to keep in mind was how much my cargo stuck out over the vehicle and were there any sharp items sticking out?  Stuff like that; local traffic regulations.  As an ex-highway patrol cop, I wanted to be sure we did all this well.  I didn't want to be pulled over and have to take the camper off at some point, especially in another country.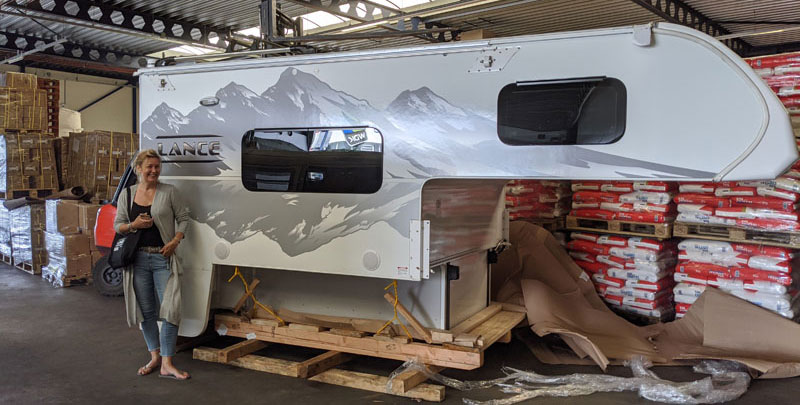 You needed the truck to take possession of your camper.  How long did it take for the truck to arrive?
After placing our order in January, it took Ford up until the summer to actually build the truck.  The Covid situation forced Ford to shut down the Kentucky truck plant for a few months.  The actual building started in July or August.
Once completed, the truck was transported to Canada by train to a dealership in the Edmonton area.  After road transport to Quebec, the truck was shipped in a container to Antwerp, the harbor in our neighboring country Belgium.  After Belgian customs approved it, it was transported to our country and actually locked again in a Dutch customs lot.
Now, believe it or not, it had to be "shipped" to Germany on paper because my country only approves this type of vehicle after the German authorities do.  It's called a grey import because three-quarter ton trucks and over officially don't exist in the Netherlands.
The import guys literally had to change things to the truck like mounting a fog light and sidelights to get the German approval.  There was no need to actually take the truck to Germany.  A German DMV guy came to the customs lot.  He turned out to be American originally so he wasn't surprised at all seeing an F-250.
It took ten-months for our DMV to issue a license plate and approval for the F-250.  So from ordering the truck in January of 2020 to driving it in February of 2021, thirteen-months passed.
That's insane.  Did the truck and camper match go smoothly once the truck was approved?
My friend, CJ, and I married the truck and camper.  It was a big day.  Chrissy was very busy and said, "It's a boys thing anyway".  The RV storage lot was still frozen over so I guess she was right.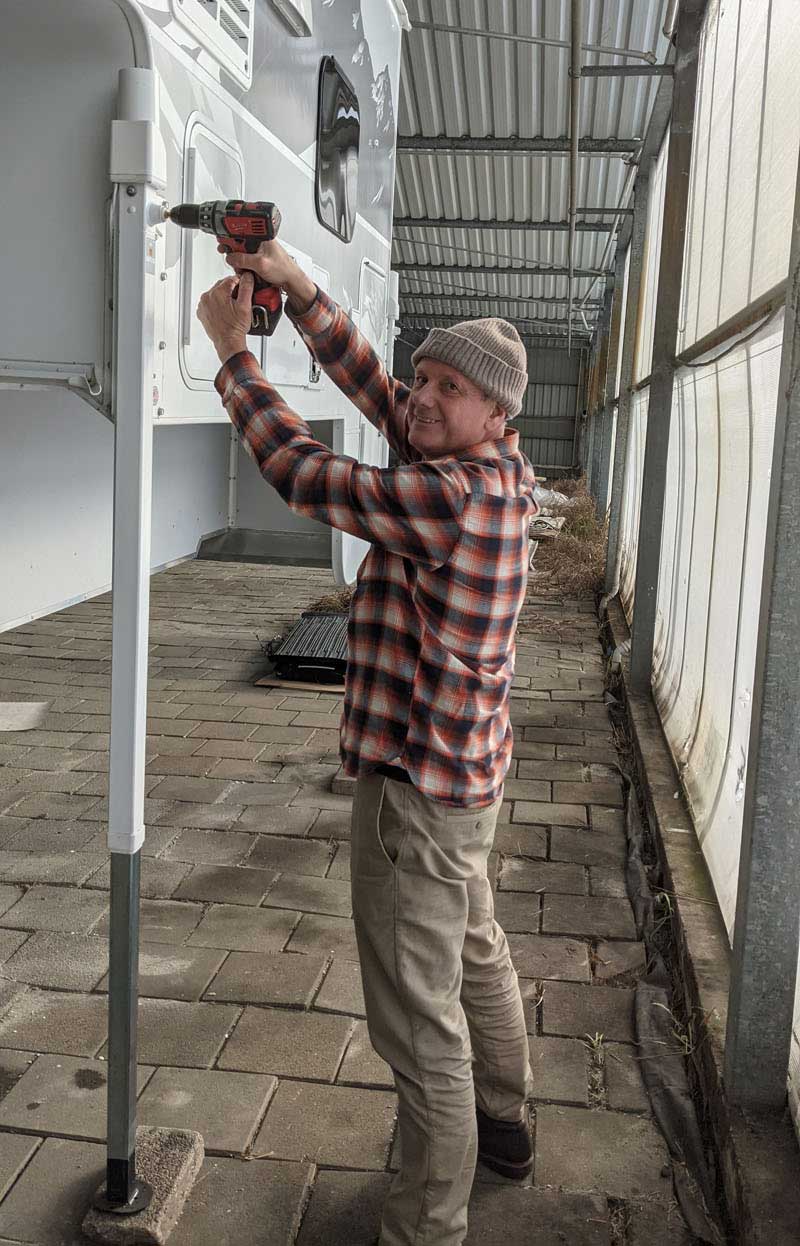 For some reason, I couldn't get our Victron Lithium BMS electronics started and had to lift the jacks and camper by using our Milwaukee battery drill.  The camper looked incredibly high up on its tiny legs, and it made me nervous.
The F-250's bed is quite high and it showed.  Then, the tailgate didn't want to let go of the truck because of the cold temperatures.  And man was the tailgate heavy with the built-in step.  Backing up the truck was the moment we all waited for.
I fully trusted CJ with his instructions as I backed up the truck.  We were professional divers when we were young and flew airplanes together, so I guess I could trust him with our new Lance unit.  I just kept backing up waiting for his, "Stop!"
Of course, it took longer than that.  Amateurs we were; not straight on, camper nose slightly too low, too much to the left or right, nose-diving forward while lowering, etc.  Nearly all of two-hours later, after assembling the Torklift Fastguns and other items that had been in a box for nearly a year, the Ford F-250 and Lance 825 were together.
One small detail; I had reminded myself to never go forward without disconnecting the umbilical between the truck and camper.  And yes, the first time going forward I heard a 'snap' as the cable was pulled out.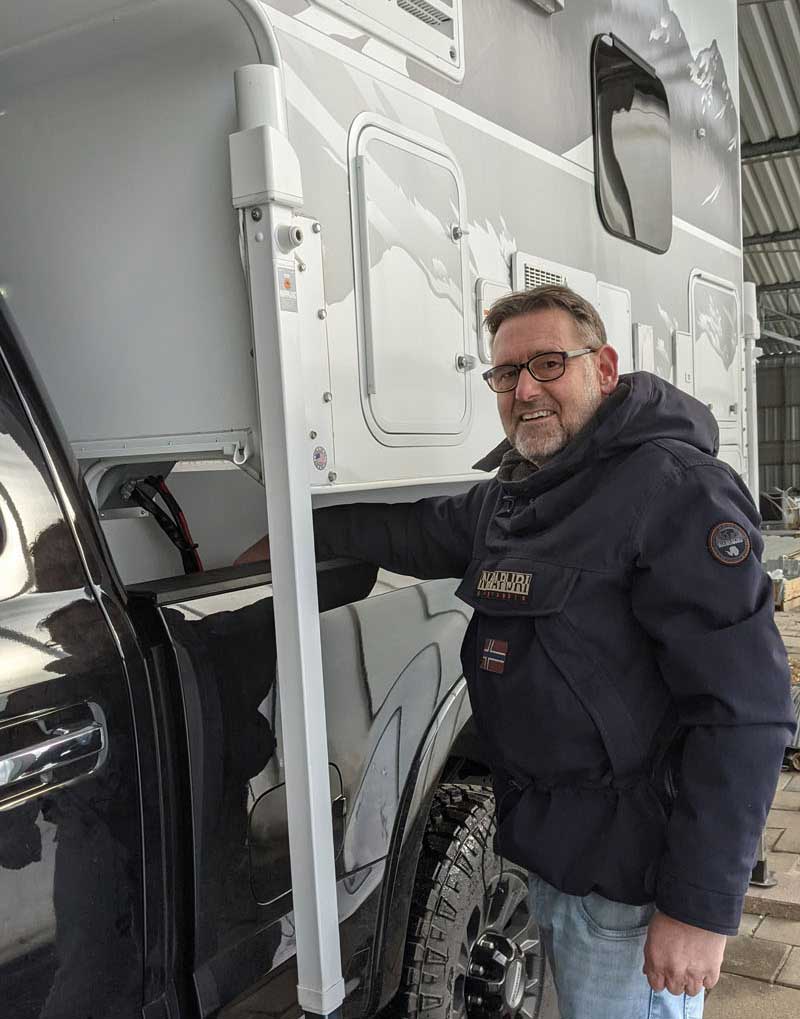 We had our Ford guys mount it facing backward from the driver position for this reason.  No damage was done, but oh so stupid.  I wish you and Gordon were there to give us a class on truck camping for beginners.
We drove home via my brother's house to show him the rig.  Driving onto our street Chrissy was so happy.  We had been talking about all this for over a year and finally, it was done.

Did you add any suspension enhancements?
The dealership that sells F-150 and Ram 1500 trucks added Air-Lift airbags and heavier sway bars.  These changes both really helped.  The airbag compressor was mounted in a custom-made stainless steer container next to another compressor for the tires.
The dealership had never imported a Ford Super Duty before.  Our dedicated mechanic, Jim, worked on the truck for days setting up the stainless steel cases and mounting the Torklift equipment.
Jim told me that he actually dreamt of the truck and what needed to be done.  Before he saw ours, he didn't even know what a truck camper was.  Jim mounted everything as if he did this on a daily basis.  I asked him, "Jim tell me the camper isn't going to fall off on the highway!"  He laughed and said, "No way, it's all solid!"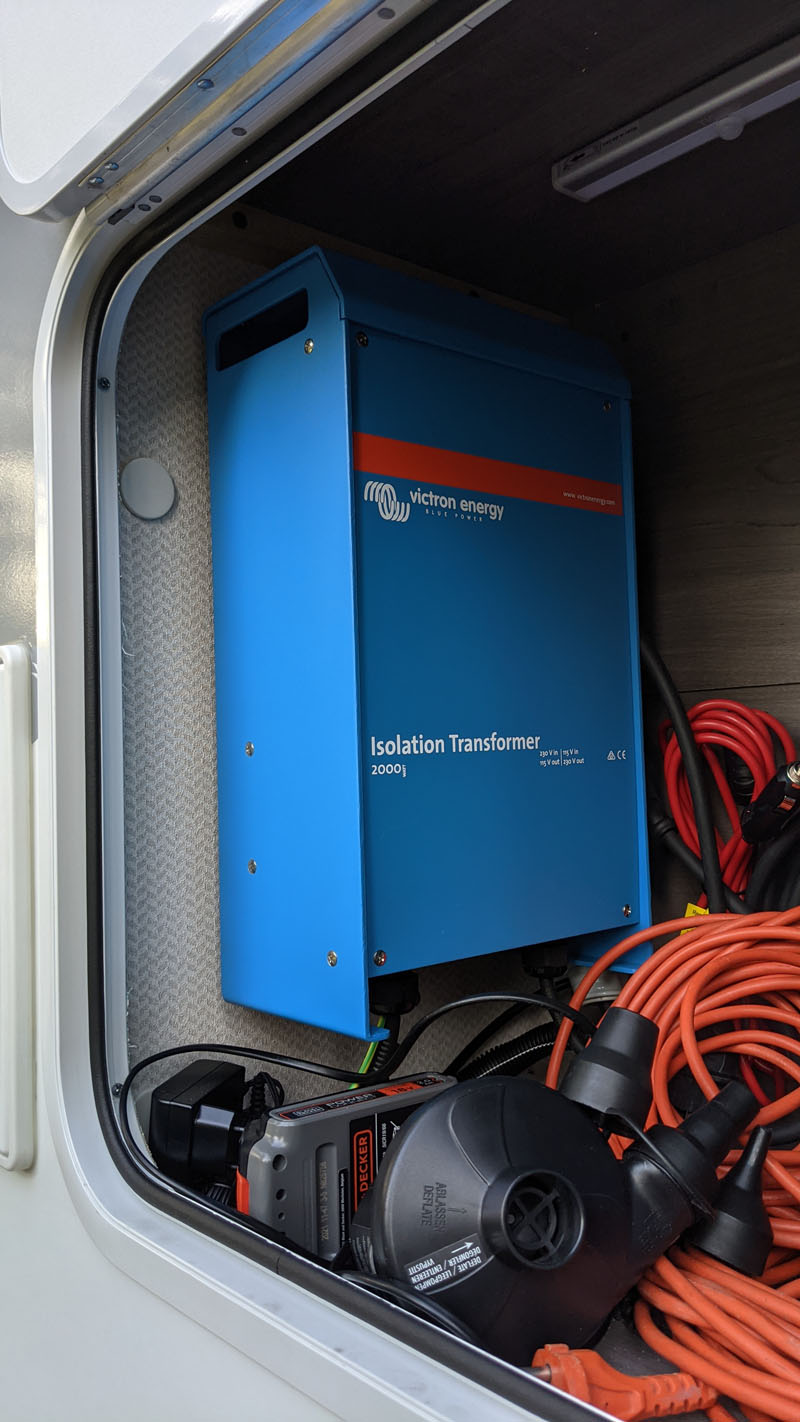 You kept the Lance Camper AC system at 110-volts versus the 220-volts used in the Netherlands.  Why not change the voltage?
We wanted to keep it simple.  Back in Los Angeles, we bought a 110-volt hair dryer, a waffle maker, and a coffee maker.  Also, the microwave is 110-volts.  We wanted to keep it as well.  Using the 110-volt stuff reminds me of the USA, a country where we love to travel.
Our 220-volt shore power (should we ever need it) is immediately converted to 110-volts to feed the camper system using a programmable Victron isolation transformer.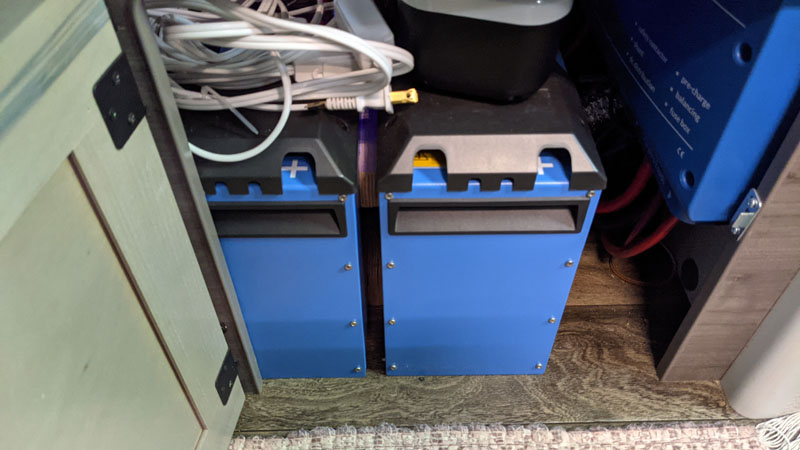 You have added an extensive solar panel, lithium battery and inverter system.  Tell us about this system and why you installed it.
The system consists of a 625-watt solar panel system, 420 amp-hours from two 210-amp hour lithium batteries and a 2,000-watt inverter-charger; all from Victron. Victron is originally a Dutch brand and easy to get.
In the north of our small country is a one-man company that builds these systems and other non-electrical things that his customers ask him to do.  Maarten, from Off-Grid Campers, made all this possible.
When he sent us a picture with the whole floor demounted and we saw these huge 80-amp cables between the regulator unit (MG) and the Victron Multiplus, it looked like the whole camper exploded.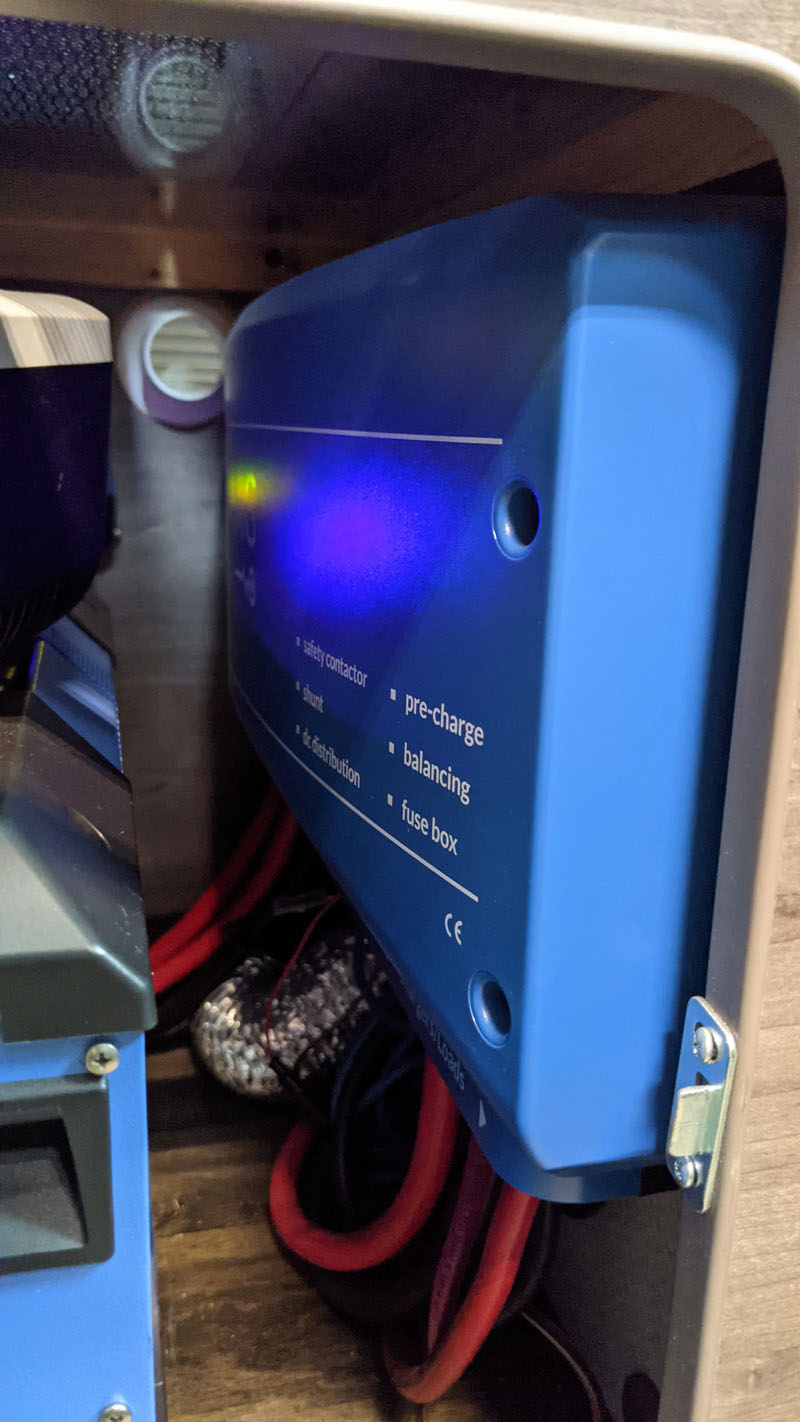 With the MG Master unit, there's no need for separate shunts and a lot of other accessories.  It's nearly as big as the Multiplus but makes the system solid and very reliable.  Maarten actually told me that one 210-amp battery will get us far.  There was no need for the second battery.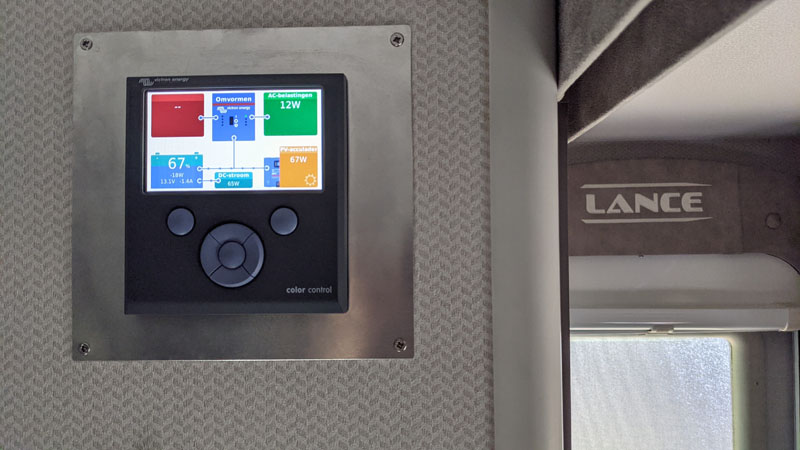 He was right.  During our summer vacation to Sweden, the battery never went lower than 78-percent.  And we never hooked up to shore power when we were at a campground.  Of course, the air conditioner unit can't really be used on the batteries, but we didn't use it.  He changed the American shore power inlet to a European one and added the 220-volt to 110-volt Victron converter.  This way, when we would charge, the system thinks it's hooked on to a 110-volt system.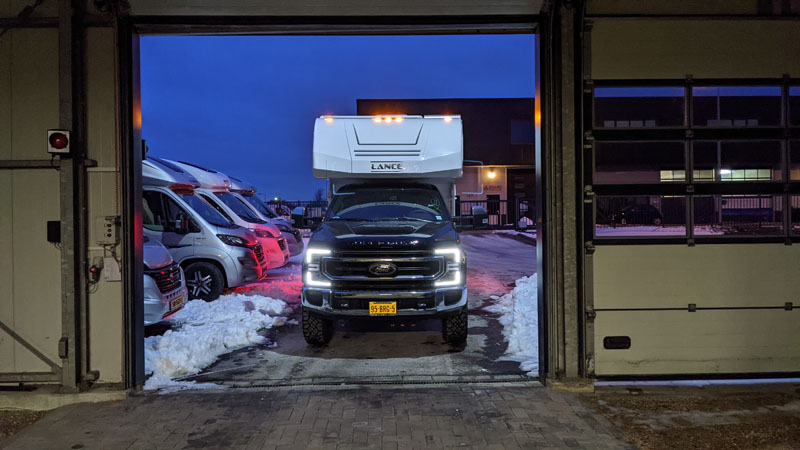 How did you change your camper from having a black tank to having a cassette toilet?  And why did you do that?
That was a necessary change.  In Europe, there are no dumps stations, although I heard a fellow RVer once saw one.  All trailers and campers here have the cassette toilet system.  All campgrounds have a dedicated dump station for cassettes as well as a water hose and paper towels.
After deciding to mount the cassette toilet we made another appointment with Maarten asking him to make a big hole in our unit.  And he did.  And it worked.  Electricity for the flush system was taken from the 12-volt fan in the wet bath ceiling.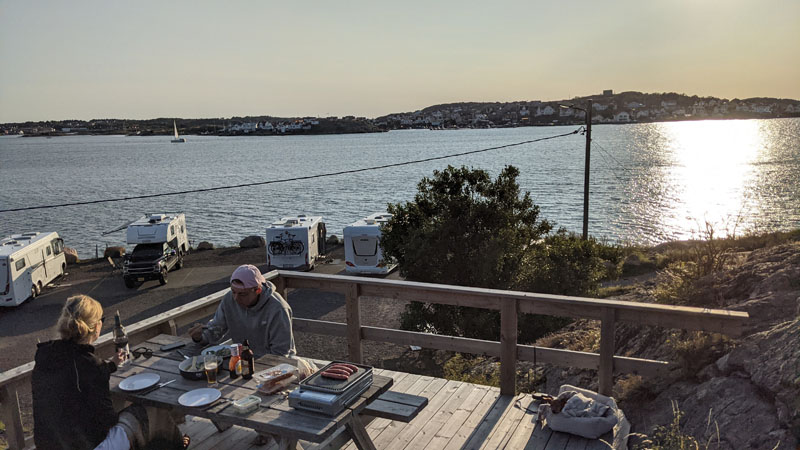 Tell us about some of the places you have been with your truck and camper.
In the spring of 2020, nearly all border crossings were closed due to the Covid situation forcing us to stay in our own little country.  We live in a city on the coast, Den Haag, so we went on a few weekend trips, taking Fridays off in some cases.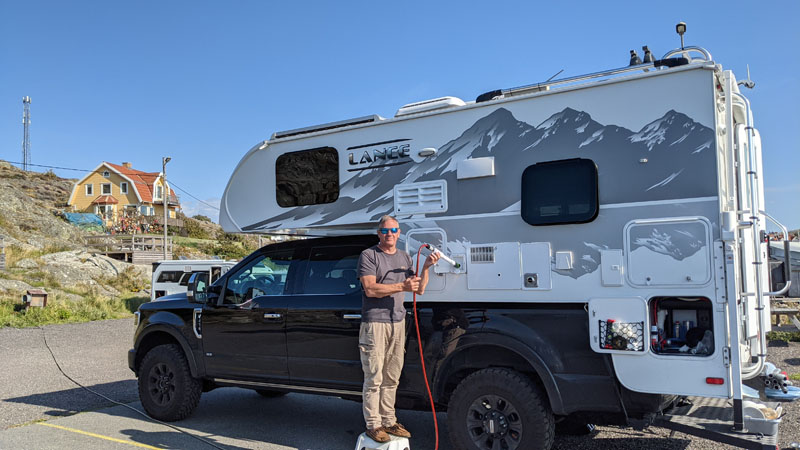 We went to the wooded area in the North, to a hilly province in the south-east called Limburg, and to the province of Zeeland where there are many, many beaches.  To be honest, we hardly ever stayed in our country for vacations.  The big surprise is that it's actually a beautiful place.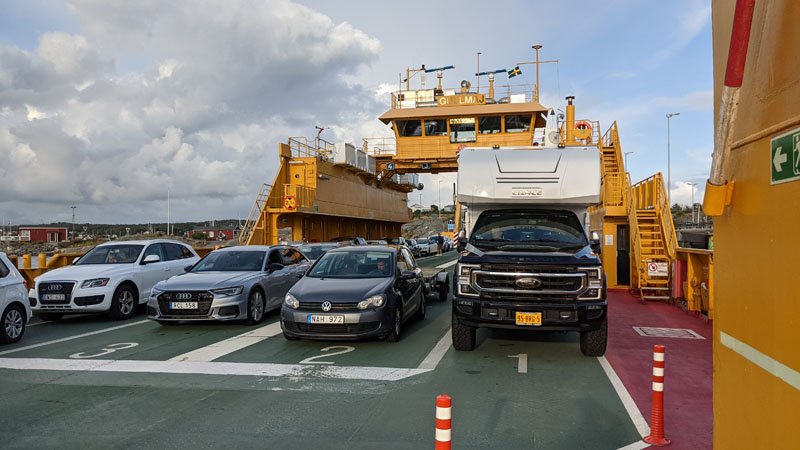 In the summer of 2021, we went on a three-week vacation to Sweden.  Sweden is a stretched country with a length comparable from the Mexican border in southern California to the Washington/Oregon state line.  The northern European countries look a bit like Canada and maybe Alaska for a part.  They have beautiful lakes.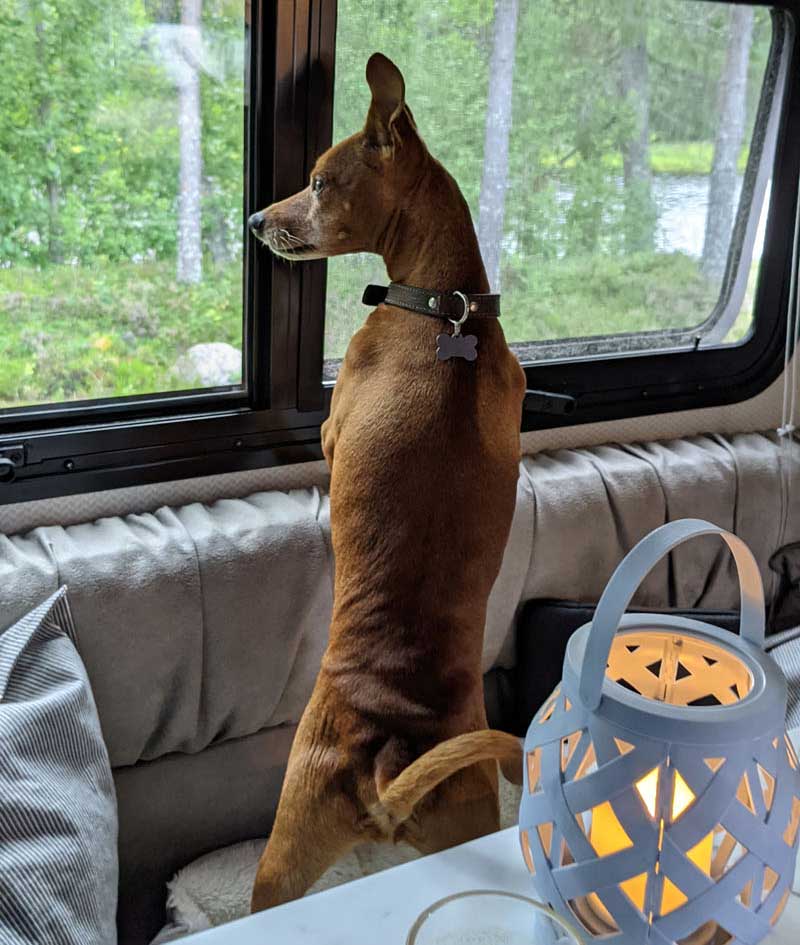 The more north you drive, the wilder it gets and that's where boondocking is appealing.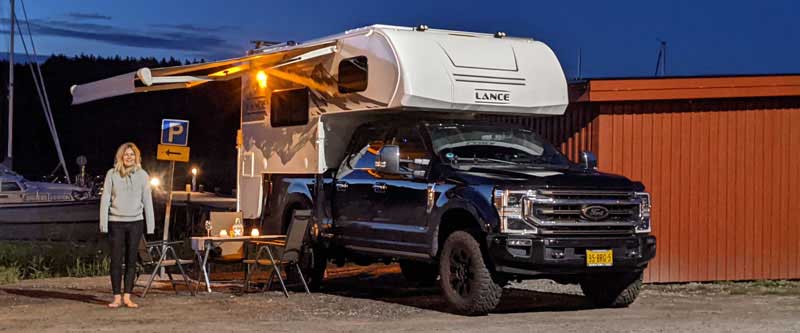 Now that you've had your truck and camper for a while, what do you think of it?
It's better than we ever anticipated.  The camper is such a great way to travel.  Waking up in the morning and stepping out with a coffee, standing only 10-feet away from the Swedish coast and the idea of having your home right behind you is something one needs to experience to understand.
Truck camper travelers know exactly what I mean.  Some TCM readers are probably thinking, "Man, I could have told you that 30-years ago!"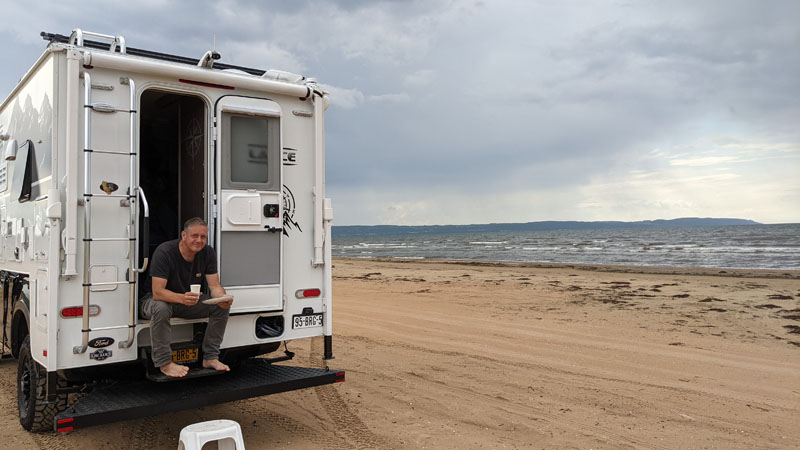 The process of getting your truck and camper was lengthy and extensive.  Looking back, is there anything you would have done differently?
It's been a learning experience.  Everything was new and we have approximately 300-emails with everyone involved.  One thing I know now is to have more patience.  We followed the container ships using an app and especially the camper.  Sailing through the Panama Canal seemed to take ages.
If anyone in the Netherlands wants to import a truck and camper, we'd be happy to give them some tips and tricks and advise them to use the companies and people's services that we did.  They all did a great job and I know they enjoyed doing this.
We are already planning many more trips and are fully enjoying our new rig.