John Denning and Paula Vlamings quit their jobs, sold almost everything, rented their house, and set out for South America in a Hallmark Milner.  20 months later, they've explored the cultures of 11 countries, survived Zika, and discovered their bigger picture.

To achieve your wildest travel dreams, you have to make them a priority, carefully plan their execution, make difficult preparations, and dig deep to find the courage and fortitude to see everything through.
For most, these wildest travel dreams send us truck camping across the United States, exploring Canada, or reaching Alaska.  For others, the vision expands across multiple continents and cultures, only turning around when the road – pavement or otherwise – ends.
Paula and John shared a wild travel dream shortly after they met 26 years ago.  As their life together progressed, they traveled for work, but watched as their wild travel dream slipped under life's relentless day-to-day responsibilities.
Finally, Paula and John made the decision to put their wild travel dream on the front burner.  They quit their jobs, sold or gave away nearly everything they owned, assembled an overland-ready truck and camper rig, rented out their San Francisco house, and crossed the Golden Gate Bridge south in November of 2014 on a two year South American adventure.  At last, their wild travel dream was on.
We caught up with them 20 months into their 16 country trip.  They've already explored Mexico, Belize, Guatemala, El Salvador, Nicaragua, Costa Rica, Panama, Columbia, and Ecuador.  Their resulting photography and cultural perspectives are incredible.  Along the way they have camped off-the-grid, crossed international borders, encountered locals, and even survived Zika virus.  What follows is their inspiring story, so far.

Above: Paula and John with their 2014 Toyota Tundra and 2014 Hallmark Milner
TCM: How did you get into truck camping?
Paula: I grew up camping in every imaginable recreational vehicle.  We had a tent trailer, motorhome, travel trailer, and a truck camper.  John grew up tent camping occasionally.  Early in our married life, we were primarily tent campers.
I was first introduced to truck campers when I was about six or seven years old.  My mom and dad had a Dodge truck and a hard side camper.  We camped all over Colorado for several years. When my family came to visit from Holland, my dad just rented a travel trailer and we pulled it behind the truck camper.
Several years ago, my husband and I decided to make a life change; to take a huge trip and drive from San Francisco to Argentina, which led us to buy a truck camper.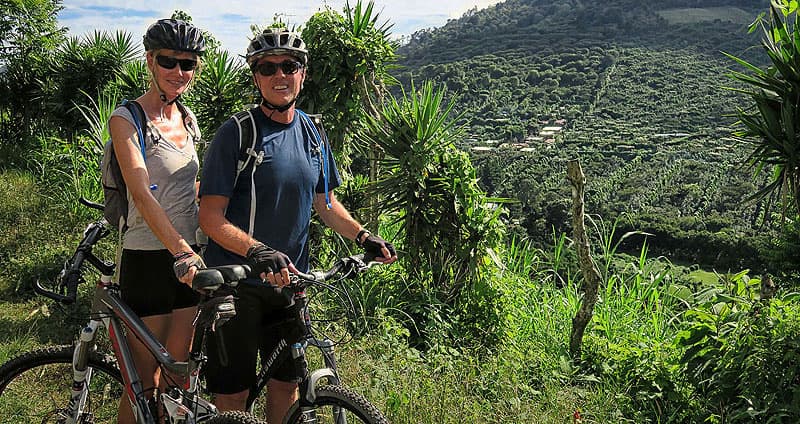 Above: Paula and John on a bike ride in El Salvador
TCM: With all the RV types you had experience with, why did you decide on a pop-up truck camper?
Paula: We researched all kinds overland vehicles.  We knew we wanted a four-wheel drive truck for the roads and the terrain down in South America.  We rented a Westy (Volkswagen Westfalia Syncro) and also looked at several other options.
For a variety of reasons, we came back to a truck camper as the best option for us on this trip.  We wanted to be able to leave the bed made up all the time and have a separate space to lounge.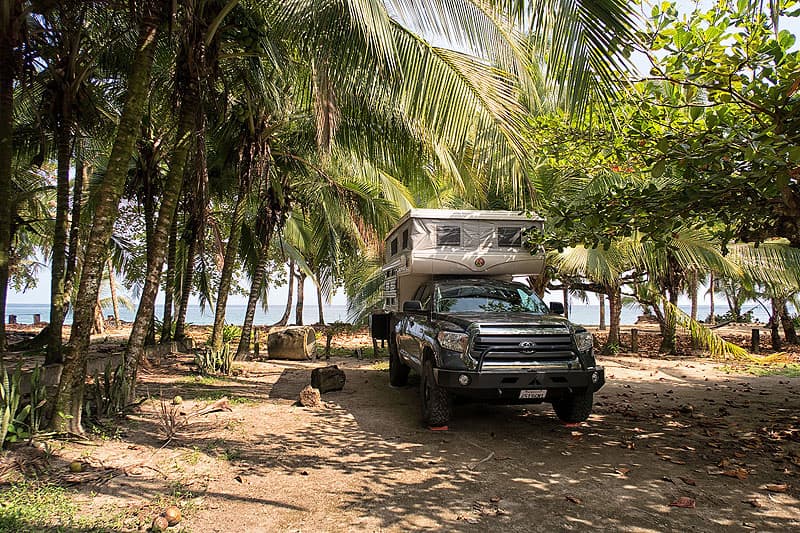 Above: Beach camping in Punta Uva, Costa Rica