John Denning and Paula Vlamings quit their jobs, sold almost everything, rented their house, and set out for South America in a Hallmark Milner.  20 months later, they've explored the cultures of 11 countries, survived Zika, and discovered their bigger picture.

To achieve your wildest travel dreams, you have to make them a priority, carefully plan their execution, make difficult preparations, and dig deep to find the courage and fortitude to see everything through.
For most, these wildest travel dreams send us truck camping across the United States, exploring Canada, or reaching Alaska.  For others, the vision expands across multiple continents and cultures, only turning around when the road – pavement or otherwise – ends.
Paula and John shared a wild travel dream shortly after they met 26 years ago.  As their life together progressed, they traveled for work, but watched as their wild travel dream slipped under life's relentless day-to-day responsibilities.
Finally, Paula and John made the decision to put their wild travel dream on the front burner.  They quit their jobs, sold or gave away nearly everything they owned, assembled an overland-ready truck and camper rig, rented out their San Francisco house, and crossed the Golden Gate Bridge south in November of 2014 on a two year South American adventure.  At last, their wild travel dream was on.
We caught up with them 20 months into their 16 country trip.  They've already explored Mexico, Belize, Guatemala, El Salvador, Nicaragua, Costa Rica, Panama, Columbia, and Ecuador.  Their resulting photography and cultural perspectives are incredible.  Along the way they have camped off-the-grid, crossed international borders, encountered locals, and even survived Zika virus.  What follows is their inspiring story, so far.

Above: Paula and John with their 2014 Toyota Tundra and 2014 Hallmark Milner
TCM: How did you get into truck camping?
Paula: I grew up camping in every imaginable recreational vehicle.  We had a tent trailer, motorhome, travel trailer, and a truck camper.  John grew up tent camping occasionally.  Early in our married life, we were primarily tent campers.
I was first introduced to truck campers when I was about six or seven years old.  My mom and dad had a Dodge truck and a hard side camper.  We camped all over Colorado for several years. When my family came to visit from Holland, my dad just rented a travel trailer and we pulled it behind the truck camper.
Several years ago, my husband and I decided to make a life change; to take a huge trip and drive from San Francisco to Argentina, which led us to buy a truck camper.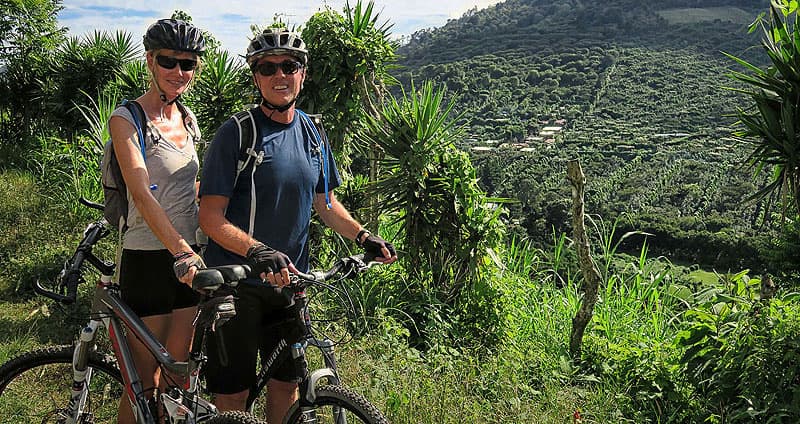 Above: Paula and John on a bike ride in El Salvador
TCM: With all the RV types you had experience with, why did you decide on a pop-up truck camper?
Paula: We researched all kinds overland vehicles.  We knew we wanted a four-wheel drive truck for the roads and the terrain down in South America.  We rented a Westy (Volkswagen Westfalia Syncro) and also looked at several other options.
For a variety of reasons, we came back to a truck camper as the best option for us on this trip.  We wanted to be able to leave the bed made up all the time and have a separate space to lounge.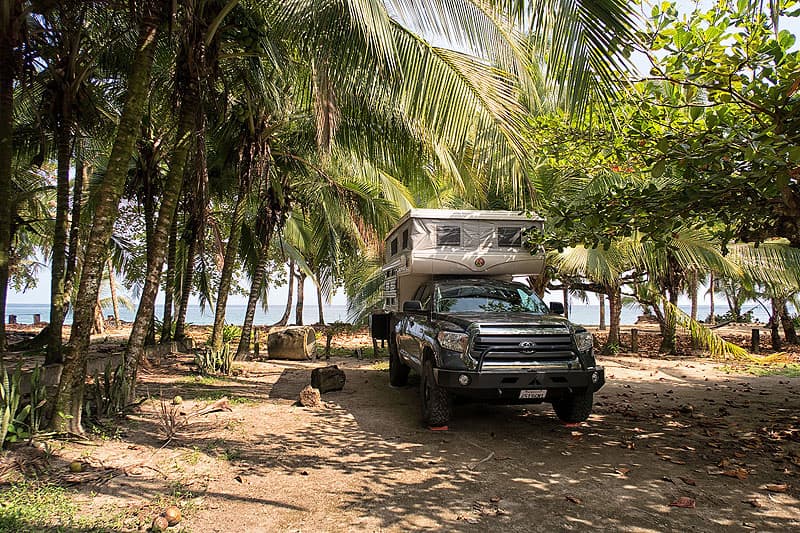 Above: Beach camping in Punta Uva, Costa Rica
John: Paula really liked the idea of the truck part of the rig being separate from our living quarters, so we didn't feel like we were living in our truck.  Those desires ruled out the Sportsmobile and the Synchro.  Central and South America get very heavy rains in the wet season, and it can get cold in the mountains, so we knew we needed comfortable indoor living space.
Paula also declared she wasn't going to, "climb down a ladder from a roof top tent in the middle of a rain storm in the pitch dark to go pee".  This ruled out a Landcruiser with a roof top tent.  Lastly, we were trying to keep the rig small enough to feel comfortable driving in small villages.  I'm not sure if we accomplished this last bit.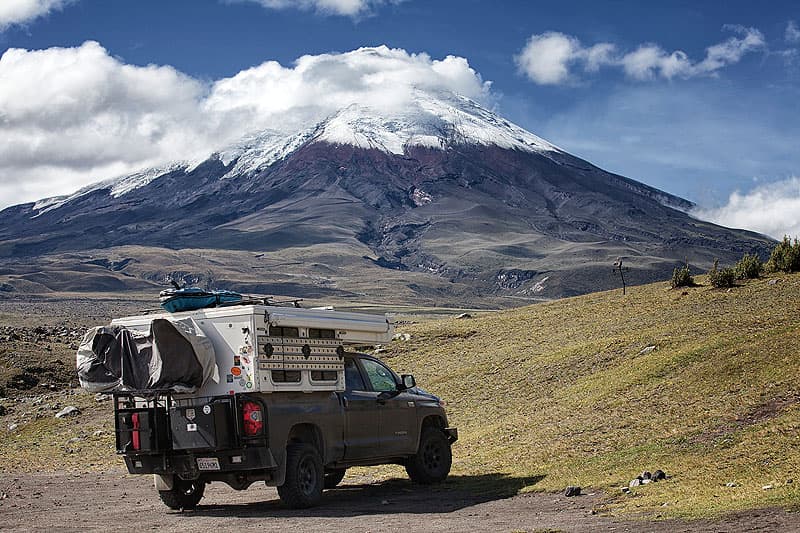 Above: The Hallmark Milner fits their 6.5 foot truck, Cotopaxi National Park, Ecuador
Hallmark pop-up truck campers were by far the best built of those we evaluated, and the Milner model was the most roomy inside for a 6.5 foot truck bed.  We flew to Colorado to check out the factory and meet the owners of this family run business.  We were sold.
We spent a day going through the various options and configurations.  We customized a few things, but the standard features were pretty robust.  We felt like this was a quality product with a fair price.  That coupled with the customer service and attention to detail made us huge Hallmark fans.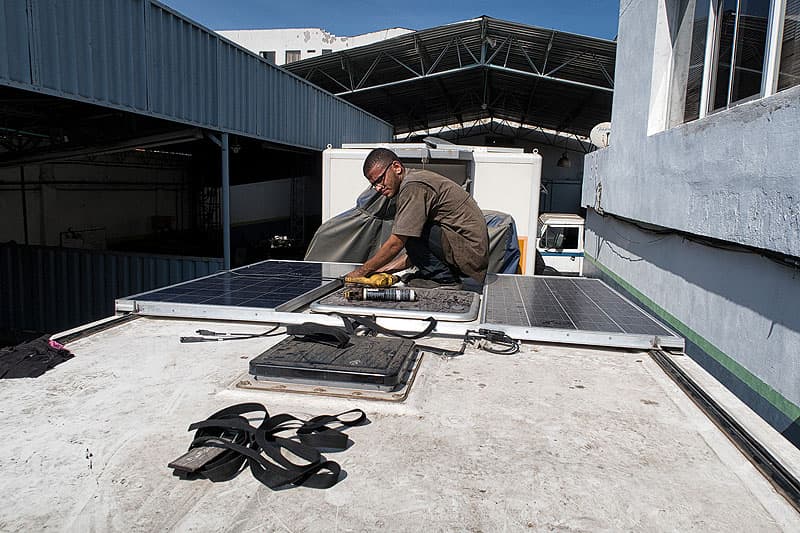 Above: Two 150 watt solar panels were installed
TCM: In light of your South America plan, what modifications have you done to your Hallmark Milner?
Paula: We made a few modifications to the Milner model.  We had two 150 watt solar panels installed on the roof and a roof rack.  We had a large marine hatch installed on the roof for light, egress, fresh air, and star gazing.
We attached the sand ladders to the big windows for protection, which are bolted from the inside.  These also turn into a BBQ shelf.  Finally, we modified the cabinets to include a small pantry and separately a spice rack.
TCM: That's a concise list.  How about the truck?
Paula: It was after we chose a Hallmark Milner that we researched trucks and bought a 2014 Toyota Tundra.  John spent a lot of time beefing up the suspension and customizing the truck for our trip.
On the truck we have Icon shocks and springs, cam upper control arms, Firestone airbags, Toyo M/T tires LT275/70R18 E, Old Man Emu Dakar leaf springs with an Add a Leaf, 12-volt ARB on board air compressor, and Aluminess front and rear bumpers with rear swing-outs for a bike rack, utility box, and jerry can locker.
TCM: How did you get the idea to drive to Argentina?
Paula: I'm not exactly sure when we figured on the route for this trip.  The notion, the idea, the birth of this journey has been in our hearts and minds since the first day we first met 26 years ago.  We talked then about saving money and taking a year off work to travel the world.  However, we never took that much time off.  Over the years we did travel, but only for a couple weeks at a time.
The big trip was put off as we had good jobs that we didn't want to quit and bought a house, but we never let go of the dream of traveling for an extended period of time.
Over the last few years, the pace and priorities of our life changed.  We had good, but stressful jobs in San Francisco and felt they were too 'soul-sucking' to continue for much longer.  We were both traveling a lot and didn't see each other much.  There didn't seem to be much energy for fun.
John definitely wanted out of his business; banking.  We were good at working hard, but not always good at taking time off.  We felt far away from the people we thought we wanted to be, and a feeling that we were losing sight of the bigger picture; one that included exploration, adventure, and freedom.  In order to appreciate all that we had in this life, we felt that we needed a new perspective.  But the where and the how of a travel strategy was amorphous.  It became, like most things in our relationship, an evolution of sorts.
John had been reading Overland Magazine for a few years, ever since we went on a safari in Tanzania back in 2004.  There he discovered a desire to drive some place, on our own, figuring it out as we went along.  We saw other Europeans driving their own vehicles and John kept saying over and over, "we could do this ourselves".  I thought he was crazy.  For the longest time I wasn't on board with driving ourselves.
As the time grew closer, and we talked about a year or more of traveling, we realized that we didn't want to be living out of suitcases and doing the public bus thing.  It didn't provide enough freedom or enough comfort.  Around that time we also started reading blogs of other people overlanding the world.  The more we read, the more I began to see it was doable.  If all these other people were doing it, why couldn't we?  Reading other people's blogs definitely inspired me.
So we would drive.  But where?  We talked about wanting to experience a new culture, needing to keep costs down, and it had to be warm.  I was traveling a lot for work then to Australia, Peru, Costa Rica, Guatemala, Europe, and Africa, so those places informed our thought process.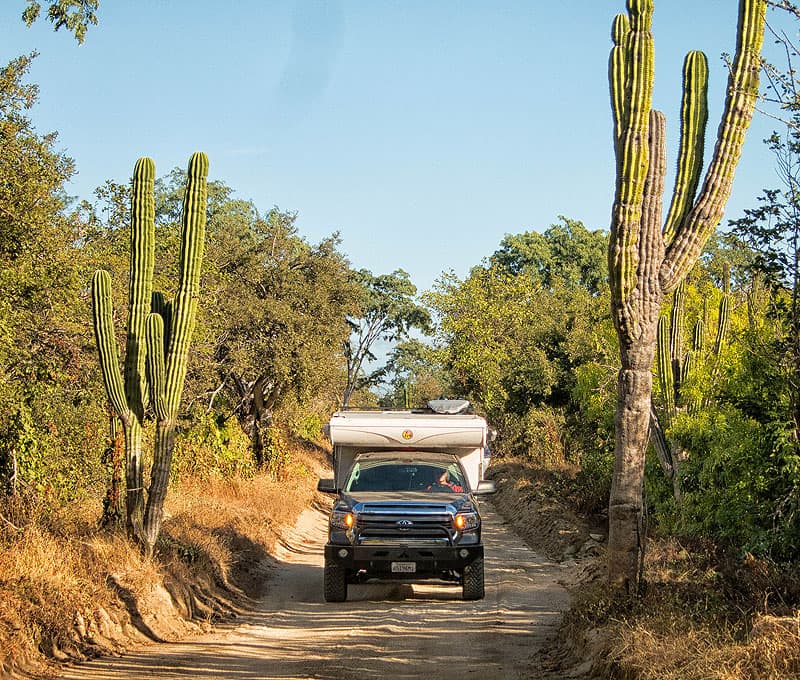 Above: The road to Rancho Sol de Mayo in Mexico
The more we researched buying a vehicle, modifying it, and loading it for a year or longer trip, the more we realized we wanted to buy and prep the rig at home while we were still working.  And the only place to drive from San Francisco and stay warm was south.  All the way south to Argentina.
The PanAmerican runs from Alaska to the southern most point of South America.  Driving the PanAmerican all the way down to Ushuaia seemed like a great adventure.  Our plan is to get down to the very bottom and then make our way back up to Buenos Aires.  We think we'll either ship the rig home from there or maybe keep going.
TCM: How were you able to just quit your jobs and take a trip of this magnitude?
Paula: Well, we didn't just do it.  We started really getting serious in 2005.  We met with a financial planner and mapped out how much we could save in ten years in order to take a couple years off.  We also rent out our home in the Bay Area, which provides us a monthly income.
John knew he was ready to leave his industry, so that move was a long time coming.  I plan go back to my work in some form or another after we get back, but I was also ready to make a change from my company.  Plus, life on the road is much less expensive than life in the United States or Canada.
TCM: Tell us about planning for the trip and what was entailed.
Paula: We started planning around 2012.  That's when we started researching vehicles.  We had planned to leave in 2013 but, due to a family member's illness, we postponed our departure.  So our life change was pushed to 2014.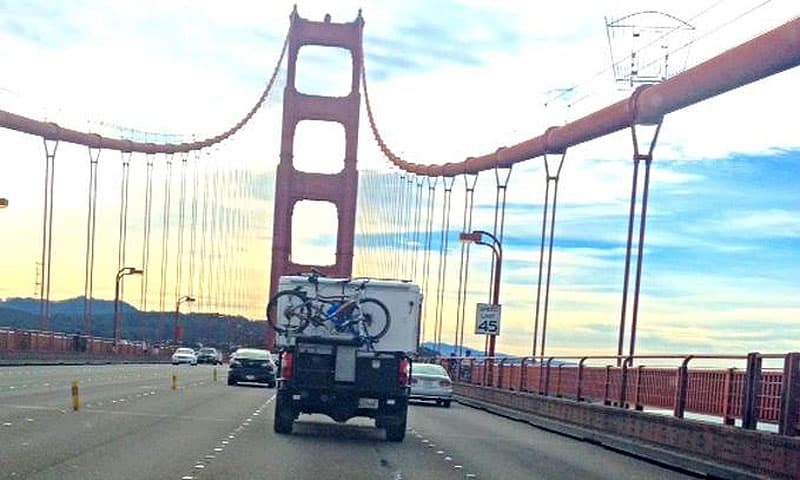 Above: The beginning of the trip – driving across the Golden Gate Bridge in November of 2014
It was an extremely difficult year – quitting our jobs, selling or giving away everything, renting out our house, and trying to prep for a two year journey.  We finally drove south across the Golden Gate Bridge in November of 2014.
Unraveling our life was hard work and harder than I expected.  The list of things to do was overwhelming at times.  Other people told me preparing to leave is the hardest part of a trip like this and they were right.  We printed out a list every week or so to work off of it, but just kept adding to it.  We had to do some remodeling to fix up our house to get it ready to rent as well.  It was pure chaos for months.
Other bigger preparations included finding health insurance and vehicle insurance.  We are a little older (and younger) than the typical overlander so we wanted more health coverage than just a typical travel insurance plan and we aren't covered by a government plan.  And because our rig is new, we wanted full coverage on the vehicle in all 16 countries.  Finding companies that could insure us took a while.
We did get vaccinations, but only Yellow Fever and a tetanus shot.  We did meet with our doctor before we left and took prescriptions for meds we thought we might need that we couldn't find down here.  That has come in handy.  Passports need to be current for the entire time on the road with as many empty pages as possible.  I might need to get mine renewed on the trip because I am running out of pages.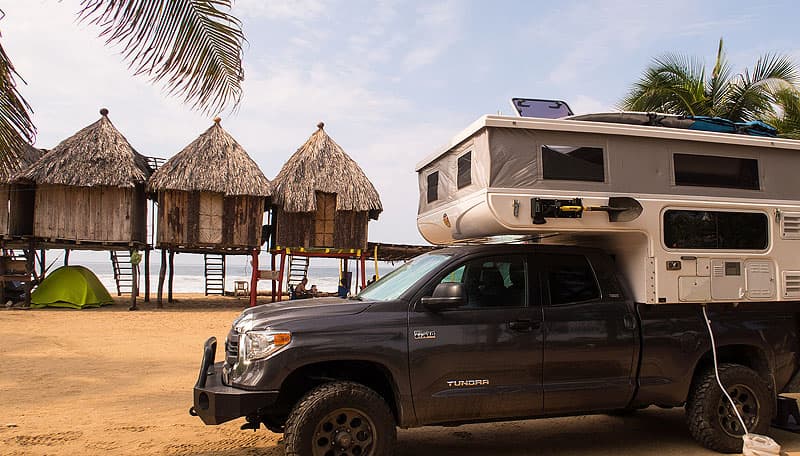 Above: Camping at Zipolite in Mexico
TCM: Now that's a fantastic problem to have!  You have visited eleven countries so far.  What stands out?
Paula: Our first country was Mexico. We visited Mexico many times over the last twenty years on typical beach vacations, so we didn't think we would want to spend the full six months the visa allows, but we did.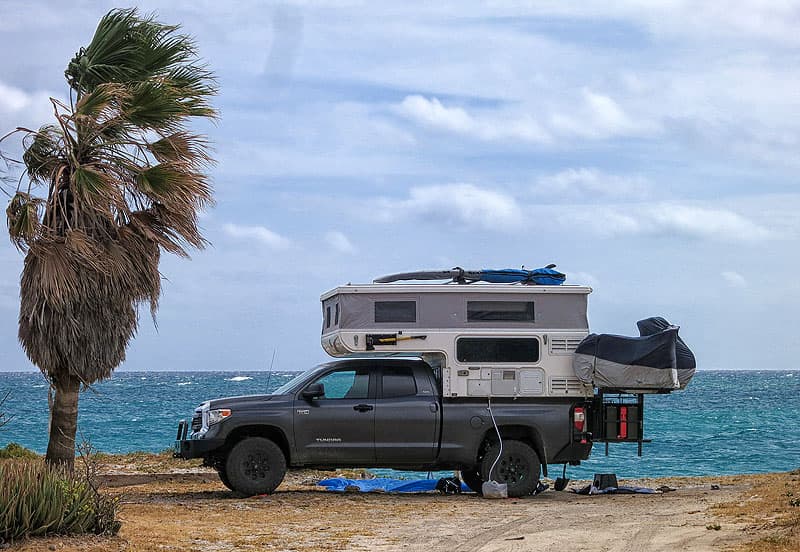 Above: Camping at Cabo Pulmo in Mexico
The people were friendly, curious, and helpful with always a smile and a wave.  We took our time exploring so many places in the interior that we hadn't been to before.  Mexico is a considered a dangerous country to drive through, and parts of it are, but we had no problems.  We were greeted with curious stares and friendly waves.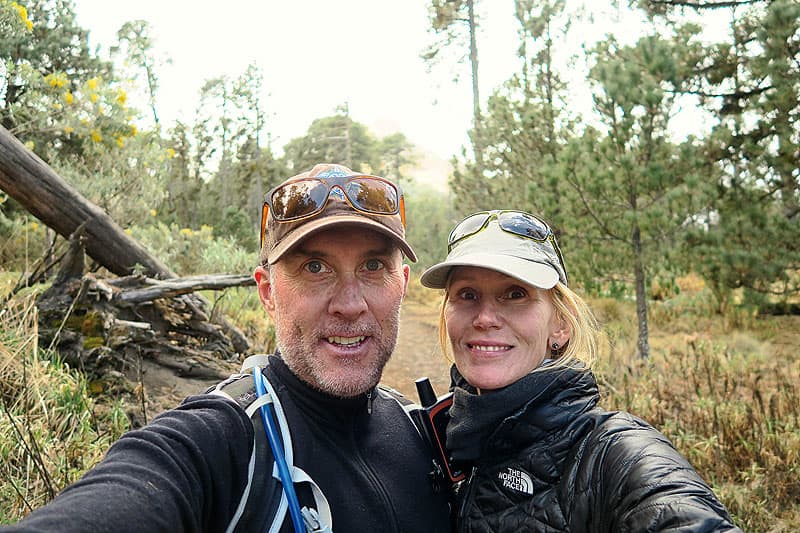 Above: La Malinche volcano hike at 12,500 feet in elevation, Mexico
One time, while in the Yucatan, we camped in front of the home of a local boat guide.  When we told him we had driven there from California even he was surprised we hadn't had any problems.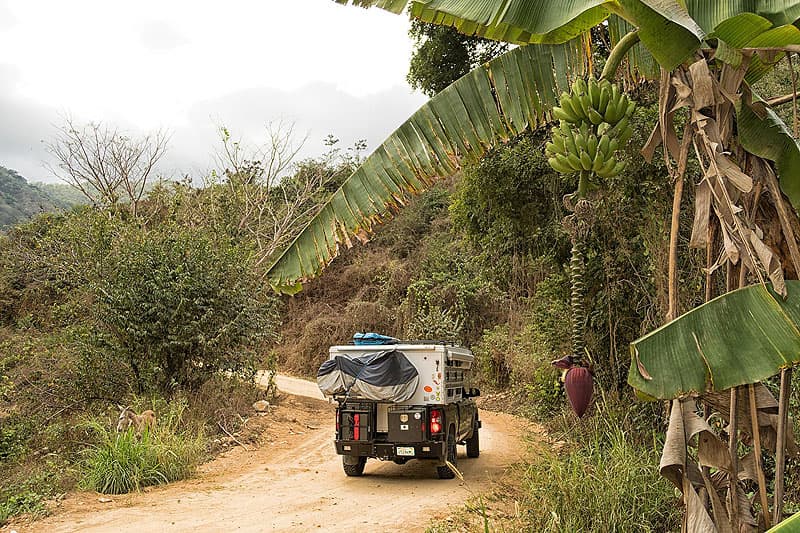 Above: Close to Highway 200 at the coast of Puerto Escondido, Mexico
You definitely need to be careful and follow the rules of the road, but Mexico and its people are so worth it.
Belize was next and the people there were even friendlier than Mexico.  Compared to Mexico, Belize is a very poor country.  More than a few times we pulled up to a gas station and the attendant told us, "Yah man, no gas today".  It was one of the more difficult countries to find fresh fruit and vegetables.  Only a few roads exist in the whole country and small hand crank ferries are common.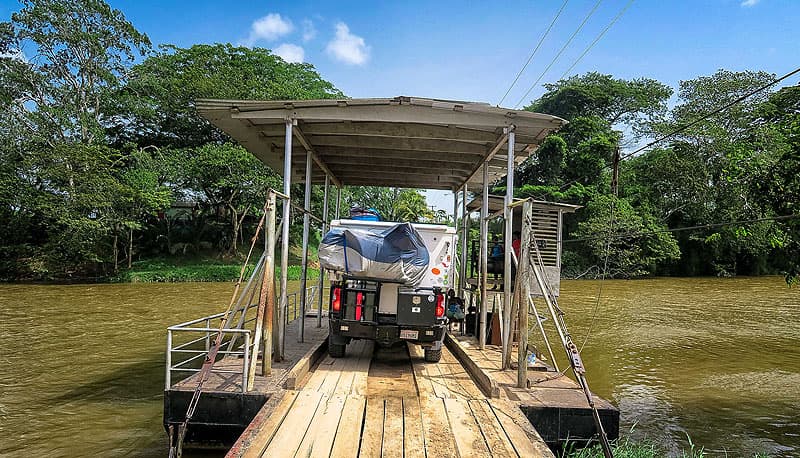 Above: A hand crank ferry in Belize
Belize is small and Caribbean, so the people have that flare.  It's very laid back and chill.  We felt a genuine curiosity from the people and pride in their country.  Our highlight was a kayak trip on Glovers Atoll where we camped on a tiny island, snorkeling in turquoise crystal clear water.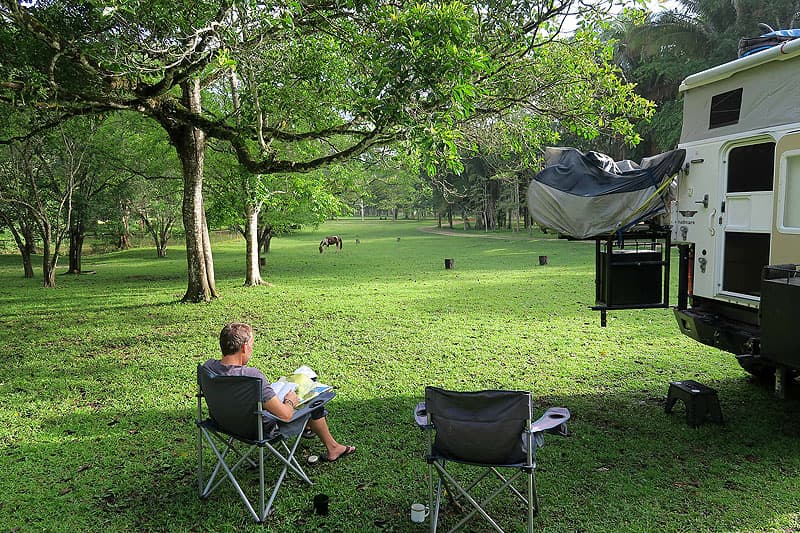 Above: Ixpanpajul Nature Park just outside of Flores, Guatamala
Guatemala was our third country.  First impressions for us were the roads were really bad and the people more reserved.  Guatemala has a very intact indigenous population that suffered terrible violence for many years.  They are more guarded, but once a conversation is struck up, they open up.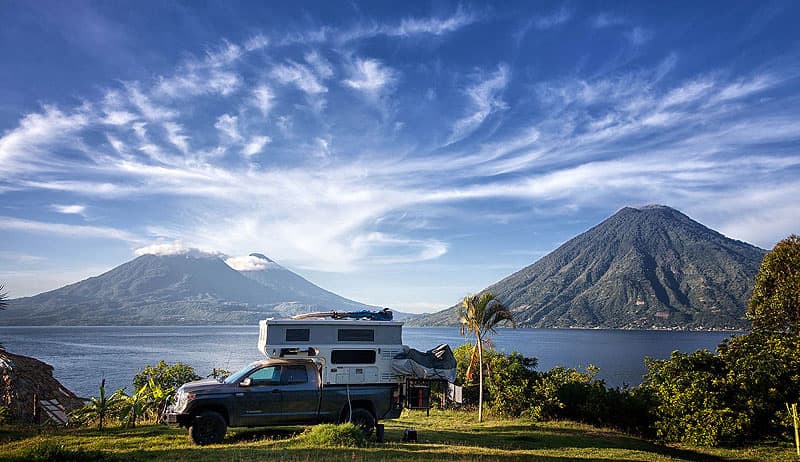 Above: Camping for two weeks in Lake Atitlan, Guatemala
Life is difficult in the rural communities and opportunities are very few.  We camped for two weeks in Lake Atitlan, our longest time in one place, and loved it.  That is definitely one of our favorites.  The local communities on the lake seem to coexist peacefully with the tourists and expats who live there.  It's a mystical lake and we were drawn to it as well.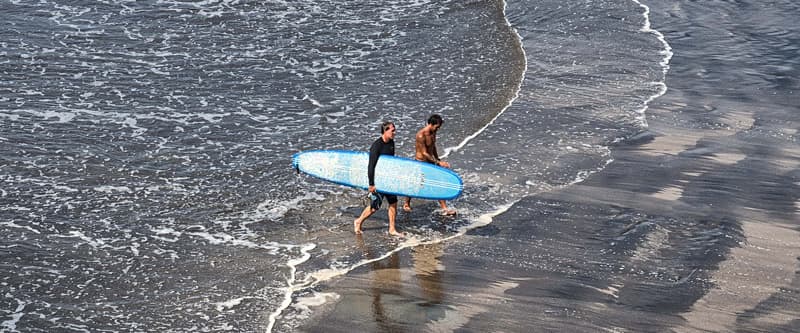 Above: Surfing in El Salvador
El Salvador was our fourth country.  Our overall impression is that it that there are more guns than any other country we have traveled through so far.  I have a friend living there who is engaged to one of the top chefs in San Salvador so we may have had a different experience than other travelers.  We enjoyed surfing at the beaches and mountain biking through the coffee farms.
That said, we definitely saw the most guns in El Salvador.  The day we drove out of San Salvador, there were seven bus drivers murdered because they didn't cooperate with a gang imposed city strike.  There are issues in this country, but like everywhere, there are amazing people and landscapes too.
Nicaragua was one of our favorites as well.  The beaches were some of the more beautiful we saw on the trip.
Above: Volcano boarding in Nicaragua. To watch the above video in High Definition, press play, click on the quality "wheel" symbol in the lower right corner of the YouTube screen, and select 720p or 1080p.
The locals are more reserved and less open but, again, Nicaragua is a country recovering from a brutal civil war.  There is also a hesitancy to discuss politics in the open public.  We had the sense that there were still issues with a government that was not afraid to keep the opposition in check by whatever means necessary.  That said, we really enjoyed the country and felt very safe there.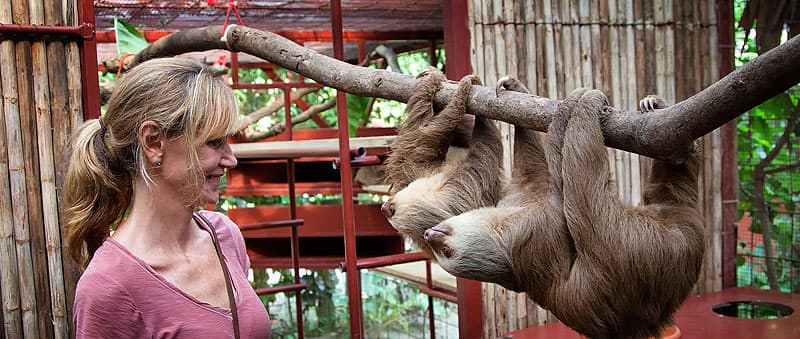 Above: Paula and sloths in Costa Rica
Costa Rica was next and it was all about the wildlife.  It exists mainly in the small national parks.  We had been there before, but driving slow and meandering around, I saw this country differently than I did before.
Above: Bungee Jumping in Monteverde, Costa Rica. To watch the above video in High Definition, press play, click on the quality "wheel" symbol in the lower right corner of the YouTube screen, and select 720p or 1080p.
Much of what we saw out of the window wasn't rain forest and monkeys.  It was pineapple fields, banana plantations, miles of palm oil plantations, patches of bald mountains, and cows.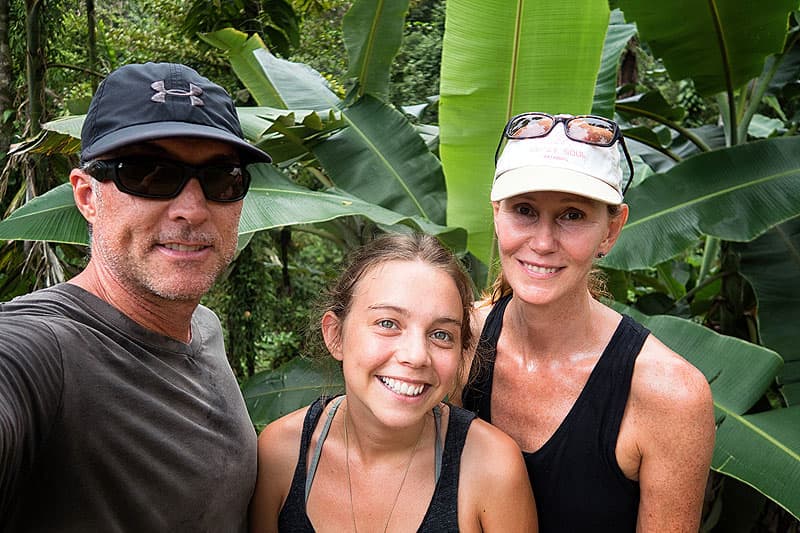 Above: A hike with Oona, their niece, through the rain forest
Most of the hikes we did in the rain forest all had perimeters of clear-cut for pastureland.  Many of the huge rivers we crossed were a muddy brown from the sedimentation created from topsoil erosion.  We heard chainsaws while camped in parks, including the Quetzal National Park, which we can only assume is the result of illegal logging.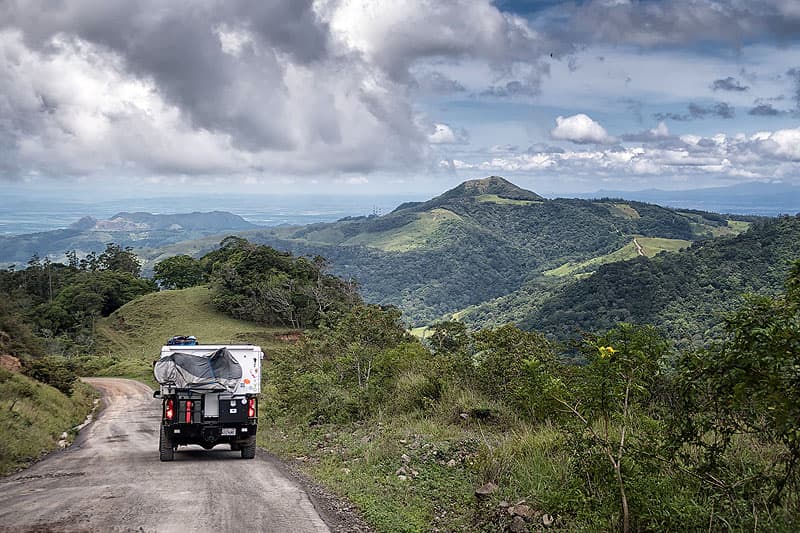 Above: Monteverde Cloud Forest Reserve, Costa Rica
It is a beautiful and friendly country, but much of the original landscape has been devastated for commercial purposes.  This theme is and has been happening around the world in a startling fashion.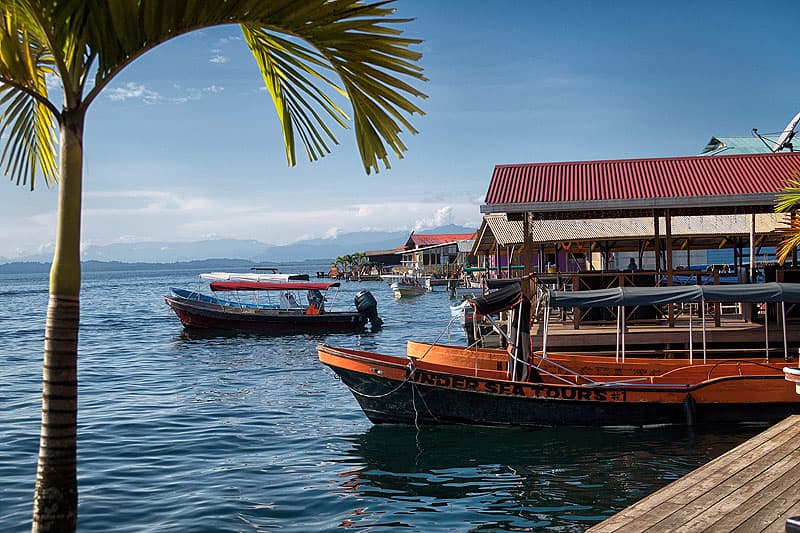 Above: Bocas del Toro, Panama
In Panama we spent the majority of our time on the islands of Bocas del Toro, where we parked the rig on the mainland and enjoyed the low-key life.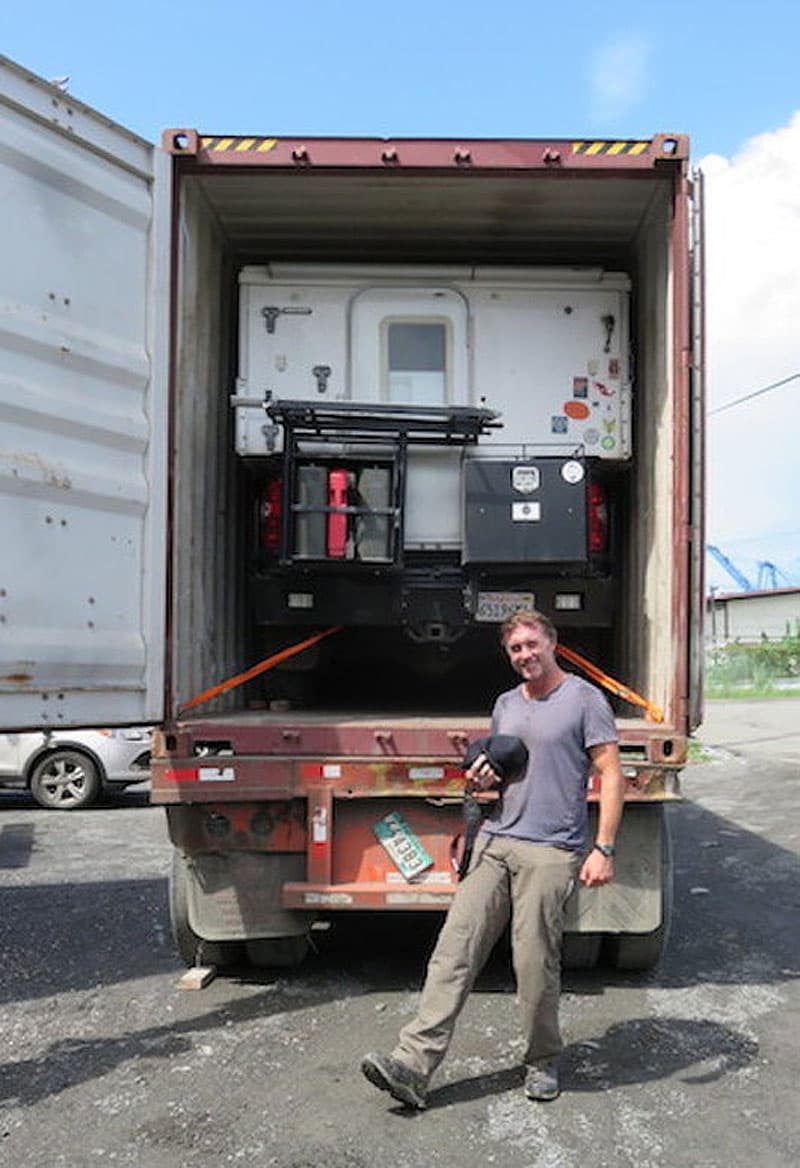 Above: Shipping the rig from Panama to Colombia
The rest of our time there was consumed with preparations to ship the rig to Colombia.
Above: They took a fun convoy through Colombia for twelve days with some overlanding friends.
Colombia was one of our favorites.  The people, the mountains, and the small, quaint colonial towns were amazing.  We were able to stroll through the towns and hike and mountain bike around the country.  It was the perfect place to slow down and take a deep breath.
Above: Here's a video from the Colombia Convoy.  To watch the above video in High Definition, press play, click on the quality "wheel" symbol in the lower right corner of the YouTube screen, and select 720p or 1080p.
Violence has plagued this country for five decades but we had such pleasant interactions with the local people.  It seems that the peace accord with the FARC and the government is making progress.  We had the impression that the people were finally able to exhale and be themselves.  They were so effusive and helpful.
One encounter occurred when we were a little lost on a one-lane dirt road in the mountains.  The father came out of his car to help with his son interpreting, while the grandmother and mother were in the back seat smiling and waving furiously.  We got encouraging honks from motorbikes and smiling thumbs up from truckers.  For a nation that has undergone such suffering, we were surprised by its people's warm and generous spirit.  We never felt safer in all of our fifteen months of driving than here.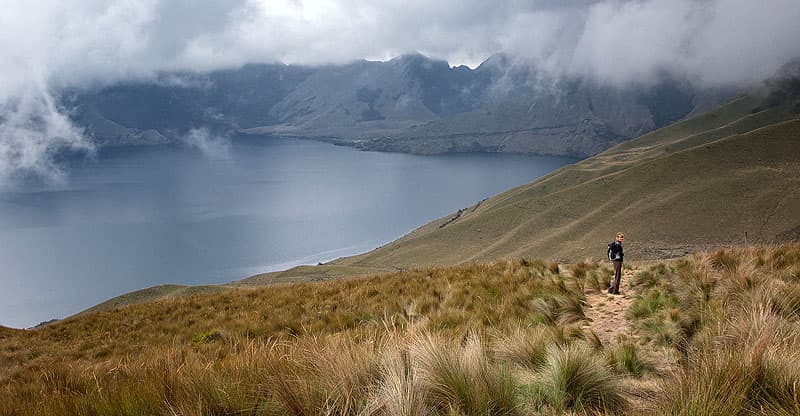 Above: Cotopaxi National Park, Ecuador
Ecuador was our eleventh country.  We've been to Ecuador before and we covered all the highlights then; the Galapagos, Amazon jungle, Otavalo market, and Quito.  This time, being there after fifteen months on the road, we felt less like we needed to do Ecuador than to just live it.  It may have been that we were road weary a little too, but we made our way down to the southern part of the country and parked ourselves in the Valley of Longevity of Vilcabamba for three weeks.
We left the country a few weeks before the terrible earthquake hit in May.  We drove through towns on the coast struggling just to get water so we can only imagine the suffering after the earthquake.  Going through those towns slowly we understood the impact much more viscerally.
Above: Crossing into Honduras, Hallmark on right parked at the border crossing
TCM: After reading your accounts, many of our readers are wondering about your security.  Were you apprehensive about your security prior to the trip?  And has there been any reason for concern thus far?
Paula: I was apprehensive about security and feeling safe every night, but we've only had a couple uneasy nights that were fine, and no other problems.  I was also a little worried about border crossings and shipping the rig from Panama to Colombia, but none of those crossings were overwhelming.  Some research and a little help from the overland community goes a long way.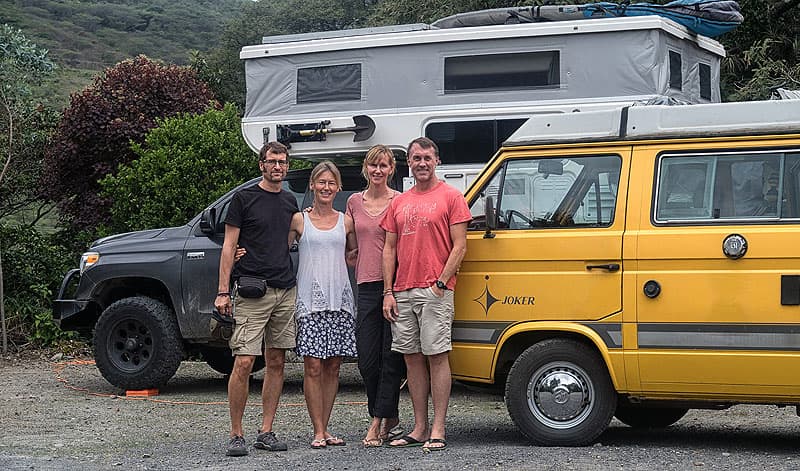 Above: Meeting others in the overland community including Gert and Claudia from Berlin
TCM: How do you plan our each day and place you visit?  Most truck campers like to keep their schedules fairly open.  Can you do that in South America?
Paula: We keep things pretty open as we travel as well.  Some days we don't know our plans until the night before or the day of, but we feel that is the beauty of this trip.  Every day is an unknown and we never know exactly where it will end.
We usually research our next couple of moves, but never really know where or when for sure.  Often we make our plans based on advise from locals or other travelers we meet.
We use an App called iOverlander for most of our camping spots.  Some of our favorites have been right on the beach in Baja or Costa Rica.  Another favorite was on the edge of the lake in Lake Atitlan, Guatemala.  We also like camping at hostels, which have all the facilities, cheap food, and good company.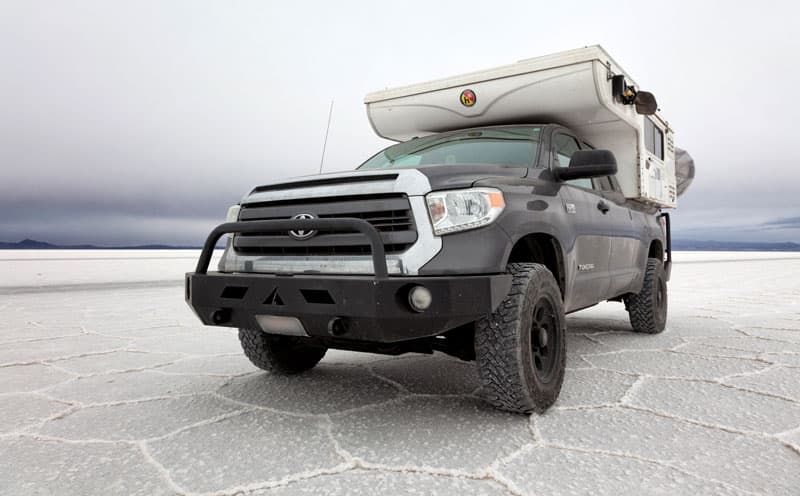 Above: Salar de Uyuni, Bolivia
TCM: iOverlander sounds amazing.  Do you need cell phone coverage to use that app?  How is the cell coverage in South America?
Paula: We get a local SIM card in every country with our unlocked iPhones.  It's really easy and cheap.  We get calling and Internet with that and use the 3G when we can't get WiFi.  We need it every day for navigation on the road, so it's important to have it in route planning and in the truck while driving if we need to change course.
Internet is usually available everywhere, but it's slow; painfully slow sometimes.  We can usually get a Skype call home around once a week.  It's been worse down in South America.
The only other really critical App for us is Maps.me for real time navigation.   We download the maps for free and use it in conjunction with Google Maps.  It's always good to have two sources because one can take you on a wild goose chase.
TCM: You already mentioned that the border crossings have been okay, but can you give us a little more detail about those experiences?
Paula: In Central America they were more chaotic and occasionally frustrating, but never really difficult.  They usually take around two to four hours but, if a computer goes down like it did for us going into Guatemala for three hours, they can take longer.
Now there is also so much information online with helpful tips, photos, and even GPS coordinates to get you through them.  South America has been a little easier so far and we hear they will be even easier down in Chile and Argentina.
TCM: How long do you plan to be on the road?
Paula: The total trip will take around 26 to 28 months, maybe a little more.  We left San Francisco in 2014 later than we planned, so we missed the weather window in Patagonia.  The pace we are on now is slow in order to wait for that weather window at the end of this year.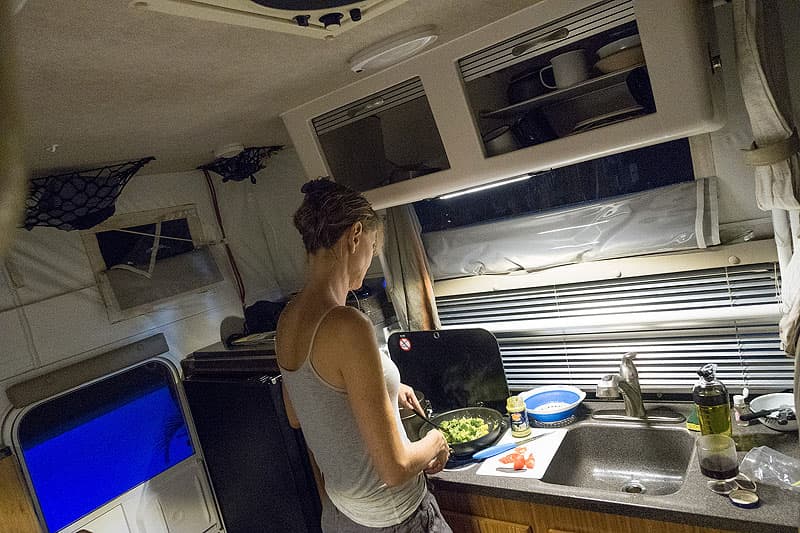 Above: Cooking in the camper, the Hallmark feels like a little house
TCM: What's it been like to be in a pop-up truck camper for this length of time?
Paula: It has gone surprisingly well.  We feel very comfortable in the truck camper and the Hallmark has proven to be the right camper for us.  We wanted to be able to leave the bed made up all the time and have a separate space to lounge, which makes the camper feel like a little house.
Also, I really liked the idea of the truck part of the rig being separate from our living quarters, so we didn't feel like we were living in our truck.  Yet we are still small enough to get through small towns and into camp spots.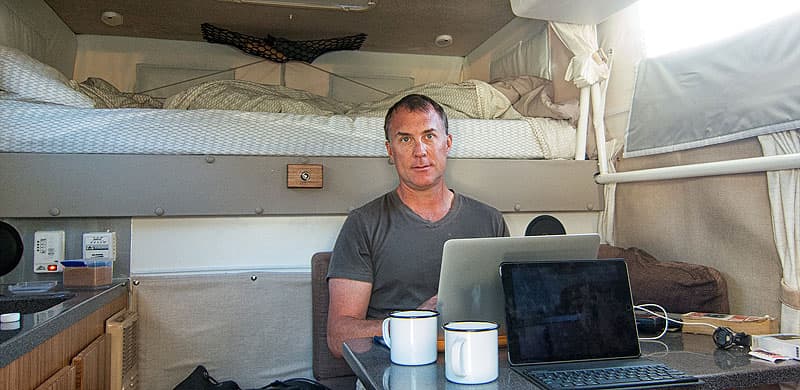 Above: Hanging out in the camper
We do have our moments where we feel it is a really small space for two people, but most of the time we are really comfortable.  We spend most of our time outside, but it can be cold and rainy often.  Having a nice place to hang out where we are warm and out of the weather has been really important for us.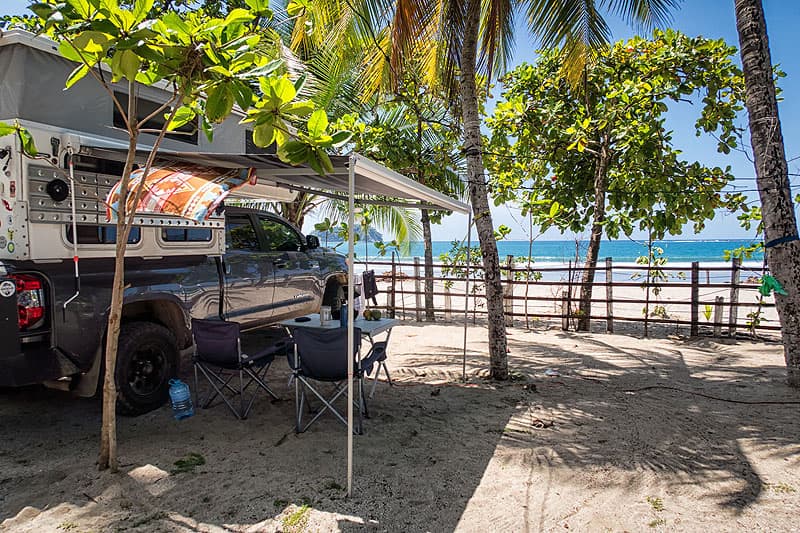 Above: Relaxing in Playa Samara in Costa Rica
TCM: If you could go back to before you went on this trip and tell yourself any bit of advice, what would it be?
Paula: Relax.  Don't fret so much.  Just keep moving in the direction of leaving.  Also, don't worry about bringing all the right things.  You can get almost everything you need down there.  And the things you can't, you can do without.  Remember that every day is a gift, even the bad ones!
TCM: I read in your blog that you and John got the Zika virus.  What was that experience like?
Paula: John and I are pretty sure we had Zika. The symptoms are the same as other similar mosquito borne ailments.  We had a fever, joint pain, shakes, and severe fatigue. We both had it for about a week, but didn't feel back to normal until after two weeks.
We didn't take anything for it.  We just thought it was some kind of terrible flu because the news reports on the outbreak were reported about a week or two after we got it.  We did have a friend visit us from the United States in Cartagena.  When she returned to San Francisco, she had the same symptoms as us.  When she went to the doctor, he diagnosed her with Zika.
The news said the United States hadn't had any reported cases then, but of course we knew there was one with our friend.  We didn't take anything other than Motrin for the body aches and we rested.  We did some research after we realized we may have contracted it.
Once you have it there is chance to contract it again.  The real problem is for pregnant women or women who plan to get pregnant.  We have had no issues since the initial illness.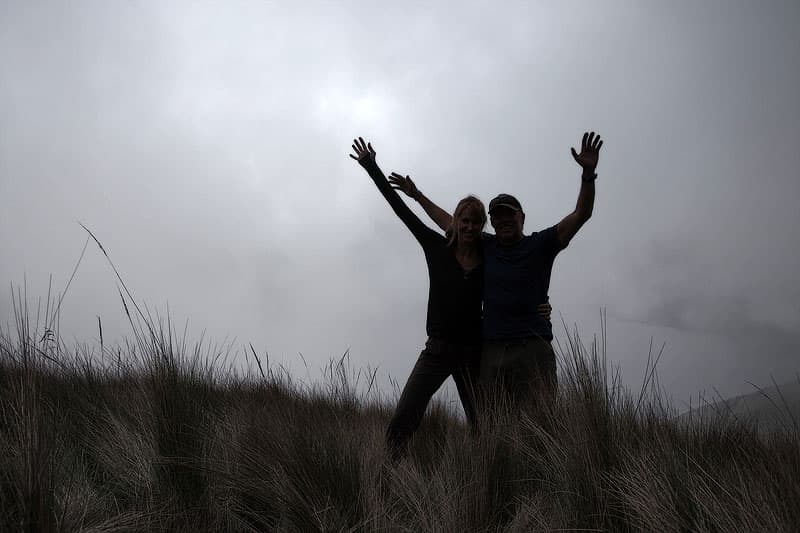 Above: Paula and John in Ecuador
TCM: What countries are next on your adventure?
Paula: Next up is Peru, Bolivia, Chile, and Argentina.  We plan to do lots of wild camping and exploring the national parks.  Then we plan to get all the way down to the tip of South America, explore Patagonia, and then head back up to Buenos Aires where we will either keep going (we have talked about Africa) ship the camper home, or sell it in Argentina.  More likely we'll ship it back up to Florida and maybe make our way cross country back to California.
Above: Here's a fun reflective video about their life on the road.  To watch the above video in High Definition, press play, click on the quality "wheel" symbol in the lower right corner of the YouTube screen, and select 720p or 1080p.  High Definition videos do take longer to load and play.
TCM: We'll have to catch up with you when you complete your trip.  So far it sounds absolutely incredible.  Is there anything else you would like to add?
Paula: We stay off-the-grid for as long as have water, at least a week at a time.  And because we are full-time, traveling through so many cultures and countries, and meeting other overlanders among the way, our perspective may be unique from most truck campers.  All of our experiences are on our blog: ourbiggerpicture.com.
Truck: 2014 Toyota Tundra, Crew Cab, 4×4, Gas, Single Rear Wheel, Short Bed
Camper: 2014 Hallmark Milner
Tie-Downs/Turnbuckles: In-bed tie downs from Hallmark
Suspension: Icon V2.0 Rear Shocks and Icon Front Springs, Firestone Airbags, OME Dakar Leaf Springs with an Add a Leaf
Gear: Aluminess Bumpers/swing outs with fuel locker, utility box, and bike rack